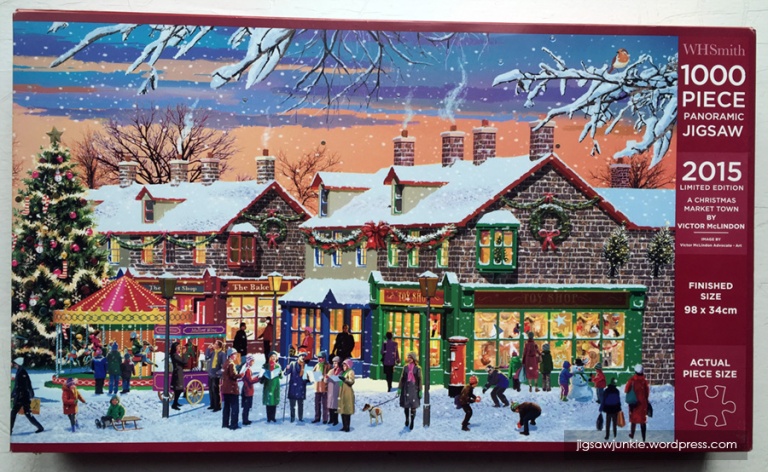 Review: "A Christmas Market Town" by Victor McLindon, WHSmith – 8/10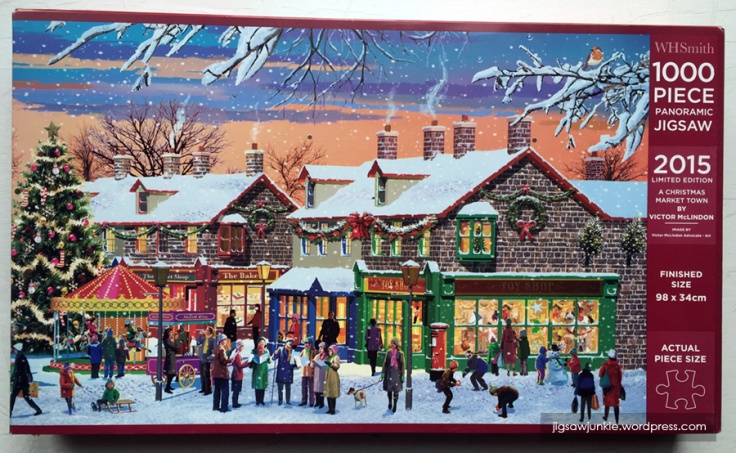 Publisher: WH Smith (UK), published 2015
Title: "A Christmas Market Town" by Victor McLindon, WHSmith's 2015 limited edition Christmas puzzle, 1000 pieces
OUR RATING: 8/10

First, I want to thank Jen, a Jigsaw Junkie reader, for sending me this puzzle from the UK. It's hard to get WHSmith puzzles here in the US, and it was such a lovely and sweet gift to get in the mail. Thank you so much, Jen!
Box Quality: (9/10)
The box is long and rectangular, thick and sturdy. Altogether worth saving and collecting. One unique thing about the WHSmith boxes is that there's an outer sleeve over an inner box, as you can see below. The front, back, and side all contains lots of information about the puzzle including the puzzle name and artist as well as the year in a nice large font, which is great for easy reference when shelved with previous years. This box scores very highly, though not a perfect score only in comparison to boxes with extra goodies inside like a certificate or poster.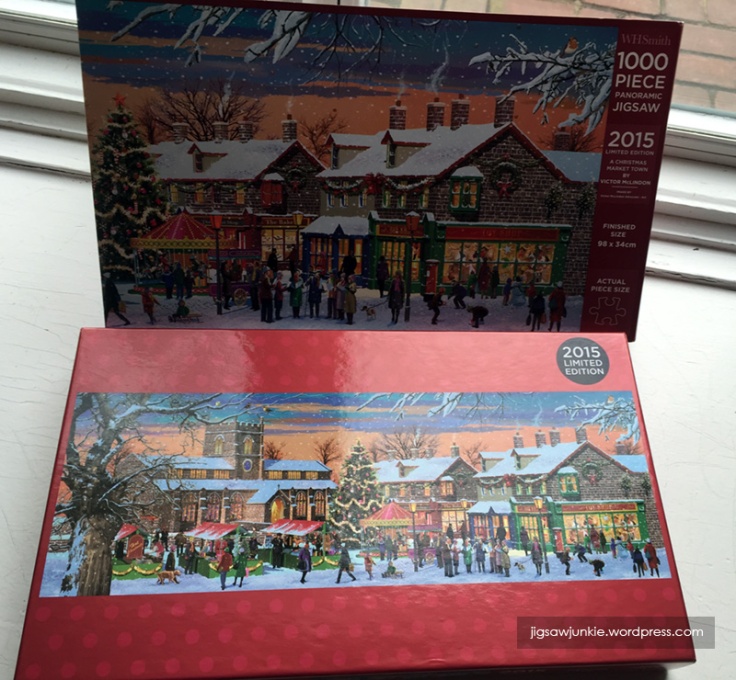 Above: What the box looks like under the sleeve.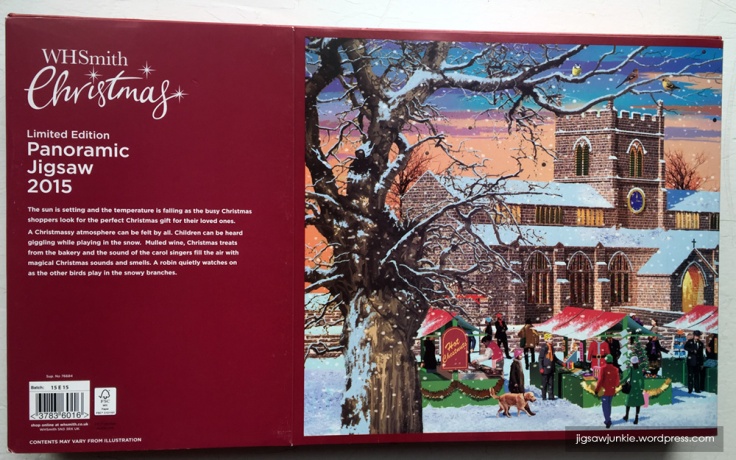 Above: The back of the sleeve

Above: The side of the sleeve
Inside:
Inside the box is a bag with the puzzle pieces (in excellent condition, no damage, puzzle dust, or unseparated pieces) and nothing else.
The Image: 7/10
This is the latest in a series of Christmas puzzles released under the WHSmith name. I love the limited edition Christmas puzzles, and have all the previous years' WHSmith releases. You can see our WHSmith Christmas puzzle page here. You can read our review of last year's puzzle here.
Now for this year's image–it's a nice image of a quaint British small town. I ranked it lower only because it is SO similar to last year's image, also by Victor McLindon. Below you can see the last year's image. It has the same carousel, church tower, Christmas tree, etc. So this year's feels a little like a recycled image. There are so many possibilities for lovely British Christmas scenes, I just wish they'd do something new. My favorite image so far is from the 2013 Christmas puzzle by Sarah Adams, which I reviewed here. On the plus side, there is some gold foil in the puzzle, which is always a nice bonus!

Above: WHSmith's 2014 Christmas puzzle, which is a very similar image to this year's

Above: This year's (2015) Christmas puzzle image. The panorama is so wide I had to take two pictures and paste them together.
(Click on any of the images in this review for a closer look.)
Puzzle Quality: (7/10)
WHSmith is a mid quality UK brand–which is still pretty darn good. They aren't as thick as Gibsons' pieces, but they are sturdy and don't bend, their puzzles have good image reproduction, and nice boxes. This is a grid-cut puzzle, with nearly all 2-tab-2-hole puzzles piece shapes, as you can see in the image below. That's their biggest drawback, to me, is lack of variety in piece shapes. However, it's not something I notice much when working a special themed puzzle like a Christmas panorama. Like Gibsons, pieces can appear to go where they shouldn't, but that wasn't a big problem with this particular image. The pieces have a bit of gloss to them, so they're slightly reflective under strong light.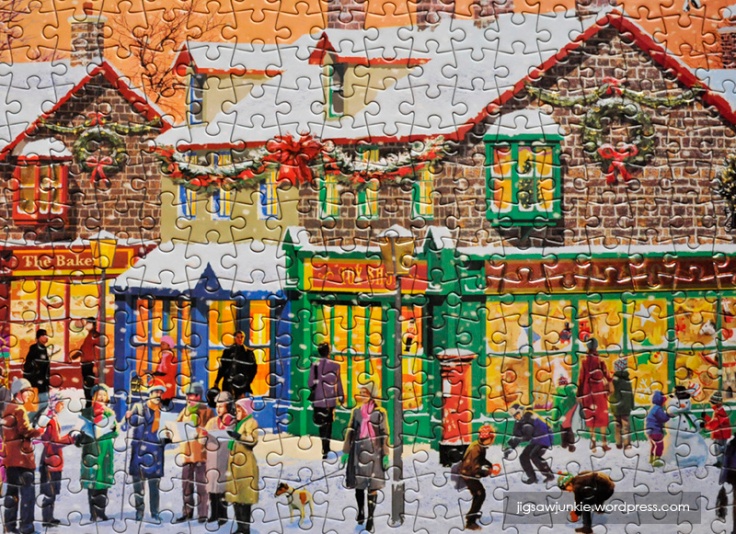 Assembly: (8/10)
This is a medium-difficulty 1000 piece puzzle. Areas of the tree, stone, and sky require a bit of effort. I assembled the border first, then the sky, reds and greens.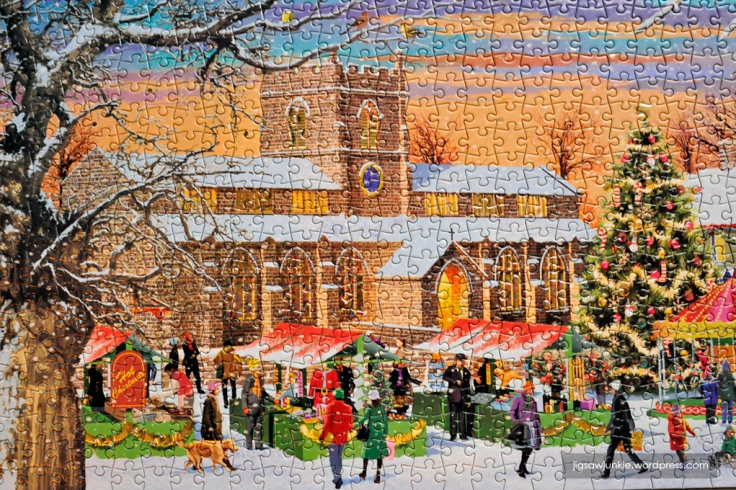 Above: The left side of the panorama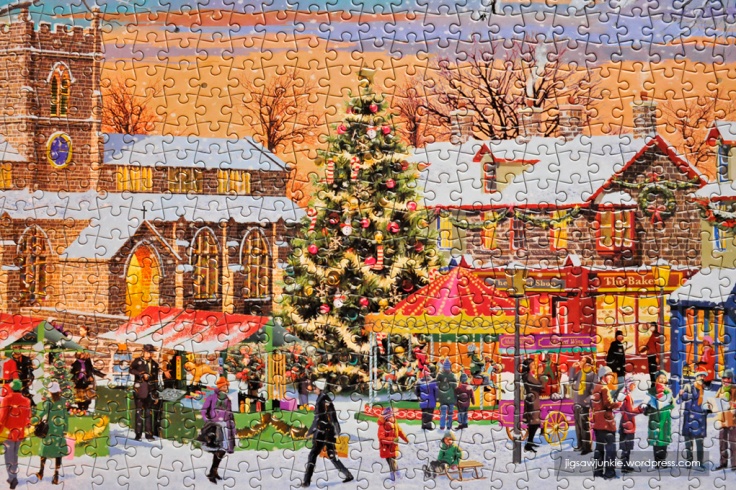 Above: The middle of the panorama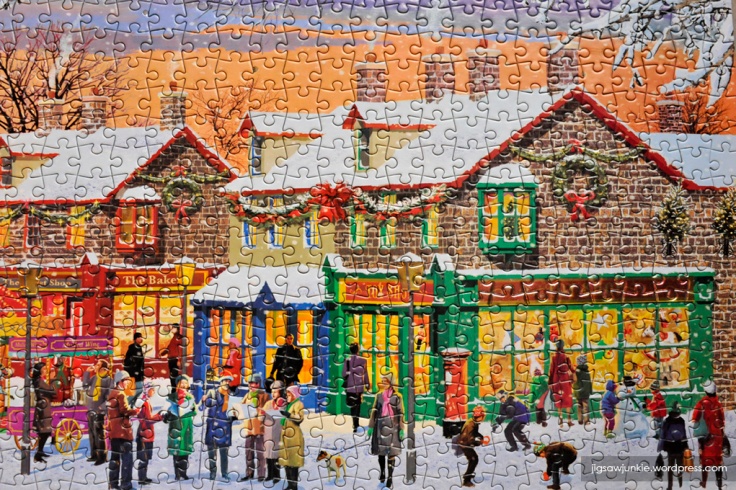 Above: The right side of the panorama
Conclusion:
Another solid, if a wee bit repetitive, Christmas Limited Edition puzzle from WHSmith for 2015. Definitely worth adding to the series if you collect them, or picking up as a nice holiday puzzle if you happen to live near a store. I gave it a bonus point for the gold foil and for being a limited edition Christmas puzzle.

JJ