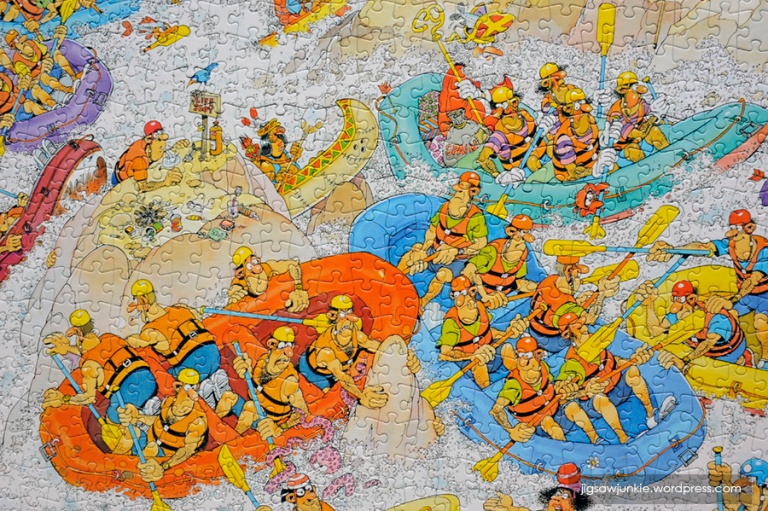 Review: "Wild Water Rafting" by JVH Studios, Jumbo – 9.5/10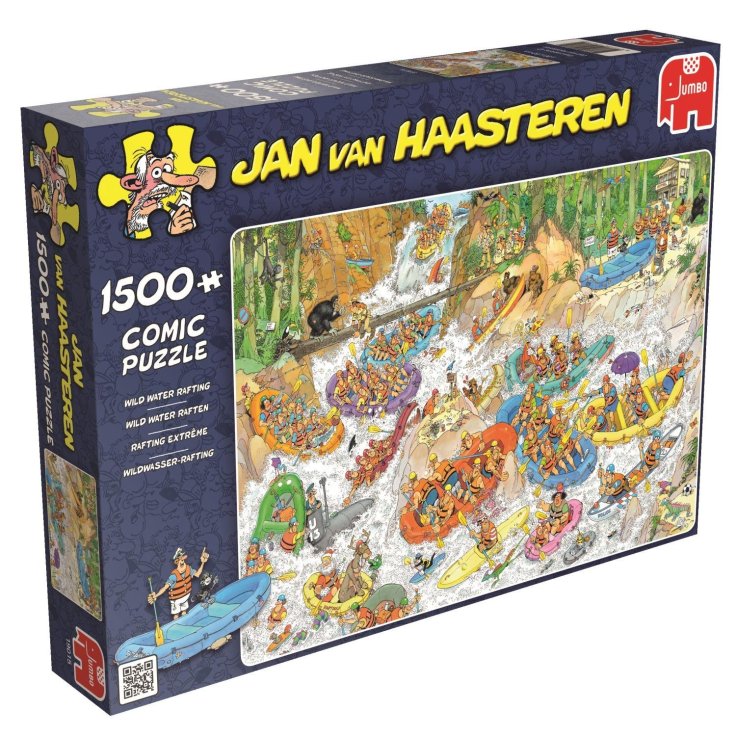 Publisher: Jumbo (Netherlands), published 2015
Title: "Wild Water Rafting" by Jan Van Haasteren Studios, Jumbo, 1500 pieces
OUR RATING: 9.5/10

This puzzle also comes in 3000 pieces, but I did the 1500 piece version.
Box Quality: (9/10)
You can see the box above. The Jumbo JVH boxes all have a similar blue background, which makes for a nice cohesive set when shelved together as a collection. The boxes are very sturdy and well-made. The back is a standard Jan Van Haasteren back in multiple languages. This box scores very highly, though not a perfect score only in comparison to boxes with extra goodies inside like a certificate or poster.
Inside:
Inside the box is a bag with the puzzle pieces and nothing else.
The Image: 10/10
I love this image. It's absolutely ideal JVH in my humble opinion. I like that the figures are larger instead of very small (like in some of the JVH street scenes). This image was clearly designed to be a puzzle . We have nice blocks of color in the green woods and all the different colors of rafts and life jackets, and the unique expressions on every face, all of which make for fairly straight-forward assembly. Then there's the white water, which provides a bit of challenge but not excessively so because there really aren't that many 'completely white' pieces. The execution of the image (drawing and coloring) is also perfect. The image is from JVH Studios, so it may have been done by Jan himself or one of his studio artists. I'm guessing this one was done by Rob Derks, but I'm not sure about that. In any case, it's fantastic! Bravo.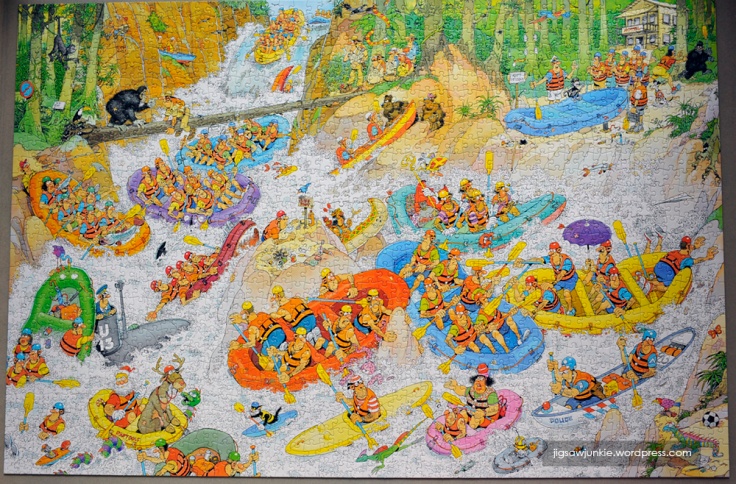 (Click on any of the images in this review for a closer look.)
Puzzle Quality: (9/10)
You can see our Jumbo brand comparison here. In sum, Jumbo is an very high quality brand. The pieces feel thick and sturdy. Like Gibsons, they're a bit waxy to the touch, which I really like. The surface is non-glare and the image reproduction is perfect. This puzzle just FEELS great as you work it, like driving a BMW! The cut is a grid cut but there's a variety of piece shapes and a sure, tight fit.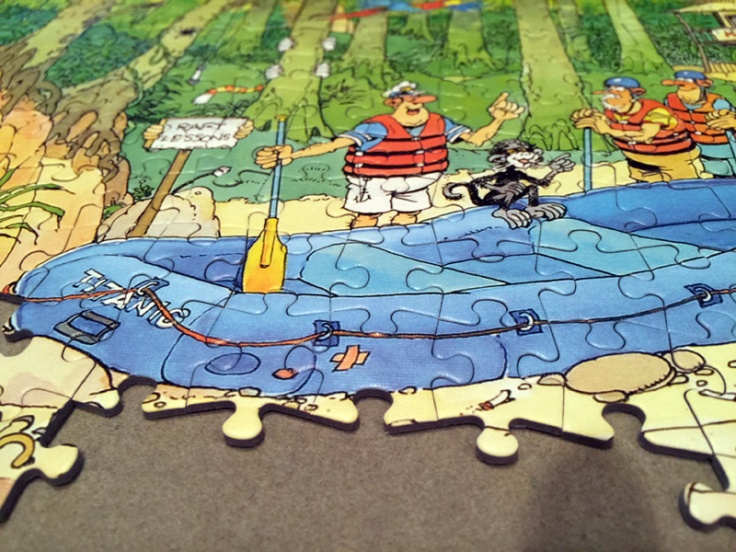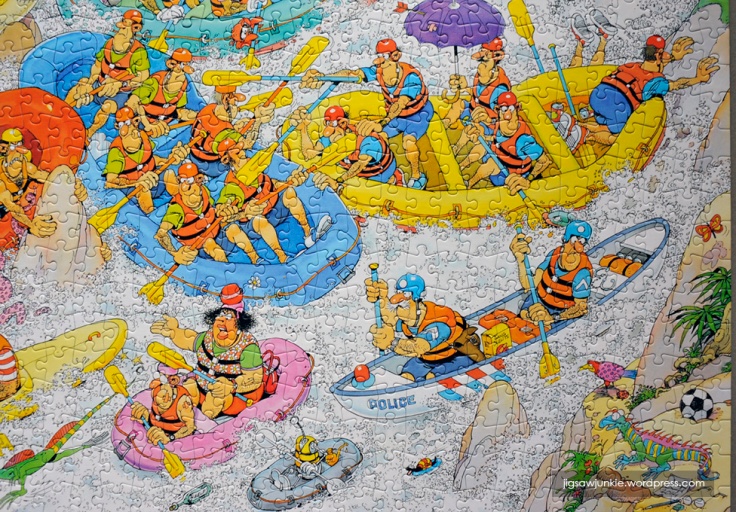 Assembly: (10/10)
This is a medium-difficulty 1500 piece puzzle. I like the 1500 size–it's a bit more challenging than a 1000 piece puzzle but not tediously long. This puzzle also comes in 3000 pieces if you prefer them larger. For assembly, I did the border first, then the green woods and brown cliffs, than the various raft colors. I filled in the figures next and white water last.
As I wrote above, the image is ideally designed for assembly. There are very view white water pieces that don't have a tip of a nose, an edge of a colored raft, bit of paddle, or some other element that clues you in as to where that piece goes. There might be a total of 20 or 30 pieces in the end that are purely white. All in all, a great puzzle to assemble.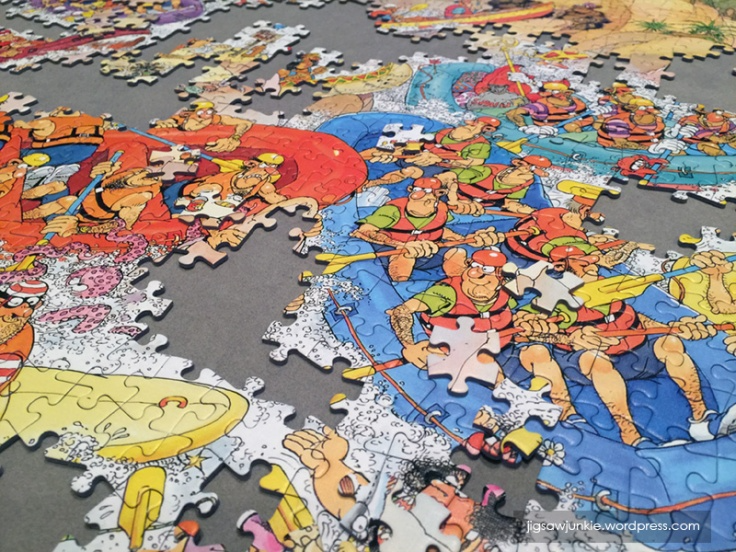 Above: Most of the white pieces have a bit of a paddle or other clue in them.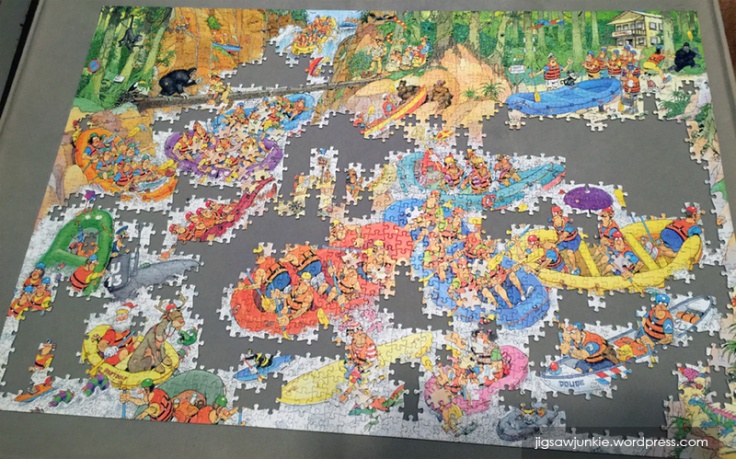 Above: Saving the white and some of the light rocks for last.
Additional close-up details: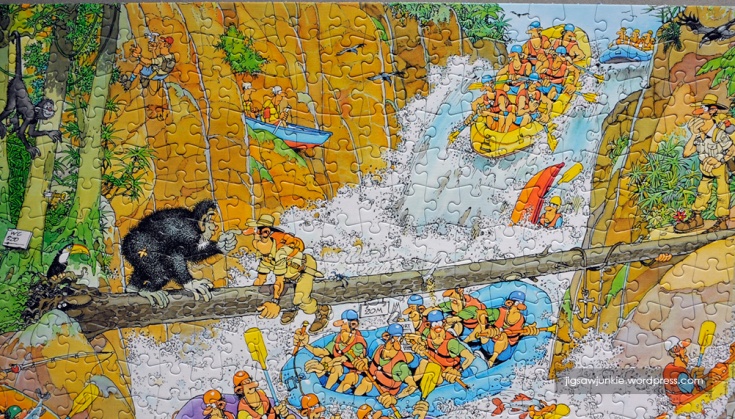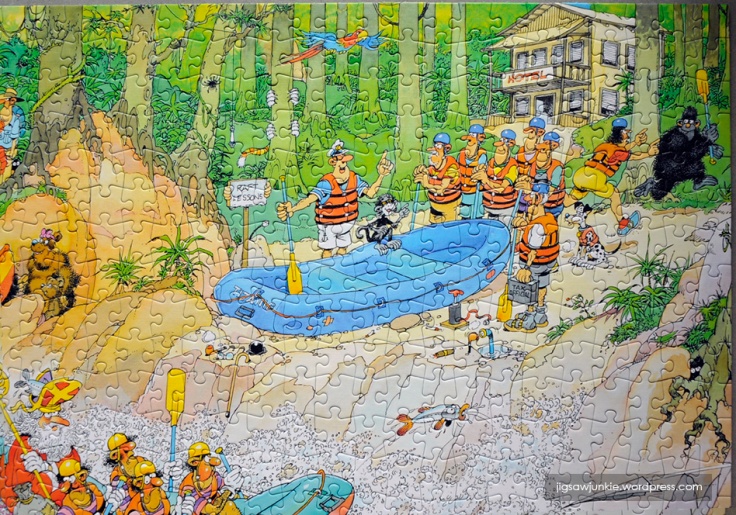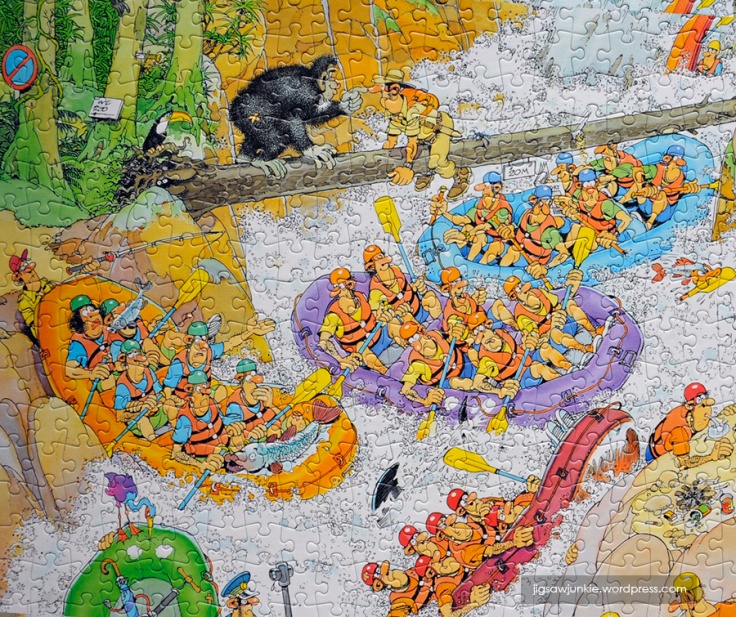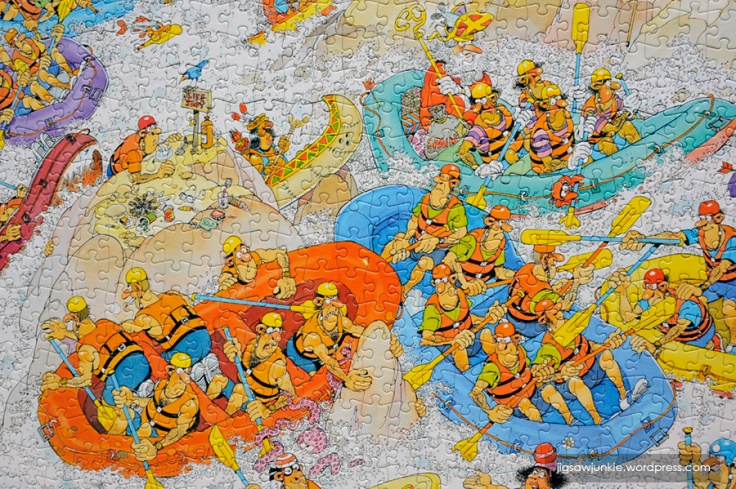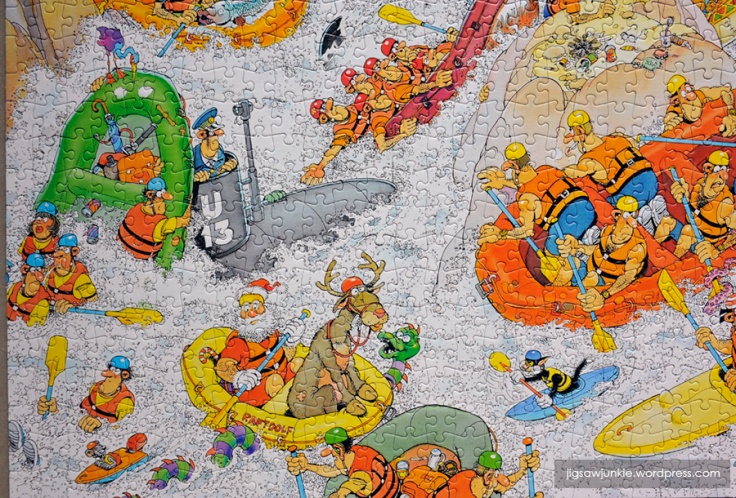 Conclusion:
One of the very best JVH puzzles yet released. If you've never tried a JVH puzzle, this is a nice one to act as your gateway drug.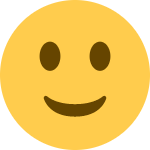 Highly recommended.

JJ