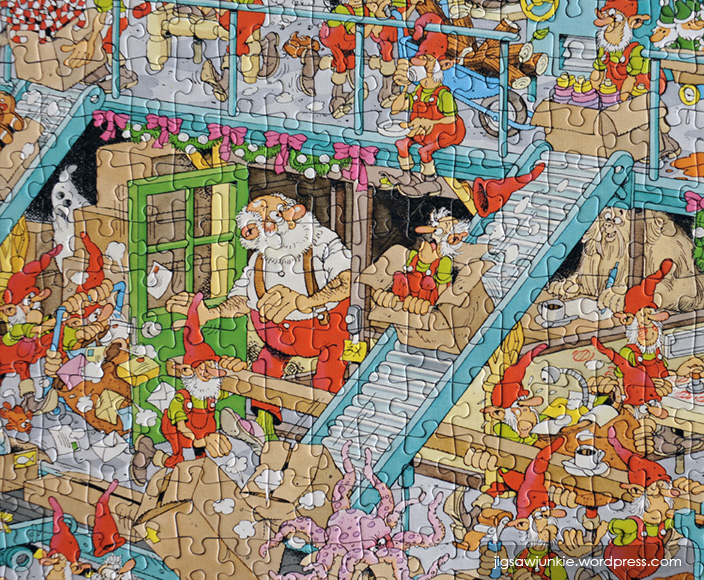 Review: "Santa's Factory" by JVH Studios, Jumbo — 9/10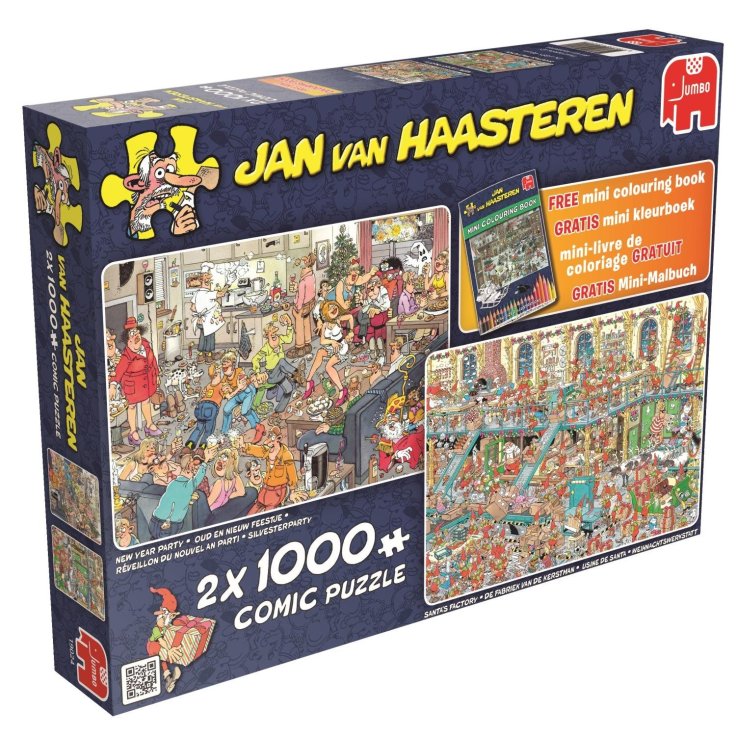 Publisher: Jumbo (Netherlands), published 2015
Title: "Santa's Factory" by Jan Van Haasteren Studios, Jumbo, 1000 pieces
OUR RATING: 9/10

This puzzle comes in a boxed set of two along with "New Year Party".
Box Quality: (9/10)
You can see the box above. The Jumbo JVH boxes all have a similar blue background, which makes for a nice cohesive set when shelved together as a collection. The boxes are very sturdy and well-made. The back is a standard Jan Van Haasteren back in multiple languages.
Inside:
Inside the box are the two separate bags with the puzzle pieces and a small sheet or poster. The poster is about 8.5″x 11″ and has "New Year's Eve Party" on one side and "Santa's Factor" on the other, both in full color. This is probably included because the box images are smaller due to there being two on the front of the box. The sheet is good to have when working the puzzle.
The Image: 10/10
I'm a fan of JVH (Jan Van Haasteren) puzzles and have a lot of them. It's such a treat to get a new CHRISTMAS JVH. That's pretty much enough said, frankly. But let me go on.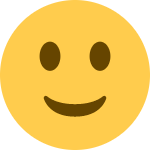 In JVH style, we have a scene crowded with little figures, mostly elves all wearing the same outfits and hats but having varying expressions and doing different tasks so they all end up unique. There are nice colors in this composition in the blue framework, the purple/pink bows, green doors and sleigh, etc. At 1000 pieces, it's not a very large puzzle, but it's a nice size to tackle over the holiday break, what with there being so many great Christmas puzzles to get through. I have liked some other recent JVH's better–"White Water Rafting" for one–but this is a very fun one too.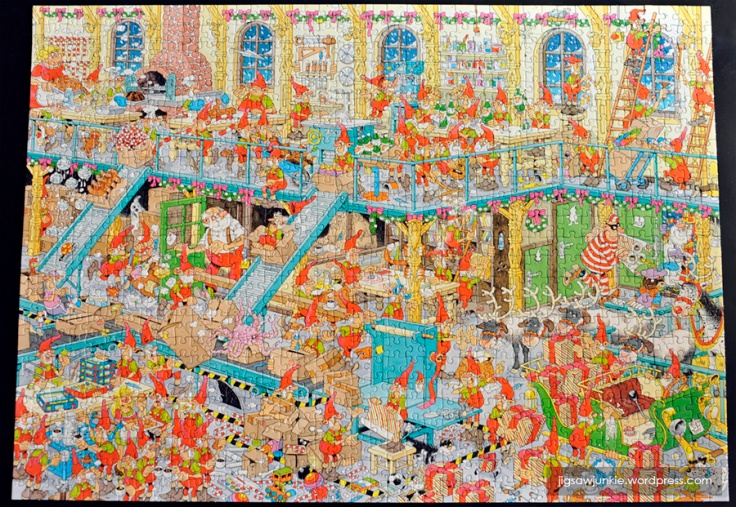 (Click on any of the images in this review for a closer look.)
Puzzle Quality: (9/10)
You can see our Jumbo brand comparison here. In sum, Jumbo is an very high quality brand. The pieces feel thick and sturdy. Like Gibsons, they're a bit waxy to the touch, which I really like. The surface is non-glare and the image reproduction is perfect. This puzzle just FEELS great as you work it, like driving a BMW! The cut is a grid cut but there's a variety of piece shapes and a sure, tight fit.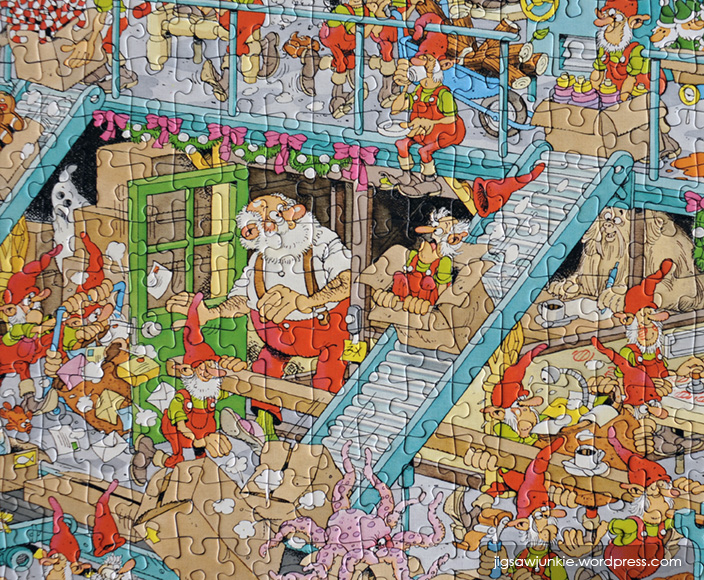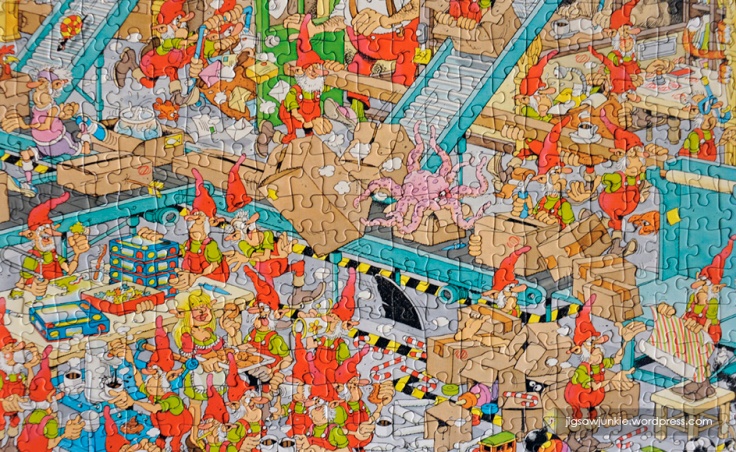 Assembly: (8/10)
This is a medium-difficulty 1000 piece puzzle. I'm ranking it a bit lower just in comparison to "White Water Rafting", which I loved. I did the frame, blue, and green areas first, then filled in all the little figures. I guess I liked "White Water Rafting" better because there were more unique color areas in the scene (the rafts, green trees, rocks, etc). In this puzzle, there's the green and blue but then most of the composition is comprised of the little elf figures, which requires a lot of back-and-forth with the box lid. Still, it's a very solid JVH puzzle with the usual JVH fun factor.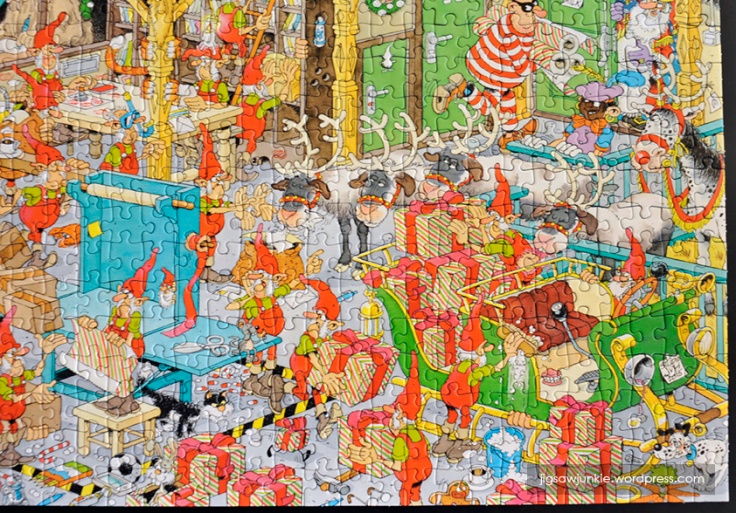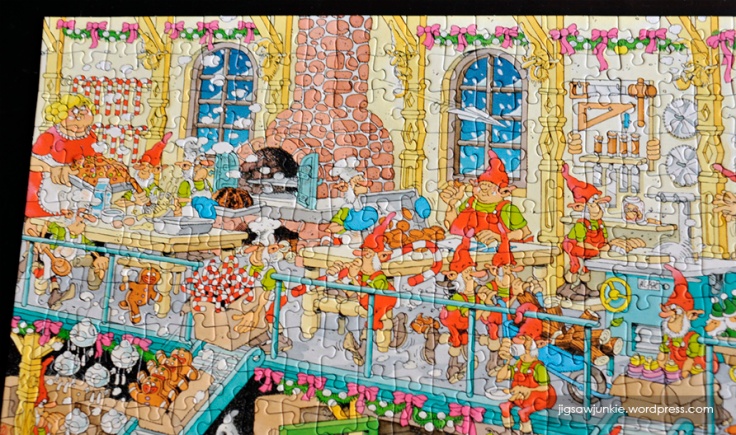 Conclusion:
This two-puzzle box set is a wonderful addition to any JVH collection. It's Christmas-y! Highly recommended.

JJ