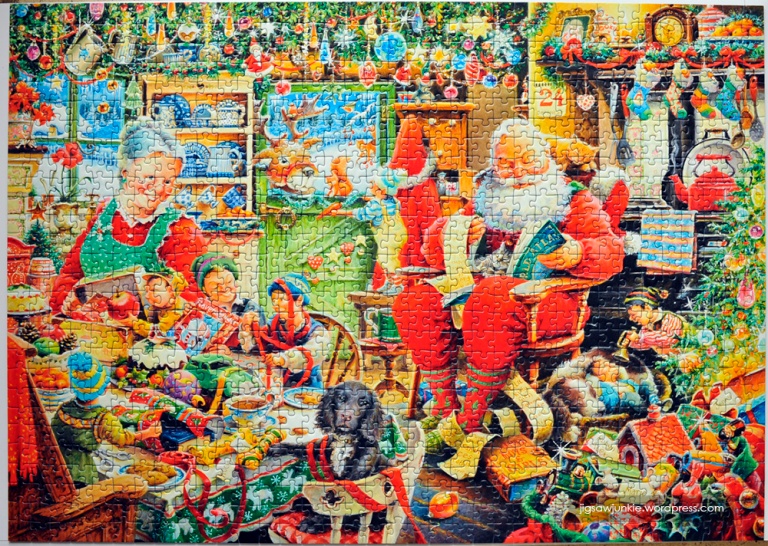 Review: "Santa's Final Preparations" by Roy Trower, Ravenburger 9/10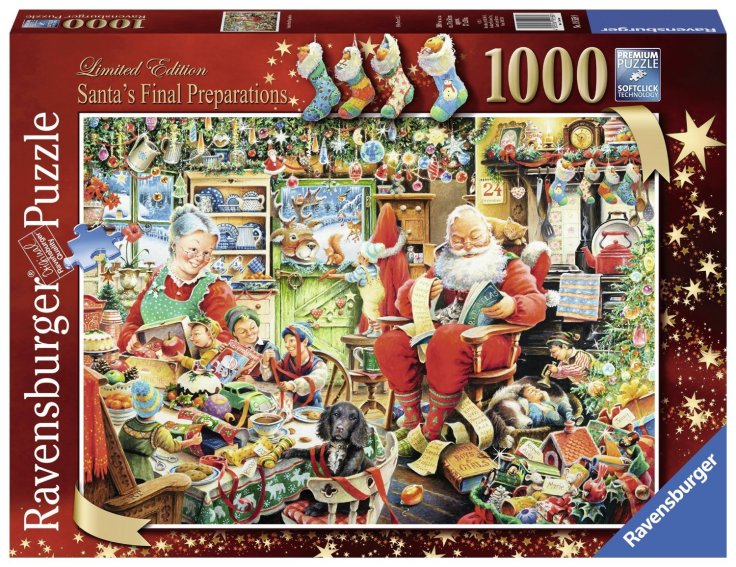 Publisher: Ravensburger (Germany), published 2015
Title: "Santa's Final Preparations" by Roy Trower, Ravenburger's 2015 limited edition Christmas puzzle, 1000 pieces
OUR RATING: 9/10

Box Quality: (9/10)
The box is quite nice. It's the standard rectangular Ravensburger box, thick and sturdy. The back of the box has information about the artist (Roy Tower) and about this image. Click on the picture below to a larger size you can read.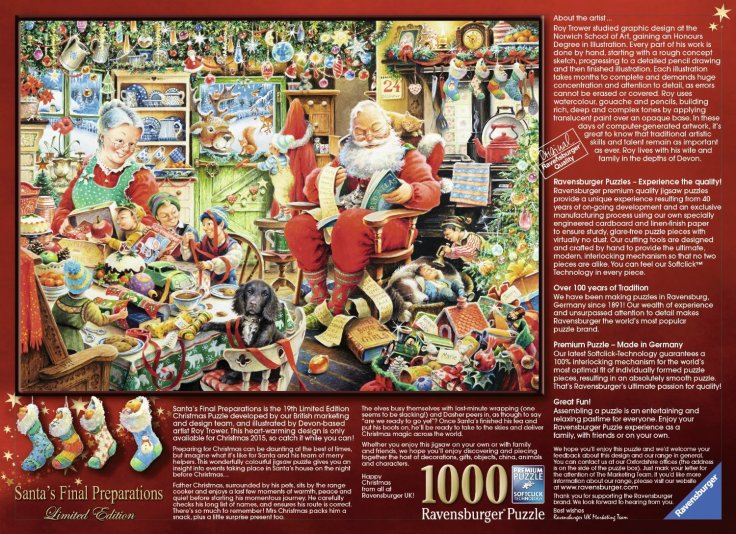 Inside:
The inside of the box contains the bag of puzzle pieces, a sales sheet about the "What If?" series, and a standard Ravensburger guarantee card. This 'limited edition' doesn't come with a certificate or other collectible.
Series Number Weirdness:
One odd thing is that this box says it's the 19th in the Ravensburger limited edition Christmas series, but last year's box said it was the 17th and the year before that was 16th, etc. So either Ravensburger made a mistake on this box and it is really the 18th in the series, or there was another one released somewhere, somehow, that I haven't found. If anyone has the answer to this question, let me know!
The Image: 9/10
Roy Trower has been doing Ravensburger's limited edition Christmas puzzles for quite a few years. You can see our Ravensburger Christmas puzzle page here. You can read our review of last year's puzzle here.
Now for this year's image–it's a busy indoors scene of Santa's kitchen. As always with Ravensburger Christmas puzzles, this is a commissioned image, so you've never seen it before nor will you see it with any other manufacturer. It was created just to be a puzzle, so it has a nice amount of color and detail. It's fun to look at and assemble. I'd rate this highly both in comparison to recent Ravensburger Christmas images and other Christmas puzzles available this year. I still prefer some of their early Ravensburger Christmas images with gold and silver foil (like this one), but this is nevertheless a very nice addition to the Ravensburger Christmas series.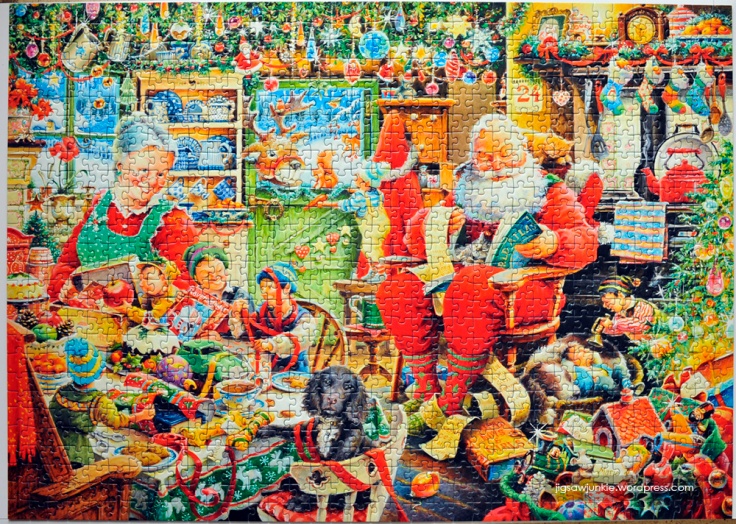 (Click on any of the images in this review for a closer look.)
Puzzle Quality: (10/10)
As always, Ravensburger quality is excellent. As you can see from the detail below, their puzzles are grid-cut, but they have a wide variety of shapes and every piece is unique. There's never any 'false fits' with a Ravensburger, and they have the Softclick technology which just feels good when two pieces interlock. Roy Trower paintings have a softer feel which means the image isn't line-crisp, but that's just the style of painting. I find it appealing.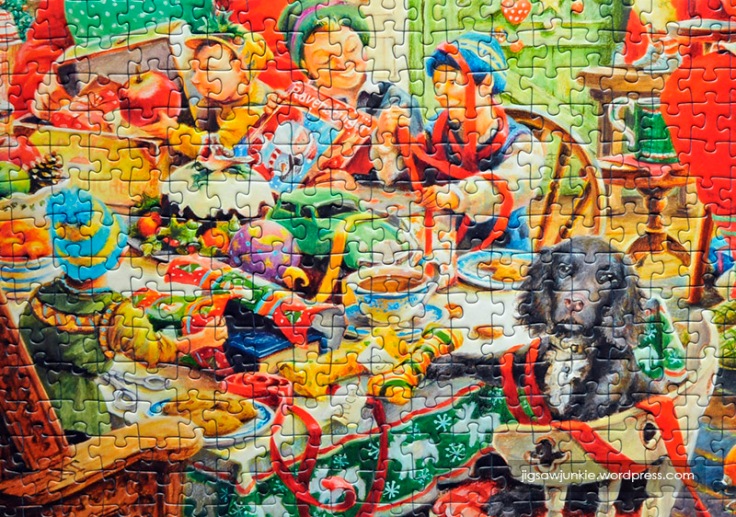 Assembly: (8/10)
This is a medium-difficulty 1000 piece puzzle. I started with the border, then the reds in the image, then the blues and the non-plant greens like Mrs. Claus's aprons and the green door. The skin tones (faces) and dog were easy to find. For the rest of the image there is a fair amount of comparing-piece-to-box-lid. The greenery areas, like the top of the puzzle and the Christmas tree, are more challenging.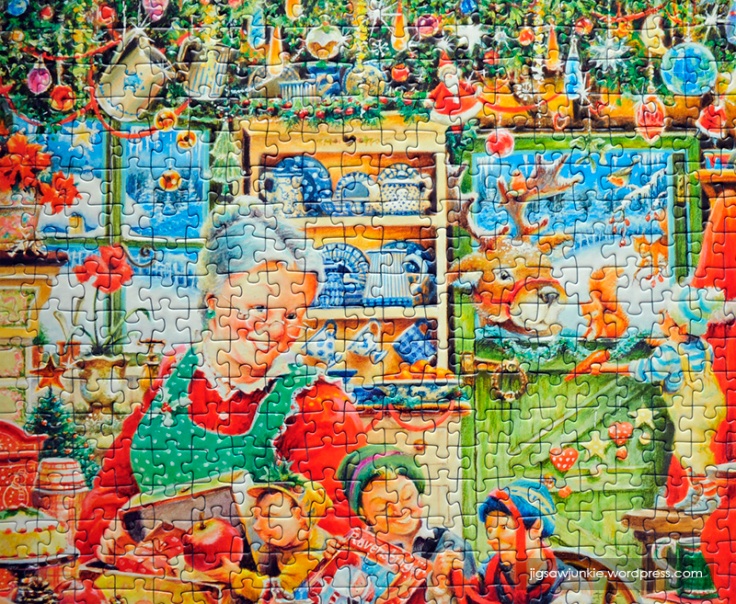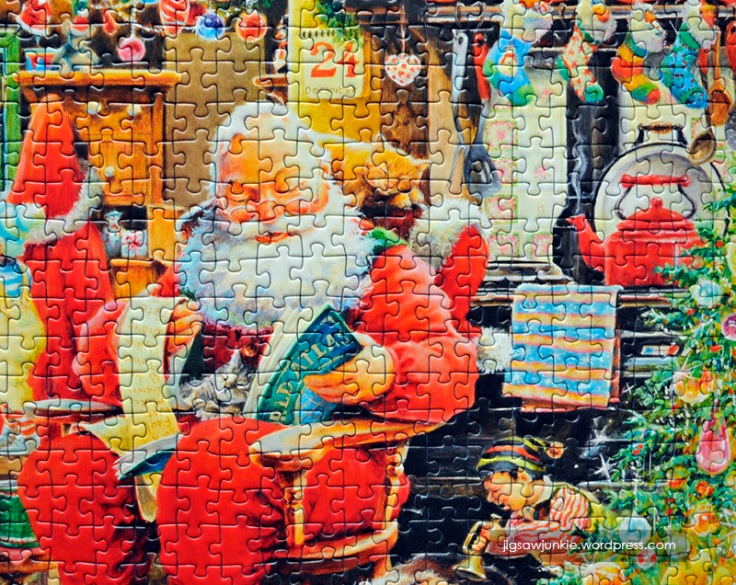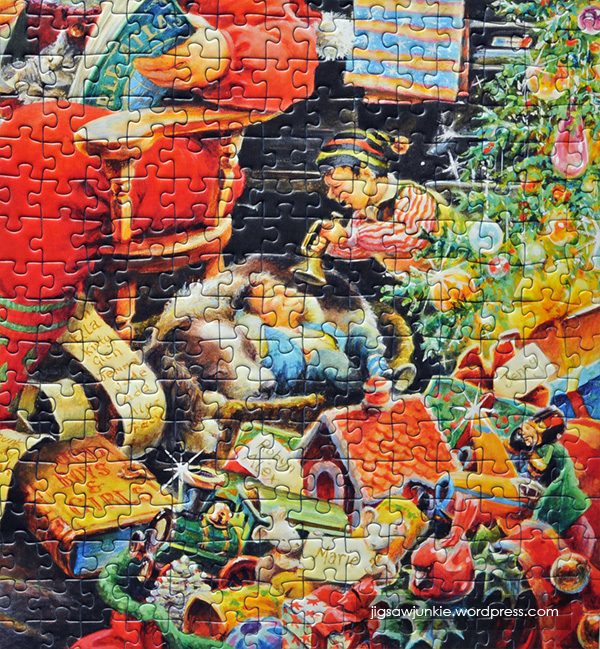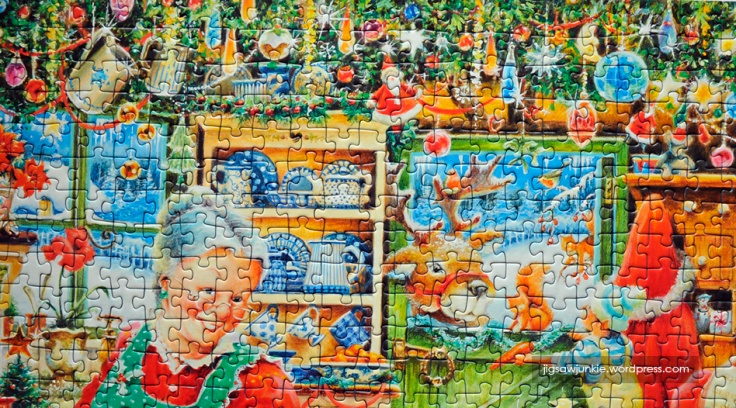 Conclusion:
Another very nice limited edition Christmas puzzle. I recommend this entire series along with the limited edition Christmas puzzle series from Waddingtons, House of Puzzles, and Gibsons (see our page on Christmas puzzle series).

JJ