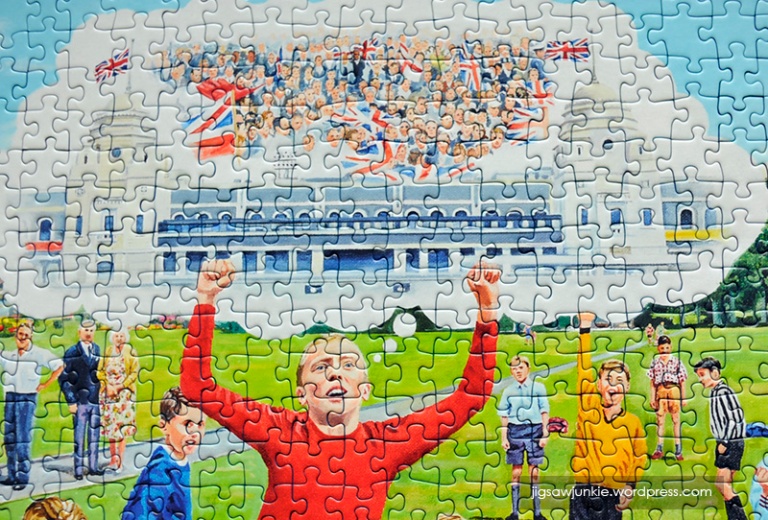 Review: "Wembley Dreams" by Trevor Mitchell, Ravensburger — 9.25/10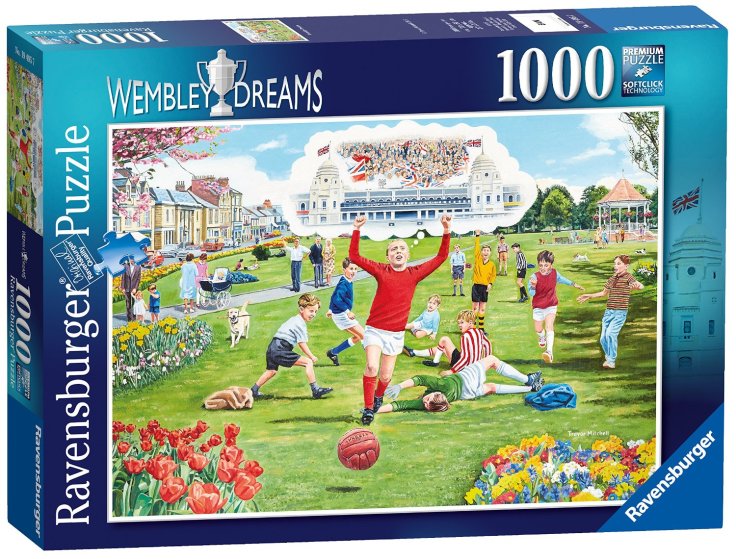 Publisher: Ravensburger (Germany)
Title: "Wembley Dreams" by Trevor Mitchell, Ravensburger, 1000 pieces, 2015
Review by Jane
OUR RATING: 9.25/10

Box Quality: (10/10)
The Ravensburger boxes are awesome–thick and sturdy with a very nice design. The sides have a white 'Ravensburger' on blue, the image, the piece count, puzzle name and sometimes author name so you can see the info when shelved. The back of this particular box has some standard info about the company. However, inside there are a number of extras. As you can see in the photo below, there's a guarantee card, a full cover sheet on the "What If?" collection, a sheet on this puzzle with an image and information on the artist and the puzzle image. There's also a small full-color mini catalogue in the box that shows the 2015 Ravensburger collection. The puzzle pieces came in a bag and there was no puzzle dust.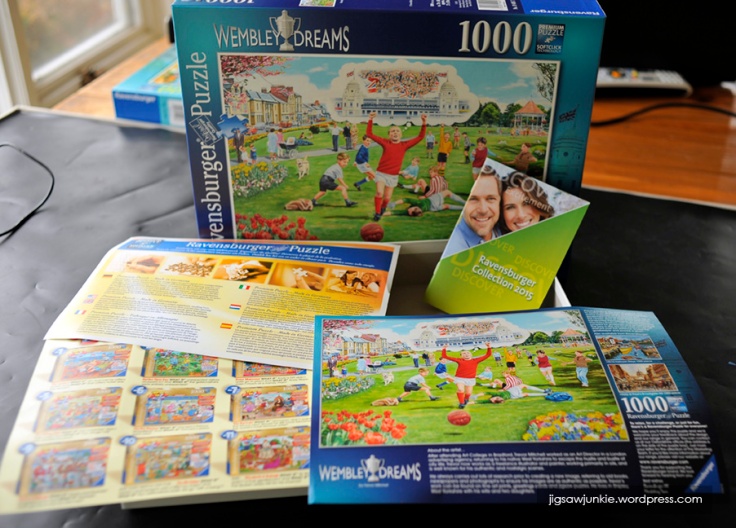 The Image: 8/10
Those who follow my blog know that I'm a bit of an anglophile and I love British puzzles. Trevor Mitchell is a British artist who does many British nostalgia images for Gibsons, Ravensburger, and Falcon. I quite like them and buy most of the ones he puts out. This image shows a group of young boys playing soccer on a village green. The boy in red is making a goal and dreaming about playing at Wembley.
I like the various colors on the figures and the scattering of flowers and structures like the village buildings and gazebo. This is a simple scene. It's not a puzzle image that's going to be super challenging, like a crowded cartoon scene, but sometimes you just want something light and easy, with warm and fuzzy 'feels'. Nostalgia puzzles fit the bill.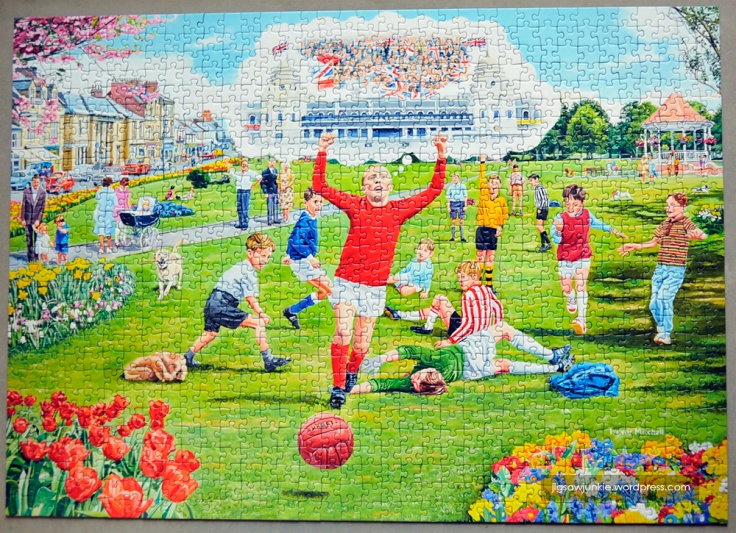 Above: The completed puzzle. Click for closer view.
Puzzle Quality: 10/10
Working a Ravensburger is like driving a BMW. It just feels really solid and good. The pieces are sturdy and they interlock perfectly–tight but not too tight to undo them. There's never any confusion about piece fit. The piece finish is non-glare and feels good in your hand. As you can see in the close-up below, there's lots of piece shapes even though it's a grid cut. You can see our full brand comparison here.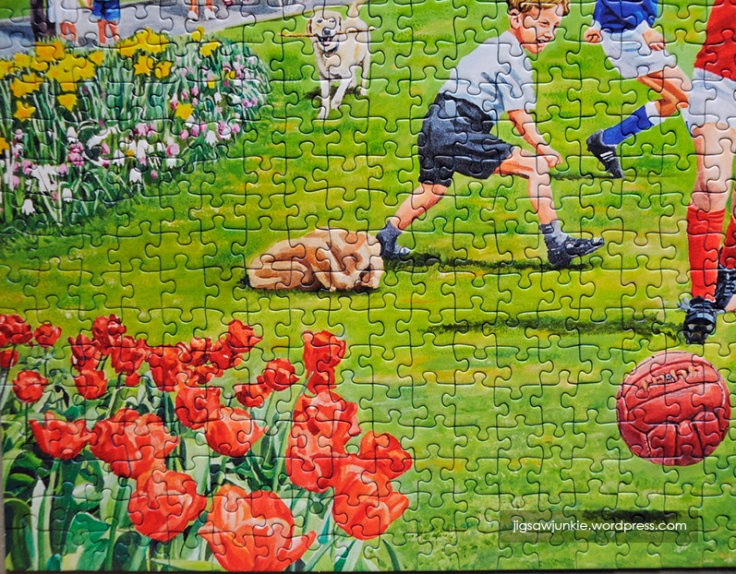 Assembly: 9/10
This is an easy 1000 piece puzzle. I assembled the blue sky and 'dream bubble' first, because they looked like easy sections, then the reds, the various human figures, and the buildings and gazebo. There is a lot of green in this puzzle, but it's not difficult. There are areas of shade and other variations that make assembling the green lawn pretty straight-forward. This is a quick 4-5 hour puzzle and sometimes that's just what you want. This would be a good puzzle to work with kids or family members who aren't usually puzzlers.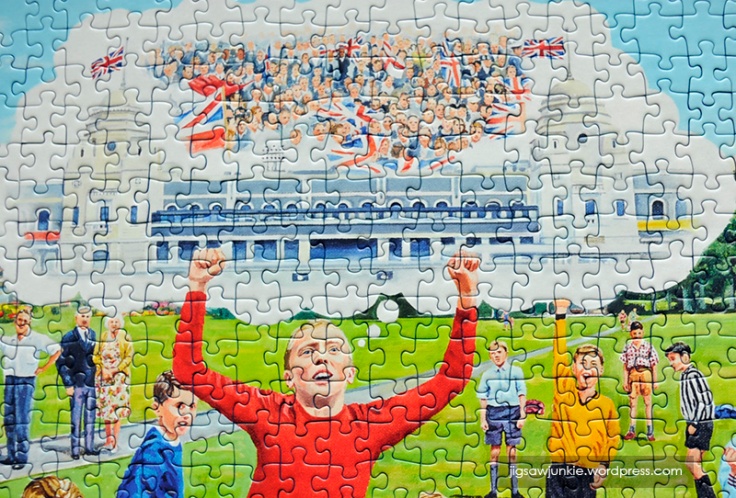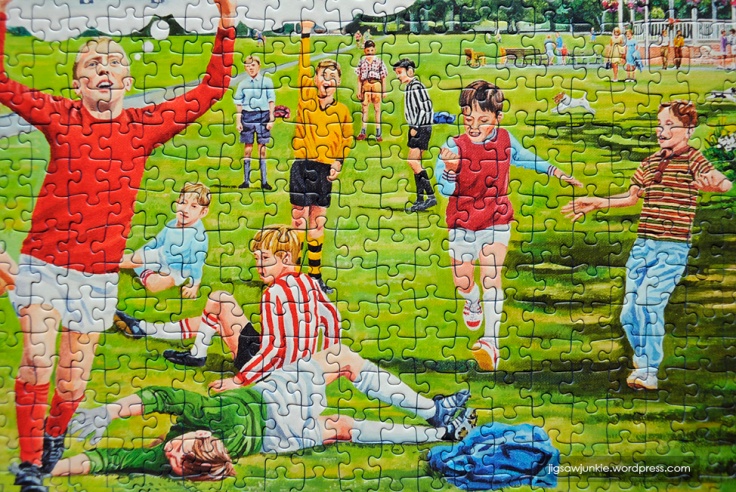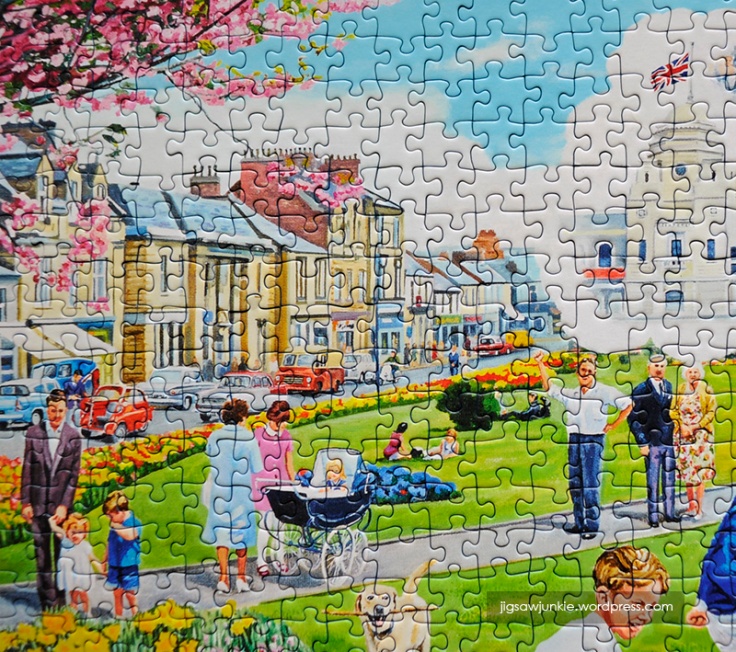 Conclusion
A very nice, solid British nostalgia puzzle from Ravensburger. Recommended.

JJ