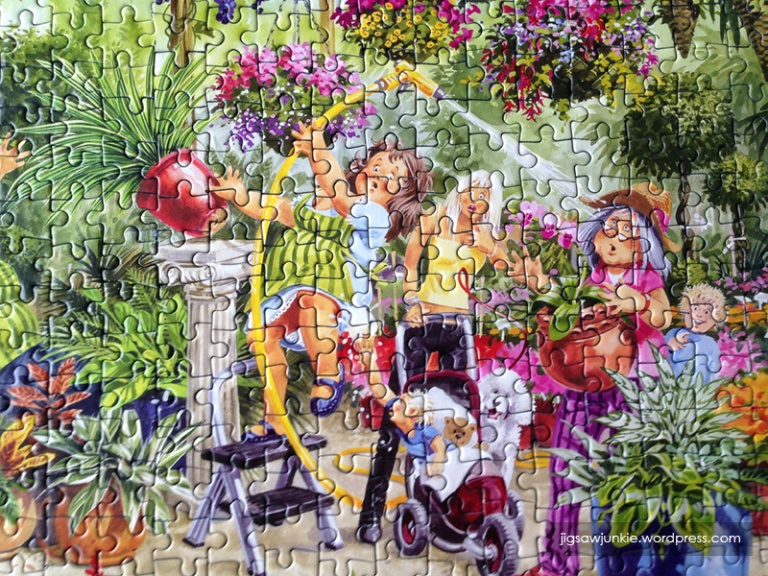 Series Review: "Whoopsies" by John Francis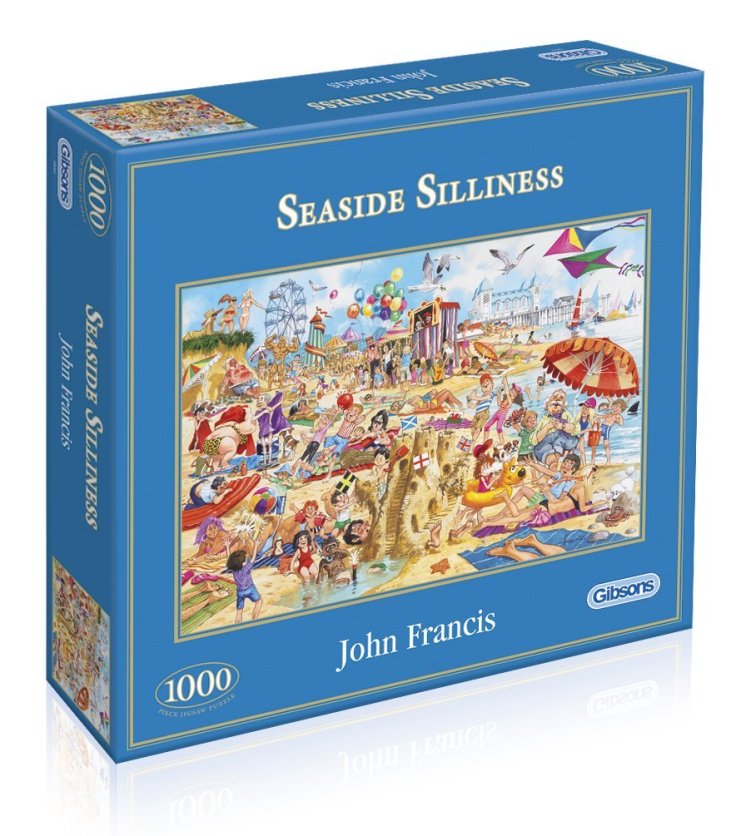 The "Whoopsies" series was created by artist John Francis and published by Gibsons (UK) between 2011 and 2013. The series was possibly created to take advantage of the popularity of "busy" or "crowded" puzzles like those by Jan Van Haasteren. Each puzzle is a scene showing a variety of characters in the midst of assorted blunders.
To be honest, I didn't take to this series the first time I saw one. It took a few views for the art style to grow on me. However, once I tried one (my first was "Ready, Steady, Whoops") I really loved it and ended up collecting all the ones available. Gibsons doesn't appear to be making the series anymore, but you can still find several in print on Amazon UK and those that are out of print can be found on ebay.
What I like about the puzzles is that, unlike the JVH puzzles and many Heye, the figures in the Whoopsies series are large and more realistic (though still cartoony). This makes for a nice change. I also love the bright colors John Francis uses and all the little details. Let's run through them shall we?
Blooming Blunders – January 2011, 500 pieces
As far as I can tell, this is the first "Whoopsies" puzzle. At only 500 pieces, it's not a very difficult or time-consuming assembly, but the scene is quite fun with all the various plants and flowers and the characters in the midst of disaster. The old man, woman with brown hair, pretty blonde, and baby will all appear in other puzzles.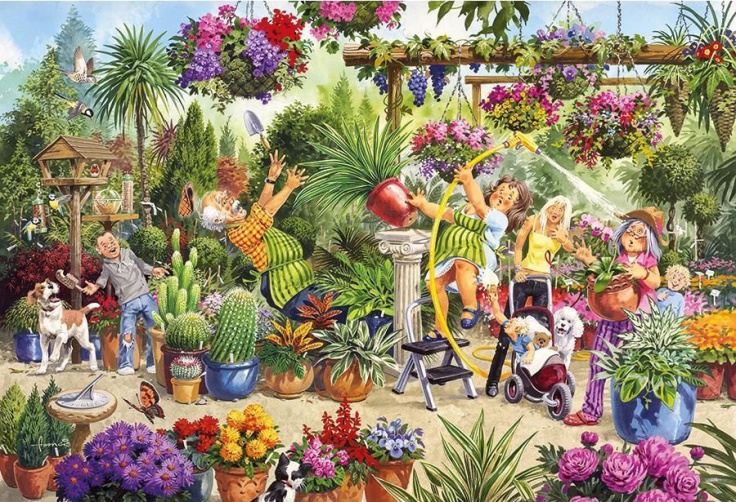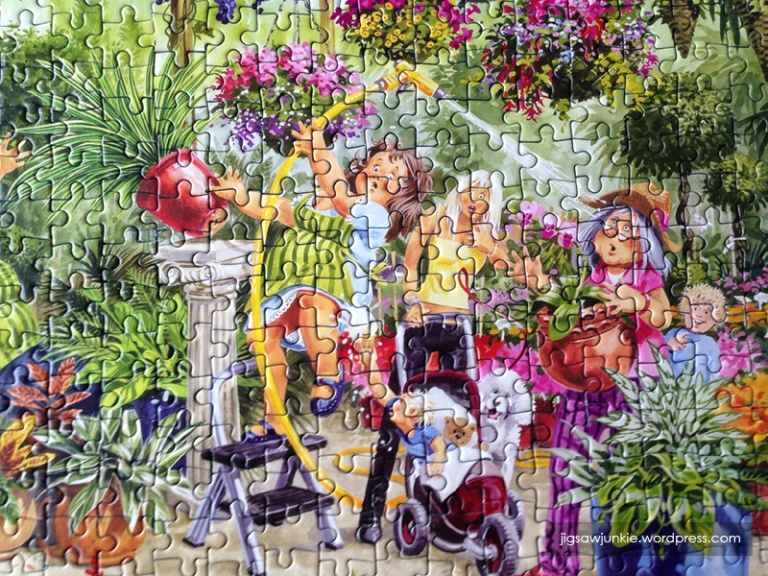 "The Summer Show" – May 2011, 1000 pieces
In May, Gibsons released another "Whoopsies" puzzle, this one 1000 pieces. It's a riot of pretty things–flowers, fruits, pastires, and balloons. We have repeating characters of the old man, woman with brown hair, the baby, and the pretty blonde. I love the colors in this one. It was very fun to assemble.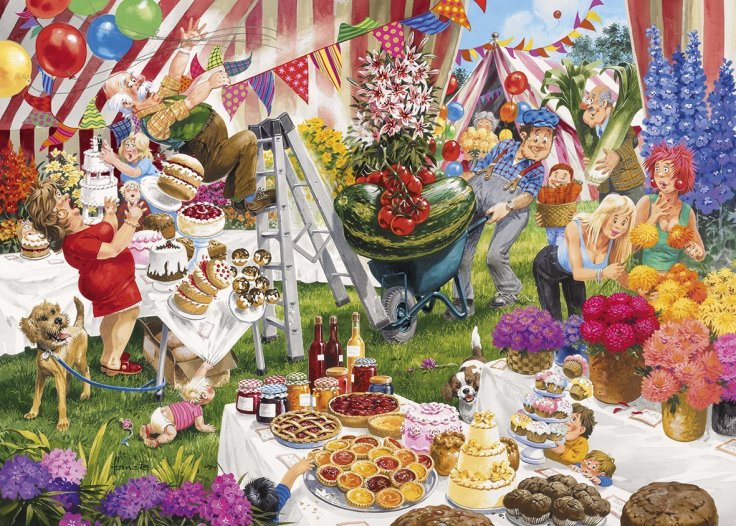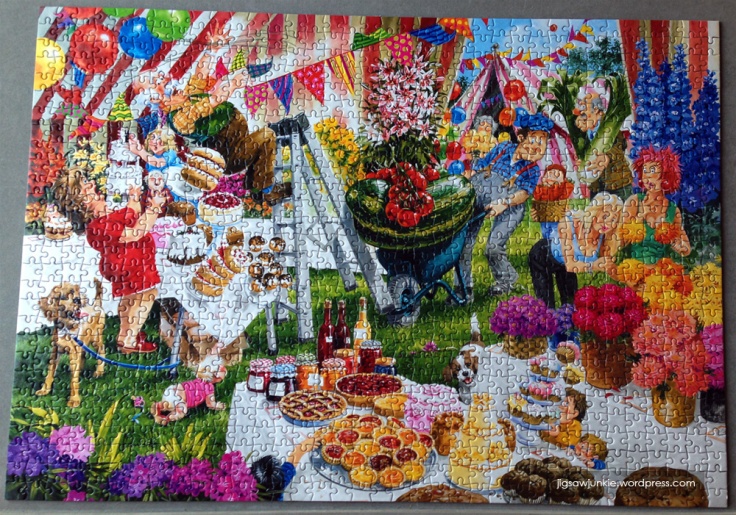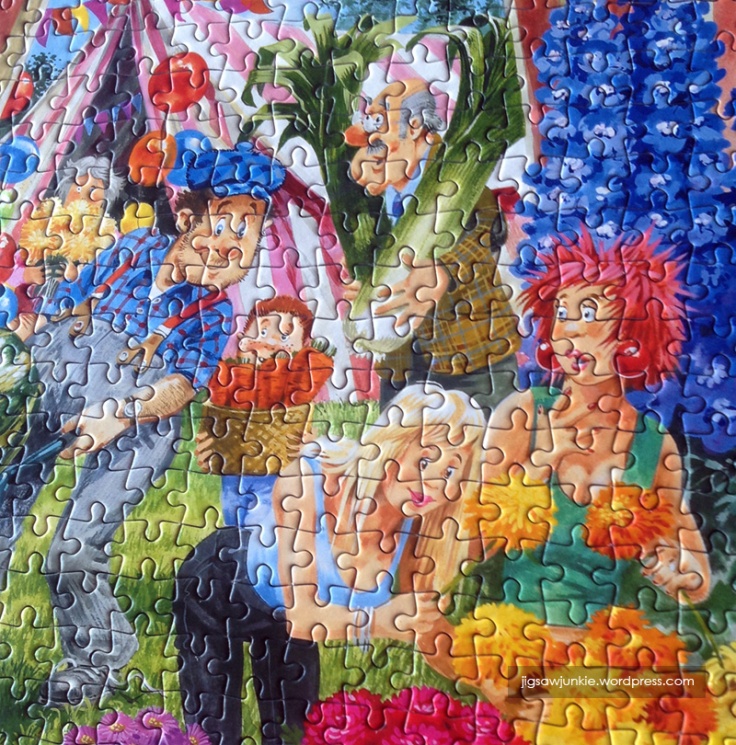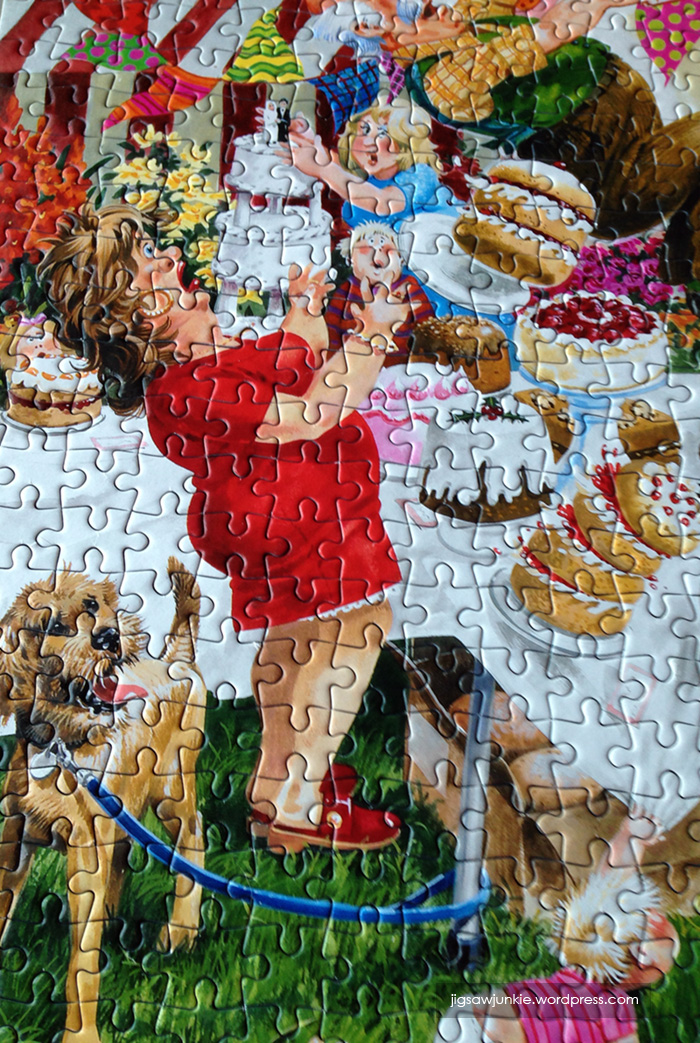 "Seaside Silliness" — January 2012, 1000 pieces
I haven't worked this one yet, but the composition has lots of detail, more than the first two puzzles in the series.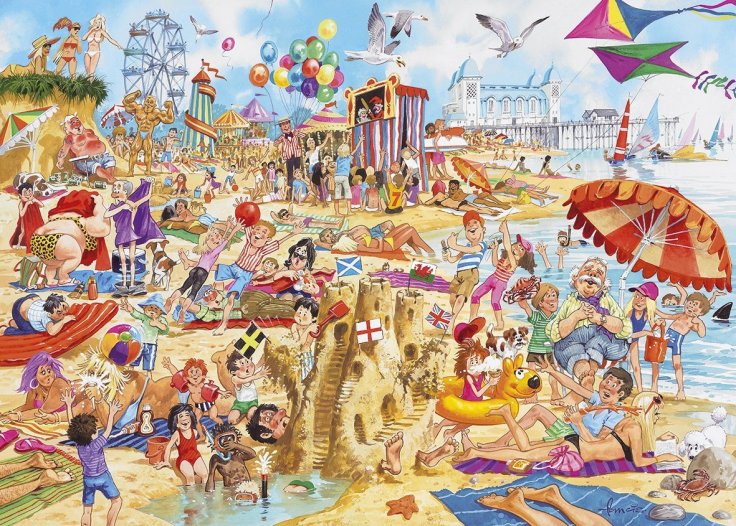 "Fun Run Fiasco" — January 2012, 2000 pieces
This is the first and only one in the series that's a bigger, 2000 pieces. It's not my favorite image in the series as it feels a little jumbled and messy. But I do like the larger size.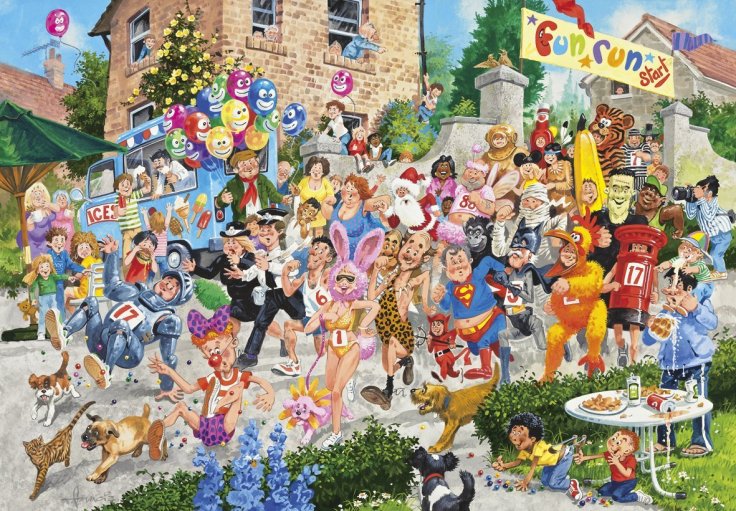 "Christmas with Grandad" — June 2012, 500 pieces
For their June 2012 release, we have a Christmas image in a family-friendly 500 piece size. I like the more intimate feeling of this one, similar to the first two in the series, with lots of pretty objects in the scene besides the characters.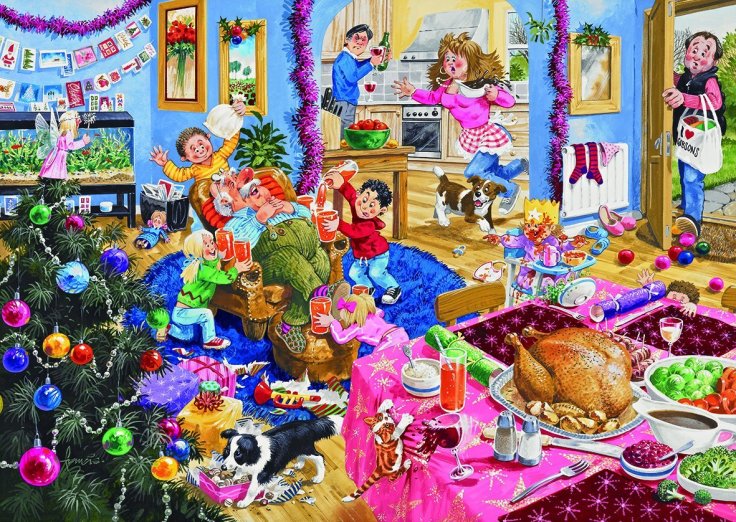 "Rollicking Rafters" — November 2012, 500 XL pieces
This is a fun image with a nice balance of characters and other items of interest. The XL piece size means the 500 pieces results in a puzzle the size of a regular 1000 piece puzzle.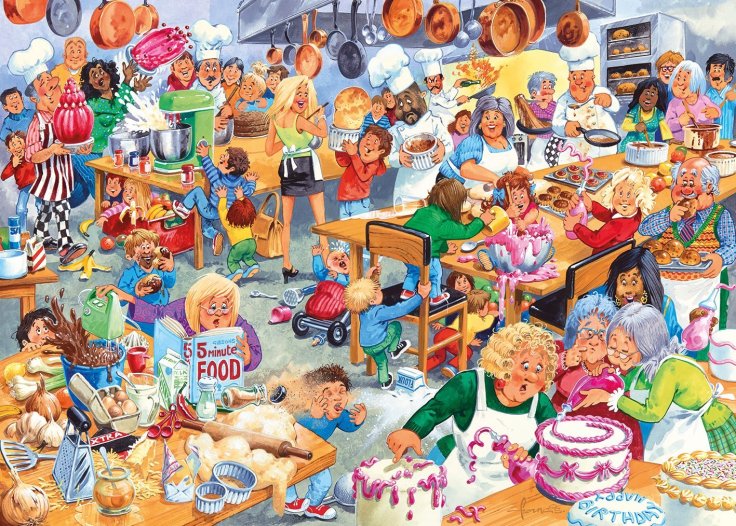 "Ready, Steady, Whoops" — January 2013, 1000 pieces
This was the first "Whoopsie" I did and I liked it so much, I got the rest of them in the series. As I mentioned above, I really like the larger characters (vs JVH), the exuberant color, and the sense of fun in the compositions.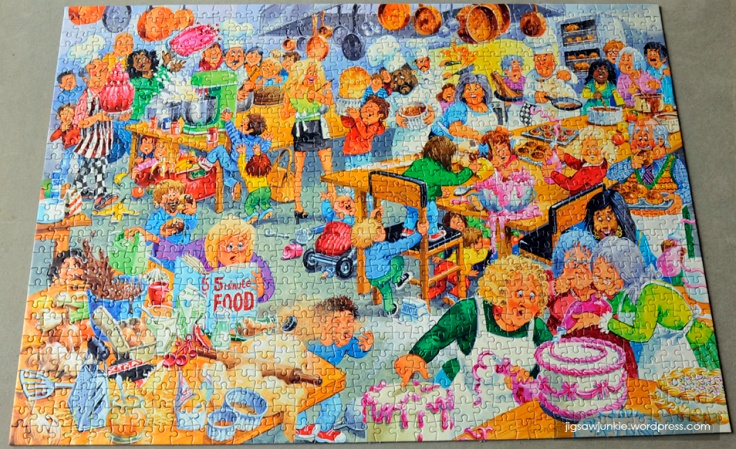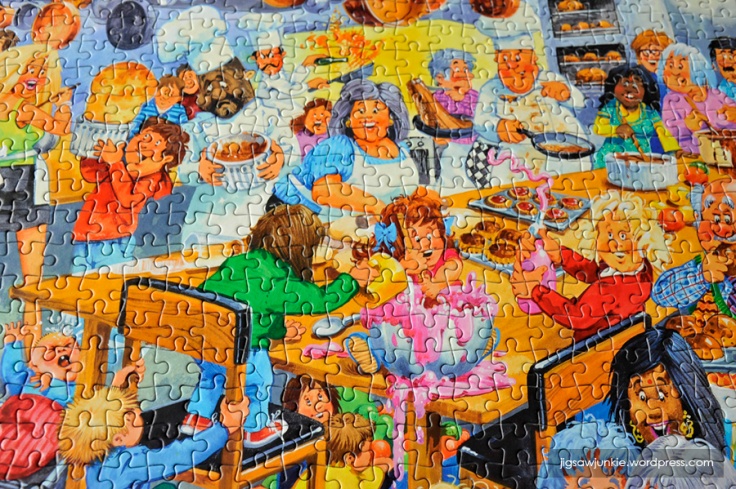 "Antique Shop Antics" — July 2013, 1000 pieces
Another fun composition in 1000 pieces. I like this image a lot, though I haven't assembled it yet.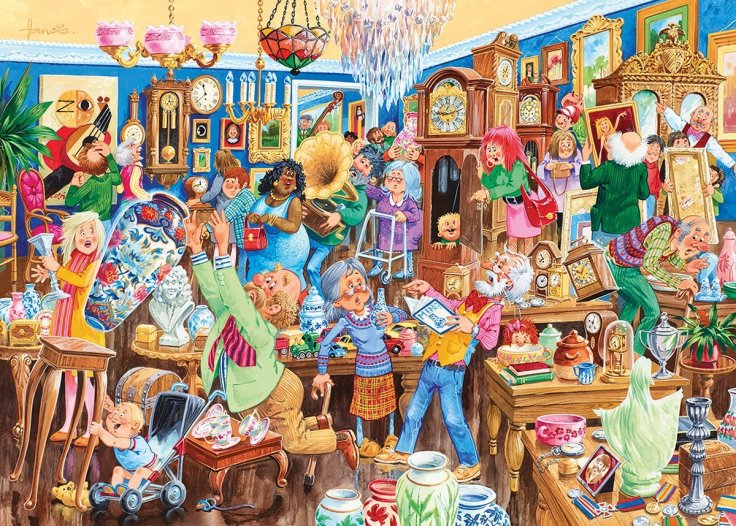 "Winter Whoopsies" — November 2013, 500 pieces
This is the last "Whoopsie" puzzle to my knowledge. It's a fun winter image in the smaller, 500 piece size. Assembly was quite fun, as always!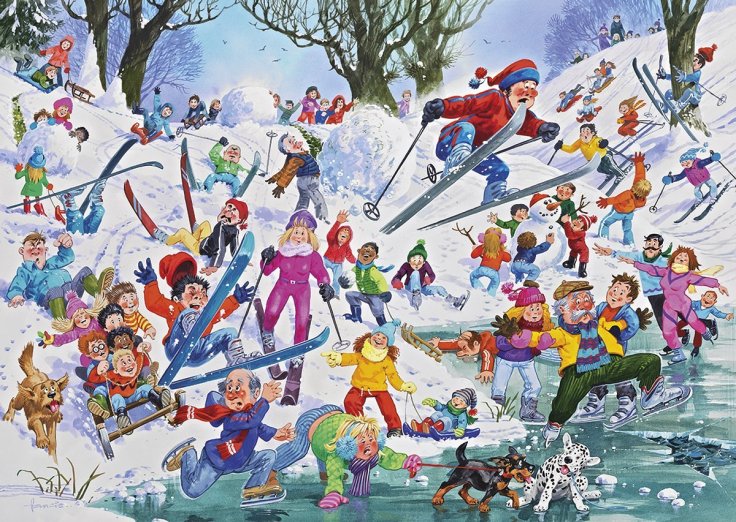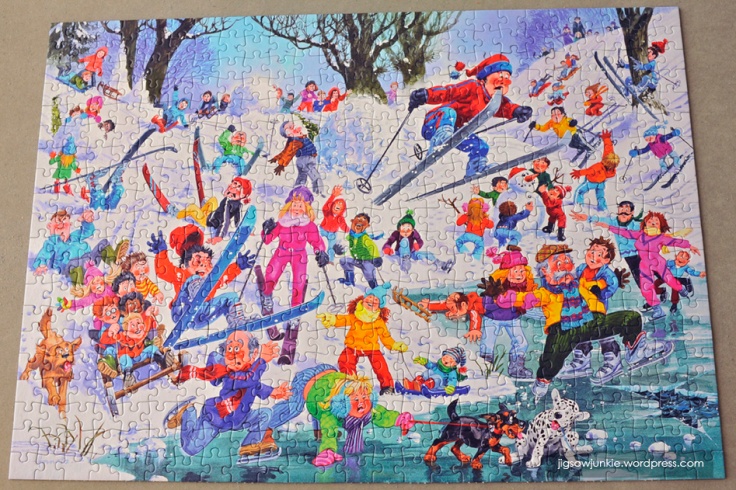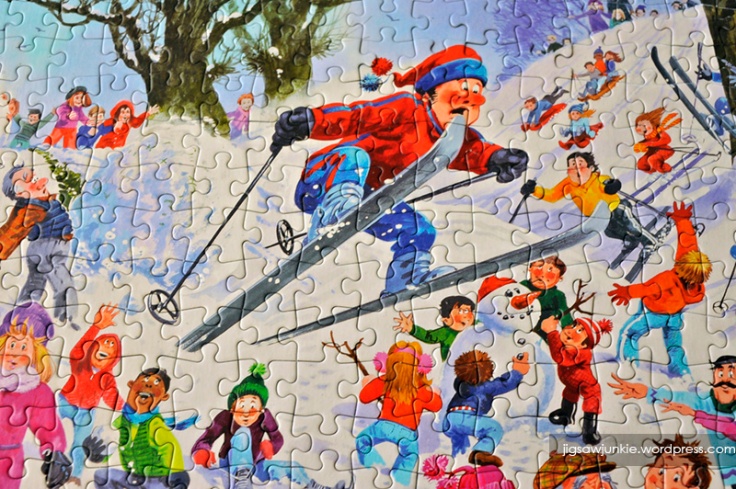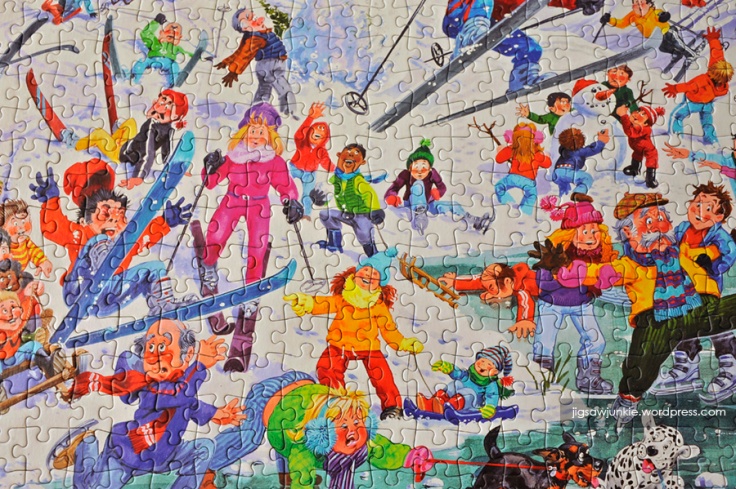 Quality:
I really like the Gibsons quality. You can see our brand comparison here. The pieces are thick and have a nice waxy matte finish. Gibsons puzzles can be challenging in monochrome areas, due to having similar piece shapes, but that's not an issue with the "Whoopsies" series where there's so much color and detail.
Conclusion:
Excellent puzzle quality and fun, puzzle-perfect images, "Whoopsies" puzzles are worth tracking down.
Where to find:
You can find a couple of these still in print on Amazon UK here. Those that are out of print are best sought on ebay.
JJ