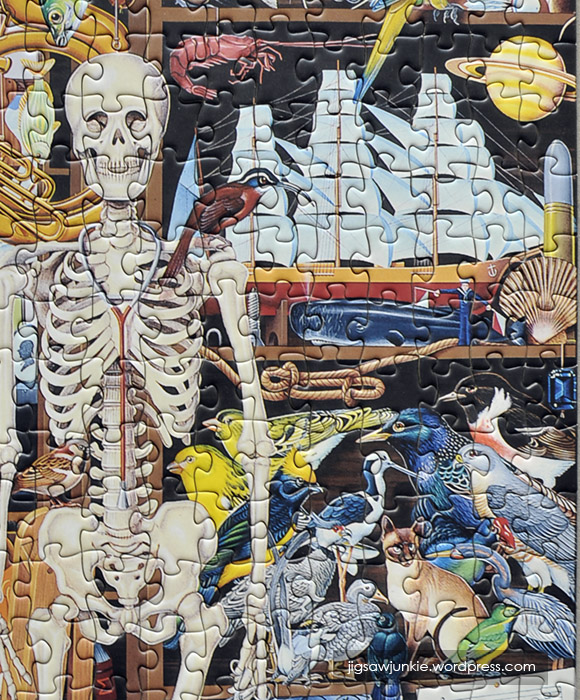 Review & Giveaway: "The Ultimate Alphabet: The Letter S" by Mike Wilks, Pomegranate, 10/10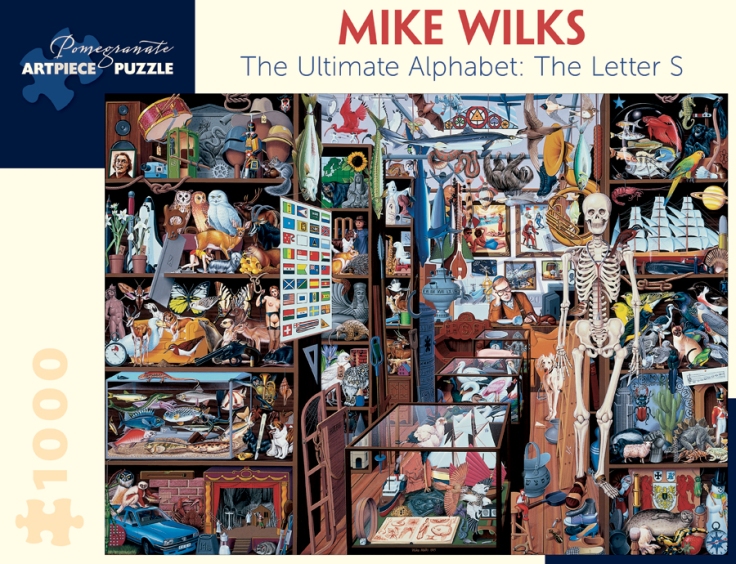 Publisher: Pomegranate (US)
Title: "The Ultimate Alphabet: The Letter S" by Mike Wilks, 1000 pieces
Release date: end of 2015
Review by Jane
OUR RATING: 10/10

GIVEAWAY: Pomegranate has offered us a free copy of this puzzle to one lucky winner! To enter, simply comment on this post and name ten things in the puzzle that start with the letter "S" (you can use the pictures in this post as a guide). I'll pick a winner randomly from all those who respond and qualify. Good luck!
Box Quality: (10/10)
The box is shown above. It's a very sturdy, high-quality box with an attractive design. The image on the front is your only reference to do the puzzle, but it's large enough and very high-resolution.
The back has a write-up on the artist and this particular image. Awesome! It's really nice to be able to learn more about the puzzle image without having to search on the internet.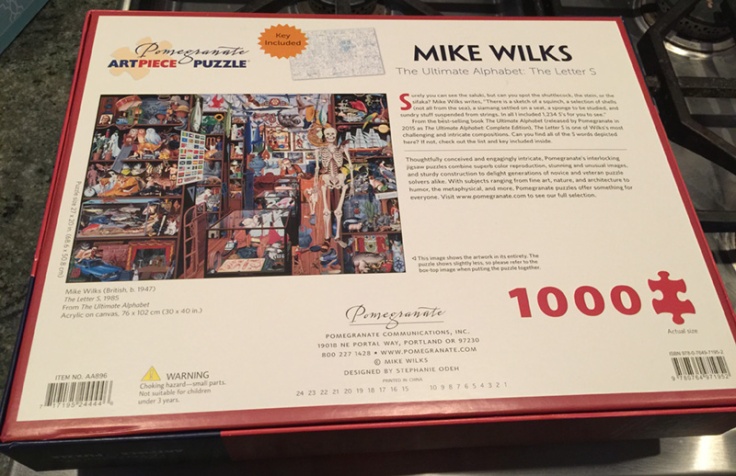 Sides:
All sides have the Pomegranate logo, the image, image name, artist name, and puzzle dimensions. The only thing I would have liked to have seen somewhere that wasn't present, is the year the puzzle was manufactured (for the sake of those who like to collect puzzles). But that's pretty minor quibble.

Inside:
There's a nice surprise inside the box. The puzzle piece bag is in an extra-heavy plastic bag with a zip lock closure for resealing. And it comes with a fold out key that's quite large. It shows you where to find all the "S" items in the image. There are 1234 "S" objects in this image. That's crazy! And they are all listed in the key, on the front and back of the page, with a diagram that shows where they are. This key is on thick glossy paper. Very nice!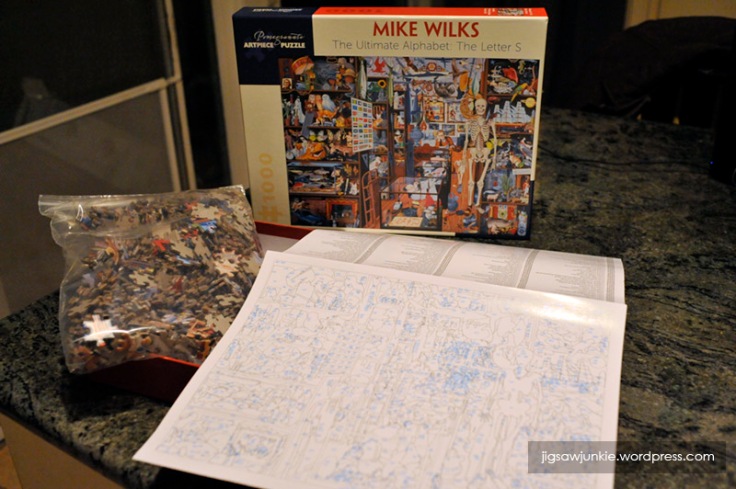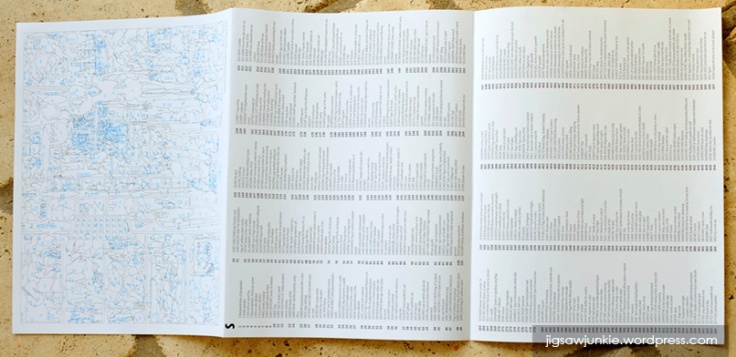 The Image: 10/10
I love the image with its extreme amount of detail. Mike Wilks has several other puzzles out with Pomegranate including "The Letter A" (just released) and "The Letter P". You can see them all here. His drawing is very precise, which it has to be to get so many specific objects into one picture. You could stare at this image for hours and still find new things. It's a great image for a puzzle.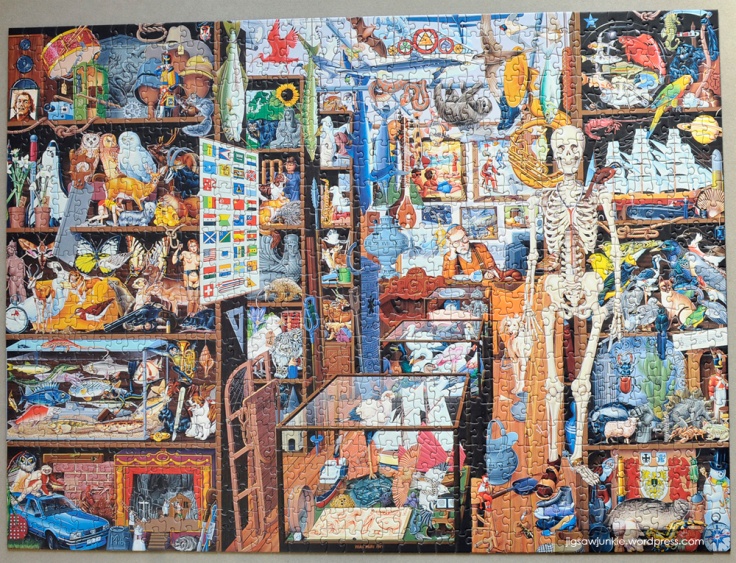 Above: The completed puzzle. Click for closer view.
Puzzle Quality: 10/10
When I did my Pomegranate brand analysis last year, I was impressed with the quality of the puzzles, and that's even more true of "The Letter S". Right out of the box, the pieces feel super thick and sturdy, at least on par with Ravensburger or even thicker. The cut is a grid cut, but there's a wide variety of piece shapes.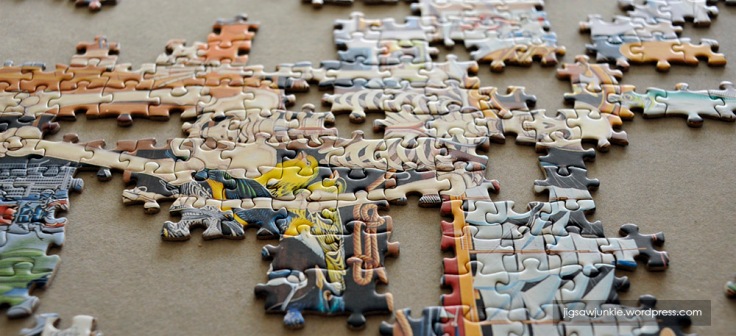 The fit is nice and snug and it's very satisfying to assemble. As you can see below, you can easily move groups of assembled pieces without them falling apart. The finish is matte, non-reflective, and feels good in your hand. This is a AAA quality puzzle that would make for an excellent gift.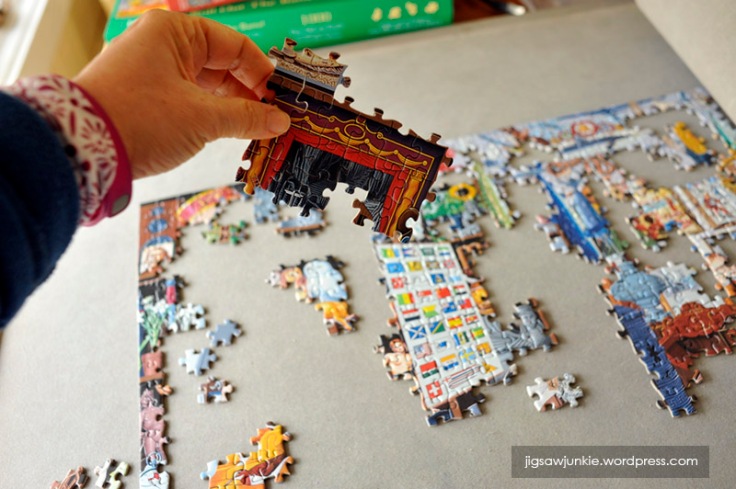 Assembly: 9/10
This is a challenging puzzle to assemble because there are very few large areas of color or pattern and the colors are distributed around the image. For example, the bits of yellow in the image below are spread out in different parts of the scene. I relied heavily on the box cover for assembly, and it would be quite hard to do without this reference. Many objects in the scene are quite small also. It was a pleasure to assemble because of the quality of the puzzle and because there're so many interesting things in the image, but be prepared–it's definitely not a mindless task like some!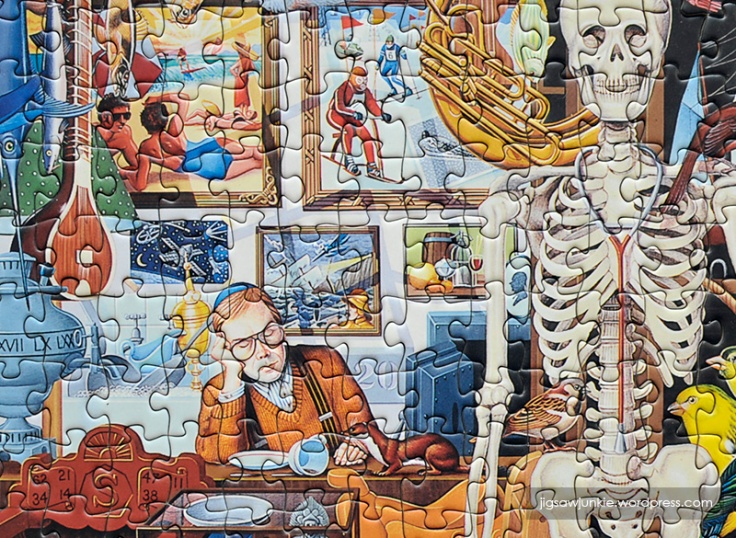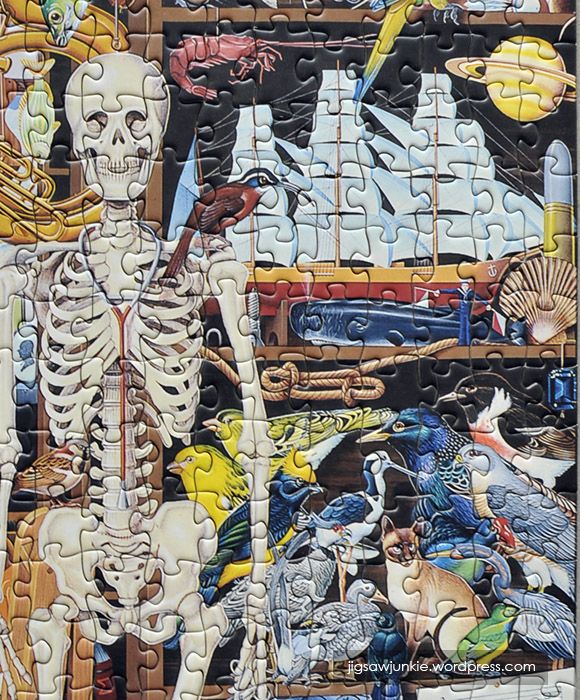 Additional Images: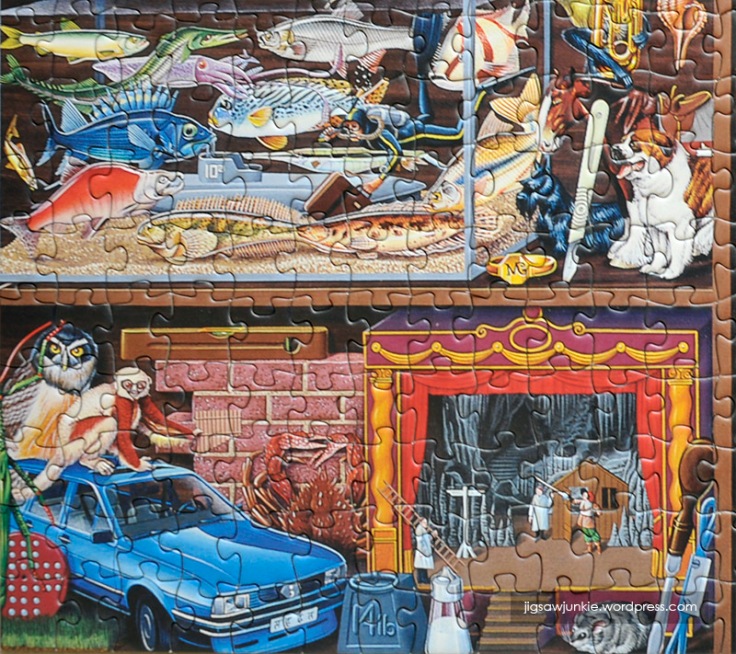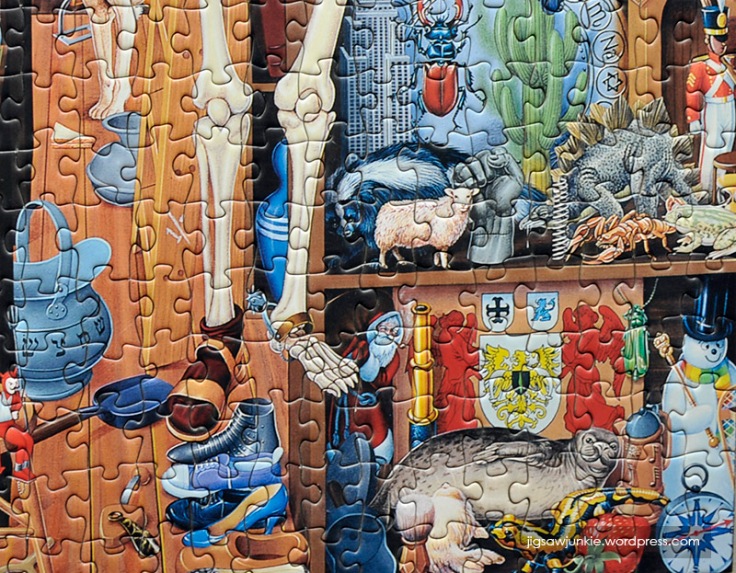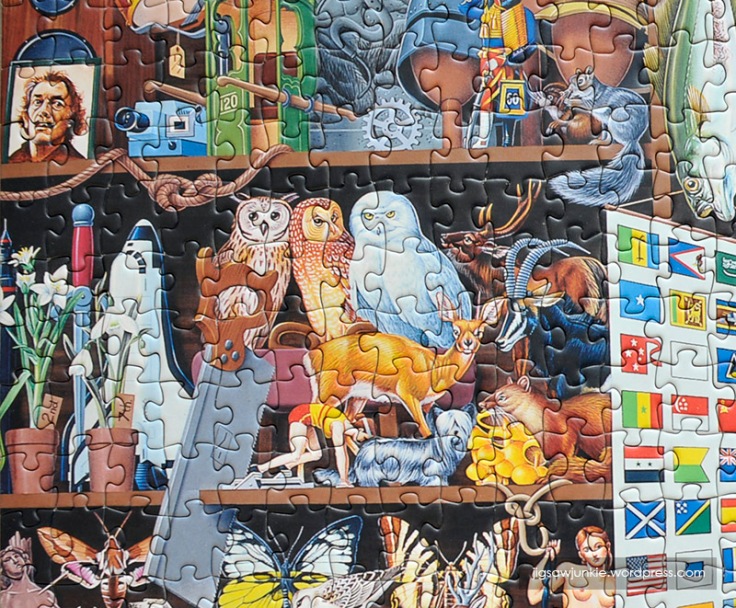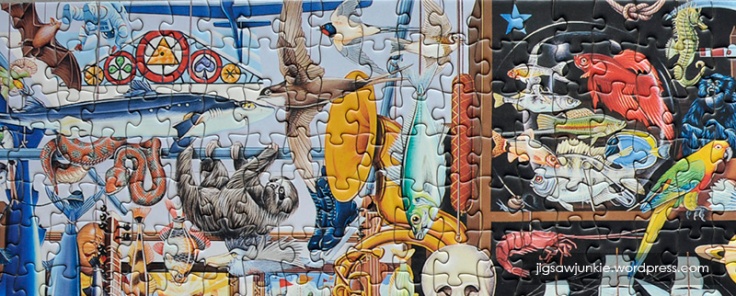 Conclusion
This is a very unique and high quality puzzle that would make a wonderful gift. It should also be highly collectible. I love that it's part of a series and that we're like to see many more! Great job, Pomegranate and Mike Wilks.

JJ