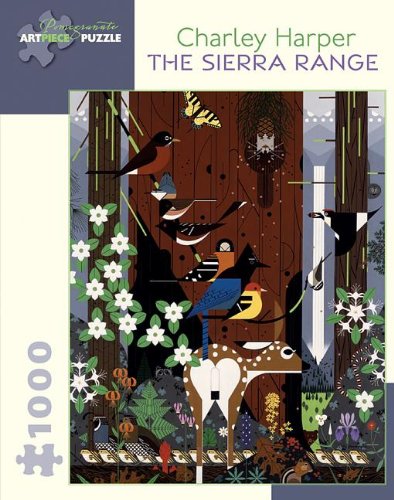 Review: "The Sierra Range" by Charley Harper, Pomegranate – 9.5/10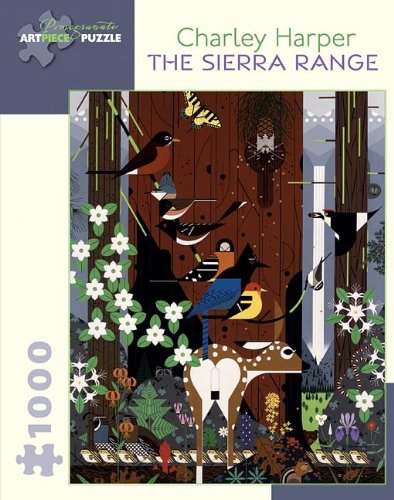 Publisher: Pomegranate (USA)
Title: "Sierra Range" by Charley Harper, 1000 pieces
Review by Victoria
OUR RATING: 9.5/10
JJ: This is Victoria's first submitted review. Thank you, Victoria!
Box Quality: 9/10
The box is shown above. It is of sturdier construction than the typical Ravensburger or Jumbo boxes; however it is a bit smaller. Although the inside did not contain any leaflets or special information, the puzzle did come in a resealable bag and no puzzle dust was observed. The back of the box contains a short biography of the artist along with some details about Pomegranate.
Sides:


Back: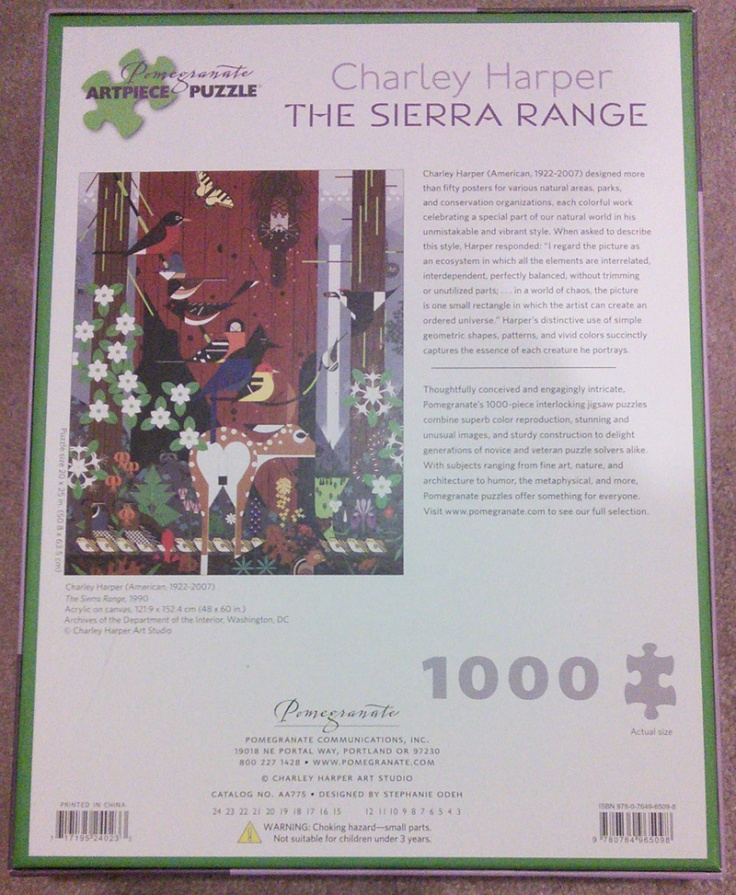 The Image: 10/10
Charley Harper is an artist known for designing posters for different nature preserves and this is no exception. As I assembled the puzzle I uncovered details in the image that I had originally not noticed. The image hides a variety of animals that you can find in the Sierra Range. These small details and the rich colours made me fall in love with the image. The colours of the image are rich and transfer beautifully to the puzzle.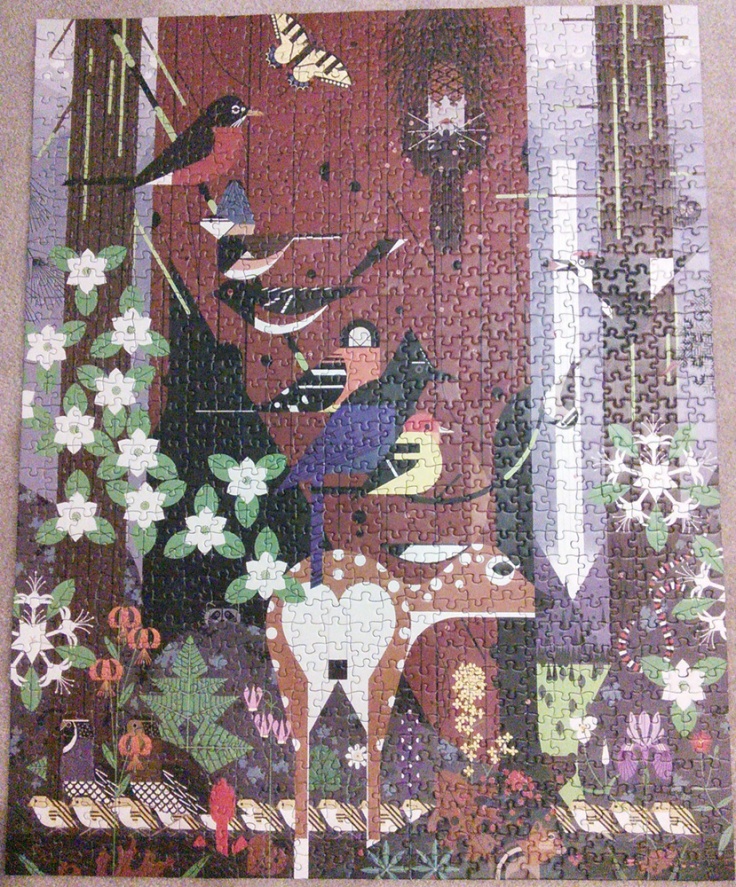 Above: The completed puzzle. Click for closer view.
Puzzle Quality: 9/10
This puzzle is a typical grid cut puzzle and the pieces interlock snugly. There was never any confusion in regards to where a puzzle piece fit.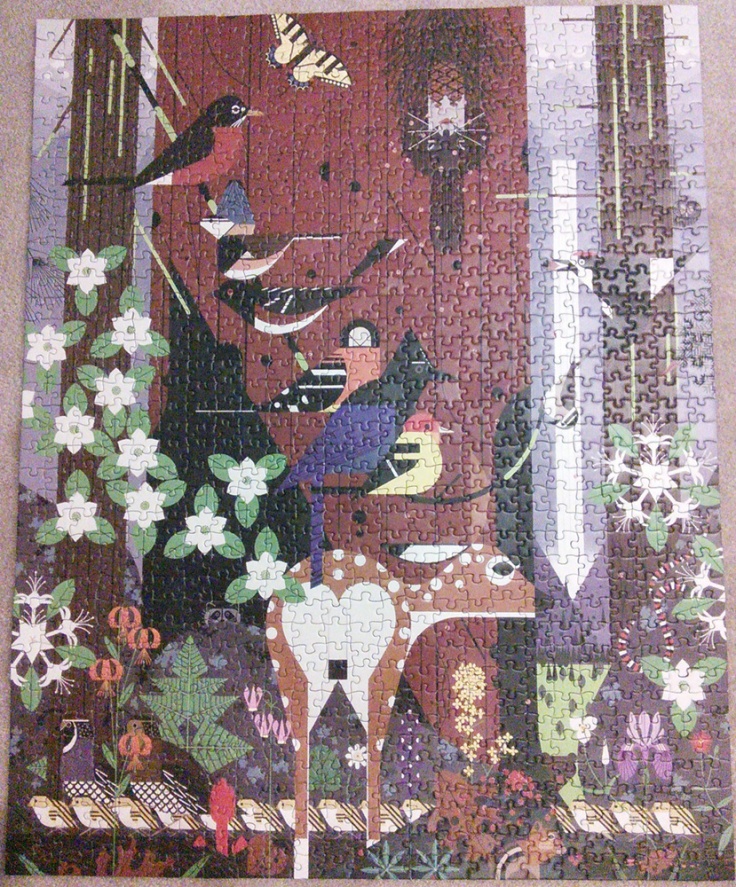 Assembly: 10/10
The assembly of this puzzle was a lot of fun. There are lot of bold and rich colours to focus on and different patterns. It is also exciting to see how certain patterns can come together to form a certain animal.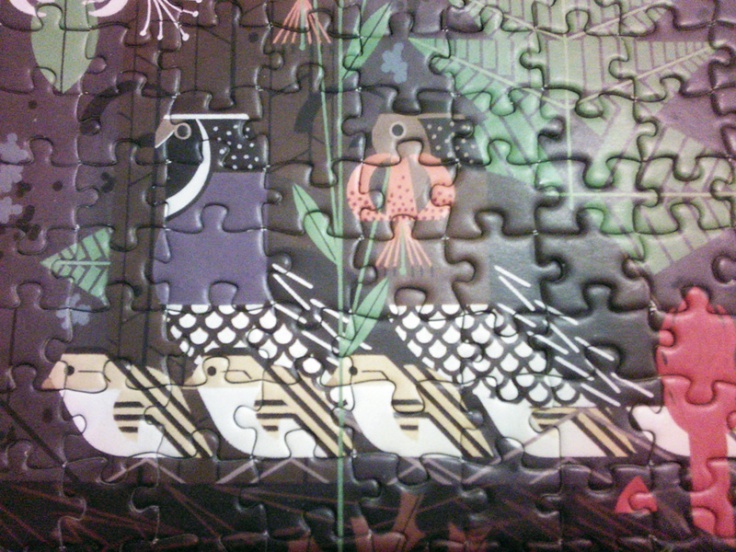 Conclusion
This was my first Pomegranate puzzle, and I was so thrilled with the end product that I bought another puzzle with an image of Charley Harper. If you like puzzles with rich, bold colours, and with more than meets the eye then this is the puzzle for you. Recommended.

Victoria