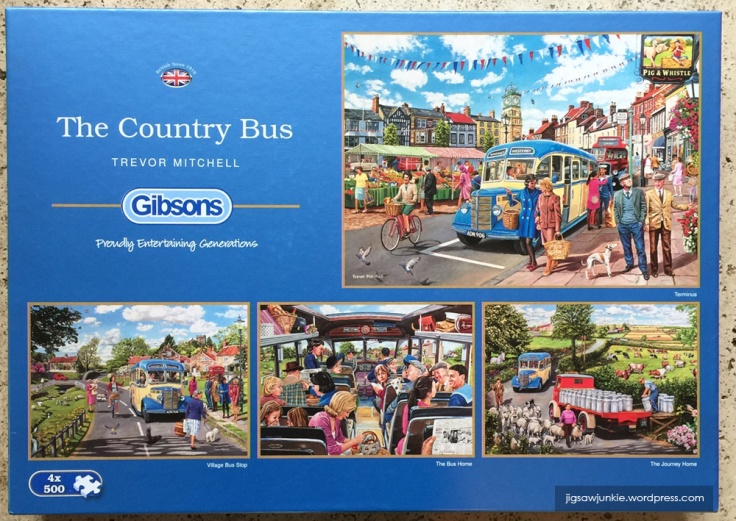 Review: "The Country Bus" by Trevor Mitchell, Gibsons — 7.75/10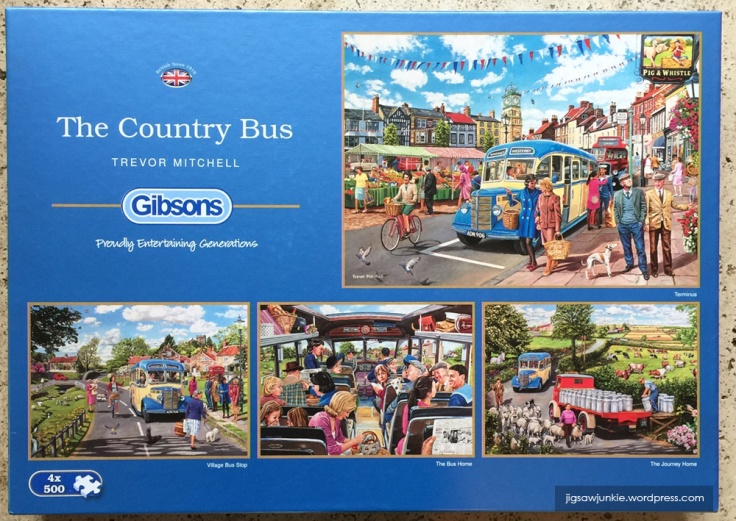 Publisher: Gibsons (UK)
Title: "The Country Bus" by Trevor Mitchell, 4 x 500 pieces
Review by Jane
OUR RATING: 7.75/10

A lovely puzzle set and box is marred by missing pieces and quality control issues.
Box Quality: (10/10)
The box is shown above and below. As usual with Gibsons, it's a gorgeous box in blue made of thick cardboard and with nice product design. I really appreciate the fact that the back of the box is unique to this puzzle, giving background info on Gibsons, the artist, and the specific puzzle images. One slight niggle I have about these 4×500 boxes is that each puzzle image ends up being fairly small. But the puzzles are simple enough that you can get away with not having a large reference image. So I give the box a '10'.
Back: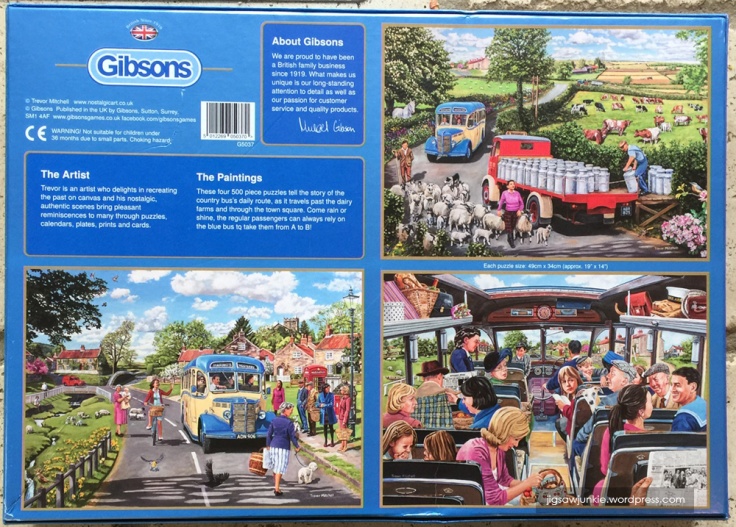 Inside the box:
The box contains 4 bags of puzzle pieces, each with a little reference photo to show you which puzzle is in the bag. There is a small guarantee card which, as I was to learn, was basically not worth anything to me. There was no mini-catalog or other add-in in the box.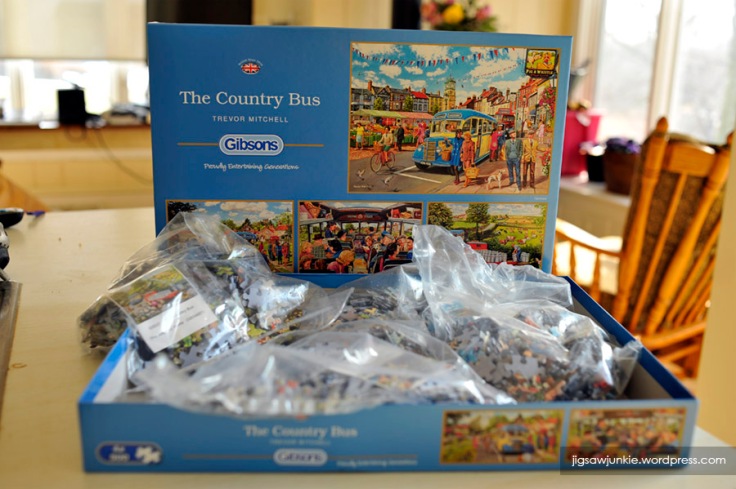 The Image: 10/10
There have been a number of 4×500 British nostalgia puzzles painted by Trevor Mitchell. I have them all and I really love them. Previously there was "The Milkman's Rounds", "The Postman's Rounds," "Rag and Bone", "Stop Me and Buy One", "Bobby's Beat", and more. One thing I like about them is that even though they are 500 piece puzzles, getting a set of four that go together thematically means you can assemble and/or display one, two, or all four of the puzzles at once. I have to admit that I don't mix up all four bags to make a 2000 piece puzzles. I do them one at a time and then display them together. But you could mix the bags into one big pile of pieces if you want more challenge.
This particular set, "The Country Bus", I like because it has two country scene, a city scene, and a close-up bus interior scene, which is new compared to the previous puzzles like "The Milkman's Rounds". It's nice to have the added variety in the scenes. I like the bright colors and the workmanship on the paintings. Full score from me in this category.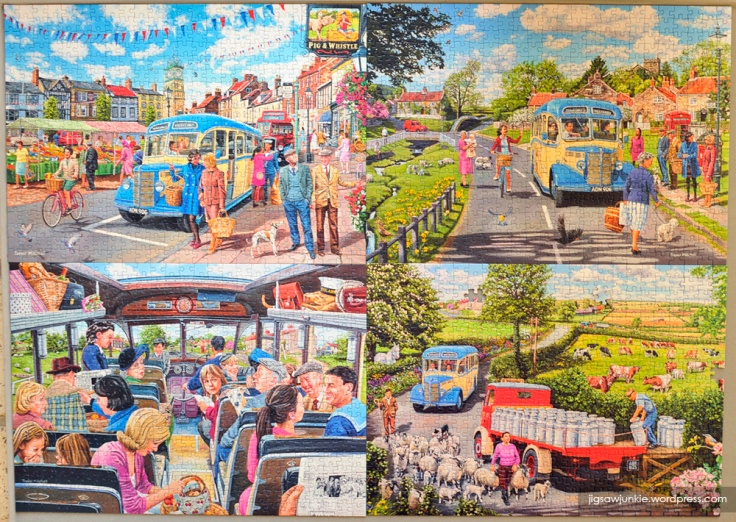 Above: The completed puzzle. Click for closer view.
Puzzle Quality: 4/10
Unfortunately, I had issues with this puzzle. On the good side, I generally like Gibsons quality very much. They have nice, thick pieces with a waxy matte coating. They feel good to assemble. They don't have a great deal of piece shape variety. Mostly they have 2-knob, 2-hole pieces, as you can see in the close-up below. That can lead to issues in places that are monotone or a random pattern, like the sky, because their piece shapes are close enough to each other that a piece can appear to go where it does not. I've come to accept this about Gibsons and I like the puzzles a great deal anyway. Like I said, they feel nice and sturdy (very 'British sensible shoes!') in your hand, and I love their images.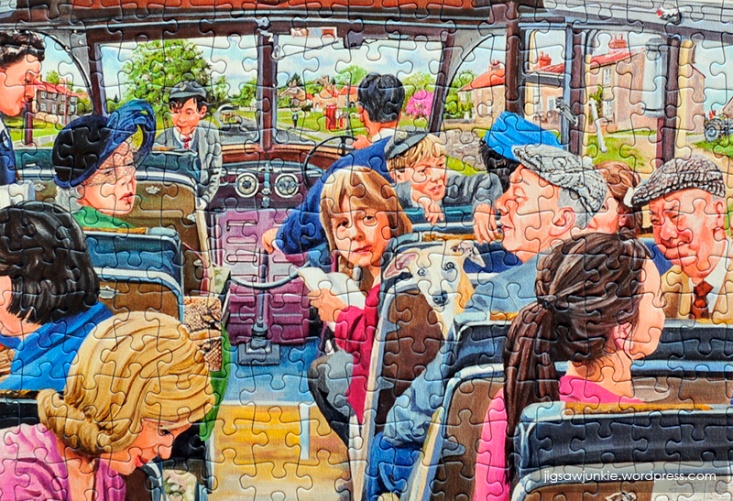 Now the bad news, this puzzle definitely has QA issues. I did three of the puzzles with no problems, but on assembling the fourth puzzle I was left with 2 missing pieces and 1 duplicate sky piece.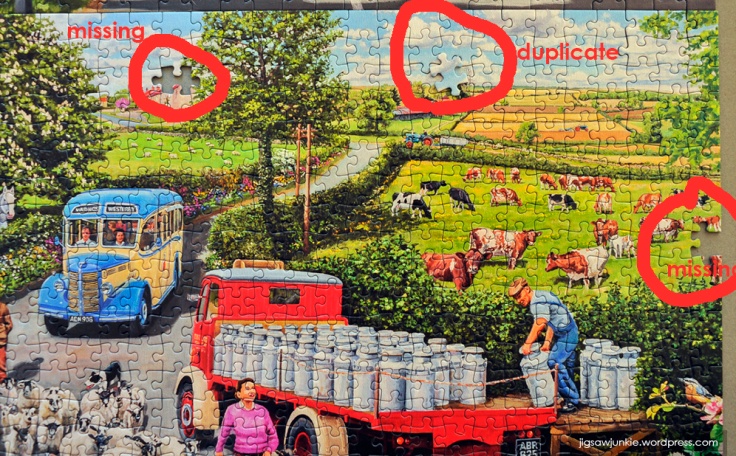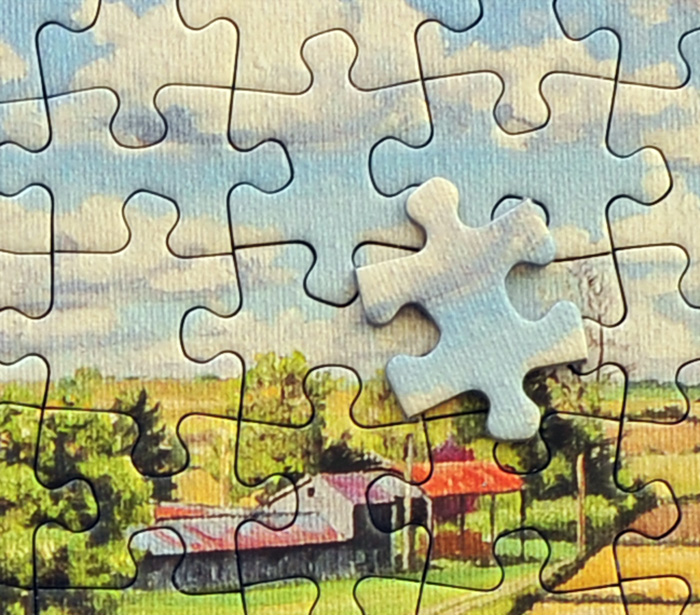 Above: I got 2 of the same sky piece in the box whilst 2 other pieces were entirely missing
Those of you who follow my blog know I review and assemble a ton of puzzles, and I'm very careful about declaring a piece 'missing' from manufacture unless I'm sure. I always check around my table if I find a piece missing at the end, and I usually find it. If it's a used puzzle, I assume the piece was lost before I bought it, and not in manufacture.
However, in this case, it is clear the fault happened at manufacture. The puzzle from that one bag was small (500 pieces) and I assembled it from start to finish in one evening with no disturbances. Two pieces were missing, not just one, and they were nowhere to be found. The presence of a duplicate piece in the box (which must then be missing from someone else's box) is another clear indicator that something happened in the QA process.
No warranty:
Unfortunately again, when i looked at the Gibsons website to report the problem, it became clear their missing piece warranty only applies if you live within the UK. If you don't, they recommend you "contact your retailer". I found this disappointing, because Gibsons does sell to retailers outside the country, like Jigsaw Jungle in Canada, Spilsbury in the US, and others. It seems strange to me that they wouldn't support their international customers.
My missing piece philosophy:
In the 'shit happens' reality of life, a missing puzzle piece isn't a brand killer for me as long as it happens rarely. I have many Gibsons puzzles that I love, and I've not had this problem with them before. This experience will not deter me from buying another Gibsons puzzle. That's true of any of the brands I love. However, if a brand was pretty on-the-fence for me anyway, and I didn't get a warranty refund, I'd probably not buy that brand again. I've dinged this particular puzzle review, but my rating of the overall brand for Gibsons still stays high.
Assembly: 7/10
Assembling a Trevor Mitchell nostalgia puzzle is an exercise in relaxation for me, not challenge. The scenes are simple with clear colors and patterns. Assembly is easy, especially when there are different bags of 500 pieces each. I work on puzzle in the evenings with TV, and each of the four puzzles in this set took one evening, several hours at a pop. The colors are nice and clear, and it was a pleasure to assemble the scenes. As I mentioned, if you want more challenge, you could mix all four bags together. For me, I'd just as soon keep my nostalgia experience relaxing and save the challenge for cartoon puzzles or really big puzzles that don't have the option of pre-bagged separation.
I dinged the assembly score because finding 2 missing pieces does ruin the satisfaction of finishing the puzzle quite a bit!
Additional Images: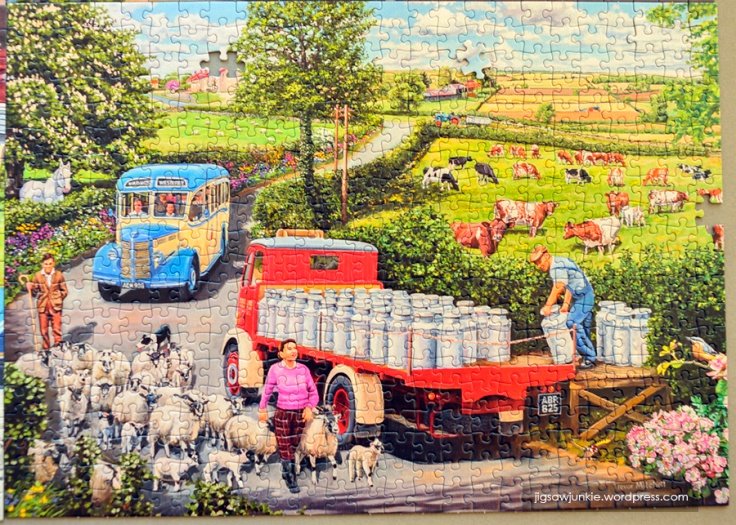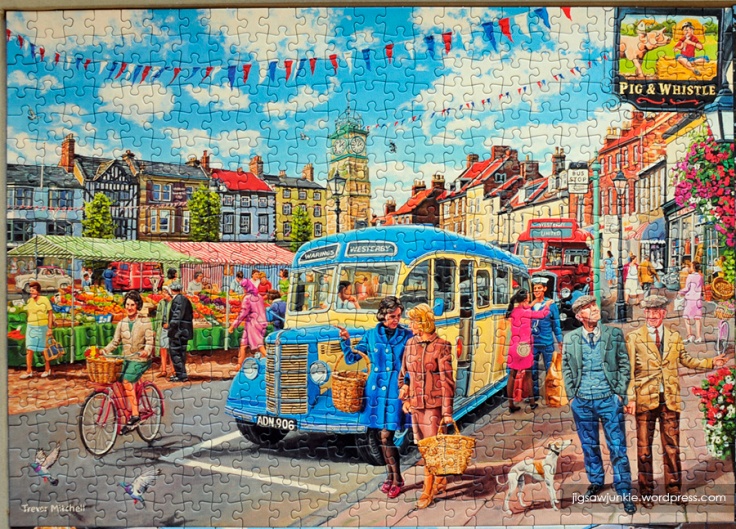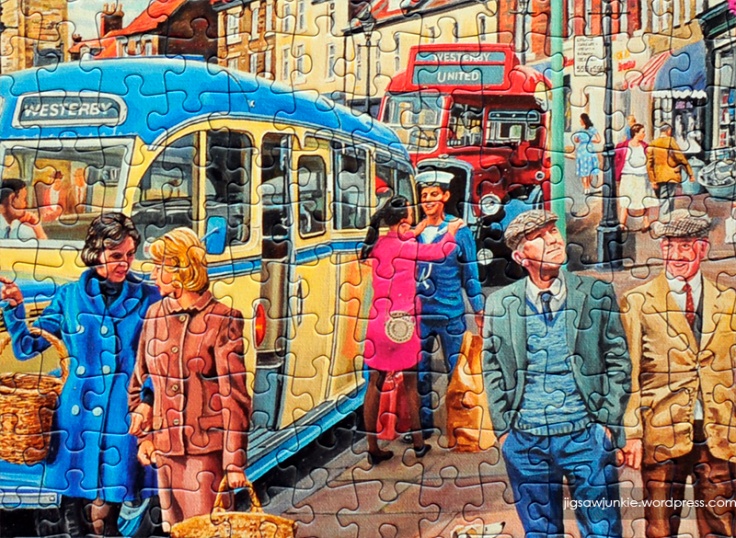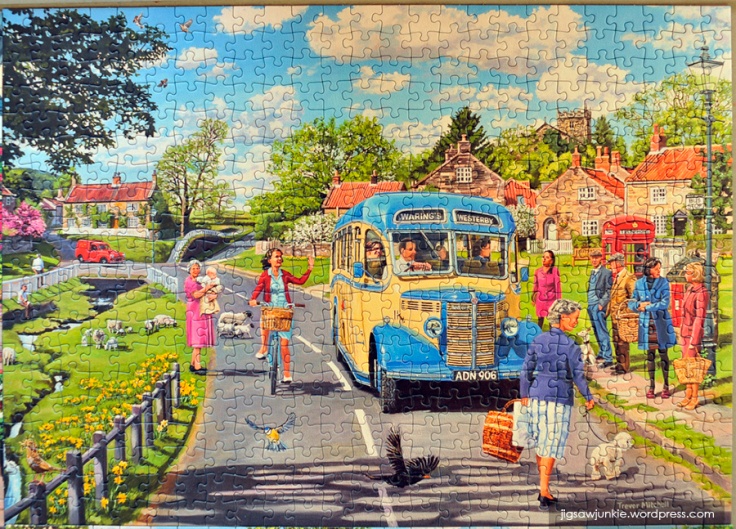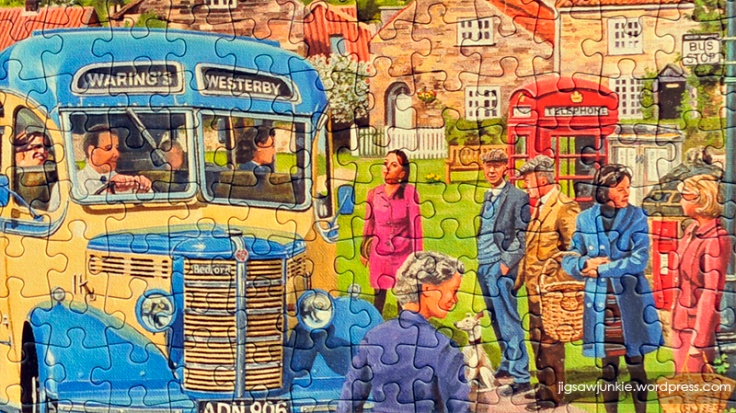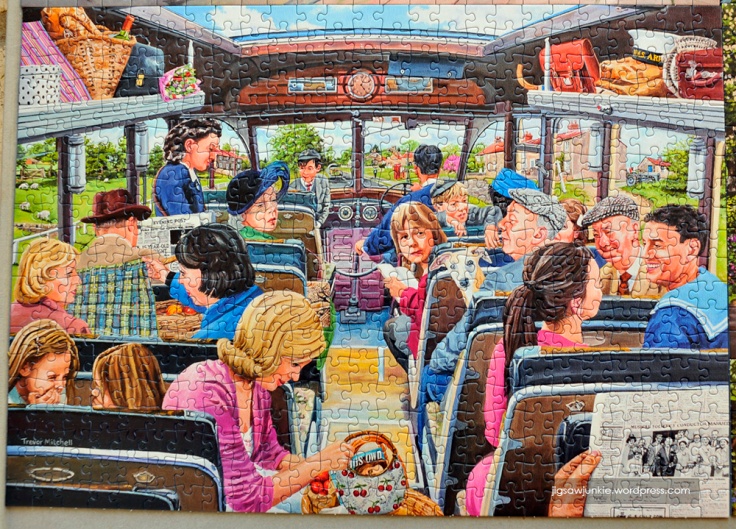 Conclusion
I love all the Trevor Mitchell/Gibsons puzzles and recommend them. This particular puzzle, "The Country Bus", has a QA problem. If you want to purchase it, you might consider waiting for a bit and buying it later — hopefully they will do another, and better, run of it. Or if you're feeling daring, go ahead and purchase. Just make sure that if you don't live in the UK, your retailer will back the product. If you do live in the UK you can feel confident that Gibsons will replace any component puzzles that are missing pieces.

JJ