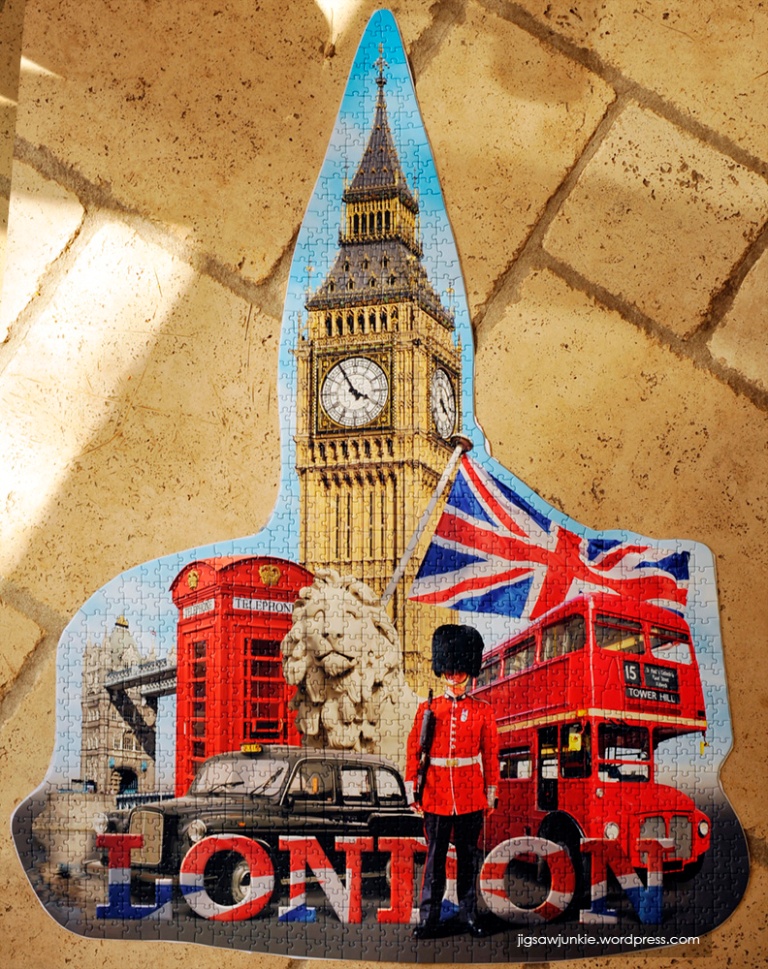 Review: "Big Ben, London" by Ravensburger, 9/10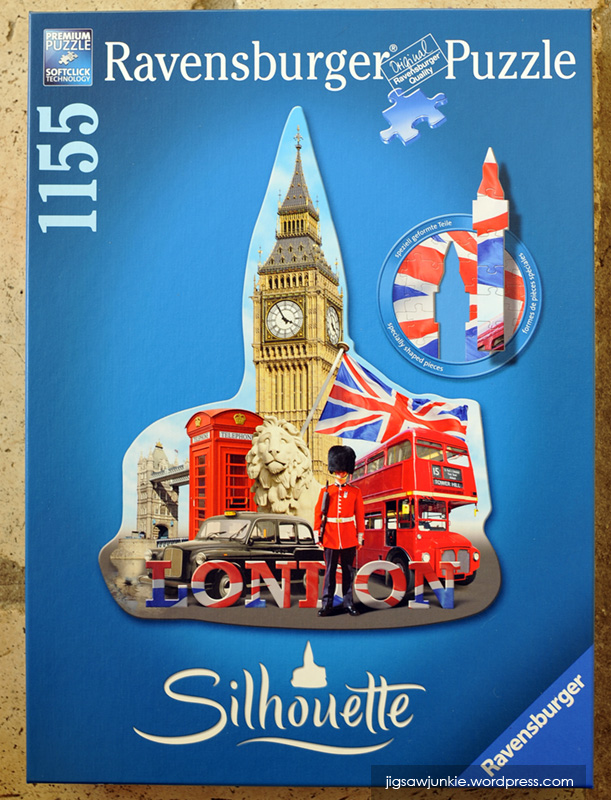 Publisher: Ravensburger (Germany)
Title: "Big Ben, London" 1155 pieces
Review by Jane
OUR RATING: 9/10

This puzzle is part of a new category of shaped puzzles from Ravensburger called "Silhouette". Since I'm a fan of both shaped puzzles and Ravensburger, let's see how well the latter pulls off the former, shall we?
Box Quality: (9/10)
The box is shown above and below. It's a pretty box and very sturdy in typical German board-game style. I imagine the look of the box will be similar across the Silhouette's line. The front is fairly simple.
Back:
The back of the box features a write up on the Silhouette line and shows other puzzles in the line. There are six of them so far. I don't think the Africa one has been released yet.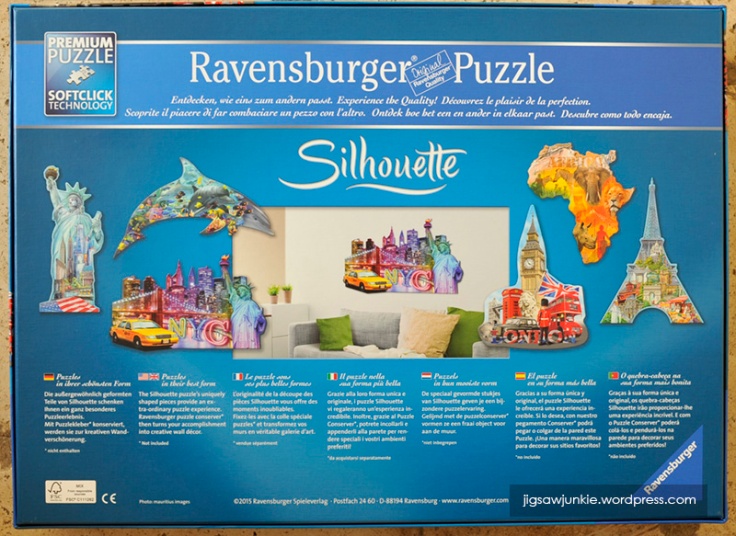 Inside the box:
The box contains the bag of puzzle pieces (in excellent condition) and a generic warranty sheet and nothing more. This isn't particularly surprising given that shaped puzzles are more expensive to manufacture than rectangular ones, so the cost of goods is already higher.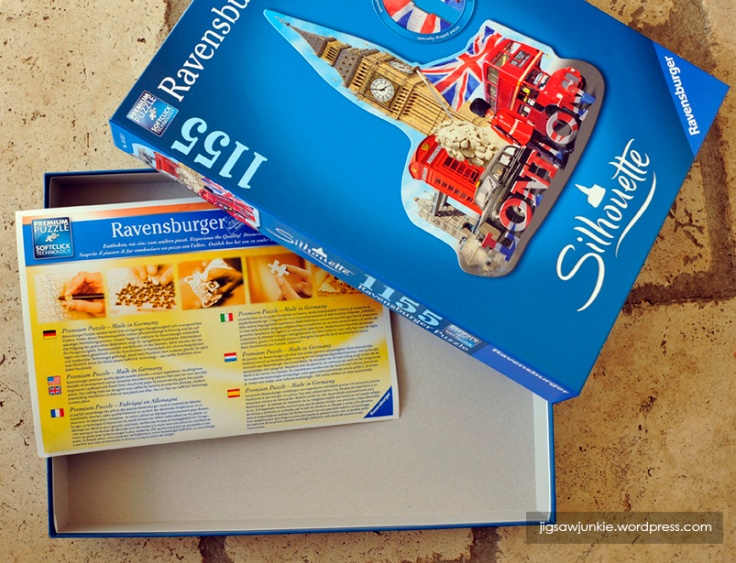 The Image: 8/10
Those who follow my blog know I'm not a huge fan of photographic puzzles. It's just a personal preference. I like illustrated scenes better. The "Big Ben" image is a photographic collage. It's obviously super British and London-y, and I like that. It would make a nice wall hanging if you live in London or are an Anglophile like me. The other slight detraction for me in the image itself is the limited color scheme. There's a ton of red and gray/black. Nice image, but not my favorite. I gave it an '8'.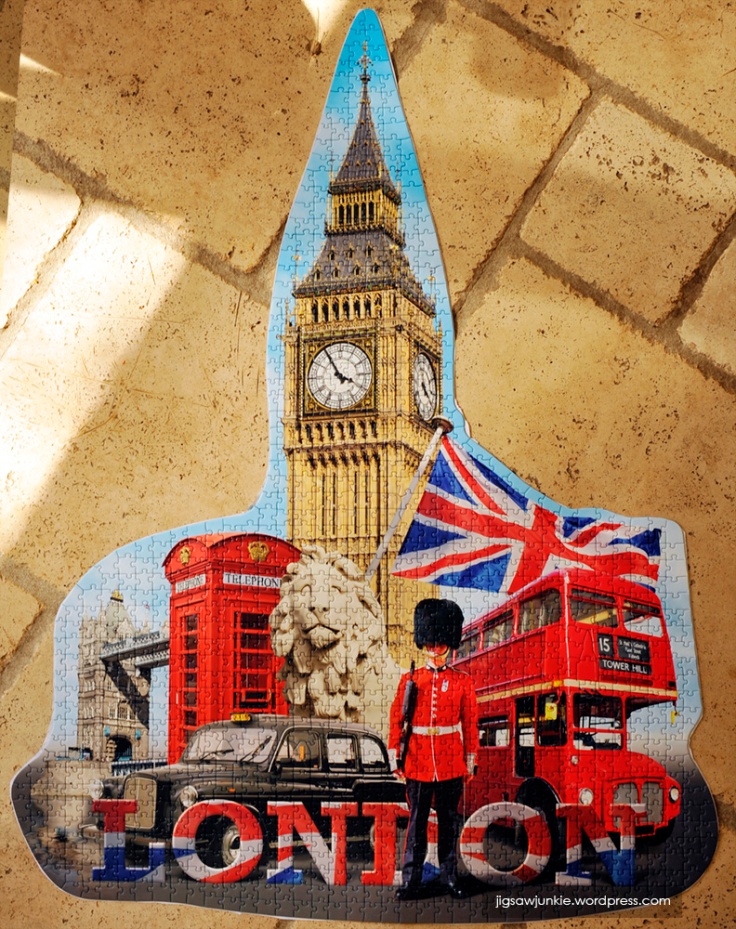 Another slight ding on the image was that the photo of the Big Ben tower is a bit fuzzy at the top, as you can see in the detail close-up below. I imagine it's difficult to capture the entire Big Ben in a photograph and have it be clear from top to bottom, but it's still a detractor. It's not something you'd notice if it were on the wall though. It looks good from a distance.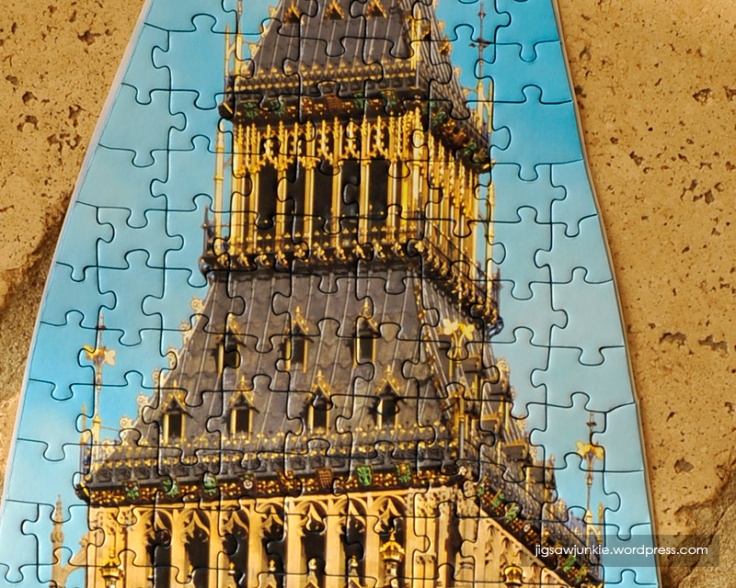 Above: The completed puzzle. Click for closer view.
Puzzle Quality: 10/10
Ravensburger quality is generally very solid, and this puzzle is no exception. The pieces feel thick and the final result is very heavy and flat, without pieces that stick up. You can see the puzzle image well–it's not obscured by the lines of the piece cut. It is a looser fit than a typical square Ravensburger puzzle. Part of that is that the puzzle has a greater variety of piece shapes than a regular Ravensburger, which to me is a good thing. You can see in the detail close-up below there is a 'tower shape' in the piece cut that starts near the '15' on the bus. Some pieces have only one connector or even no connectors, so naturally they are not going to hang in place if you move pieces around.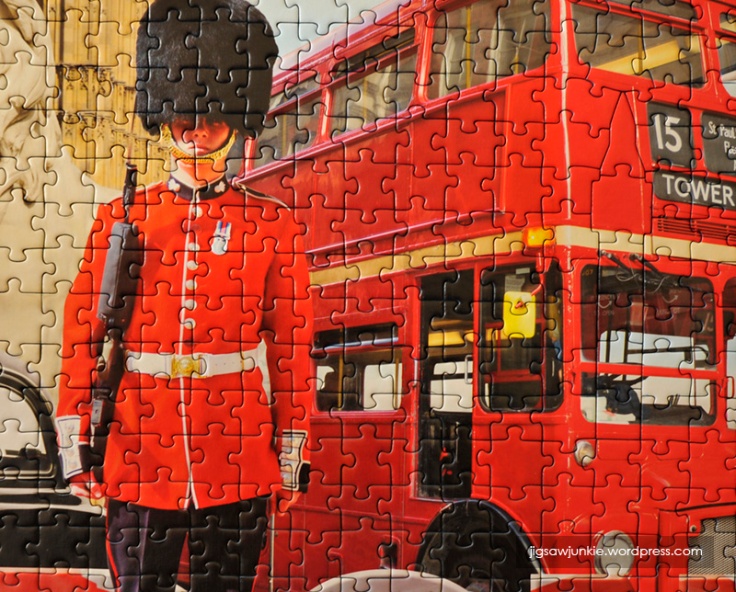 However, most of the puzzle does hang together fairly well when you move assembled pieces — see the photo below. You just have to be aware of the fact that the special pieces need more care.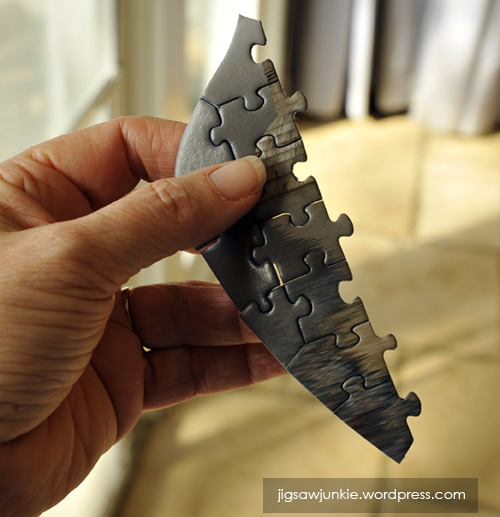 What about the "shaped" nature of the puzzle? The quality is good. The edge of the outline is very smooth and finished. There are some small pieces at bends, but nothing too small that it would easily break.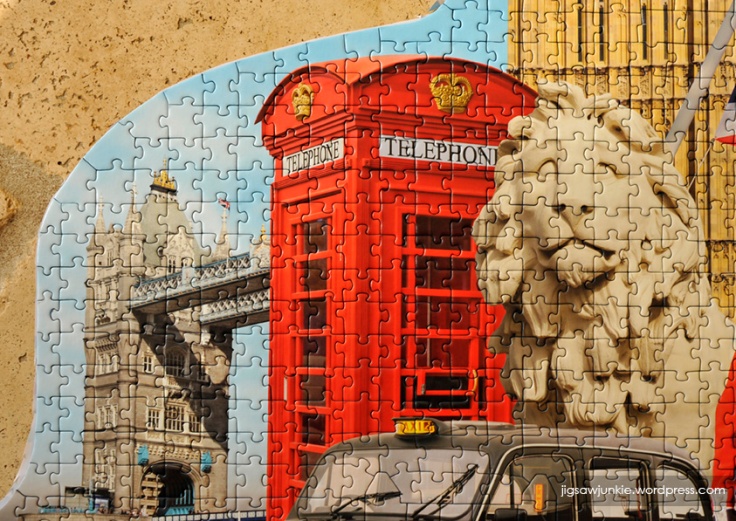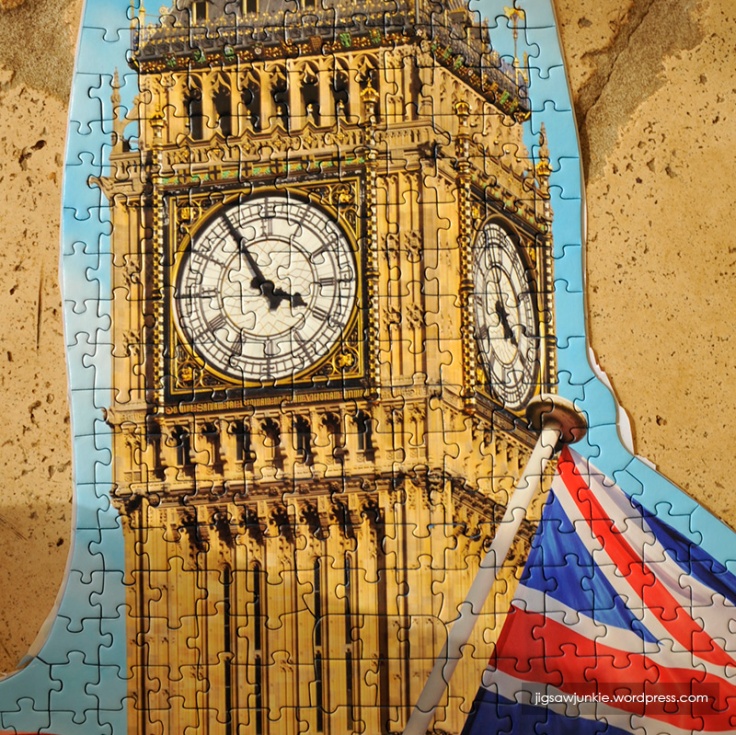 Assembly: 8/10
I really enjoyed the "shaped" nature of the puzzle during assembly. I'm used to shaped puzzles from Bits and Pieces, which are 750 pieces, so at 1155, this puzzle is considerably larger. It's quite large dimension wise as well. I used my Jigboard 2000 and it didn't fit. It barely fit vertically (top of tower to bottom of puzzle), but I had about 2″ overhand on either side at the widest part of the puzzle. So once I had finished it, I had to move it off the Jigboard on to a flat surface to add those little side bits. No big deal, but be sure you measure your assembly spot, because this puzzle is big!
As I mentioned above, the puzzle has limited colors. There's a ton of red, a lot of gray-to-black, the cream of the lion and bridge, the yellow of Big Ben, and the blue of the sky. Mostly, there's a lot of red! If you like photographic puzzles, you'll probably really like this. I would have liked a little more variety of color and pattern. I think I will really enjoy the Eiffel Tower and Africa puzzles in this line.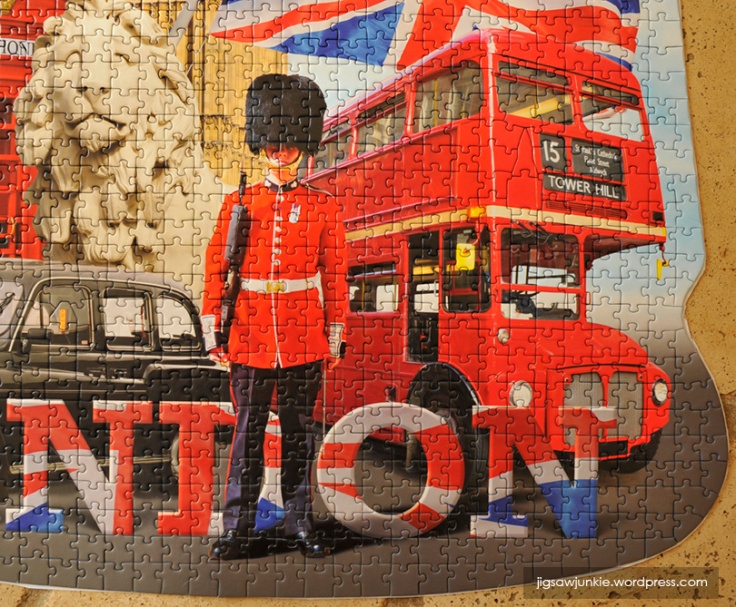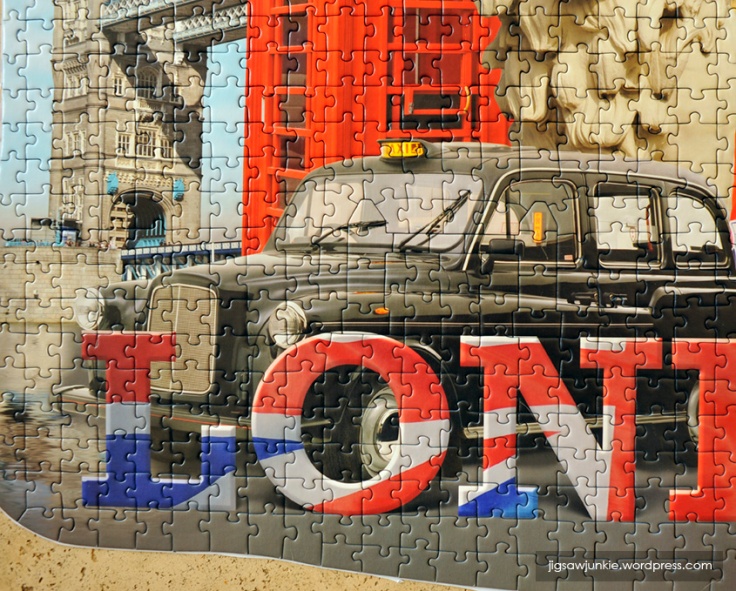 Conclusion
I gave the puzzle an extra bonus point for being shaped because–yes! I hope Ravensburger continues to make shaped puzzles even though they're probably more difficult and expensive to manufacture. I know I will always be up for them! I'd love to see more illustrated shaped puzzles from them in the future.
I you like city puzzles, and London puzzles specifically, this is definitely one to add to your collection.

Where to find:
You can find this Ravensburger Big Ben Jigsaw Puzzle Here
JJ