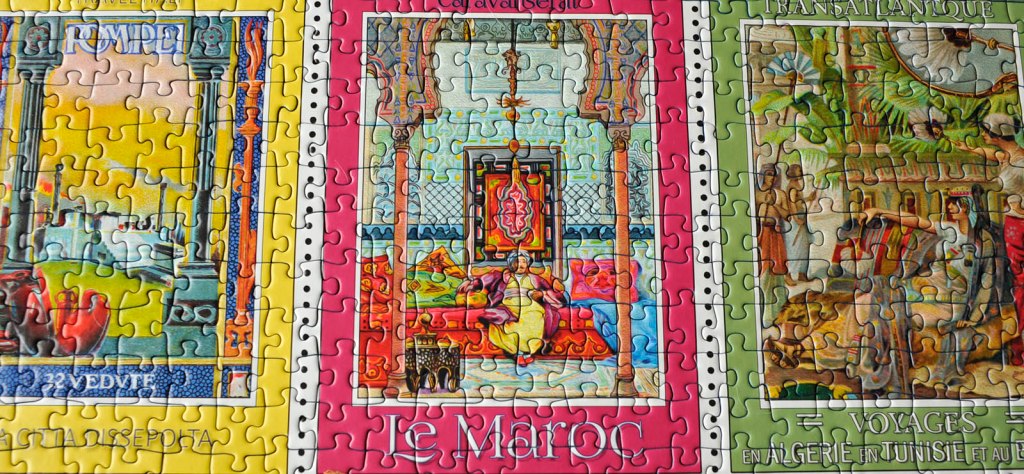 Review: "Vacation Stamps" by Finchley Arts, Ravensburger – 9.5/10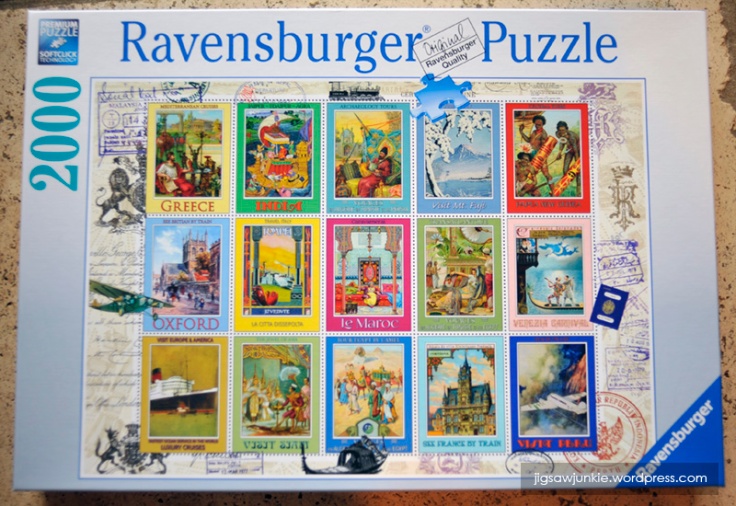 Publisher: Ravensburger US (USA), 2016
Title: "Vacation Stamps" by Finchley Arts, 2000 pieces — 38.5 x 29.5 in
Review by Jane
OUR RATING: 10/10

Box Quality: (8/10)
The box is shown above and below. Like all Ravensburger boxes, the rectangular box is sturdy and nicely designed.
Back:
The back of the box has a generic "Ravensburger quality" image.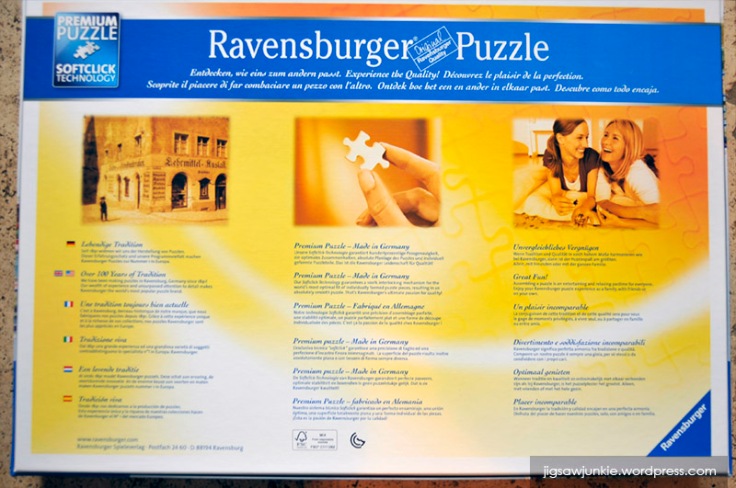 The sides:
The sides show the Ravensburger logo, the puzzle image, the piece count and the final size. The artist name is small on one side in the copyright info (as "Finchley Paper"). I would have liked to have seen the artist name more prominent.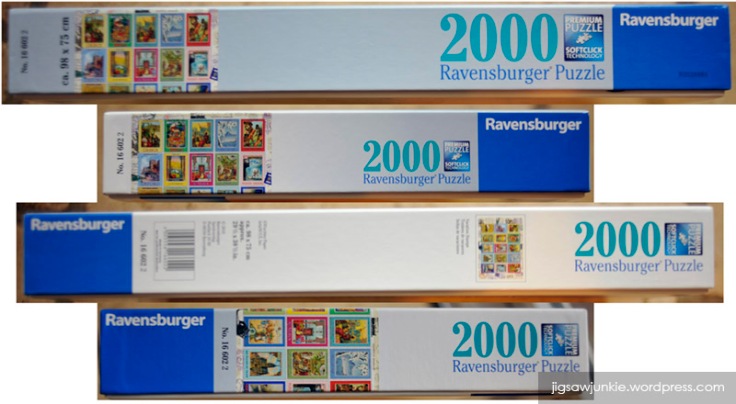 Inside the box:
The box only contains the bag of puzzle pieces (in excellent condition) and a warranty sheet.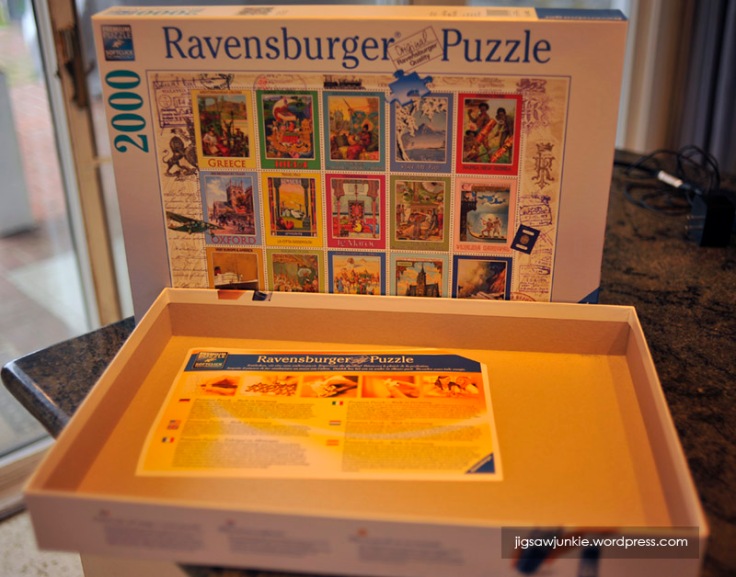 The Image: 11/10
I really love this puzzle. I love the 2000 piece size and the image is awesome to assemble. Finchley Arts has had a number of puzzle releases from various manufacturers in the last year. They do vintage images but with an updated twist. This image makes a great puzzle. There are 15 vintage travel vignettes. Each one has a unique colored frame, which makes it easy to assemble. The large white border on the outer edge is broken up with various postage stamps (many in color) and little travel icons.
The vintage images are also pretty sharp and clear, which can sometimes be hit or miss with vintage art. I liked this puzzle image so much, I gave it an extra point!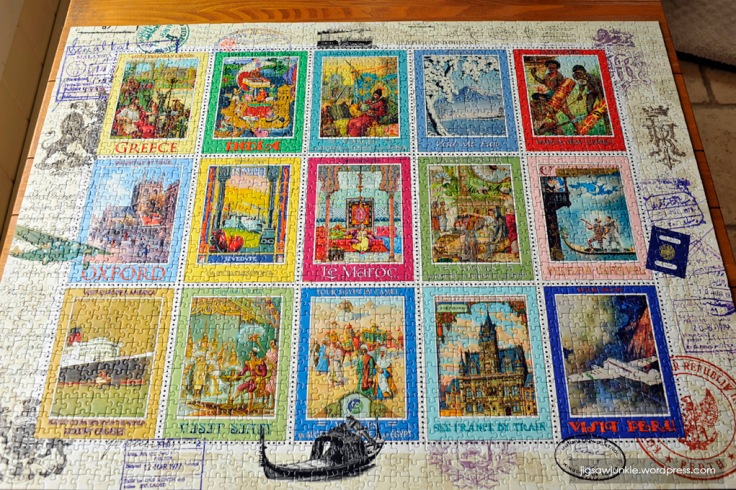 Above: The completed puzzle. Click for closer view.
Puzzle Quality: 9/10
Ravensburger is one of our highest ranking brands for quality and this puzzle is no exception. It features solid, sturdy pieces, great image reproduction, and a nice variety of piece shapes for a grid-shaped puzzle. I love the way the pieces interlock. You can lift small groups of pieces without them falling apart. You can see our full brand comparison of Ravensburger here.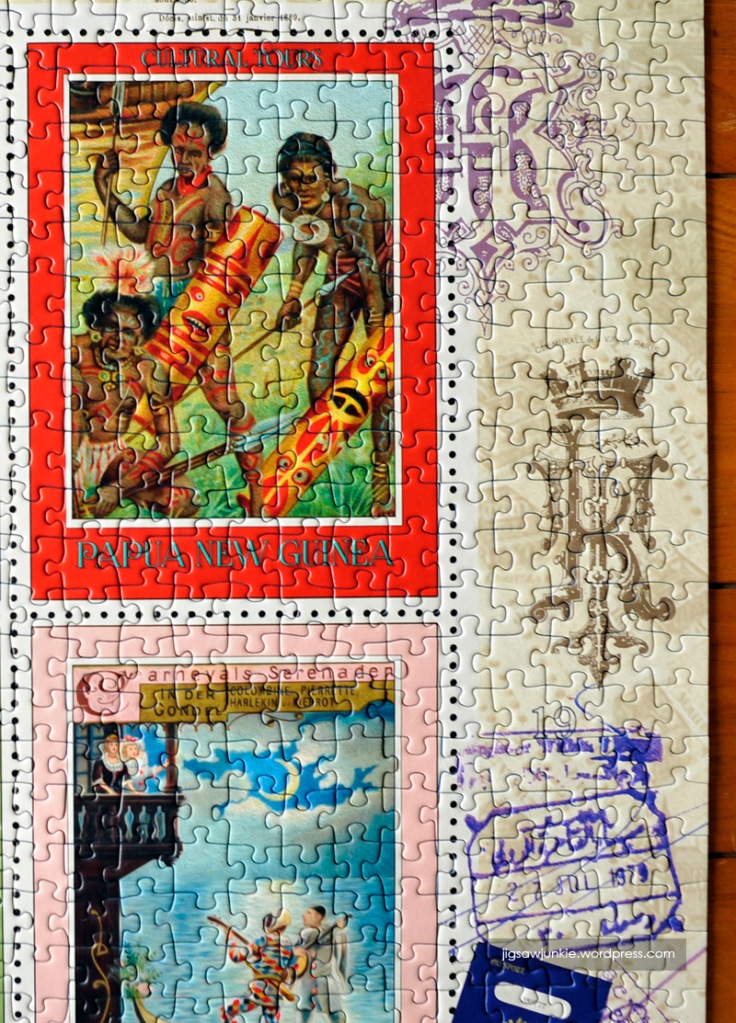 Assembly: 10/10
For a 2000 piece puzzle, this is a pretty easy assembly experience and lots of fun. I assembled the border first, then the 15 colored frames around the vintage images. There are a number of blue frames, but they're all a different shade of blue. I did a few of the easy parts of the white border next, like the orange postage stamp in the lower right. The 15 vintage travel images are all unique enough that it's like doing 15 little individual puzzles. The last to assemble was the rest of the white border. It's fairly straight forward. The white border has unique writing or colored stamps or little travel images all around it, so there's not a lot of plain color. Almost everything can easily be matched to the box image.
I really enjoy the 2000 piece size on a puzzle like this, which is almost like 15-20 little puzzles all hooked together. It took me four nights and felt like a good, chunky project.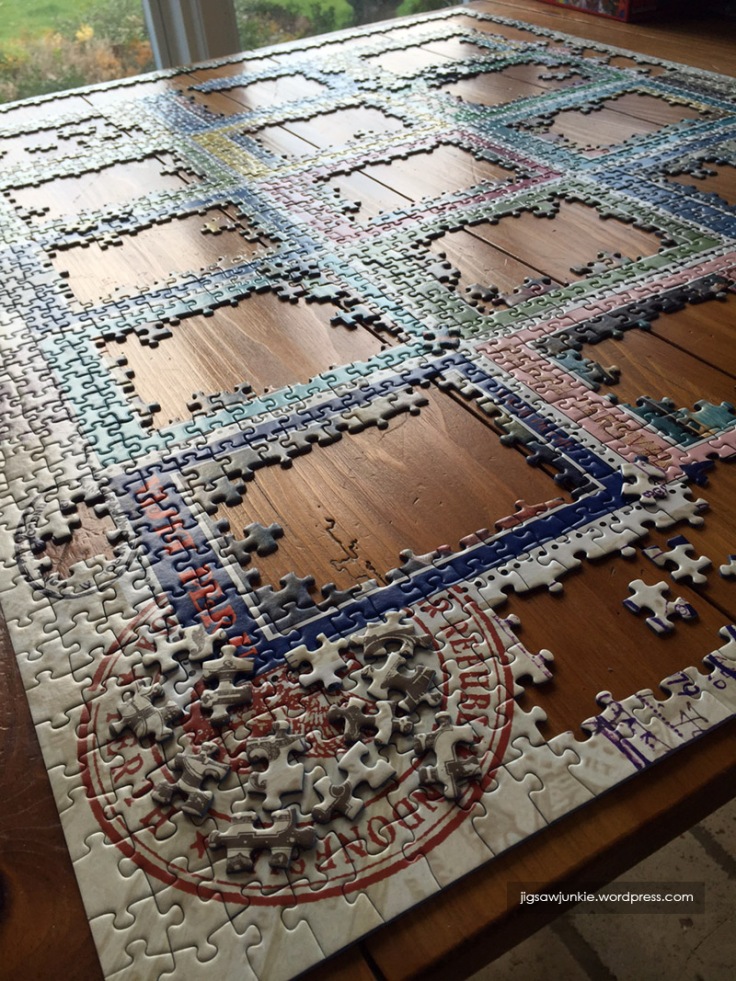 More Images: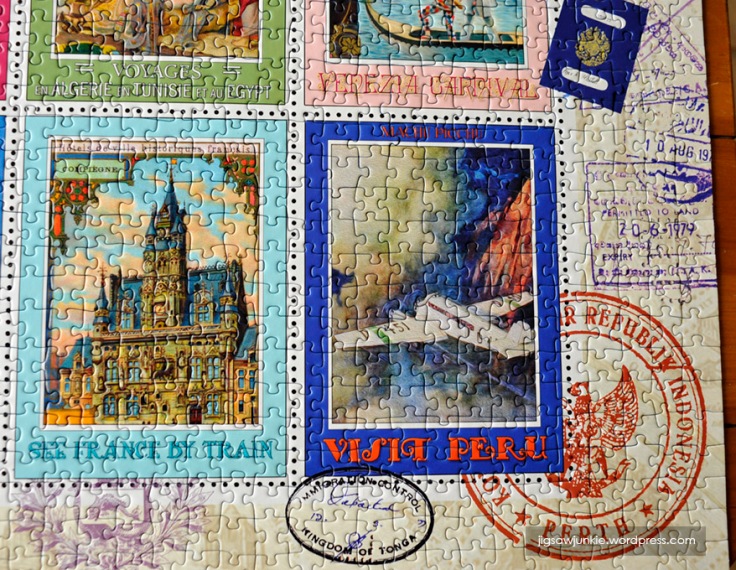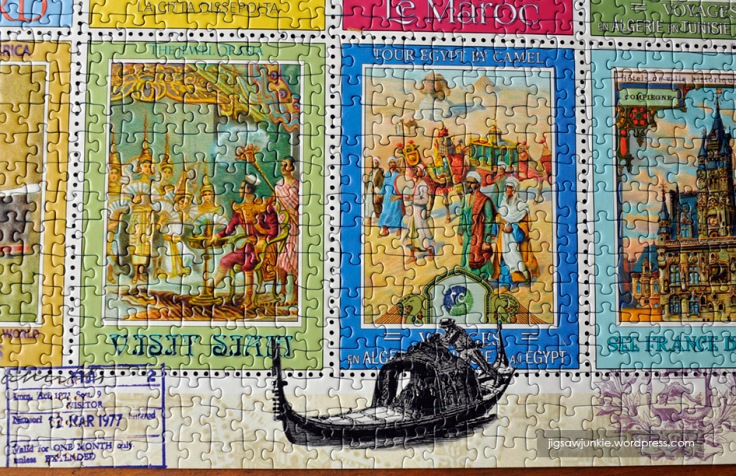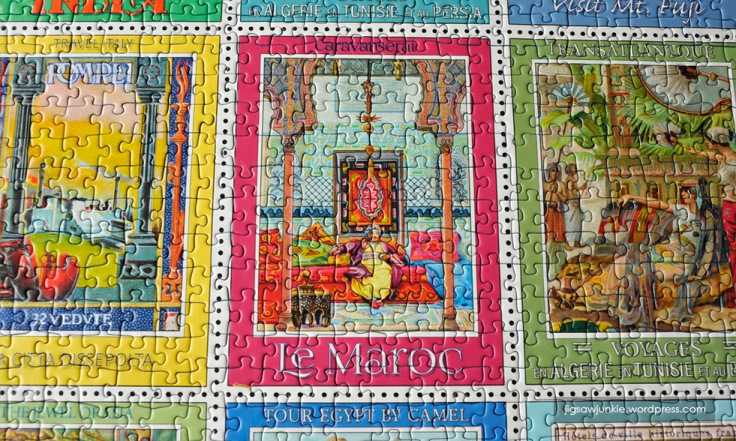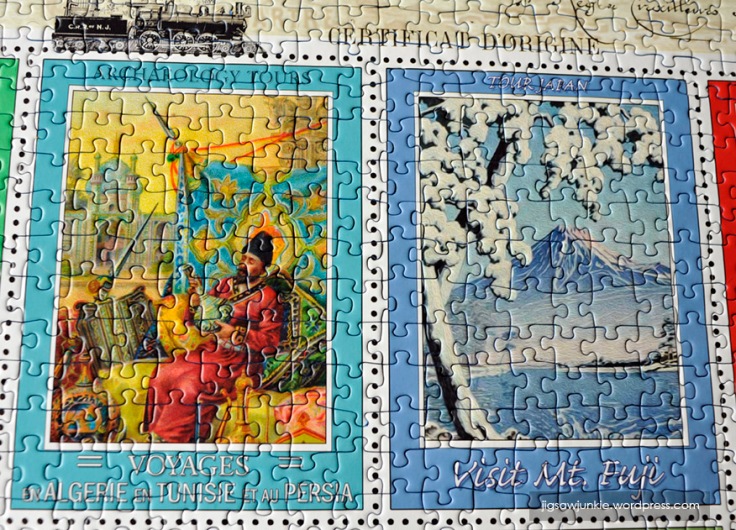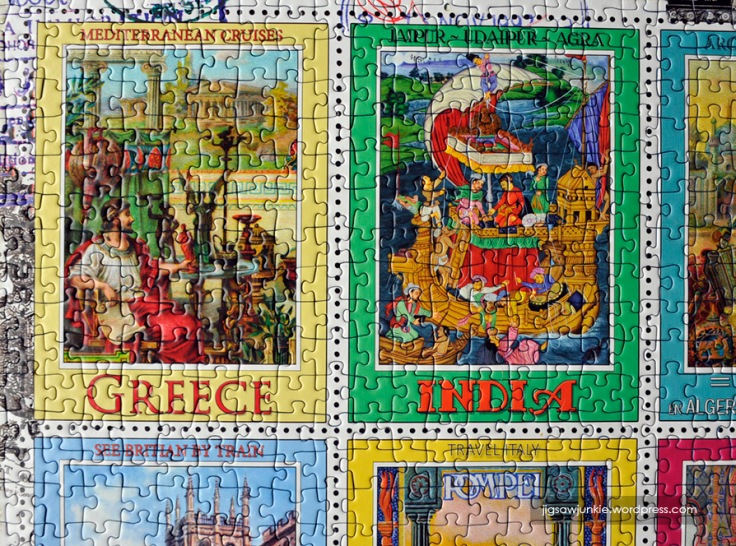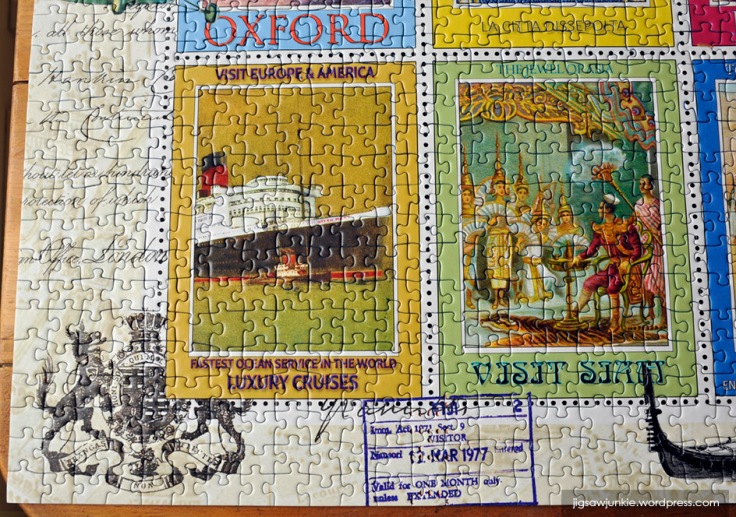 Too big for Jigboard 2000
You'll notice from my pictures that I assembled this puzzle directly on my table top instead of my usual Jigboard. This puzzle is a little too large for my Jigboard 2000. So keep that in mind if you are used to using a Jigboard too.
Conclusion
I highly recommend this puzzle to everyone. Even if you're used to smaller sizes, you shouldn't have too much trouble with this because of the collage nature of it.

Where to find:
You can find it at Puzzle Warehouse.
JJ