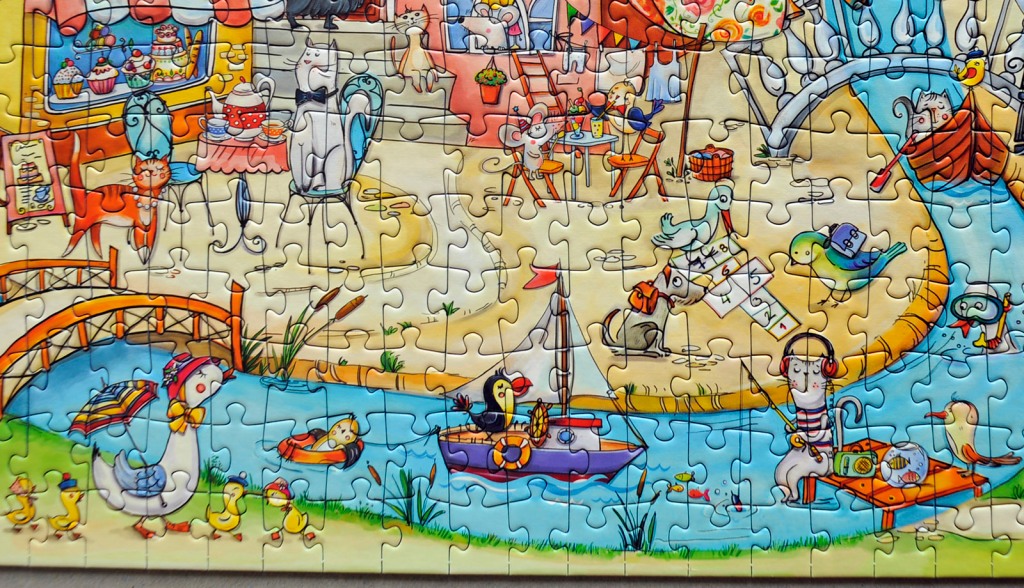 Review: "Happytown" by Rita Berman, Heye, 9.5/10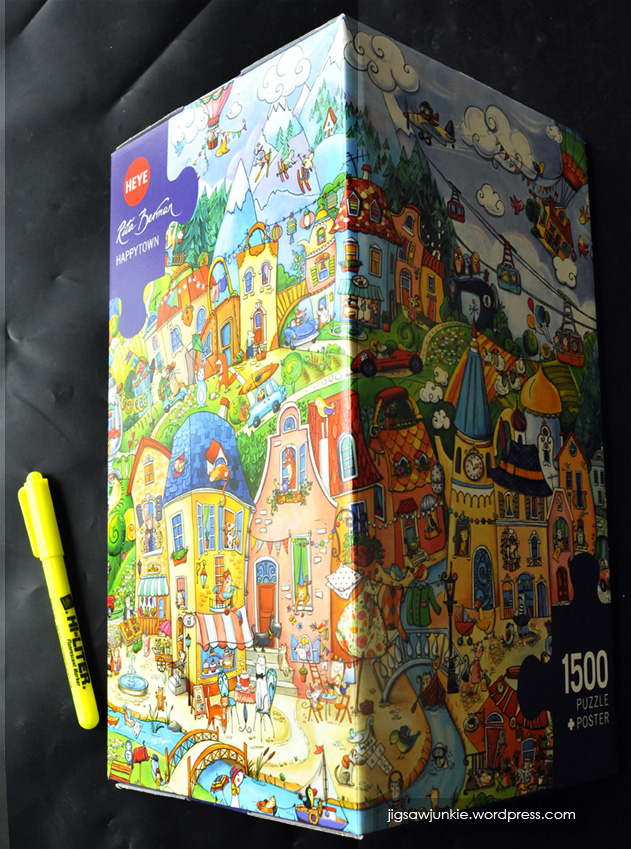 Publisher: Heye (Germany)
Title: "Happytown" by Rita Berman, Heye, 1500 pieces
Released Jan 2016 Dimensions: 31.6″ x 23.6″ (80×60 cm)
Review by Jane
OUR RATING: 9.5/10

Box Quality: (10/10)
Those who follow my blog know that I love Heye triangular boxes! I have several shelves of them and I love how they look shelved together, tops facing out (like this). This particular box is gorgeous. It is made of very heavy cardboard and the design is lovely with a purple background. The front two sides of the box (above) show a detailed area of the puzzle. On the back of the box (below) you can see the full puzzle image. I love that the name of the artist, name of puzzle, the piece count, and the Heye logo are prominent on the front and back.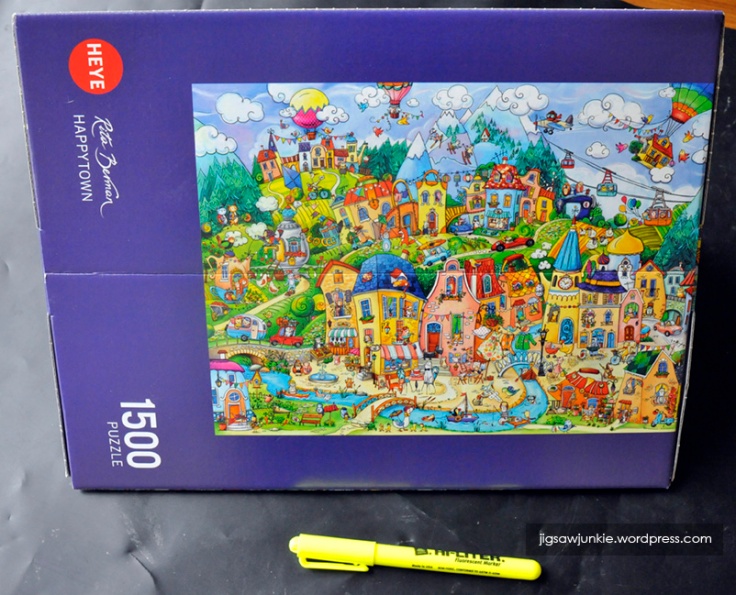 The top of the box has a close-up detail from the image, the piece count, and the Heye logo. This is ideal for shelving top-out.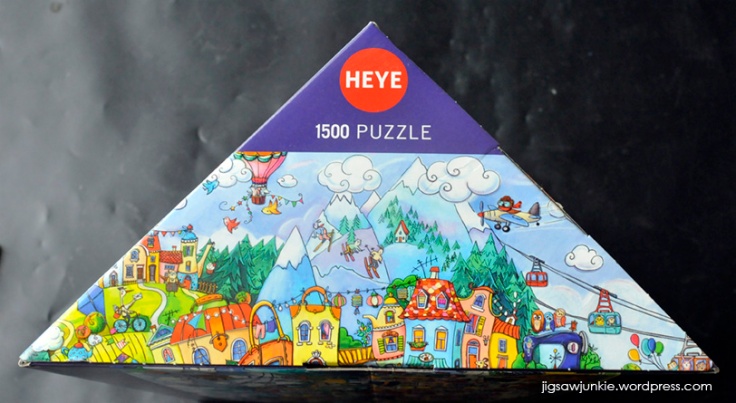 The bottom of the box has some copyright info as well as the piece count, Heye logo, artist and puzzle name again.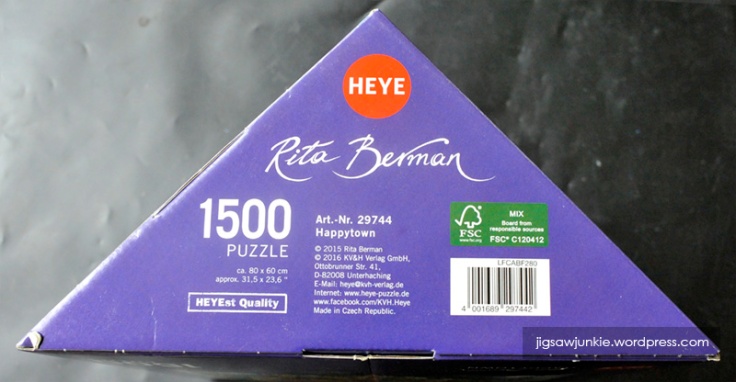 Inside:
Inside the boxes this year we have the very large poster, with pictures of other puzzles available in the 2016 line on the back (see below). In addition, there is a guarantee booklet and a mini catalog in full color. Nice! I have identified and tracked down many older Heye puzzles because this sort of info was in the box, and I'm happy they are continuing with it despite many companies cutting down on cost-of-goods these days.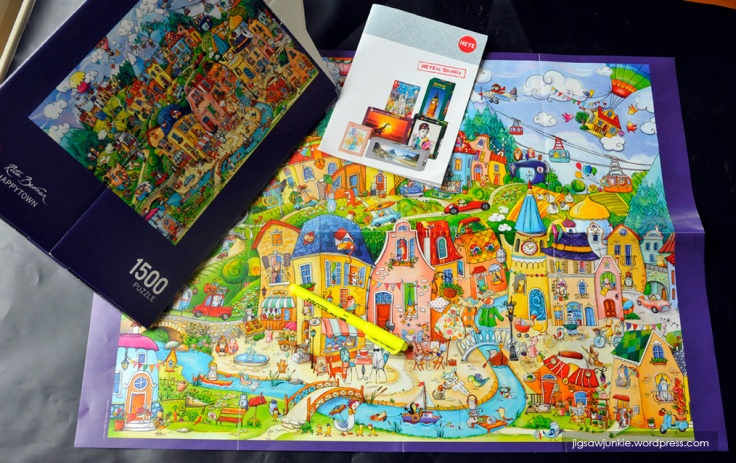 Below is the poster back: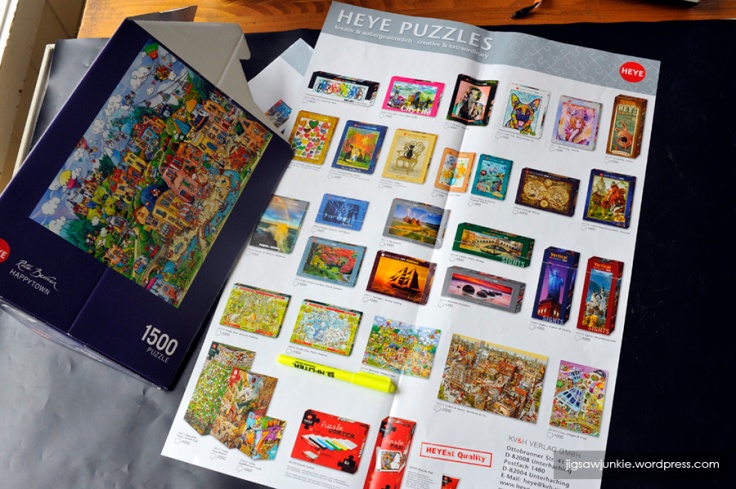 And this is the mini catalog that comes in the box.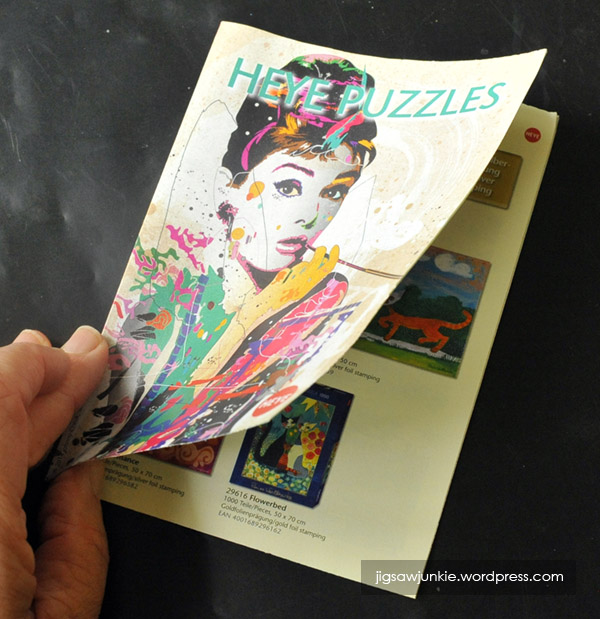 The Image: 10/10
I have never heard of Rita Berman before I saw this puzzle in the new 2016 line-up. The thing to know about Heye is that their historical cartoon artists are Gods Among Men.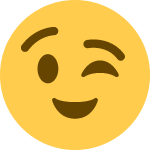 The idea of a new Ryba, Loup, Degano, or Prades puzzle is like getting your dream job on Christmas Day. The flip side of that is, a new cartoon artist is met with a dollop of skepticism. How can they possibly measure up!
I'm pleased to say this image by Rita Berman is quite deserving of being a Heye cartoon puzzle. From a wide view perspective, you can see it is very colorful and busy, as cartoon puzzles should be. It's a scene of a town. This isn't anything we haven't seen before, but yet, it is nicely laid-out and looks like it will be fun to assemble. Also at this "bird's eye view", I like the fact that it is 1500 pieces. 1500 is a particular favorite size of mine. It's a bit more challenging and longer than a 1000 piece but doesn't take as much time as a 2000. It also fits nicely on my JigBoard 2000.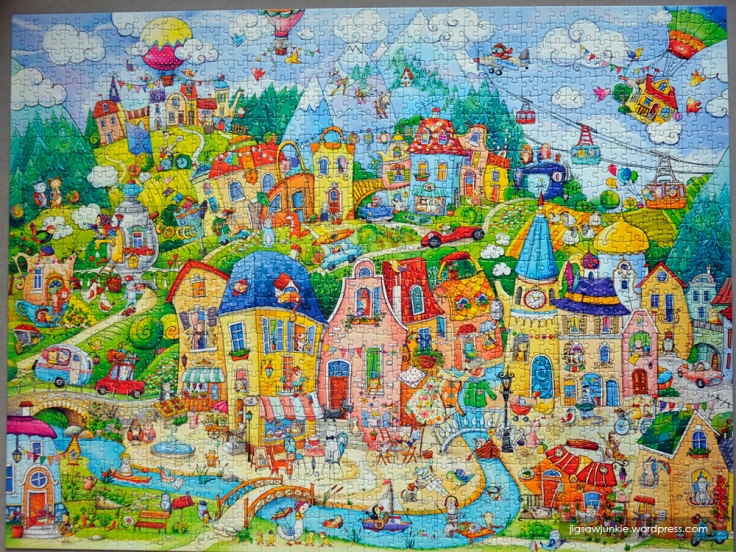 Above: The full completed puzzle. Click for closer view.
Now let's get down to the detail level, which is where this image really shines. Check out the close-up below. How cute is this! Each little animal character in the scene has personality and is unique and has unique accessories or activities. I really like the softer pastel colors that are still very bright. And the line work is crisp and detailed and is shown to advantage with Heye's flawless, high-res image reproduction. (You can click on any of these images to get a larger size.)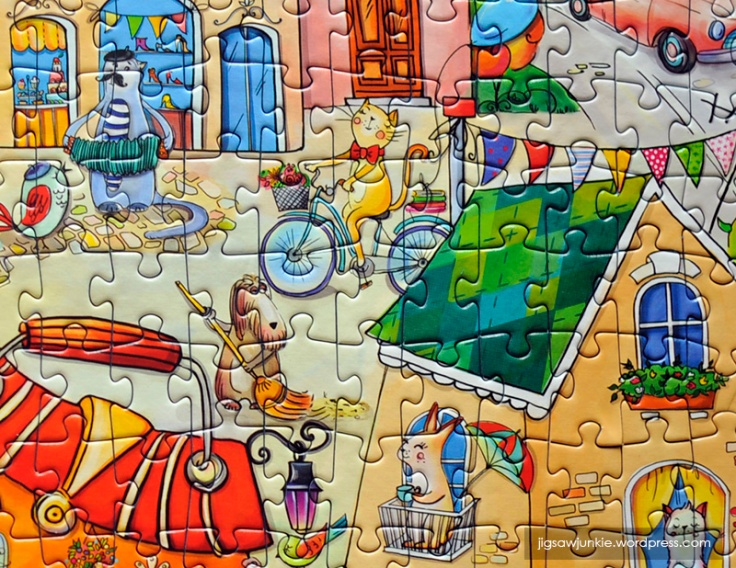 The animal characters in the scene range from dogs and cats and birds to less common animals like chickens, foxes, bears, rabbits, etc. All the different flowers, curtains, flags, and 'house' colors really help to make assembly easy (though you will need to use the poster for reference).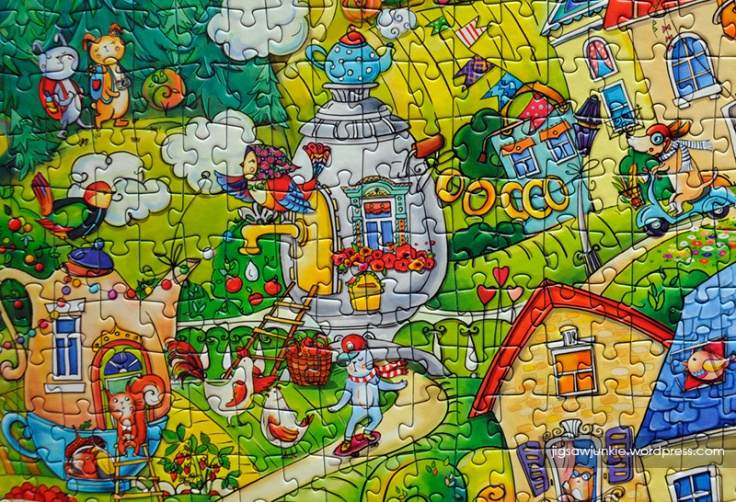 The art style reminds me a little of "Bunnytown" and "Bunnies Vs Wolves" by Paul Ruyer, published by Heye a few years ago.
In sum, I've given the image full marks! I hope we get more from Rita Berman and Heye next year.
Puzzle Quality: 9/10
The quality of Heye puzzles is very good. The pieces have gotten a little larger in the last few years, and they are about the same size and thickness as Ravensburger. Like Ravensburger, the puzzles are on high-quality blue board. It's a grid-cut puzzle, but has quite a lot of variation in piece shape, as you can see in the close-up below. There's never a problem of a piece seeming to fit where it doesn't actually go.
The only reason it scores a 9 instead of a 10 for me is that the fit is not super tight. You need to use caution when moving groups of assembled pieces around and you can't lift the edge of the puzzle without it falling apart. Still, the final finish is flat and relatively seamless so you see the image rather than just the cut when it is assembled.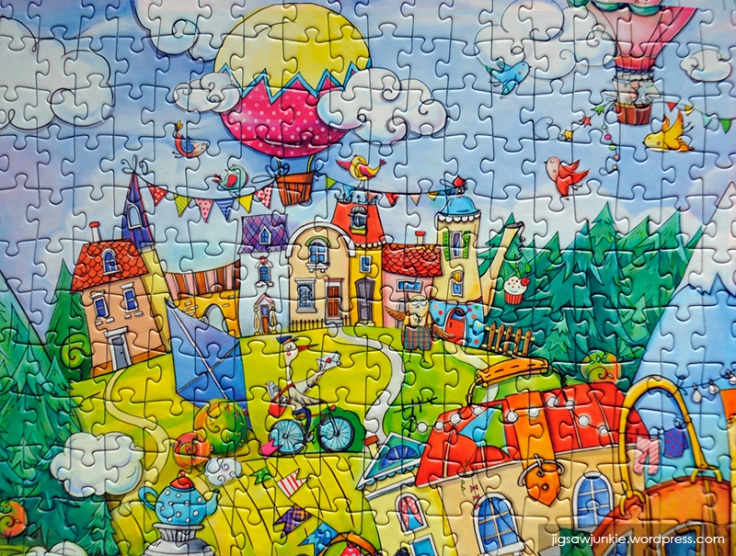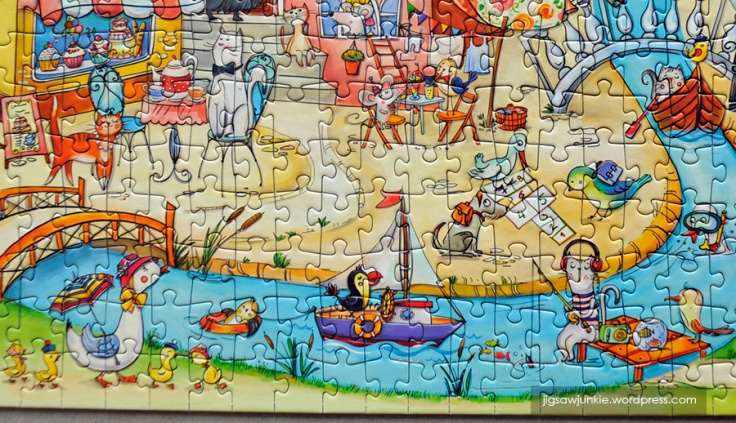 Assembly: 9/10
I had a lot of fun assembling this puzzle. I particularly enjoyed all the bright colors, which lift your mood when you're working on it. It is a very busy scene, of course, but there are areas that you can work without the poster for reference. I did the border first, then the sky, mountains, and trees, because those areas could be done without reference. The bright aqua canal was another area of the puzzle that was easy to pull out and do early on. Same goes for the areas of green grass.
Once you get past those easier bits, it's time to do the buildings. As you can see in the close-up below, even though there are a number of 'yellow' or 'blue' or 'pink' buildings, for the most part the exact shade is a little different, so you can figure out what pieces go to which building. There's also nice variety in the roof textures, doors, and shutters.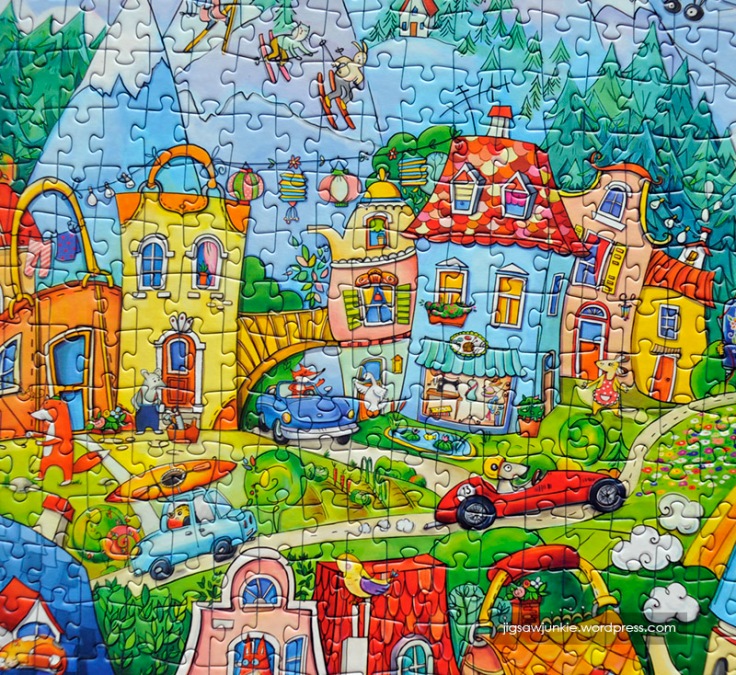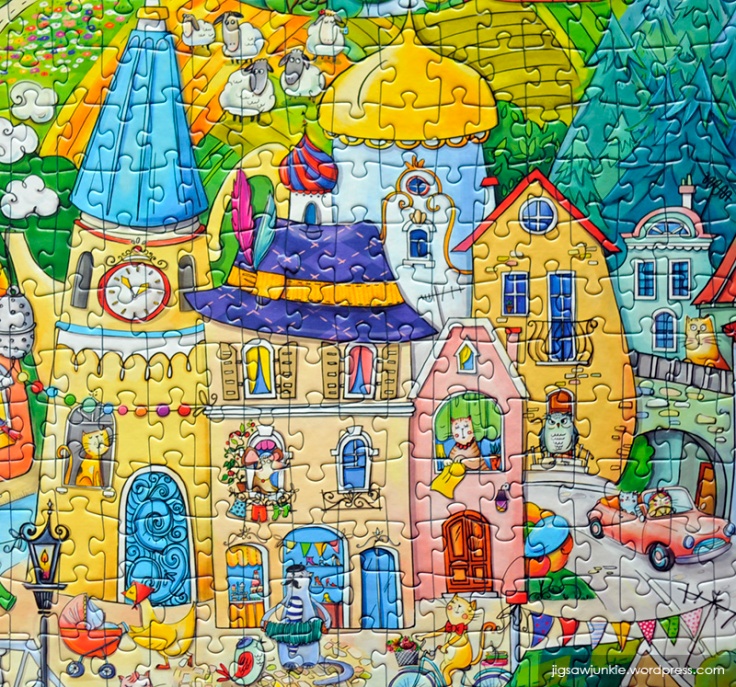 When you get to all the little characters, you'll have to compare individual pieces to the included poster. This is a given with these busy cartoon puzzles and I like building areas up piece by piece. With this image in particular, it's fun to see all the fine detail as you assemble.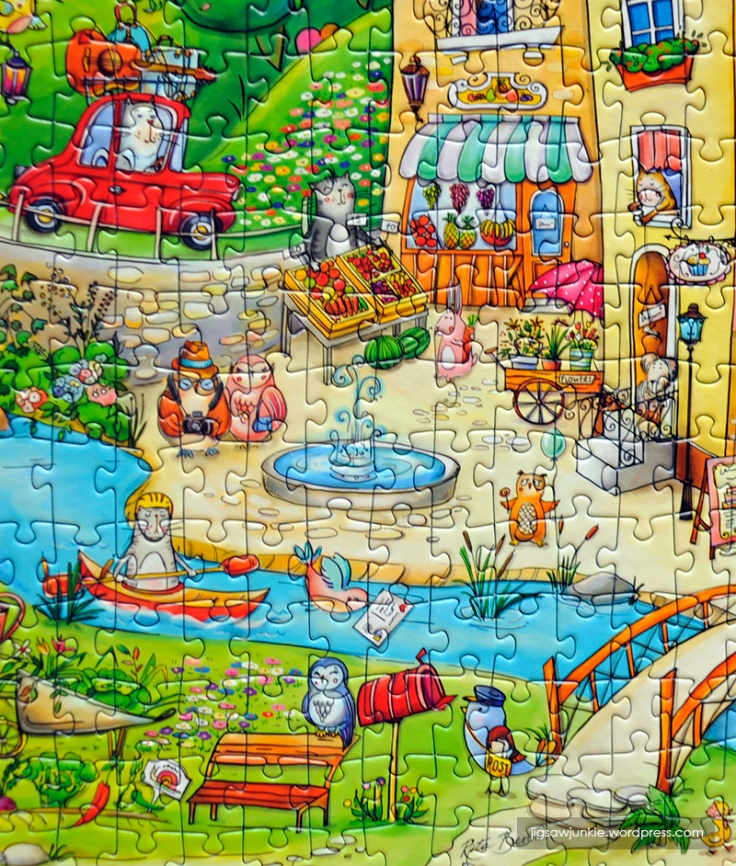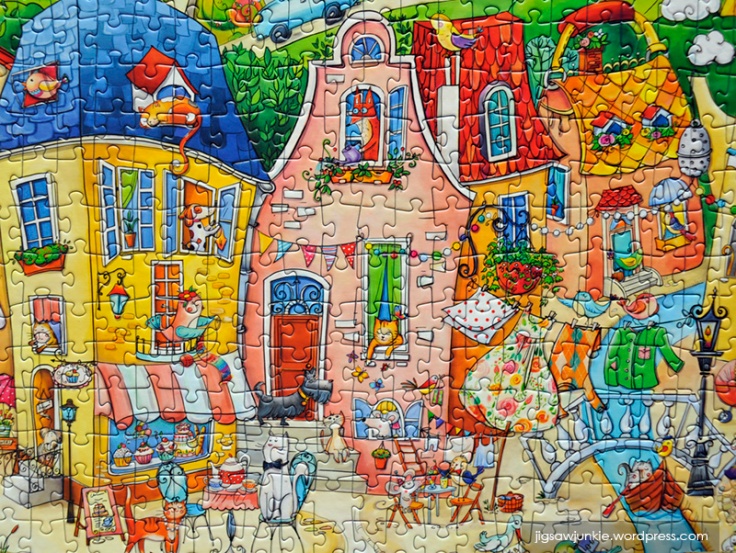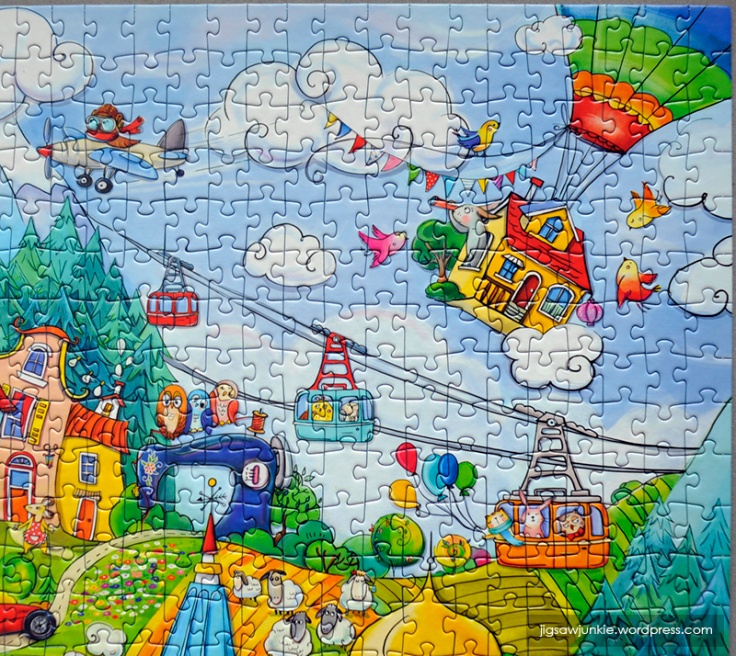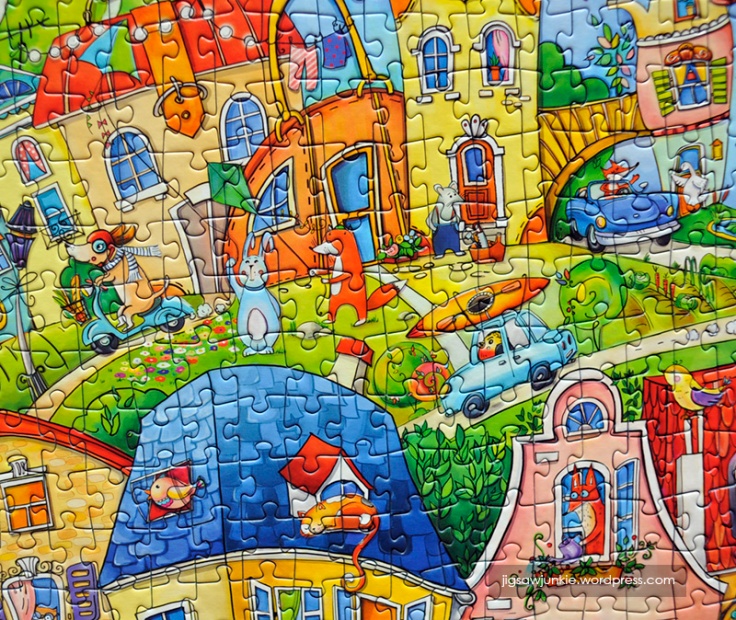 Conclusion
If you like cartoon puzzles or animal puzzles, I highly recommend "Happytown" by Heye. It's a gorgeous image with lots of wonderful fine detail. It's a family friendly and smile-inducing puzzle sure to brighten your day.

You can find even more heye puzzles here.
JJ