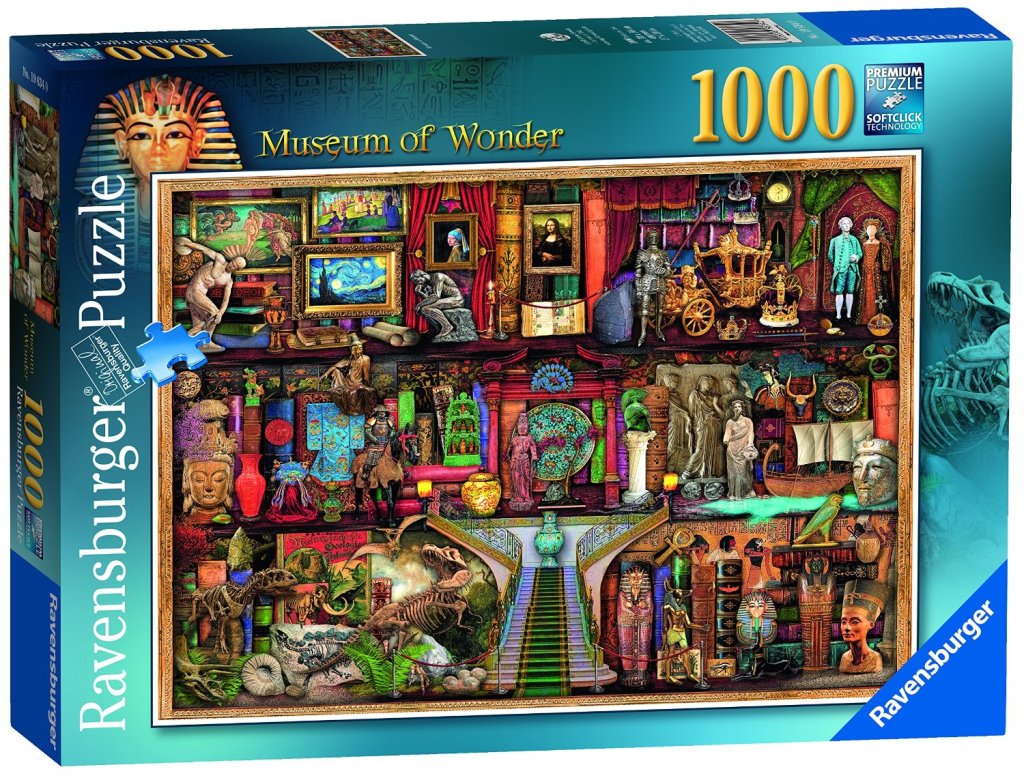 Review: "Museum of Wonder" by Aimee Stewart, Ravensburger – 9/10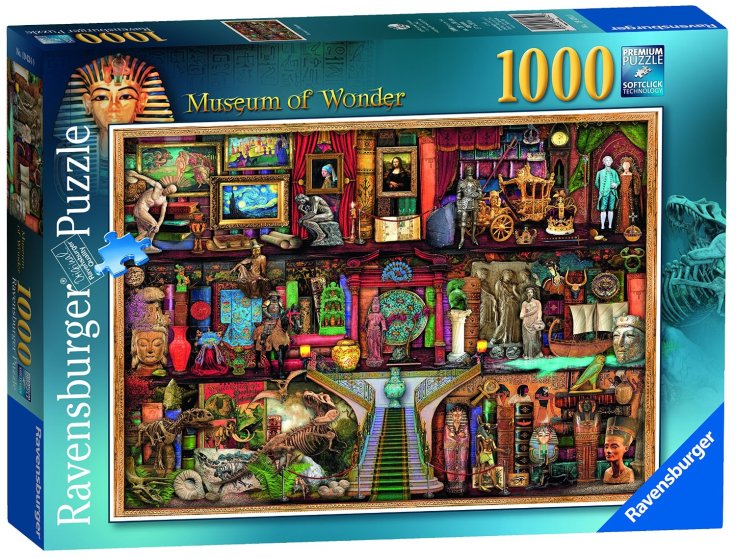 Publisher: Ravensburger (Germany), 2016
Title: "Museum of Wonder" by Aimee Stewart, 1000 pieces
Final dimension: 70×50 cm (approx 27.5″ x 19.5″)
Review by Jane
OUR RATING: 9/10

Box Quality: (10/10)
The box is shown above and below. Like all Ravensburger boxes, the rectangular box is sturdy and nicely designed.
Back:
The back of the box has a generic "Ravensburger quality" image. However, there are goodies inside that make up for it!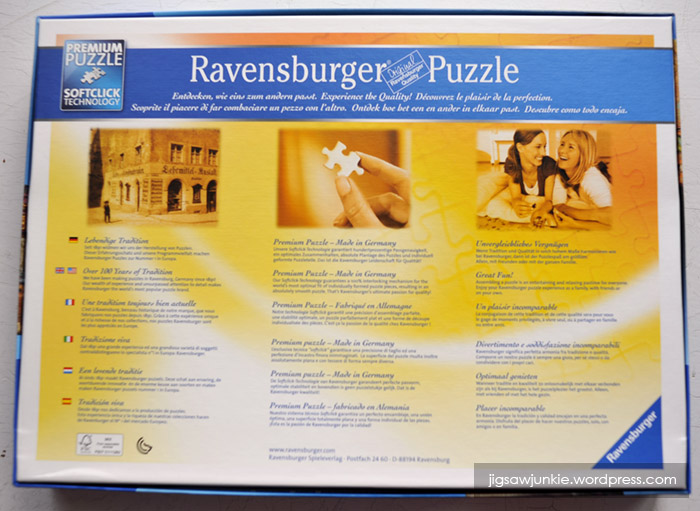 The sides:
The sides show the Ravensburger logo, a close-up detail from the image, the piece count and the name of the image. The artist name is small on one side in the copyright info.




Inside the box:
This box contains all sorts of goodies! There's a warranty sheet and a full-color sheet on the "What if?" series. There's also a mini full-color catalog of this year's releases, which is great to have for a collector. (Years later, it's nice to be able to see what was out at the same time.) There's also a full-color sheet on the puzzle with the artist bio. This can be used as a reference when working the puzzle (though the box lid is larger), but it's also nice to have as a collectible.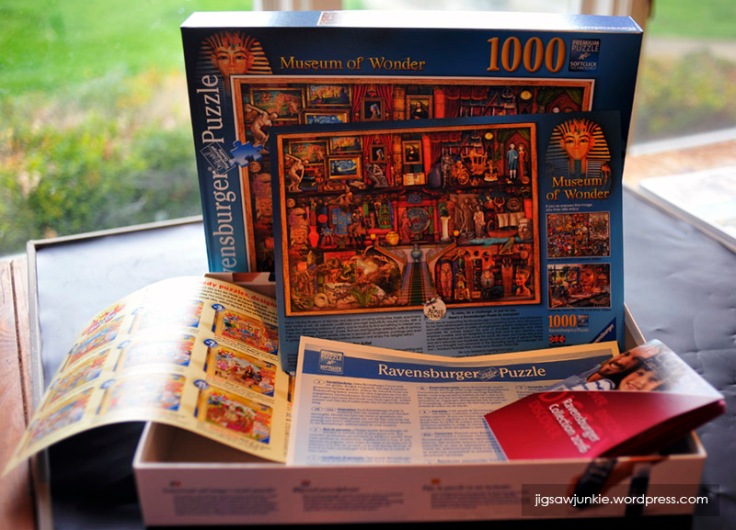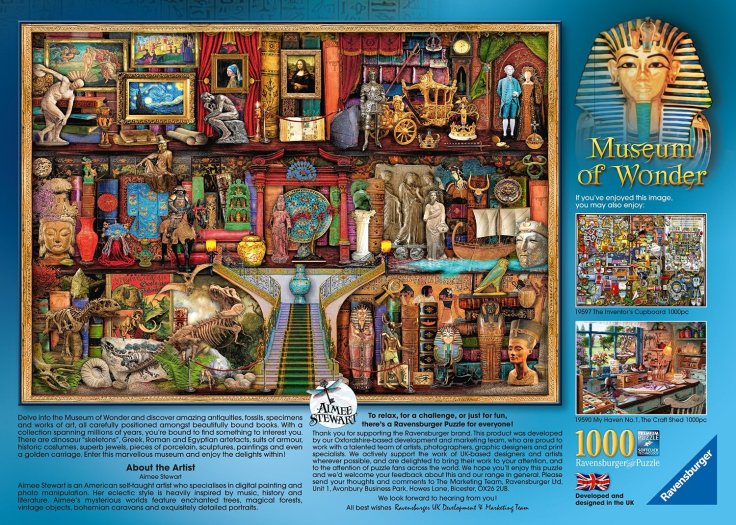 The Image: 9/10
Aimee Stewart and Colin Thompson are two fantasy artists Ravensburger publishes heavily. They both do collage fantasy images. Aimee's often are based on the "shelf" idea (whereas Colin has been doing "cupboards" lately). This newest Aimee Stewart puzzle populates the shelves with things you'd see in a museum. The objects include dinosaur bones, art from ancient Greece and Asia, fine art paintings, and medieval suits of armor. It's a very attractive collage image with all the various images well integrated. I found the image quite appealing the first time I saw it.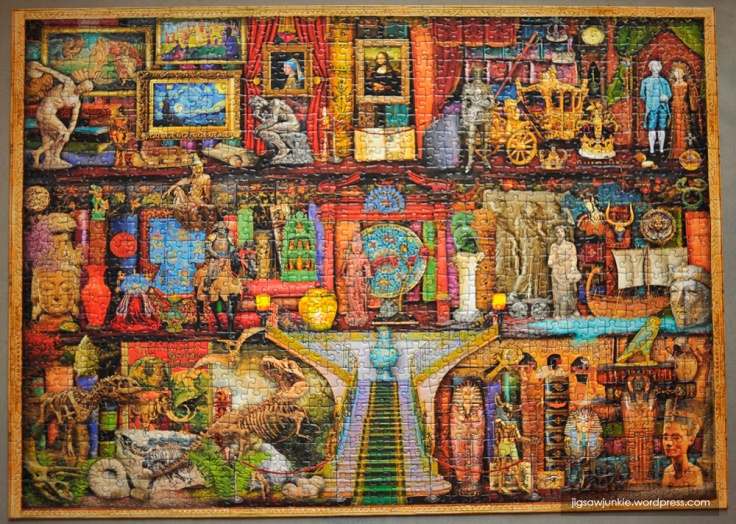 Above: The completed puzzle. Click for closer view.
Puzzle Quality: 9/10
Ravensburger is one of our highest ranking brands for quality and this puzzle is no exception. It features solid, sturdy pieces, great image reproduction, and a nice variety of piece shapes for a grid-shaped puzzle. I love the way the pieces interlock. You can lift small groups of pieces without them falling apart.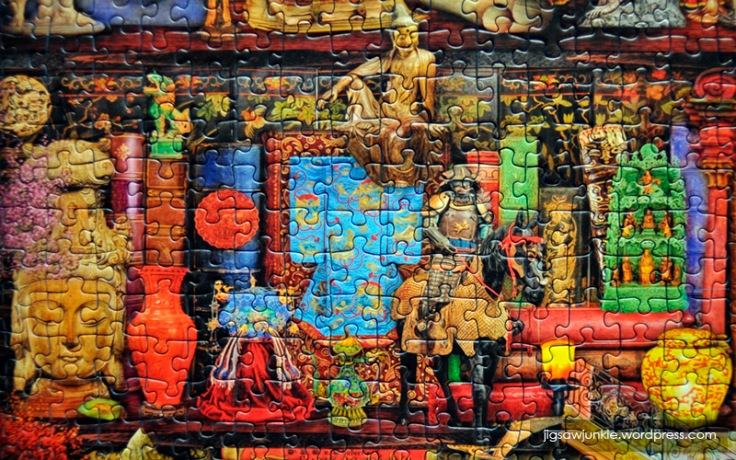 Assembly: 8/10
This puzzle is of moderate difficulty. There are bright colors, but they tend to be all over the image. For example, there are lots of different areas of blue and of red including some quite small bits. Everything in the image is relatively small, so you don't have nice chunks that can be assembled without reference to the box lid (the stairs at the bottom middle are an exception).
The assembly process is one of putting together lots of very small things and then checking to see where they go on the box lid and putting them in place. This kind of detail work is quite popular in puzzles and is loads of fun if you like that sort of thing.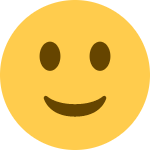 Which I obviously do. I rated this category highly, but for me it would have rated higher still if the image had incorporated more easily assembled areas (like the stairs) with areas of tiny detail– instead of all being tiny detail.
This is the kind of puzzle where you find a lot of interesting detail as you put it together. Someone with more time than me might like the idea of identifying each object and tracing it to its home museum. Now that would be a challenge!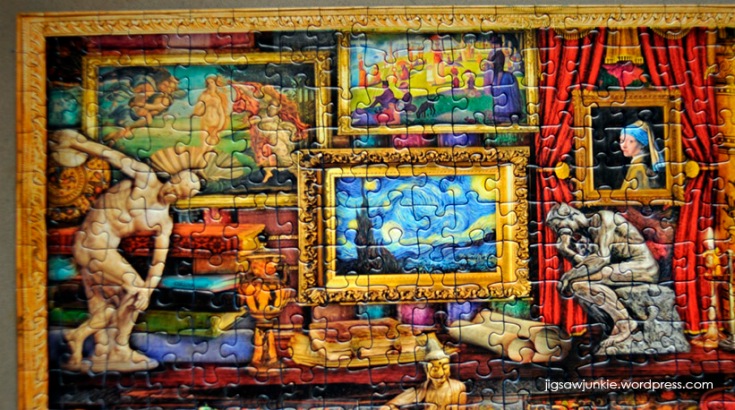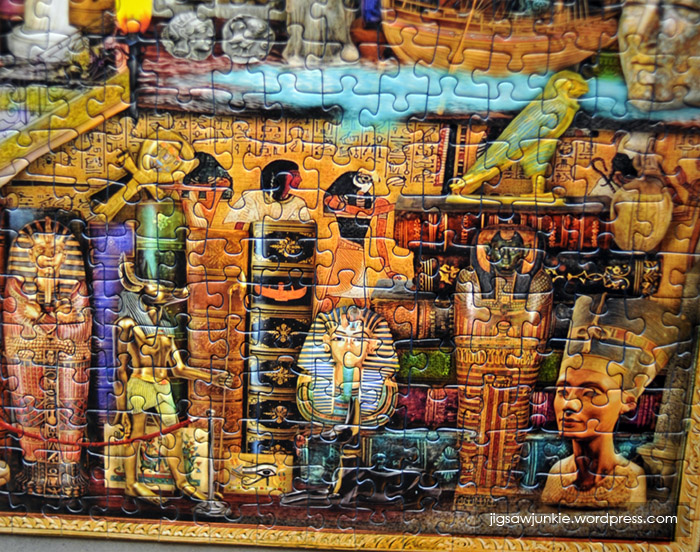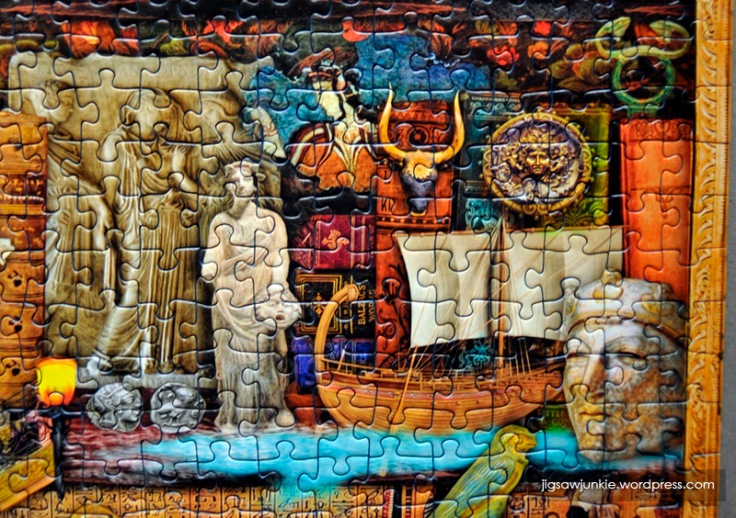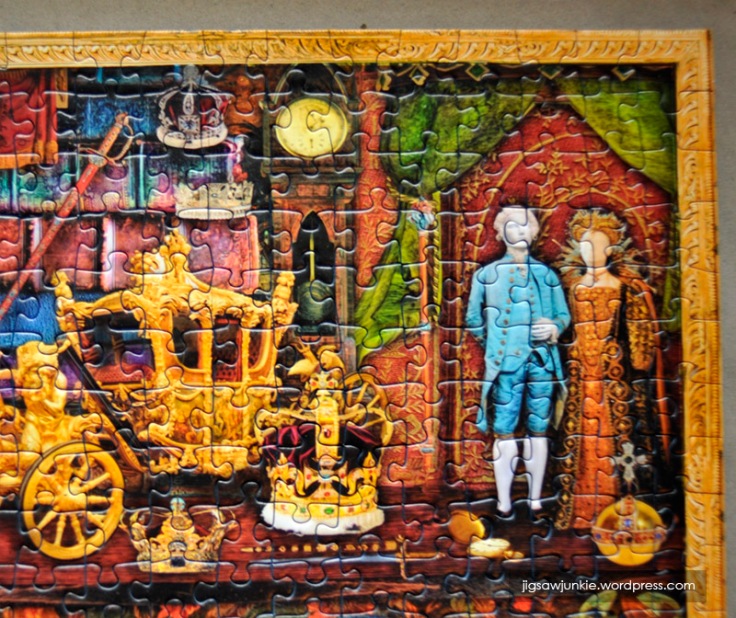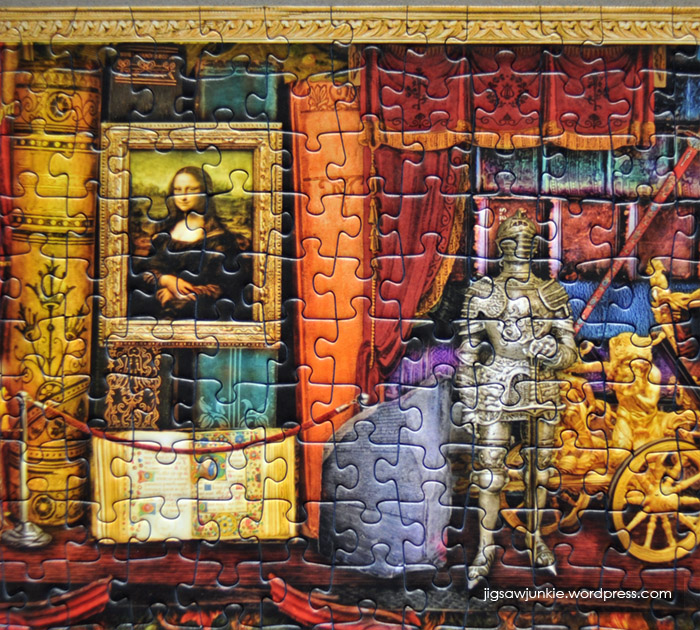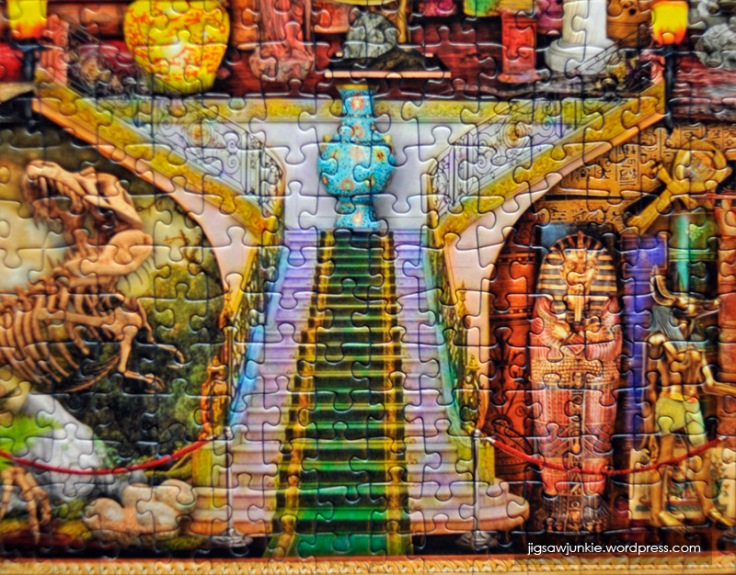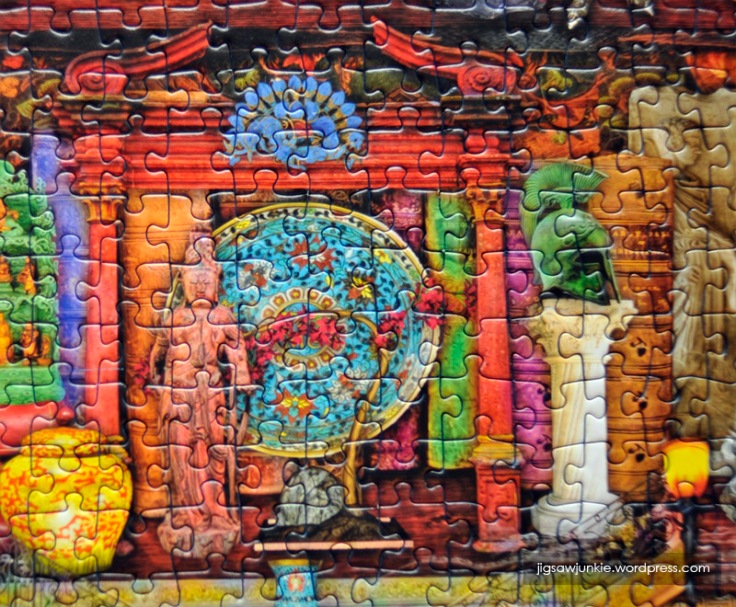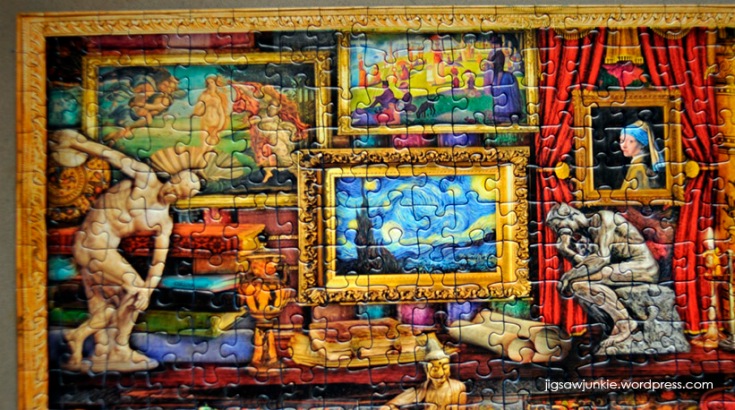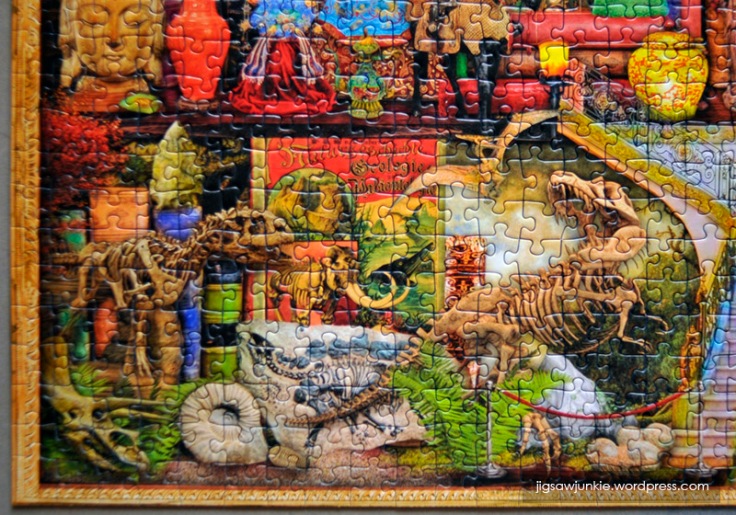 Conclusion
Another fun fantasy collage puzzle from Aimee Stewart and Ravensburger. Excellent manufacturing quality, a nice collectible box, and loads of interest in the image itself. Recommended!

Where to find:
You can find other great Ravensburger Jigsaw Puzzles here.
JJ