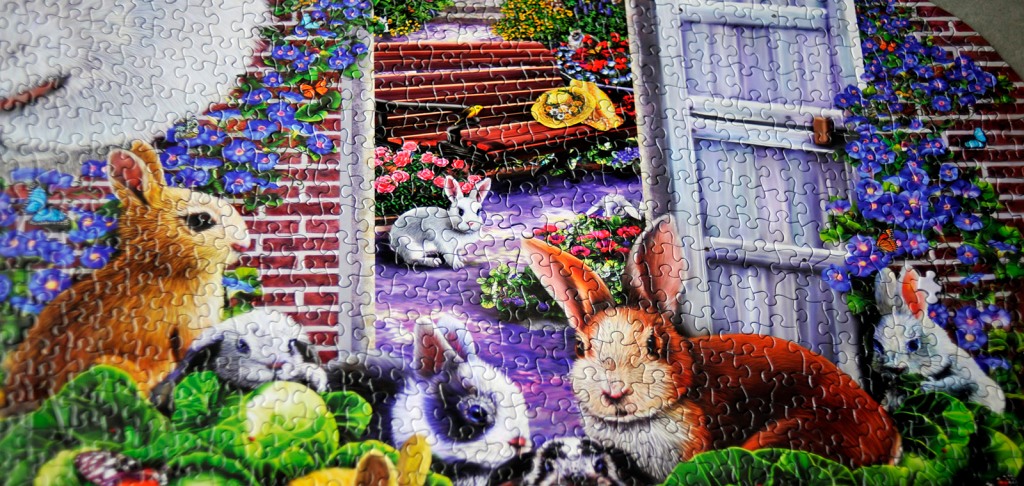 Review: "Garden Bunnies" by Mary Thompson, Sunsout — 8.75/10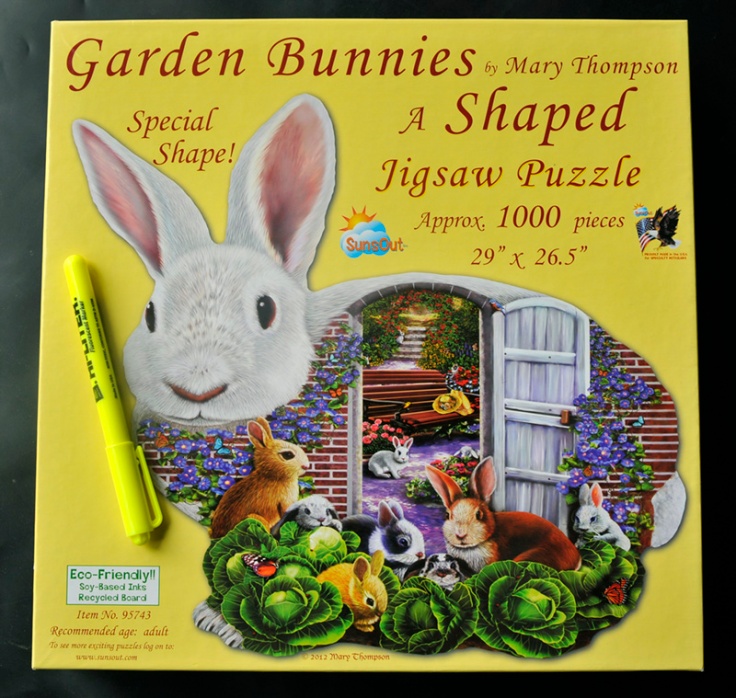 Publisher: Sunsout (USA), 1000 pieces
Title: "Garden Bunnies", Artist: Mary Thompson
Finished size: 26.5″ x 29″
OUR RATING: 8.75/10
I love shaped puzzles, especially those with a cute spring theme. It was past time to review this classic from Sunsout. And for the next three days you can grab it on sale for 25% off too. $12.36 is a great price for this one since it's normally $17.99! Here's a link to the sale.
Box Quality (7/10):
The Sunsout boxes are large and square in shape. They're larger than pretty much any other brand. This takes up more shelf space but also provides a nice big image when you use the box lid for reference.
Sides:
Three of the sides are the same, showing an image of the puzzle, puzzle name. artist, piece count, and Sunsout logo. It's easy to see what the puzzle is when it's shelved. The fourth side has a bar code.


Back:
The back of the box is plain white.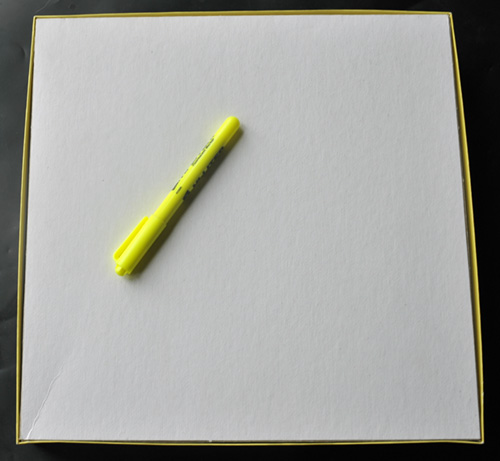 Inside the box:
Nothing comes inside the box except the bag of puzzle pieces. There's very little puzzle dust, and the pieces are fully separated and undamaged. (Note: the plastic bag shown in the image below is one I provided. The original bag for the puzzle pieces is thinner and doesn't have a zip lock.)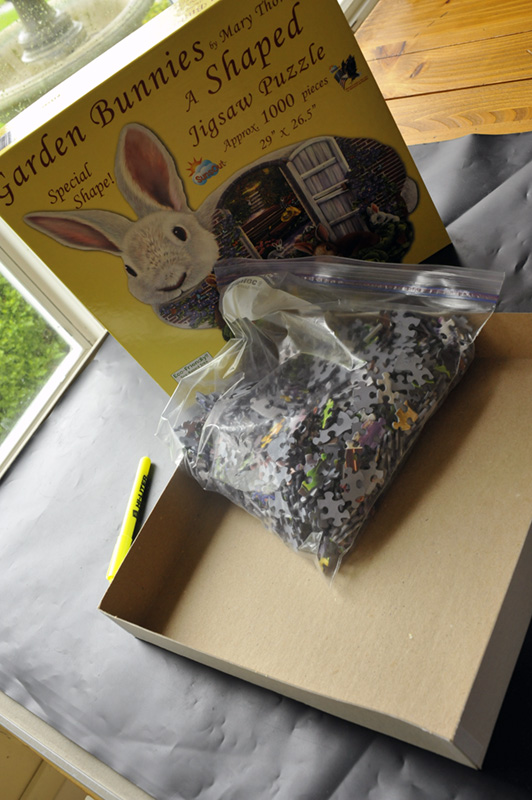 The Image (10/10):
About February I start craving puzzles that celebrate warmth, flowers, and spring. And lately, it's been cold and rainy here in Pennsylvania, even though it's April. So I have to get my sunshine on the puzzle board. I love Easter/spring/bunny themed puzzles, and there aren't all that many of them available. I'm particularly fond of this one because it's also shaped!
This is an image clearly designed just to be a shaped puzzle. It's by artist Mary Thompson, and it works wonderfully as a jigsaw. We have the fun outline of a rabbit shape, the large rabbit head and cute ears, the green cabbages at the bottom, the brick wall and blue morning glory flowers, the little scene through the garden door, and all the little bunny characters, each one unique. These all make nice, distinct areas to assemble. I also like Mary Thompson's art style. This is clearly a hand-painted illustration and not a photograph or collage.
I give this image a full '10' score.
Note that this puzzle just fit on my JigBoard 2000 with a little tip of one ear going over (hence the piece of white paper).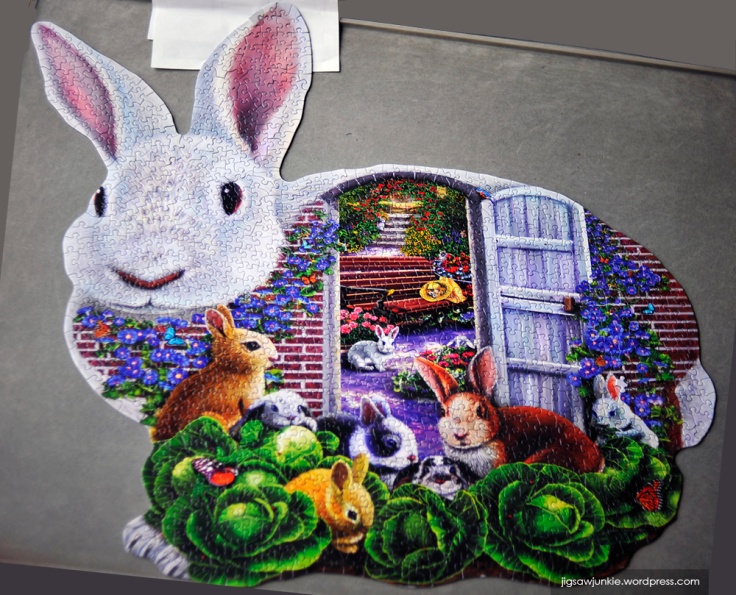 Puzzle Quality (8/10):
Sunsout did well in our brand comparison. You can see our full brand comparison on Sunsout here.
Sunsout and Bits and Pieces are both very similar to Springbok. The cut is much more creative than a standard grid cut, with pieces of all shapes and sizes. This is especially true of a shaped puzzle because the irregular edges can lead to some odd pieces. To me, this makes for more challenge and interest during assembly. The pieces are thick, fairly large overall, and have a heavy, glossy feel. The fit is very tight on this brand. You can easily move groups of pieces without them falling apart.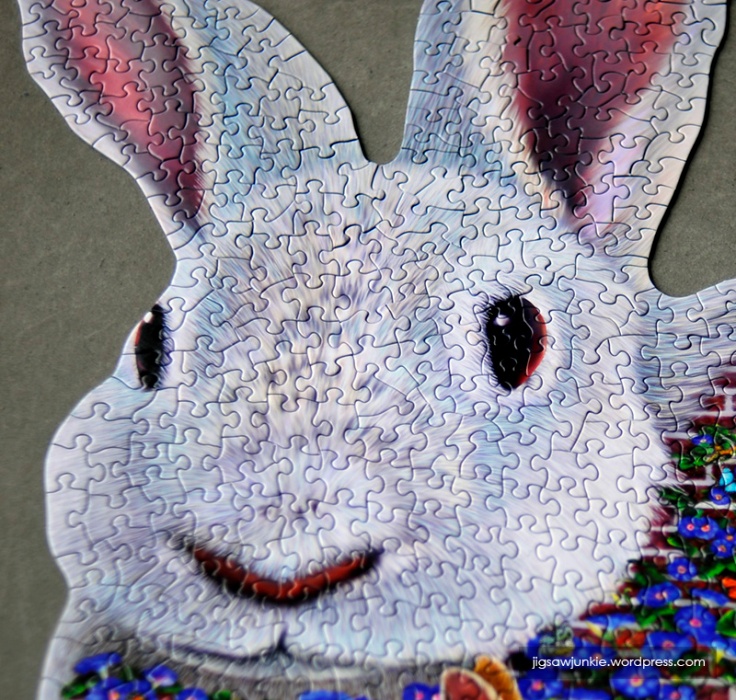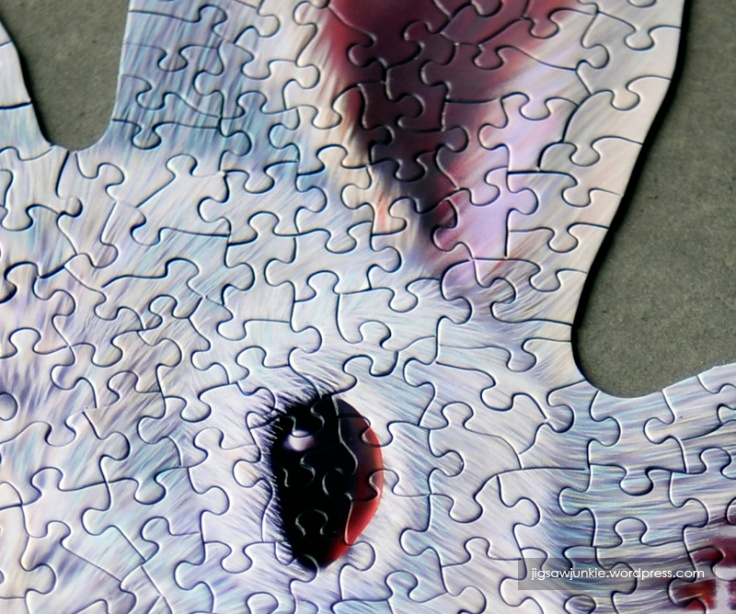 Assembly (9/10):
This puzzle is of moderate difficulty and has some challenging areas in it. The irregular boarder and the random cut both make it harder than your average rectangular grid-cut puzzle like Ravensburger. However, the image has lots of distinct areas of pattern and color, so it's still very doable.
I began with the green cabbage leaves (fairly difficult), then the blue flowers and bricks. The scene inside the garden door is also pretty straight forward to assemble. The white of the rabbit's body, and the other rabbits, were last. The large white rabbit head was difficult but fun to do. I enjoyed assembling this and would definitely work it again. I've given high marks in this category.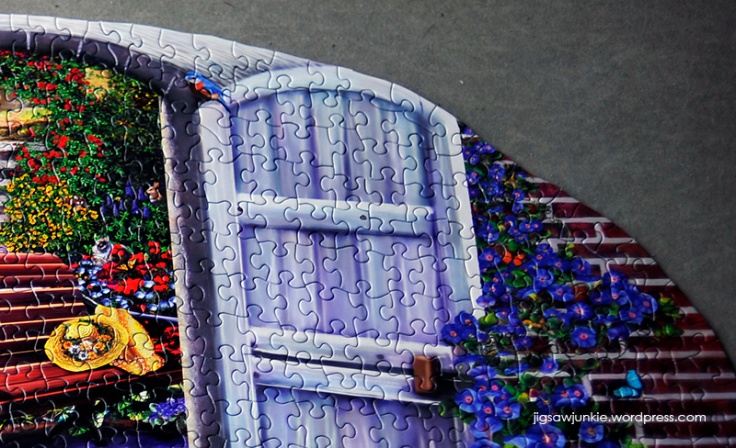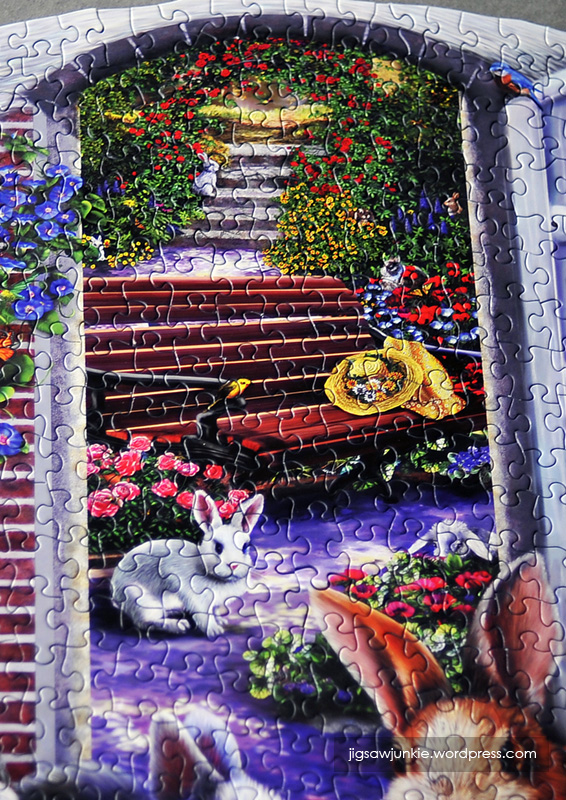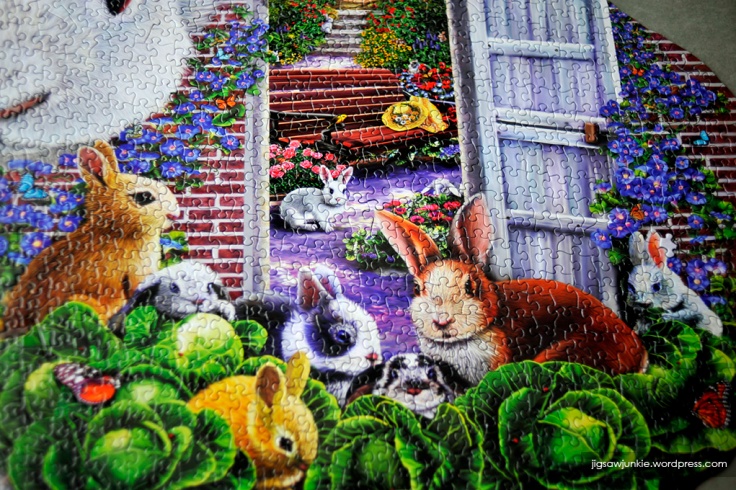 Conclusion:
If you like shaped puzzle and cute animal themes, you'll definitely want to grab "Garden Bunnies". I've added a bonus point to our score for the terrific shaped outline.

Where to Get It – 25% off:
For the next 3 days you can get "Garden Bunnies" for 25% off at Puzzle Warehouse. Just click on the logo below:

Similar Puzzles:
"Garden Bunnies" must have sold well for Sunsout, because they just released a similar puzzle called 'Bunny Hollow'. You can click on the bunny below to take a look at this 'sequel' puzzle.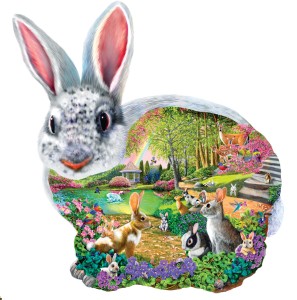 JJ