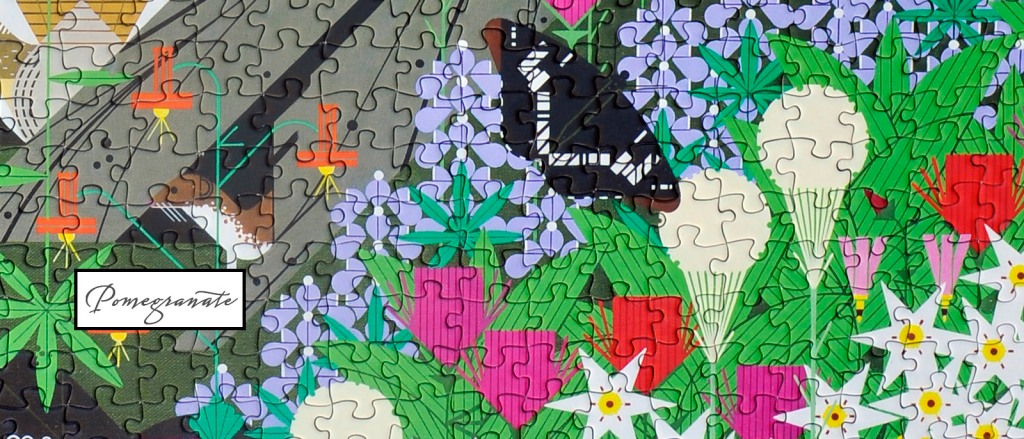 Review: "The Alpine Northwest" by Charley Harper, Pomegranate – 8.5/10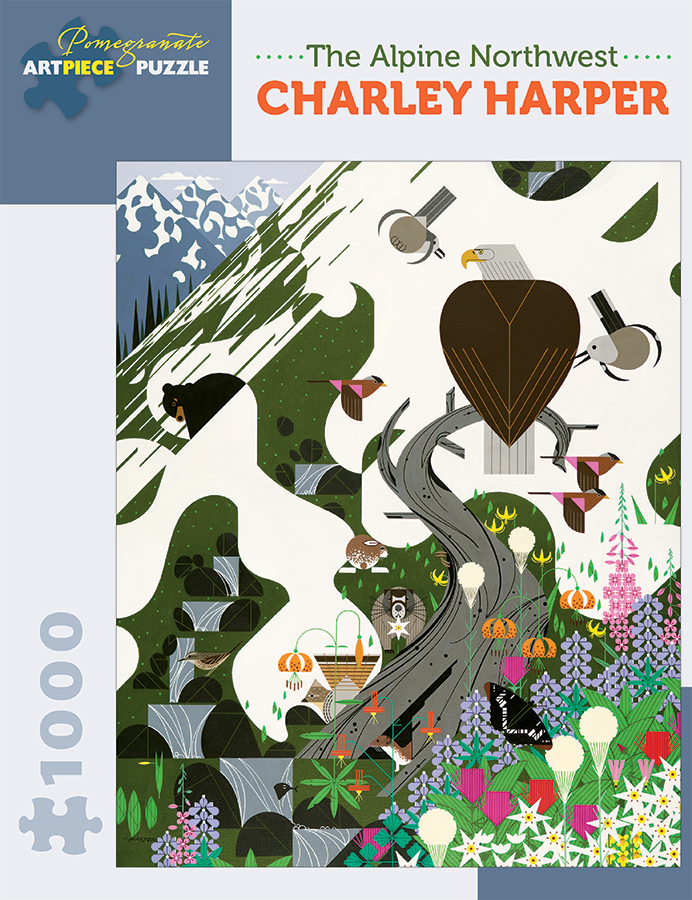 Publisher: Pomegranate (USA)
Title: "The Alpine Northwest" by Charley Harper, 1000 pieces
Final dimensions: 20″ x 25″
Review by Jane
OUR RATING: 8.5/10
Box Quality: 9/10
Pomegranate's boxes are very sturdy and nicely designs. They're a bit smaller than Ravensburger or Jumbo, but not as small as Buffalo Games. One of the things I appreciate about Pomegranate boxes is that, because they are an art house first (they also do cards and calendars), they are very focused on the artist. So the artist name is prominent on the front, sides and back.
Sides:
The sides of the box all have the Pomegranate logo, a picture of the image, the artist and image name, and the final puzzle size.




Back:
The back of the box is a custom back. It has a biography of the artist, Charley Harper, as well as a blurb about this particular image, The Alpine Northwest. This is the kind of information I love to see on a box! I appreciate knowing something about the artist and image as I piece it together. (click on the image below for a readable resolution)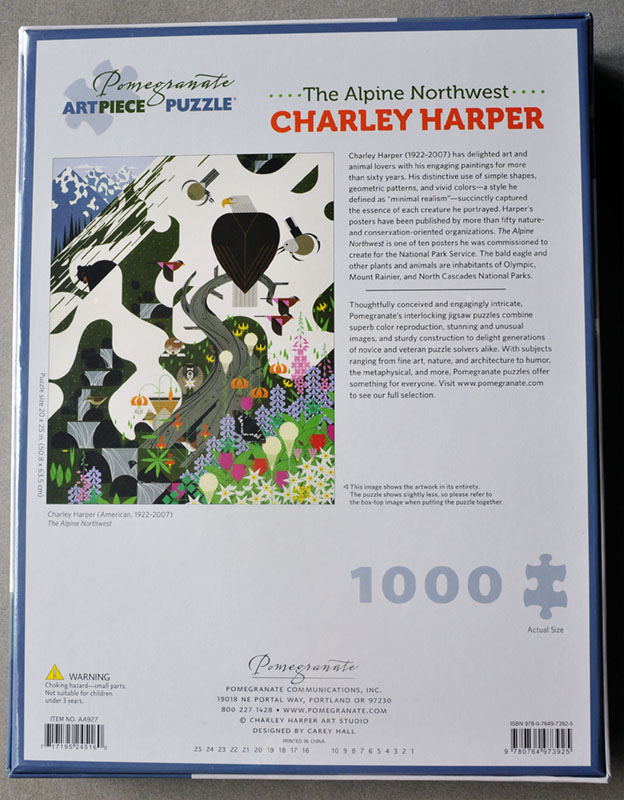 Inside:
There's nothing in the box except for the bag of puzzle pieces. They come in a heavy and resealable ziplock bag.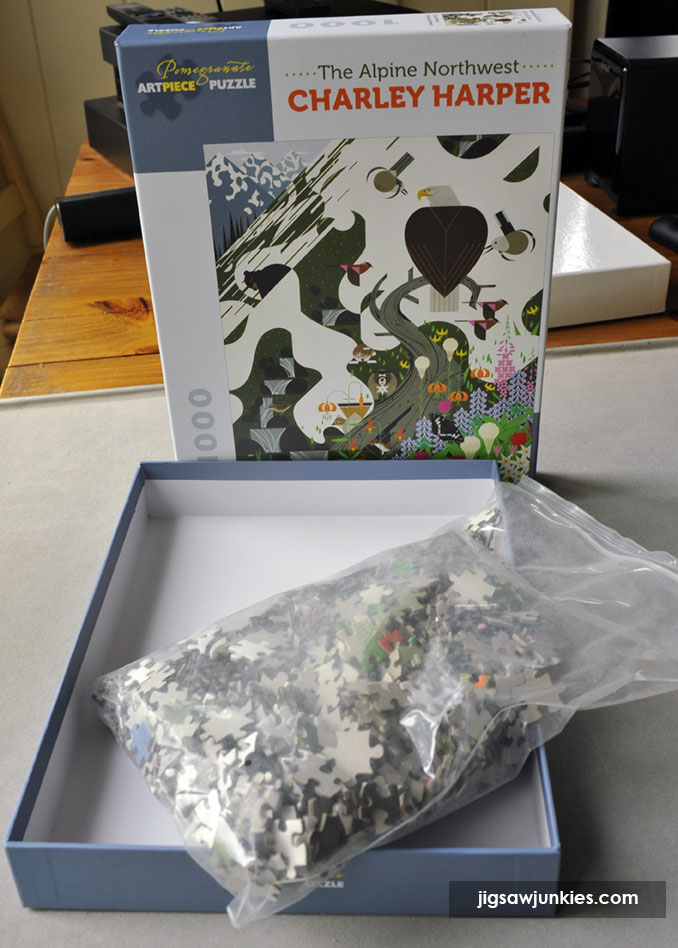 The Image: 8/10
The box says this image, "The Alpine Wilderness", was one of 10 images commissioned from Charley Harper as posters for the (USA) National Park Service. I'm a big fan of the US national parks and of hiking in them, so that probably explains why I'm drawn to these puzzles. You can see more of Charley Harper national park images here.
Of his national park poster images, many of them are bright and colorful, like "Hawaii Volcanos", "Rocky Mountains", and "Glacier Bay National Park". This image, "The Alpine Northwest", has more subtle coloring and quite a lot of white. It's a great image but not my absolute favorite Charley Harper for a puzzle.
There's definitely a sense of cool, crisp wilderness in this image, despite the flowers in the lower right. You can almost feel the breeze coming off the white snow. You might want to save this puzzle for a hot day!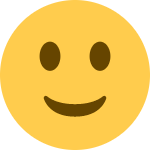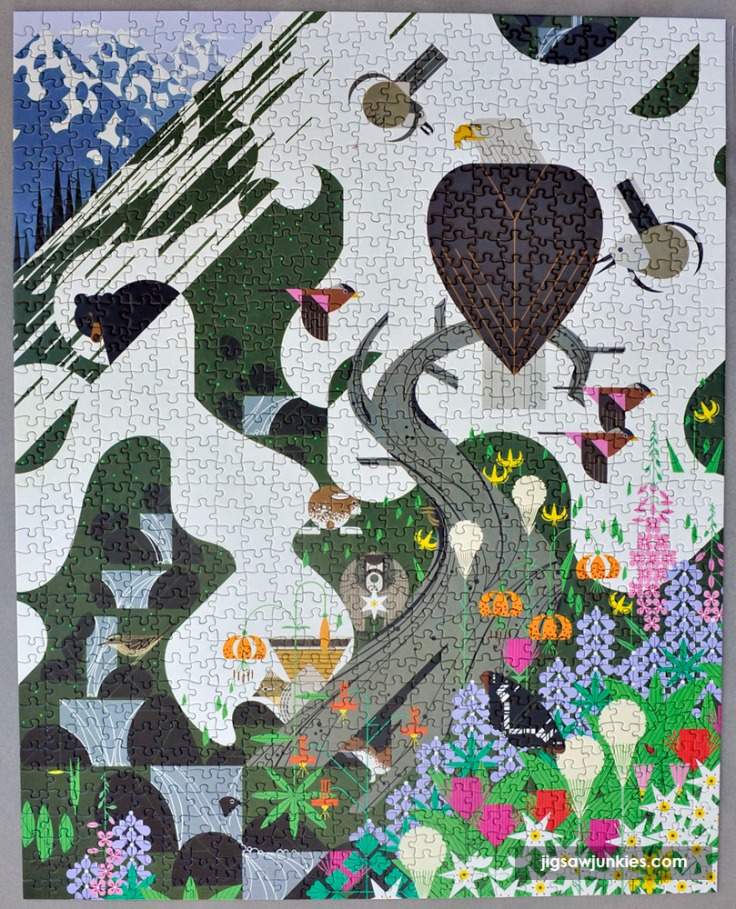 Above: The completed puzzle. Click for closer view.
Puzzle Quality: 9/10
Pomegranate is a premium quality brand. You can see our brand comparison here. This is a grid cut puzzle. The pieces are thick and sturdy and have a nice soft finish to the touch. There is no puzzle dust and the puzzle comes in a thick, resealable bag. The fit is moderately tight. You can move joined pieces with care. The final finish is quite seamless. You can really see the artwork when it's done, and it's ideal for framing. There is a glossy finish to the pieces which can create glare under over-head lights, but I didn't have a glare issue with this puzzle, perhaps because of so many white pieces.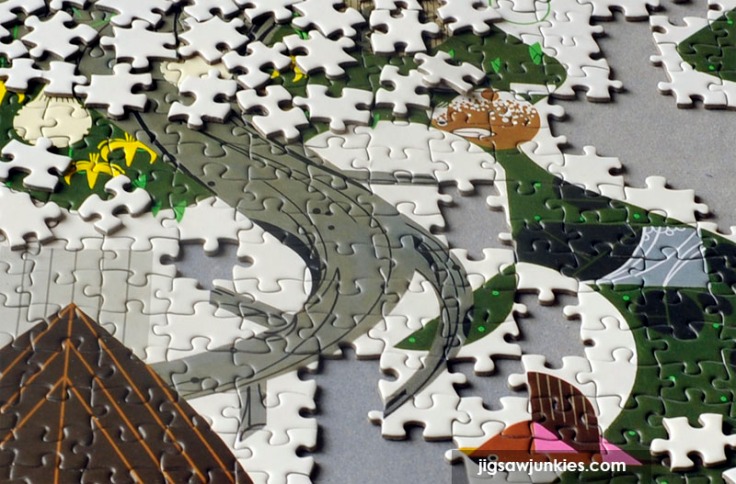 Assembly: 8/10
This is an easy puzzle to put together and very pleasant thanks to the nice quality of Pomegranate. There are plenty of color areas, like the gray tree, brown animals and yellow, pink, and red flowers to assemble first.
T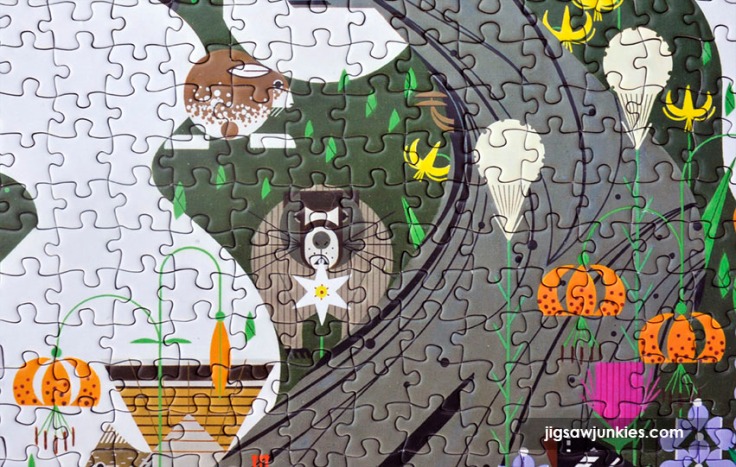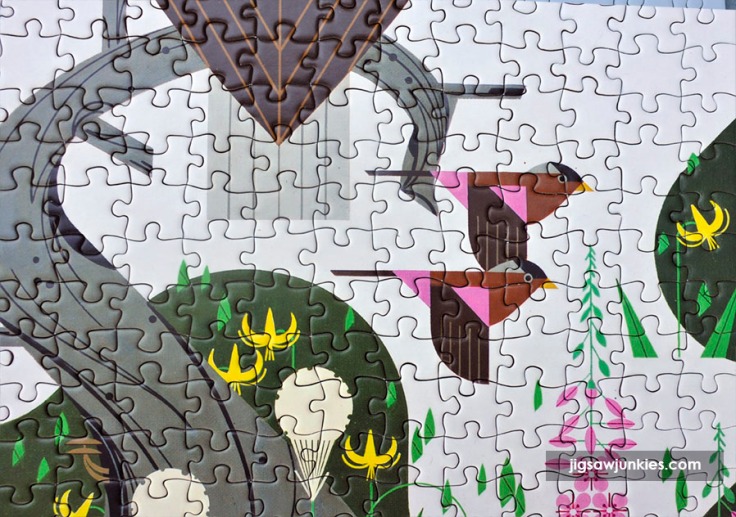 Besides the bright colors, there are also textures which help determine where a piece goes, such as the white lines on the bird's wings above. The art style is minimalistic, but there're still lots of small texture details.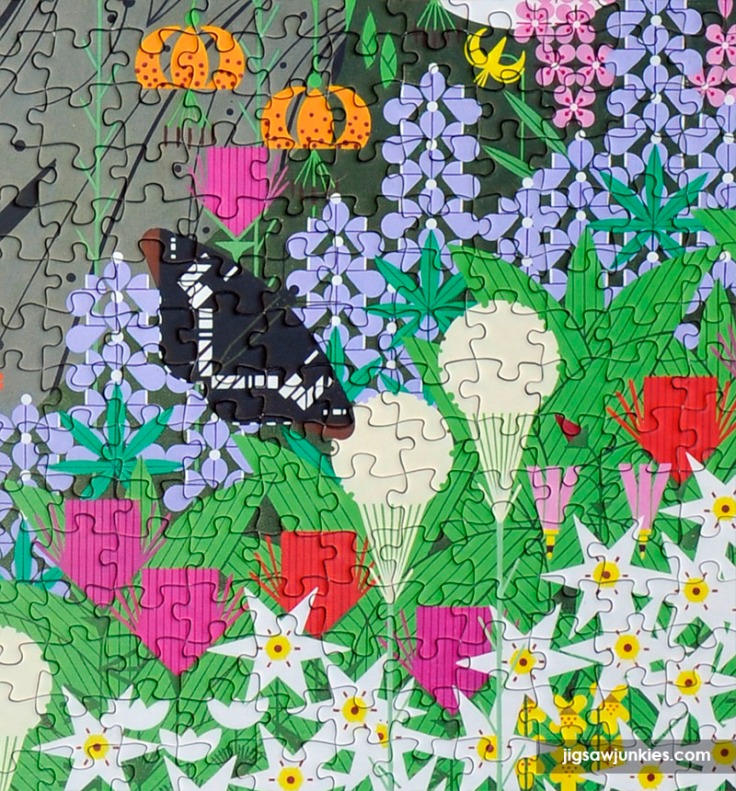 The section in the lower right with the leaves, flowers, and butterfly was particularly fun to assemble.
There are lots of little creatures hidden in the image that I didn't see until I was assembling it.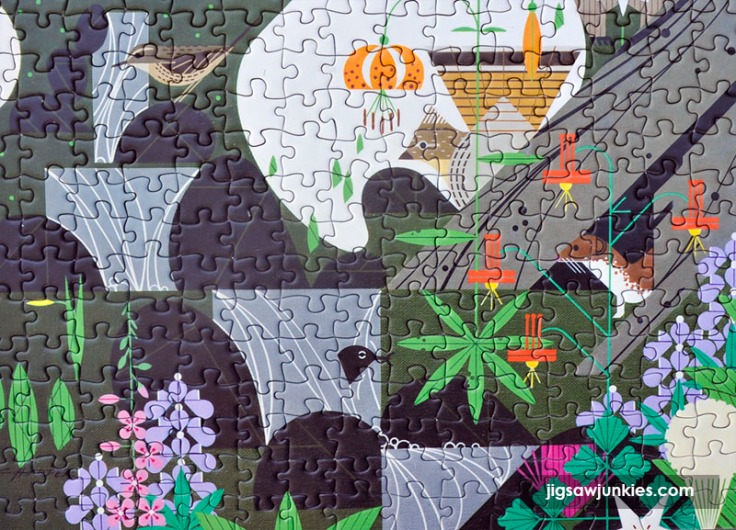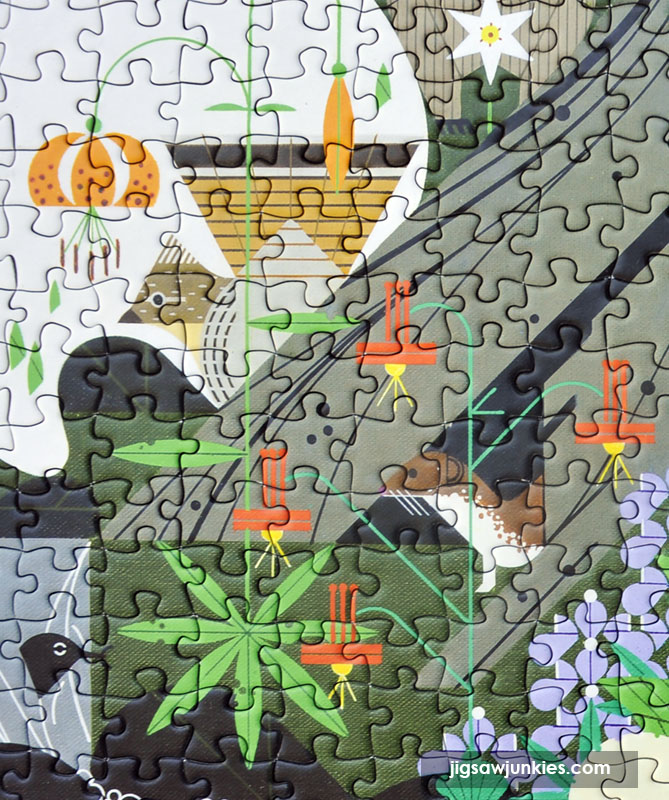 At the end of the assembly process, I was left with just white. I counted 114 white pieces at the end. See the photo below.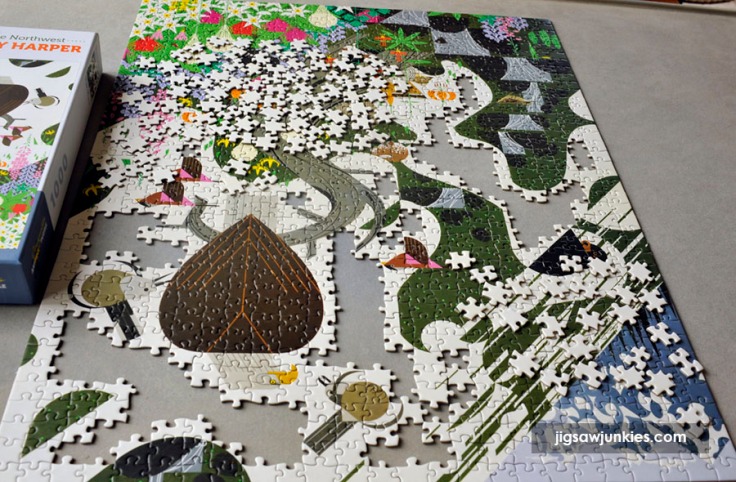 However, the white pieces honestly weren't that hard to do. There's lots of variety in the piece shapes and knob sizes. I organized my white pieces by shape and then just tried each shape where it looked like it might fit. If I didn't find a spot for that piece, I put it over in a 'bone pile' and tried the next piece. It took me maybe an hour to finish the white section while I had the TV on. Sometimes it's a nice change to work a puzzle based on shapes instead of color, so I didn't mind it. The high quality of Pomegranate helps here, because you never think a piece fits where it doesn't actually go (unlike some brands), so it's not a frustrating experience. Once a piece is placed, it's really done.
Summary
Charley Harper's National Park posters are lovely minimalist images of the American wilderness and make terrific puzzles, particularly when paired with Pomegranate's excellent quality. Thick pieces, a good collectible box, and a puzzle finish that is soft to the touch, all make this brand a wonderful puzzling experience. "The Alpine Northwest" isn't as colorful as some Charley Harper images, and there are a lot of white pieces here. But the assembly was fun and never frustrating. In the end you'll have an image ideal for framing. Recommended.

Where to find:
Get a 15% discount on this puzzle for 72 hours at The Puzzle Warehouse.

MORE CHARLEY HARPER PUZZLES
"The Rocky Mountains"

"Glacier Bay, Alaska"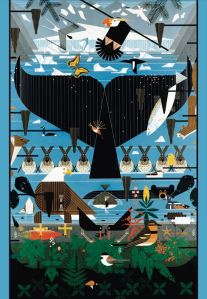 "The Coral Reef"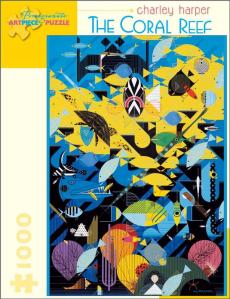 All Charley Harper on Puzzle Warehouse here
Jane