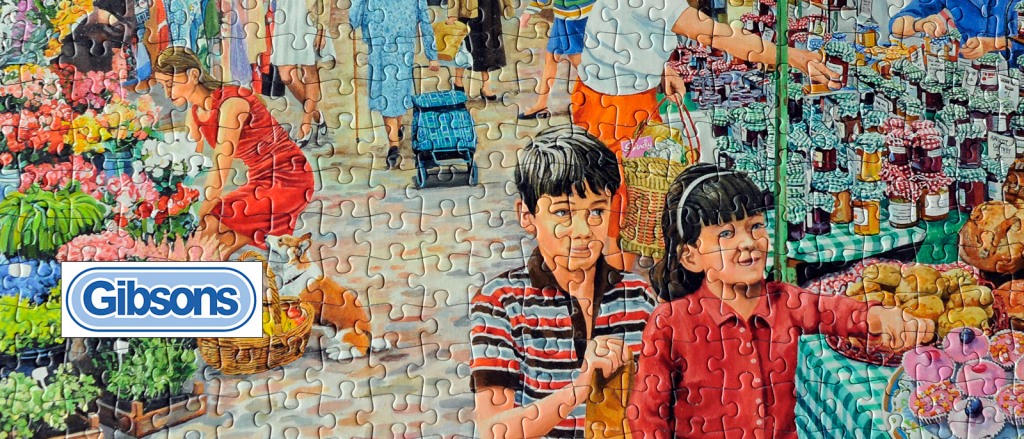 Review: "A Trip to the Shops" by Trevor Mitchell, Gibsons — 9.5/10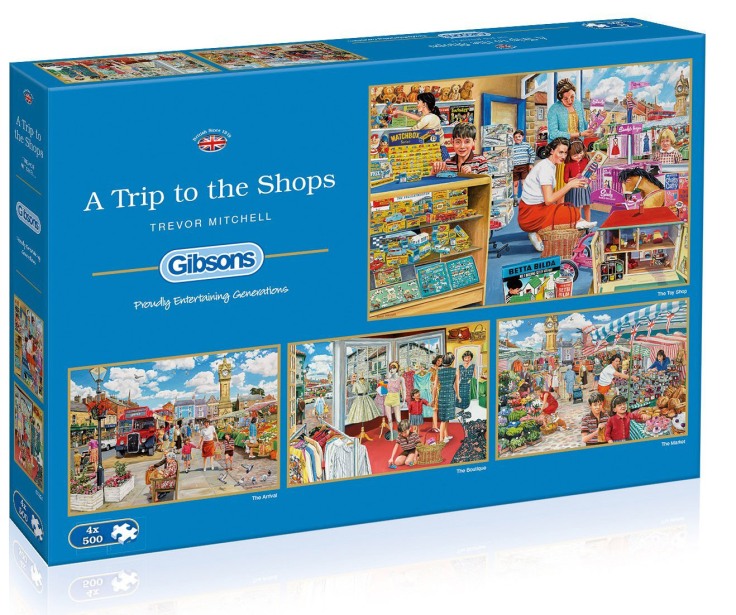 Publisher: Gibsons (UK)
Title: "A Trip to the Shops" by Trevor Mitchell, Gibsons, 4×500 pieces
Review by Jane
OUR RATING: 9.5/10

In celebration of Puzzle Warehouse adding Gibsons puzzles to their stock for the first time, this week our focus is on GIBSONS PUZZLES. Those who have followed my blog for awhile know that I really enjoy GIbsons puzzles, and I previous interviewed Kate Armitage, the founder's great granddaughter. So I'm thrilled to see a good distributor for them in the US. I will definitely continue to cover Gibsons heavily on this blog.
Today's review is of a 4×500 Gibsons puzzle set, one of my absolute favorite sorts of puzzles from Gibsons. I'll get into why that is the case!
GIBSONS SALE
Part of our celebration this week is a discount on all Gibsons puzzles at Puzzle Warehouse. So if you've never tried this AAA brand before, here is a good chance. I'll be reviewing two Gibsons puzzles this week and then doing a feature on Gibsons this weekend. Here's the sale link.
Box Quality: (10/10)
The Gibsons boxes are of excellent quality–thick and sturdy with a lovely design. You can see the front above. Most of their boxes (except for a few series like the Limited Edition Christmas puzzles) come in blue boxes. They make a very nice-looking collection on the shelf. The 4×500 boxes are a bit larger (to accommodate those extra puzzle pieces) and measure 16 1/8″ x 11 1/2″.
On the front, they have the name of the puzzle and artist as well as images of all four puzzles. The back shows slightly larger views of the three puzzles that were smallest on the front of the box. They have a bio on the artist and a little blurb about the images. Click on the photo below for a resolution you can read.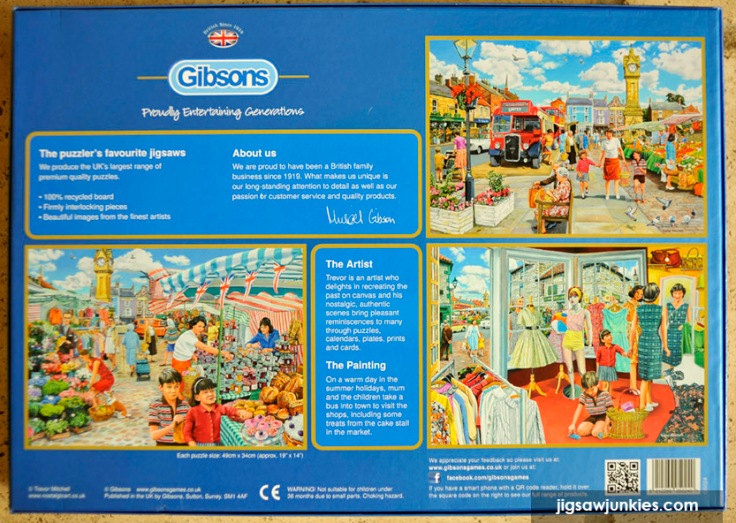 Inside:
The box contains four separately bagged puzzles, a warranty card, and a full color mini catalog. I love getting a catalog in the box because years later, it helps identify puzzles that were out at the same time. Each bag of puzzle pieces contains a small black and white image so you can tell which bag contains which puzzle.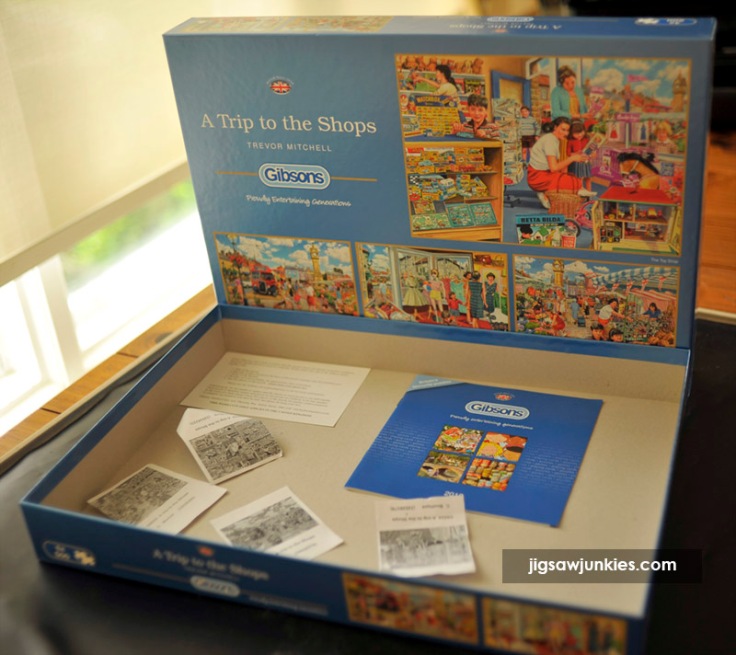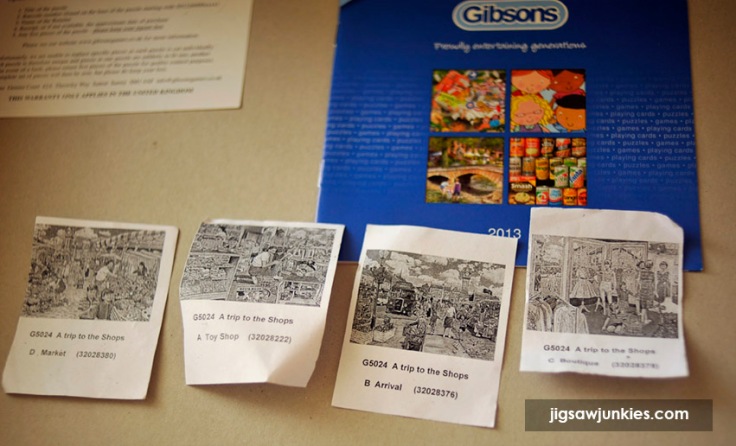 Sides:
The sides feature a pull-out of two of the puzzle images, the piece count, Gibsons logo, and the name of the puzzle and artist.




Overall a perfect score for this box!
The Image: 9/10
This is a set of British nostalgia images by Trevor Mitchell, who does most of Gibsons' 4×500 puzzles (as well as nostalgia puzzles for other brands). In this series, we see a mother with her young children, a boy and a girl, spending the day in a market town shopping. I like how the pictures tell a story about their day.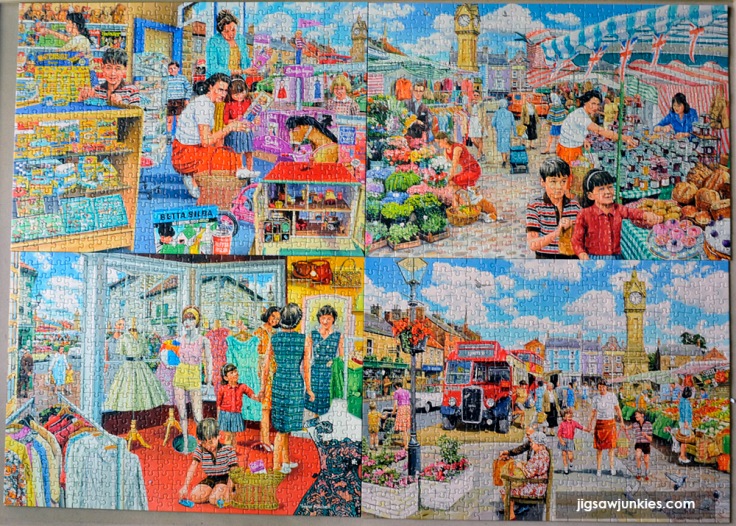 Above: All four puzzles assembled on my Jigboard 2000. Click for a larger view.
In puzzle #1, the family has just gotten off the bus and arrived in town. Mom's basket is empty and the kids are excited. This is the only puzzle with significant amounts of blue sky, but the clouds break it up so it's not a monotone area. It was still easy to do.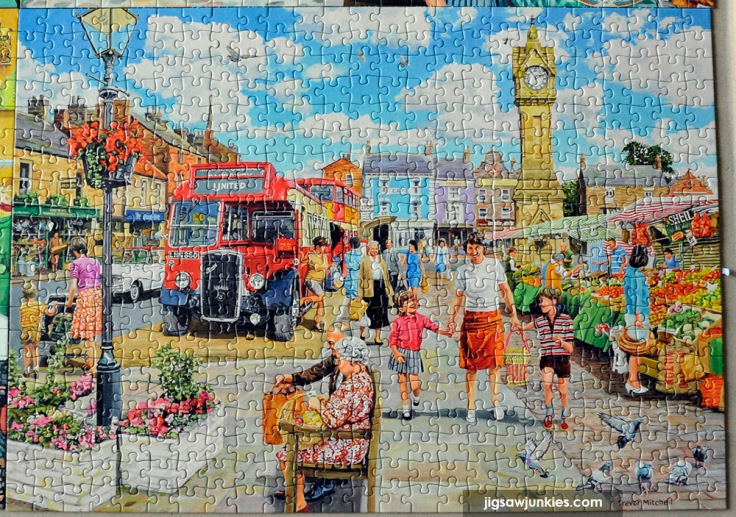 Puzzle #2: First stop is the toy shop. Smart mum! She knows she'll get no peace until the toy shop is hit, so they go there first. Let's not talk about the gender stereotyping in this scene. It's nostalgia after all and things were simpler then.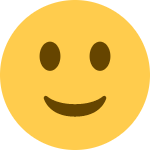 The slightly chubby boy in the doorway and the little girl looking wistfully through the window are nice touches. I know nothing about vintage British toys, but I would be surprised if these weren't all actual toys from the era.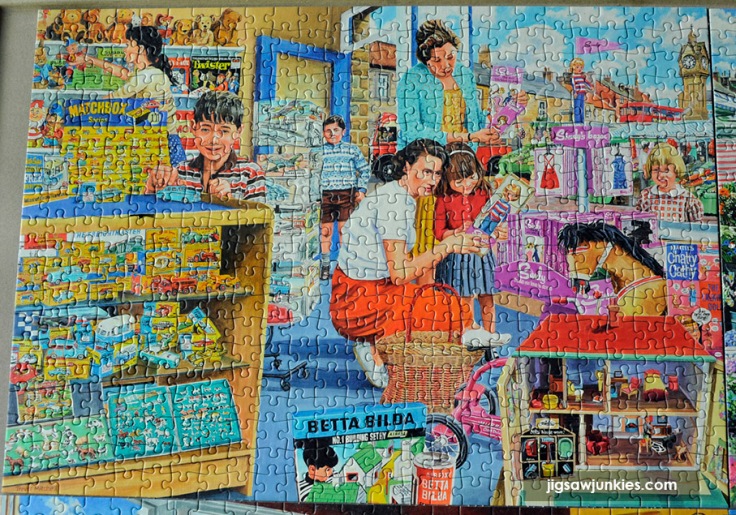 Puzzle #3. Now mum can spend a little time shopping for clothes for herself while the boy plays with his new car on the floor and the little girl watches on, perhaps dreaming of the day she'll be able to fill out a dress like that! I like the view out the window, the various colors and patterns on the vintage dresses, and the sort of creepy mannequin.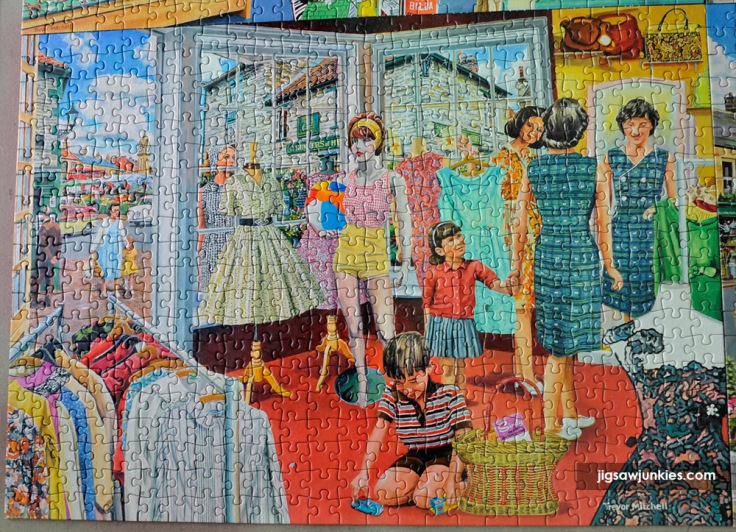 Puzzle #4: Finally, with mum's basket nearly full, the family stops at some street vendors to buy sweet treats. Sounds like a pretty good day to me!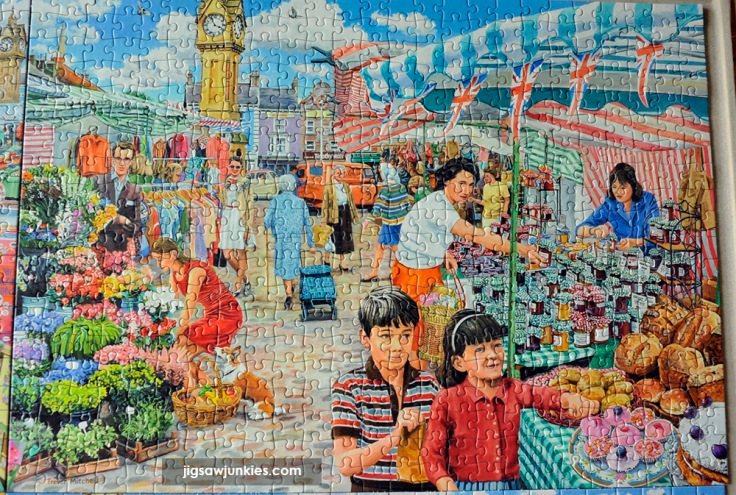 I really like British nostalgia puzzles, and Trevor Mitchell has a nice, accessible style full of color and detail. Each painting here is nice, but together they're better than the sum of their parts because they tell a story and provide a nice collection of four vignettes. (Though I still want the scene where the little boy or girl is throwing a tantrum because they can't have something. But maybe that would spoil the mood…)
Puzzle Quality: 9/10
As I mentioned in my other review this week, I enjoy the tactile feel of working a Gibsons puzzle. The pieces are very thick and sort of waxy to the touch. Assembling a puzzle is a touch-oriented experience anyway (as opposed to playing a video game), so to me the feel of the pieces is important. It's pleasurable to feel like you're assembling the equivilent of a BMW vs a junker car! I always look forward to doing a Gibsons after I've done other brands for a bit. (I especially love their Christmas puzzles, but I digress.)
Gibsons puzzles are grid cut, as you can see in the detail close-up below. You can see our full brand comparison for Gibsons here. I have deducted 1 point because they do have a lot of 2-knob, 2-hole pieces which are quite similar. This can cause pieces to look like they fit where they don't actually go. I've gotten used to that and now I consider it part of the challenge of a Gibsons. In any case, it was never an issue with these four puzzles because there's so much small detail and color changes, it's always easy to tell where a piece goes. There's a nice solid interlock to the pieces and the piece cut is fairly subtle when it's assembled so you can see the image, not the cut.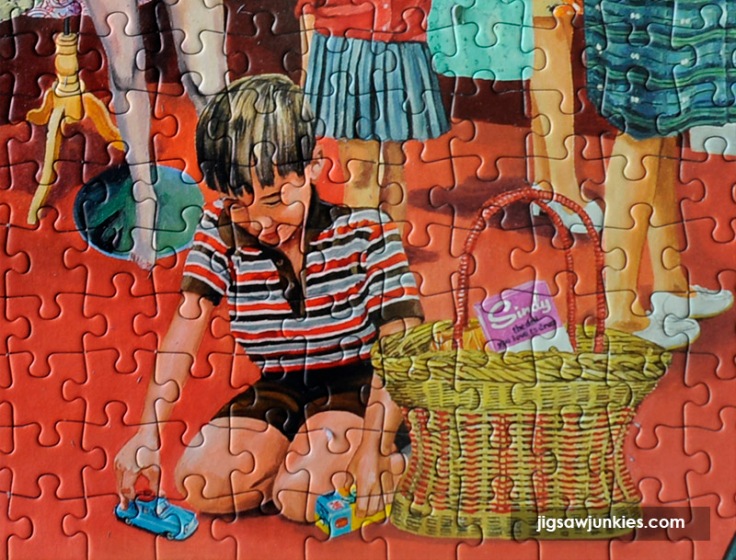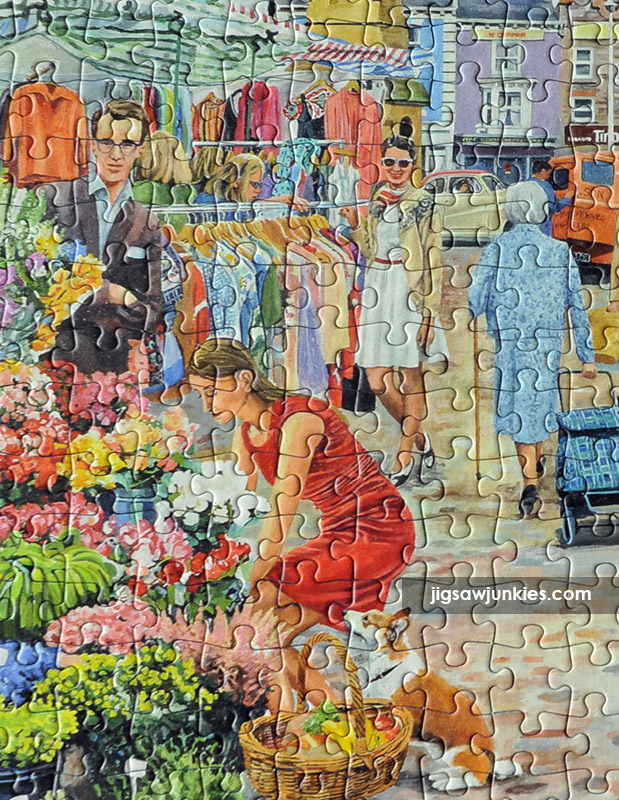 The shopping theme gives lots of opportunities for small bits of color and pattern, like the flowers and the clothes on the racks above.
Assembly: 9/10
Your first choice with a set like this is the question of whether to do each puzzle separately or mix them all together to make a 2000 piece puzzle. Separately, the four puzzles are easy to piece together. I always assemble each puzzle separately, mainly because I do so many puzzles so I'd rather save time. Doing each puzzle alone definitely is quicker, because you're working with 500 pieces to sort through, not 2000. However, if time weren't a factor I think it would be fun to try one where I mix them all together. Another thing I like about doing them separately is it's almost like reading an anthology of short stories. Each 500 piece puzzle is fairly quick and easy, done in a few hours, and then it's on to a new one. No chance of getting bored.
Another option I think would be fun to try is to assemble each of the four borders and place them adjacent, creating a nice skeleton framework, and then mix up the rest of the pieces and place completed bits in the right spot in the four frames. Maybe I'll try that next time!
I always do the frame first and then the brightest colors–the fruit or the patterned dressed or rugs in the shops.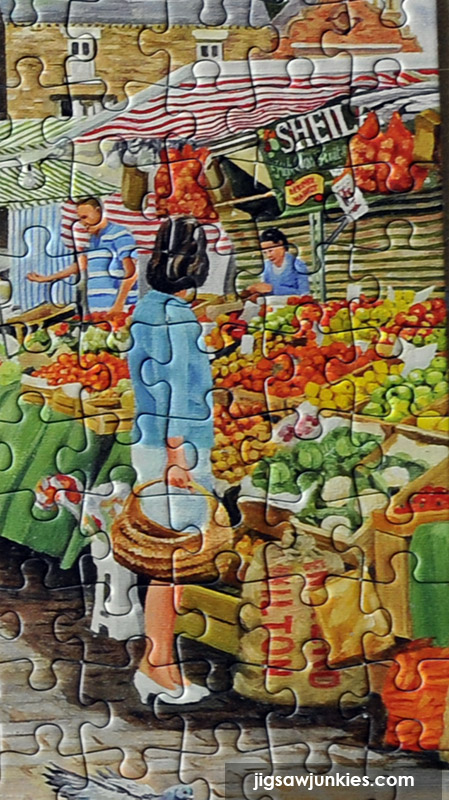 There's so much small detail in these paintings, you can really start anywhere. I like how the boy's distinctively striped shirt and mum's orange skirt are always easy to identify in each scene. And the goods for sale like the cakes in the image below, or the dresses, are easy to pull pieces for and put together quickly. Each individual item is small.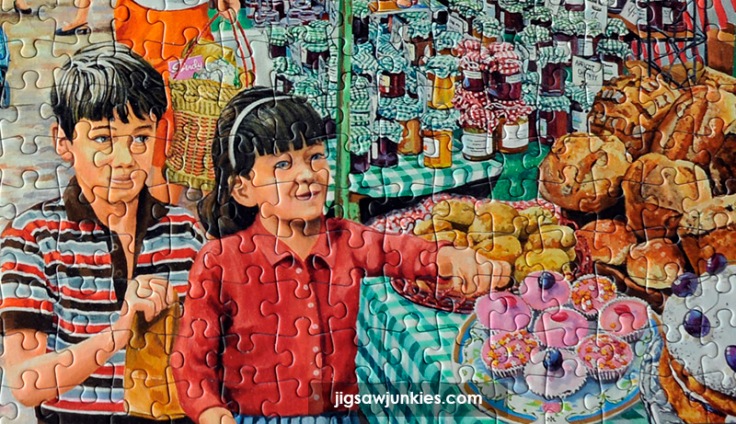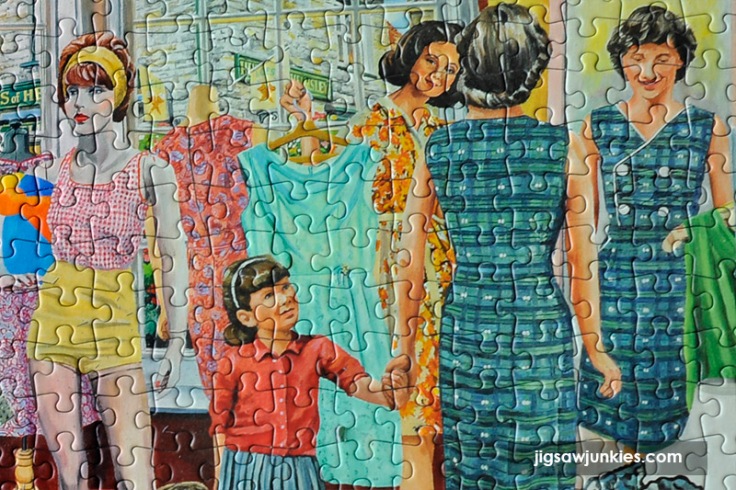 Each puzzle has some larger (only by comparison) areas you can just piece together without reference to the box, like the blue sky, rugs, or the road.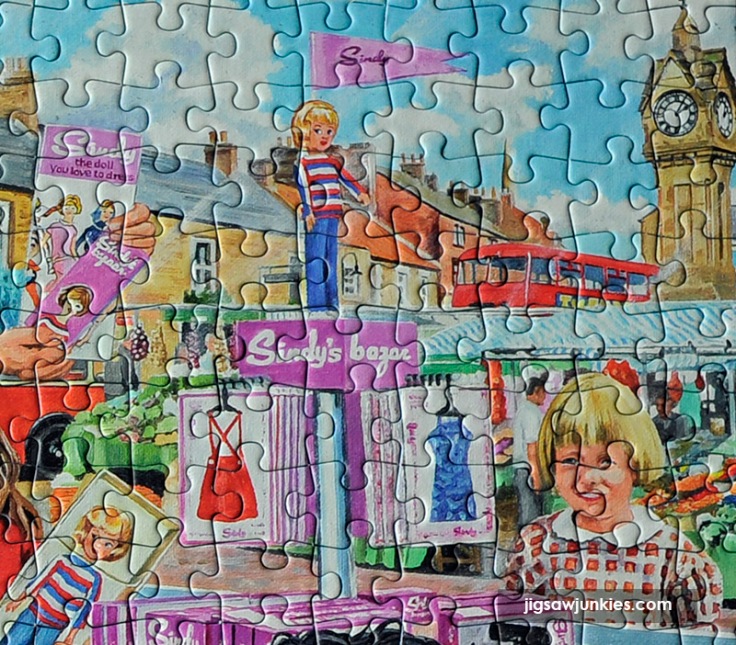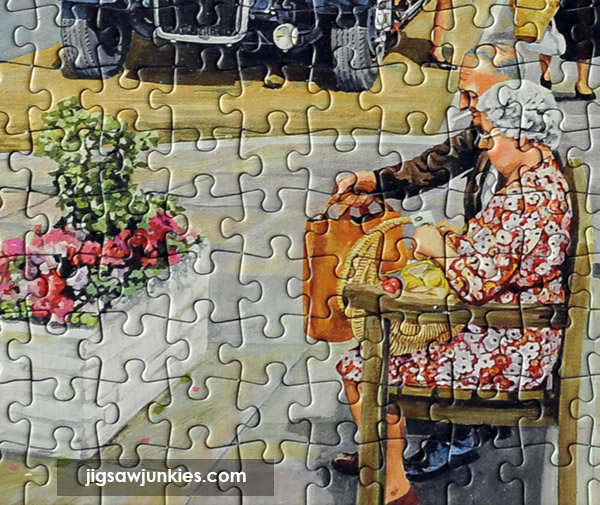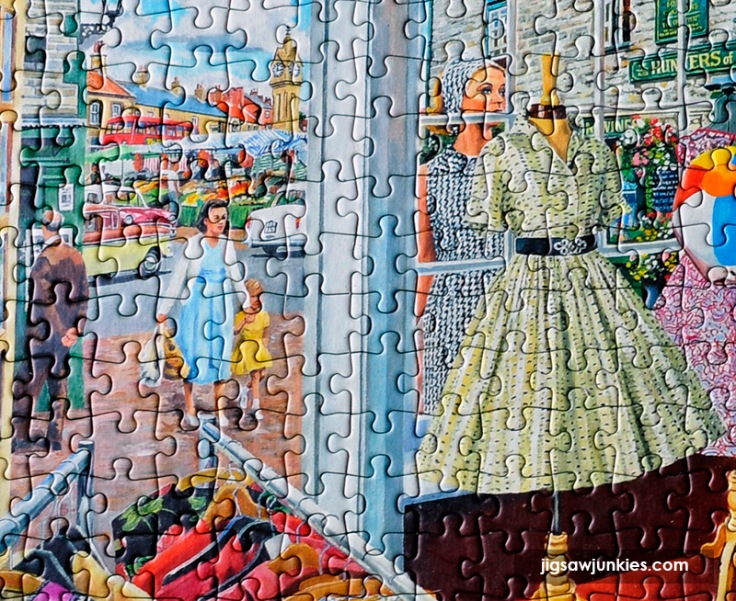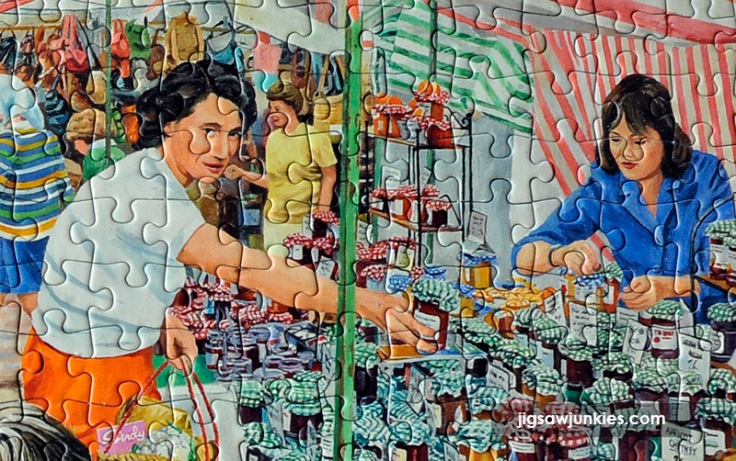 It took me only three nights to do the four puzzles, so it's really a very fast set to assemble. I found it fun and relaxing too.
Bonus Point: The 4×500 Format
I've given this puzzle an extra bonus point to highlight the wonderful benefits of the 4×500 format. Someone mentioned in a comment on the site the other day that she wished Gibsons did more 2000 piece puzzles. For those who like 2000 piecers (and I'm one of them), it is less common to find that size. But with the 4×500 sets, you can easily make them a 2000 piece puzzle by mixing the four bagged puzzles together. Or, if you like 500 piece puzzles, you have four you can work over time.
Personally, I like to work all four in succession in a few days, and put them together on my Jigboard 2000. I like to do a temporary mounting for them this way, with all four puzzles on the same foamcore board so they are displayed as a set. This format seems to be doing well for Gibsons, because they put out more each new release cycle. So hopefully we'll have many more like this!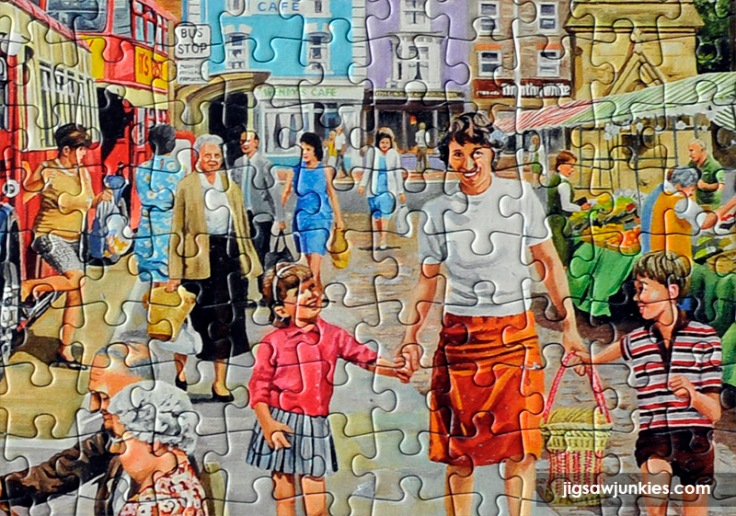 Conclusion
Gibsons puzzles are a high-quality puzzle from the UK with beautiful blue boxes, very thick pieces, and a waxy matte finish. This set contains four separate 500-piece puzzles. The four puzzles together show a family spending the day in a market town and visiting various vintage shops and vendors. This is a lovely British nostalgia collection by artist Trevor Mitchell and was specifically commissioned by Gibsons. There's so much color and detail in these images that assemble is very quick and easy. You can do each 500 piece puzzle separately or mix them together into a 2000 piece puzzle for more of a challenge. The 4×500 format is unique to Gibsons and offers something for all levels of puzzlers. Highly recommended.

Where to find:
Here's a link to the puzzle on PUZZLE WAREHOUSE. This week you can get all Gibsons puzzles for 10% off with the code GIBSON10. This code is good through Sunday, Jun 5 2016.

JJ
More 4×500 Puzzles from Gibsons (click to see the product in the Puzzle Warehouse store):
Note: These puzzles do go out of print after a few years, like "The Milkman's Round". So grab them while you can!