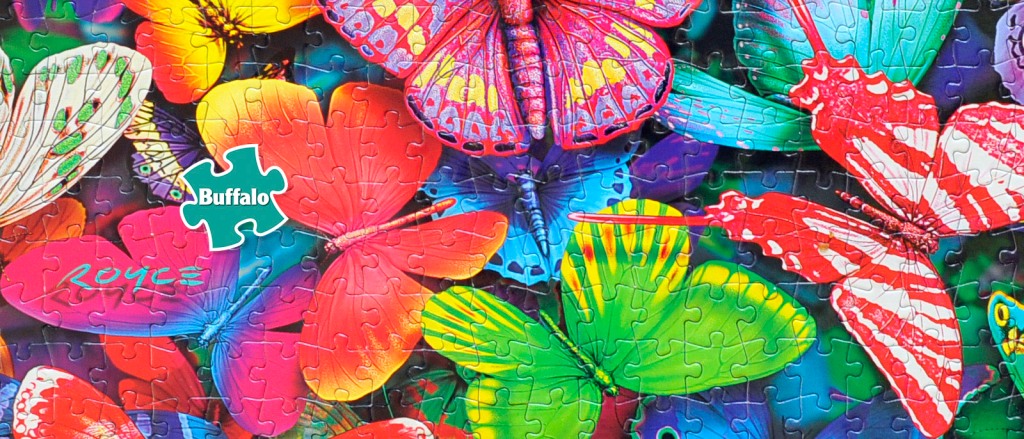 Review: "Vivid Collection: Butterflies" by Royce B. McClure, Buffalo Games – 8.5/10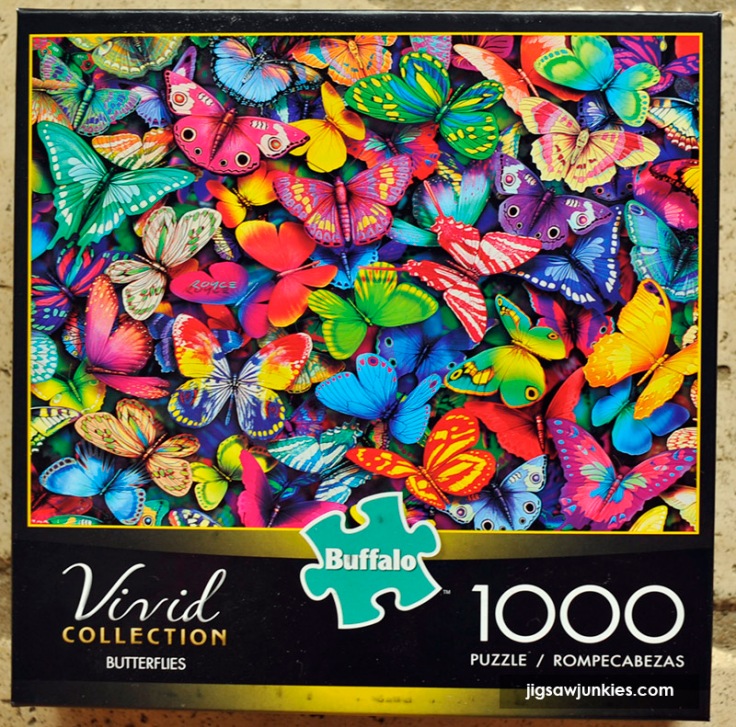 Publisher: Buffalo Games (US), published 2016
Title: "Vivid Collection: Butterflies" by Royce B. McClure, Buffalo Games, 1000 pieces
Finished size: 19.75″ x 26.75″
OUR RATING: 8.5/10

BUFFALO GAMES WEEK:
From June 15-June 30, 2016, Puzzle Warehouse is holding a special promotion with Buffalo Games. All Buffalo Games puzzles will be 30% off! That's a really deep discount, so stock up while you can. Here at Jigsaw Junkies, we'll be featuring Buffalo Games this week with two reviews and a feature on the weekend. You can see all Buffalo Games puzzles on Puzzle Warehouse here.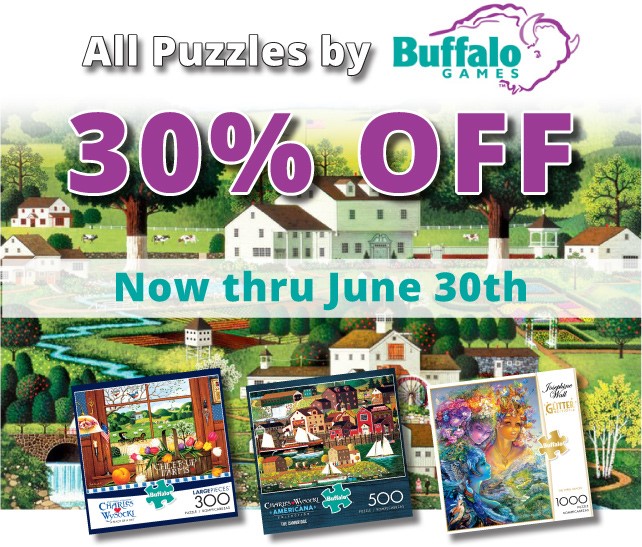 The Vivid Collection:
I've been seeing Buffalo's "Vivid Collection" puzzles for a while and decided to try one. I chose "Butterflies". Let's see how it went….
Box Quality: (8/10)
The Buffalo Games box is a small square shape, which saves room on the shelf. The front is shown above. The back of the box has a generic Buffalo Games back. The artist name is only shown small in the copyright notice on one side.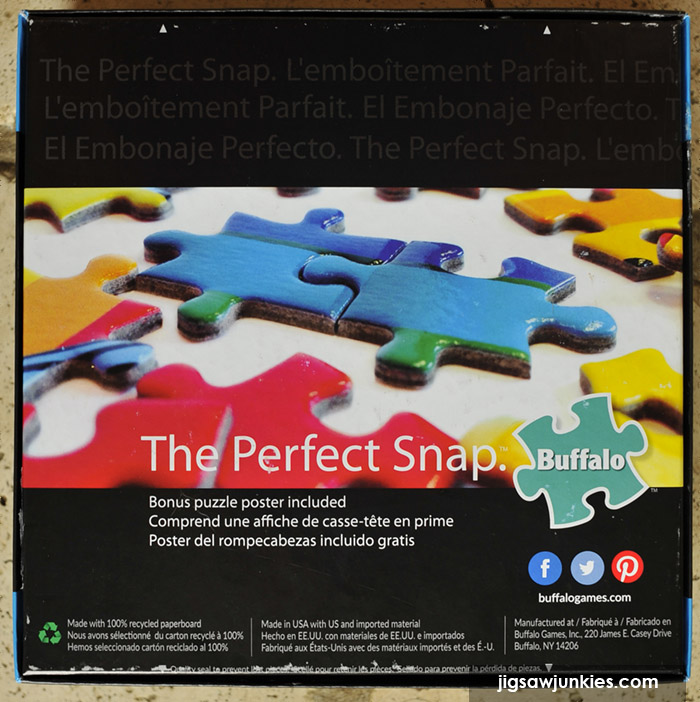 The sides have a photo of the puzzle, the puzzle name and piece count. The Buffalo logo is on three sides so you can shelve it facing out.




Inside:
Buffalo Games boxes are not shrink-wrapped but are instead sealed with glue on all four sides, meaning that you have to cut the glue with a knife and thus damage the side of the box in order to open it. As I've noted in past reviewa, I don't like having to mar the box so I've dinged the box score for this. The inside of the box contains the puzzle pieces (NOT in a bag, but completely loose) as well as a full-color poster. It's nice to have the poster to work with since it's much larger than the box front as a reference image. Besides the poster and the puzzle pieces, there's nothing else in the box.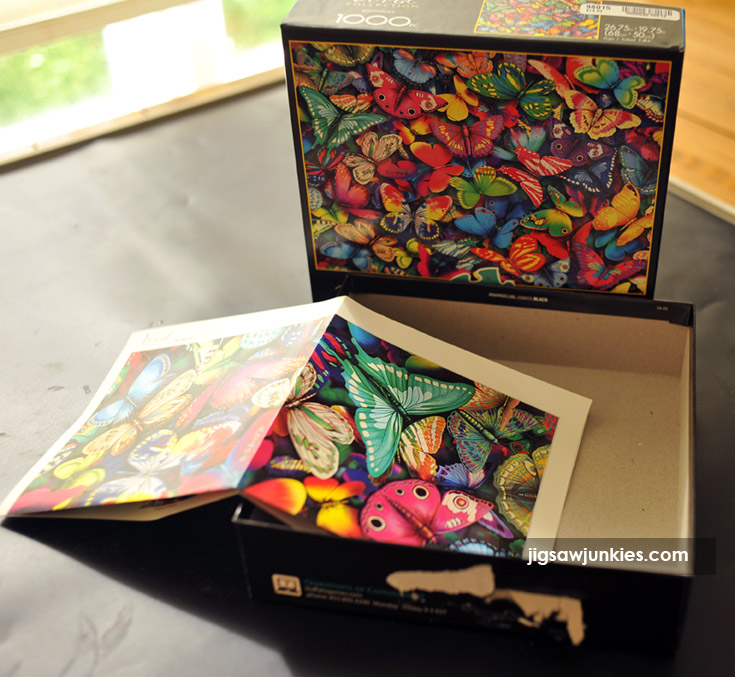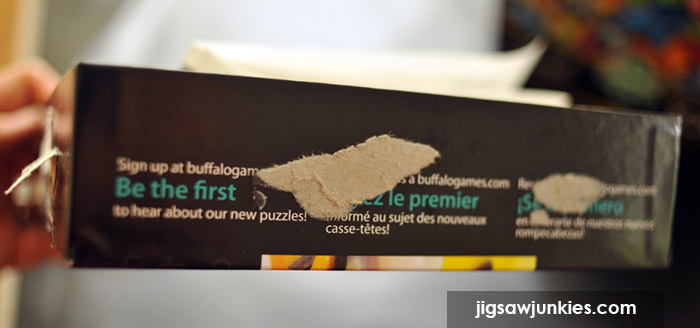 Above: the side of the box after slicing the glued sides open.
The poster is shown in the photo below. It has the puzzle image to use during assembly and shows a few other Vivid Collection puzzles. The back of the poster is blank white.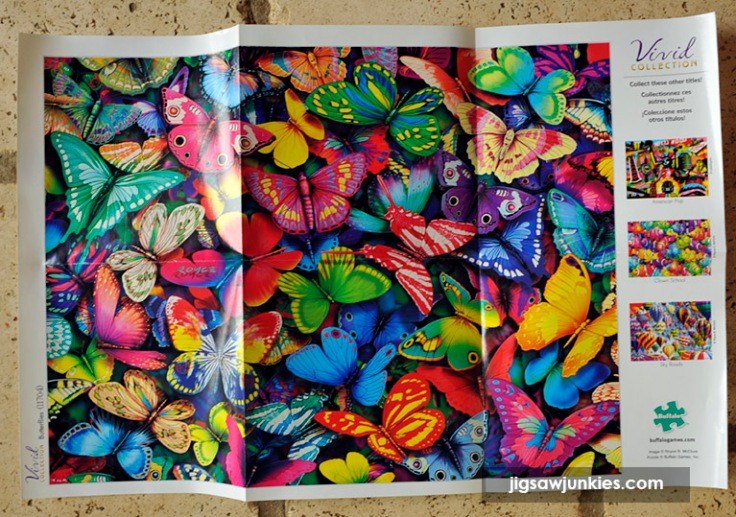 The Image: 9/10
This is a very nice image for a puzzle. First, it's completely illustrated and doesn't have that 'photoshopped' pieced together look that a lot of digital art has. As you would expect from 'the Vivid Collection', the color is absolutely drenched, which makes for a very bright puzzling experience. (Good for those dark winter days or a general pick-me-up!) Each butterfly really is unique. It doesn't look like there was a lot of copy and pasting, even with the shapes. And all the layering and composition is nicely done. Though each butterfly is unique, there are plenty of shared colors that make for a more challenging puzzle. Overall, I've ranked the image itself highly.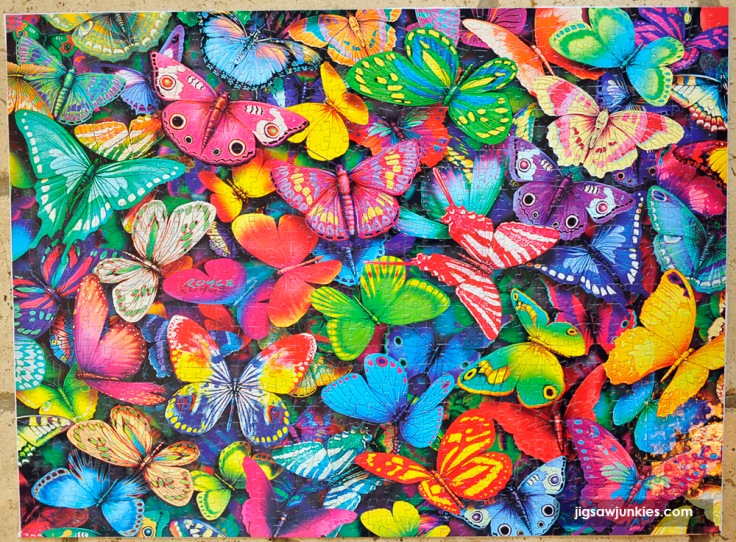 (Click on any of the images in this review for a closer look.)
Puzzle Quality: (8/10)
You can see my brand page for Buffalo Games here. This puzzle is from the 2016 line-up, and I found the quality good. The pieces feel hard and sturdy, there was no puzzle dust, and the image reproduction was excellent. The pieces are cut in a grid, but there is good variety in the pieces shapes, as you can see in the close-up below. I never had any issue with pieces seeming to fit where they did not. The fit is not annoyingly loose, but you do have to use care when moving assembled pieces because they fall apart fairly easily (unlike Springbok or Sunsout).
On the con side, the finish is very glossy, which can lead to glare under overhead lights. Also, I simply prefer a more random cut myself, so I don't tend to rank grid-cut puzzles as highly, but that's a personal preference.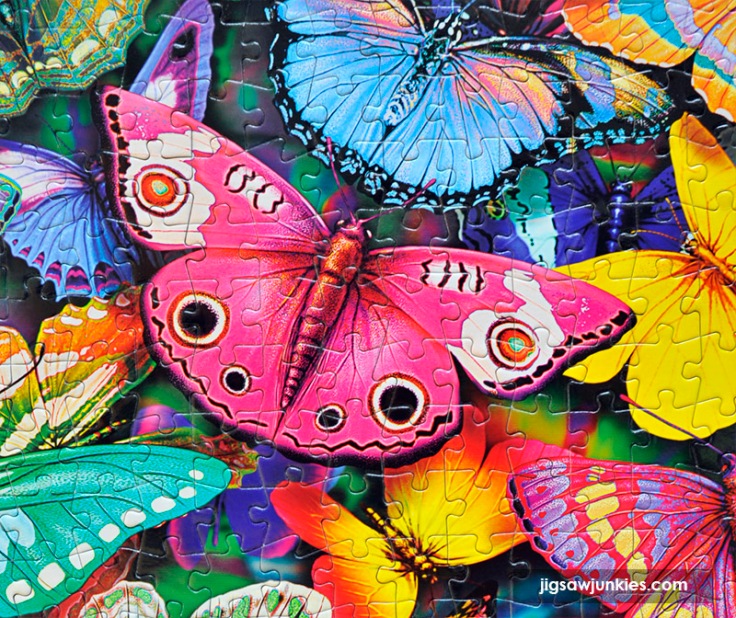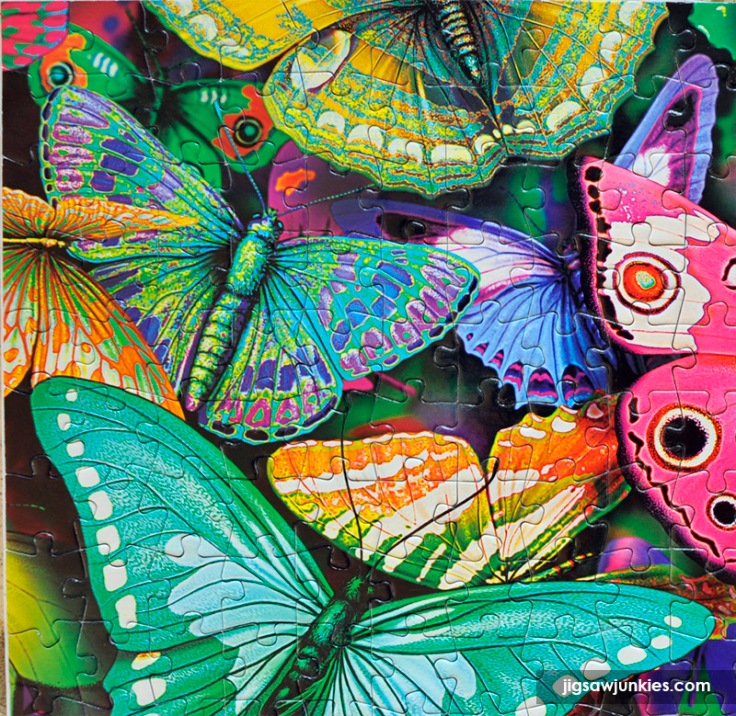 Assembly: (9/10)
This is medium difficulty puzzle. It was more challenging than I expected. I thought since each butterfly is unique, it would be very simple to assemble, like a bunch of little separate puzzles that interconnect. Well, not exactly.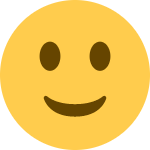 First things first–assemble the border. The border pieces are easy to recognize, as in most rectangular puzzles, and the border was simple. Next, there are a few large butterflies that are 'more unique' than the others because they use uncommon colors or have a very distinct pattern. Those can be done first.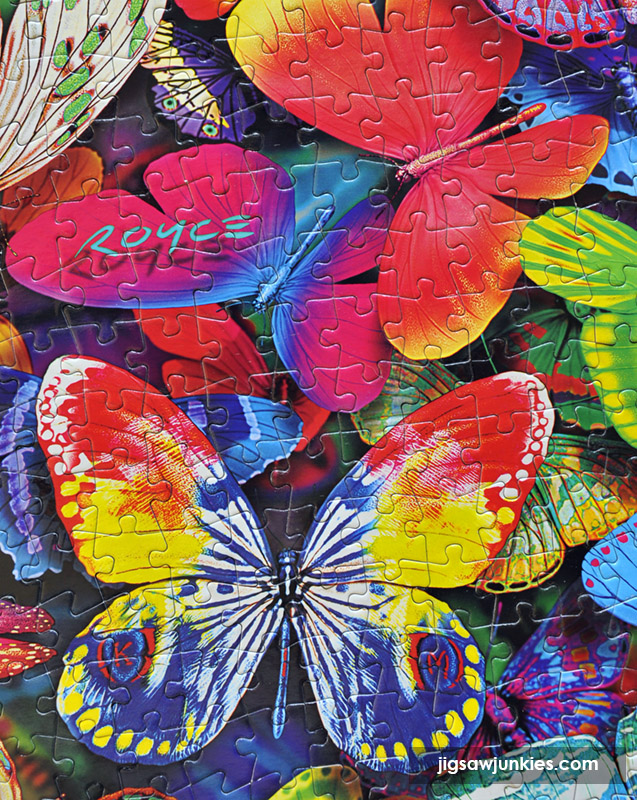 Above: The blue-yellow-and-red butterfly is fairly easy to identify in the pieces.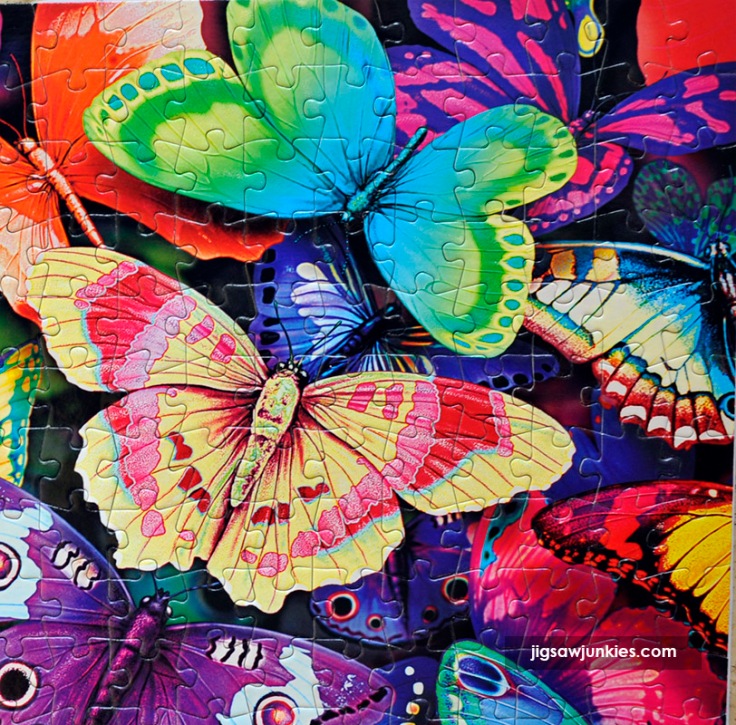 Above: The cream and pink and red butterfly is easy because there isn't much cream elsewhere in the image.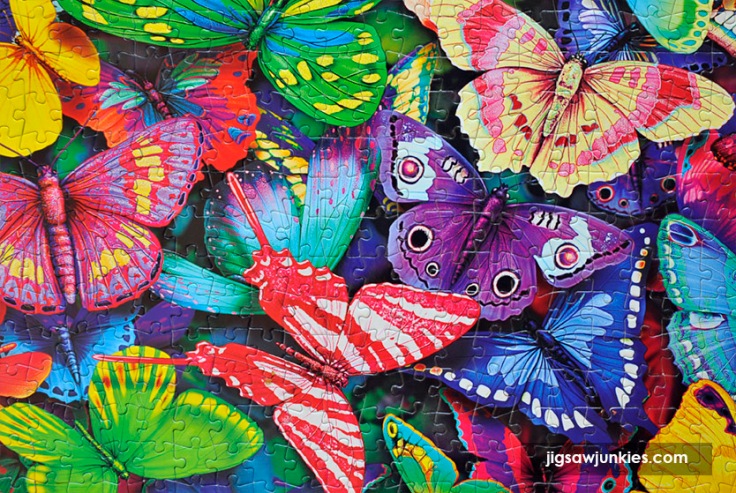 Above: The purple and red-and-white butterfly are also 'more unique' and easy to recognize.
One you've done the big-easy-obvious butterflies, the rest of the puzzle is more challenging. That's because many of the colors (like blue or pink) appear in many of the butterflies, so there are a LOT of pieces with that color on them. It takes some hard looking, and sometimes reference to the box image, to figure out where an individual 'blue' piece goes, for example. Check out some of the similar blues below.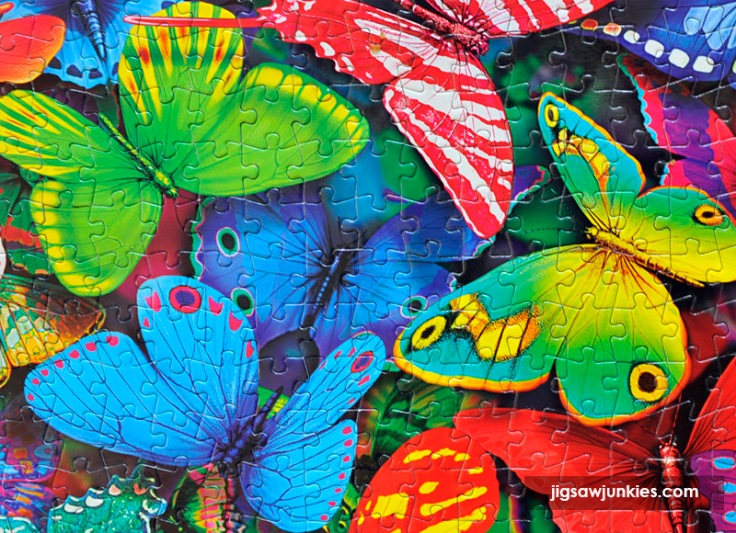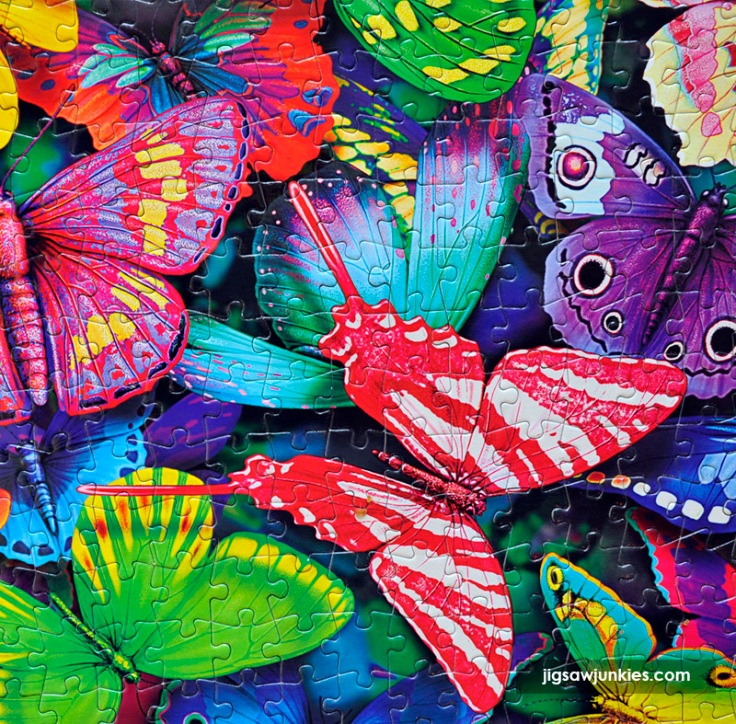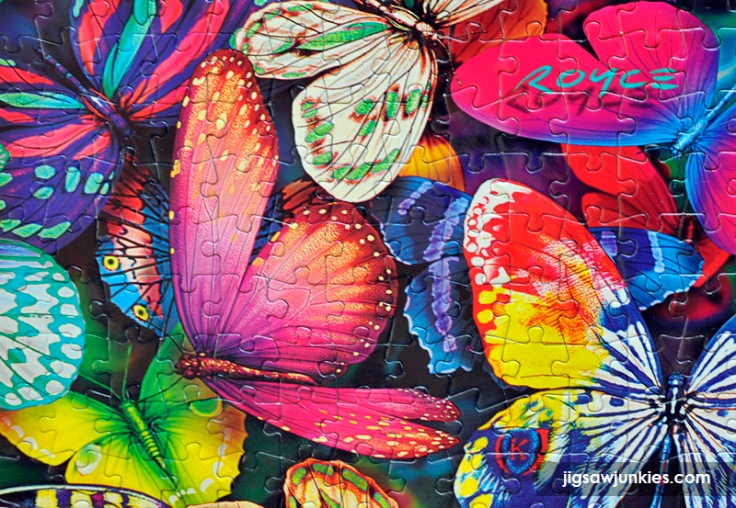 One particularly fun thing about assembly (true of most collage puzzles) is that because all the butterflies are next to other butterflies, it's easy to place a completed butterfly into the composition, because it's edges show the color and patterns of the area it abuts.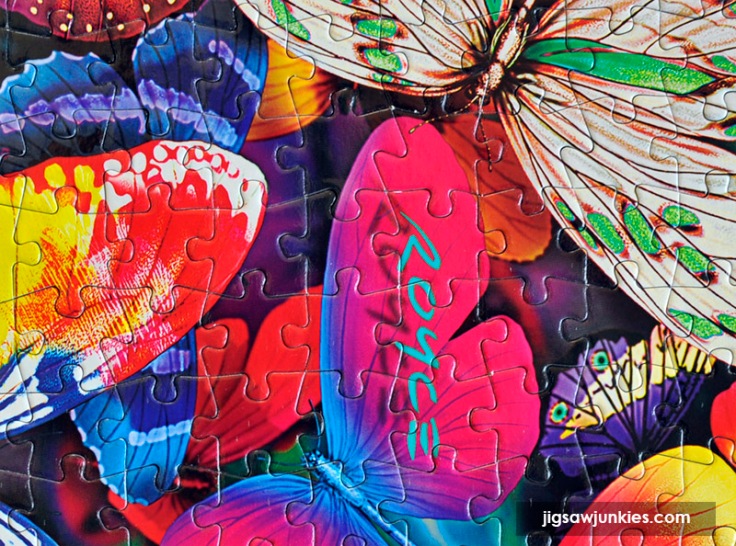 Above: The artist's signature.
All told, I've given high marks for assembly of this puzzle. It's fun to work with the bright colors and to dig into the patterns of each individual butterfly. It has some decent challenge to it, but it isn't overly hard or frustrating. It's also very pretty when completed.
Summary:
This bright and bold collage puzzle from Buffalo Games is a fun challenge. The Buffalo Games quality is quite good featuring grid-cut pieces with a wide variety of shapes. The small box saves shelf space while an included poster can be used for reference while assembling the puzzles. This puzzle has easy bits–such as assembling the border and a few large and uniquely-colored butterflies. But many butterflies use similar blue-green-pink colors that make it more challenging to figure out to 'which butterfly' an individual piece belongs. True to its collage nature, all the butterflies are adjoining, so you get 'clues' to the adjacent areas on the edges of each completed butterfly. This is a good choice for a dreary day as the colors are sure to brighten your mood. The final completed puzzle is very attractive and would make a nice framed piece.

Where to find:
Take advantage of the Buffalo Games promotion at Puzzle Warehouse (thru 6/30/2016) to get 30% off this puzzle. Click here for the sale page.

JJ