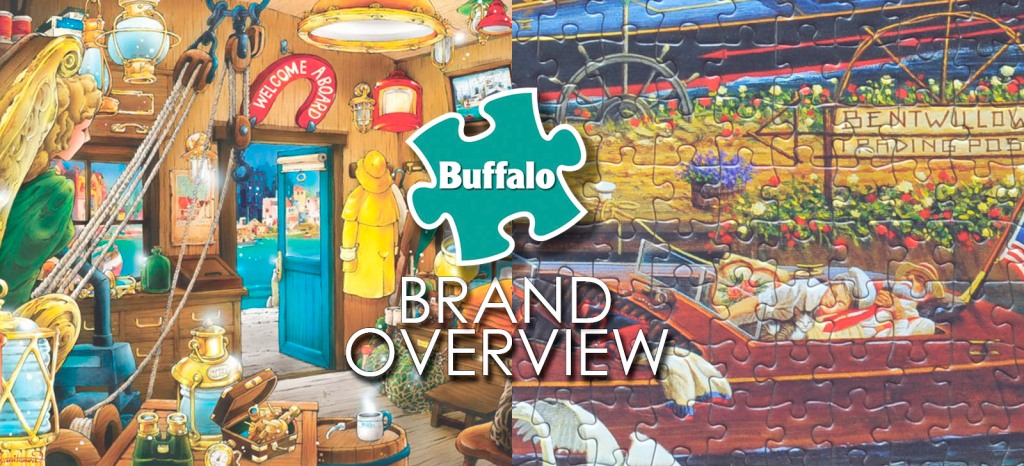 Feature: Buffalo Games Puzzles
Puzzle Warehouse is having a terrific sale on Buffalo Games puzzles until Jun 30th, 2016, so this week's feature is focused on the Buffalo Games history and their various product lines and with my top pics for each one.
BUFFALO GAMES WEEK:
From June 15-June 30, 2016, Puzzle Warehouse is holding a special promotion with Buffalo Games. All Buffalo Games puzzles will be 30% off! That's a really deep discount, so stock up while you can. Here at Jigsaw Junkies, we'll be featuring Buffalo Games this week with two reviews and a feature on the weekend. You can see all Buffalo Games puzzles on Puzzle Warehouse here.
BUFFALO GAMES HISTORY
Buffalo Games was founded in 1986 in Buffalo, New York. They manufacture party games as well as jigsaw puzzles. They are aimed at the medium-to-high-quality puzzle market with thick puzzle board, premium paper for the image reproduction, and sturdy boxes. They employ around 80 people and have a 87,000 square foot facility.
You can see our brand comparison on Buffalo Games here. They're a good quality brand, and I always enjoy assembling a Buffalo puzzle. One of the things I particularly like about Buffalo is that they include a poster in the box so you have a larger image to work with than just the box image.
BUFFALO GAMES CURRENT LINE
Buffalo Games carries a good variety of puzzle themes ranging from Americana to nature to high-color to cartoon and fantasy puzzles. Their adult puzzles range from 300-2000 pieces. They also carry kid's puzzles, but I'll be focusing on the adult puzzles in this feature. Below are their various lines along with my top picks in each category.
*** Charles Wysocki ***
Charles Wysocki (1928-2002) was a well-known American folk artist and he's one of Buffalo's biggest licenses. They release a lot of Wysocki puzzles in sizes from 300 to 2000. Oh what an endless wealth of puzzly goodness is Charles Wysocki! He was incredibly prolithic and all his images make good puzzles. I really like the fine detail in Wysocki images and the simple, bright colors. You can see some of our Wysocki puzzle reviews here.
Below are a few of my current favorites.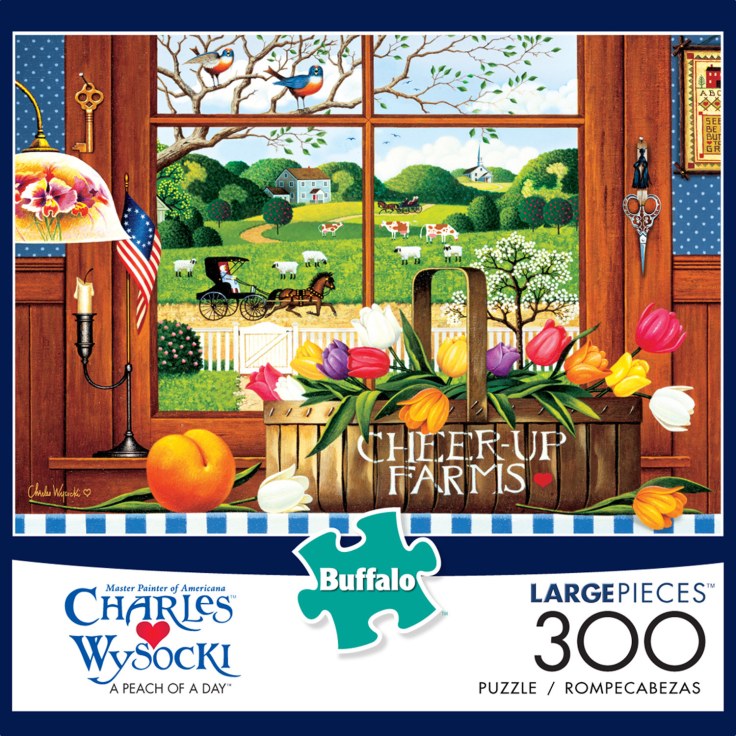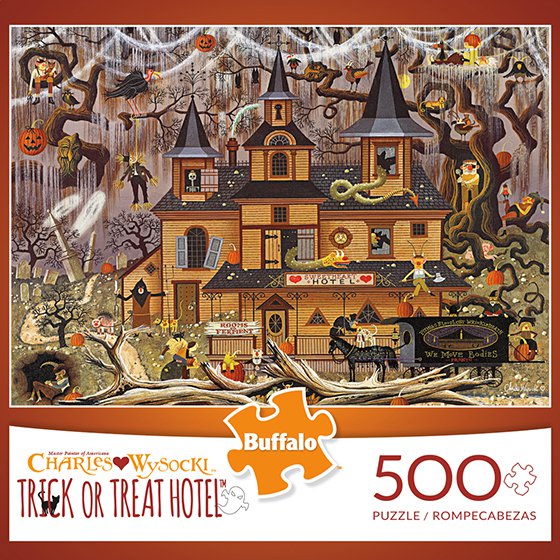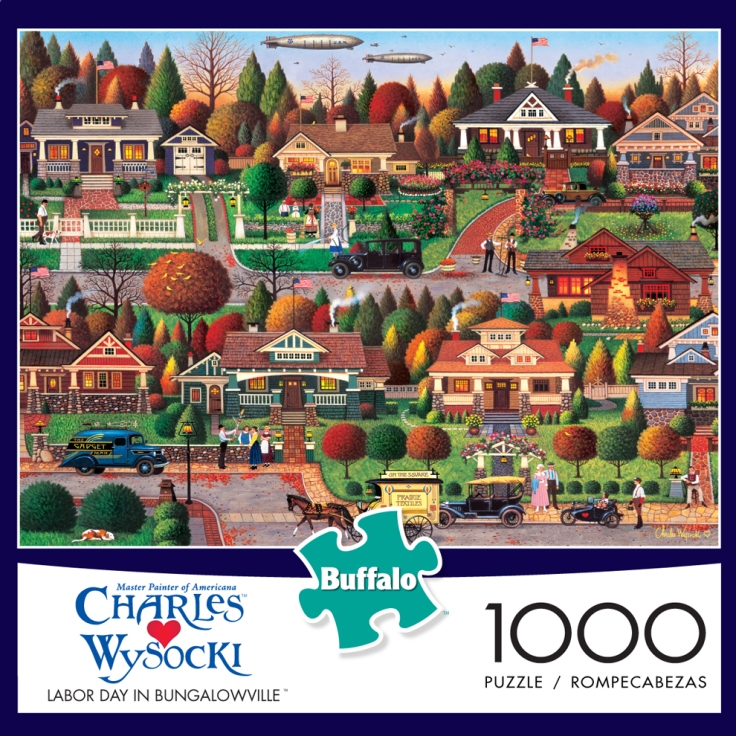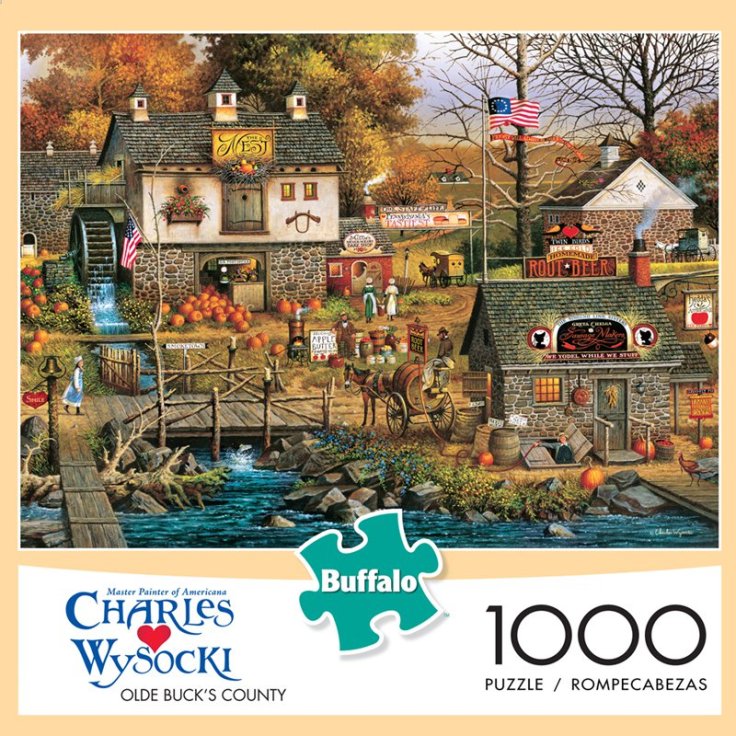 I also really love the Charles Wysocki cat puzzles, most of which are released in 750 pieces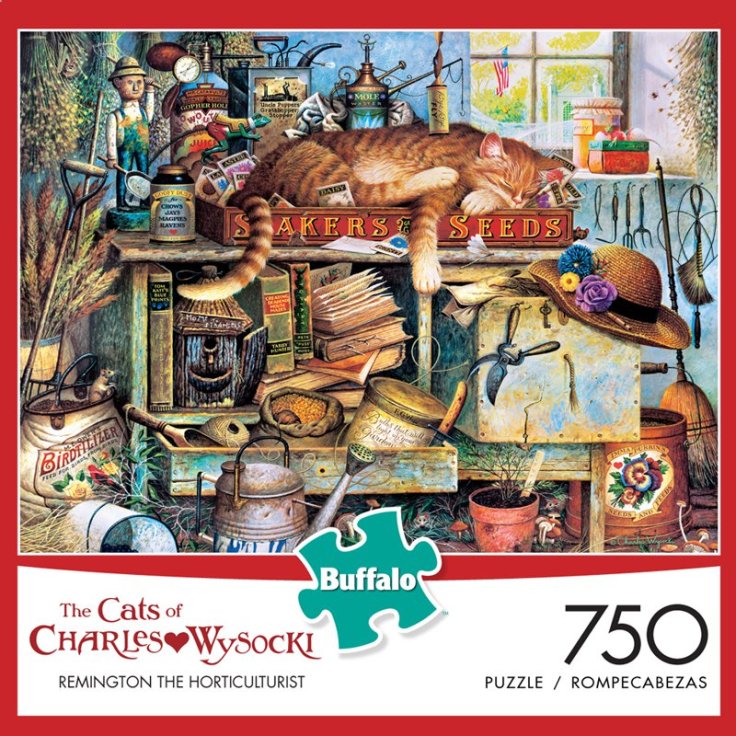 *** Josephine Walls ***
Josephine Walls (1947-present) is a well-known British fantasy painter. Her work has been published as puzzles by various brands in the past, but it's nice to see Buffalo make new puzzles of good quality. Here are a few of my current favorites. "Nature Boy" comes in 1000 pieces in a glitter edition, "Queen of the Night" is offered in 2000 pieces, and "The Three Graces" is also 1000 pieces in a glitter edition. You can read my review of "The Three Graces" here.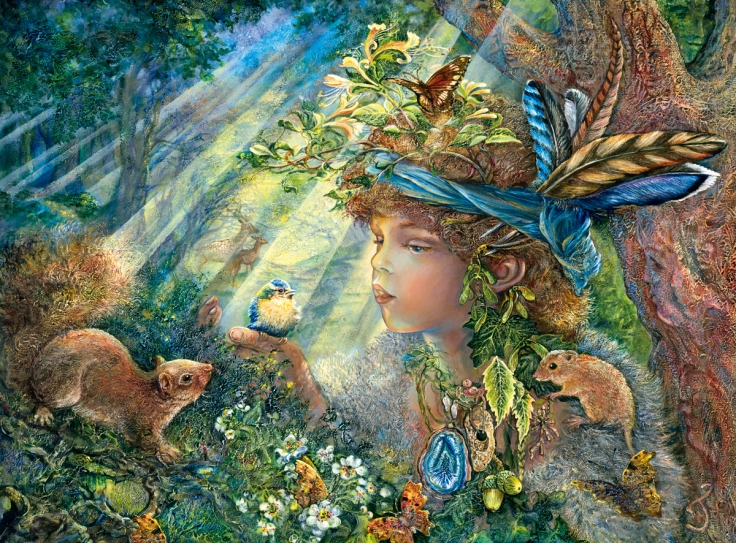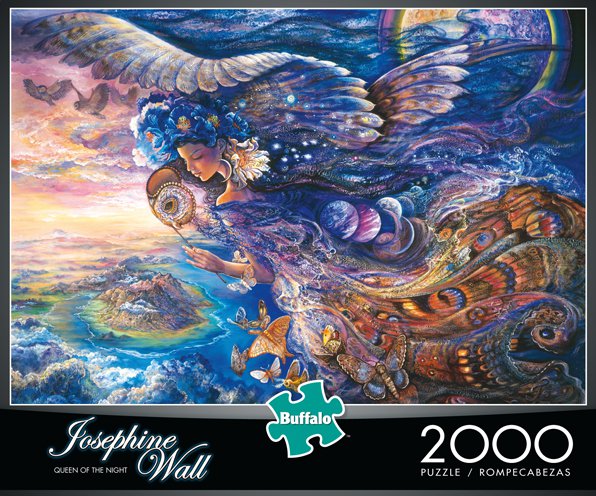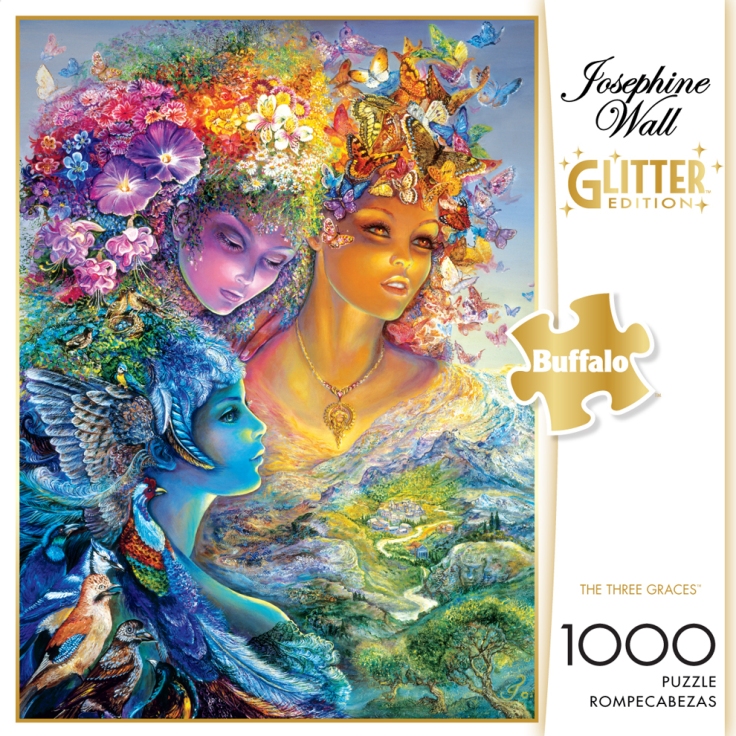 *** Steve Read ***
I love these 2000 piece puzzles by artist Steve Read. I love the larger size and there's so much detail and interest in the images. You can read my review of "Grandpa's Potting Shed" here.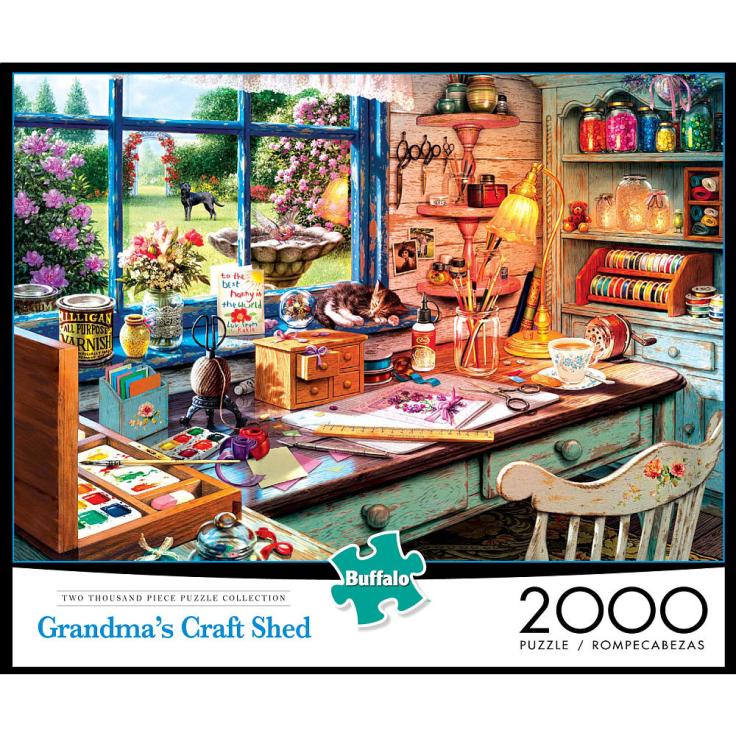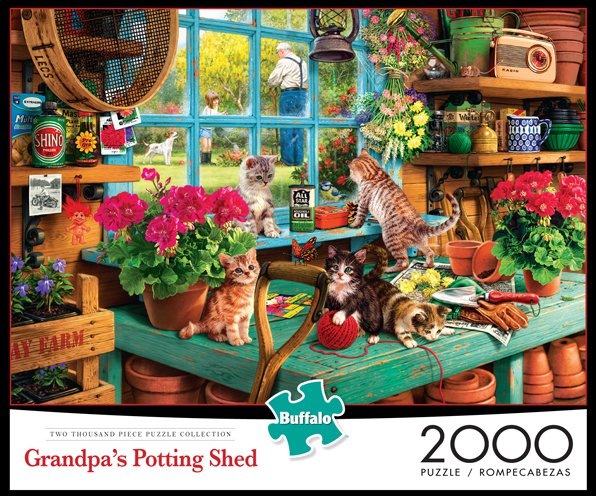 *** Darrell Bush ***
Darrell Bush is an American wilderness artist from Minnesota.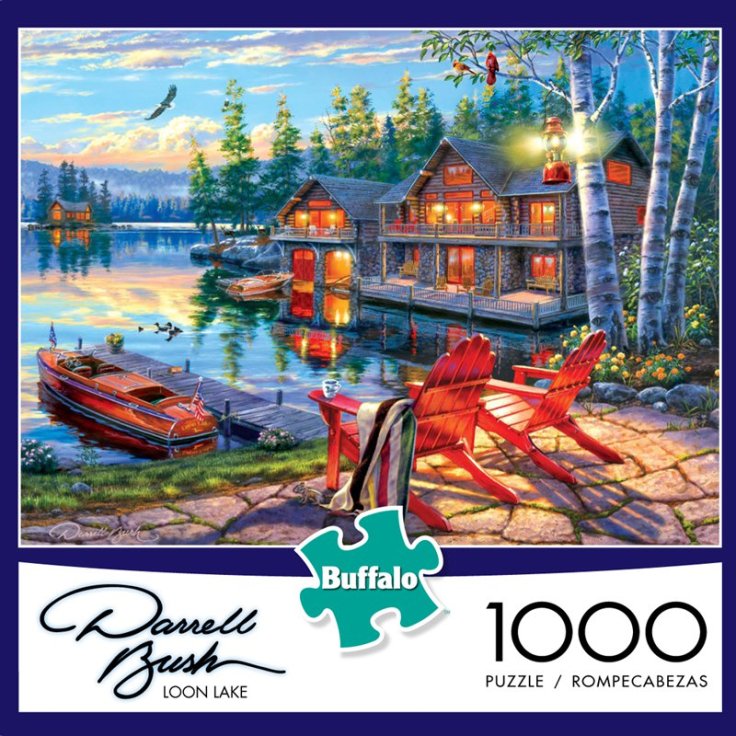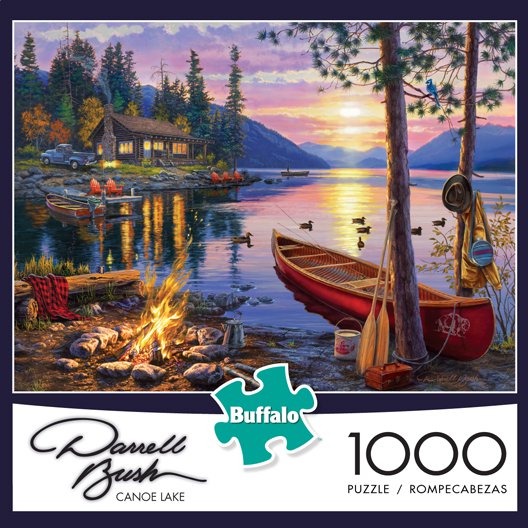 *** Hautman Brothers ***
The Hautman Brothers consist of Joe, Bob, and Jim, all three of them wilderness painters from Minnesota. They've been featured on US federal stamps. Below are two of their best in the current lineup.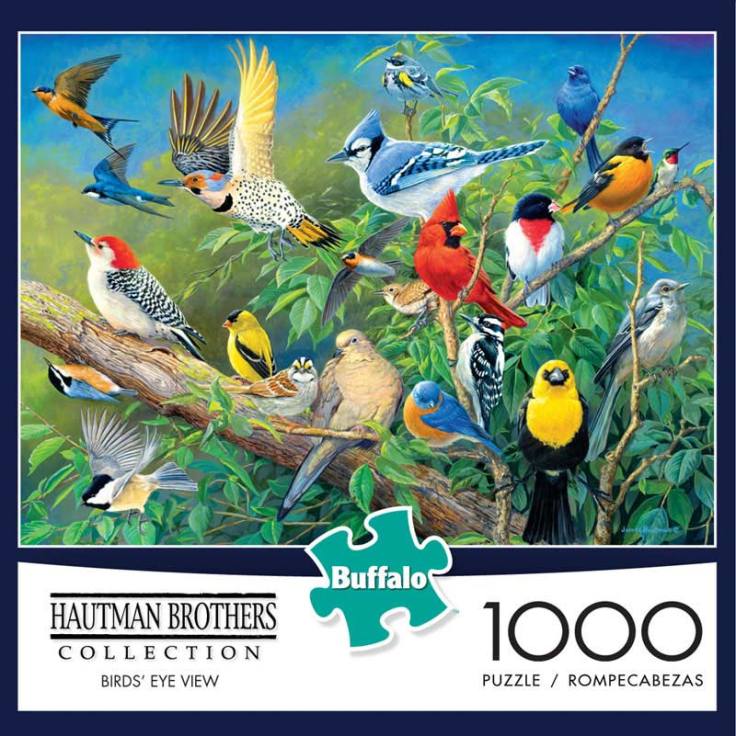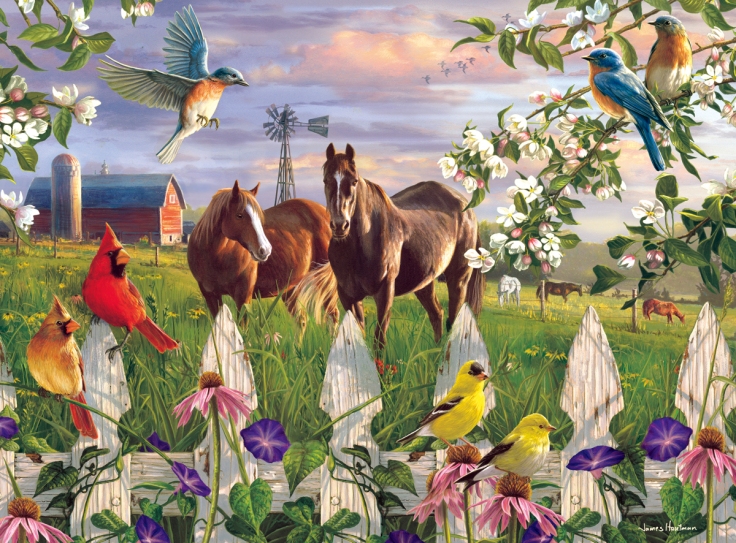 *** Vintage Collage ***
Buffalo's Vintage Collage puzzles are very good and nicer than many brand's collage puzzles. There's lot of detail and color., of course. But the images by Kate Ward Thacker also have a nice soft, painterly feel instead of being a photographed collection of objects. I just wish they made them all in larger sizes than 500! You can read Melodie's review of Vintage America here.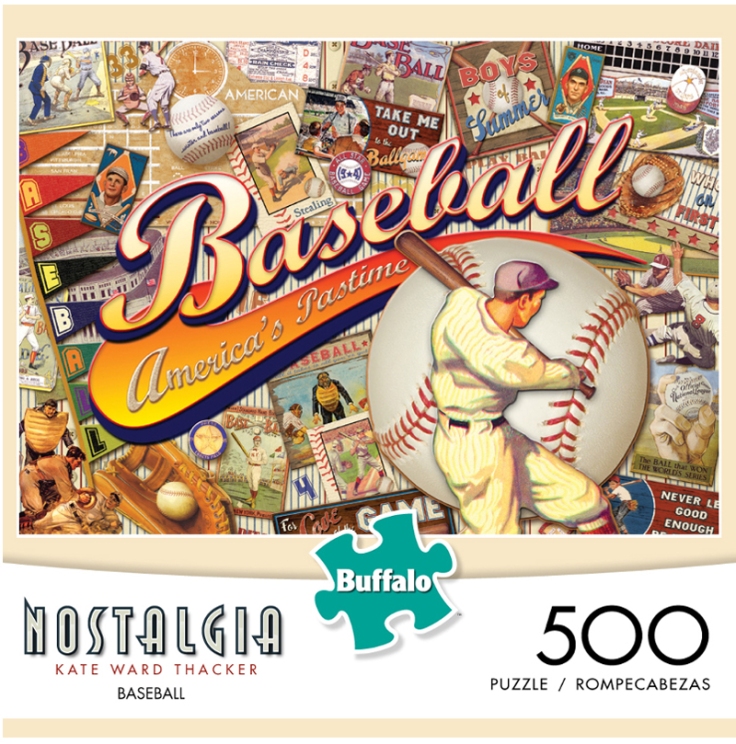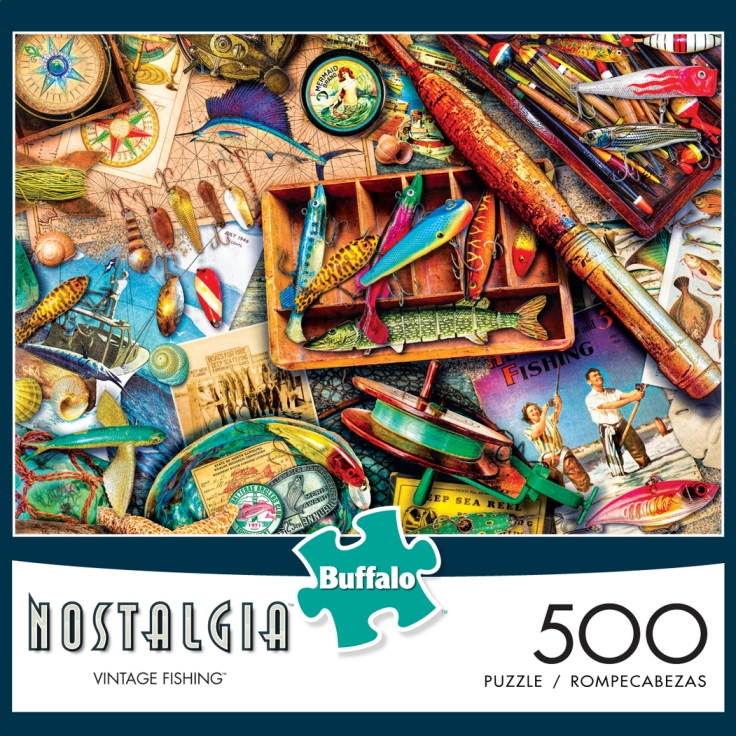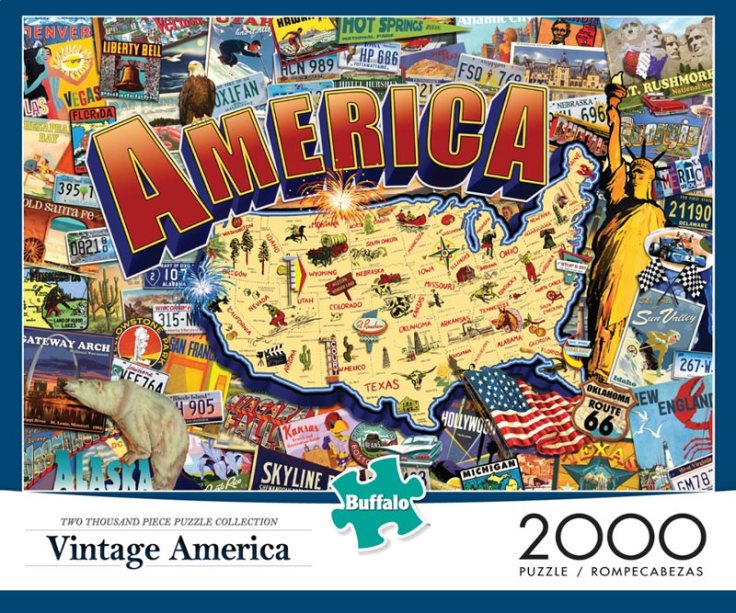 *** Vivid Collection ***
The Vivid Collection is Buffalo's line of ultra bright-color collage puzzles. Below are two of the best. You can read my review of "Butterflies here.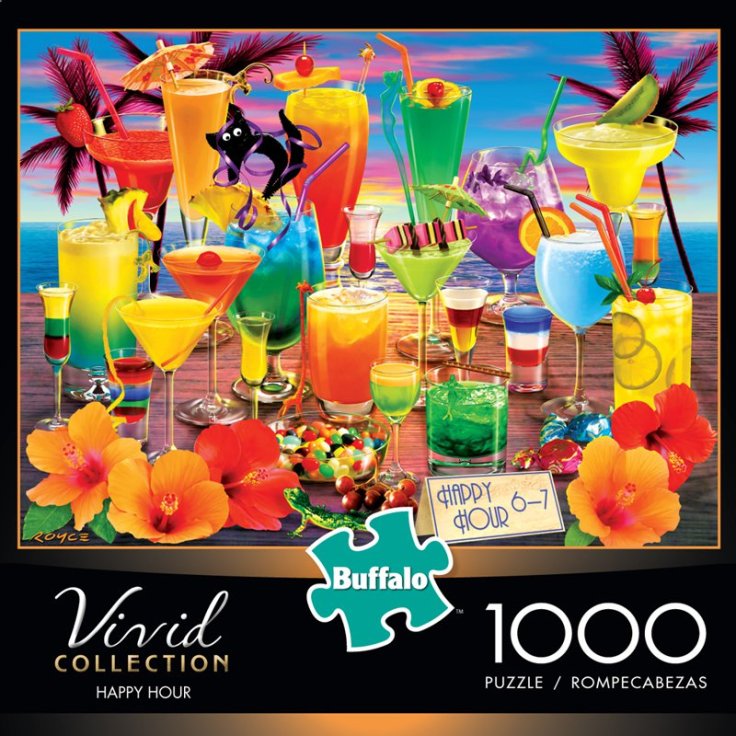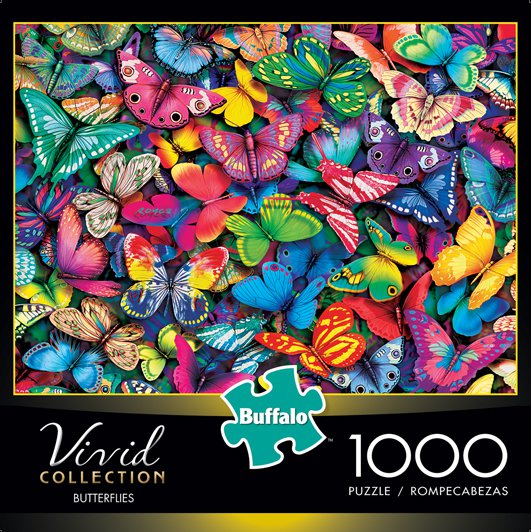 *** The Two-Thousand Piece Collection***
I'm a fan of the larger puzzle sizes, and not that many are released. So it's nice that Buffalo has a specific named collection for these.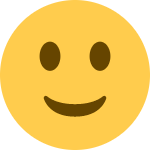 A few I am mentioning elsewhere in this article, but here's a new one that doesn't really fit in another category. This one is just released and isn't in stock yet, but I'm looking forward to it!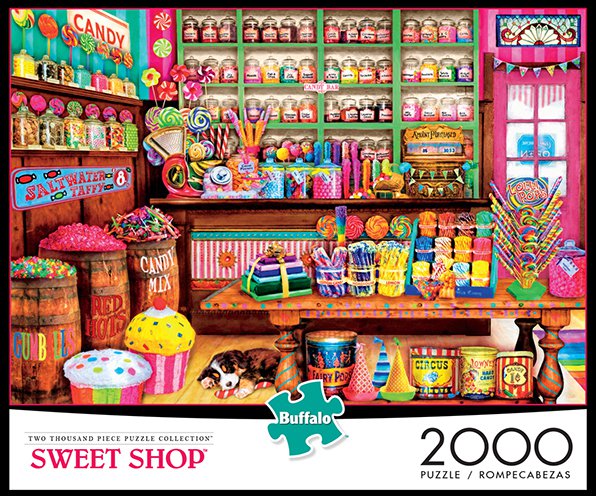 And this lovely 2000 piecer below is in stock.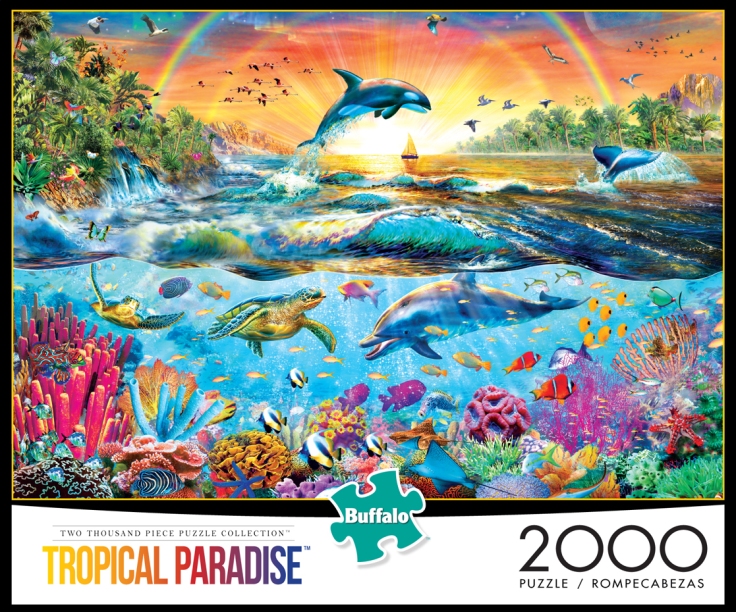 *** Kim Norlien ***
Mr. Kim Norlien is another Minnesotan wildlife artist Buffalo Games features. I have to wonder why, since Buffalo Games is in Buffalo, New York, they feature so many Minnesotans!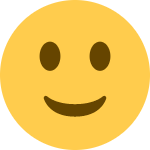 But they are all very good wilderness artists, so perhaps that's enough of an answer. I particular like the two Norlien puzzles below.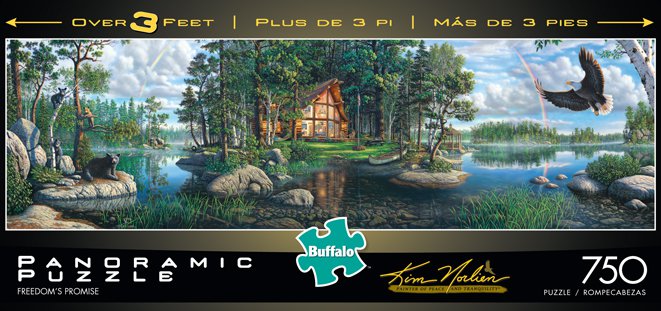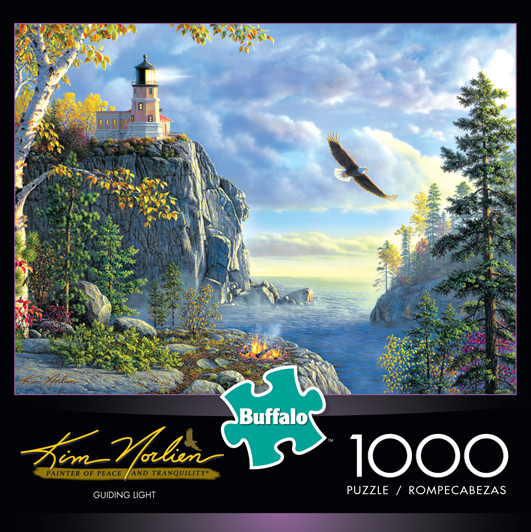 *** Cartoon Puzzles ***
Cartoon puzzles are very popular for some big brands like Heye and Jumbo (Jan Van Haasteren puzzles). Buffalo has a series called "Cartoon World", which has featured artwork from a few different artists including Hiro Tanikawa and Alexanden Chen. But the latest Hiro Tanikawa ("Harbor Master") isn't in the "Cartoon World" collection. In any case, I like Hiro's artwork, particularly the 2000 piece "Harbor Master", which is super colorful and filled with fun objects. A review is coming up for that one for sure! Here are a few of my favorite Buffalo cartoon puzzles.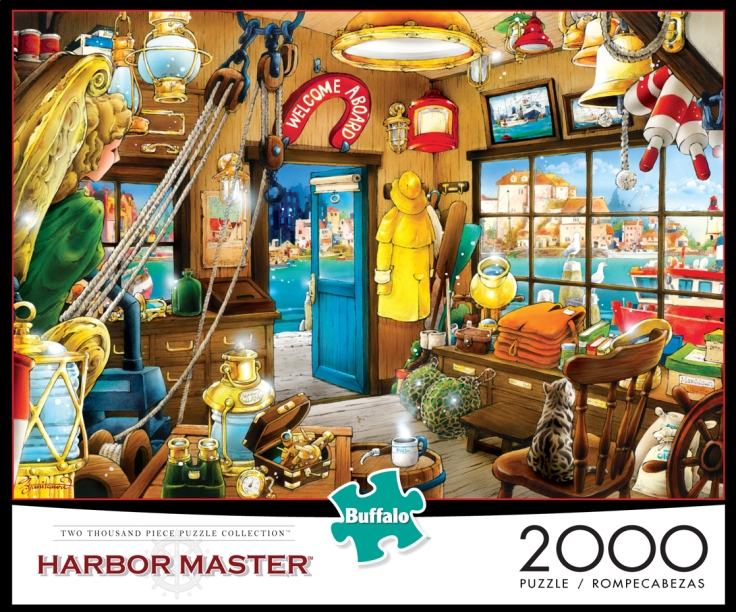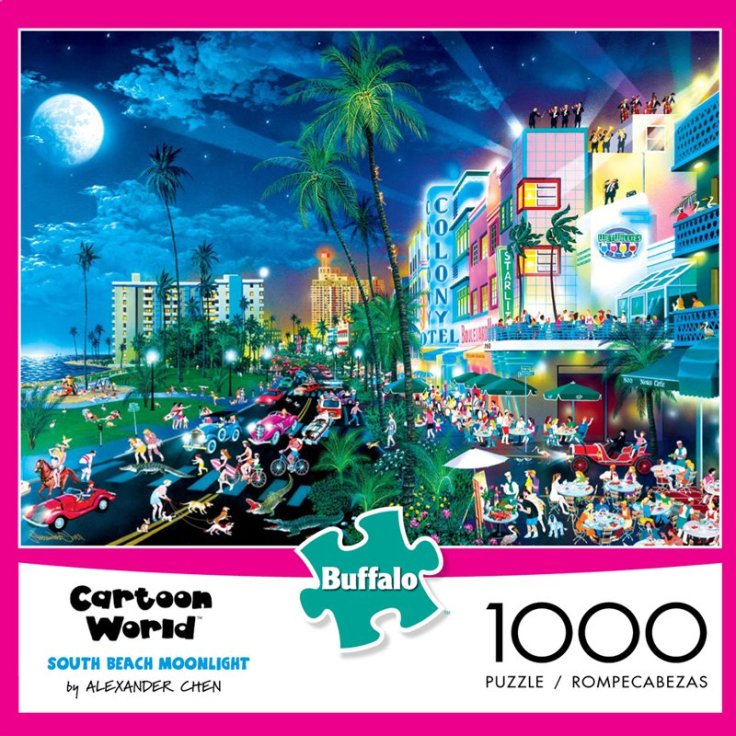 Buffalo Games also does licensed puzzles, particularly Coke puzzles and Star Wars puzzles. I hope you enjoyed this brand overview. So many good puzzles!
Links:
You can see all Buffalo Games puzzles at Puzzle Warehouse here.
Jane @ Jigsaw Junkies