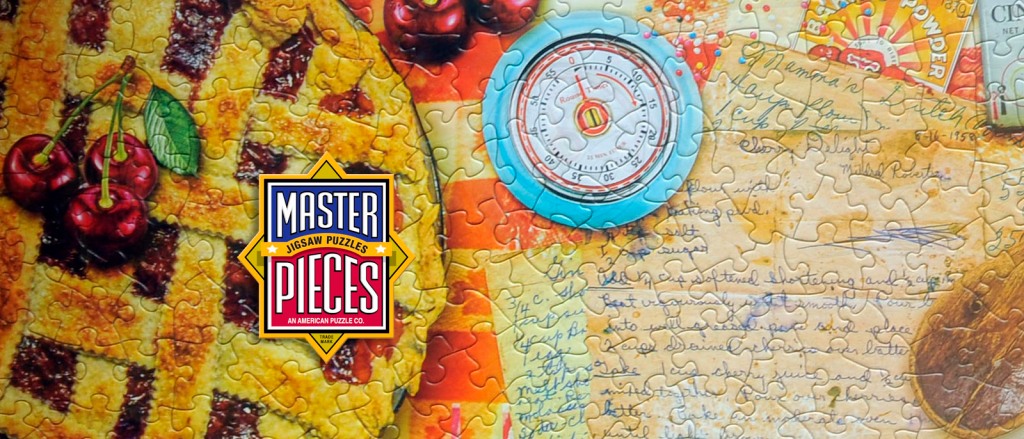 Review: "Pastry Party" by Aimee Stewart, MasterPieces — 9.25/10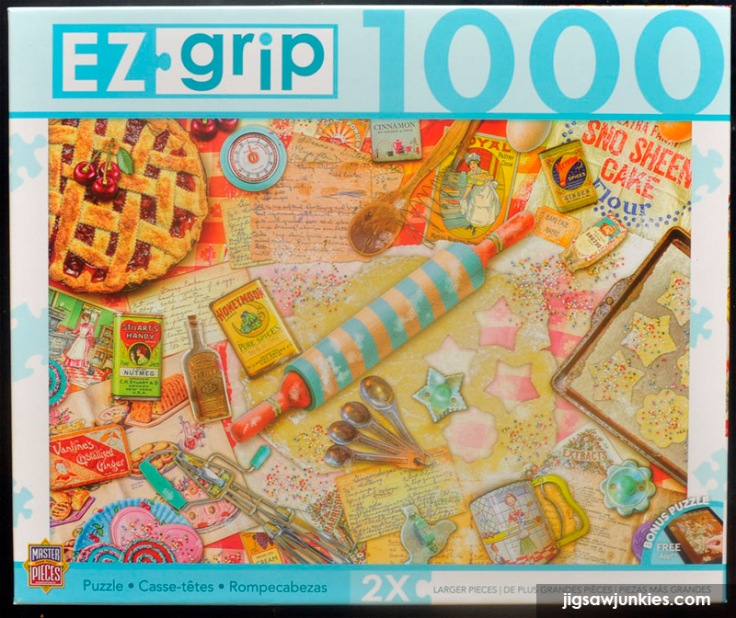 Publisher: Master Pieces (US), published 2016
Title: "Pastry Party" by Aimee Stewart, Master Pieces, 1000 pieces EZ-Grip
Finished size: 39″ x 27″
OUR RATING: 9.25/10

ALZHEIMER'S WEEK:
This week we're covering the very serious topic of Alzheimer's and how jigsaw puzzles can both help prevent it and also be used to slow progression once Alzheimer's is diagnosed. Look for our feature article the weekend of Jul 2-3. For our reviews this week, we're focusing on large piece puzzles, a first here at Jigsaw Junkies.
You can see all large piece puzzles on Puzzle Warehouse here.
Large Piece Size:
The "EZ Grip" line is a line of large piece puzzles from Master Pieces. It's unusual to see large piece puzzles in the 1000 piece range, so I wanted to review one to see how it compared to a normal 1000 piece puzzle.
The larger piece size is ideal for seniors, young kids, or anyone who has difficulty manipulating small pieces. And really, there's no down side to working with large pieces, even for puzzlers who like a challenge. Putting together a puzzle is basically the same even though the finished size of the puzzle can be quite large. Be sure to check your puzzling surface to make sure you have enough room before you start.
Below you can see the relative sizes of a typical Gibsons puzzle vs the two large sized puzzles we'll be reviewing this week. The EZ Grip puzzle reviewed here has pieces just as large as the Buffalo Games 300 piece puzzle. The box says they are "2x" normal puzzle piece size, which looks about right.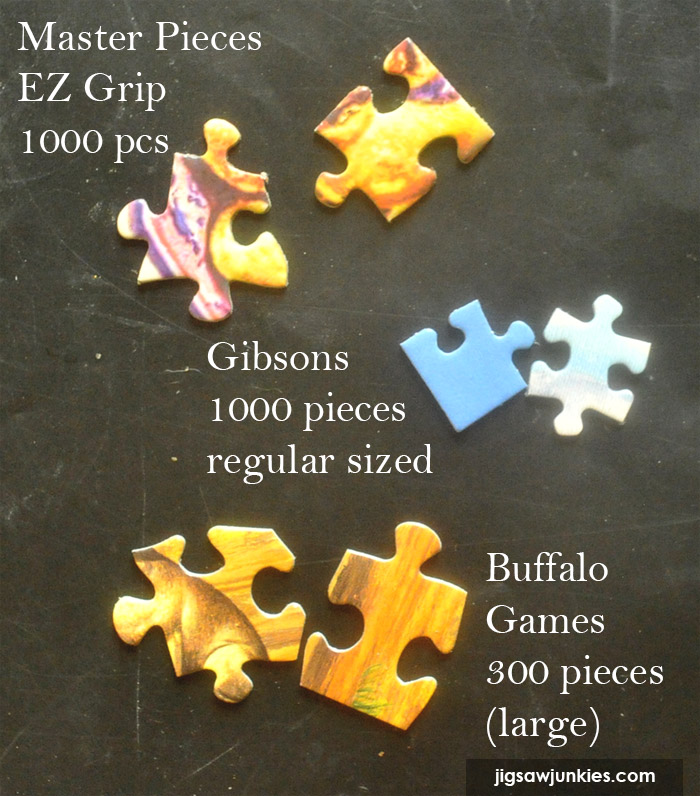 Box Quality: (8/10)
The Master Pieces "EZ-Grip" puzzles come in a sturdy rectangular box with an attractive design. The front is shown above. The back of the box is specific to this puzzle and has a photo and bio of the artist, Aimee Stewart. I've done many Aimee Stewart puzzles, but I believe this is the first one that had a photo and bio for her. So kudos to Master Pieces for that.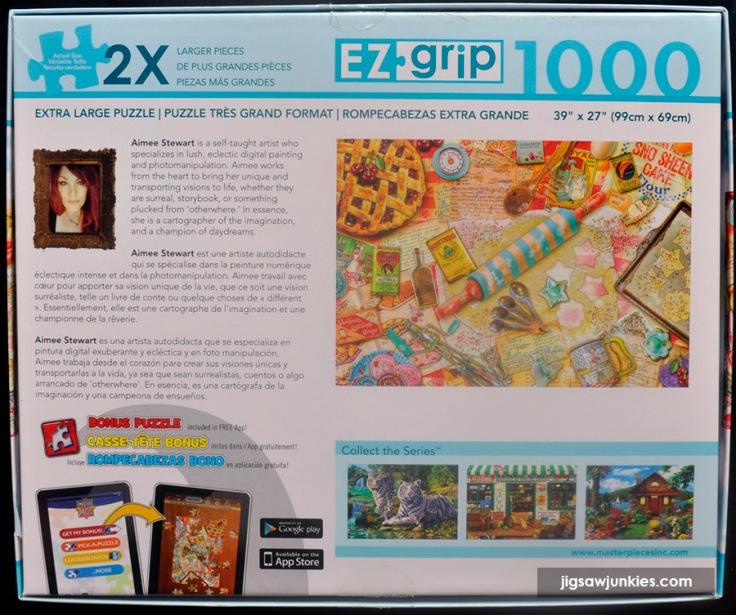 The sides have a photo of the puzzle, the puzzle name, and piece count. The Master Pieces logo is on three sides so you can shelve it facing out.




Inside:
The box contains the bag of puzzle pieces and nothing else.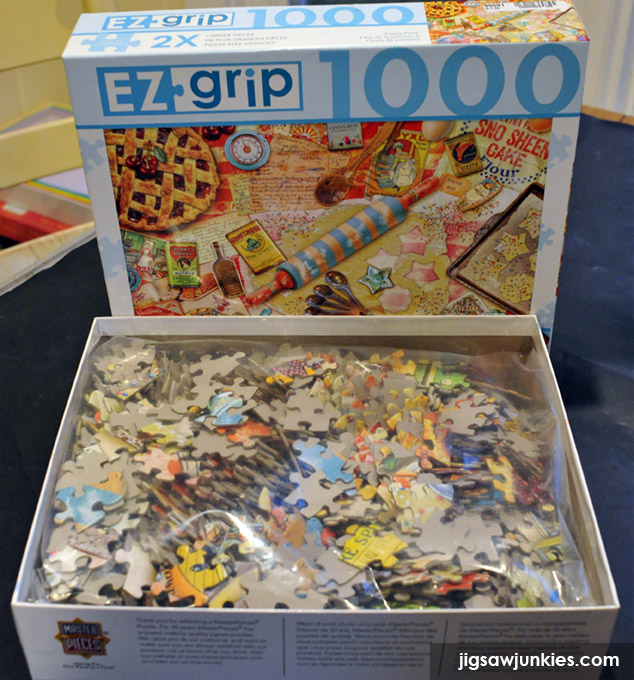 The Image: 10/10
A number of new (to me at least) Aimee Stewart scrapbook or collage style images have appeared on the market in the past year or so. I reviewed one called "Vintage Love Letters" from Schmidt here. And here's another new one called "Safe Travels" from Master Pieces.
I find all of these Aimee Stewart collage puzzles extremely appealing, even more so than her popular "shelf" puzzles. Her collage images appear to be photoshopped using a mix of vintage and original art. They're very well done though, with perfect bending and a soft, painterly style. Sometimes artists combine various source images into one collage, such as using photographic and drawn images, and then don't bother trying to make them match so you get a glaring, disjointed effect. But these Aimee Stewart collages are seamless and have the look of a single large original painting.
This baking one is a lot of fun and very feminine and pretty. It has a soft, vintage vibe, like being in grandma's kitchen. I love the mix of vintage baking products, advertisements, hand-written recipes cards, and various baking doodads. There's a ton of detail and interest in this, which makes it a perfect puzzle image. A full 10 from me.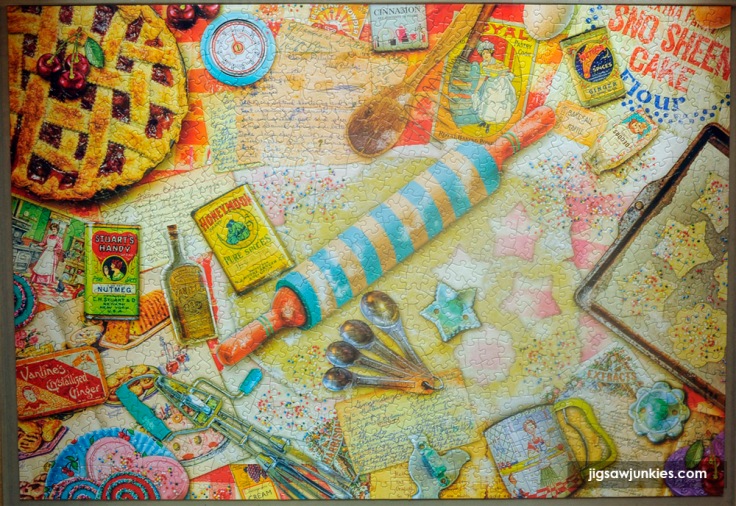 (Click on any of the images in this review for a closer look.)
Puzzle Quality: (9/10)
You can see my brand page for Master Pieces here. This is the first time I've done one of their EZ Grip (large size pieces) puzzles. The pieces definitely feel very large as soon as you begin sorting them. They didn't fit all that well into my JigSafe sorting stack (which is made for a regular 1000 piece puzzle). So I filled up my sorting boxes as much as I could and put the overflow in a large Tupperware container. Similarly, the finished size of the puzzle is HUGE. It completely filled up my JigBoard 2000. Fortunately, it did fit there, so I didn't have to work the puzzle on a bare table. But yes, with a finished size of 39″x27″, this is a very large puzzle! And during assembly it felt like I was doing a 2000 piercer.
The quality was good, better than I expected. The large pieces have a thinnish profile (perhaps just relative to their size), but they feel sturdy and firm with no danger of bending. The final finish is very flat and smooth, as you can see in the pictures. The cut is a nice random cut with a wide variety of piece shapes. I never had a question about whether or not a piece actually fit somewhere. And you can move groups of pieces around without having them fall apart, more so than with a grid-cut puzzle like a Ravensburger.
The larger pieces are definitely easy to handle and feel good in your hand. In general, I liked the EZ Grip line quality, and would not hesitate to work another one. I liked the oversized nature of this puzzle more than I thought I would. It felt like I was working a larger and more challenging puzzle than I actually was.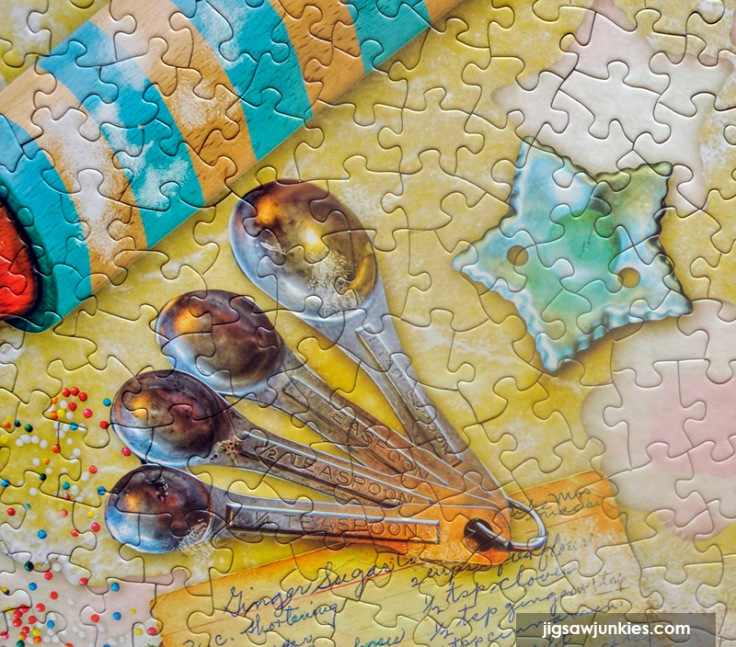 Assembly: (10/10)
This is the type of puzzle I really love to put together, probably right up there with busy cartoon puzzles like Heye and JVH. I love the close-up perspective here, so that all the kitchen doodads and recipe cards and so on are a pretty good scale in the image. As the artist herself did while making this image, you're basically assembling a lot of small items together into the whole. I'd say this is an easy puzzle but not in a brainless way, rather in a satisfying, always-eager-to-place-the-next-piece sort of way. There's just so much going on in the image, and everything has a unique color and/or texture that makes it easy to identify. There are no large areas of monotone or randomly repeating patterns.
After assembling the rectangular border, you can start picking out areas of the puzzle to assemble. I did the cherry pie first since it takes up a relatively large area and the pieces were easy to find.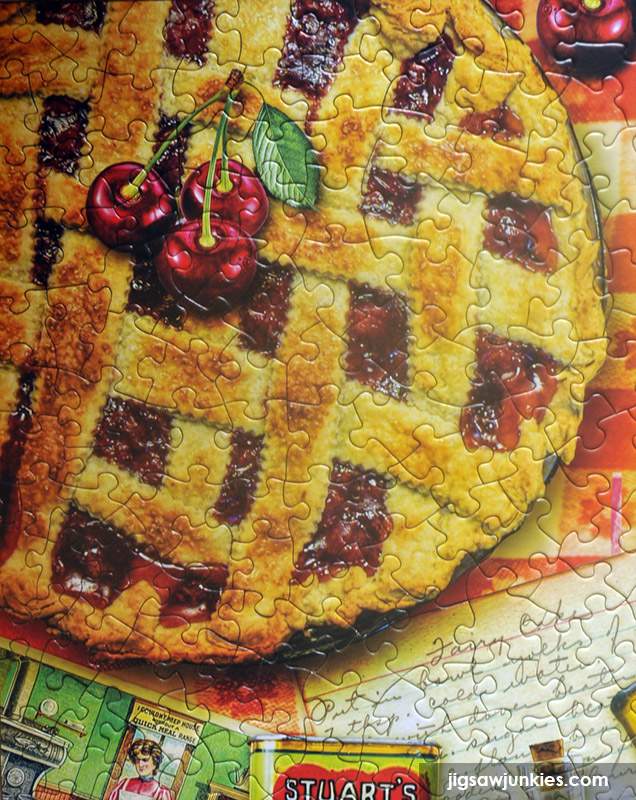 The blue-and-tan rolling pin is another feature that can be picked out easily from the pile (the blue is very vibrant and distinctive) and pieced together. It also makes a nice anchor in the middle of the image.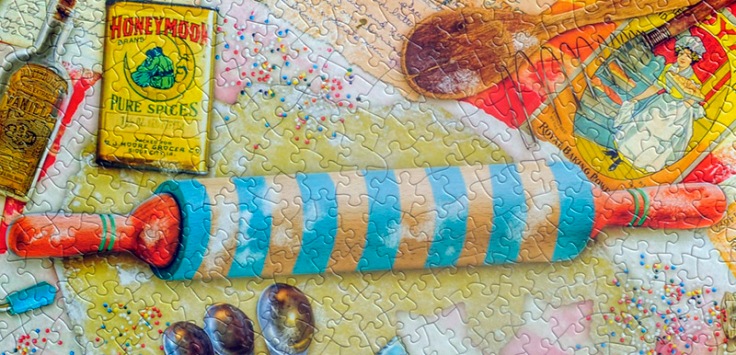 After the pie and rolling pin, I did the various color ads and spice tins. The colors are very unique on each spice tin, so it's just a matter of finding the 10 or so pieces in the sorting bins and then assembling them. Lots of mini-puzzles in this one!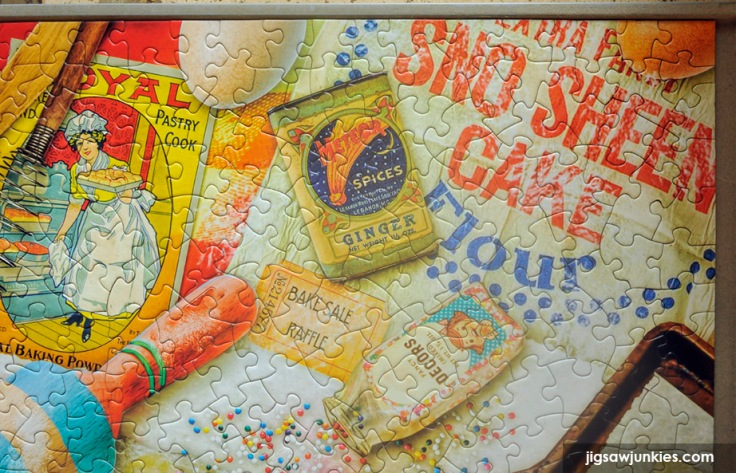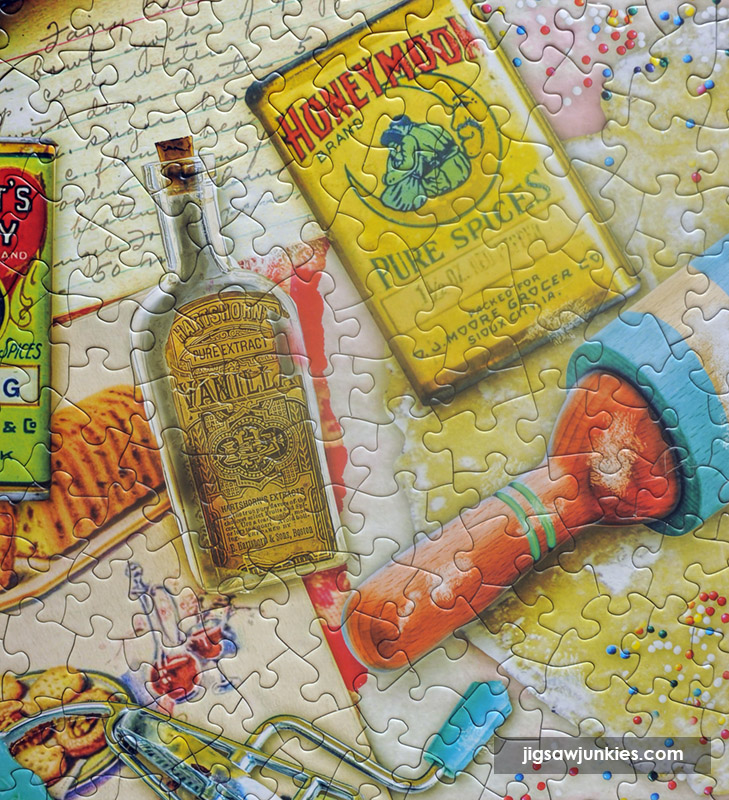 The various recipe cards were particularly interesting to assemble. They're all a similar tan color, but each one has slightly different hued ink and unique pensmanship, making it fun to figure out which writing went with which card.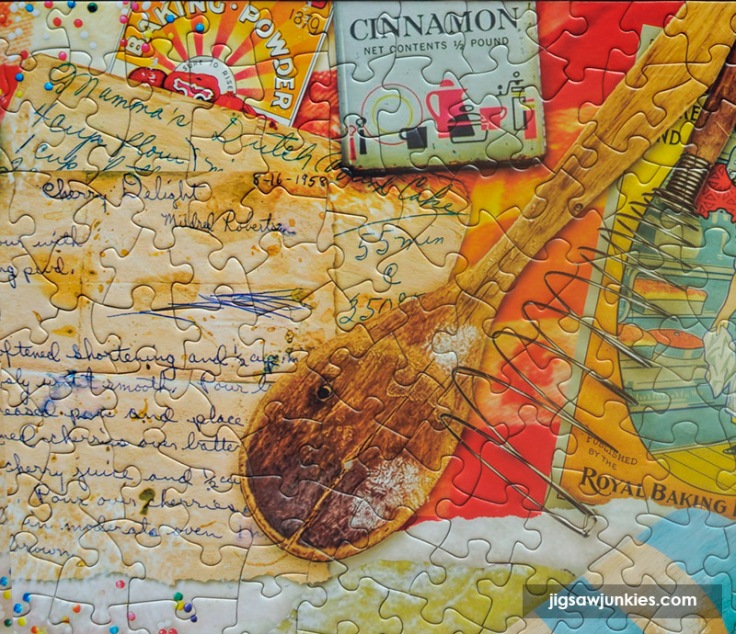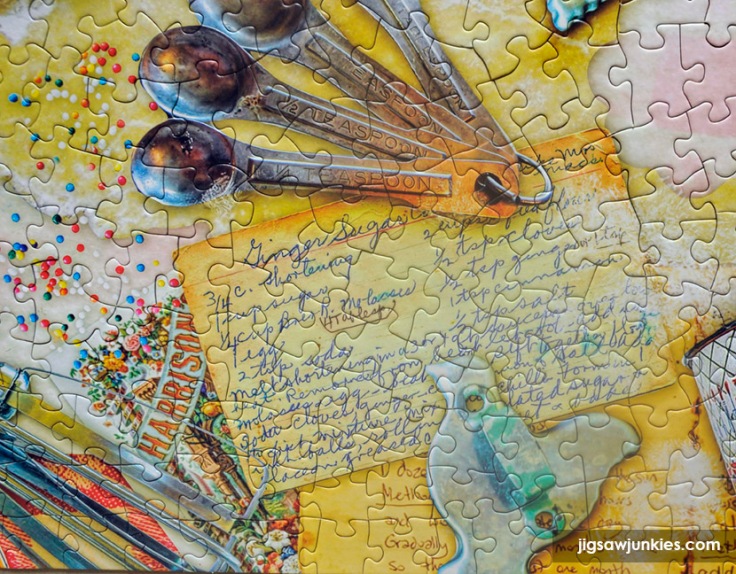 The last part to go together for me was the cookie dough area in the center of the puzzle and the cookies on the cookie sheet. The tilted rim of the cookie sheet was easy to find and acted like a good frame/anchor for the dough area. The pink striped cloth under the dough, and the colored sprinkles, added interest to this area and gave more clues to assembly.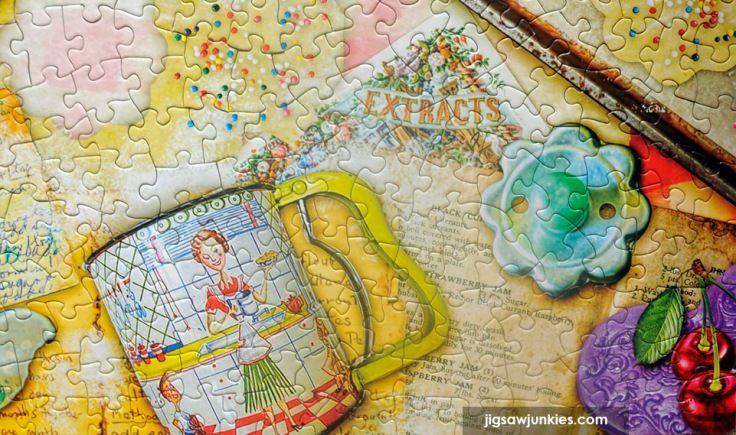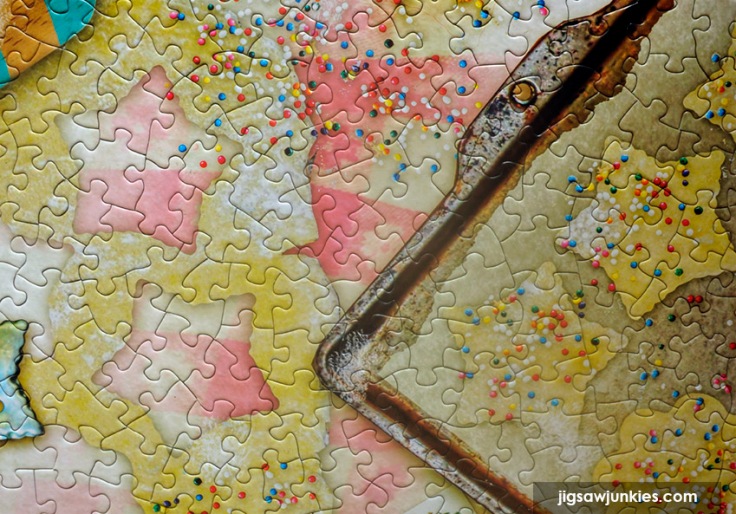 I've given perfects marks for assembly to this puzzle. There was just always a doodad, card, or object that was 'next' to assemble and easy to find, making this puzzle a sprint rather than a slog. I really enjoyed it. I'll be looking for more of these Aimee Stewart collages.
Summary:
High marks and double thumbs up to this wonderful oversized collage puzzle from Aimee Stewart. I really enjoyed the random cut and the sturdy pieces. The baking collage image is full of interest and detail. There are many uniquely colored objects in the puzzle which create little mini-puzzles to put together. Even if you're used to 300 or 500 piece puzzles, you should find this puzzle very doable. Assembly is fast and fun. The artwork is a beautiful mix of vintage and original objects, all seamlessly blended into what looks like an original painting. The extra large piece size is easy to work with and makes this feel like you're assembling a more challenging puzzle than you really are. The large finished size is comparable to a regular sized 2000 piece puzzle and makes a big statement. Recommended.

Where to find:
Click below to see the puzzle on Puzzle Warehouse.

JJ