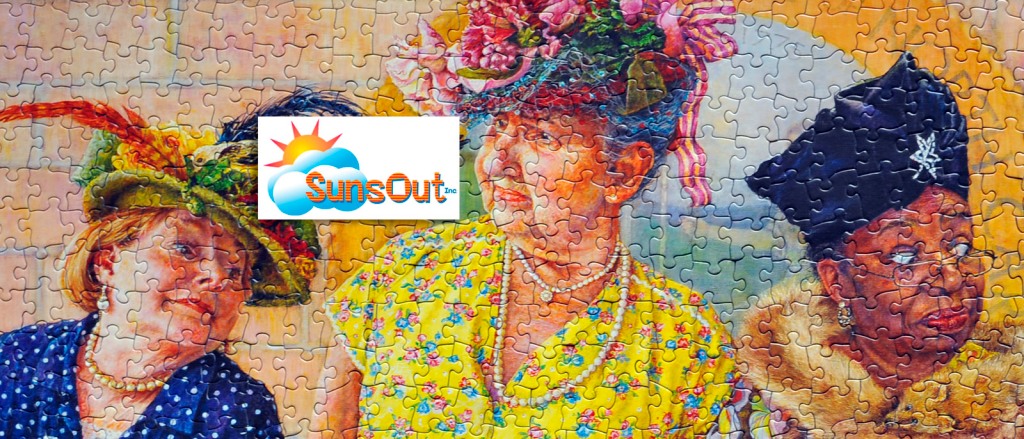 Review: "And The Winner Is…" by Susan Brabeau, Sunsout – 9/10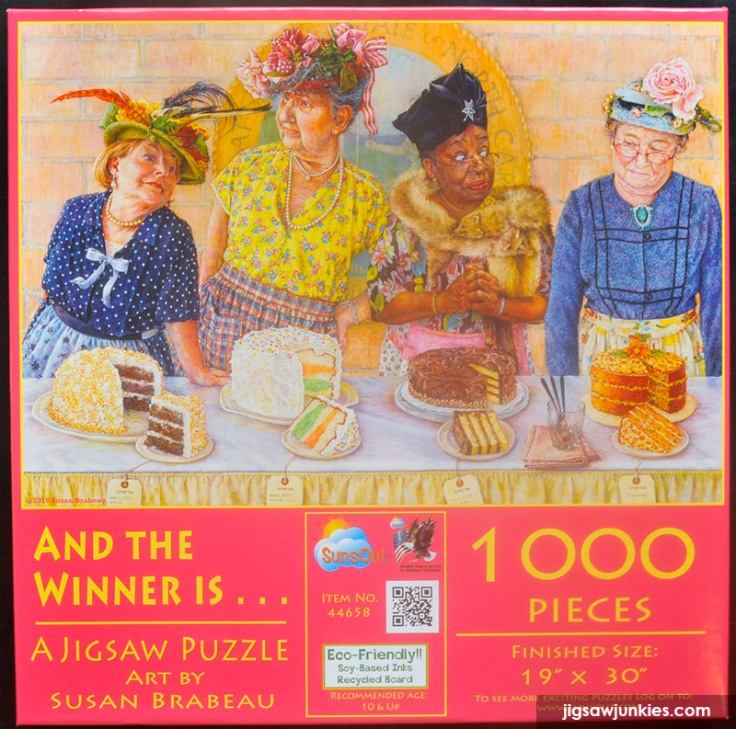 Publisher: Sunsout (USA), 1000 pieces
Title: "And The Winner Is…", Artist: Susan Brabeau
Finished size: 19″x30″
OUR RATING: 9/10
It's Susan Brabeau Week!
This is a week I've been anticipating for some time, working behind the scenes here at Jigsaw Junkies. This week is the first of our new artist-themed weeks. This week we're focusing on Americana artist Susan Brabeau. There will be reviews of two of her puzzles this week culminating in a lovely interview with her on the weekend. Very exciting stuff!
First up is a brand new puzzle release called "And The Winner is…."
Box Quality (7/10):
The Sunsout boxes are very large and square in shape. They're oversized compared to most boxes on the market. This takes up more shelf space but also provides a nice big image when you use the box lid for reference.
Sides:
Three of the sides are the same, showing an image of the puzzle, puzzle name, artist, piece count, finished size, and Sunsout logo. The fourth side has a bar code.


Back:
The back of the box is plain white.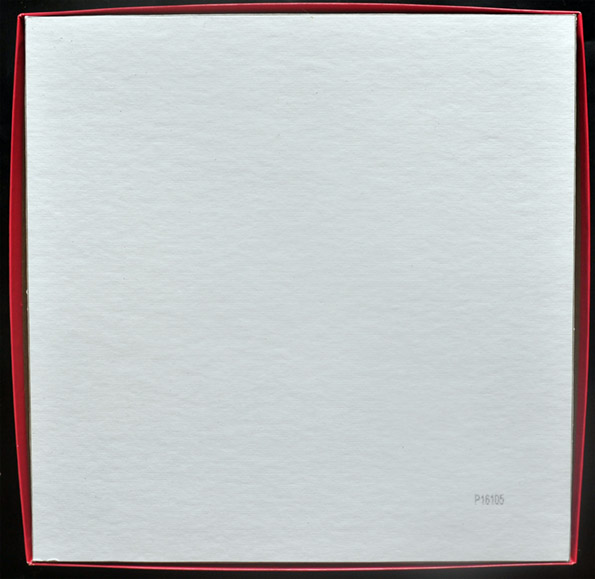 Inside the box:
Nothing comes inside the box except the bag of puzzle pieces. I did not notice any puzzle dust in my bag of pieces. The pieces were fully separated and undamaged.
The Image (10/10):
When I first saw this puzzle about a month ago (it just released in June 2016), it was immediately a 'winner' to me. I really like the larger people in this scene. In so many puzzles the figures are quite small in the overall composition. That's fine–I do a lot of puzzles like that. But it was a nice change to see the characters in this 'image story' so large and taking up so much space. I thought it would be fun to work, with each figure made up of quite a few pieces. I also loved the different colors and patterns on the lady's outfits and the different colored cakes. It looked like a puzzle that would be easy and fun to assemble–and it certainly is.
I also love the simplicity and heart in this image. We have four very distinct classic personalities and a snapshot of a moment in a more innocent time. And it's cake? Who doesn't love cake?
I've always enjoyed the humor in Susan Brabeau's images and I have to say this is one of my favorites of hers!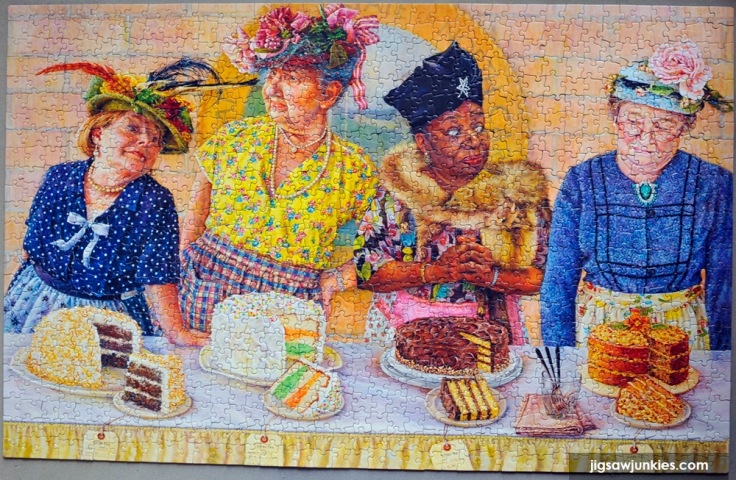 Puzzle Quality (9/10):
Sunsout did well in our brand comparison. You can see our full brand comparison on Sunsout here.
I generally like the Sunsout quality, but I have once in a while gotten one that felt a little on the thin side. Not so with this one! I'd worked a Gibsons just before this one, and this puzzle held up well by comparison (which says a lot). The pieces felt thick and heavy and the image was well secured to the pieces. As you can see in the close-up below, this is a random-cut puzzle, which I enjoy a bit more than a grid-cut. The piece shapes are not entirely crazy, but each piece is very distinct, so there's no issue with thinking a piece goes where it really doesn't fit.
(click on any image for a closer view)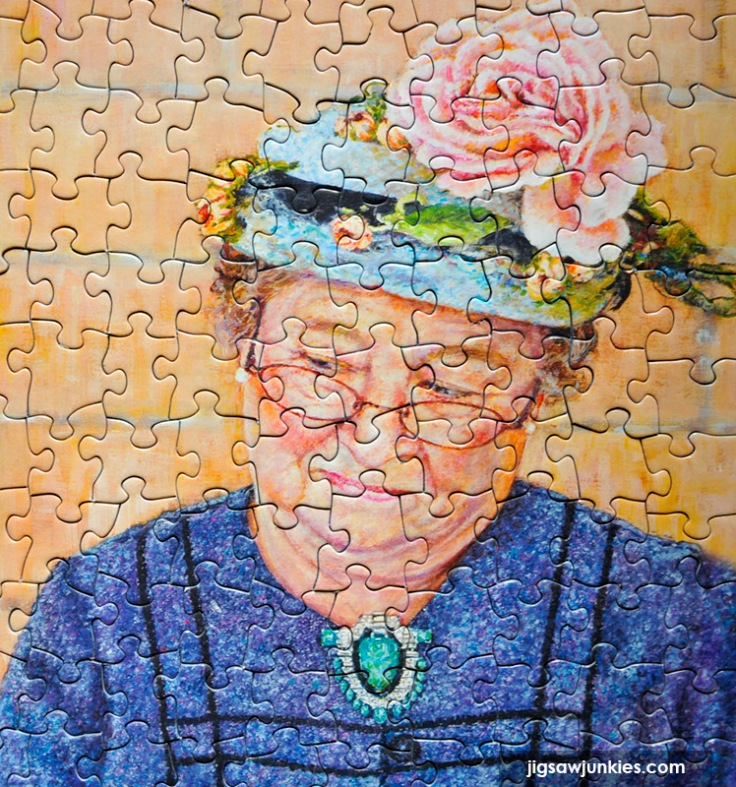 The image reproduction and colors are spot on. This is based on a painting, so there are brush strokes and the details don't have hard lines, but you can tell the image is quite faithful to the original painting. The colors are clear and bright without being overblown.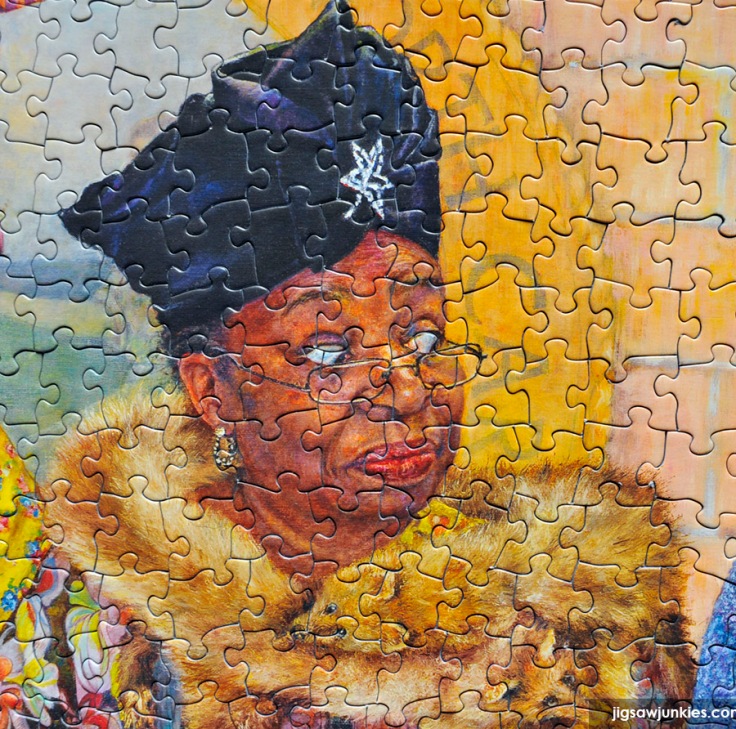 Assembly (10/10):
This puzzle is quite easy and satisfying to assemble. It has very distinct areas of color and pattern, none of which are large enough to get boring. I assembled the border first, then the yellow tablecloth at the bottom, which is only one row above the edge. Next came the colored dresses because it was so easy to distinguish those pieces.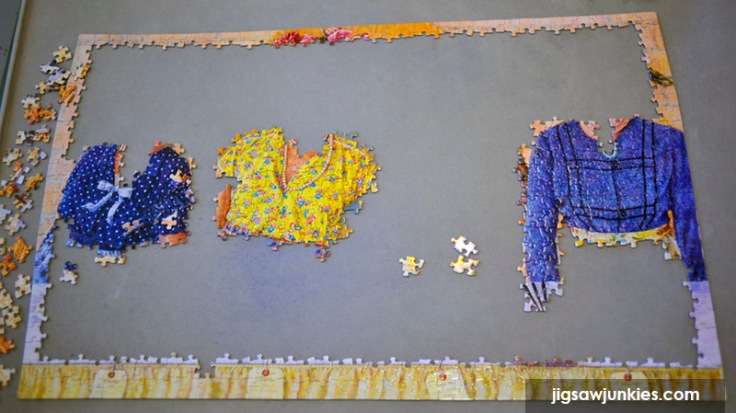 The hats are also easy to distinguish with bright colors and the textures of feathers, flowers, and beads.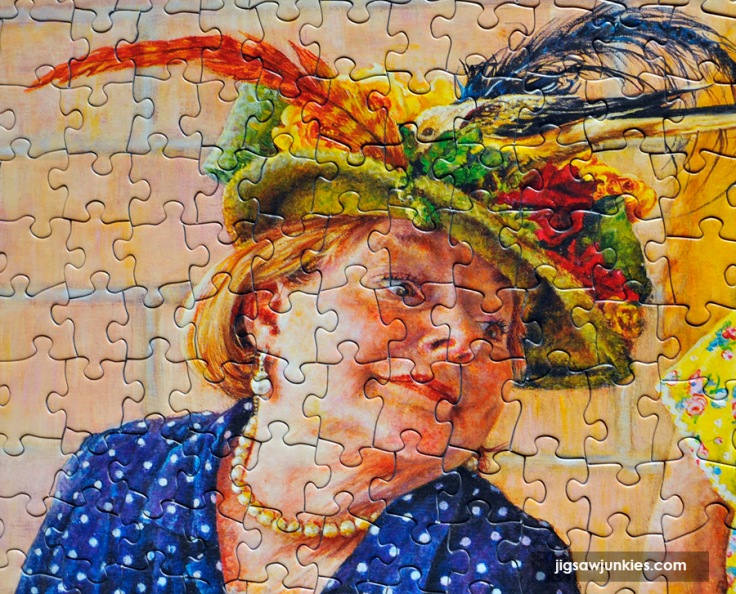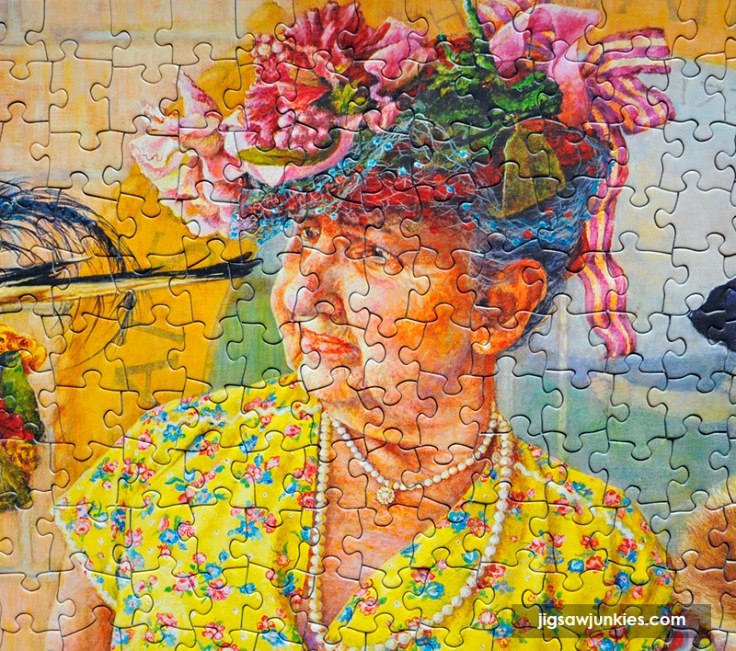 The four cakes are also each unique and are easy to put together.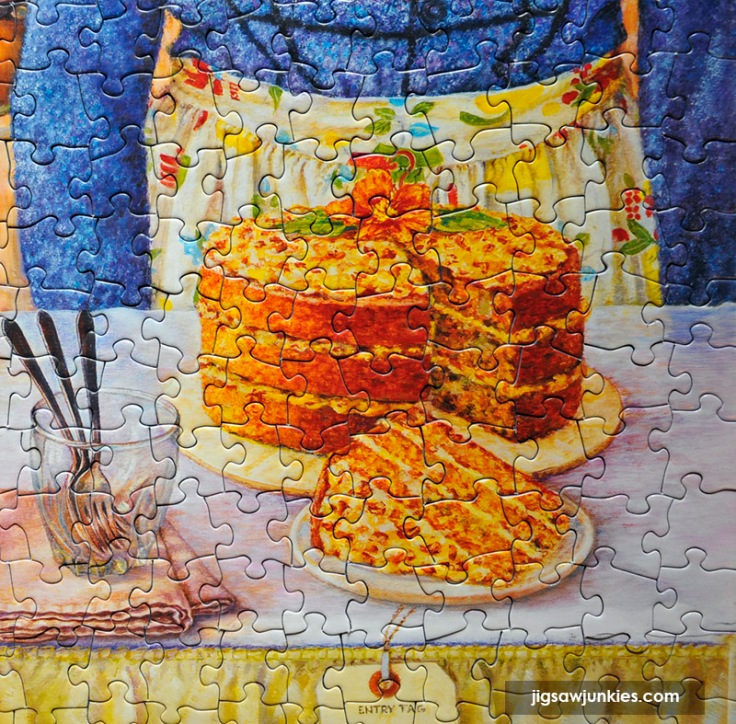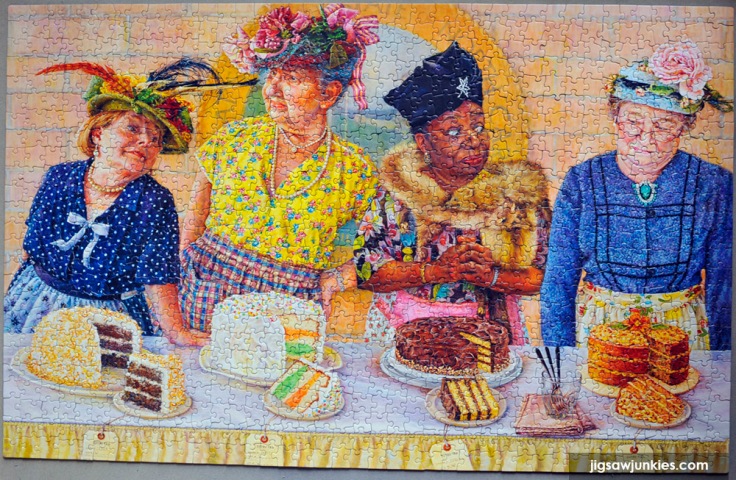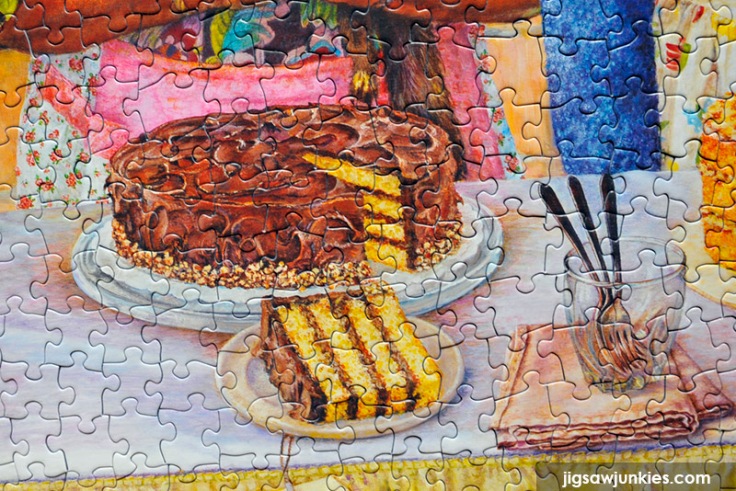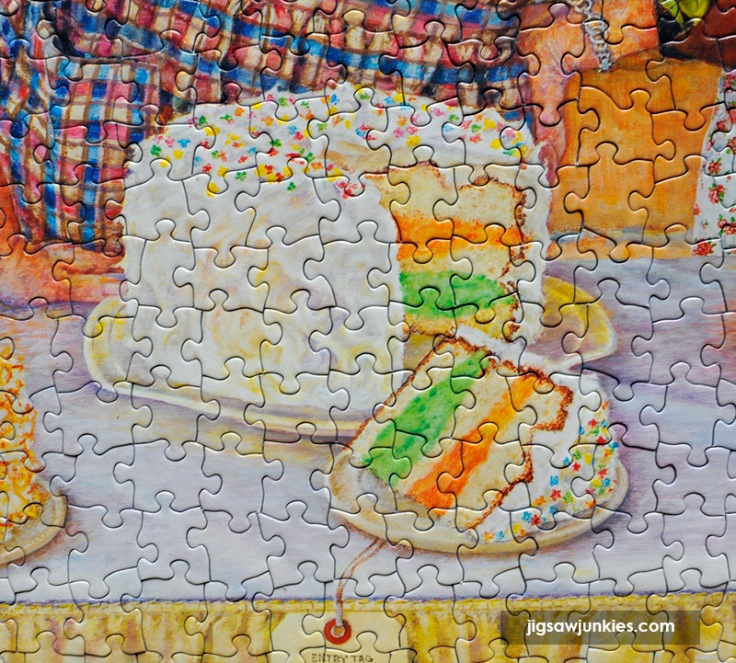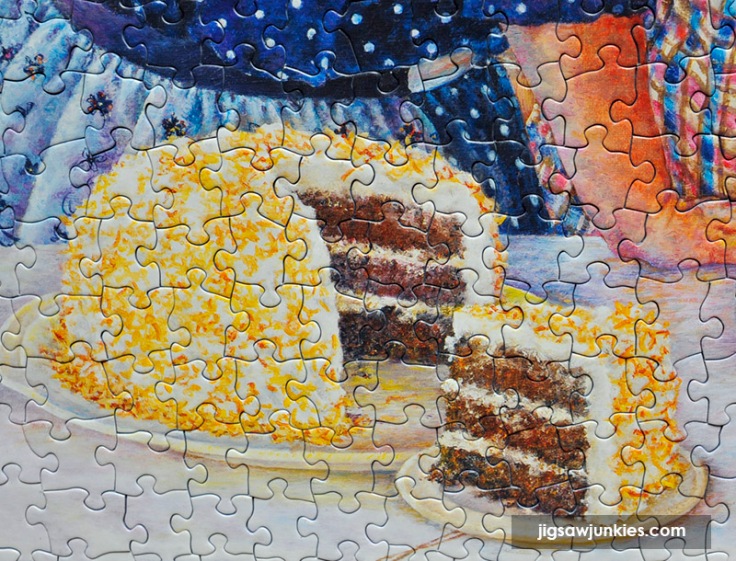 The yellow window and view outside in the center of the puzzle is a clear, identifiable area. In the end I was left with the pink back wall, the skin tones, and a few white pieces in the tablecloth. But these areas abut other areas for the most part, and they weren't difficult to assemble. The 'lines' on the back wall help to make that area fairly easy too.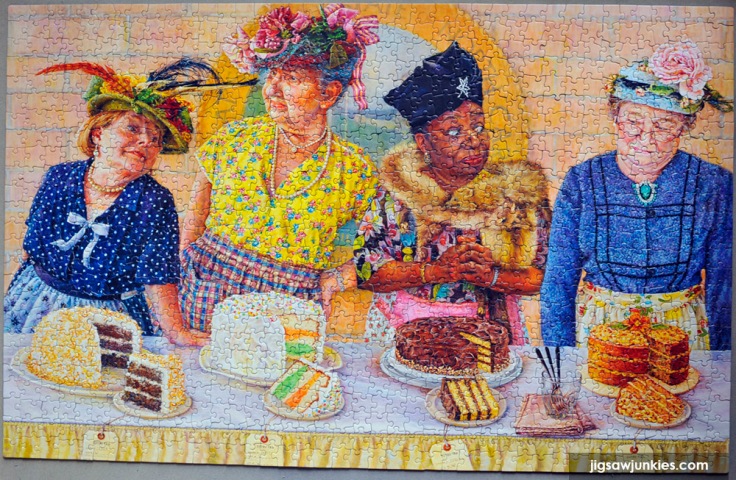 Overall, this was a fun and quick puzzle to work, taking me just two evenings. It really is a perfect image for jigsaw assembly.
Conclusion:
I adored this 1000 piece Susan Brabeau puzzle from Sunsout. It's a fun image that has large characters, a variety of easily-recognized colors and patterns, and a sweet little visual story. The Sunsout quality is very good with random-cut pieces and faithful reproduction of the details and colors of the original painting. Assembly is quick and relaxing thanks to the various dresses on the ladies, the ornate hats, and the unique colors and textures on the four cakes. Once you start it, you'll be tempted to keep going until the last piece is placed. Highly recommended! Score: 9/10

Where to Get It:
This puzzle is 15% off for the next three days only at Puzzle Warehouse (through 7/8/2016). Click below!

Jane