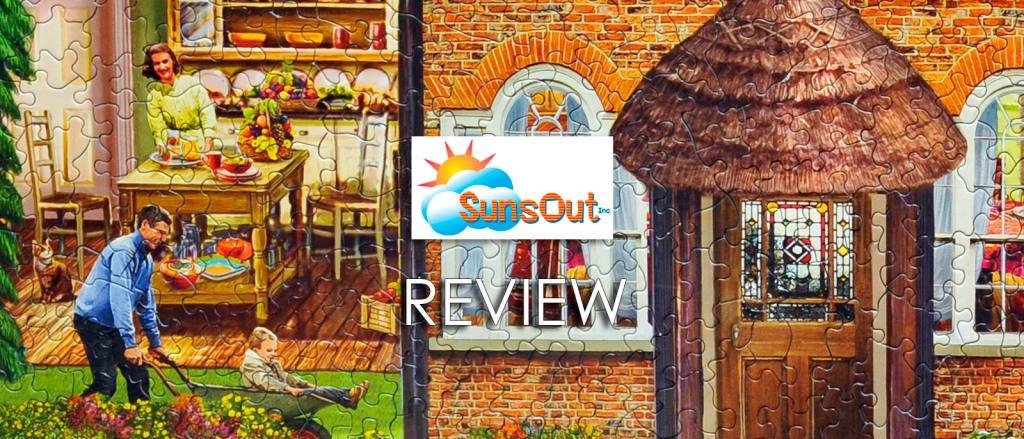 Review: "Summer House" by Steve Crisp, Sunsout – 9/10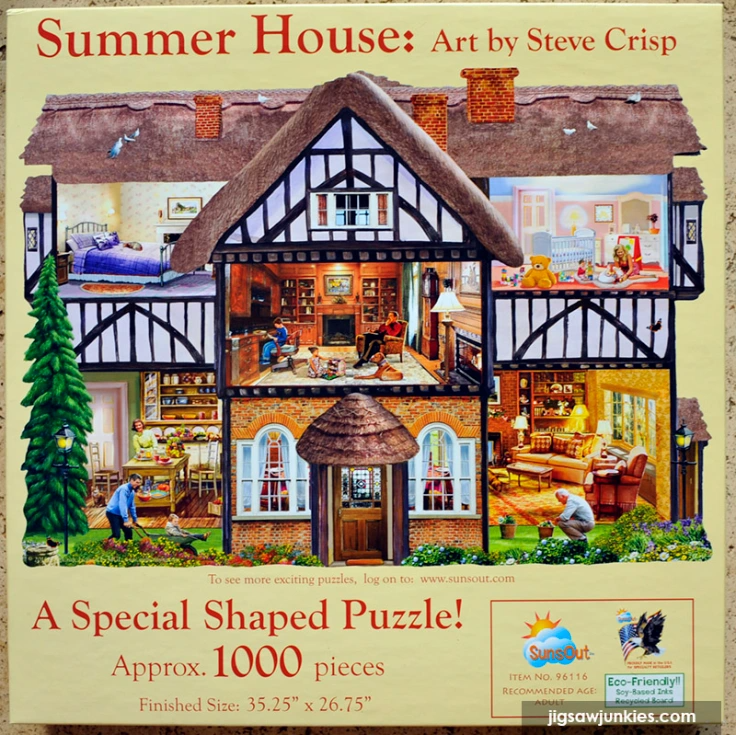 Publisher: Sunsout (US), published 2015
Title: "Summer House" by Steve Crisp, 1000 pieces shaped
Finished size: 35.25″ x 26.75″
OUR RATING: 9/10

STEVE CRISP WEEK & GIVEAWAY:
This week we're featuring puzzle artist Steve Crisp! I'm very excited about it. I'll be reviewing two Steve Crisp puzzles this week, and on the weekend we have an interview with the man himself. How awesome is that? Click here to see my past coverage of Steve Crisp puzzles.
In addition, we'll be giving away a copy of the Steve Crisp puzzle "Market Day" from White Mountain this week, courtesy of Puzzle Warehouse. To enter to win, comment on one, two, or all three Steve Crisp blog posts this week. Your name will be entered in a hat for each blog post you comment on. I'll draw a name next Monday. You must be able to ship to a US mailing address to qualify. Also check back Monday for the winner, or email me, because I can't reach you unless you send me your email address. You can email me at jigsawjunkieblog@gmail.com.
Note 8/8/2016: The winner of the giveaway was RandyR and he claimed his puzzle. Thanks for participating!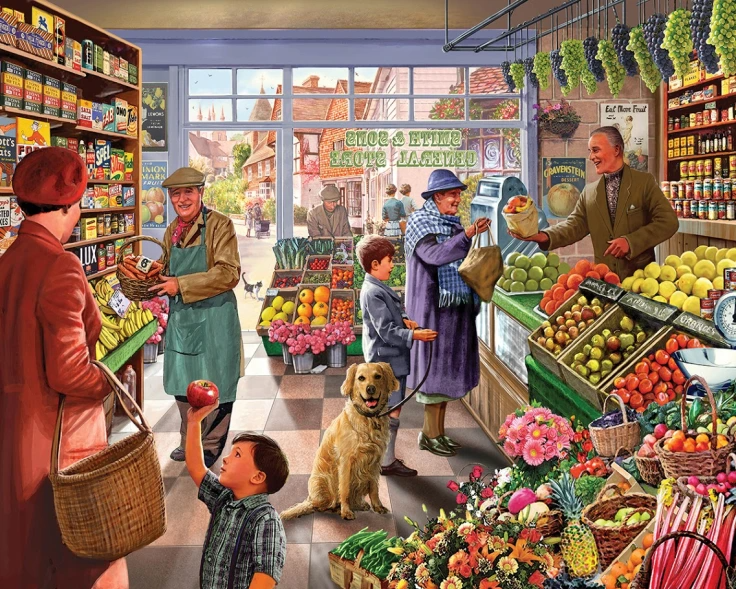 Box Quality: (7/10)
The Sunsout boxes are very large and square in shape. They're oversized compared to most boxes on the market. This takes up more shelf space but also provides a nice big image when you use the box lid for reference.
Sides:
Three of the sides are the same, showing an image of the puzzle, puzzle name, artist, piece count, finished size, and Sunsout logo. The fourth side has a bar code. I like how prominent the artist's name is on this box!
Back:
The back of the box is plain white and made of a thinner cardboard.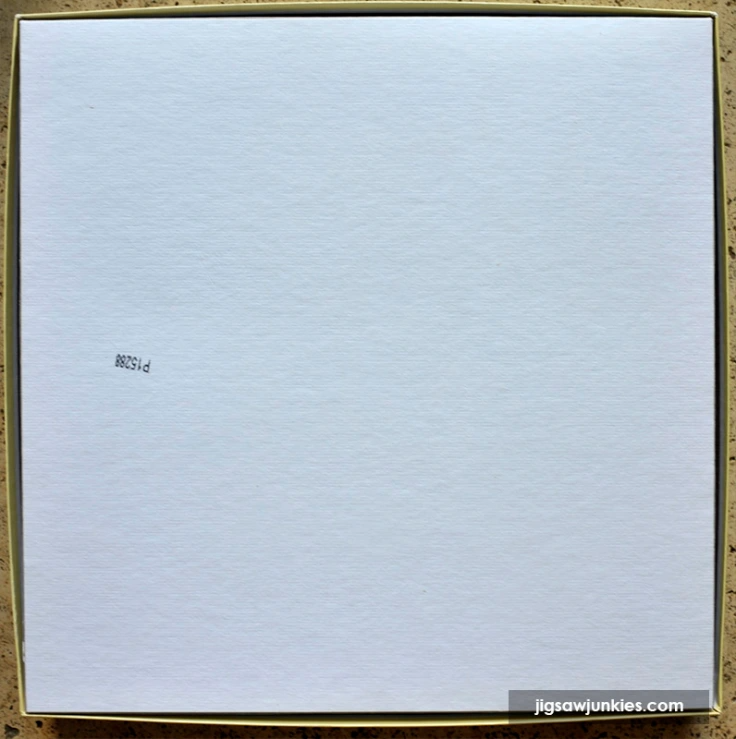 Inside:
Nothing comes inside the box except the bag of puzzle pieces and a small paper slip with the company url and a short blurb. I did not notice any puzzle dust in my bag of pieces. The pieces were fully separated and undamaged.
The Image: 9/10
We're celebrating Steve Crisp this week, one of my favorite artists in the British nostalgia genre. He does beautiful, high-detail digital illustrations. A few years ago he had a Christmas house puzzle (see it here). The "Summer House" is a newer image, probably created because of the popularity of "Christmas House". This is a popular image and several puzzle manufacturers offer it, but Sunsout's version is shaped so I wanted to give it a try.
The 'cut away building' motif has been used in puzzles before. Gale Pitt did a series of cut away doll houses, and there have also been cartoon puzzles with cut away buildings from artists like Jan Van Haasteren and Loup. It's an idea that works well for puzzles because it essentially breaks the scene up into smaller vignettes–the contents of each room. So you get both a collage puzzle and a scenic puzzle in one.
I really like this "Summer House" image with the various cozy rooms. Each room has different colors and furniture plus you have the thatched roof and the half-timbered walls of the house which make separate puzzle areas. It's a cohesive scene but provides lots of separate bits to puzzle. I've dinged one point because some of the areas of the illustration, like the cupboard in the kitchen, get quite blurry, yet other areas of the house at a similar depth are crystal clear, which gives it a "Photoshopped" feeling.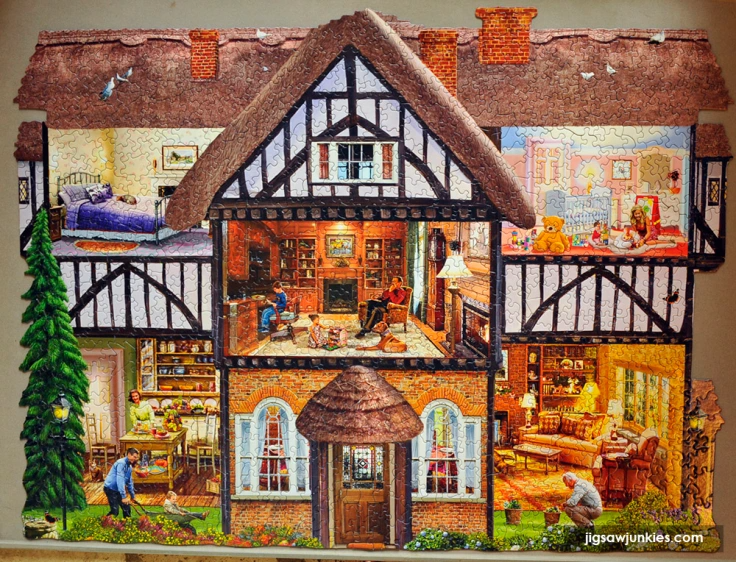 (Click on any of the images in this review for a closer look.)
Puzzle Quality: (10/10)
Sunsout did well in our brand comparison. You can see our full brand comparison on Sunsout here.
I like the Sunsout quality a great deal, but especially on their shaped puzzles. The pieces feel thick and very sturdy. There's no bending of knobs, warping, or image lift. I also particularly like the very random cut. I reviewed a White Mountain Steve Crisp this week, and White Mountain has a random cut, but by comparison Sunsout is really a crazy cut, in a very good way! As you can see below, some pieces can be almost the size of two pieces and some are small. The pieces along the shaped edge are especially interesting.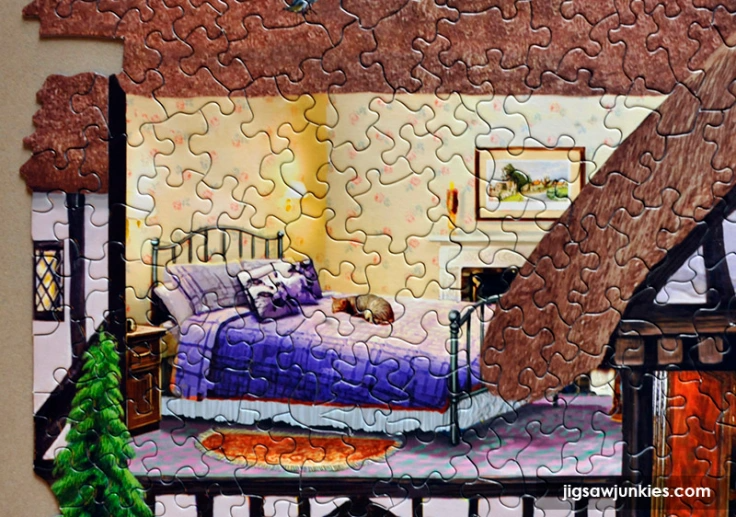 Also, I got a surprise with this puzzle. One thing I haven't seen in Sunsout puzzles before are whimsies. Whimsies are pieces shaped like objects such as a star, cat, or car. This puzzle has them! Look at the image below. There's a dog-shaped piece I circled in red. I also circled two pieces that aren't an object (I don't think) but have particularly interesting shapes. The only other company I know of who does whimsies (besides the wooden puzzle makers) are The House of Puzzles out of Scotland. So I was very excited to see whimsies in a Sunsout puzzles. I've given them an extra quality point for that.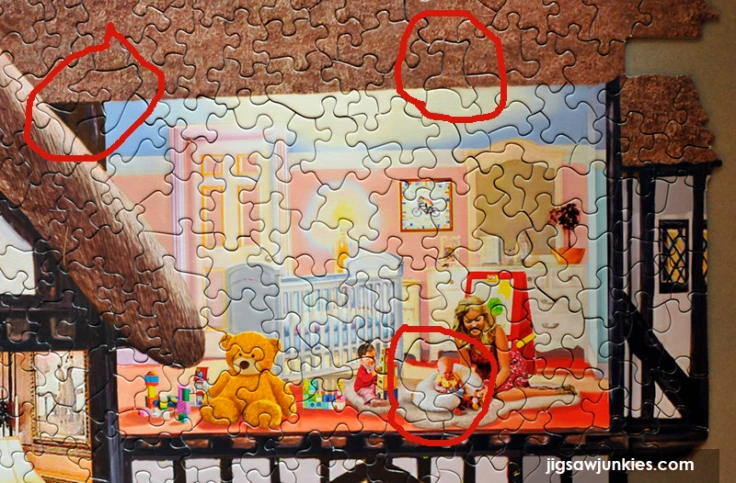 Below: a bird-shaped whimsy. And look at that lovely irregular edge on the tree.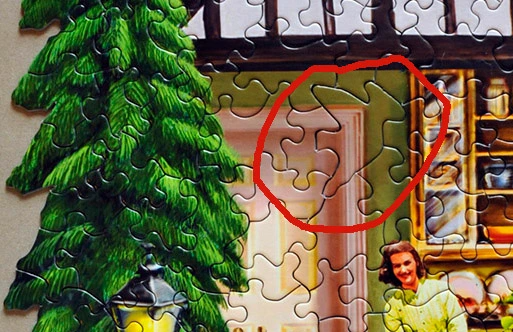 Assembly: (10/10)
Assembly was a joy on this puzzle. I love shaped puzzles, and it's always extra-fun to do one after I've done a bunch of rectangular puzzles in a row. The quality on this was also a pleasure to work with, and then there's the Steve Crisp illustration and the cut-away-house vignette design. All those things are favorites of mine.
I'd rate this puzzle as easy-to-moderate. Most of the puzzle is easy except for the last bits! (more below) It's not a fast puzzle to assemble necessarily. It takes a little time and patience. It took me three sessions. Let's look at the progression.
DAY ONE:
Unfortunately, I didn't grab a photo after my first session, but the first things I put together were the green pine tree on the left and the green-and-flowers border along the bottom of the puzzle. Since this is a shaped puzzle, you can't do the 'border' first, so it's best to just pull out the brightest color areas. In this case, the greenery acts as a border on a few sides anyway.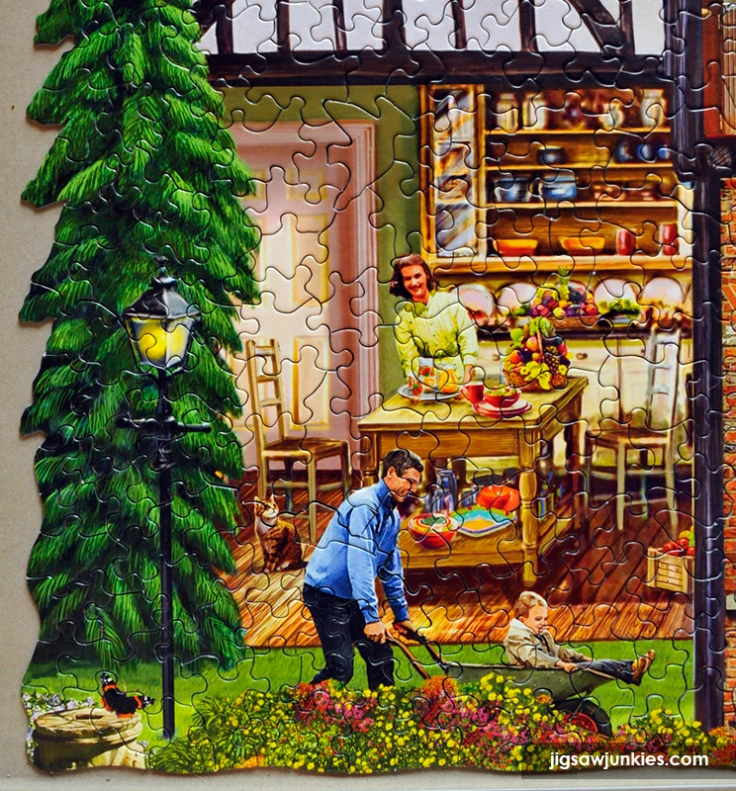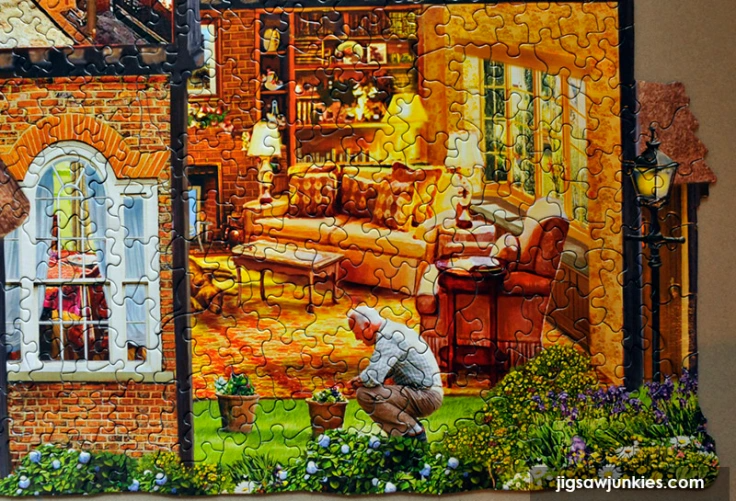 After doing the greenery, I did the brick that surrounded the front door and the two windows there (but not yet the thatched roof, which looks like all the other thatch).