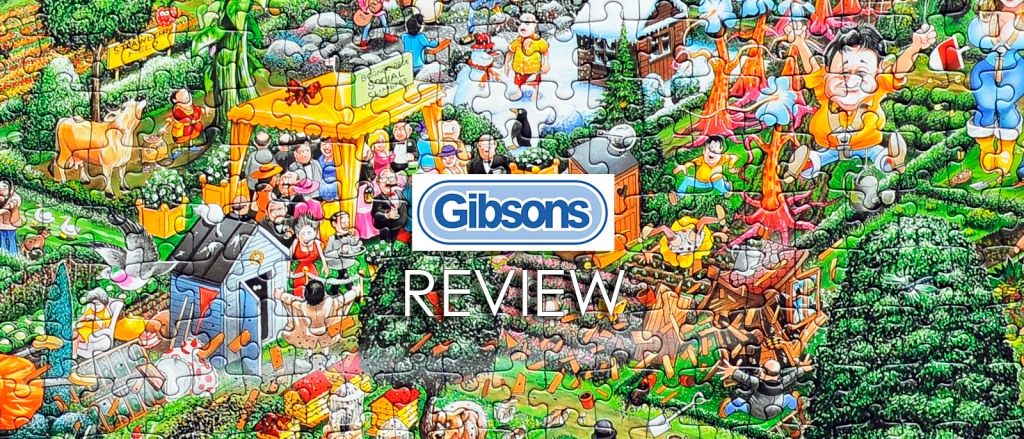 Review: "I Love Gardening" by Mike Jupp, Gibsons – 9.5/10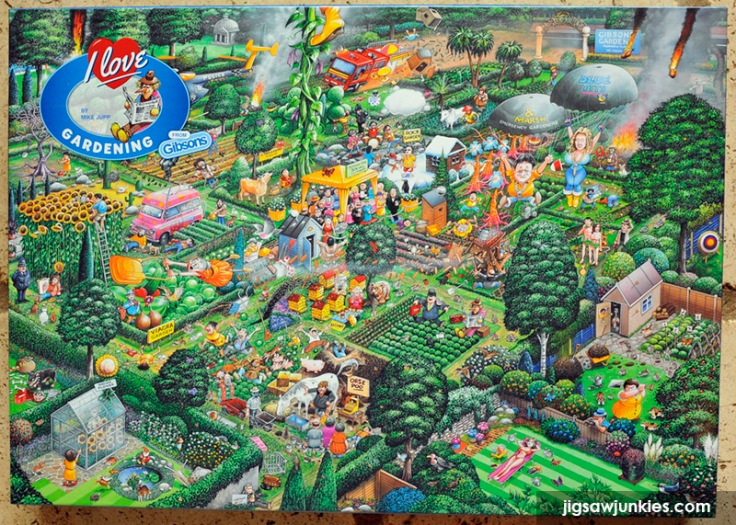 Publisher: Gibsons (UK), 2013
Title: "I Love Gardening" by Mike Jupp, 1000 pieces
Review by Jane
OUR RATING: 9.5/10

Mike Jupp Week:
This week we're featuring puzzle artist, and massively talented cartoonist, Mike Jupp. I'll be reviewing two Mike Jupp puzzles this week. In addition, I have a lovely interview with the man himself I'll post on the weekend — which includes a sneak peek at one of his upcoming puzzles. Mike Jupp is best known in the puzzle world for his "I Love…" series of busy cartoon puzzles published by Gibsons.
Links:
Jigsaw Junkies past coverage of Mike Jupp puzzles
Box Quality: (10/10)
The Gibsons boxes are of excellent quality–thick and exceptionally sturdy with a lovely design. You can see the front above. Most of their boxes (except for a few series like the Limited Edition Christmas puzzles) come in blue boxes. They make a gorgeous collection on the shelf. This 1000 piece box is rectangular in shape and measures 11.5″ x 16″.
On the front, they show the name of the puzzle and artist as well as the puzzle image. There is a logo for the "I Love" series, which is nice. However, it covers part of the image, which is not so nice. Fortunately, the back has a photo of the full image as well so you can see the area the logo covers on the front. I love that they have a bio of Mike Jupp on the back. Click on the photo below for a resolution you can read.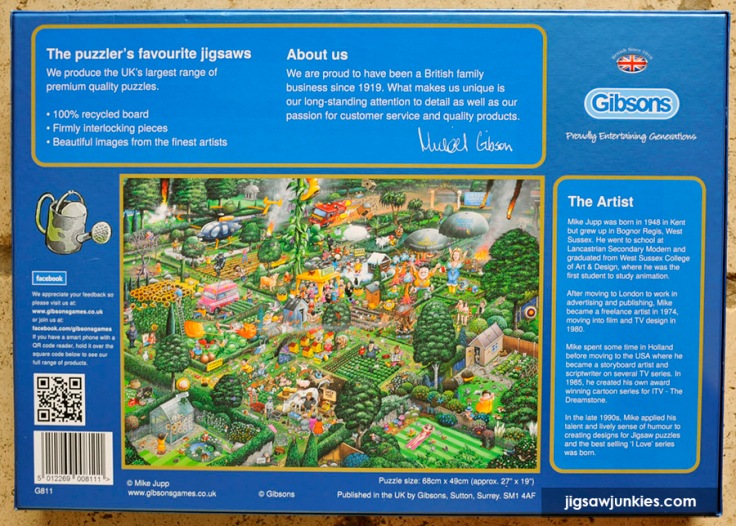 Inside:
The box contains the bag of puzzle pieces–in excellent condition with no damaged pieces or puzzle lift–a small warranty card, and a full color mini catalog from 2013. I love getting a catalog in the box. It's nice to see what else is on offer, and years later it helps you find puzzles that may be out of print.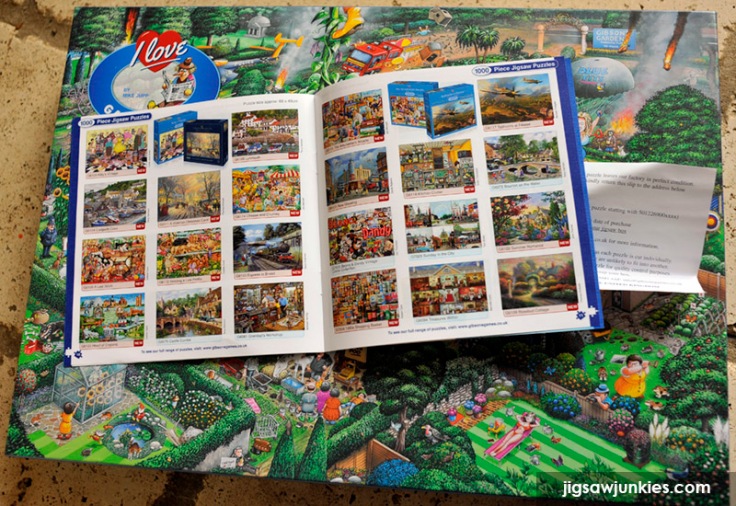 Sides:
The sides feature some cute pull out details of the puzzle image, the piece count, Gibsons logo, the "I Love" series logo, and the name of the puzzle and artist. This series looks awesome shelved together with a short end facing out.




Overall a perfect score for this box!
The Image: 10/10
Mike Jupp's "I Love…" series of puzzles are highly-detailed cartoon images that give a humorous spin to scenes from British life. You can see more of the series here.
"I Love Gardening" pokes gentle fun at the British love of gardening. I'm a gardener myself, so this image has always been one of my favorite in the "I Love…" series. I was happy to finally get a chance to piece it together.
Although there's a lot of green in this image, the green bits come in a variety of textures and colors, so it isn't tedious. I love all the fun details in this puzzle. There are bee colonies, garden parties, greenhouses, cows, horses, chickens, pigs, lots of rabbits, and a whole lot of interesting characters doing crazy things. The amount of detail is amazing and the art work is very polished. I've given it a full '10' for the image. We'll delve into the details of that image below.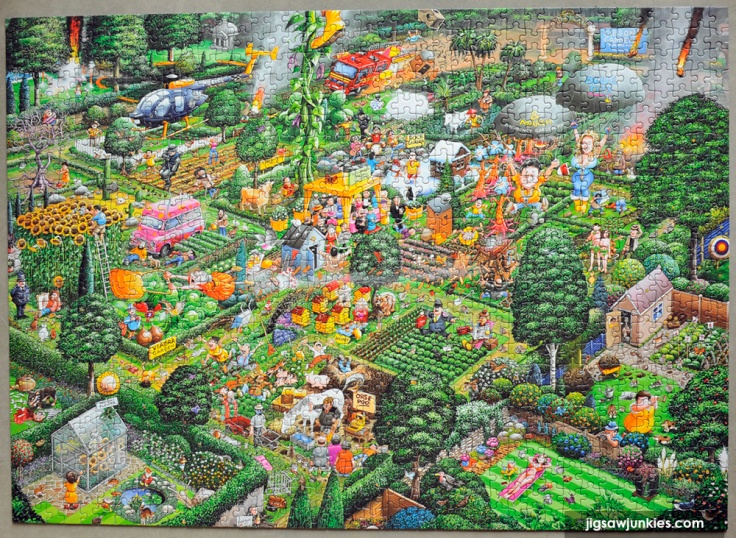 Above: The complete puzzle. Click for a larger view.
Puzzle Quality: 9/10
It's always nice to pick up a Gibsons puzzle again after I've been focused on other brands for a time. No other brand feels like a Gibsons. Their pieces are exceptionally thick and heavy, and I love the waxy tactile feel of the coating on top. It's a brand that is a pleasure to work with.
Like most European/UK puzzles, Gibsons puzzles have a traditional grid cut, as you can see in the detail close-up below. You can see our full brand comparison for Gibsons here. I have deducted 1 point for quality because of a persistent quirk of Gibsons–because they have a lot of 2-knob, 2-hole pieces which are quite similar, a piece can appear to fit where it doesn't actually go. This doesn't become apparent until you try to attach the 3rd or 4th adjacent piece. I've gotten used to that as part and parcel of Gibsons, which is a brand I love for their images and heavy-duty quality, so now I consider it simply a little extra challenge in the brand. If you know to be on the look out for it, and are prepared to move pieces around a bit, it's not a big deal. In this particular puzzle that issue came up on some of the green random pattern areas, like the trees. You can tell when a piece is completely 'right' because there's a nice solid interlock. But with only one knob and one hole connected, that's not always obvious.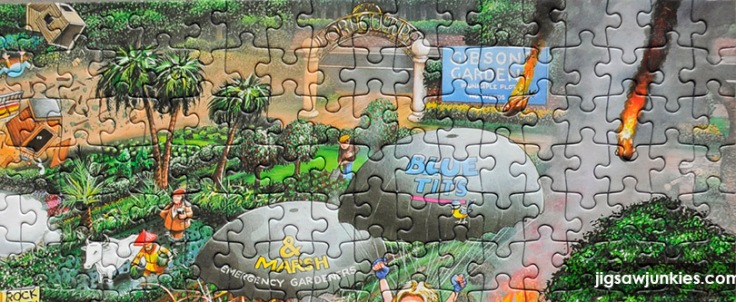 Another thing I quite like about the Gibsons quality is the seamlessness of the piece cut. When it's assembled you can see the image rather than the cut, which is particularly important when an image has a lot of fine detail, like this one does. And finally, the image reproduction is top notch. The fine lines of this drawing are sharp and clear and the colors are perfect. Click on the image below to see a closer view.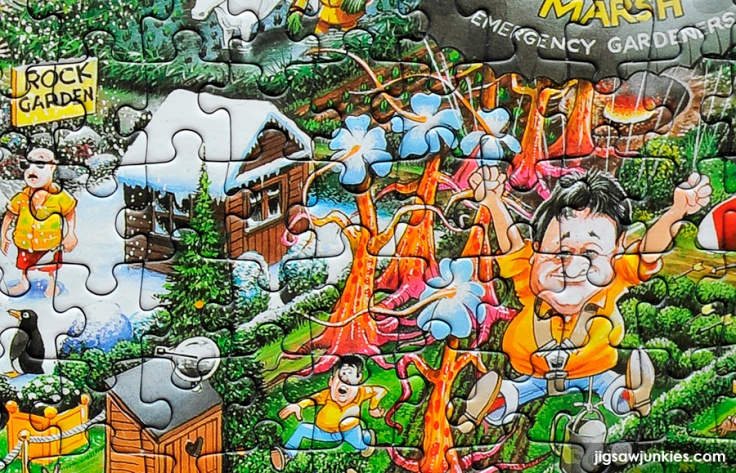 Assembly: 9/10
This puzzle is typical of a "busy cartoon" puzzle in that you will want to work with the box lid a lot! There's so much detail going on in this image.
DAY ONE:
I always do the frame first and then the most distinctive colors or patterns. In this case, it was the green striped lawn in the lower right, the various areas of 'smoke', and the yellows.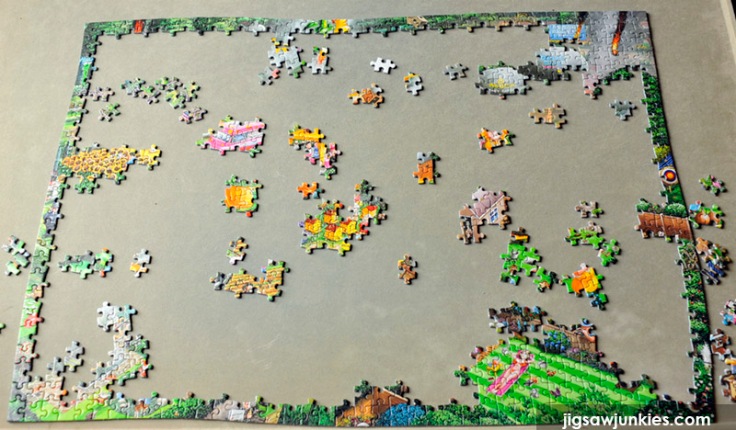 The best part of assembling a Mike Jupp puzzle is getting see all the little characters and gags come to life. The married couple in the lower right is fun.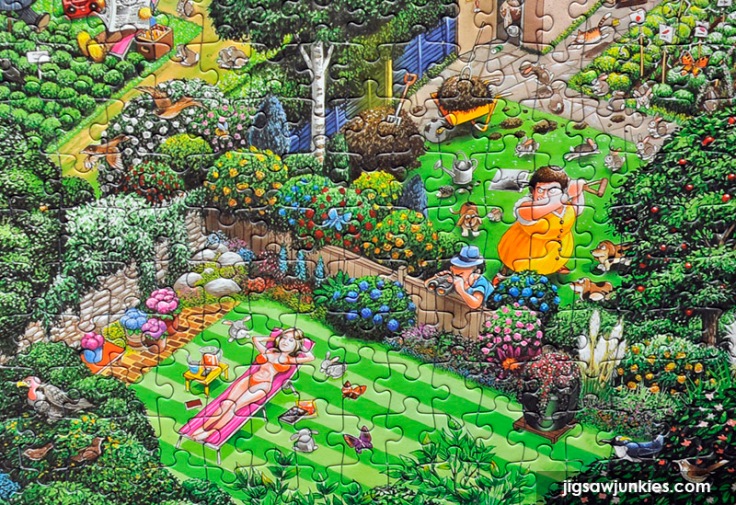 DAY TWO and THREE:
The main bulk of the assembly time is piecing together everything but the plainer green bits such as the trees.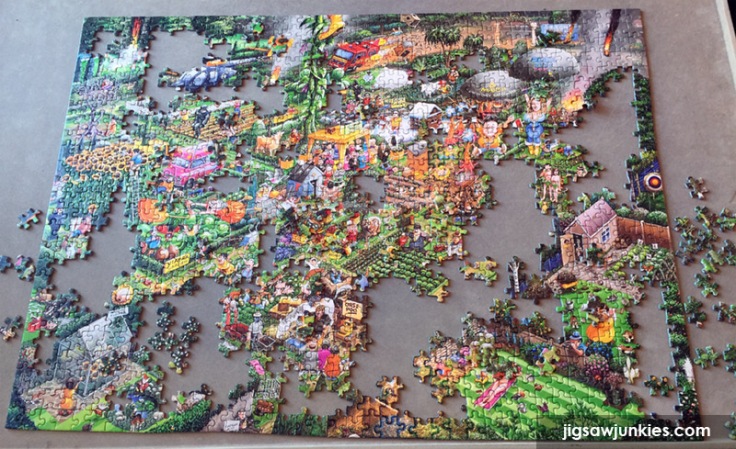 The garden areas, such as the cabbage patch and sunflower stems, are green, but they have distinctive patterns that are easy to pick out. Each character is also in a unique costume and you can identify where they go by looking at the box lid. The signs with type are always nice to have and easy to place.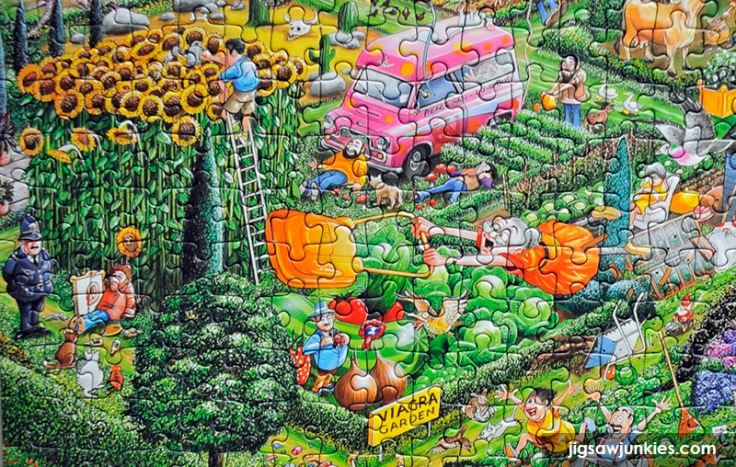 I love all the animals in the image. Each animal (even all the rabbits!) are completely unique in terms of body position and expression so you can find them on the lid.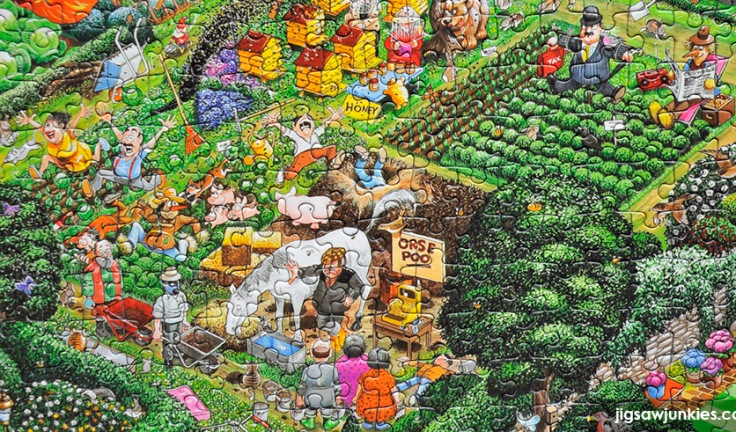 There are plenty of bright colors, such as the yellow of the garden party tent, the pink van and orange of the 'flying granny'.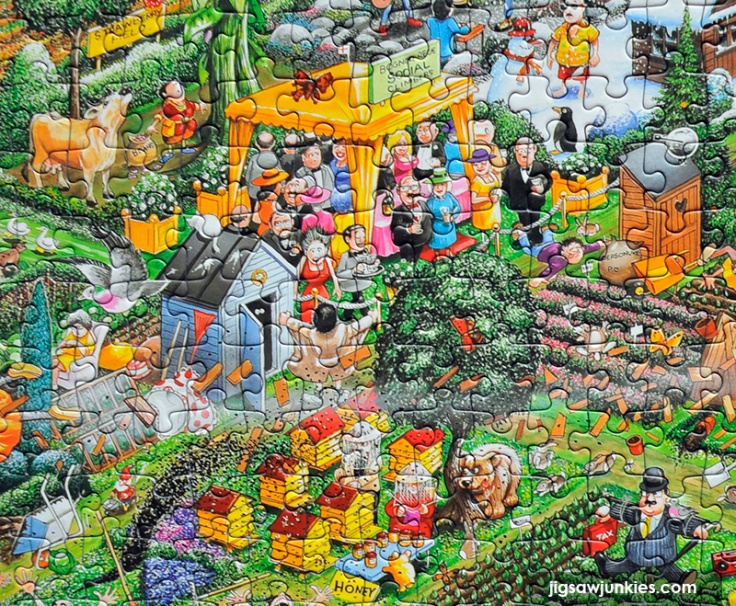 There are two large figures descending from the sky in parachutes. These are apparently British TV personalities, though they aren't familiar to me as an American.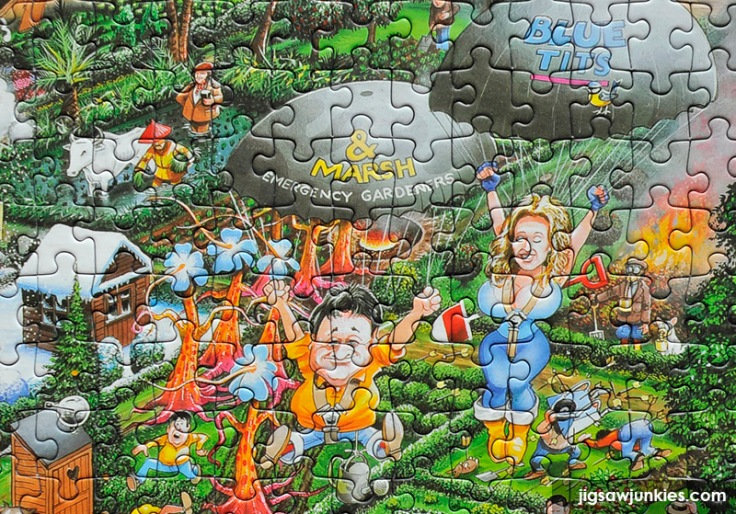 The areas at the top of the image with the helicopter, firetruck, and giant descending the beanstalk, where quick to put together and didn't need a lot of reference to the box lid.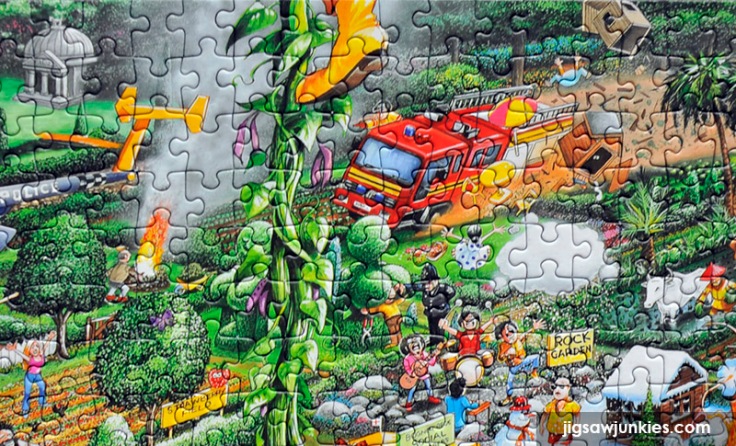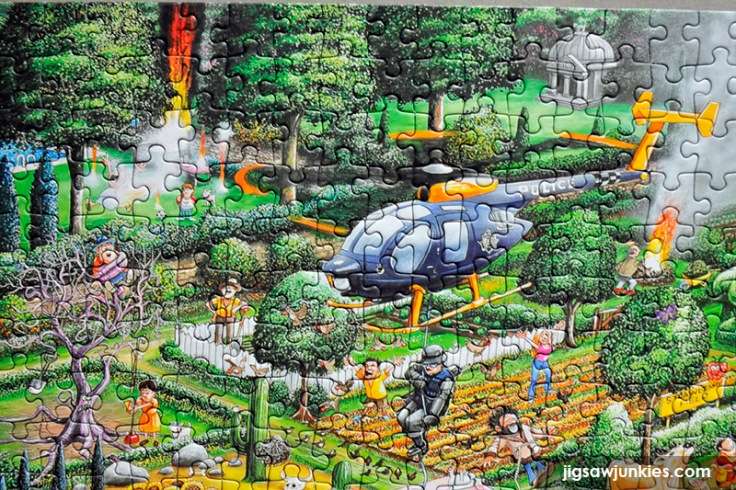 DAY FOUR:
After you've done all you can with the 'colored bits', what remains are the more similar green areas–the tree tops and hedges mostly.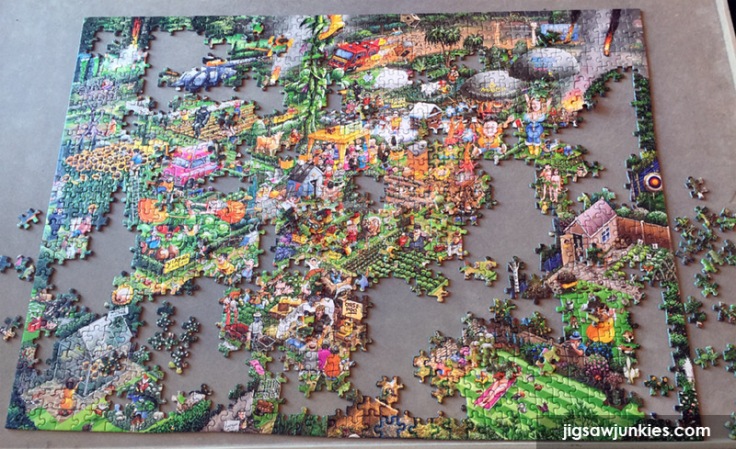 Putting together these last green bits was where I ran into more of the "Gibsons quirk" of pieces looking like they go where they don't. The tree tops have a random pattern that's hard to match up. So this took a little extra time and patience, but it wasn't overly frustrating. Many of the smaller bushes in the scene have tiny colored flowers, so you can see where those pieces go by looking at the lid.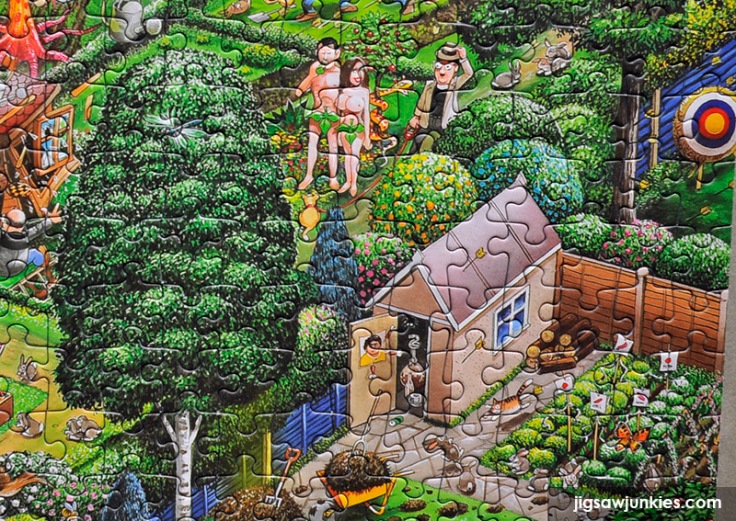 Above: There is a wee bit of nudity in this image as well as some vaguely naughty bits, so puzzler discretion is advised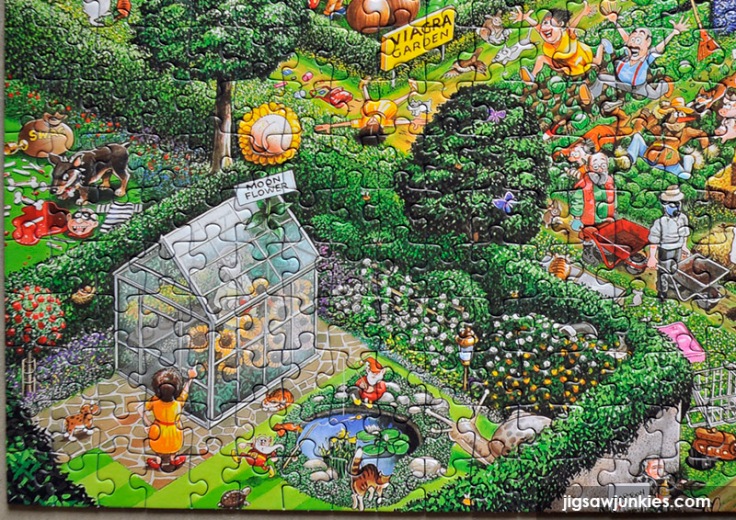 Overall, I've given assembly a 9 score with 1 point dinged for the 'looks like it fits' issue. Again, I'm used to it with Gibsons and consider it part of the challenge and fun, but it may bother some people.
Conclusion
Gibsons is a high-quality puzzle brand from the UK with beautiful blue boxes, very thick pieces, and a waxy matte finish. Their Mike Jupp series of "I Love…" puzzles is enormously popular in the UK and for good reason. These busy cartoon puzzles are filled with fine detail, bright colors, and humorous sight gags. It's fun to discover all the characters and animals as you piece this puzzle together. The grid cut, seamless finish, and excellent image reproduction all mark this as a AAA brand with an excellent tactile feel. Due to the standard piece cut, some pieces may appear to go where they don't belong, which makes this brand more challenging to work than some. If you like cartoon puzzles, you'll definitely want to check out the Mike Jupp puzzles in this series. "I Love Gardening" is ideal for those who have a green thumb or just like a moderately difficult and detailed puzzle.

Where to find:
For the next three days you can get this puzzle for 15% off. This sale is good through 8/12/2016. Click on the logo below.

JJ