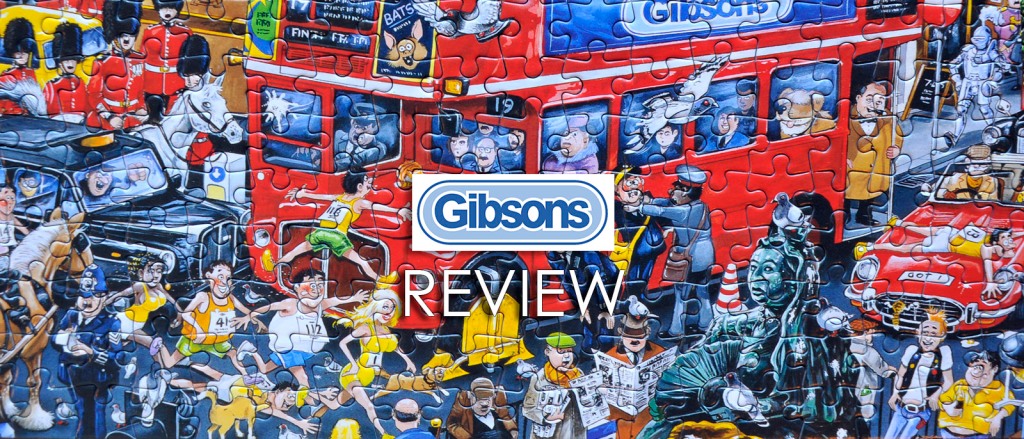 Review: "I Love London" by Mike Jupp, Gibsons — 9.5/10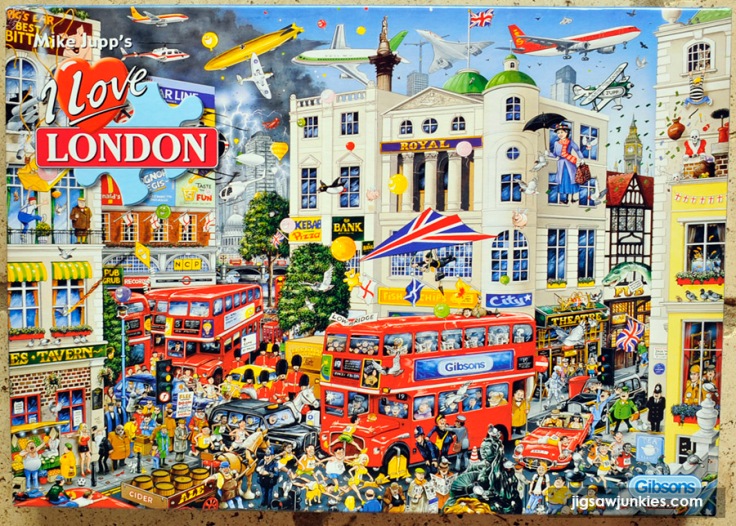 Publisher: Gibsons (UK), 2013
Title: "I Love London" by Mike Jupp, 1000 pieces
Review by Jane
OUR RATING: 9.5/10

Mike Jupp Week:
This week we're featuring puzzle artist, and massively talented cartoonist, Mike Jupp. I'll be reviewing two Mike Jupp puzzles this week. In addition, I have a lovely interview with the man himself I'll post on the weekend — which includes a sneak peek at one of his upcoming puzzles. Mike Jupp is best known in the puzzle world for his "I Love…" series of busy cartoon puzzles published by Gibsons.
Links:
Jigsaw Junkies past coverage of Mike Jupp puzzles
Box Quality: (10/10)
The Gibsons boxes are of excellent quality–thick and exceptionally sturdy with a lovely design. You can see the front above. Most of their boxes (except for a few series like the Limited Edition Christmas puzzles) come in blue boxes. They make a gorgeous collection on the shelf. This 1000 piece box is rectangular in shape and measures 11.5″ x 16″.
On the front, they show the name of the puzzle and artist as well as the puzzle image. There is a logo for the "I Love" series, which is nice. However, it covers part of the image, which is not so nice. Fortunately, the back has a photo of the full image as well so you can see the area the logo covers on the front. I love that they have a bio of Mike Jupp on the back. Click on the photo below for a resolution you can read.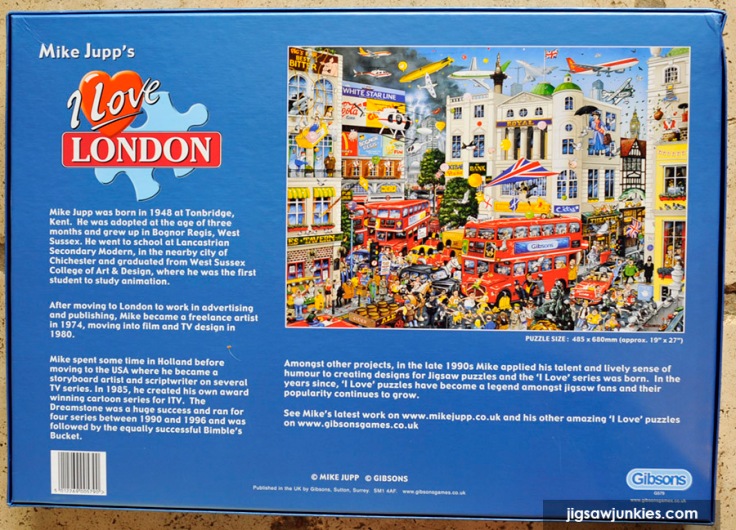 Inside:
The box contains the bag of puzzle pieces–in excellent condition with no damaged pieces or puzzle lift–and a full color mini catalog from 2013. I love getting a catalog in the box. It's nice to see what else is on offer, and years later it helps you find puzzles that may be out of print.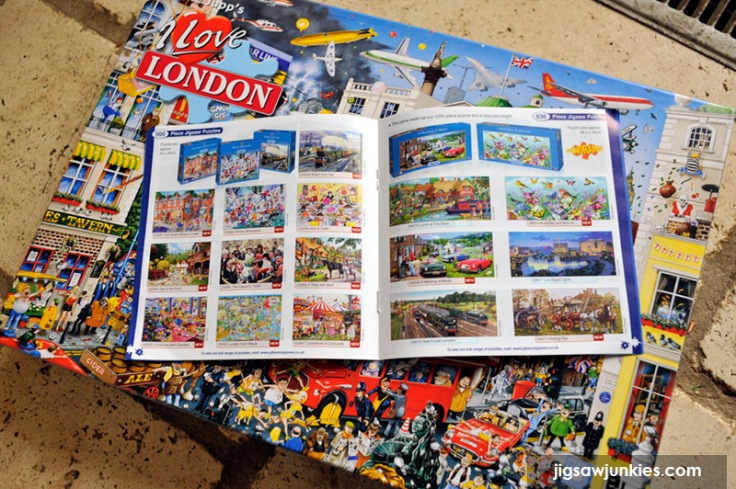 Sides:
The sides show a thumbnail of the complete puzzle image, the piece count, Gibsons logo, the "I Love" series logo, and the name of the puzzle and artist. I have all the "I Love…" puzzles and they look very nice shelved together with a short end facing out.




This box gets a perfect score for design, information, and durability!
The Image: 10/10
Mike Jupp's "I Love…" series of puzzles are highly-detailed cartoon images that give a humorous spin to scenes from British life. You can see more of the series here.
"I Love London" is, as you might suspect, a cartoon parody about the city of London. There are characters anyone might recognize as quintessentially British such as Mary Poppins, Sherlock Holmes, London bobbies, and mohawked youth. Other sight gags will perhaps be best appreciated by those who actually live in London. But as a died in the wool Anglophile, and constant consumer of BBC dramas, I am particularly fond of this "I Love" image. (I also love Mike Jupp's "I Love Great Britain" for the same reason.)
The image is also nicely designed to be a puzzle. The red busses, white buildings, and blue sky create areas of the puzzle that can be attacked separately. And then there are all the little people in the scene. The box lid comes in handy for trying to figure out where the smaller detail goes.
Every bit of detail in this image is unique, has a little story or message, and is well thought-out. The art style is also very polished. There are no digital shortcuts and cut-and-pasting here! The line drawing is perfect and the coloring spot on. Clearly a great deal of time and effort went into this drawing. I've given this image a perfect 10 score.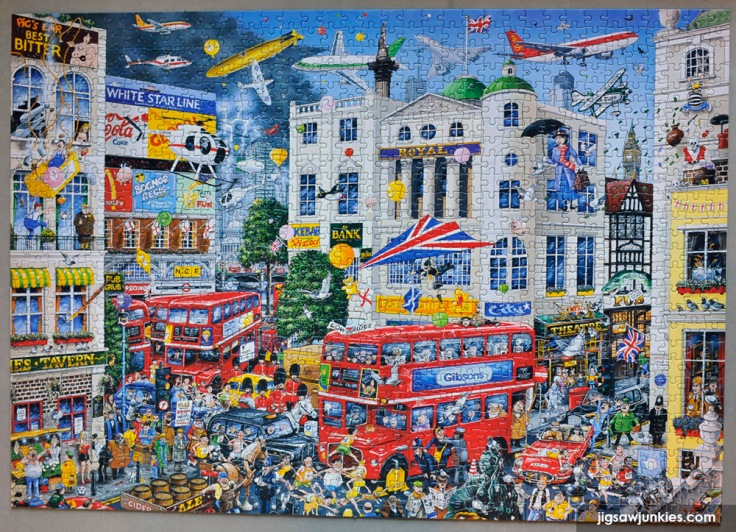 Above: The complete puzzle. Click for a larger view.
Puzzle Quality: 9/10
Gibsons is one of my favorite brands, and I always know I'm going to get great quality. I am happy to buy any of their images. No other brand feels like a Gibsons. Their pieces are exceptionally thick and heavy, and I love the waxy tactile feel of the coating on top. It's a brand that is a pleasure to work with.
Like most European/UK brands, Gibsons puzzles have a traditional grid cut, as you can see in the detail close-up below. You can see our full brand comparison for Gibsons here. I have deducted 1 point for quality because of a persistent quirk of Gibsons–because they have a lot of 2-knob, 2-hole pieces which are quite similar, a piece can appear to fit where it doesn't actually go. This doesn't become apparent until you try to attach the 3rd or 4th adjacent piece. I've gotten used to that as part and parcel of Gibsons, which is a brand I love for their images and heavy-duty quality, so now I consider it simply a little extra challenge in the brand. However, in this particular puzzle that issue really didn't come up because there's so much fine detail and not a lot of random pattern or monotone color areas. Even the blue sky is broken up by birds, planes, and other detail.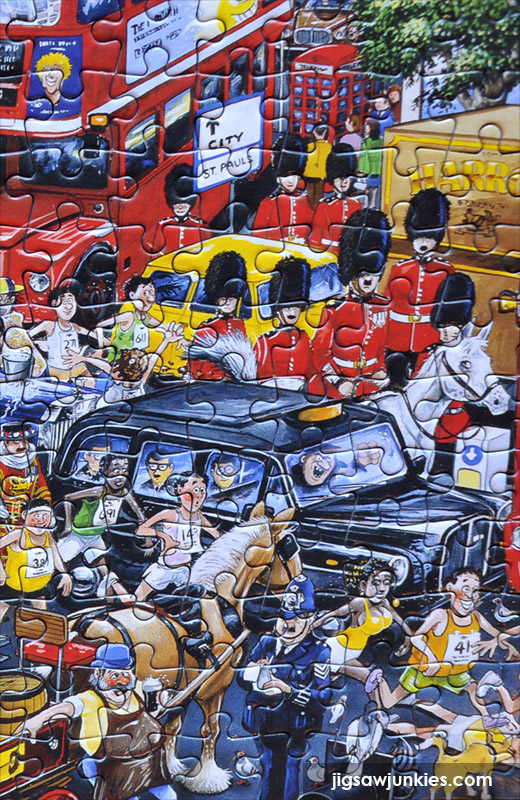 Another thing I quite like about the Gibsons quality is the seamlessness of the piece cut. You can see the image rather than the cut, which is particularly important when an image has a lot of fine detail, like the "I Love" series. And finally, the image reproduction is superb. The fine lines of this drawing are sharp and clear and the colors are perfect. Click on the image below to see a closer view.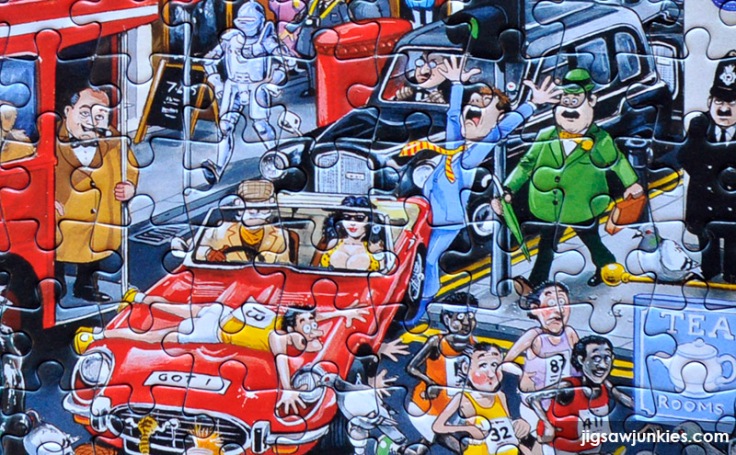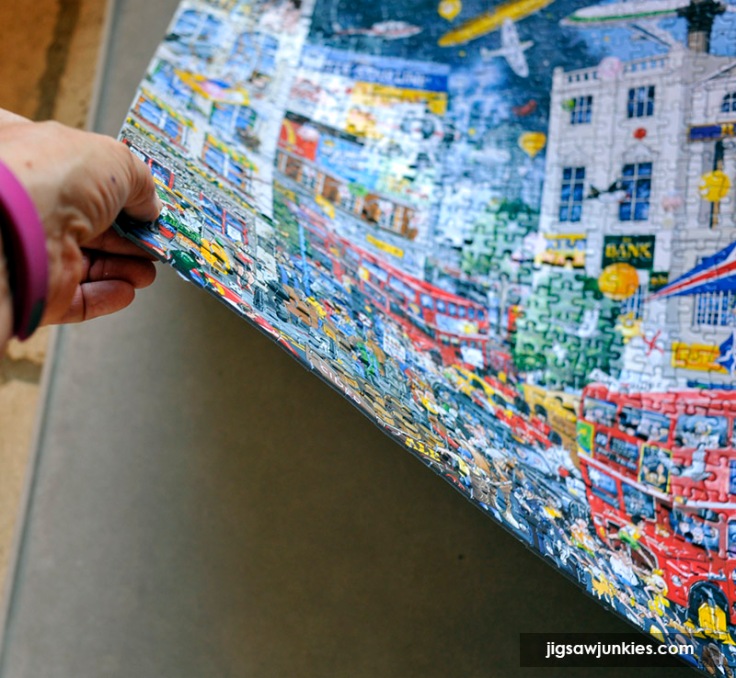 Above: The puzzle hangs together quite well and you can move sections without them falling apart.
Assembly: 9/10
This puzzle is typical of a "busy cartoon" puzzle in that you will want to work with the box lid a lot! There's so much detail going on in this image.
DAY ONE:
In a rectangular or square puzzle, I always do the border first. That way you have a 'frame' within which to anchor the other areas as they come together. I also began some of the easiest to recognize bits like the large British flag, the Gibsons logo, and the yellow pieces.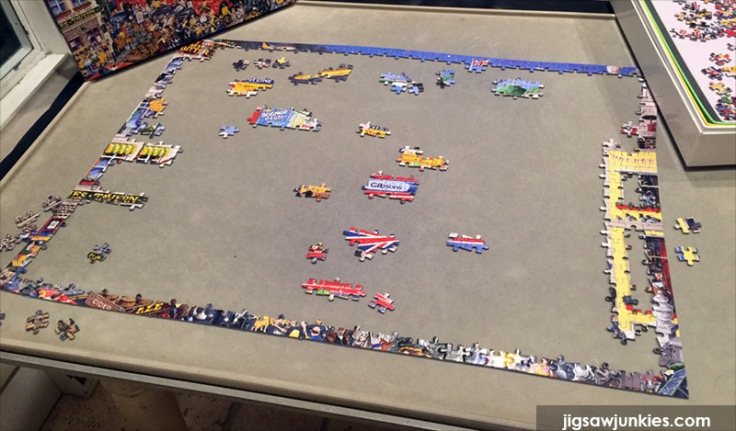 DAY TWO and THREE:
In most puzzles, there's an area that's left for the end — generally a color or texture that acts as a background or 'filler". That could be sky or snow or a lot of greenery or the 'dark areas'. But that wasn't really the case with this puzzle. Every areas is unique and there really is no 'filler'. I completed it in three sessions (I work puzzles in the evenings with the TV on, usually 2-3 hours each session). I'd say the puzzle is of easy-to-medium difficulty but no one area was difficult.
The easiest parts to tackle first are the sky, the white buildings, and the red buses. The sky has a gradient pattern plus lots of things 'in' it like airplanes, a UFO, birds, falling falling money, etc. So it's very easy to assemble.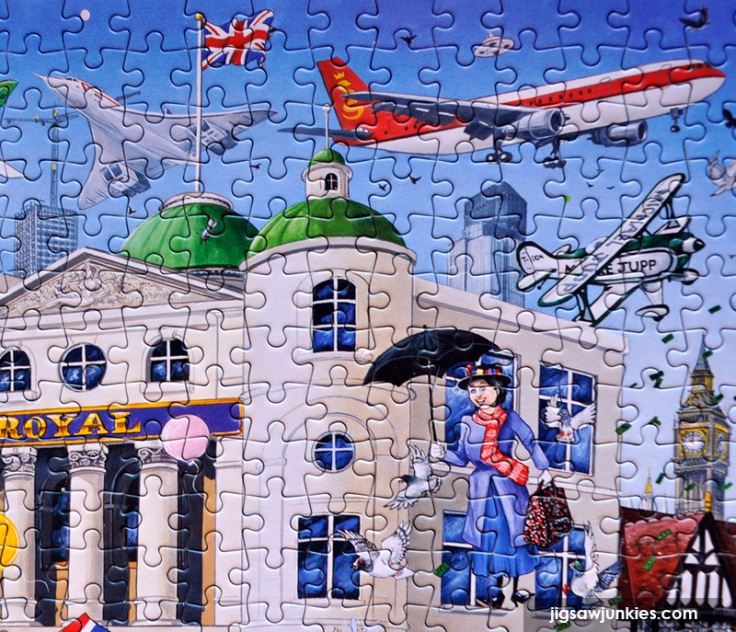 The white buildings take up a fair amount of space in the puzzle, and it's good to get that section done because it anchors so many other sections. Fortunately, the white buildings have lots of small details that enable you to see where each piece goes. The windows, lintels, bricks, and, of course, birds and characters that overlay the white areas, all provide clues about where a piece fits.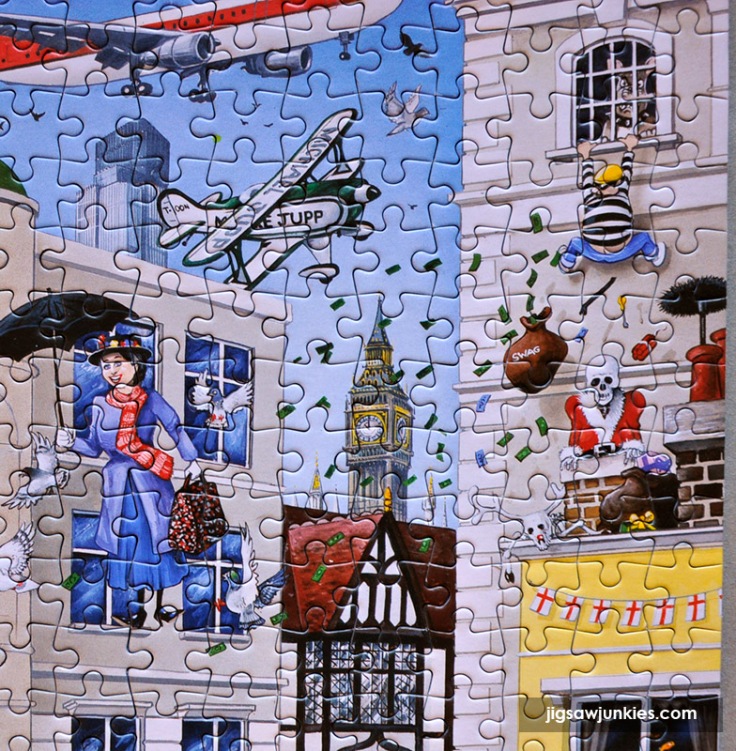 The columns in the middle of the bank also help break up the white area.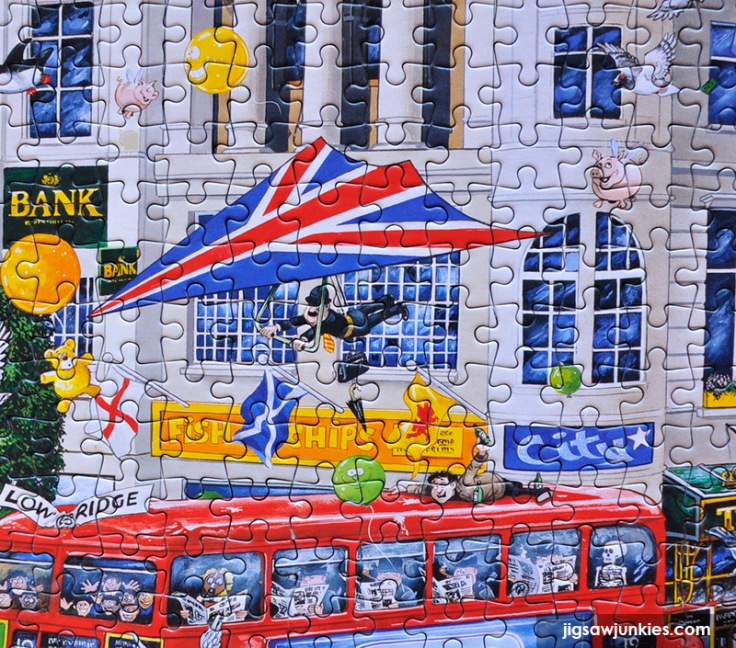 Other buildings in the composition have unique shingles, signs, awnings, and window boxes. So much thought went into this image!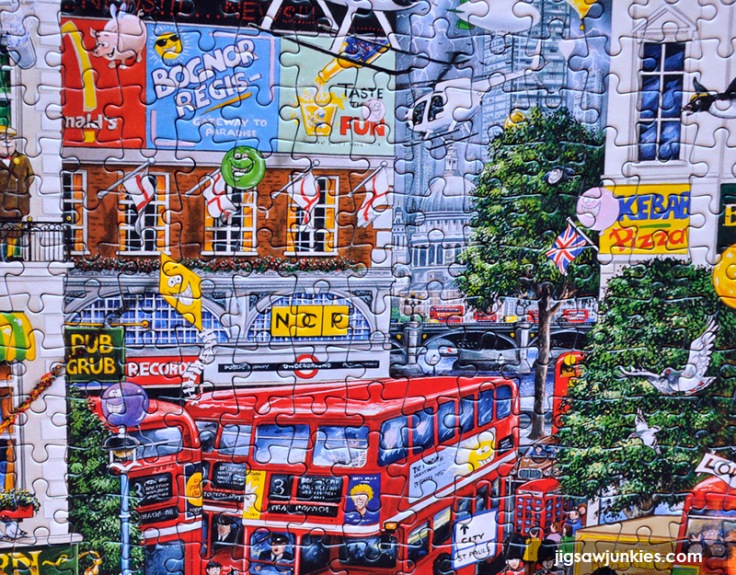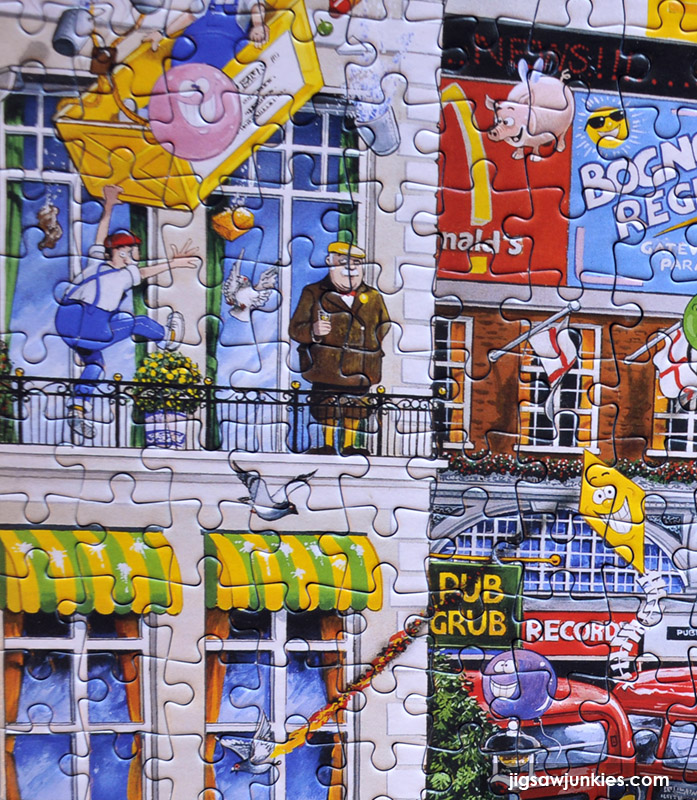 The other big area to tackle in assembly are the reds–the red buses, cars, and the red uniforms on the guards.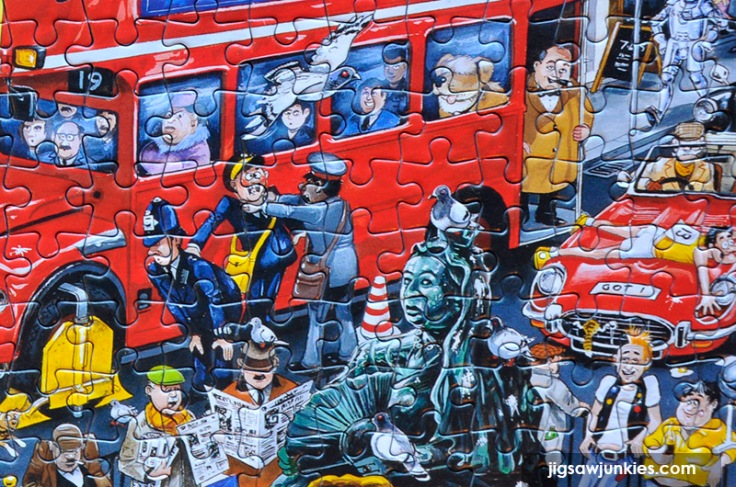 Above: The statue of the queen is one of my favorite details. Covered by pigeons, of course.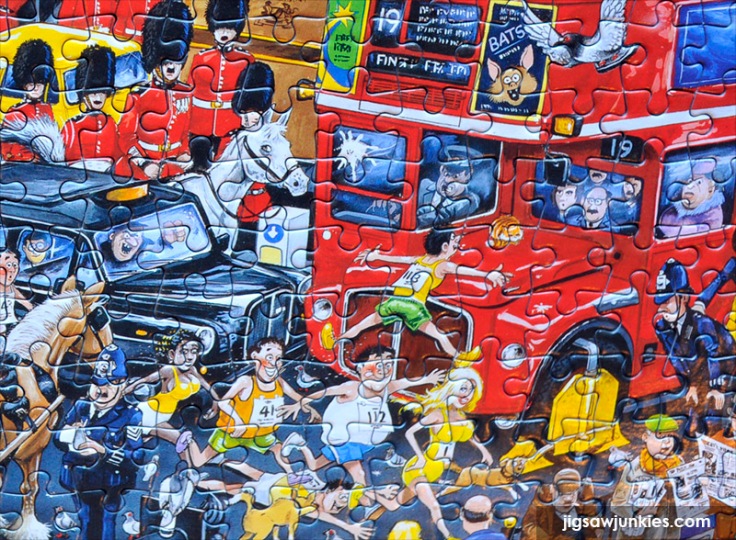 Having completed the blue sky, white buildings, and reds in my second session, the third and final session was filling in all the characters in the foreground. This felt a bit like 'dessert' because the characters are so much fun to look at. Each character has a unique face and outfit. You can look at the box to figure out where a character goes.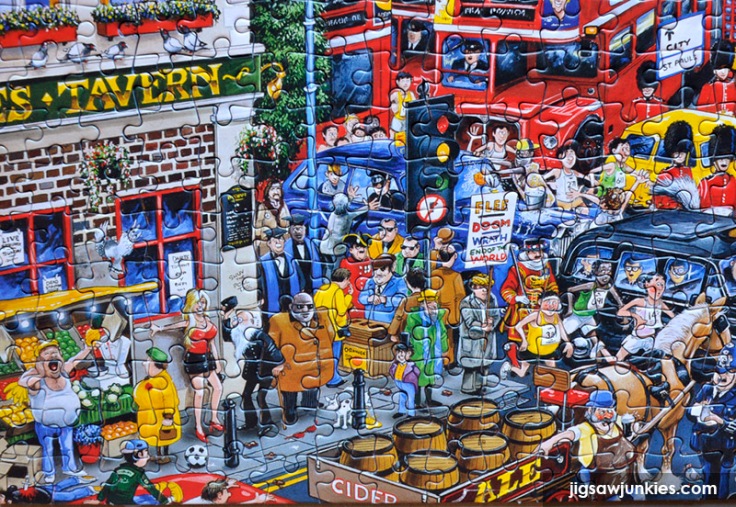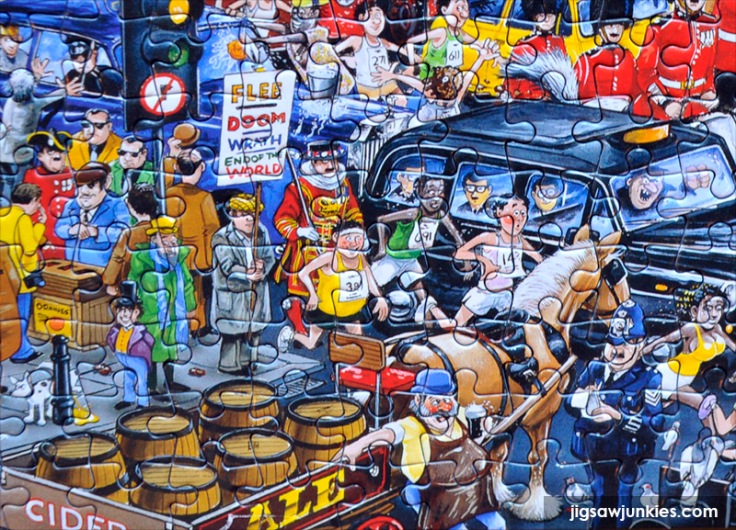 Overall, I've given assembly a 9 score. I really had fun with this puzzle but I've dinged 1 point for the very standard grid cut pieces (I prefer a random cut). In this puzzle I didn't have much of an issue with pieces looking like they fit where they don't actually go, because there weren't a lot of uniform areas of color of pattern.
Conclusion
Gibsons is a high-quality puzzle brand from the UK with beautiful blue boxes, very thick pieces, a standard grid cut, and a waxy matte finish. Their Mike Jupp series of "I Love…" puzzles are some of the best cartoon puzzles on the market. The art work is of exceptional quality and has a wealth of fine detail. "I Love London" is a comic look at the great city of London with a range of crazy characters. You'll have a lot of fun assembling this puzzle and getting a closer look at the sight gags and mini stories within the scene. Assembly is easy-to-moderate with no one area being especially difficult. You may find yourself referencing the box lid a lot! Recommended for anyone who likes cartoon puzzles and humor, or for those with a soft spot for London.

Where to find:
For the next three days you can get this puzzle for 15% off. This sale is good through 8/14/2016. Click on the logo below.

JJ