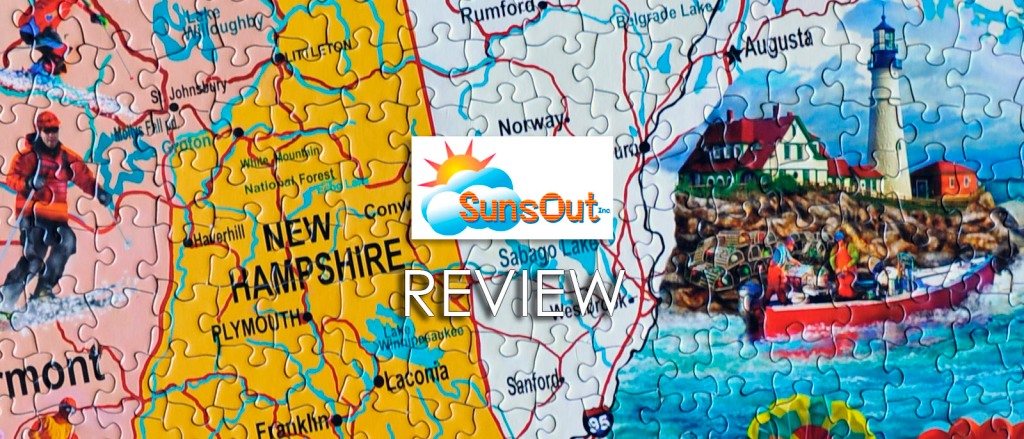 Review: "New England Road Trip" by Mary Thompson, Sunsout – 8.25/10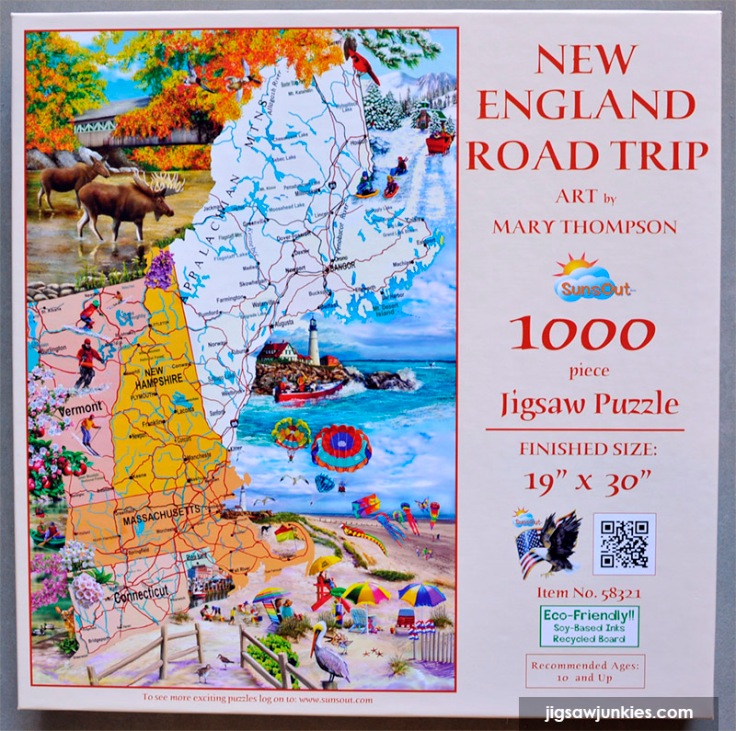 Publisher: Sunsout (US), published 2016
Title: "New England Road Trip" by Mary Thompson, 1000 pieces
Finished size: 30″ x 19″
OUR RATING: 8.25/10

TRAVEL WEEK:
Since I just got back from vacation, it seemed like a good time to tackle travel themed puzzles (say that three times!). I'll be reviewing two puzzles this week and sharing some of my favorite travel themed puzzles at Puzzle Warehouse on the weekend.
Box Quality: (7/10)
The Sunsout boxes are very large and square in shape. They're oversized compared to most boxes on the market. This takes up more shelf space but also provides a nice big image when you use the box lid for reference.
Sides:
Three of the sides are the same, showing a tiny image of the puzzle, puzzle name, artist name, piece count, finished size, and Sunsout logo. The fourth side has a bar code. Sunsout does a good job of promoting their artists and I like how prominent the artist's name is on this box cover and sides. Unfortunately the year of manufacture isn't given. However, as far as I know this is a new puzzle released in January 2016.


Back:
The back of the box is plain white and made of a thinner cardboard.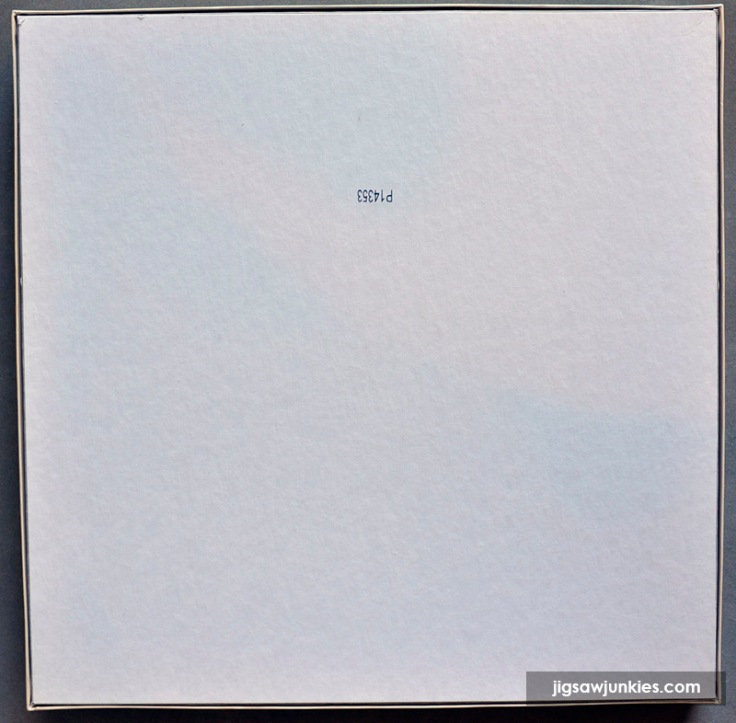 Inside:
Nothing comes inside the box except the bag of puzzle pieces and a very small paper slip with the company url and a short blurb. There was relatively little puzzle dust. The pieces were fully separated and undamaged.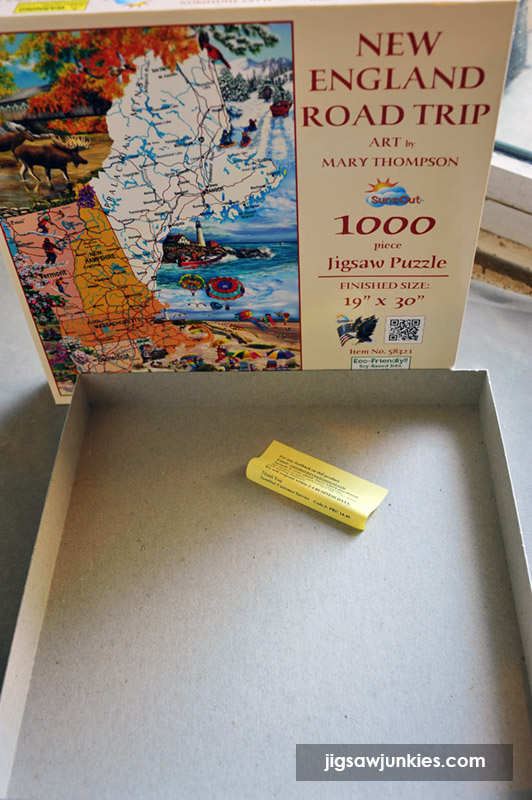 The Image: 8/10
Mary Thompson has done a number of these "map" based puzzles for Sunsout, all of them just released in the past year. (See the end of this review for more in this line). I liked the look of these puzzles when they first started to appear. They have a hand-painted style and a nice collage-like mix of elements with the map areas alongside vignettes of the region. They're also a bit on the "edutainment side" with some geography baked in.
"New England Road Trip" is one of my favorites in this line of puzzles. I'm a sucker for fall leaves and winter scenes, and the strong vertical layout of this puzzle was a nice change from the usual rectangle-horizontal orientation. There's also a good mix of map, seasonal landscape scenes, and larger elements such as the flowers and fruit along on the bottom left side. It's clearly an image designed to be a puzzle and works very well for puzzling.
On the room-for-improvement side, some elements in the image, such as the elk, appear a bit blurry. This is probably in the original art rather than in the image reproduction, perhaps due to the artist cut-and-pasting smaller reference images. Overall, I've given this image an '8'.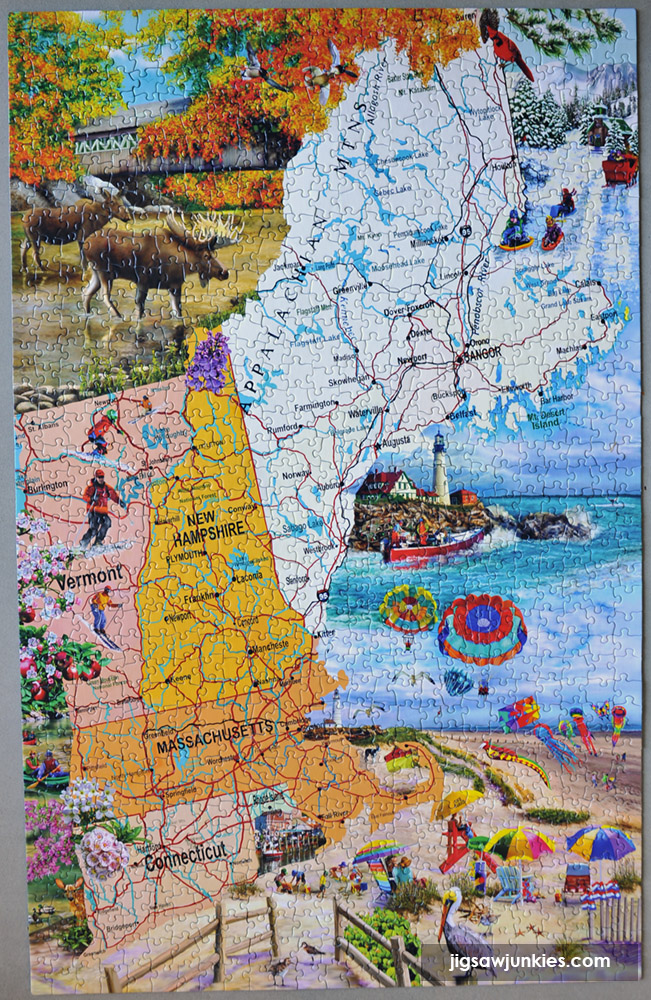 (Click on any of the images in this review for a closer look.)
Puzzle Quality: (9/10)
Sunsout did well in our brand comparison. You can see our full brand comparison on Sunsout here.
The more I do Sunsout puzzles, the more I like the brand. Although their boxes are not my favorites, the puzzles themselves are quite good. The pieces are thick and sturdy and undamaged. And I particularly like their random cut. The piece shapes on a rectangular puzzle like this are not as extreme as they are on a Sunsout shaped puzzle such as Autumn Squirrel, but there's still a good variety of piece shapes. Besides being more fun to piece together than a grid-cut puzzle (at least, for me), this also results in very little confusion about whether or not a piece fits because the piece edges are so unique.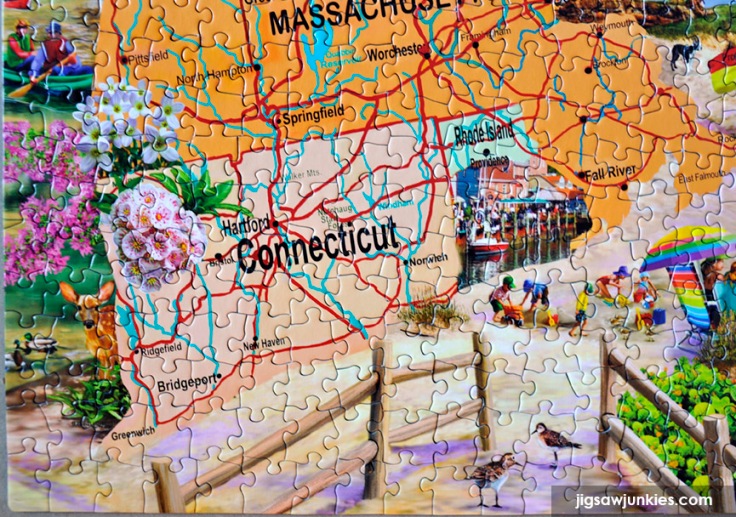 Sunsout puzzles also hang together very well so you can move groups of assembled pieces around without them falling apart. The surface feels nice but is a bit glossy, so you can get some glare under bright overhead lights.
I'm giving a 9 score to quality in this puzzle.
Assembly: (9/10)
This was a relaxing and pretty easy puzzle to put together. It took me just two and a half evenings.
DAY ONE:
I assembled the border first. I had extra time, so I started working the most recognizable areas such as the fall leaves and the blue sea water and sky. I couldn't resist starting the white map too.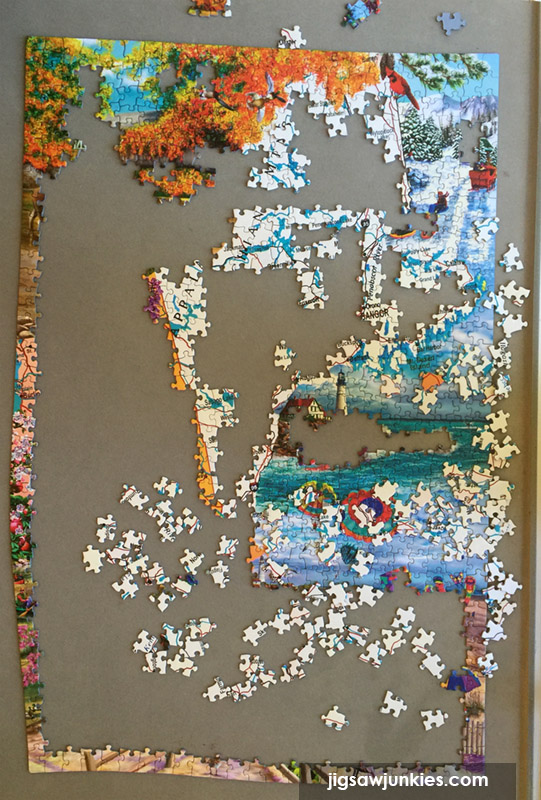 This puzzle has a lot of visually very distinct areas, from the various landscape vignettes to the different sections of the map. This always has the effect of drawing me to 'just start' the next section–and you know how that turns out! This puzzle assembly went quite fast for me because I was just drawn on, like turning pages in a good book.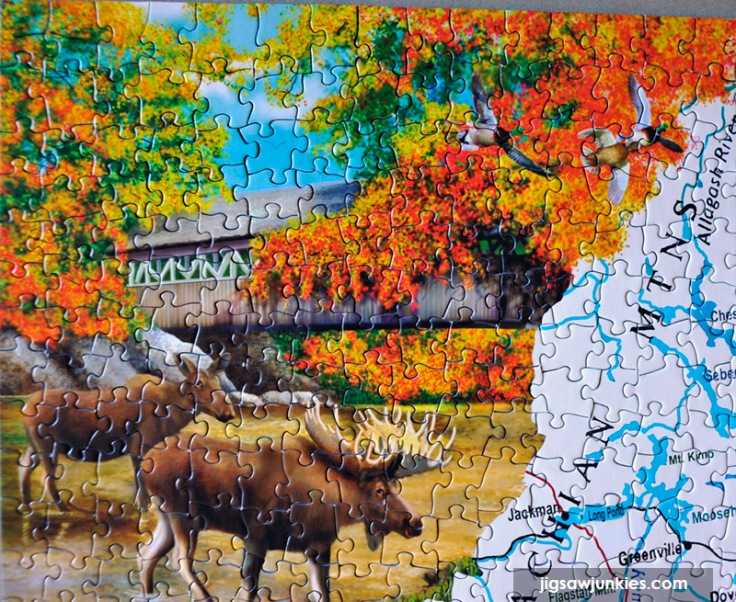 Above: Can't resist doing the fall foliage first.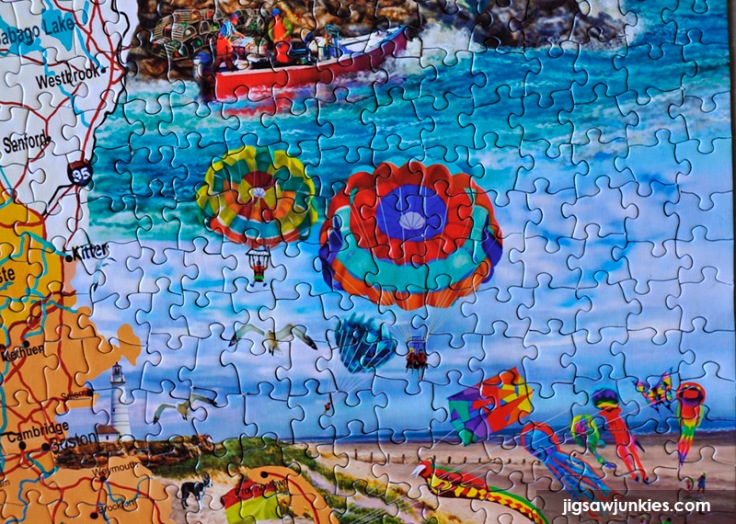 Above: The sea merging to sky is a good section of blue to assemble without having to refer to the box picture.
DAY TWO:
In my second session, I did the map areas and mostly finished the fall and winter vignettes.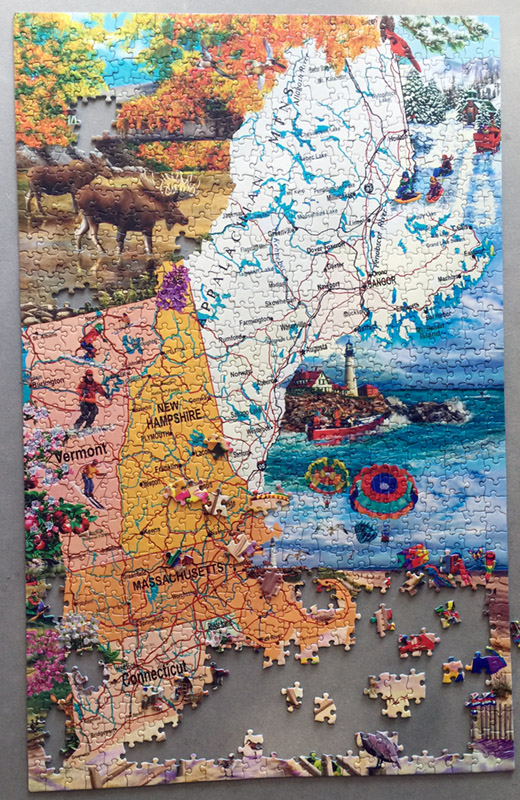 I quite liked the white area of the map. It was the only section of the puzzle that was a little more challenging, and I liked it for that reason. The map has streams, roads, and feature names on it which help you place the pieces. I used the box image to help me place the town and feature names where they went in the overall map, and then filled in the white areas around them using the roads and blue water areas as guides. It was just enough of a challenge to make me focus a little more.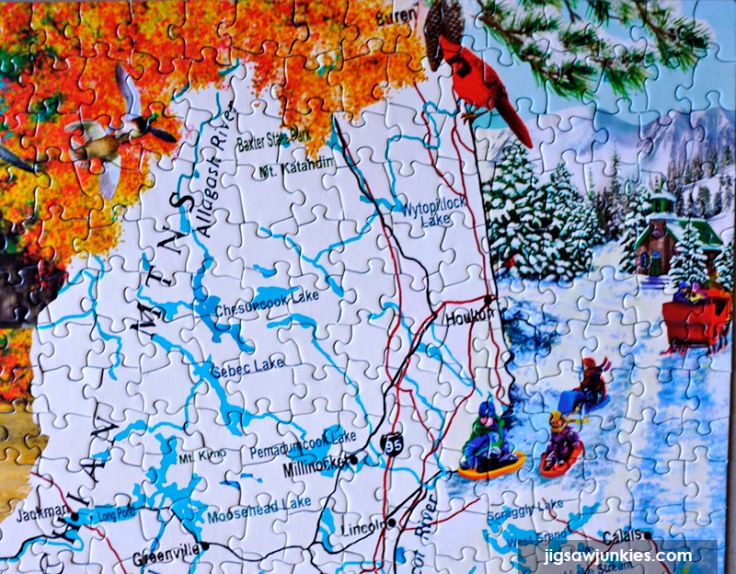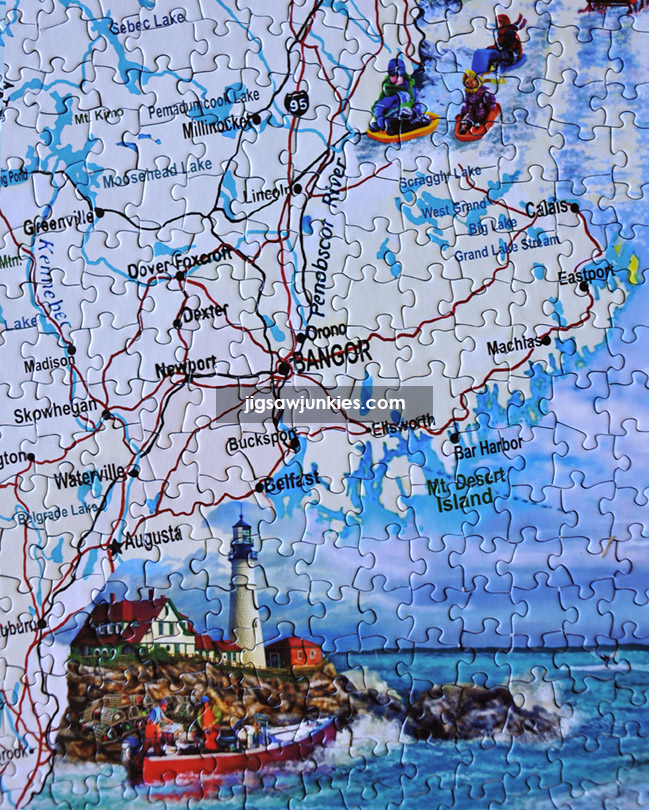 The other areas of the map are smaller and distinguished by shades of peach, orange, and beige. Because these colors are so distinctive in the puzzle, these smaller map regions are pretty fast to put together.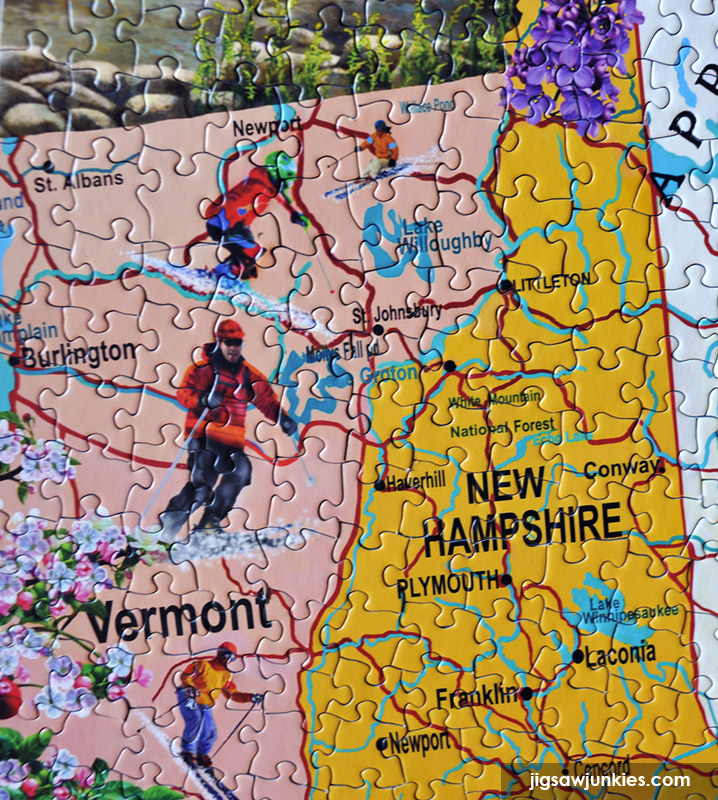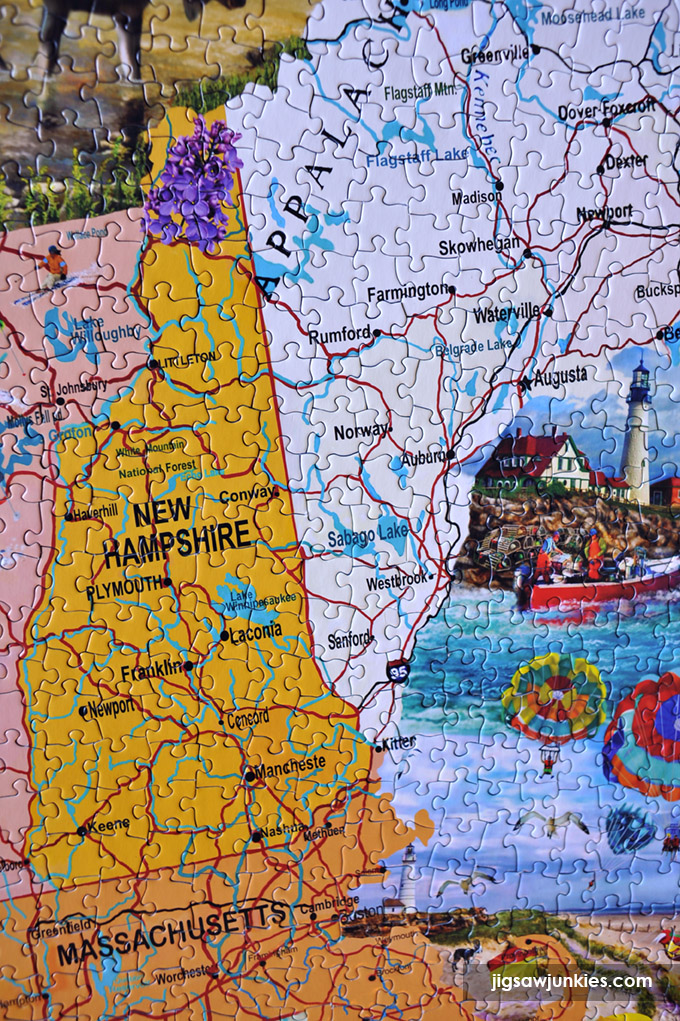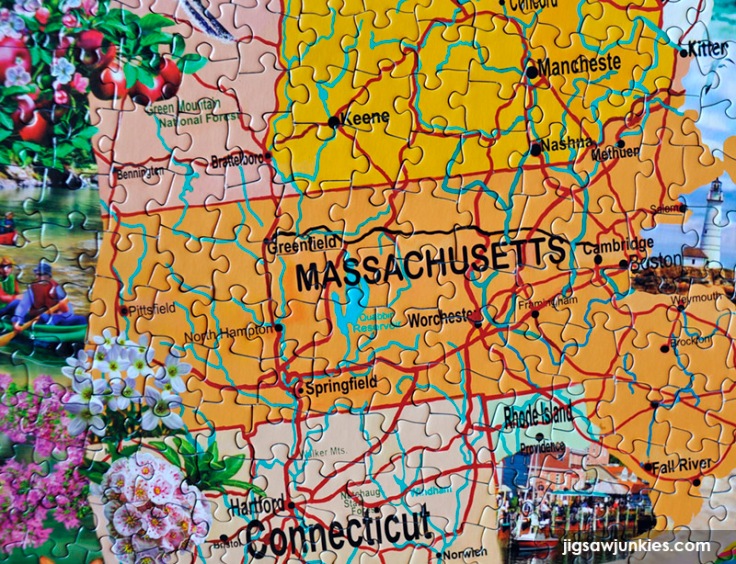 DAY THREE:
All I had left to do was the beach vignette scene. I finished that up on day 3. There are a lot of characters and beach items scattered around the beach scene that break up the sand, so it's an easy section to complete.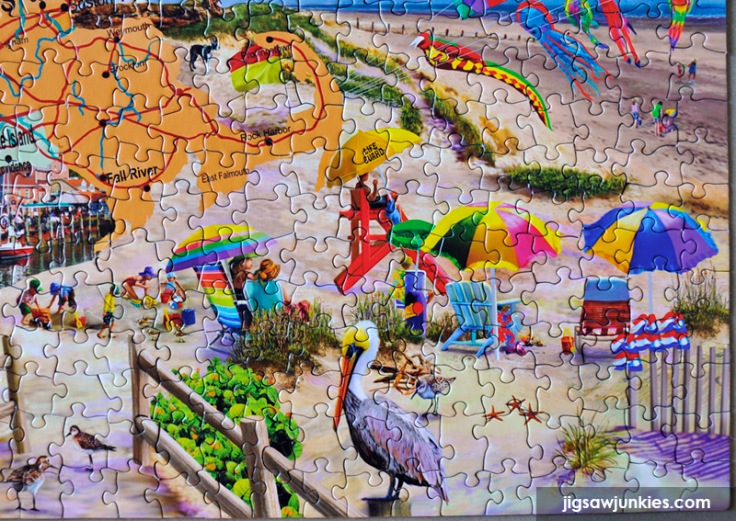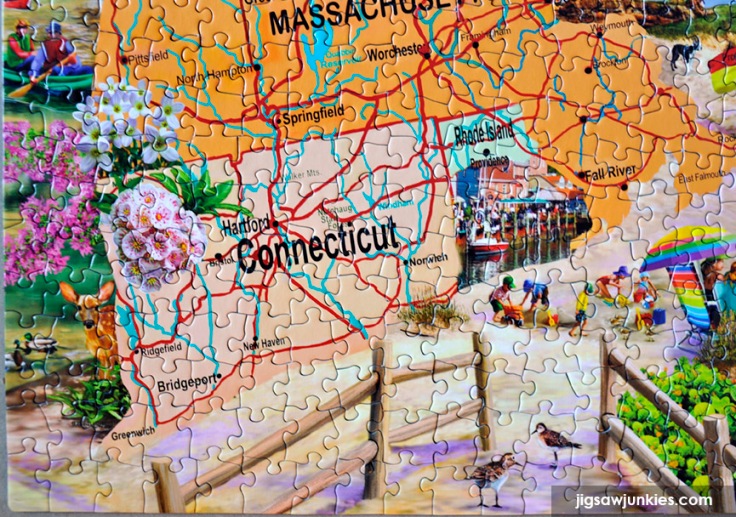 I've given this puzzle a high '9' score for assembly. It was fast and very enjoyable.
Summary:
This is an easy, fast, and enjoyable puzzle to put together. The different areas of the puzzle–the map sections in various colors and the seasonal vignettes–make assembly a snap. The fall leaves and winter scene sections are especially pretty. There's a bit of "edutainment" value to this puzzle, and you'll learn something about New England as you work it, particularly in the map sections. The Sunsout quality is quite good with thick, sturdy pieces, lovely bright colors, and a random cut that makes assembly more fun. The pieces are on the normal-to-large side and easy to hold. This image is especially designed for puzzles, and the artwork by Mary Thompson is nicely done. Recommended.

Where to find:
This puzzle is 15% off for the next 3 days (til 9/19/2016).
Click below to see the puzzle on Puzzle Warehouse.

More Mary Thompson Map Puzzles (click on images to see puzzle on Puzzle Warehouse):
"Bears on the Road", 1000 pieces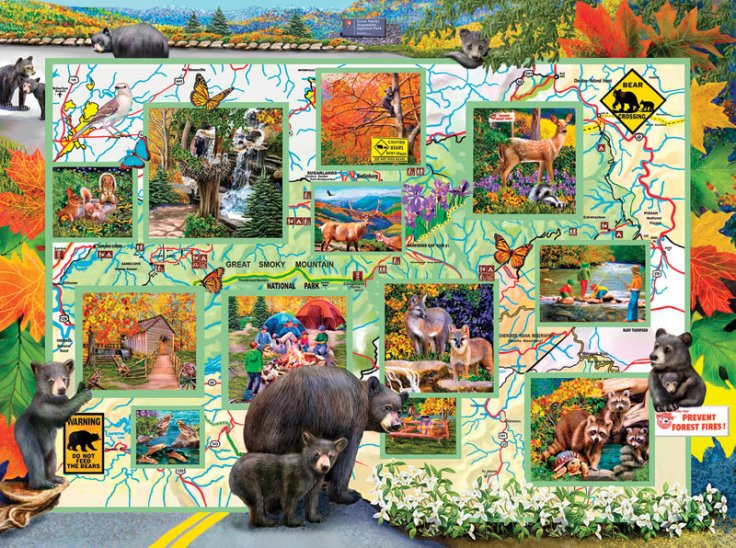 "Florida Wildlife", 845 pieces (shaped)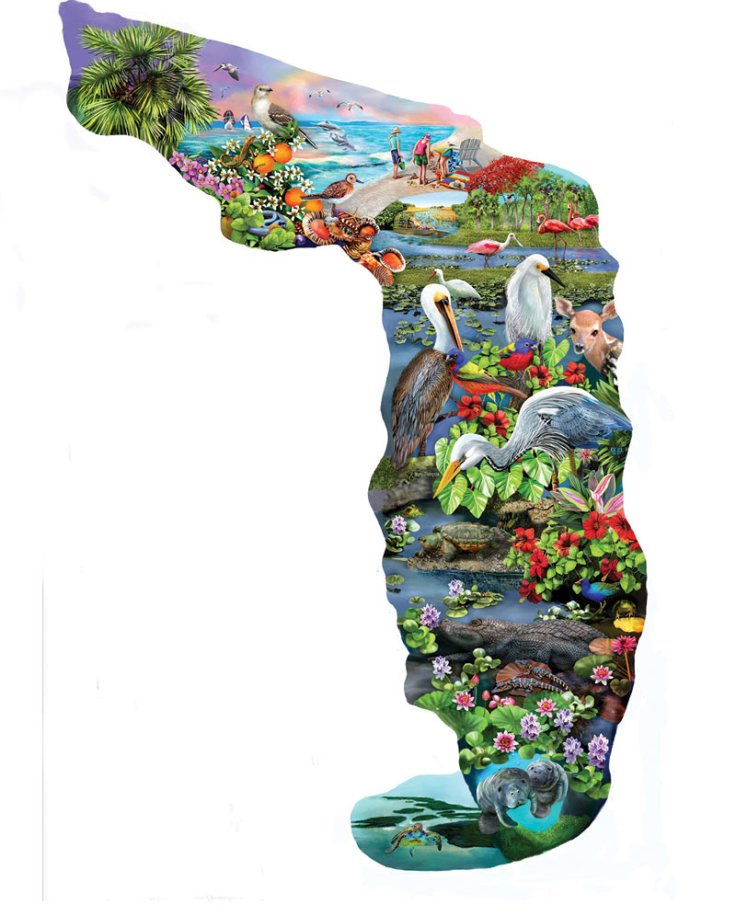 "The Great Lakes", 1000 pieces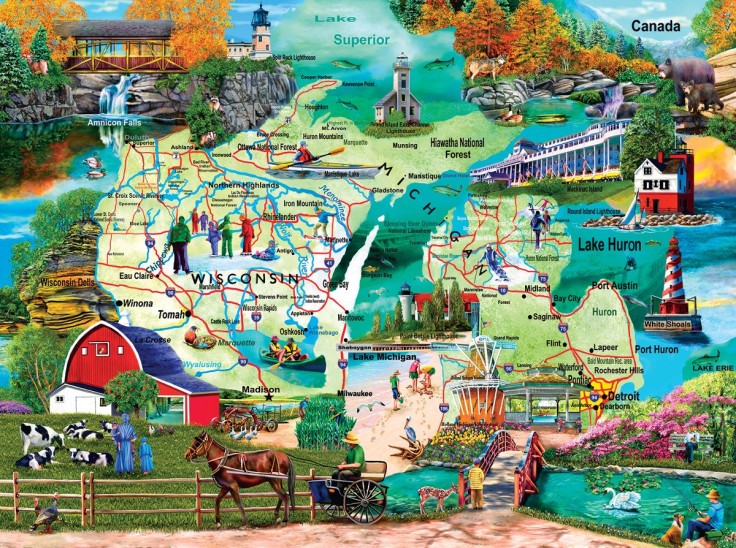 "Gulf Coast", 1000 pieces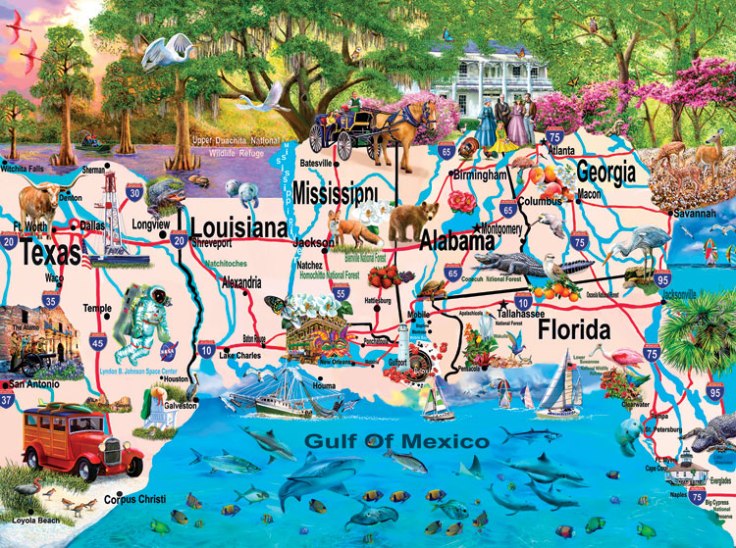 "The Heartland", 1000 pieces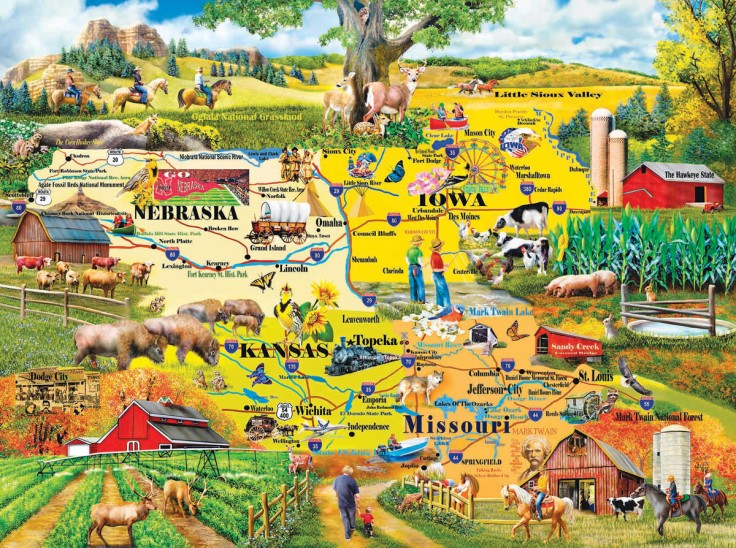 "Pacific Northwest Adventure", 1000 pieces