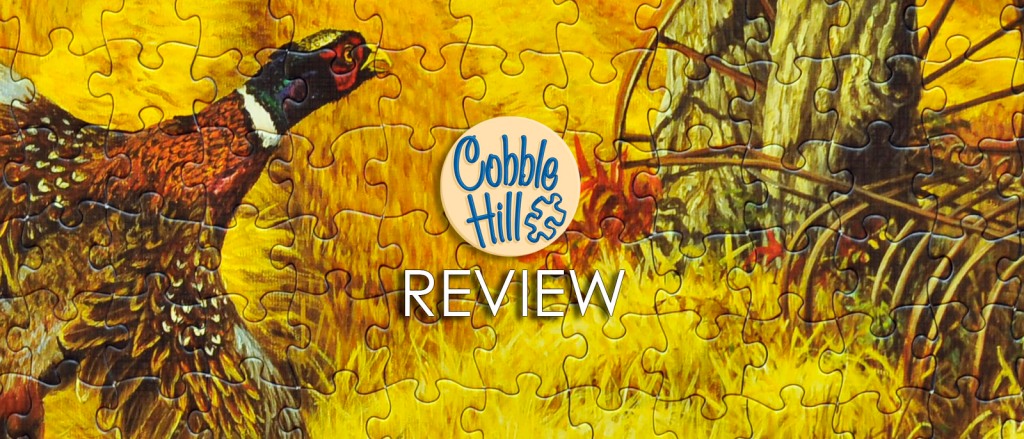 "Ring-Necked Pheasants" by Linda Picken, Cobble Hill – 8.5/10

Publisher: Cobble Hill (Canada), 2016
Title: "Ring-Necked Pheasants" by Linda Picken, 500 pieces, 18″ x 24″
Review by Jane
OUR RATING: 8.5/10


COBBLE HILL WEEK & PROMOTION:
From Oct 5 to Oct 19th, Puzzle Warehouse is running a special promotion with Cobble Hill. If you buy 3 Cobble Hill puzzles, you can add another to your basket and get it for free! That's an awesome deal. Just add three qualifying products to your cart and visit the "View Cart" page. Under "You have qualified for the following promotion" you'll see how to add the freebie. Visit Puzzle Warehouse's Cobble Hill page to begin.
In honor of this lovely deal, we're featuring Cobble Hill on the blog this week. I'll be reviewing two Cobble Hill puzzles and have a company retrospective on the weekend. First up — a 500 piece puzzle called "Ring-Necked Pheasants".
Box Quality: (8/10)
The box is shown above and below. Cobble Hill has attractive rectangular boxes similar in size to Ravensburger and Jumbo. They have a nice linen finish which makes them look and feel different from other brands. The front of the box does not show the artist or image name.
Back:
The back is a generic Cobble Hill back. There's nothing specific about the artist or puzzle image here.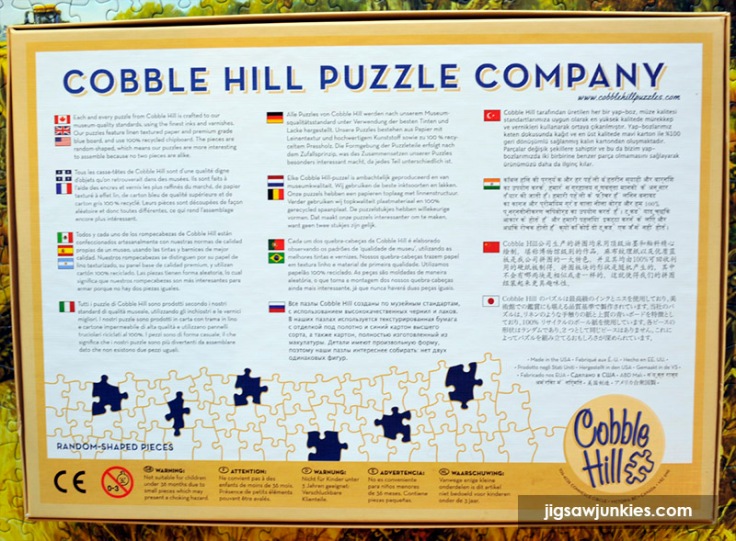 Below: A close-up of the back blurb in English.

The sides:
The box sides have a nice close-up detail from the image, the Cobble Hill logo, piece count, puzzle dimensions, and puzzle name. The name of the artist, Linda Picken, is shown in small print on all four sides. The year of production is not listed anywhere. The Cobble Hill boxes all have a similar layout but the color is unique for each puzzle. The boxes look nice arranged together on a shelf.




Inside the box:
There's nothing inside the box except the bag of puzzle pieces and a small warranty sheet. The pieces were fully separated with no damage and little puzzle dust.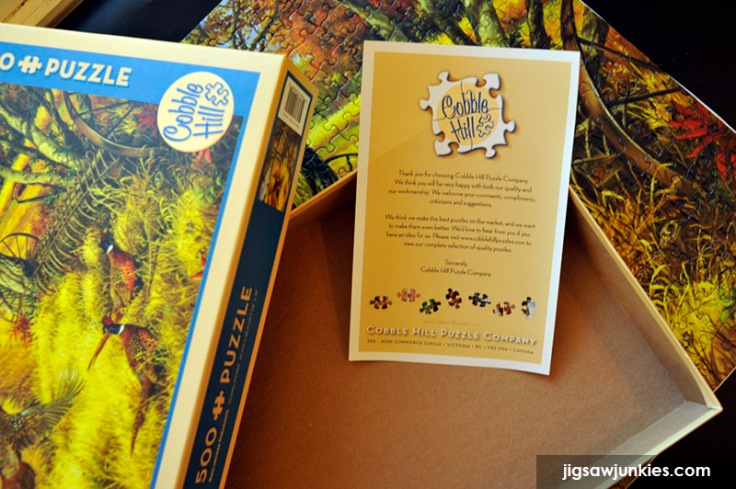 Overall I've given the box an 8 score. It's attractive and sturdy, but I would have liked to see more about the artist and/or this image.
The Image: 8/10
I chose this puzzle for our Cobble Hill week because it's fall, and this is a very pretty and peaceful autumn rural scene. I love the fall colors. All the gold is really striking visually. It you like bird puzzles, as I do, you'll enjoy this natural wildlife scene. The art appears to be based on a painting and the art style has just enough detail to draw the scene without getting into a technical style. There is a lot of unbroken gold texture in the image, which adds a bit of challenge to assembly. I've given the image an 8.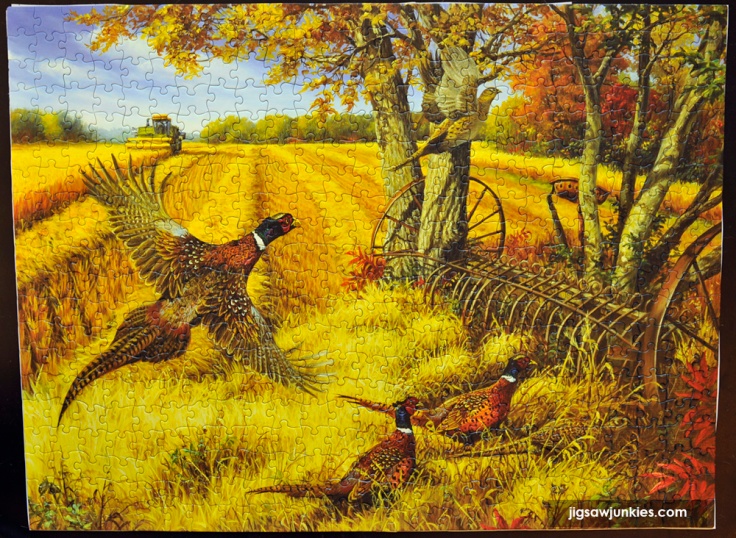 Above: The completed puzzle. Click for closer view.
Puzzle Quality: 10/10
You can see our full brand comparison on Cobble Hill here.
I really liked the quality of this puzzle as I worked with it, as you can probably tell from the high score. I've done so many glossy puzzles lately, and fought glare from overhead lights, so I really appreciated Cobble Hill's matte finish on this one.
The pieces have a linen texture, which feels good under your fingertips. The pieces in this 500 piece puzzle are on the large size, similar in size to White Mountain, and they were easy to work with. They also feel thick and sturdy and have a secure fit. Some Cobble Hill 500 piece puzzles I've done, like "Garden Birds", have a random cut with piece sizes that range from large to small in the same puzzle, but "RIng-Necked Pheasants is more of a grid or ribbon cut, and has pieces that are consistently large in size, as you can see in the close-up below. I liked the feel of the larger pieces. Full marks from me on quality!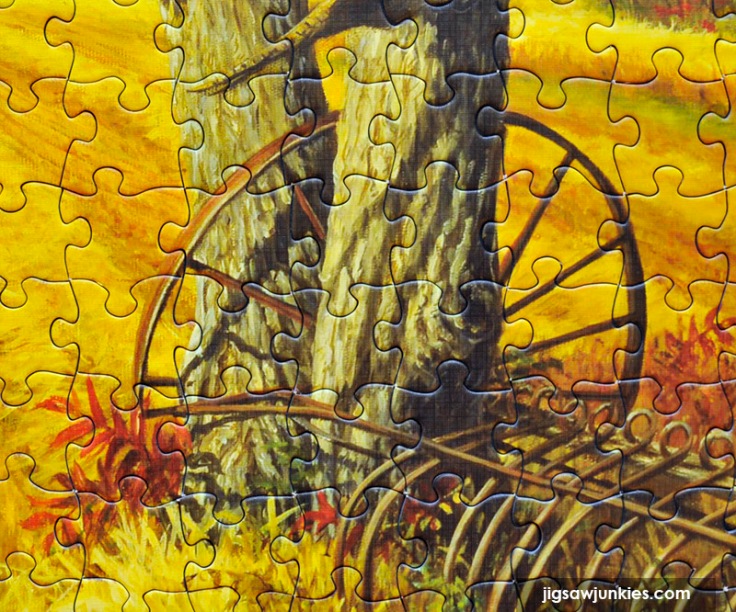 Assembly: 8/10
I would rate this an easy puzzle to assemble, though it is harder than some 500 piecers due to all the gold. I did it in one and a half sessions. I began with the rectangular border and then did thd birds first. The birds' colored feathers are easy to pick out of the sorting bins and they go together quickly.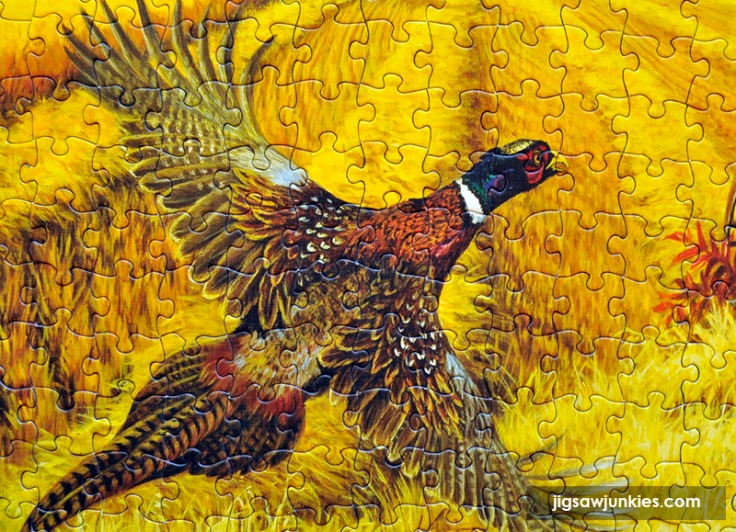 As you can see, the actual number of pieces in the bird sections is small.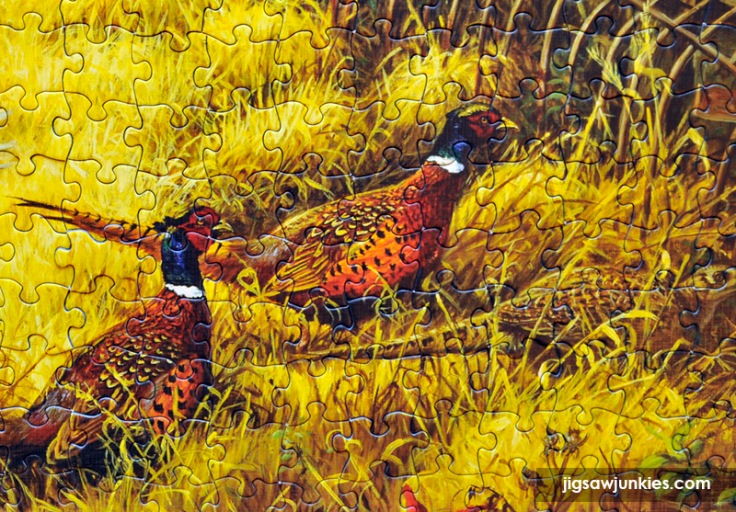 The blue sky is also a small area that's completely different than anything else in the image and thus easy to put together.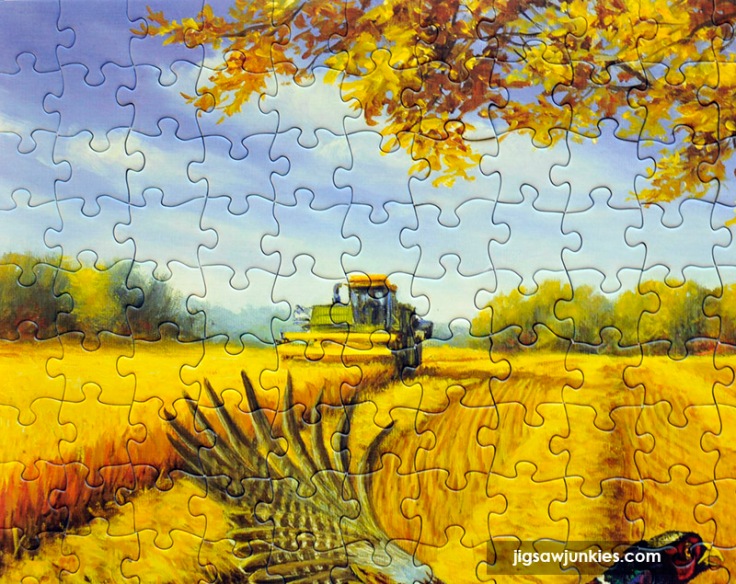 The orange leaves, red leaves, and brown trees are easy to do.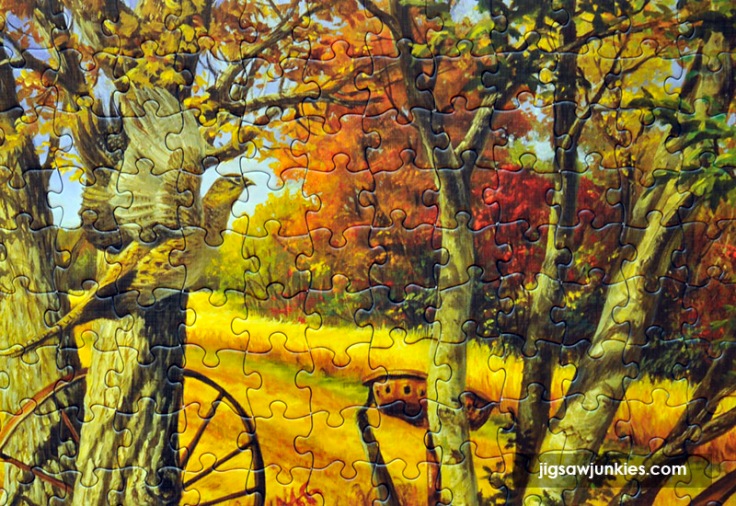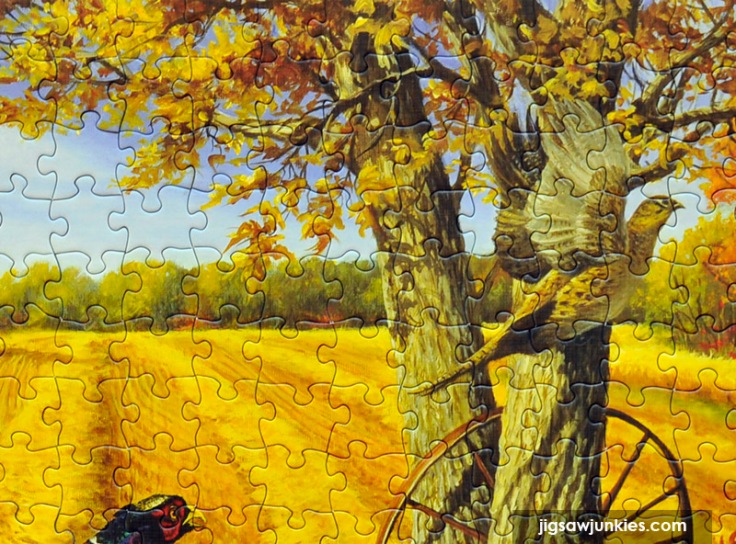 In every puzzle there are pieces that you end up saving to the end, a kind of slush pile of the pieces that are dark or muddy or comprise a large monotone area and thus are the hard bits. In the case of this puzzle it was all the gold. There are slight textural differences int he field rows of hay (above) versus the yellow grass in the foreground (below), so that helps a bit. The sunny color also helps. It's such a cheerful color it's hard to get bored with it.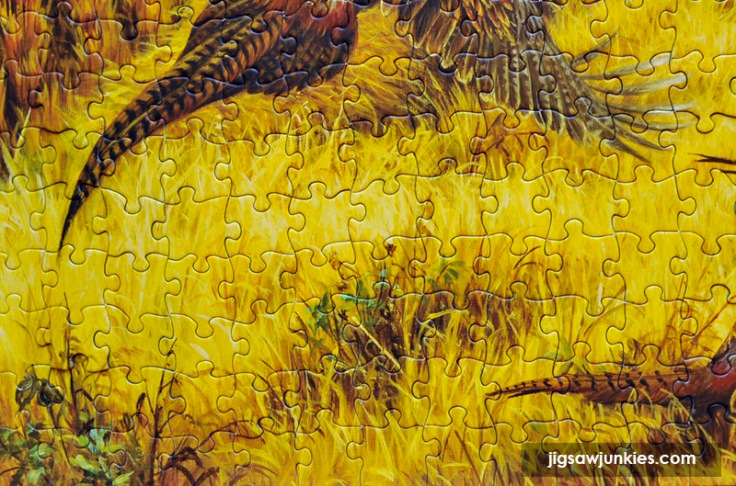 The rusted harvester and wheel in the center of the image helps break up the gold a bit too.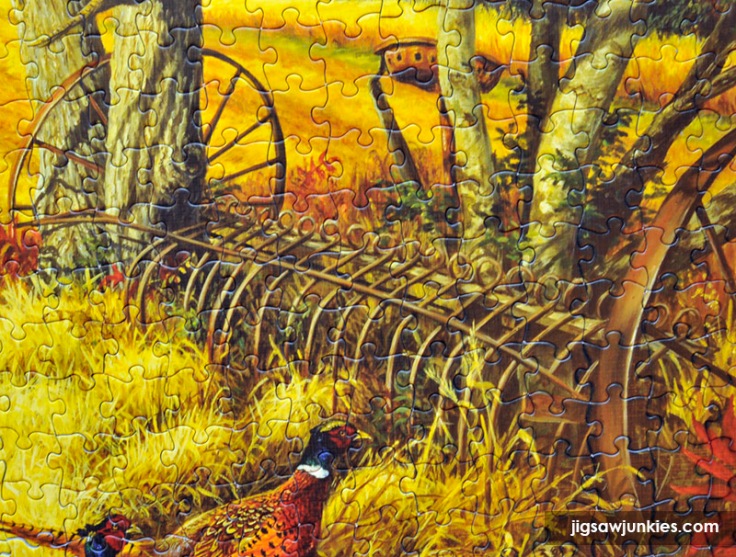 Overall, I've rated assembly an 8. I found it a relaxing puzzle you can easily do without referencing the box lid.
Summary
"Ring-Necked Pheasants" is a pretty wildlife puzzle with terrific fall colors. This Cobble Hill puzzle features large pieces that are sturdy, have a snug fit, and a glare-free linen finish. I really enjoyed working with the bigger pieces and they have a nice feeling in your hand. The image by Linda Picken is very peaceful and serene. The gold tones are bright and cheerful to work with. The puzzle is fairly easy due to its 500 piece size, but all the gold adds a touch of challenge. Recommended.

Where to find:
Grab it at Puzzle Warehouse. Between now and Oct 19th, there's a special "buy 3 get 1 free" promo running. Click on the logo below.
Jane