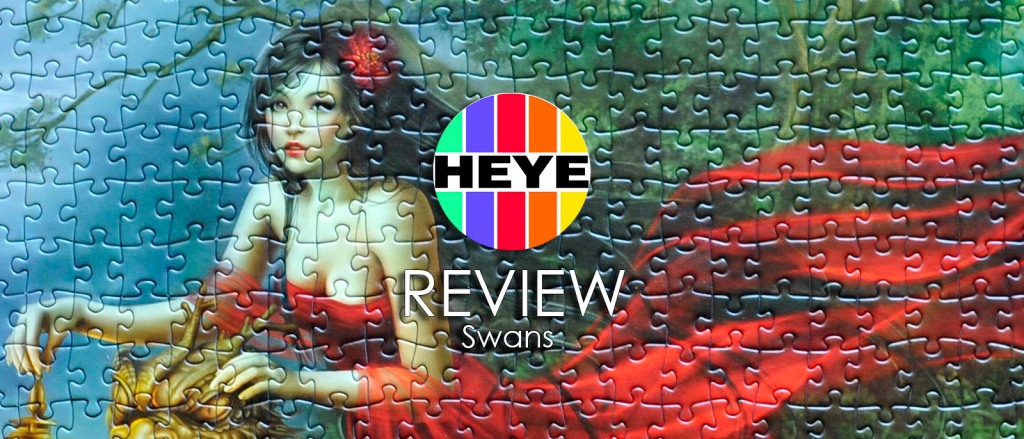 Review: "Swans" by Cris Ortega — Heye, 9.5/10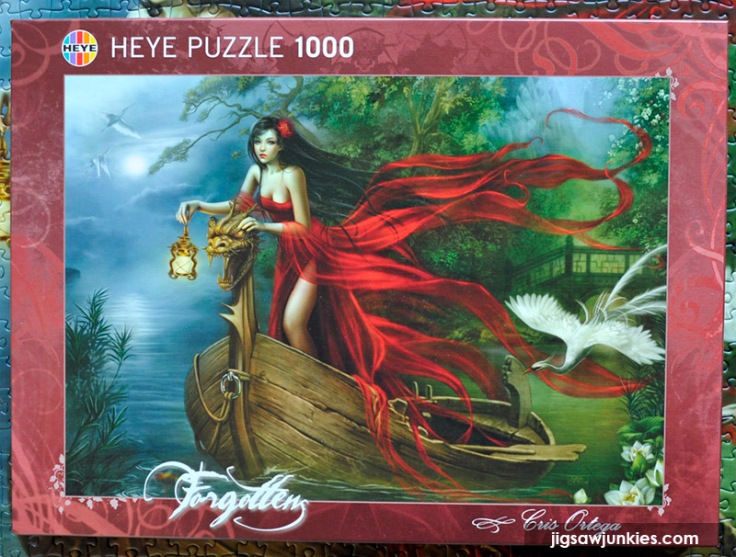 Publisher: Heye (Germany), published 2012 (currently in stock)
Title: "Swans" by Cris Ortega, 1000 pieces
Finished size: 27.6″ x 19.7″
OUR RATING: 9.5/10

GOTHIC WEEK:
For the last week of October and Halloween, here on Jigsaw Junkies we're covering gothic puzzles. I'm excited about this category because it's one of my favorites and one sorely underrepresented, in my opinion!
First, what is the definition of "gothic puzzles" and how do they differ from "fantasy puzzles?" I will give you my idea of the category, and the way I shelve my puzzles. "Gothic" can be a subset of "fantasy" puzzles, though I can imagine gothic puzzles that don't have a fantasy element at all, such as a black and white photo of castle ruins. The main thing that defines a puzzle as "gothic" to me is some sort of dark or spooky element, whether that's a skull, ghostly landscape, a graveyard, or supernatural creature like a vampire.
This weekend, I'll be doing a retrospective on gothic puzzles and I plan a slide show of puzzles past and current. But for now my first gothic puzzle review this week….
View all gothic puzzles in stock at Puzzle Warehouse
"SWANS" by Cris Ortega REVIEW
Cris Ortega
Cris Ortega is a Spanish fantasy artist who has created art books, book covers, posters, and other popular commercial art products. Here's her website. Heye has published a number of Cris Ortega puzzles. Not all of the Ortega puzzles have a specific horror theme, but many do and all are dark and ghostly, so I categorize them all together as "gothic." I chose "Swans" for review because the red in this image offers some bright colors that many gothic puzzles don't have, so I thought it might be broadly appealing.
Box Quality: (10/10)
Heye publishes their fantasy puzzles in a standard rectangular box. See the front above. The front has Cris Ortega's name and "Forgotten". "Forgotten" is not the name of the puzzle image (that is "Swans") but the name of the art book Ortega published that had this image in it. Heye did a number of puzzles from the "Forgotten" book.
Sides:
The sides of the box have the Heye logo, artist, series ("Forgotten") and puzzle name ("Swans"), the piece count, and a picture of part of the puzzle. Whether you shelve puzzles with the long or short side out, this design makes it easy to recognize the puzzle at a glance. Year of manufacture is also listed.




Back:
I love the back of the box! It showcases the entire line of "Forgotten" puzzles by Cris Ortega. This is wonderful for collectors–I found several puzzles on here I didn't know existed. It even has a short bio on the artist.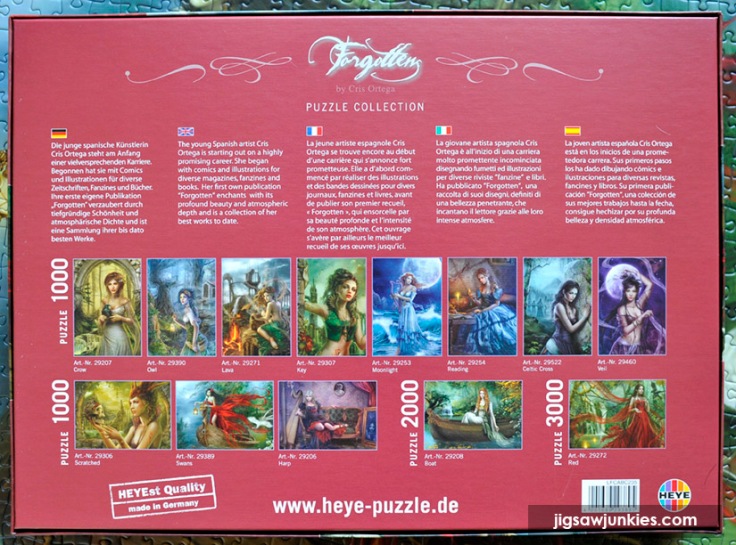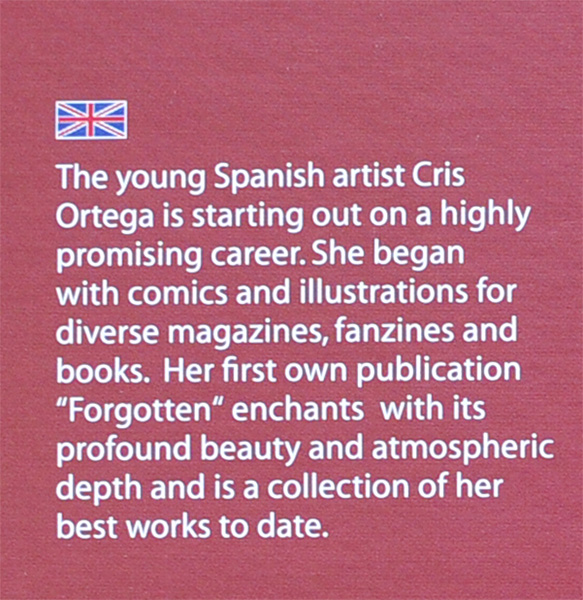 Inside:
Inside the box we have the bag of puzzle pieces and a full-color catalog. The bag of pieces was in excellent condition with no damage to the pieces, fully seperated pieces, and a small amount of puzzle dust.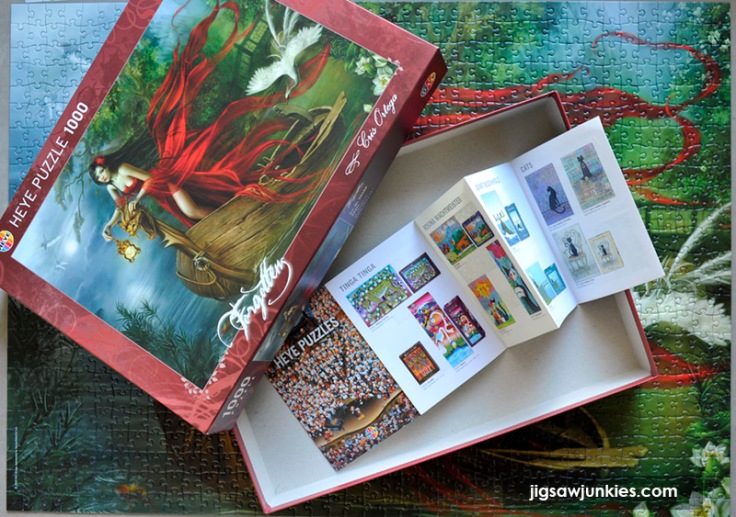 I've given the box a perfect 10 score because I appreciate the overall quality of the product (very collectible) and also the focus on the artist and series. That's how it's done!
The Image: 10/10
I quite like Cris Ortega puzzles even when they are dark or monotone in color. That aspect often goes hand-in-hand with the vibe of gothic puzzles and is part of the challenge of them. I love high color, cute puzzles too, but when I'm in the mood for a gothic puzzle, I'm prepared to work with very delicate coloring in order to get the overall spooky vibe.
"Swans" is an exception to this rule. The highlight of the image is the flowing red dress which is so voluminous it covers quite a large area. Besides the bright red, there are some nice glowing blues and greens as well. The figure of the lady and the white swan also offer lighter areas to assemble.
This is a haunting image. It's not as horror-esque as, for example, a vampire puzzle by Victoria Frances, but it definitely has that spooky gothic tone. It's a lovely image that happens to be ideal for a puzzle too. I've given the image a full 10 score.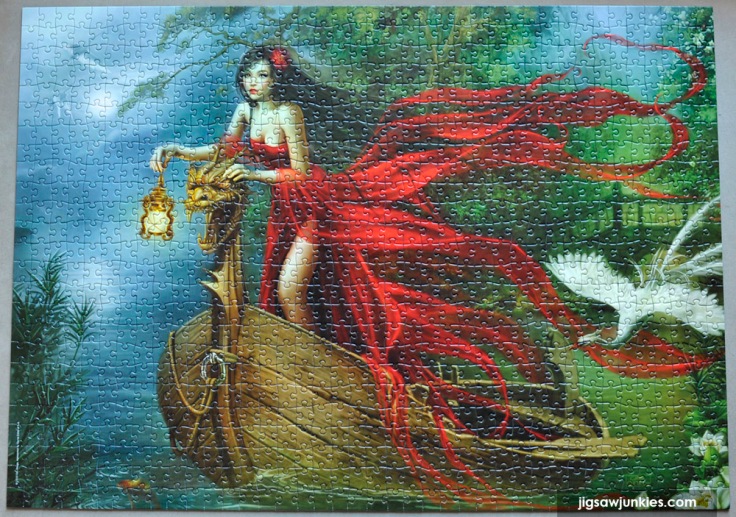 (Click on any of the images in this review for a closer look.)
Puzzle Quality: (9/10)
Heye is a premium, German-made puzzle brand that ranks very highly in our brand comparison. You can see our full brand comparison on Heye here.
The manufacture date on this puzzle is 2012, though it is currently still available. I found the quality of this puzzle excellent. The fit was a little tighter than the 2016 Heye puzzles I've done this year, which is a good thing. The pieces feel thick and have a nice matte finish. The image reproduction is excellent, as you can see in the detailed close up below. The puzzle is grid cut, but there's a good variety of piece shapes. Despite the blue and green areas in this puzzle, which could get confusing with another brand (like Gibsons), I never had any question about whether or not a piece went somewhere.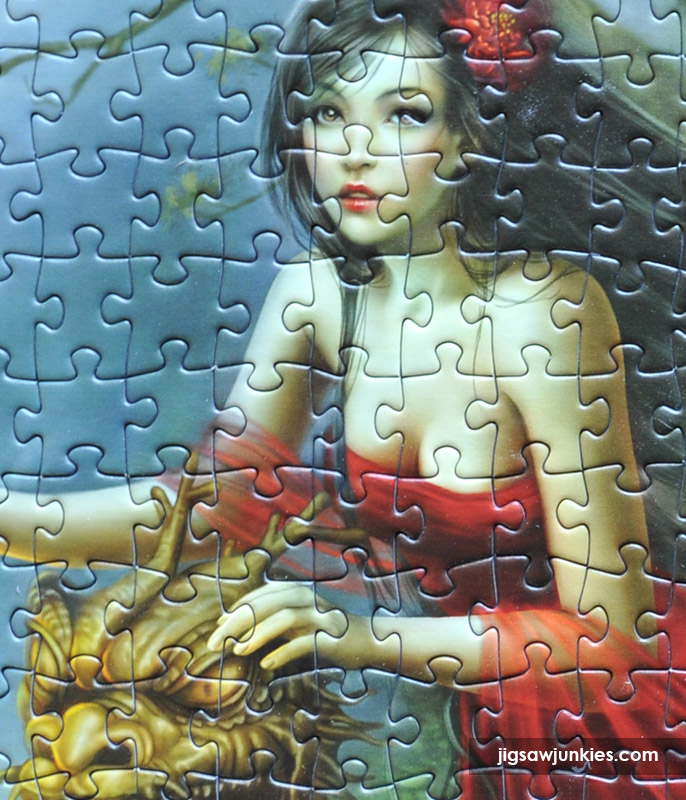 Overall, I'm giving this puzzle a 9 score for quality. It was a pleasure to work with this puzzle from the moment I tore off the shrink wrap to the end. The only reason it didn't score a 10 is because the puzzle cut is a standard grid and I prefer a random cut puzzle.
Assembly: (9/10)
This is a moderately difficult puzzle. It took me three solid evenings to complete.
DAY ONE:
I assembled the border first and then pulled all the red pieces. I began a few of the brightest red areas. The red is easy to find, but there is a lot of it, and most of the pieces are a vague 'red diaphanous fabric' without a lot of clues where in the red parts of the puzzle it goes. Still, there are some swooping lines and highlights to follow. I enjoyed the challenge of piecing together all the red areas, but it wasn't quick and easy.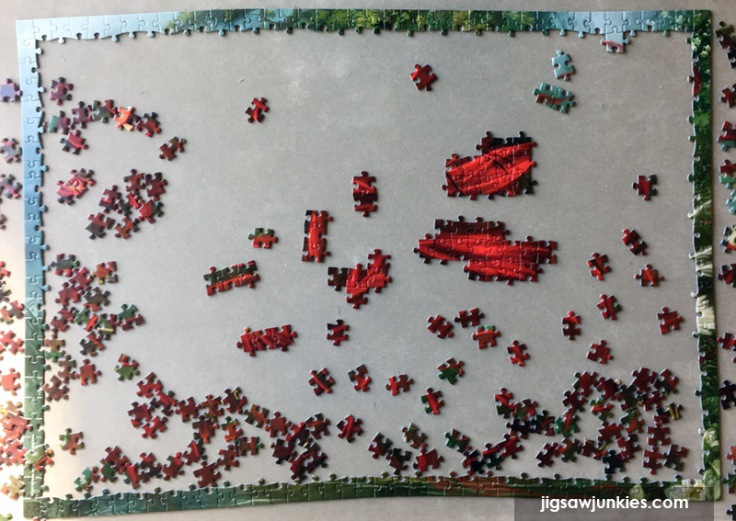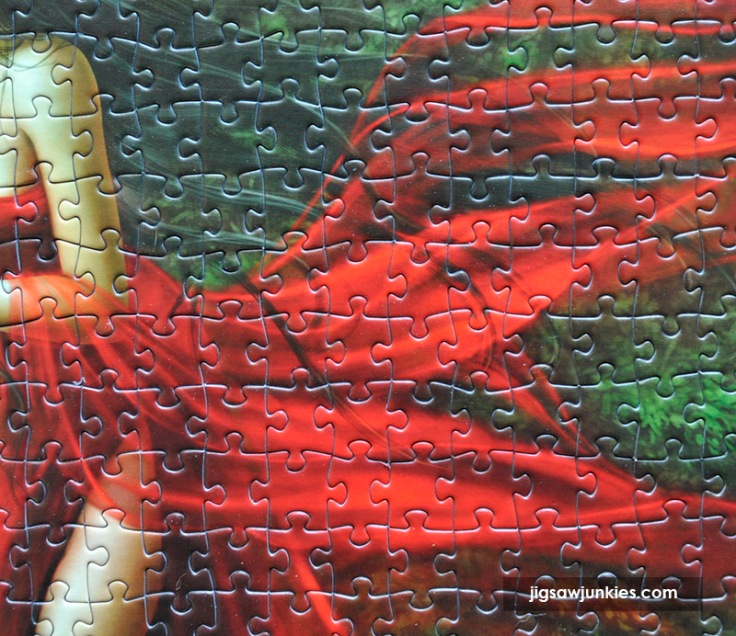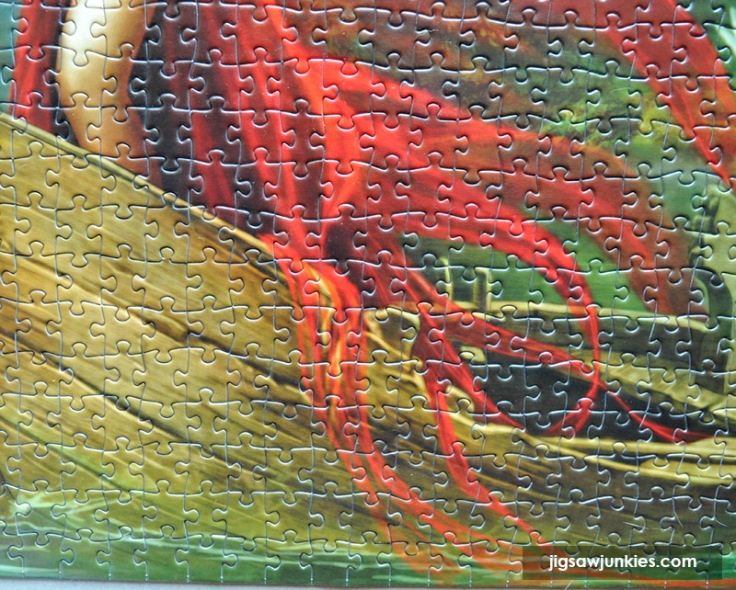 DAY TWO:
In my second session I completed all the red in the puzzle, plus did the brown wooden boat and the lady's figure, both of which had colors that were easy to find.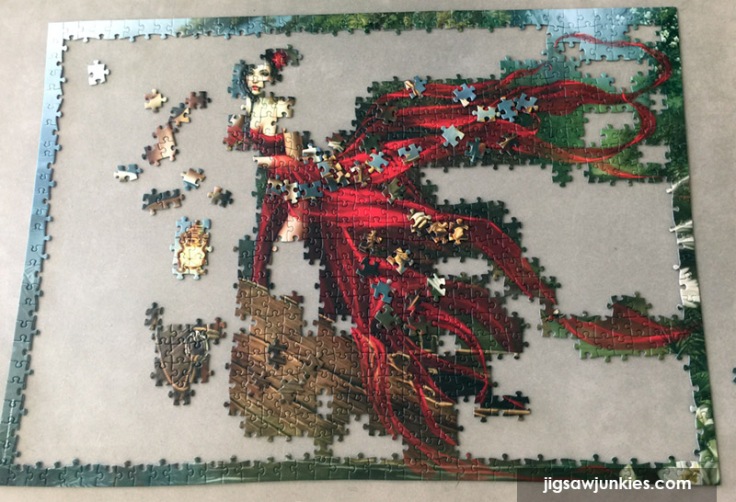 One nice thing about doing the red dress first is that it borders on so many different areas of the puzzle, like the green area in the upper right, so it gives you a nice anchoring base from which to tackle those areas.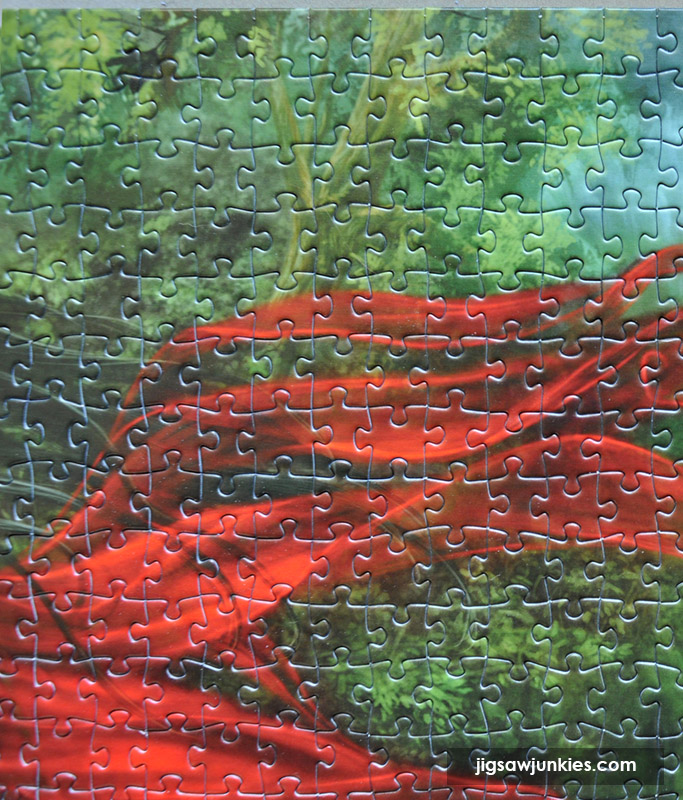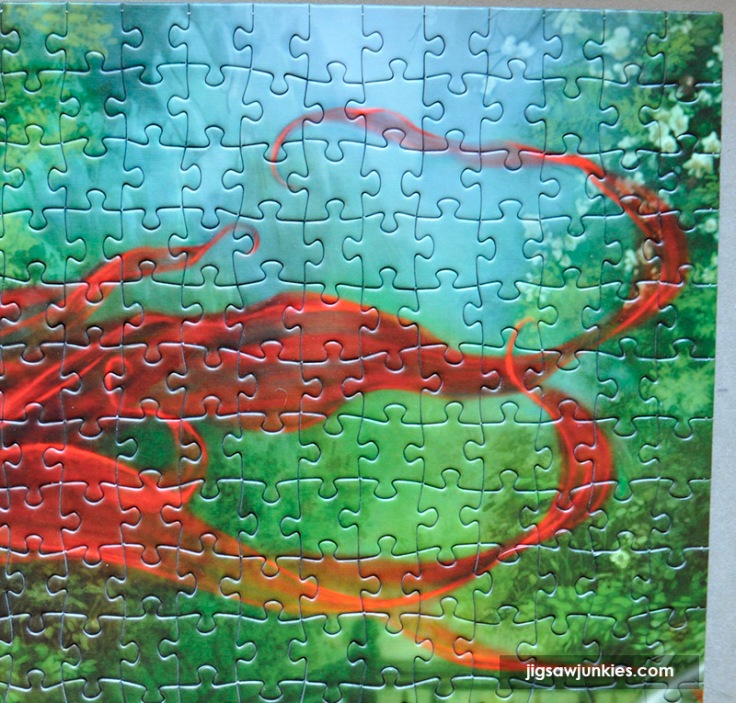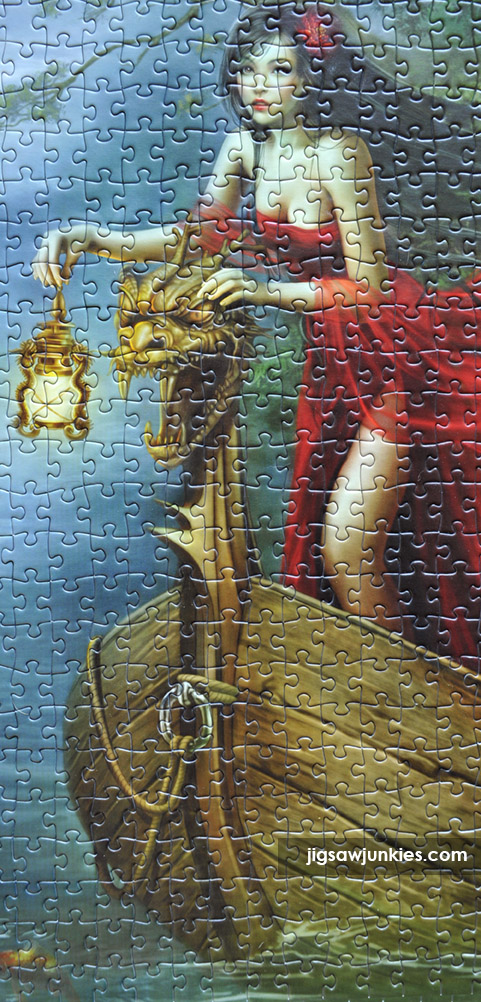 DAY THREE :
On day three, which was a long session, I completed the puzzle.
The blue areas on the left have quite a bit of shade variation, from darker blue to lighter, plus some ghostly 'birds', so it wasn't too difficult. I like the piece shapes in the area below near the moon. The puzzle almost seems to expand around the moon's surface. Whether or not it was purposeful, it's a nice touch!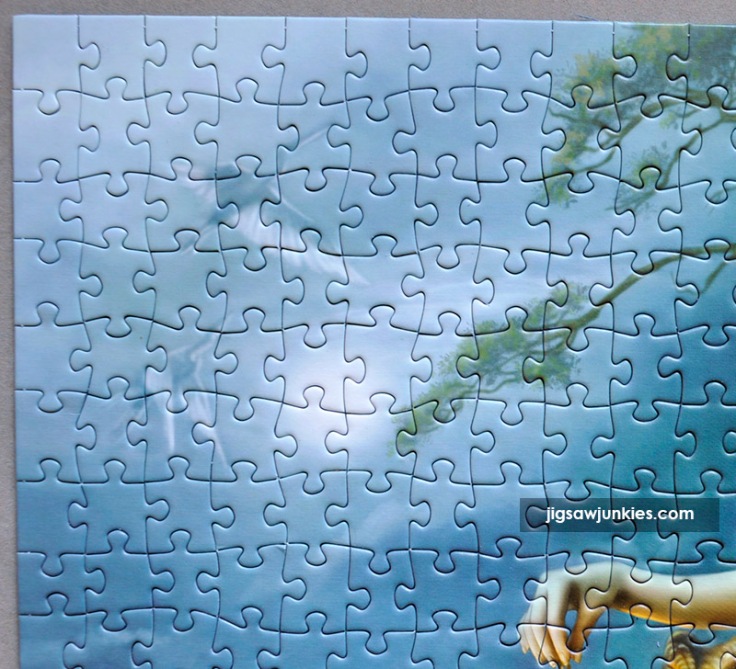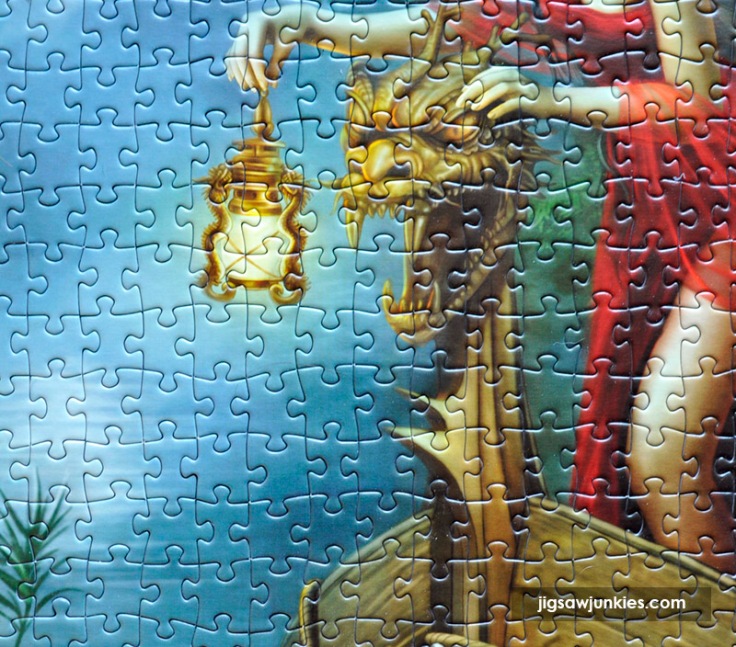 In the water, some plants and wave ripples help orient the pieces and set them apart from the blue sky.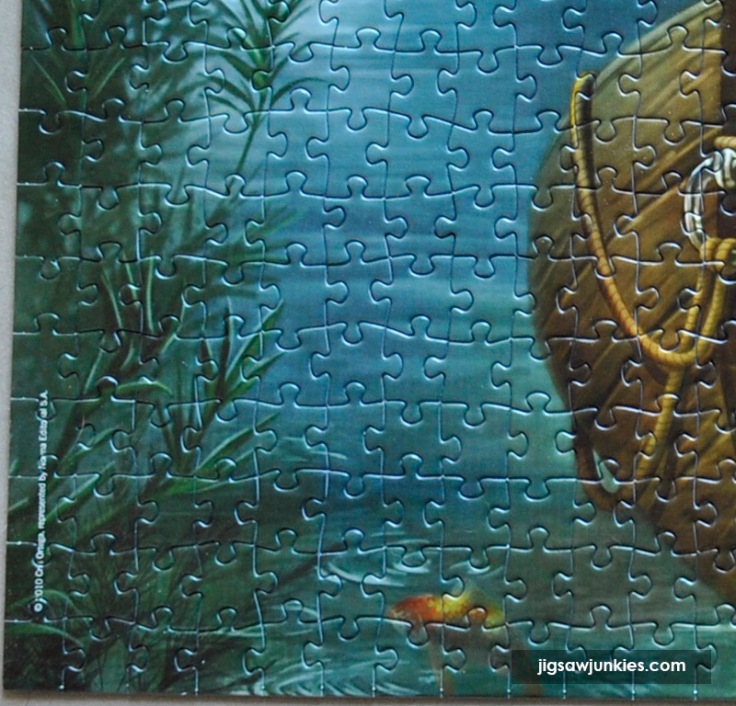 The greens on the right side of the puzzle are a nice bright mossy color and the flowers and boat oars limit the amount of area that's a single color.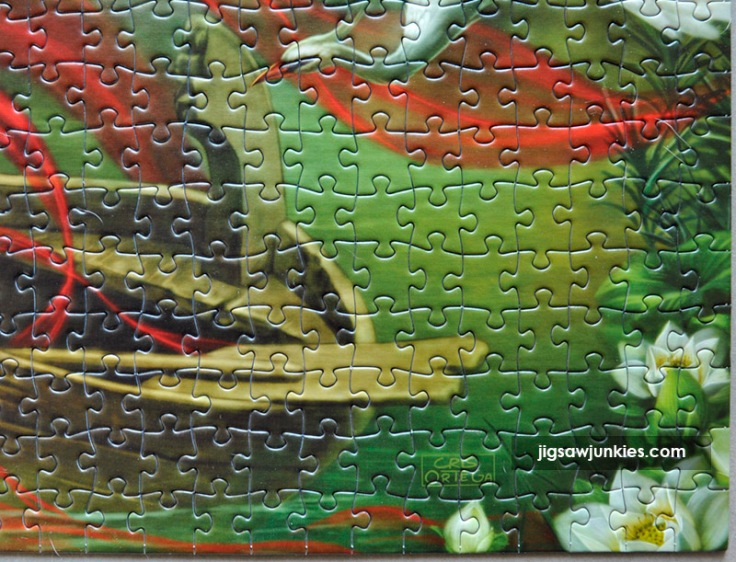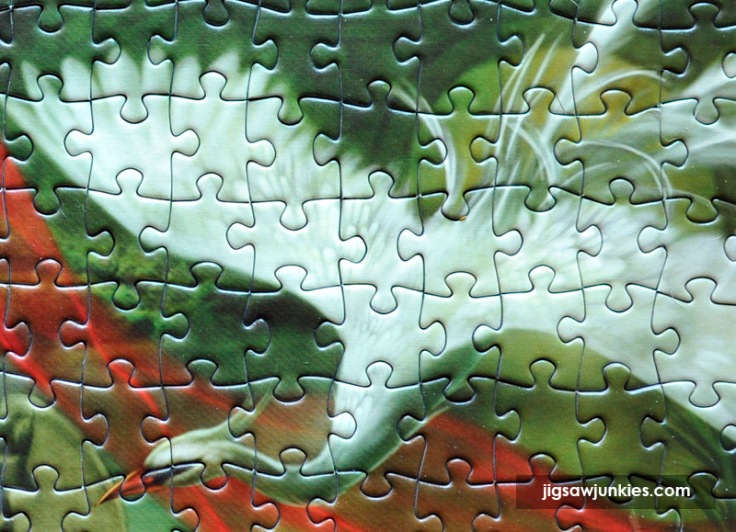 I've given this puzzle a high 9 score for assembly. I was really looking forward to doing a gothic puzzle again after a long time, and it didn't disappoint. It was much easier than "Guardian Angel" by Victoria Frances, which I reviewed here, thanks to the dramatic colors. I'd do another Cris Ortega in a heartbeat.
Summary:
"Swans" is gorgeous gothic fantasy puzzle from Heye and artist Cris Ortega. The puzzle is moderately difficult but fun to assemble with its bright reds, greens, and blues. The puzzle comes in a collectible box and has that solid Heye German-board-game quality from start to finish. The puzzle is grid cut, but there's a wide variety of shapes, and I never had trouble thinking a piece fit where it didn't really go. The pieces are thick and sturdy and have a nice matte finish. This is one you might consider framing when you're done. It's been in print since 2012, thanks to its popularity, but pick it up before it is retired. Highly recommended!

Where to find:
This puzzle is 15% off for the next three days (til Oct 29 2016) at Puzzle Warehouse. Click on the logo below.

JJ