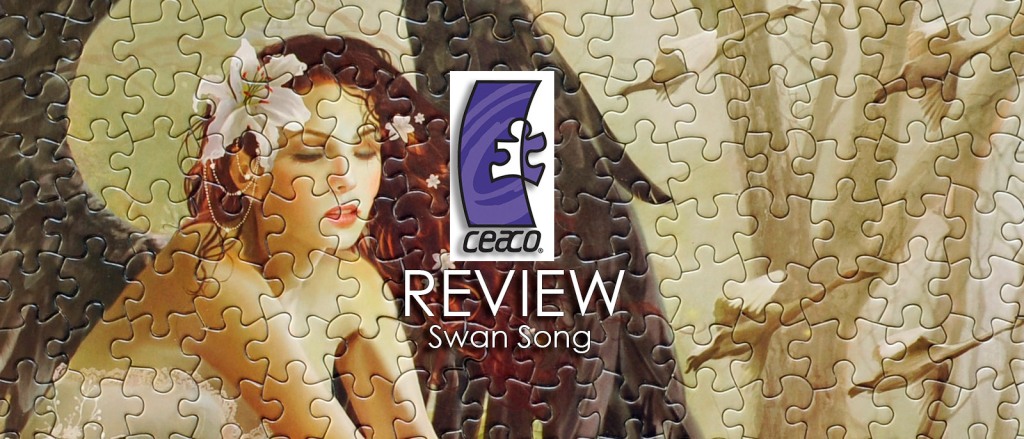 Review: "Swan Song" by Nene Thomas – Ceaco – 7.5/10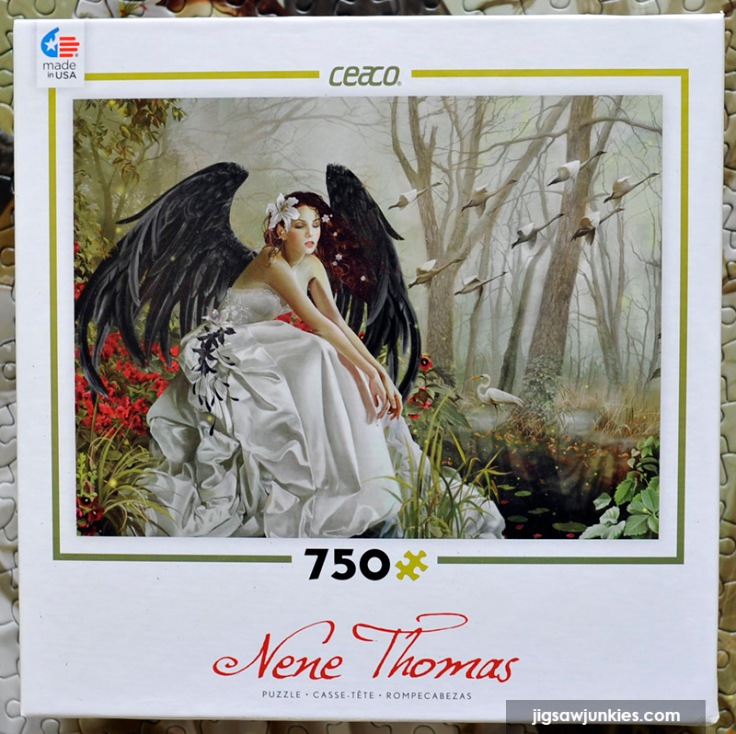 Publisher: Ceaco (US), published 2014 (currently in stock)
Title: "Swan Song" by Nene Thomas, 750 pieces
Finished size: 24: x 17″
OUR RATING: 7.5/10

GOTHIC WEEK:
For the last week of October and Halloween, here on Jigsaw Junkies we're covering gothic puzzles. I'm excited about this category because it's one of my favorites and one sorely underrepresented, in my opinion!
First, what is the definition of "gothic puzzles" and how do they differ from "fantasy puzzles?" I will give you my idea of the category, and the way I shelve my puzzles. "Gothic" can be a subset of "fantasy" puzzles, though I can imagine gothic puzzles that don't have a fantasy element at all, such as a black and white photo of castle ruins. The main thing that defines a puzzle as "gothic" to me is some sort of dark or spooky element, whether that's a skull, ghostly landscape, a graveyard, or supernatural creature like a vampire.
This weekend, I'll be doing a retrospective on gothic puzzles and I plan a slide show of puzzles past and current. Previously this week I reviewed "Swans" by Cris Ortega (Heye, 9.5/10). And here's my second gothic puzzle review this week….
View all gothic puzzles in stock at Puzzle Warehouse
"SWAN SONG" by Nene Thomas REVIEW
Nene Thomas
Nene Thomas is an American fantasy artist from Oklahoma City who has created trading cards, book covers, and art prints. Her art is licensed in a variety of mediums. Here's her website. Her work is mostly in the "fantasy" category, but she has enough gothic images in puzzles that I shelve her under "gothic" in my own collection. I chose her image "Swan Song" to review for our gothic week.
Box Quality: (7/10)
The Ceaco puzzles come in a small box. The box is 8″ x 8″. You can see the front above. I like the fact that they feature the artist name on the front.
Sides:
The sides of the box have the Ceaco logo on three sides. The artist name only appears on the side with a very small picture and the bar code, and the puzzle name "Swans" doesn't appear on the sides at all. The year of manufacture is given (2014 in this case). I would have liked to have "Swans" and "Nene Thomas" on one of the photo sides.




Back:
The back shows the image again in a slightly larger side than it is on the front (though not by much). This is the only place the puzzle is named ("Swans"). We also see two other Nene Thomas puzzles from Ceaco.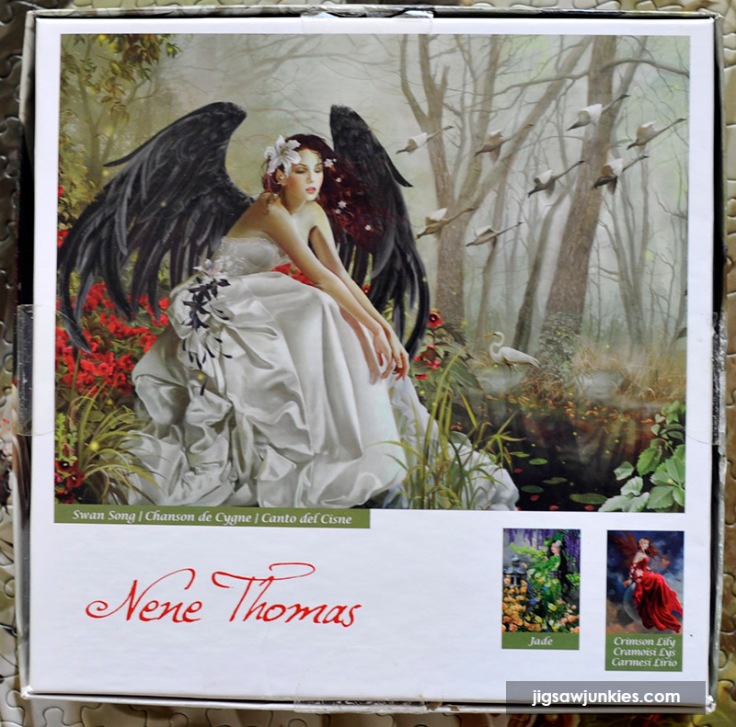 Inside:
Inside the box there's only the bag of puzzle pieces. The bag of pieces was in good condition with no damaged or joined pieces and no pieces were missing. There was a moderate amount of puzzle dust.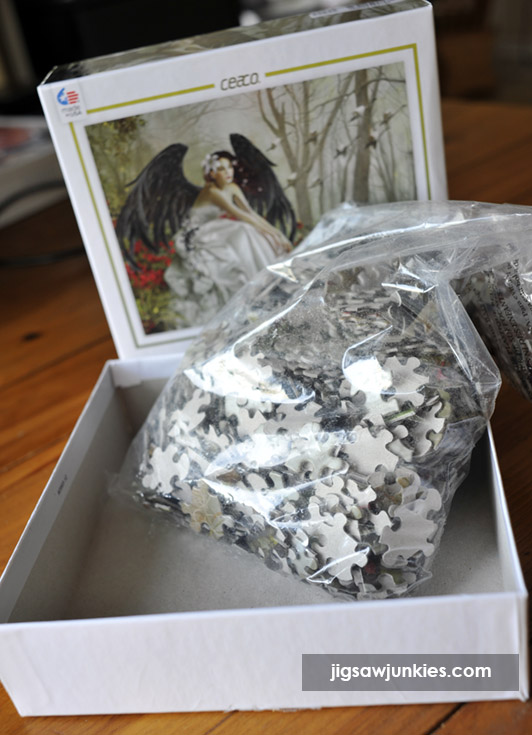 I've given the box a 7 score. I dinged it compared to boxes that include goodies (like Ravensburger, Gibsons, etc) but mainly because of the relatively small image size you have to work with. Other manufacturers who do the smaller boxes (Buffalo Games, Otter House) provide a poster inside the box so you have a larger image to work with. But Ceaco is a bargain brand with a very low price point, so they don't include any extras. I was able to put the puzzle together without too much trouble over the image size.
The Image: 8/10
This is my first Nene Thomas puzzle, but I've had my eye on her images for awhile. She has been exclusively published with Ceaco and Andrews + Blaine, though just this fall Sunsout brought out a very nice Nene Thomas puzzle called "Emerald Hawthorne".
"Swan Song" is one of Nene's more gothic images thanks to the black wings and somber color pallette. I like the combination of elements, from the angelic figure, to the haunted woods with the flying swans, to the moody pond, and the red flowers. It has a definite spooky vibe and a bit of an autumn feel too, with the leaves around the pond.
It is a more challenging image for a puzzle, as I'll discuss under Assembly. Some of Nene's puzzles have a lot more color (like "Emerald Hawthorne") and would make for an easier puzzling experience. But I liked the dark mood of this one.
I've given the image an 8 score.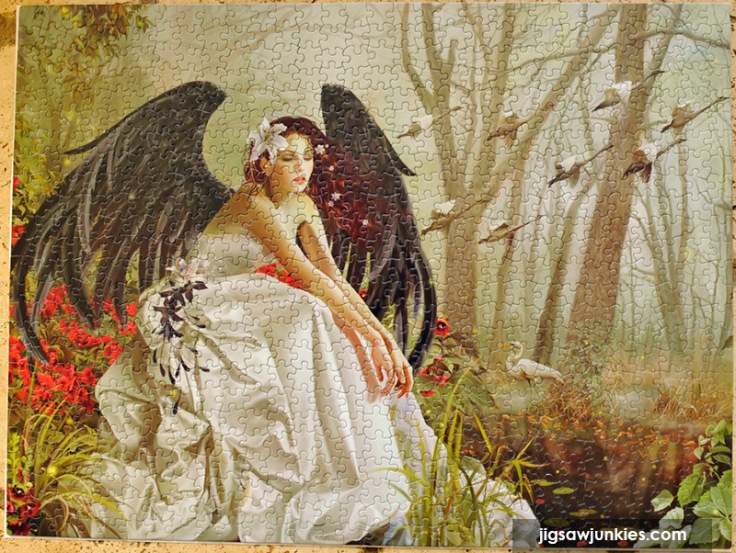 (Click on any of the images in this review for a closer look.)
Puzzle Quality: (7/10)
As I mentioned above, Ceaco is a bargain brand with a low price point. This puzzle retails at $10.99 for 750 pieces, compared to $14.99 for a Buffalo Games of the same size. That's a big difference. For many people who like to do a puzzle once and pass it along, a puzzle doesn't need all the features of a "collectible".
I decided to try one of the Ceaco Nene Thomas puzzles, because I was curious about the quality. I've only done one Ceaco before for our brand comparison.
Right out of the bag, the pieces felt thin and there was quite a bit of puzzle dust. However, there was no damage to the pieces–no bent knobs or image lift or pieces still attached, as I've seen in some puzzles. The cut is a random cut, as you can see below. It reminds me a bit of White Mountain. The pieces are on the larger side. The final puzzle lies flat and is fairly seamless. There was no confusion about whether or not a piece fit, so assembly went smoothly. One other plus: a fairly tight fit. I was able to easily pick up and move grouped pieces around, almost like a Sunsout puzzle. The image reproduction is also excellent.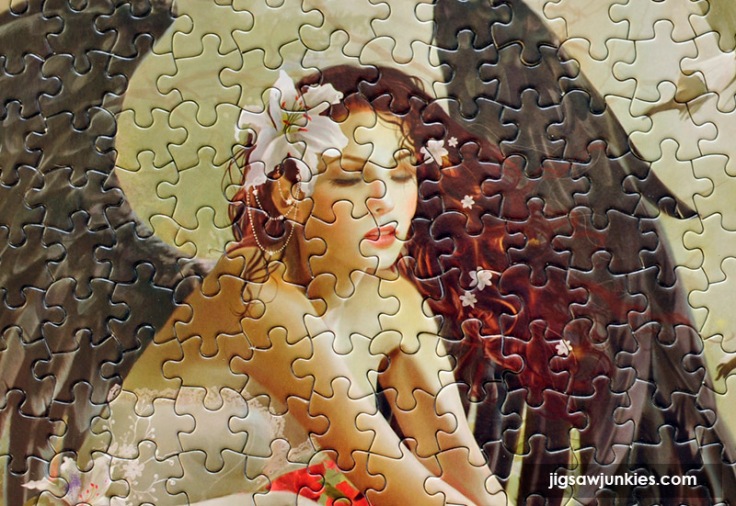 Overall, I'm giving this puzzle a 7 score for quality, mainly because of the thin pieces. For me feeling that heft and weight in a good, solid puzzle is part of the experience. However, if price is a big factor to you, and you are unlikely to do a puzzle more than once or twice, then this quality should be perfectly acceptable.
Assembly: (8/10)
Surprisignly, I found this puzzle moderately difficult. It took me three solid evenings to complete, which is more than I expected from a 750 piece puzzle.
DAY ONE:
I assembled the border first. I did the red flowers, because they were the easiest, and also the skin tones. There are some green leaves in the lower right which were easy to find and plug in too.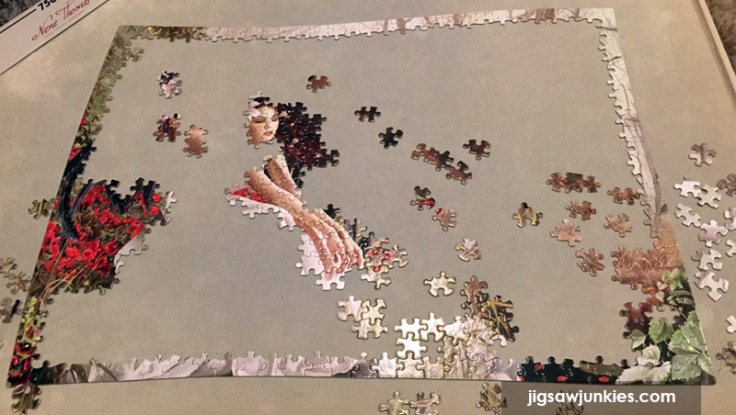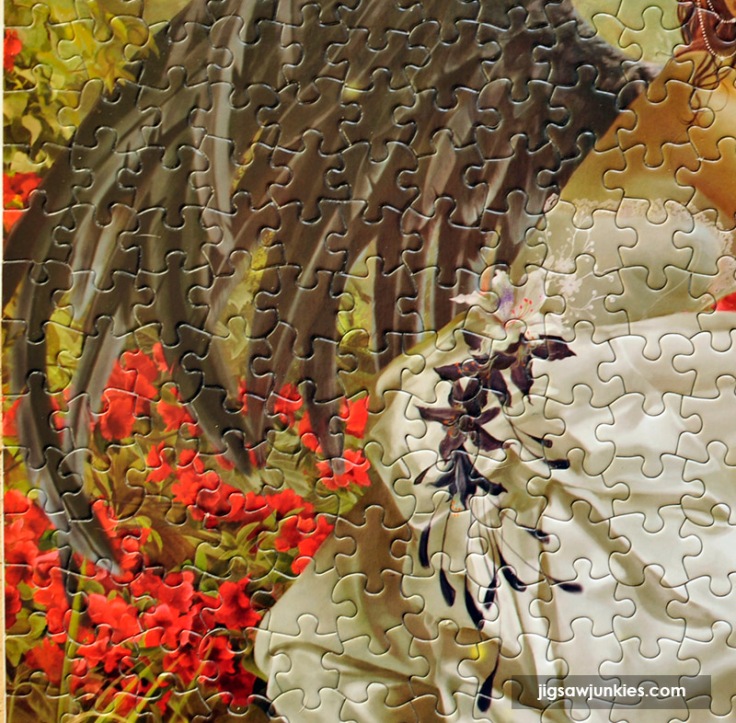 DAY TWO & THREE:
I didn't get a photo of the second session, but I did the wings, the grassy bits in the foreground, the white dress, and the pond area. The black wings were fairly tricky because all the pieces became "black" under the overhead lights due to the glossy finish on the pieces. And the feather pattern is mostly a random pattern too.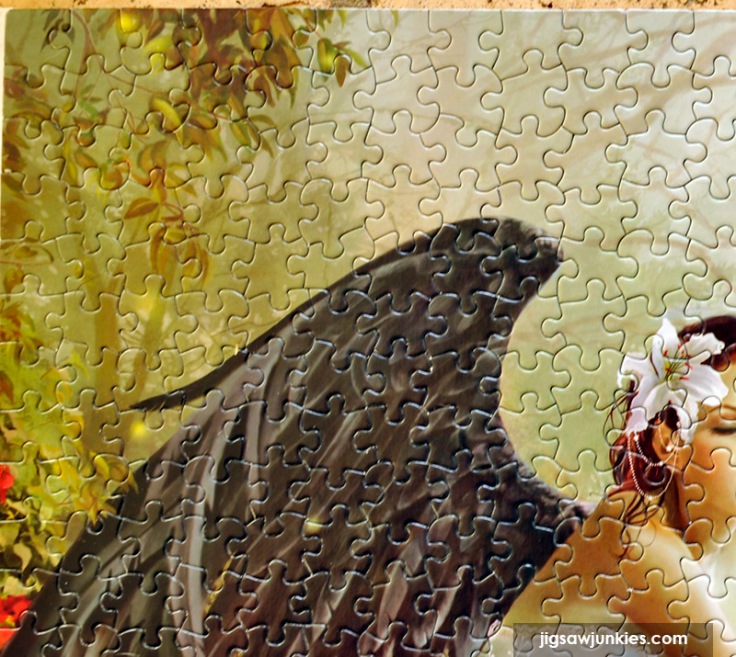 The white dress is gorgeous, but the folds and shadows become a random pattern, so it took a little more time than expected.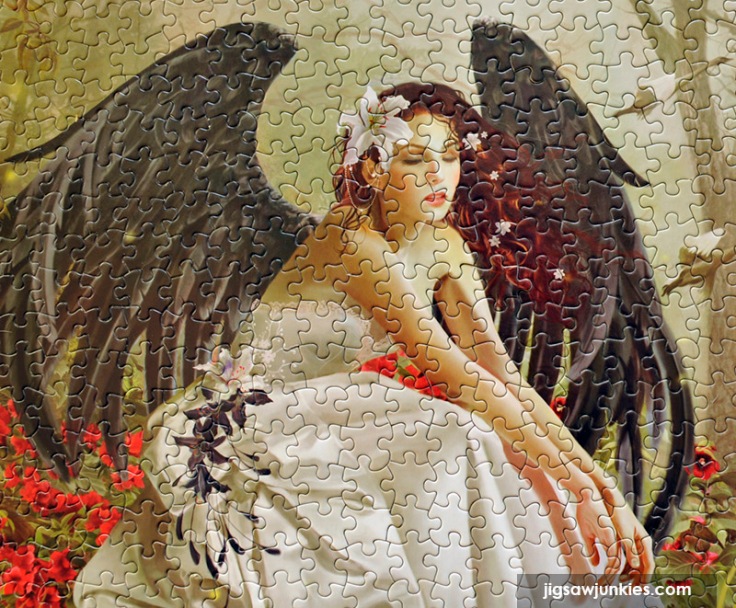 The swamp area in the foreground, and the white swan on the ground, were straight forward, being more brown than anything else in the landscape.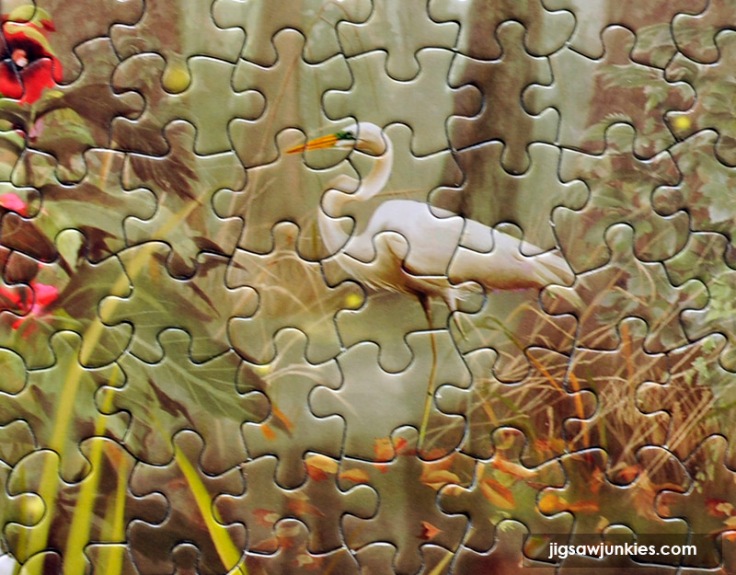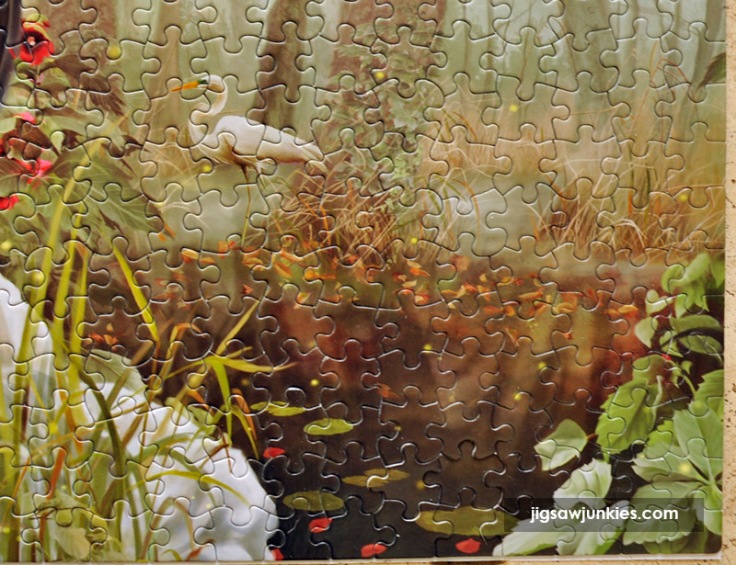 DAY THREE :On day three, which was a long session, I completed the top of the puzzle. The green area in the upper left has distinctive colors and was easy to do.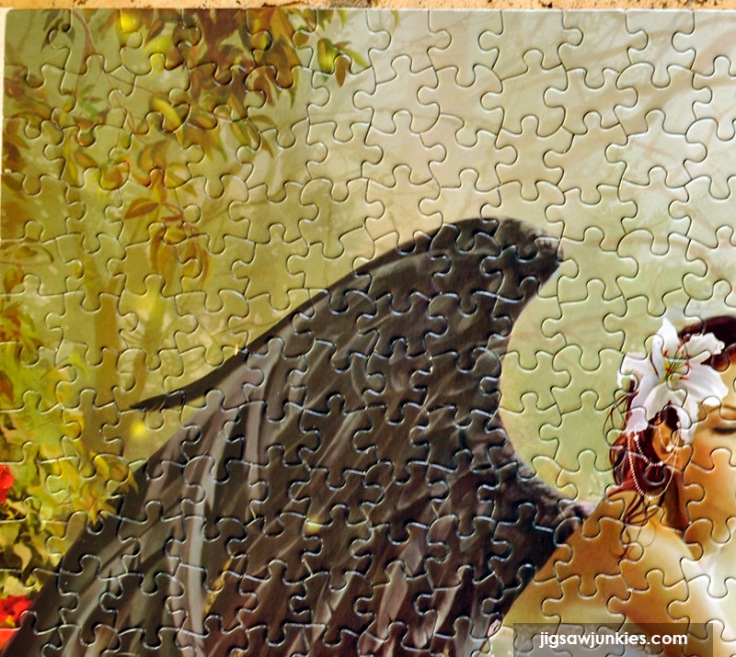 The main area that was "left over" for the end was the foggy white-and-brown forest. It was much harder than it looks because the brown branches are everywhere and at different orientations, and the swans blend in with the branches and sky.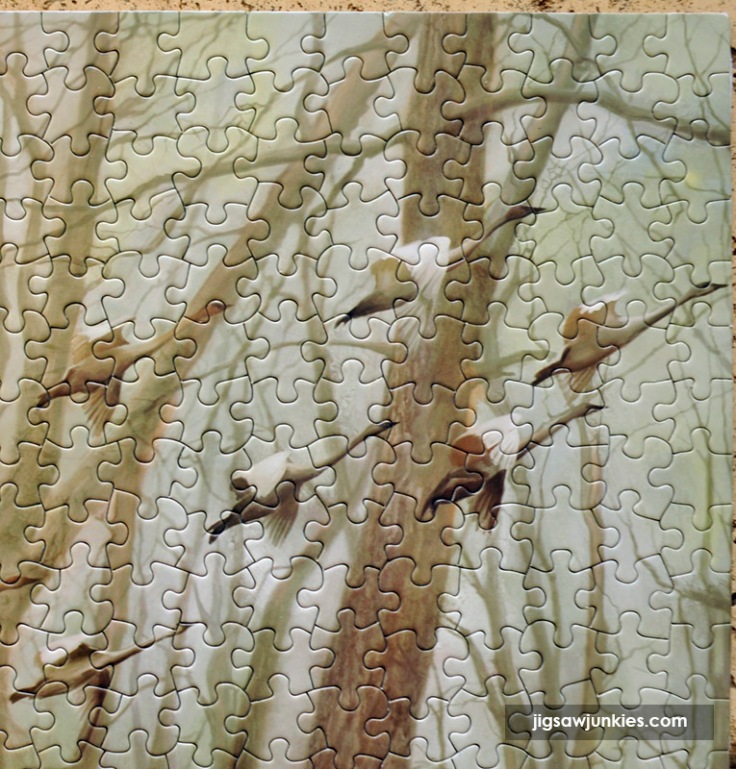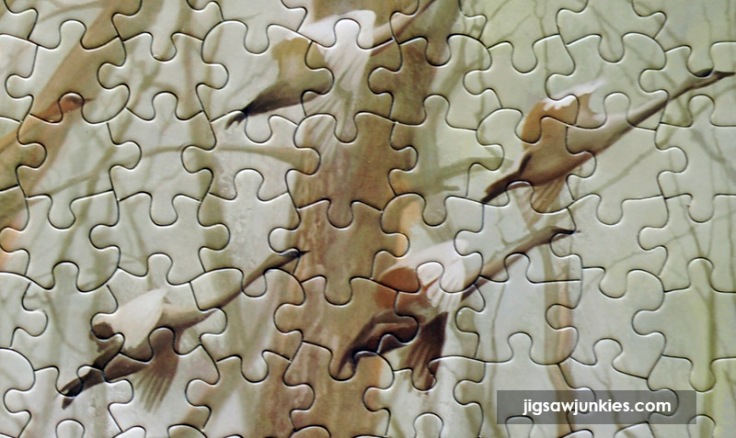 I've given this puzzle an 8 score for assembly. It was fun but fairly difficult for a 750 piecer! Lots of random pattern in this one.
Summary:
"Swan Song" is a lovely gothic fantasy image by Nene Thomas. The puzzle is moderately challenging thanks to the random patterns in the black wings, white dress, and foggy forest. The Ceaco quality was good value for the price. The pieces are thin, but there was no damaged or bent pieces. The puzzle has an enjoyable random piece cut and a fairly tight fit that lets you move around grouped pieces without them falling apart. There's no confusion about whether a piece fits somewhere or not. The muted colors and sombter tone make this a nice puzzle for a rainy fall day and a good gift for fantasy lovers.

Where to find:
This puzzle is 13% off until Oct 31th as part of Puzzle Warehouse's Halloween sale. Click below to go to the sale page. This sale is sitewide and includes all puzzles in stock.

JJ