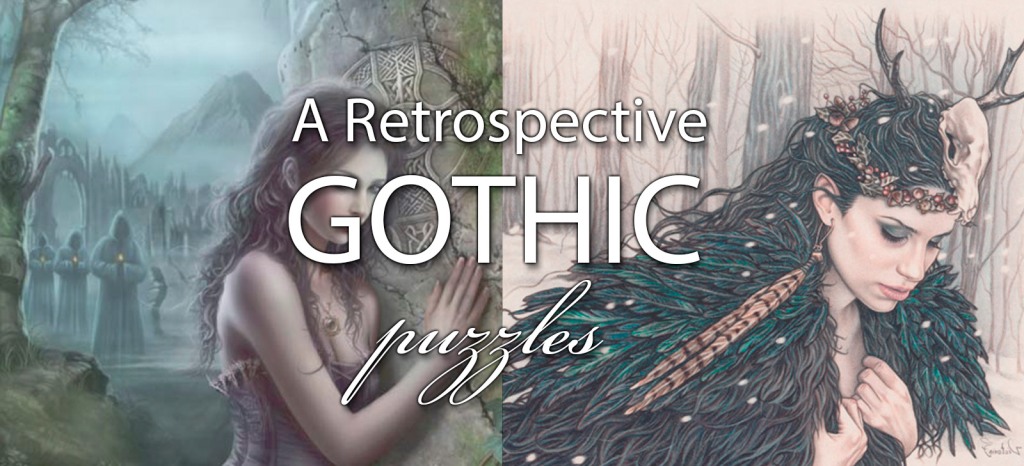 Gothic Puzzles: A Retrospective
GOTHIC WEEK:
For Halloween, here on Jigsaw Junkies we're covering gothic puzzles. I'm excited about this category because it's one of my favorites and one sorely underrepresented, in my opinion!
First, what is the definition of "gothic puzzles" and how do they differ from "fantasy puzzles?" I will give you my idea of the category, and the way I shelve my puzzles. "Gothic" can be a subset of "fantasy" puzzles, though I can imagine gothic puzzles that don't have a fantasy element at all, such as a black and white photo of castle ruins. The main thing that defines a puzzle as "gothic" to me is some sort of dark or spooky element, whether that's a skull, ghostly landscape, a graveyard, or supernatural creature like a vampire.
You can see my two gothic puzzle reviews this week here: "Swans" by Cris Ortega & Heye, and "Swan Song" by Nene Thomas & Ceaco.
View all gothic puzzles in stock at Puzzle Warehouse
GOTHIC PUZZLE RETROSPECTIVE
When thinking about how to approach a feature on gothic puzzles, I decided to include past puzzles as well as current puzzles. There aren't that many gothic puzzles currently on the market (though there are some nice ones). And I wanted to talk about the genre from a broader point of view. So I thought I'd focus on a historical, artist-focused look at gothic puzzles. Some of these are currently available for sale and some are only to be found on the used puzzle market.
But remember that in the puzzle business, images will often "return" to be published anew, the way Buffalo Games has republished some out of print Charles Wysocki and Josephine Wall. So never say die! I like to keep a file folder on my computer of images I hope come back into print. And hey, it never hurts to send suggestions to your favorite puzzle maker either.
Here we go….
Victoria Francis
Official Victoria Francis Website
Victoria Francis is a Spanish artist who specializes in gothic images. She has published art books, book covers, posters, and a variety of merchandise that features her dark and evocative work. Fortunately for us, her work has been published as puzzles too. She's one of my favorite gothic puzzle artists because I love the fine line work and very dark themes in her images. They tend to be less colorful as well, which makes them a good challenge.
Victoria Francis has been published primarily by Heye and Educa. Her work is definitely some of the "most gothic" in the industry, featuring vampires, graveyards, and all sorts of sexy/scary creatures. I'll be featuring more of her images in my gallery at the end of this feature.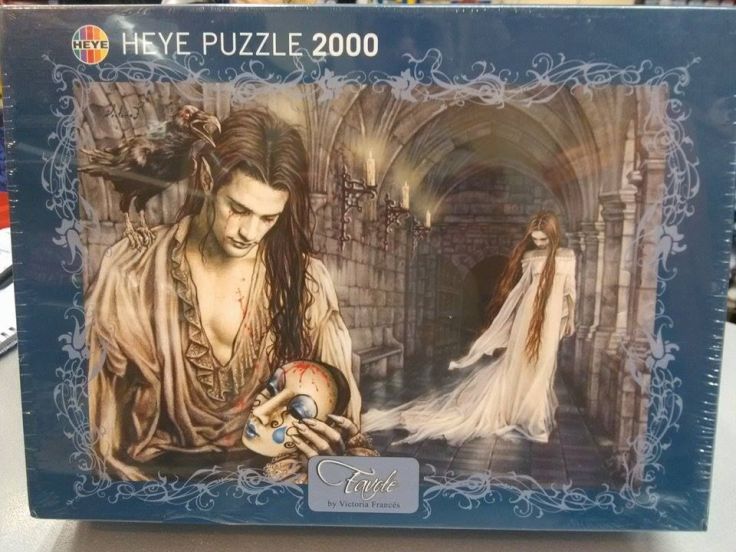 "Tears" by Victoria Frances, Heye, 2000 pieces [now out of print]
Cris Ortega
Cris Ortega is a Spanish fantasy artist who has created art books, book covers, posters, and other popular commercial art products. Heye has published a number of Cris Ortega puzzles, and a new company called Grafika is publishing a bunch. Not all of the Ortega puzzles have a horror theme, but many do and all are dark and ghostly, so I categorize them all together as "gothic." See this week's review of"Swans". I like the soft, airbrushed quality to her images and the unusual colors.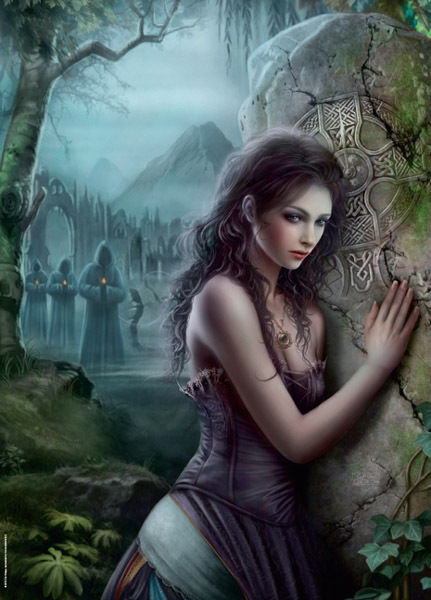 "Celtic Cross" by Cris Ortega, Heye, 1000 pieces [currently in print–view on Puzzle Warehouse]
Anne Stokes
Anne Stokes is a British fantasy artist who does everything from high fantasy and fairies to true gothic vampires and witches. Anne has been published in puzzles by Holdsons, Ravensburger, and Cobble Hill.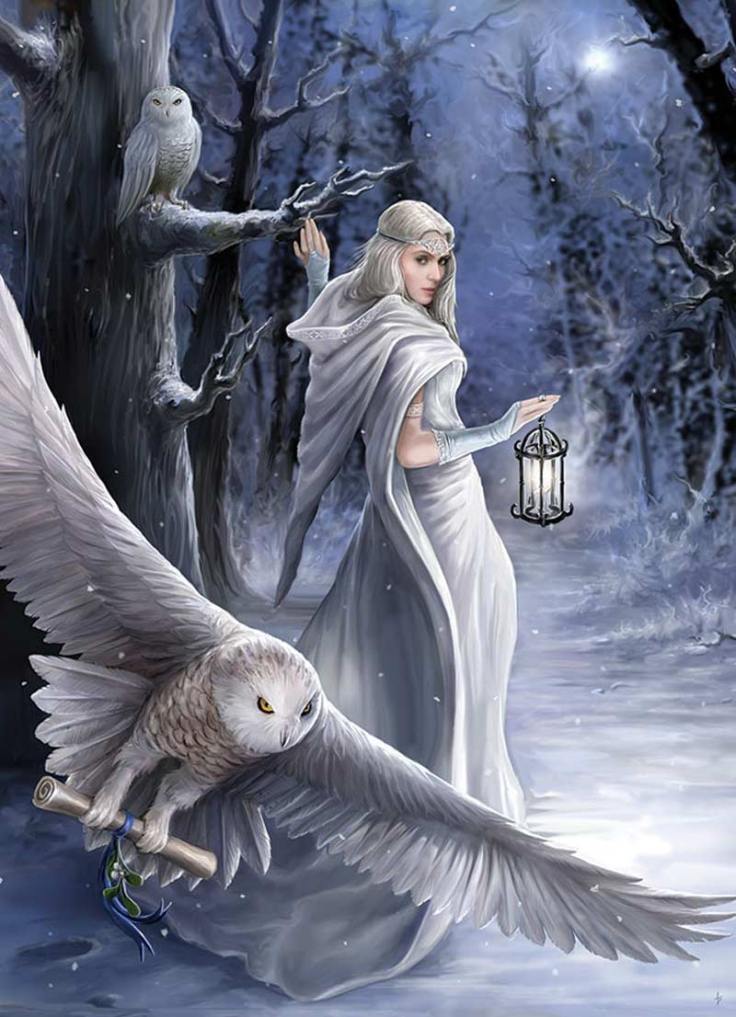 "Midnight Messenger" by Anne Stokes, Cobble Hill, 1000 pieces [currently in print–view on Puzzle Warehouse]
Melanie Delon
Official Melanie Delon website
Melanie Delon is a French freelance illustration who lives near Paris. Her gorgeous digital illustrations are truly haunting. I hope for many more puzzles from Delon in the future! Check out the gallery on her website. I've included all the puzzles she's made in my gallery below.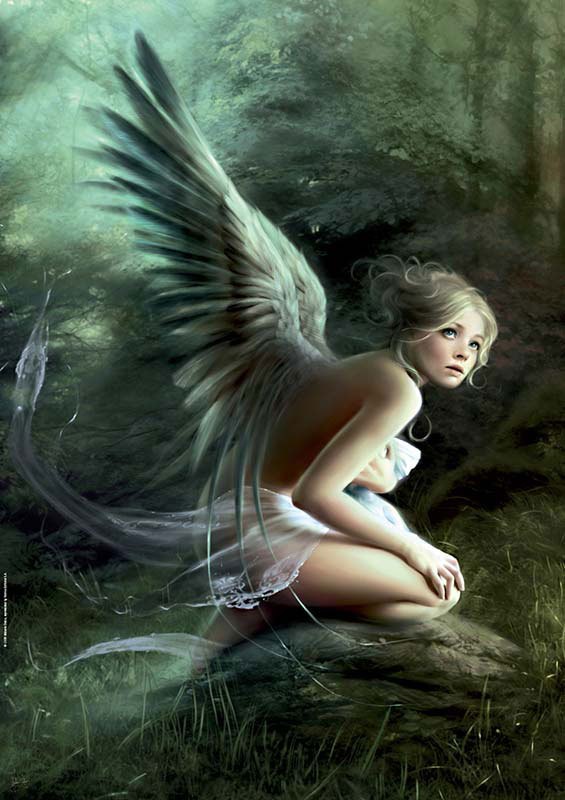 "Forest" by Melanie Delon, Heye, 1000 pieces [currently in print–view on Puzzle Warehouse]
Alchemy Gothic
Official Alchemy Gothic website
Alchemy Gothic is a company in the UK that specializes in gothic designs for commerical products like T-shirts, posters, etc. Heye printed several puzzles with their images. I like them because they're pretty unique in the gothic category and have lots of detail.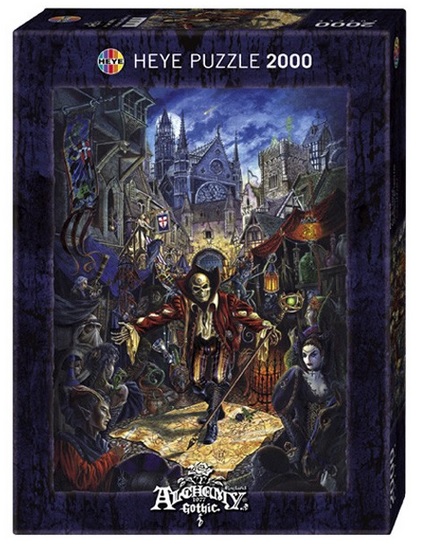 "Chalisbury Fair" by Alchemy Gothic, Heye, 2000 pieces [out of print]
Nene Thomas
Official Nene Thomas website here
Nene Thomas is an American fantasy artist from Oklahoma City who has created trading cards, book covers, and art prints. Her art is licensed in a variety of mediums. Her work is mostly in the "fantasy" category, but she has enough gothic images in puzzles that I shelve her under "gothic" in my own collection. I chose her image "Swan Song" to review for our gothic week. She is published by Ceaco and Sunsout.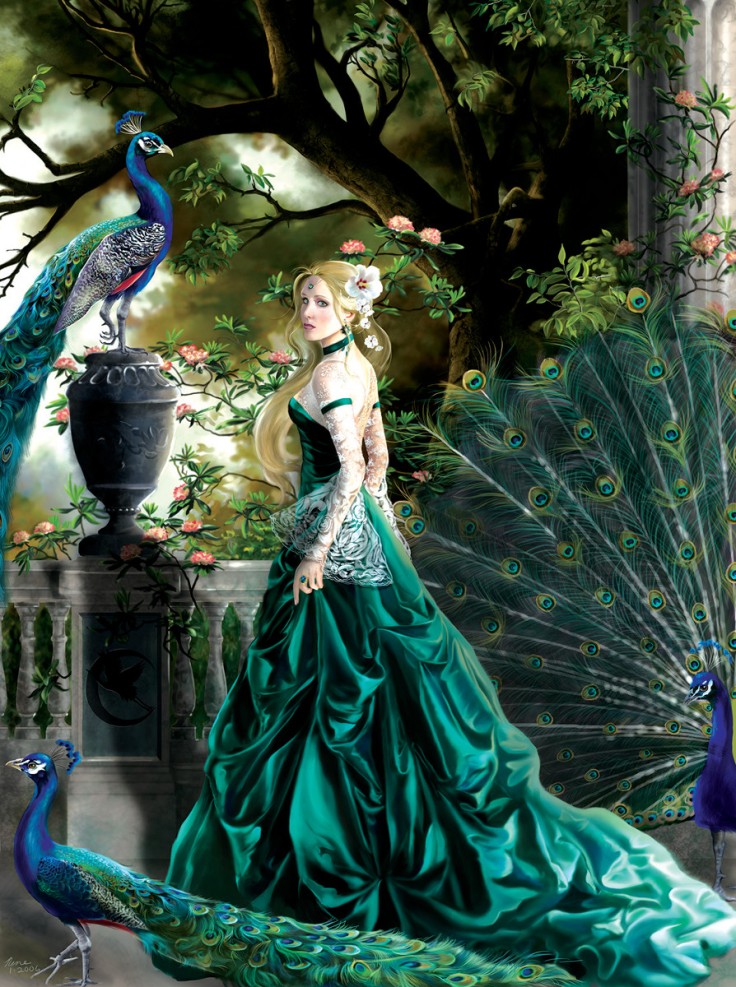 "Emerald Hawthorne" by Nene Thomas, Sunsout, 1000 pieces [currently in print–view on Puzzle Warehouse]
Mario Wibisono
Official Mari Wibisono website here
Mario Wibisono is a fantasy artist from Indonesia. He paints fantastical images with an Asian flare. He specializes in warriors, futuristic, sci-fi, and traditional Asian images. In the past he's been published by Ravensburger and Educa. I love his work and hope for more of his puzzles in future.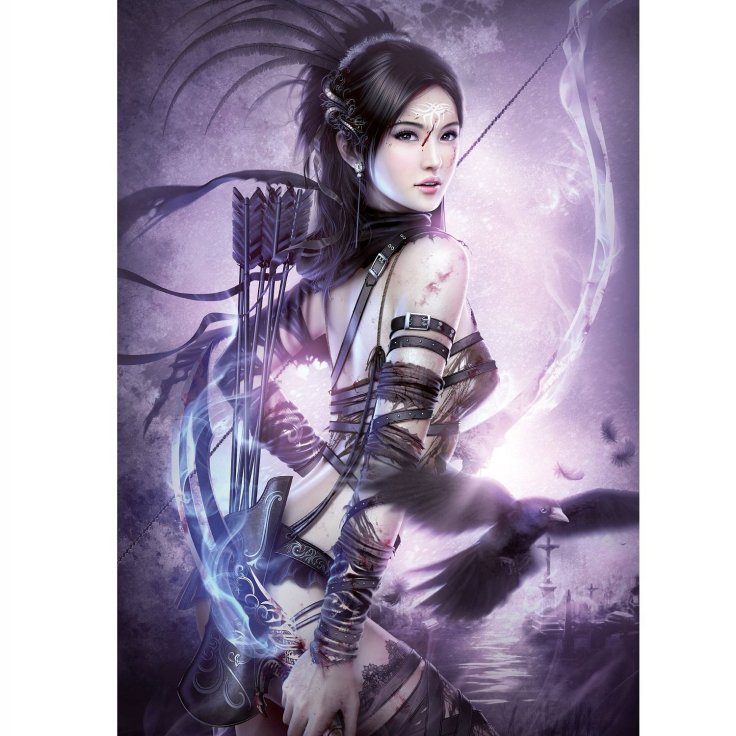 "The Archer" by Mario Wibisono, Ravensbuger, 1000 pieces [out of print]
GOTHIC PUZZLES CURRENTLY AVAILABLE
In the past few years, Heye, Schmidt, and Educa have all produced puzzles in the gothic category. At Puzzle Warehouse, we try to carry all the gothic puzzles we can find that are available for distribution in the US. You can check our current selection here. Check the "out of stock" navigation button on the left to see ones we normally carry, that are just out of stock at the moment.
GOTHIC PUZZLES AT PUZZLE WAREHOUSE