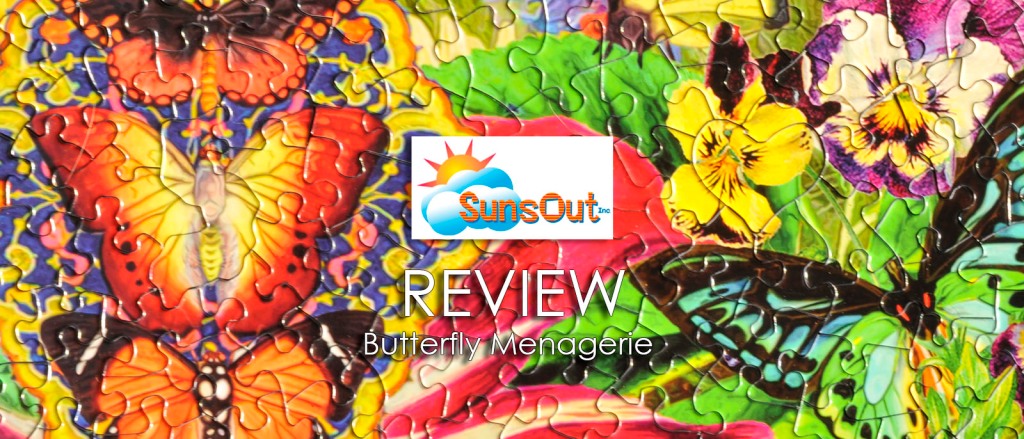 Review: "Butterfly Menagerie" by Aimee Stewart — Sunsout, 9.5/10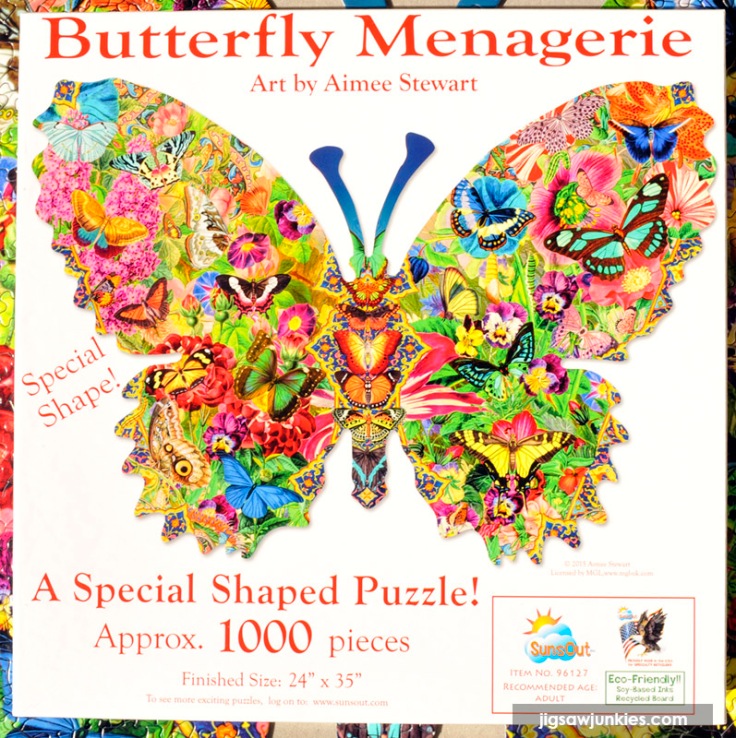 Publisher: Sunsout (US), published 2016
Title: "Butterfly Menagerie" by Aimee Stewart, 1000 pieces
Finished size: 24″ x 35″
OUR RATING: 9.5/10

AIMEE STEWART WEEK:
This week here on Jigsaw Junkies, we're featuring puzzle artist Aimee Stewart. I'll be reviewing two of her puzzles this week and this weekend we'll have an exclusive interview!
See all Aimee Stewart puzzles at Puzzle Warehouse here.
BUTTERFLY MENAGERIE REVIEW:
Box Quality: (8/10)
The Sunsout boxes are very large and square in shape. They're oversized compared to most boxes on the market. This takes up more shelf space but also provides a nice big image when you use the box lid for reference. I really like the fact that Aimee Stewart's name is prominent on the front.
Sides:
Three of the sides are the same, showing a tiny image of the puzzle, puzzle name, artist name, piece count, finished size, and Sunsout logo. The fourth side has a bar code. Unfortunately, the year of manufacture isn't given. "Butterfly Menagerie" was released in 2016.


Back:
The back of the box is plain white and made of a thinner cardboard which is easily damaged in storage.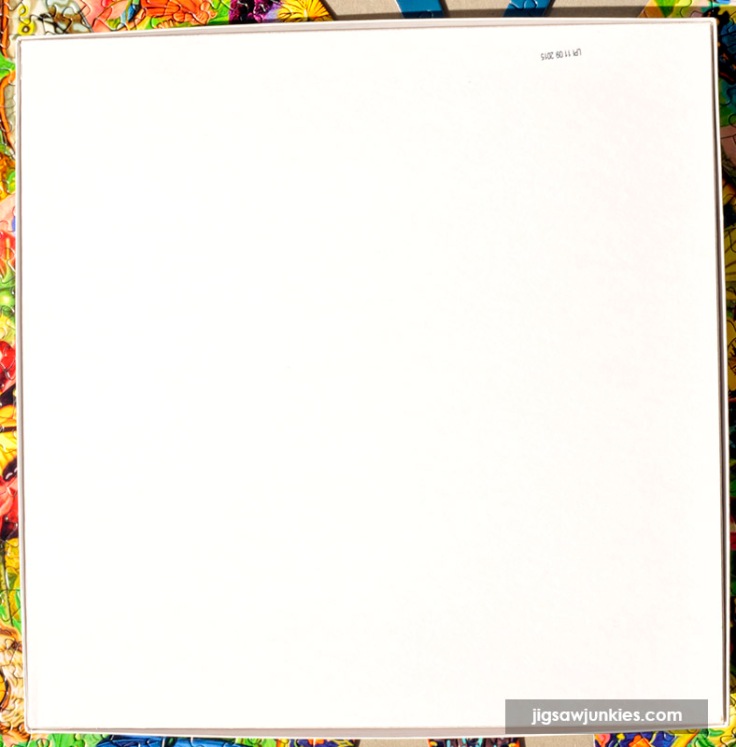 Inside:
Nothing comes inside the Sunsout box except the bag of puzzle pieces and a very small paper slip with the company url and a short blurb. There was a fair amount of puzzle dust. The pieces were fully separated and undamaged.
The final box score is 8.
The Image: 10/10
We're featuring Aimee Stewart this week because I love her images and they make for fun puzzles. "Butterfly Menagerie" features a colorful collage of butterflies and flowers in a wallpaper-like pattern. The puzzle is then cut and shaped like a butterfly.
There are many thoughtful things about this image that help make it a great puzzle to assemble. Each butterfly is unique in color and pattern, so you can assemble each butterfly as a separate unit. Most of the flowers are also unique. (There are some, like the purple morning glories and pansies which are repeated.) The colors are bright and cheerful. The 'fill' is of two kinds–greenery, of which there is a pretty good variety of shade and texture, and a navy floral pattern which is found in the center of the butterfly and around the edges.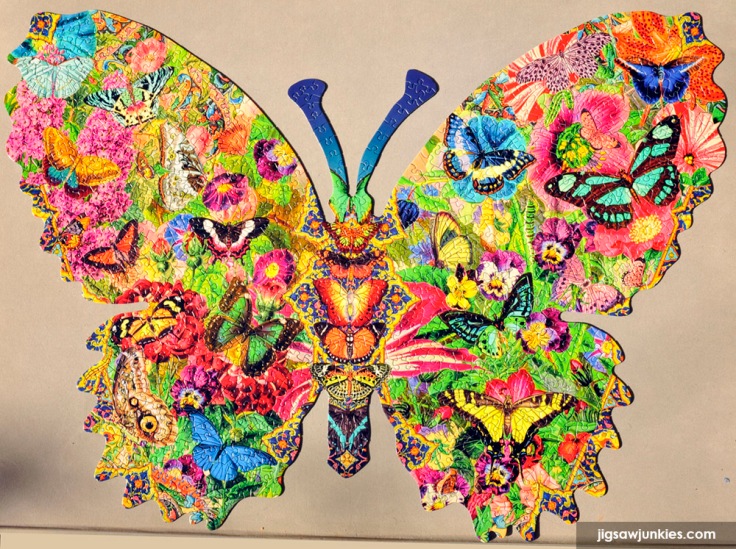 The art is well-executed. The collage effect is quite seamless, and the feel is consistent throughout (as opposed to looking like a digital mishmash of different textures).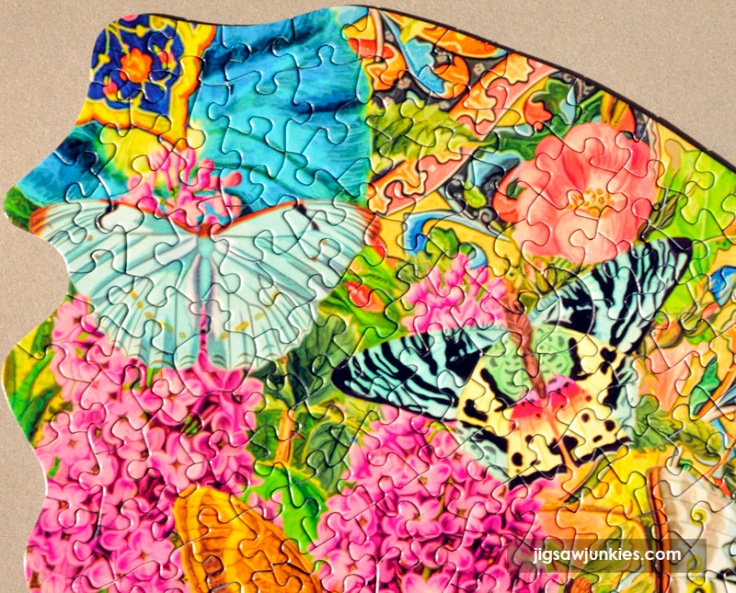 I've rated this image a perfect 10.
(Click on any of the images in this review for a closer look.)
Puzzle Quality: (9/10)
Sunsout did well in our brand comparison. You can see our full brand comparison on Sunsout here.
As usual with Sunsout, I found the quality very good. The pieces are sturdy and very random in cut, as you can see in the close-up below. In size they range from slightly above average (eg. Ravensburger size) to smaller in size because of the great variety of piece shapes.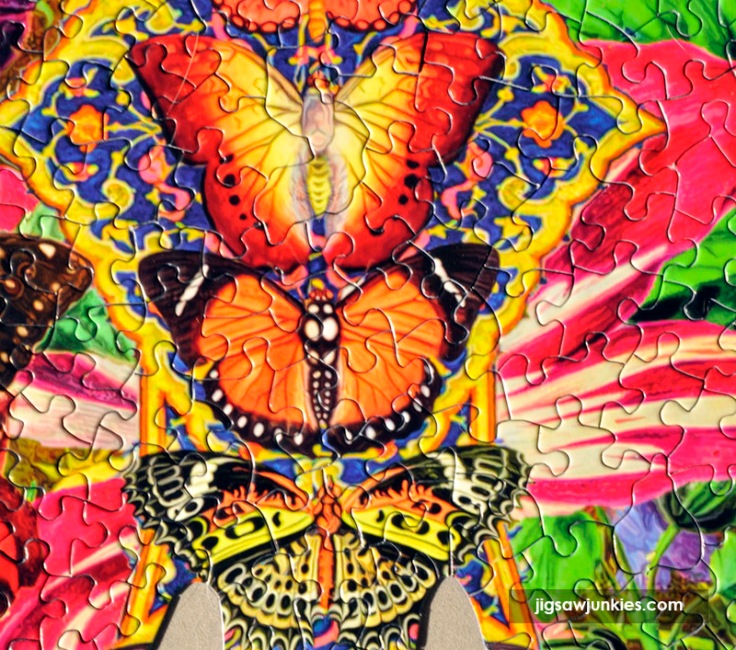 There is a glossy finish, which can lead to glare under overhead lights at night. I didn't have too much trouble with that in this puzzle though, because the colors are quite bright and there's not much in theway of dark areas (which tend to go to black under light glare).
The image reproduction is quite good too. The colors are bright without feeling overblown. One thing I particularly liked about this puzzle is that it has "whimsies" — pieces that are shaped like real-life objects. Below you can see a butterfly-shaped piece. There was also an umbrella and a few other whimsies in the design. Fun!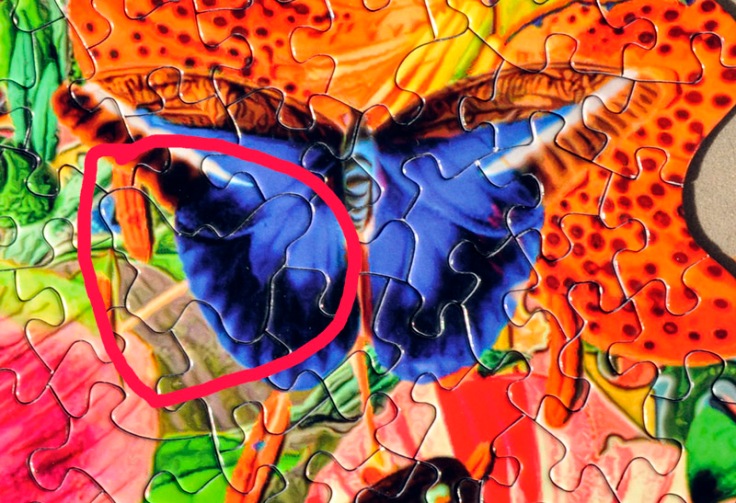 Finally, I love the fact that this is a shaped puzzle. To be able to make a puzzle with such an elaborate shape. and have all the edges line up perfectly (see the 'tail' of the butterfly below), with smooth and clean-cut edges, that's awesome quality!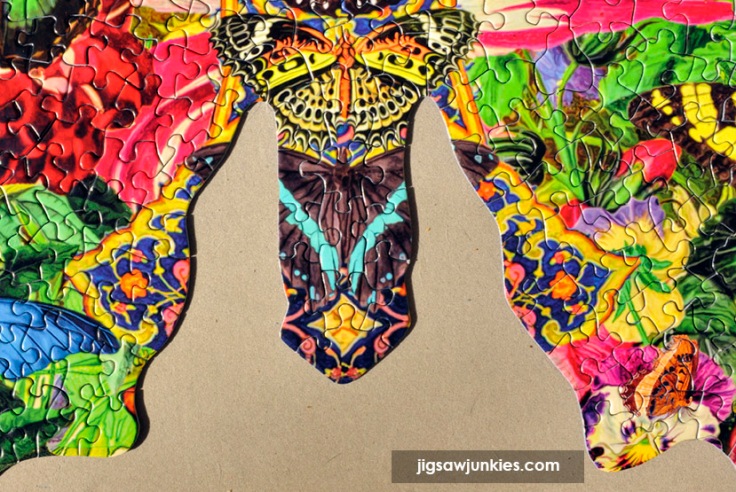 The final quality score is '9'.
Assembly: (10/10)
This puzzle is easy-to-moderate in challenge. It took me two long sessions to complete.
DAY ONE:
Since this is a shaped puzzle (yay!), the usual first step of assembling the border is eliminated. I began with the blues– various shades of blue butterflies and the antenna. After that, I did several more very distinctive butterflies like the large yellow one, and the bright pink/red flowers.
Because of the fact that there is no border within which to anchor the pieces, I used the box lid image to generally place the completed sections on the JigBoard. You can anticipate having to moving things around a lot, as sections grow and can be connected to adjoining sections.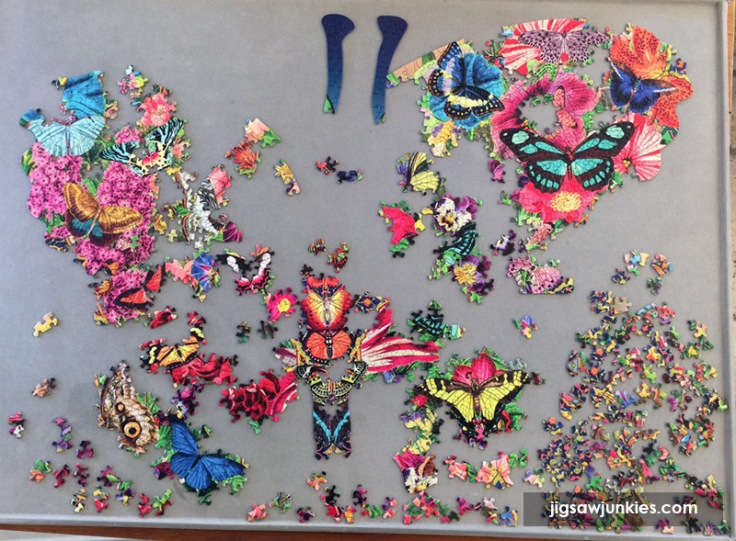 Below: The blue butterflies were the first to come together. Each butterfly has a different shade and pattern, which makes them easy to assemble.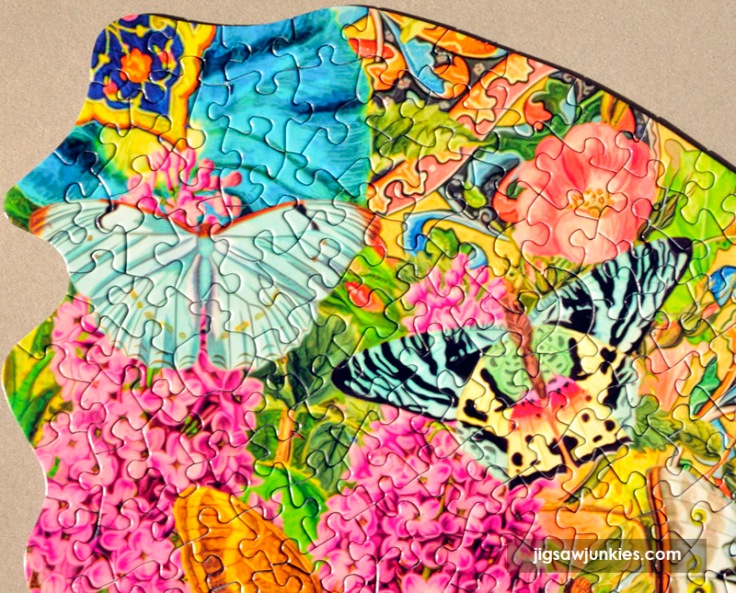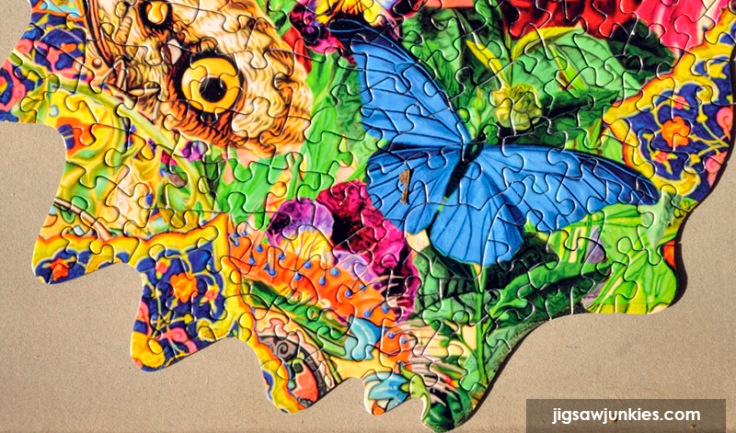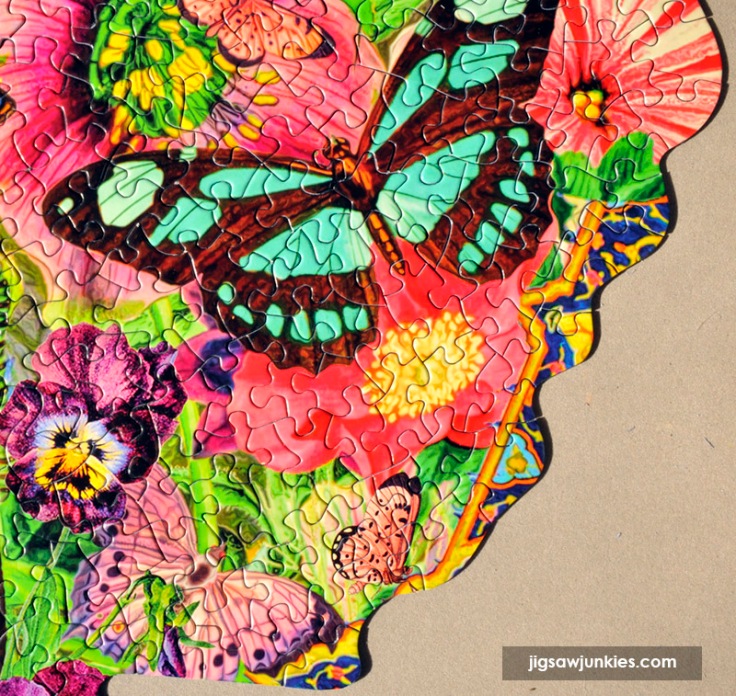 The antenna are fun to do and have a distinctive solid blue color.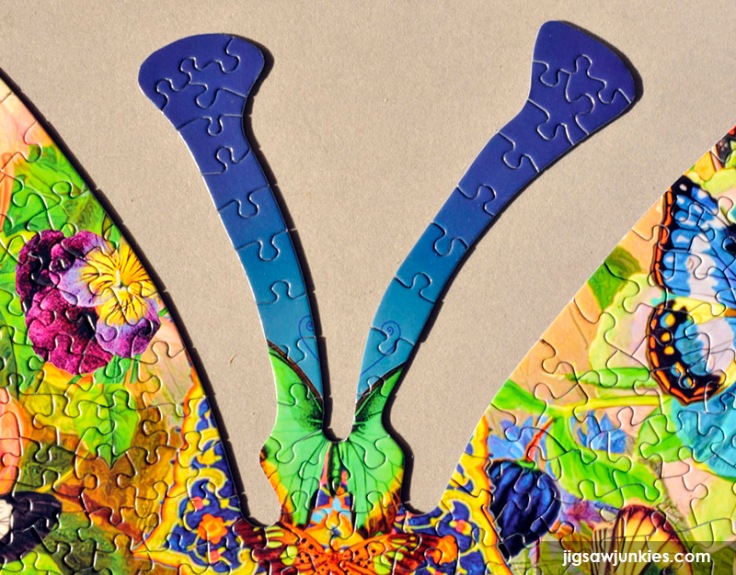 DAY TWO:
In my second session, I finished the puzzle. There were plenty more larger flowers and butterflies to finish. But then comes the fill and the smaller items, like small brown butterflies.
There's lots of greenery throughout the image. But most green areas have 'tips' that attached to a flower or butterfly that help to place them. As you can see below, most green pieces have other things on them as well.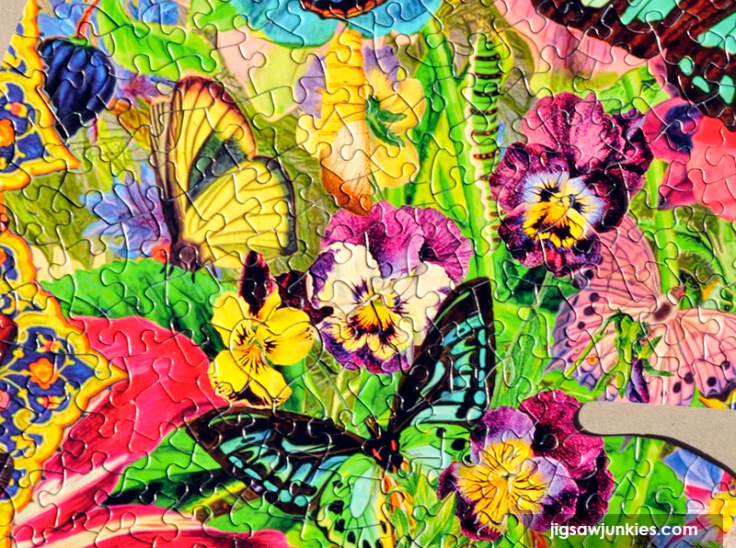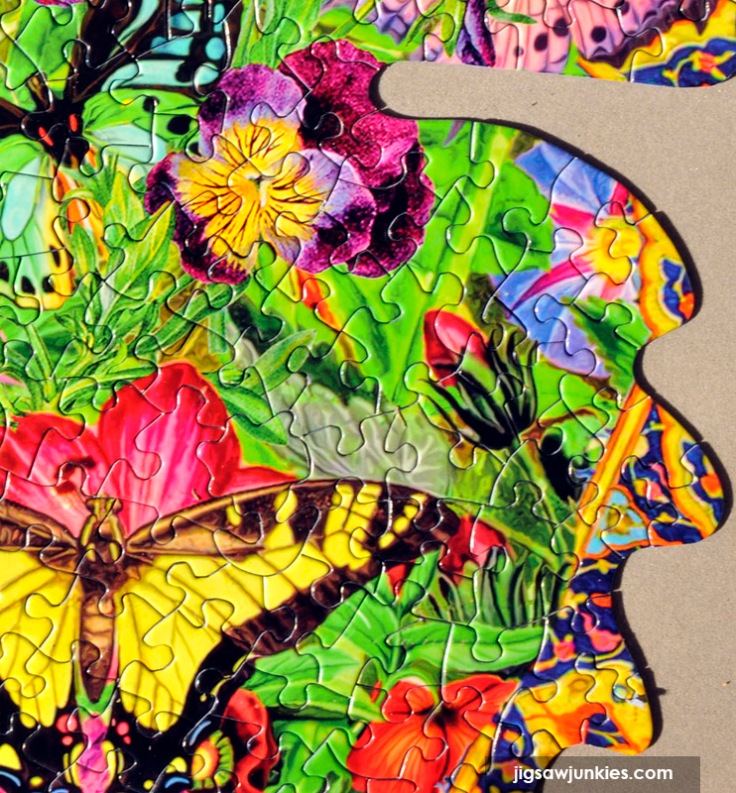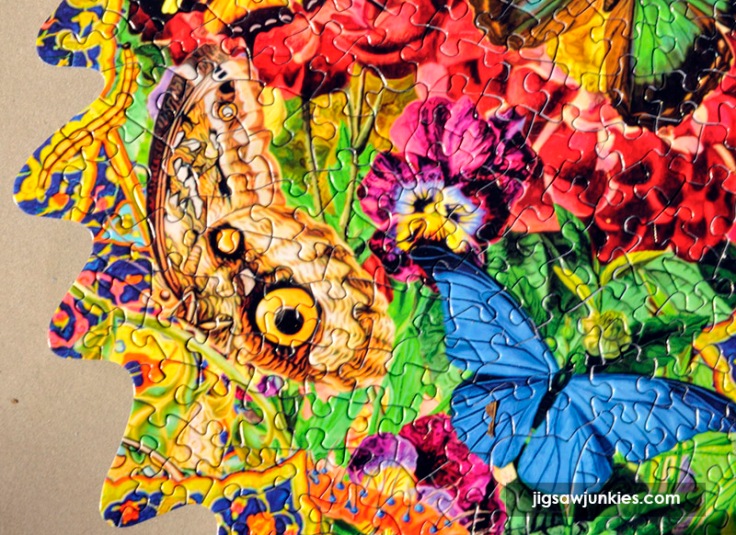 There is a royal blue pattern with small orange flowers and yellow edging that appears around various tips of the butterfly shape and in the center of the butterfly. This was the last bit I did and it was a little bit more challenging than the rest. But it was fun assembling the irregular edge in the puzzle.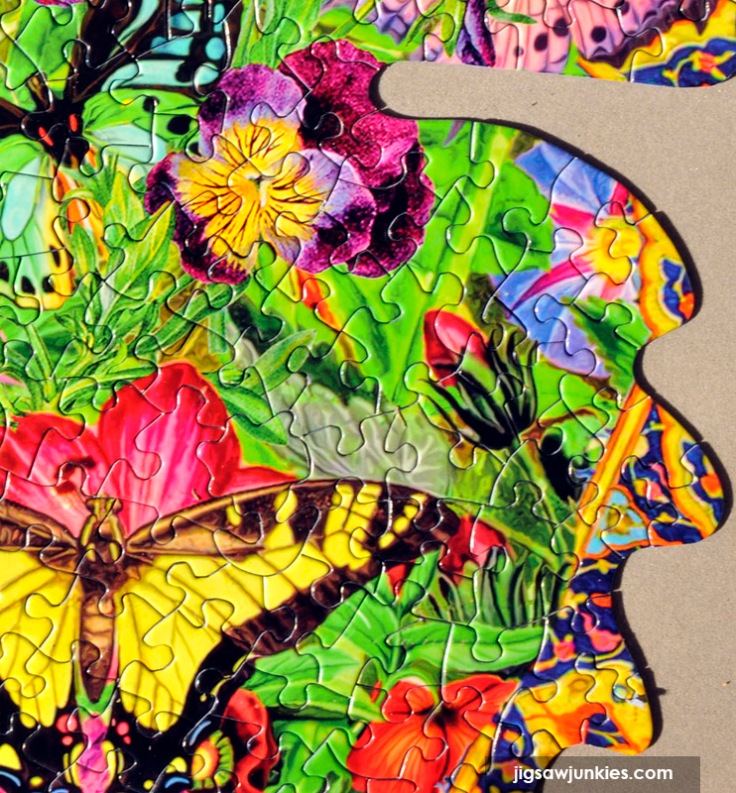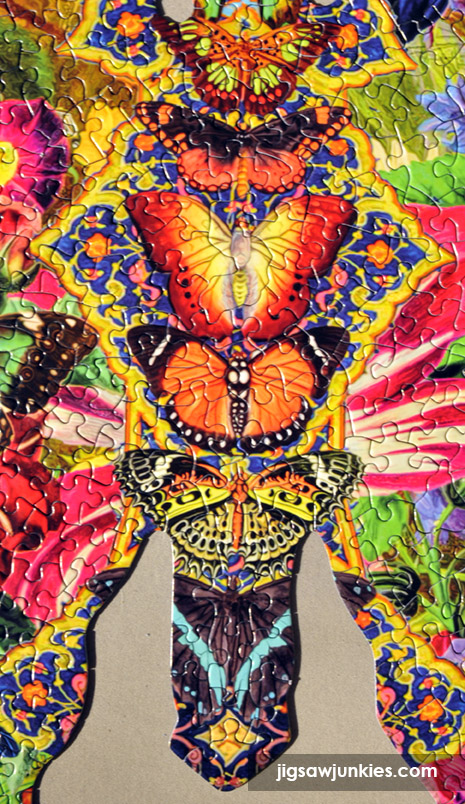 I've given this puzzle a full 10 score for assembly. All the different colored butterflies and flowers give this puzzle a collage-like feel, which I liked, and I just loved the fanciful irregular border.
Bonus Point:
I've given this puzzle a bonus point for the whimsies and irregular shape.
Summary:
This is an easy-to-moderate difficulty puzzle. I love shaped puzzles, and this offering from Sunsout and Aimee Stewart is really gorgeous and fun to assemble. The image is filled with a variety of brightly-colored butterflies and flowers in different colors and patterns, and those are easy to assemble. The fill around them–greenery and a blue pattern–appears in small doses and wasn't too difficult. I really liked assembling the irregular edge, especially the antenna. Cute! The Sunsout quality is very good with thick pieces and a fun random cut with a wide variety of piece shapes. The fit is fairly tight so you can move groups of assembled pieces around with care. Another fun feature of this puzzle is "whimsies"–some pieces were shaped like an umbrella, butterfly, and other recognizable objects. Highly recommended.

Where to find:
This puzzle is 15% off for the next 3 days (through 11/12/2016).
Click below to see the puzzle on Puzzle Warehouse.

JJ