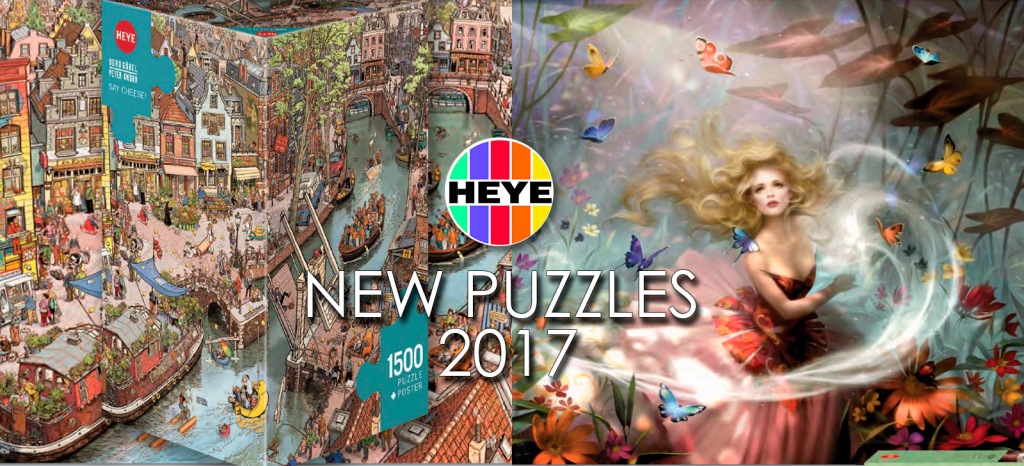 New Heye 2017!
I'm so excited that the new Heye puzzles for 2017 are here! Well, they're not here, as in physically–not yet. But we have the new catalog so I can announce them on the blog. As for an ETA for Puzzle Warehouse to get them in stock, we order them as soon as possible and will get them as soon as the distributor ships them to us. Usually that's January/February time frame. Remember if you are on the premium Puzzle of the Month, you can swap your puzzle for Heye and, of course, you will earn cash back points for any purchase.
OK, on to the new puzzles…. I'm going to reveal these like a top ten list, saving my absolute favorites for last. I'm also not showing every new puzzle, only my top picks, but there is a link to the catalog at the end of the post. Here we go.
"Magic Forests: Spirit Garden", 1000 pieces
If you like photographic puzzles there are some beautiful new ones from Heye. This one is part of their "Magic Forest" series (you can see others here).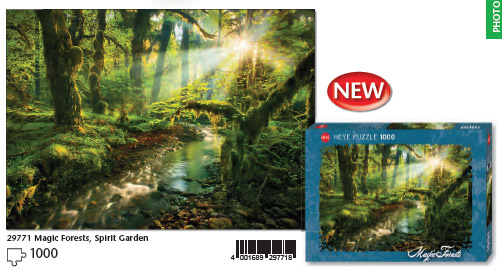 "Monster Beach" by Michael Slack, 1000 pieces
Michael Slack is a book illustrator who specializes in monsters. This is a colorful design that kids would enjoy.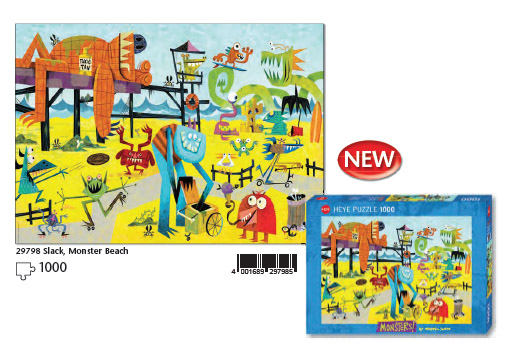 "Porters" by Tinga Tinga, 1000 pieces
Heye has published colorful African Tinga Tinga puzzles for a number of years. They're super fun to put together because the colors are bold and the patterns are simple. There is a new offering this year. You can see more Tinga Tinga puzzles here.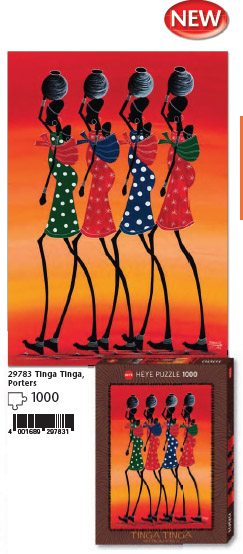 "Entrance" and "Colorful Company" by Rosina Wachtmeister, 1000 pieces each
Wachtmeister creates colorful cat images that have been made into puzzles by Heye for a number of years. You can see more of her puzzles here. They have gold foil stamping, which is quite nice. These two new images are sure to please her fans. I like the mauve colors on "Entrance".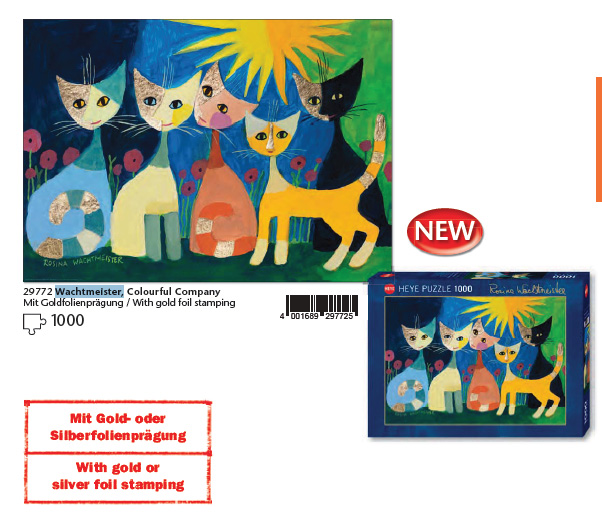 "Crystal Waterfall" and "Supernova II" by Tara McPherson, 1000 pieces each
Tara McPherson is a new artist for Heye. These are lovely fantasy images.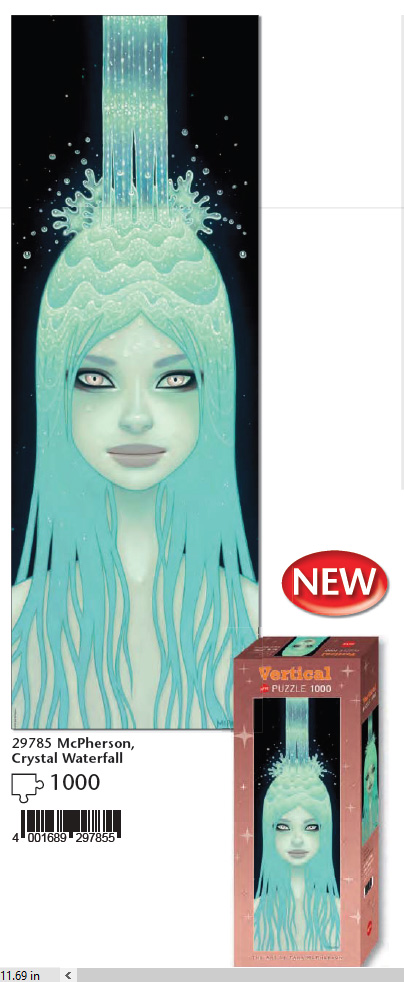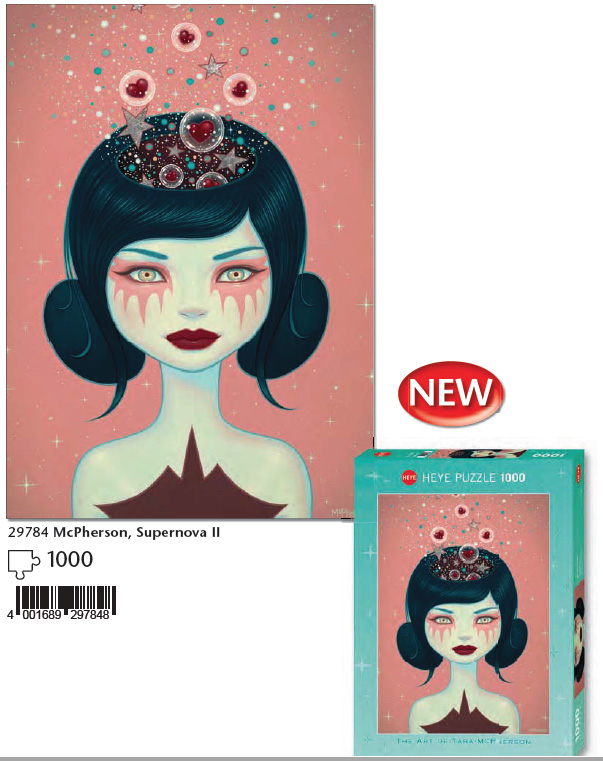 "Doodle Rainbow" by Jon Burgerman, 1000 pieces and "Doodle Psychedoodlic" by Jon Burgerman, 2000 pieces
Jon Burgerman creates colorful doodle characters. He's had several releases with Heye in the past. You can see those puzzles here. There are two new Burgerman's this year including a 2000 piercer that looks like it would be super interesting to assemble.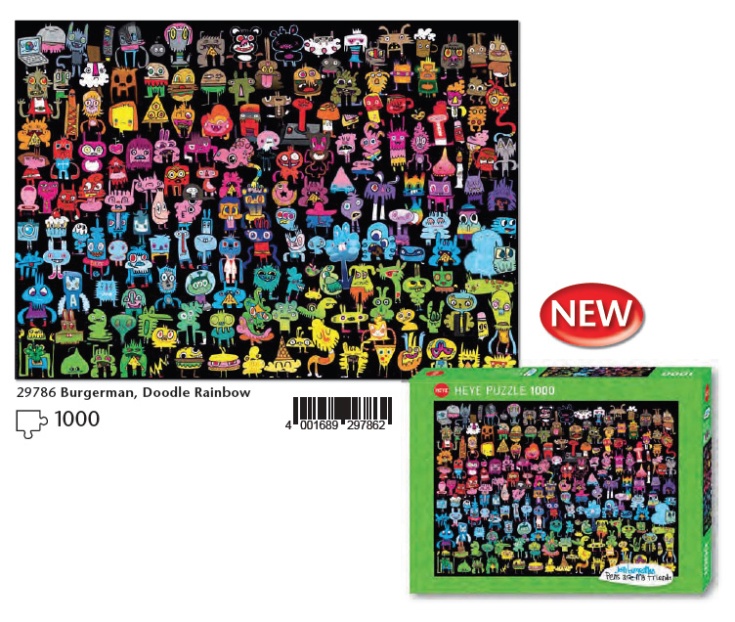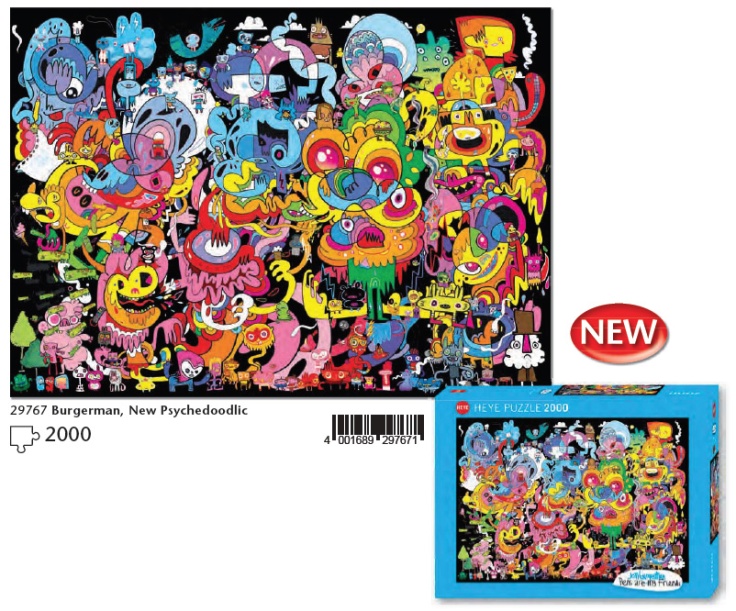 "Red Poppies" by Jane Crowther, 1000 pieces
Jane Crowther has had a number of releases from Heye, though I haven't done any. You can see her puzzles here. I really like this new red poppies puzzle. Beautiful and looks fun to put together.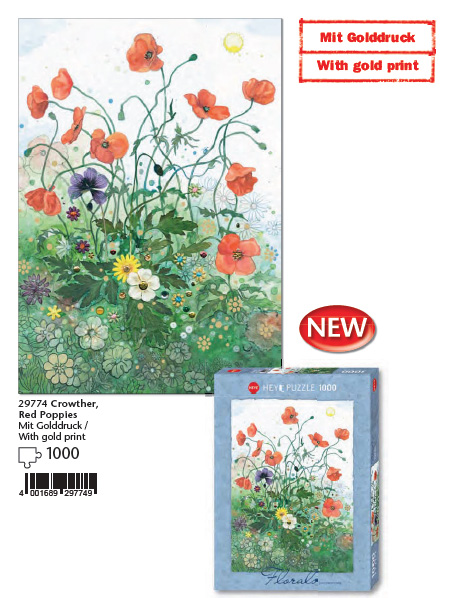 "Dreaming" by Jeremiah Ketner, 1000 pieces
Ketner has released several other pastel fantasy puzzles with Heye. You can see those puzzles here. I think I like this new on the best. Looks easy and fun to assemble with the various colors and textures on the owls.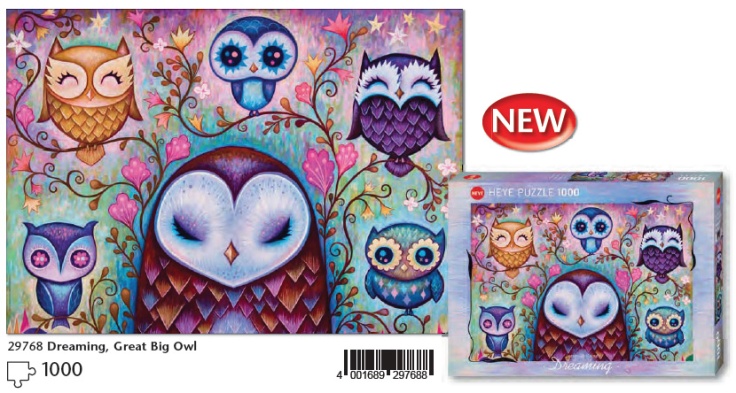 Cartoon Classics "Wildlife" and "Firmament" by Mordillo, 1000 pieces each
The Cartoon Classics line reprints older cartoon puzzles which have been out of print for awhile. This year we get two classic Mordillos. "Wildlife" is an espeically fun puzzle to assemble. You can see our Mordillo puzzles in stock here.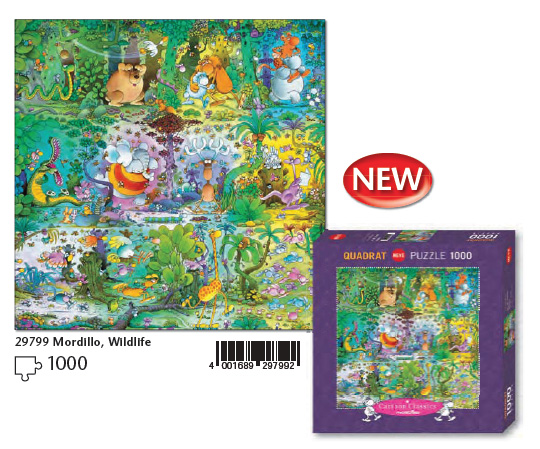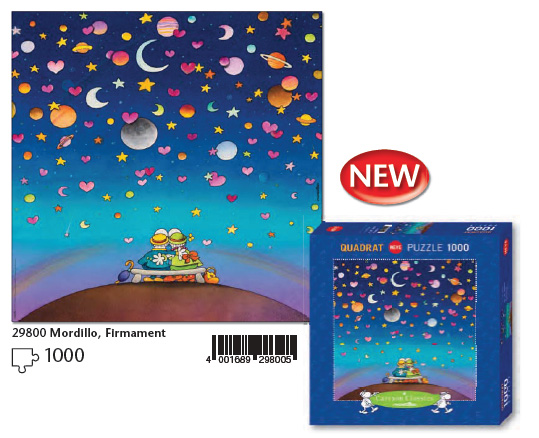 "New Boat" by Cris Ortega, 1000 pieces
This was previously released as "Boat" in 2000 pieces, but this new edition comes in 1000. It's a lovely puzzle with the soft autumn colors. You can see our other Cris Ortega puzzles in stock here.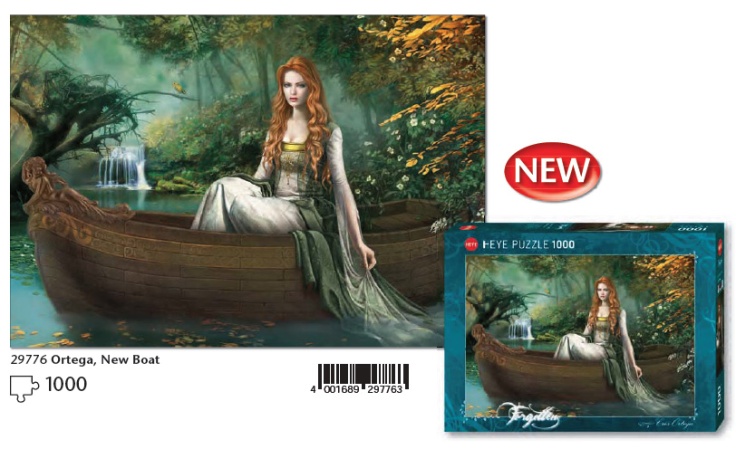 "Curiosity Cabinet" by Adolfsson, 1500 pieces
This is Adolfsson's first puzzle with Heye that I know of. It's a nice mid-range size in 1500 puzzles and looks packed with detail.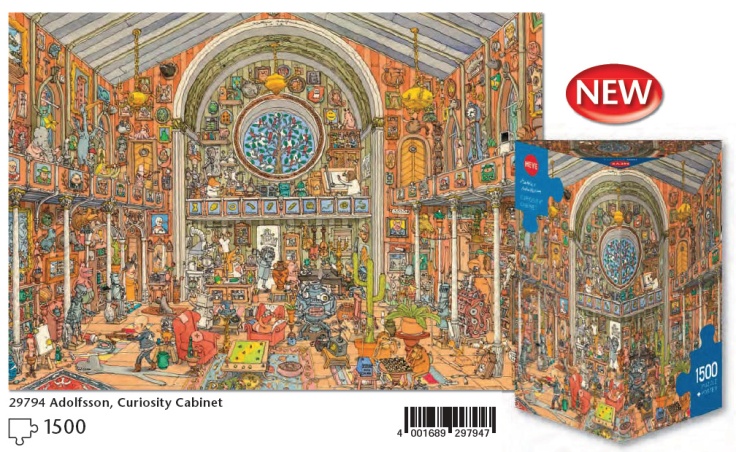 "Dog Show" by Tanck, 1000 pieces
Tanck has released a few nice cartoon puzzles with Heye in the past including "Seaport" and "Alpine Fun". I think this new "Dog Show" is my favorite since I'm a dog lover. Tons of interesting detail in this one.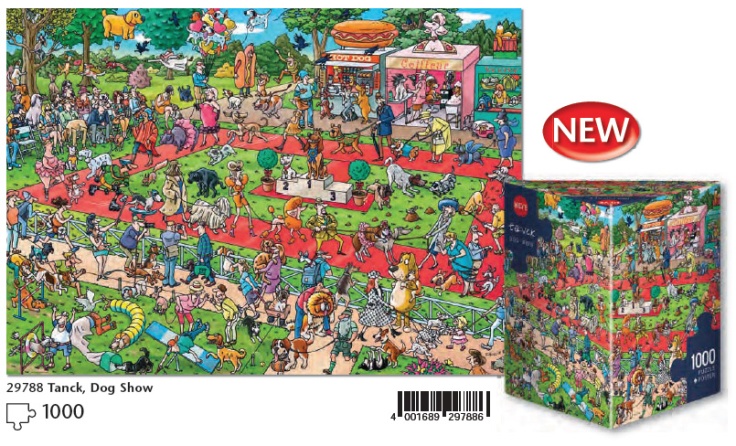 "Masquerade" by Sven Hartmann, 1000 pieces
I just reviewed Hartmann's "Cats in Paris" (see review here). This new one is my favorite from him so far, though. Unlike his previous two puzzles which were very monotone, this one is filled with figures and color. (Check out previous Sven Hartmann puzzles here.)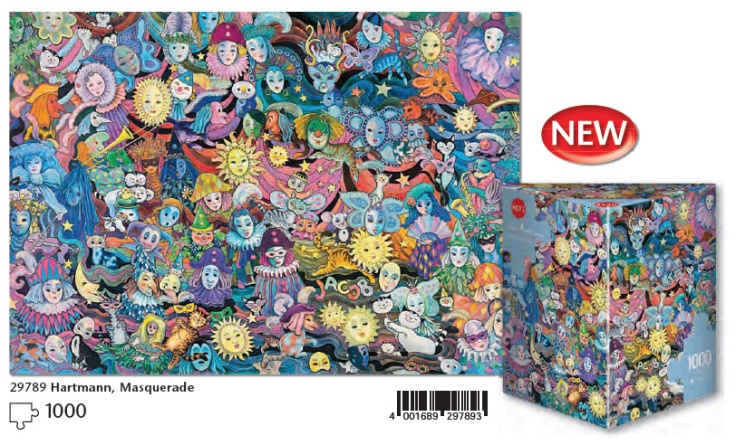 "Pretty in Pink" and "Make a Wish!" by Melanie Delon, 1000 and 2000 pieces
Wow! These two are gorgeous! I was very excited to see them in the new catalog. I like fantasy and gothic images, and have a number of Delon puzzles. You can see our Delon puzzles in stock here. These both go to the top of my wish list, but the 2000 piece "Make a Wish!" is the best Delon puzzle ever. I love the detail and the soft light.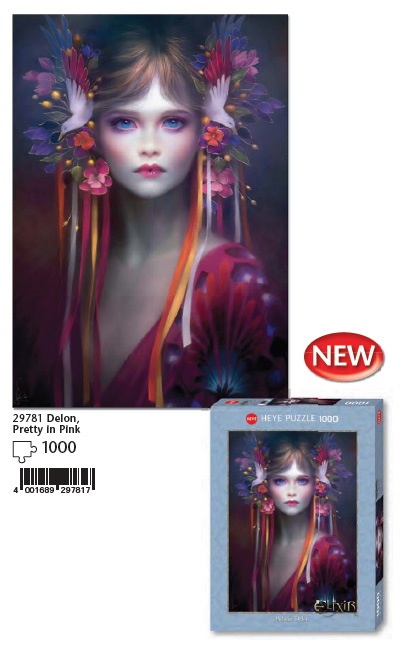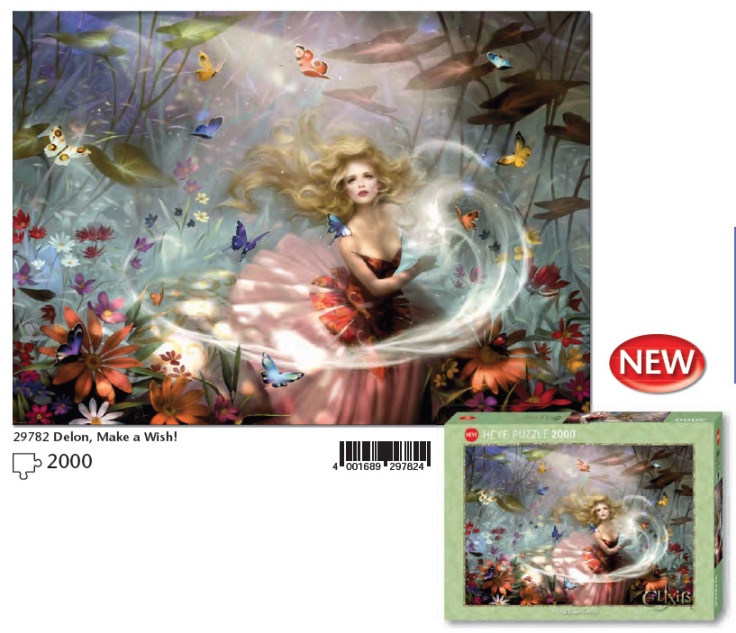 "Rocket Launch" by Osterle, 1000 pieces
As far as I know, this is the first Heye puzzle by Osterle. Looks really interesting! Lots of great little characters with aliens, scientists, and more. Definitely a must-have for me!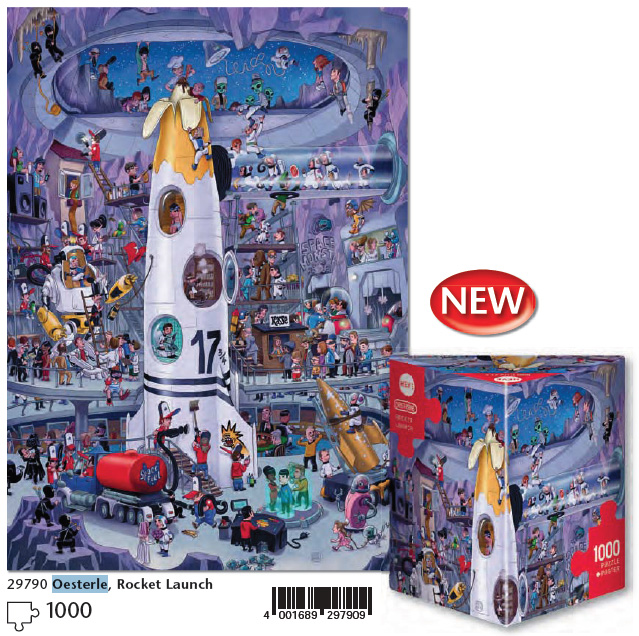 "Funky Zoo: Ocean Habitat" by Marino Delgano, 1000 and 2000 pieces
Marino Delgano is one of Heye's best cartoonists, and he's been doing puzzles with them since the 90's. It's always a huge treat to see new images from these cartoon masters. This new "Funky Zoo" puzzle is brilliant, as always. It joins a number of other "Funky Zoo" images which are designed to join together horizontally. We normally carry them all at Puzzle Warehouse, though we're currently a bit low in stock due to our big Black Friday sale. You can see our Funky Zoo puzzles in stock here.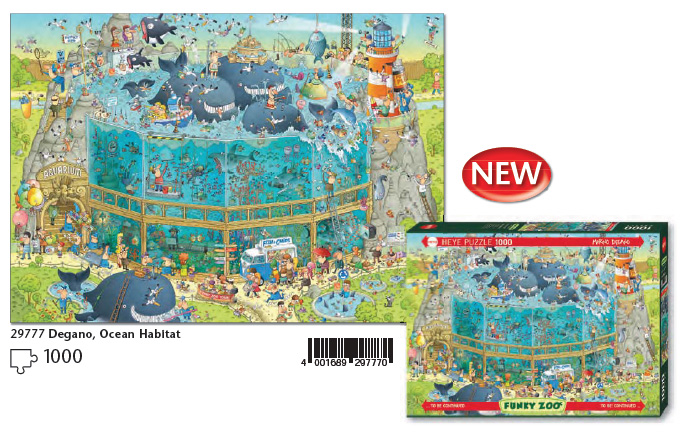 "Trafalgar" by Ryba, 2000 pieces
This is a reissue of a Ryba puzzle that was originally released in 4000 pieces and then later rereleased in 1500 pieces. It would go even higher on my list, but I already have several copies of it. If you don't, definitely check it out. It's one of Heye's truly classic cartoon puzzles by Michael Ryba. An outstanding masterpiece! I'm happy to see them rerelease it in a triangular box instead of under cartoon classics (which come in a regular box). And the 2000 piece size is also nicer than the 1500 previous rerelease. Thank you, Heye!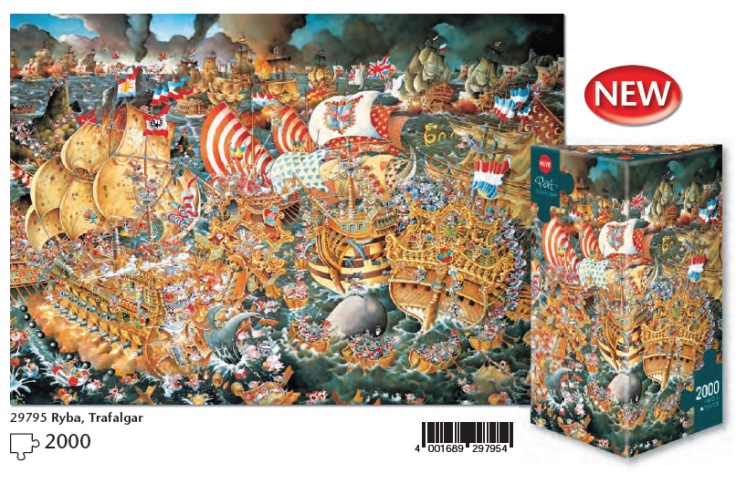 "Flea Market" by Schone, 2000 pieces
This year's "Train Station" by Schone in 2000 pieces was an awesome puzzle (though I haven't had the chance to work it yet). This year's "Flea Market" in 2000 looks similar–a hyper treat of a busy cartoon puzzle. Yes, please!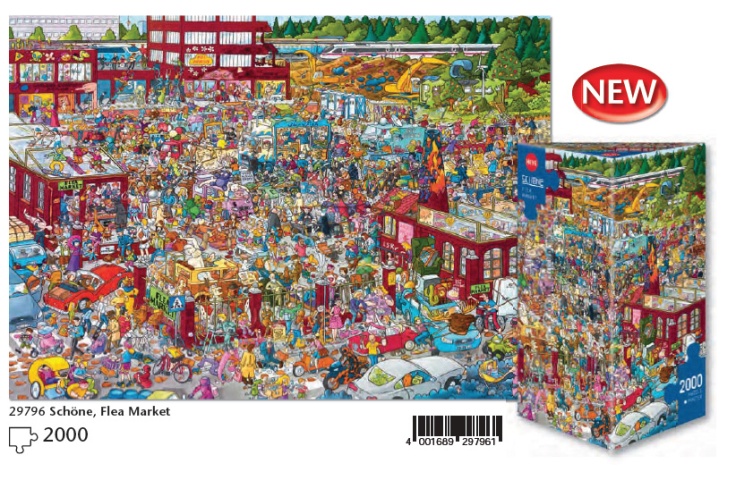 "Wonderwoods" by Rita Berman, 1500 pieces
This past year I reviewed Rita Berman's puzzle "Happy Town" (see review here), which was a blast to assemble. This new one looks fantastic with tons of color and cute detail.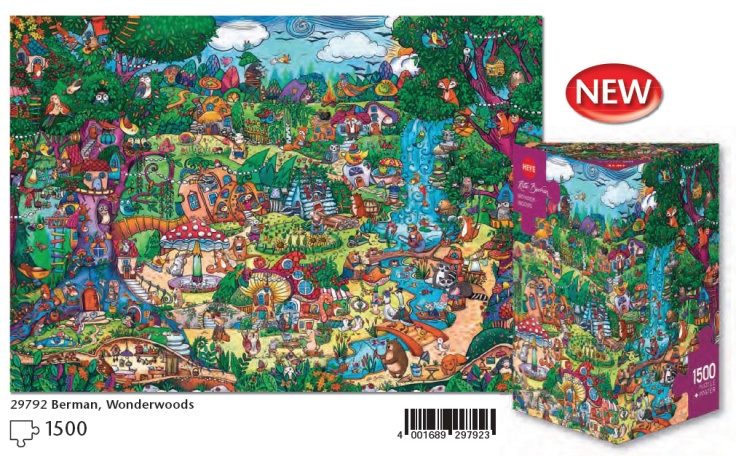 "Ancient Rome" by Hugo Prades, 1500 pieces
Hugo Prades is another long-time Heye master. (see my previous reviews here). You can see the Prades puzzles currently in stock here. It's a treat to get a new puzzle from him! He previously did several puzzles on ancient Egypt and this time we get ancient Rome. Definitely a must have!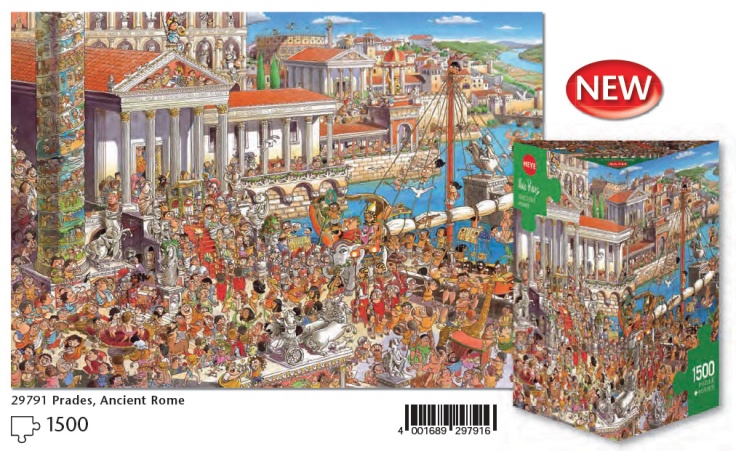 "Floral Life" by Marino Degano, 1000 pieces
I just reviewed Degano's "Cat's Life" (see review here). This new one is in the same family — it's a close-up of a large object (in this case flowers) with tons of small cartoony creatures crawling over it with lots of puns and humorous details. I'm super excited for this one!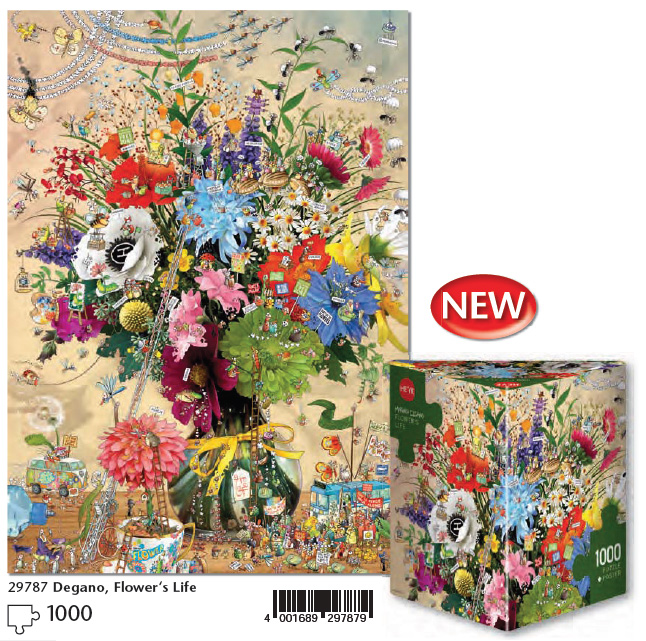 "Say Cheese!" by Gobel and Knorr, 1500 pieces
My top pick this year from Heye is this new puzzle from Gobel and Knorr. Last year's "Sherlock and Co" puzzle was one of my favorite of the year (see my review here). This one looks just as good or even better. I like the detailed line art and all the characters and features of interest. And what a beautiful box!