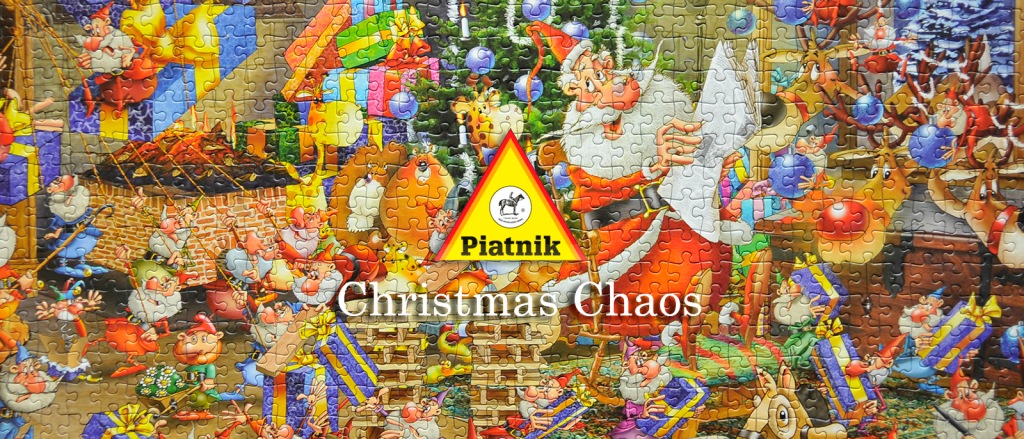 Review: "Christmas Chaos" by Francois Ruyer, Piatnik – 9/10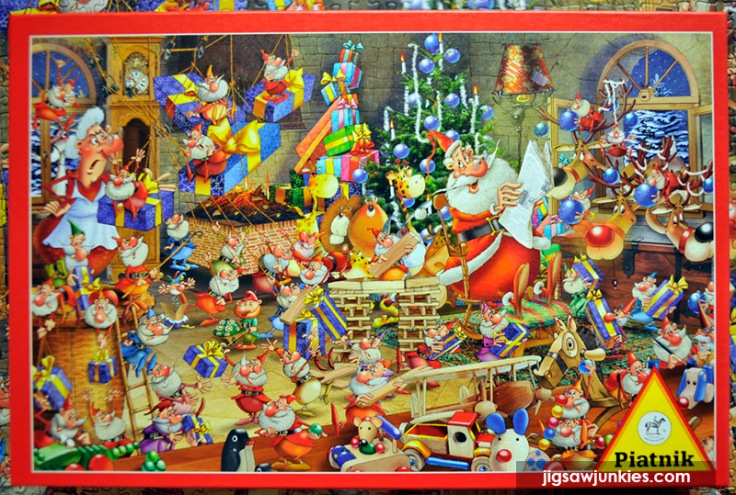 Publisher: Piatnik (Austria), published 2013 (currently in print)
Title: "Christmas Chaos" by Francois Ruyer, 1000 pieces
Finished size: 26.5″ x 17.4″
OUR RATING: 9/10

RUYER WEEK:
This week I'm featuring cartoon puzzle artist Francois Ruyer. He has done puzzles with a few brands, but primarily with Austrian manufacturer Piatnik. I'll be reviewing two Ruyer puzzles this week and I have an interview for the weekend.
View all current Ruyer puzzles in stock at Puzzle Warehouse
See my previous Ruyer reviews: Bunnies VS Wolves or Bunnytown.
"CHRISTMAS CHAOS" by Francois Ruyer REVIEW
Since it's nearly December, I picked "Christmas Chaos" for my first Ruyer puzzle to review this week.
Box Quality: (8/10)
The Piatnik boxes are standard rectangular boxes similar to Ravensburger or Jumbo puzzles. You can see the front of the box above. It is a very minimalistic approach with only the image and the Piatnik logo on the front. The box is sturdy and nicely designed.
Sides:
All four sides show a detail from the puzzle image, the piece count, and Piatnik logo. The name of the puzzle and artist name are shown in fine print. This design works well for shelving short or long side out.




Bottom:
The bottom shows other Christmas puzzles from Paitnik.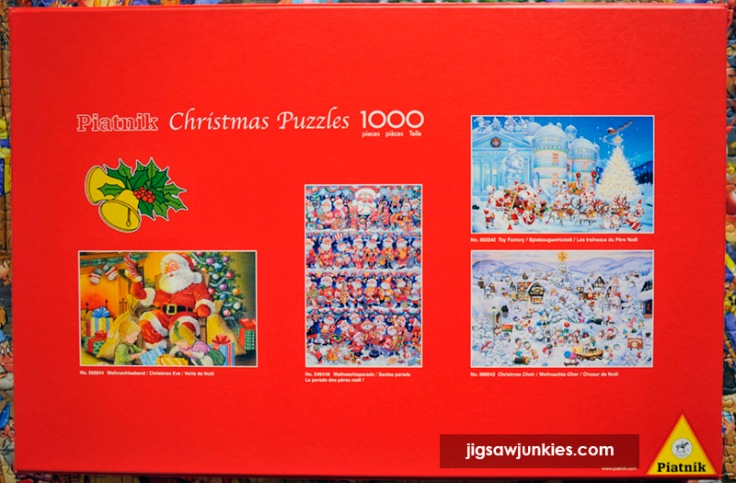 Inside:
There's nothing in the box except the bag of puzzle pieces. The bag of pieces was in excellent condition with no damage to the pieces, fully separated pieces, and a moderate amount of puzzle dust.
I've given the box an 8 score. It's good but a bit minimalistic. It would have been nice to have a small artist bio somewhere, especially since Piatnik features a lot of Francois Ruyer puzzles.
The Image: 10/10
I love cartoon puzzles and I love Christmas puzzles, so it's not a shock I'd rate this image a full 10 score! But it truly deserves it. There's so much detail in this image and the composition is well laid out. There are a lot of blue-with-yellow-ribbon gift boxes all over the image and a ton of the big nosed elf characters. This makes for a challenging puzzle–in a good way. I had to study the box often to figure out where a piece went.
The image is just overall fun and cute too, with Santa, Mrs. Claus, reindeer, and a busy workshop scene done in a cartoony style that isn't too childish. The entire image is full of activity with very little background space.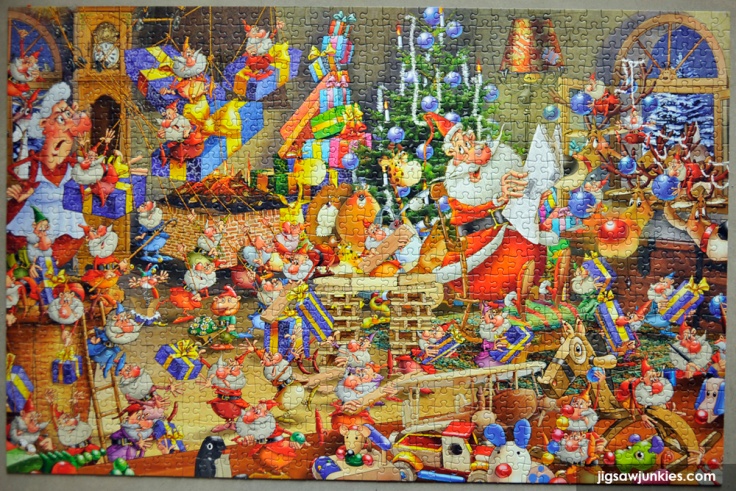 The technical execution of the image is perfect. Every line in the drawing is precise and impeccable, and the colors are soft and appealing. Each character feels real and has personality.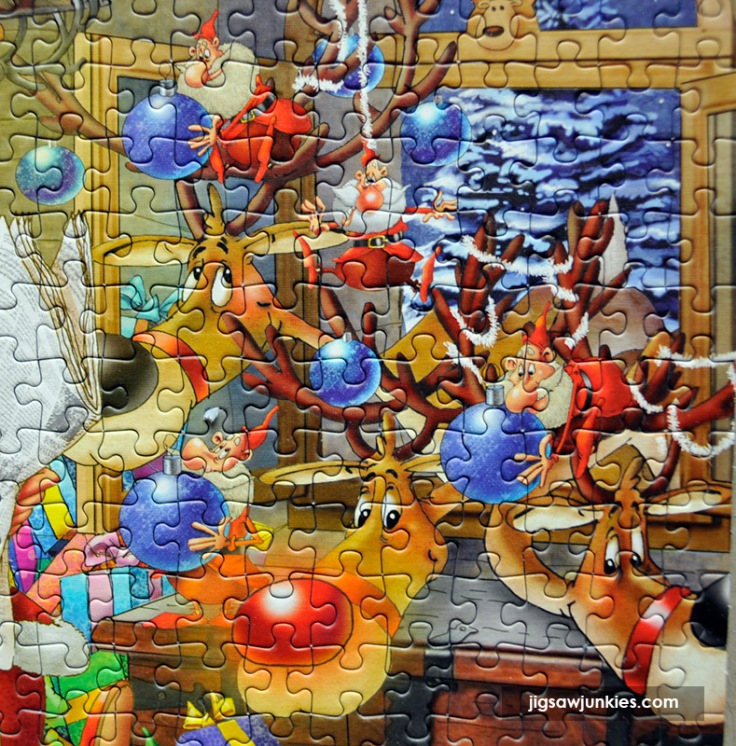 A perfect 10!
(Click on any of the images in this review for a closer look.)
Puzzle Quality: (9/10)
Piatnik did well in our brand comparison. You can see our full brand comparison on Piatnik here.
This is a solid Austrian brand which is similar to the German brand Ravensburger. The pieces are slightly smaller than Ravensburger (their 1000 piece puzzles are 27″ x 20″ while this Piatnik is 26.5″ x 17.4″). But the pieces didn't feel particularly small to me as I worked it.
The pieces are thick and sturdy and the finish is more of a matte finish. The fit is tighter than some brands, like Heye, and it's not too hard to move assembled pieces around without them falling apart. The puzzle is grid cut, and mostly of the two-knob, two-hole variety, but there are some other shapes here and there, as you can see below. I didn't run into any situation where I thought a piece fit where it didn't go, but that could be because this image is so busy. The image reproduction is perfect.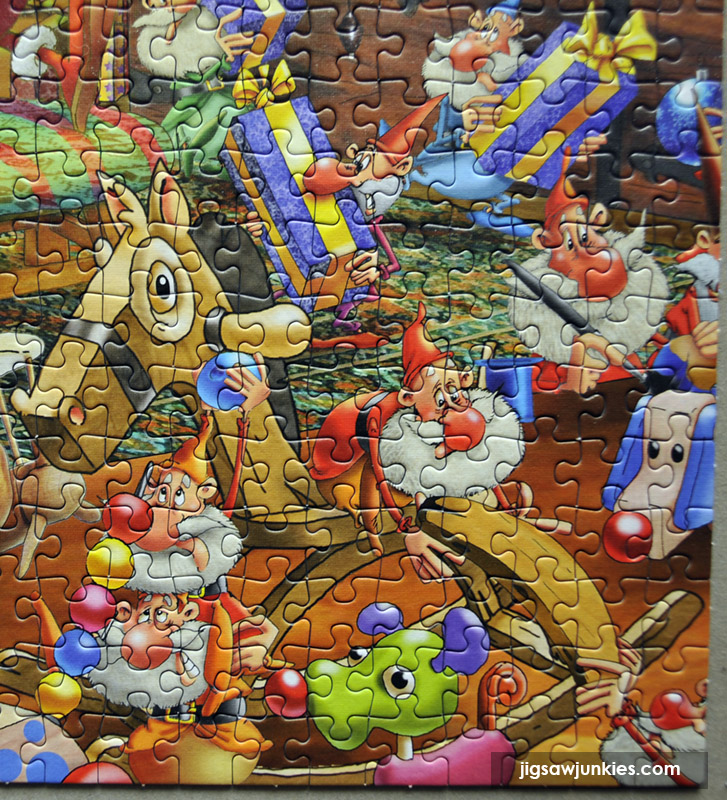 Overall, I'm giving this puzzle a high 9 score for quality.
Assembly: (9/10)
I'd rate this puzzle as moderately difficult. It took me two long evenings to complete, longer than average for a 1000 piece puzzle.
DAY ONE:
I assembled the border first and then the clothing of Santa and Mrs Claus (both red and white) and the multi-colored gift box tower.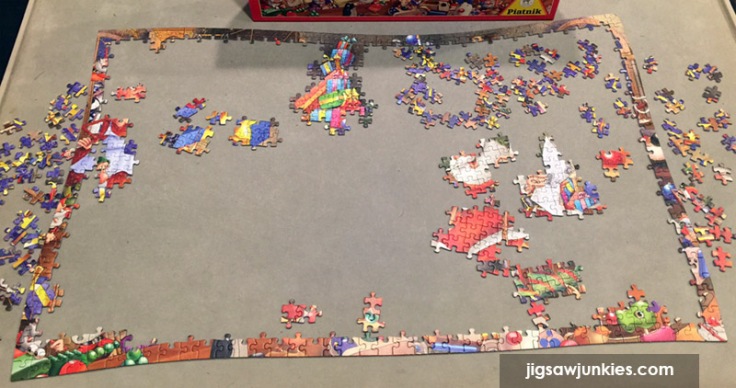 Santa and Mrs. Clause's red and white clothing is somewhat unique in the composition, but their faces are similar to all the 'elf' faces.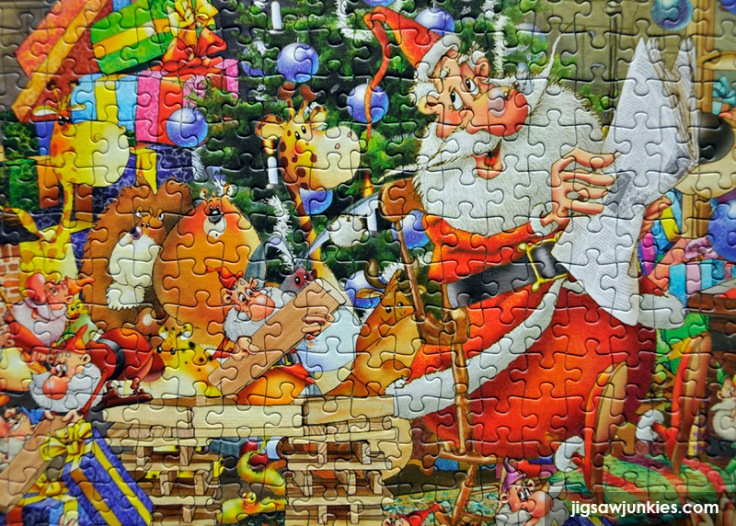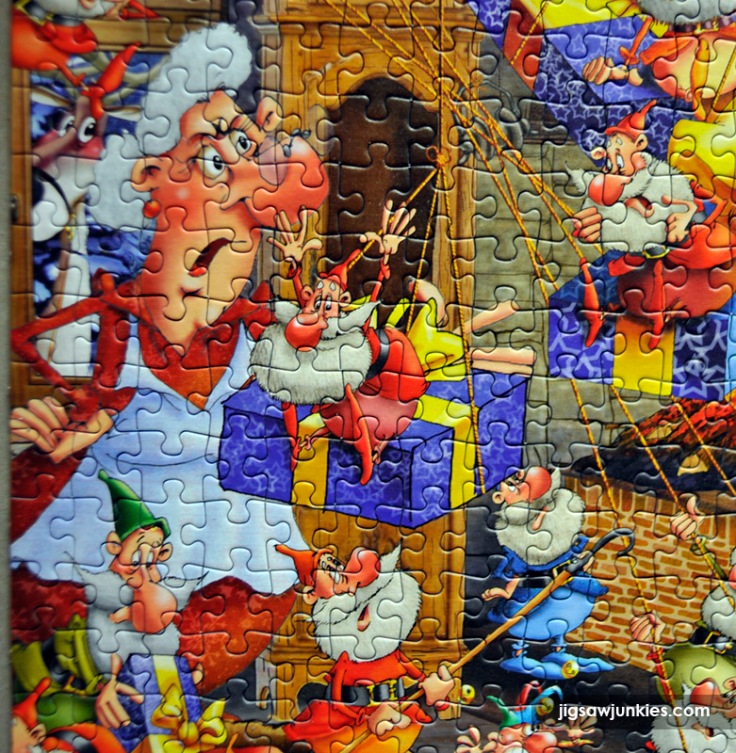 DAY TWO:
I completed the puzzle in a second long session. What makes the puzzle challenging is that several elements repeat with slight changes all over the scene, specially the blue-and-yellow gift boxes and the elf faces and beards. There are a few different colors of elf costumes, but the blue and red costumes repeat. I quite enjoyed this extra bit of challenge though, which is typical for a "busy cartoon" puzzle. It was fun and satisfying to complete the project and I would definitely do this puzzle again.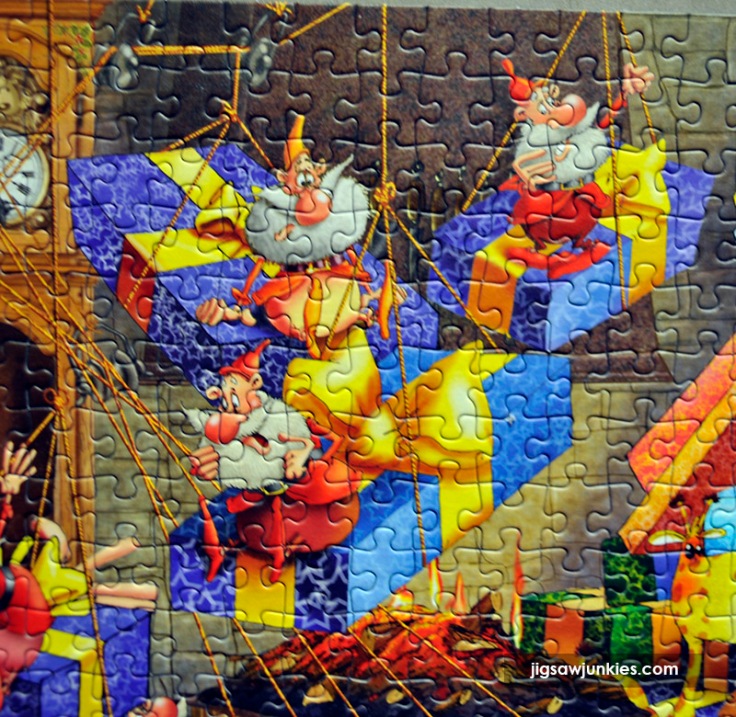 Before getting to the elves though, there are several unique background patterns that are easy to assemble scattered around the image. For example, the brick fireplace and burning wood in the center…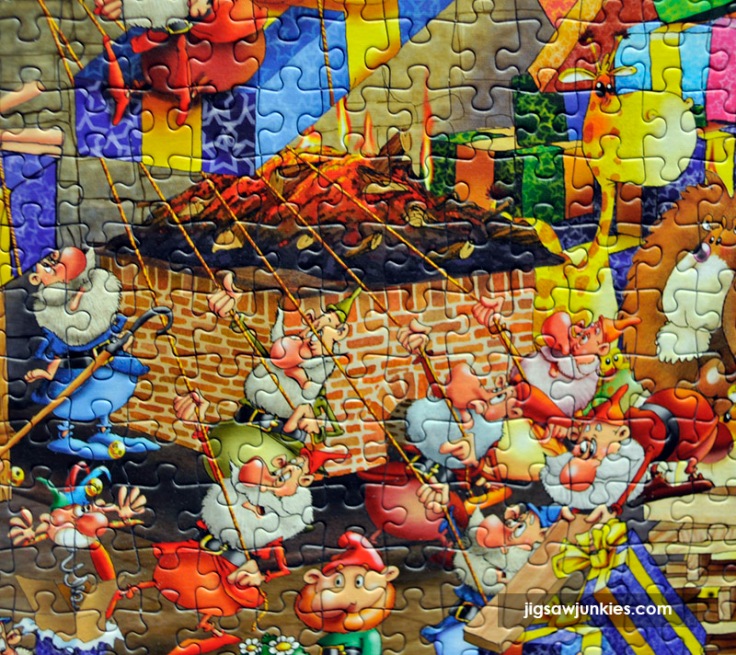 … the Christmas tree…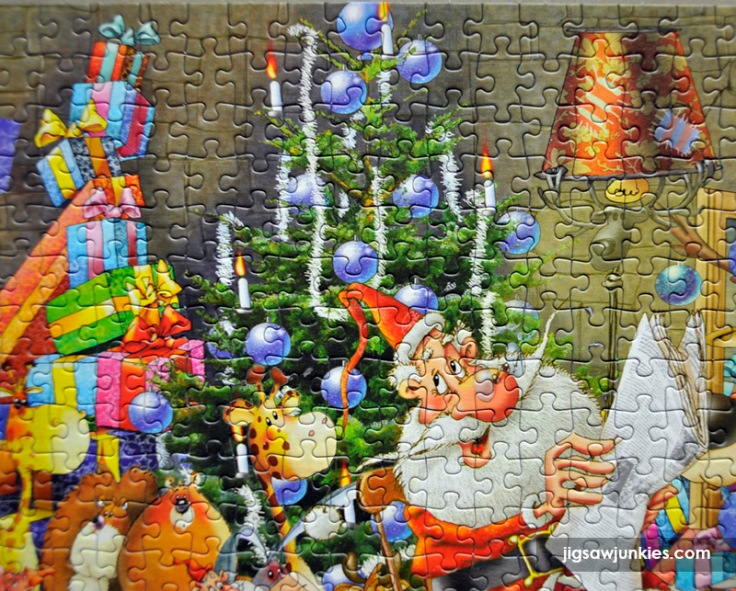 … the lamp, wall, and window in the upper right…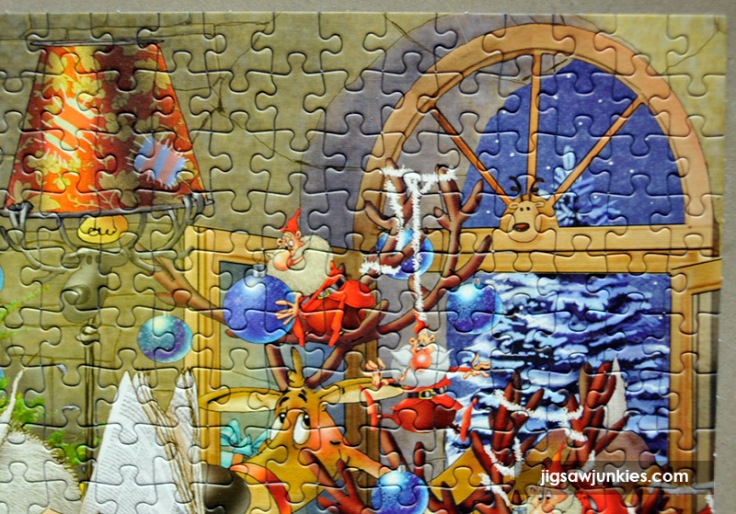 … and a green ottoman pad and green rug in the lower right of the scene.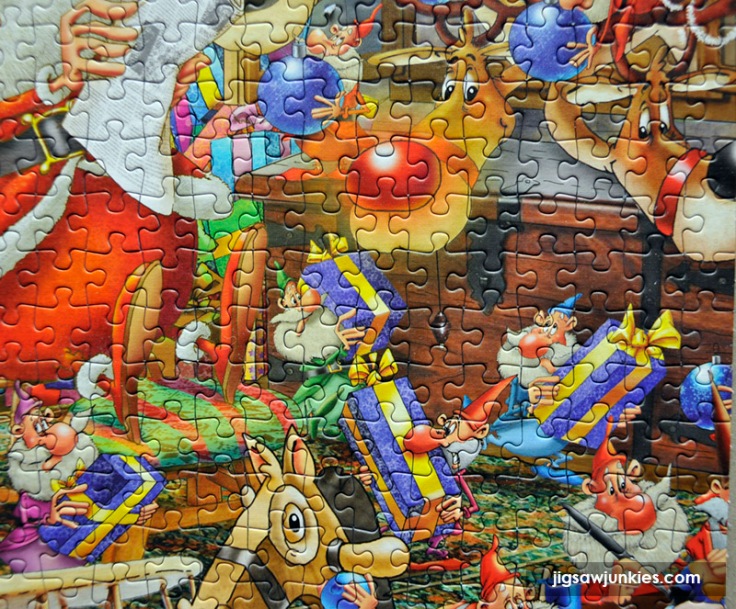 There's a window and clock in the upper left…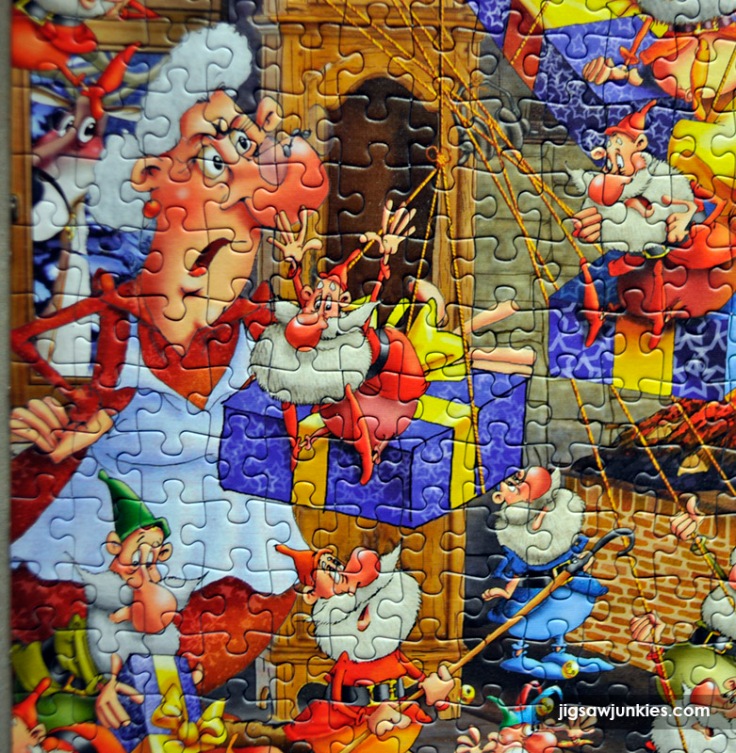 … and the toys in the foreground are also easier to assemble.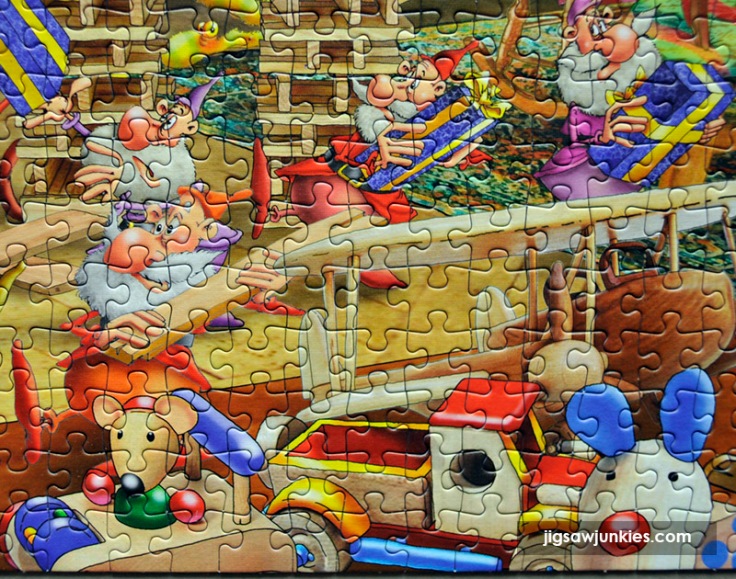 For me, the last part of the puzzle was to complete all the elves and gift boxes. Once you've gotten the various easier-to-identify items mention above assembled, they serve as anchoring points for filling in the elves. I found myself referring to the box lid image often trying to figure out which elf a 'bit of red nose and eye' belonged to. Although not all elf costumes are completely unique, there were enough colors that the costume color limited which elf a piece might belong to.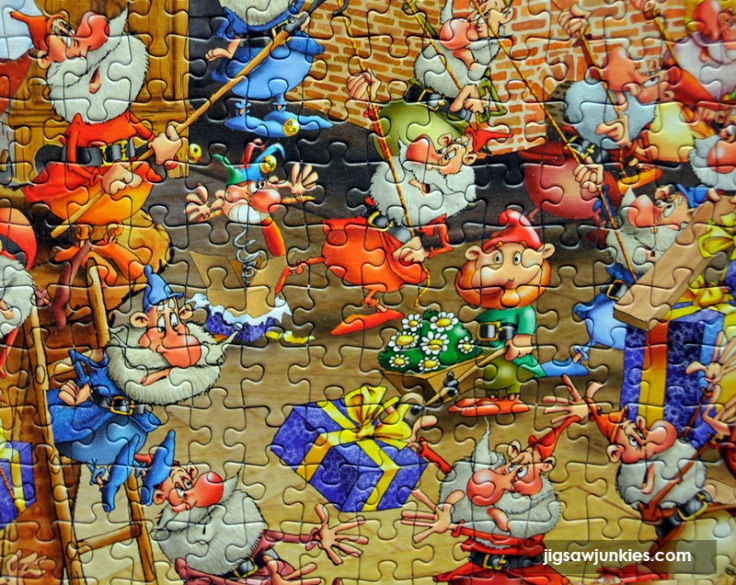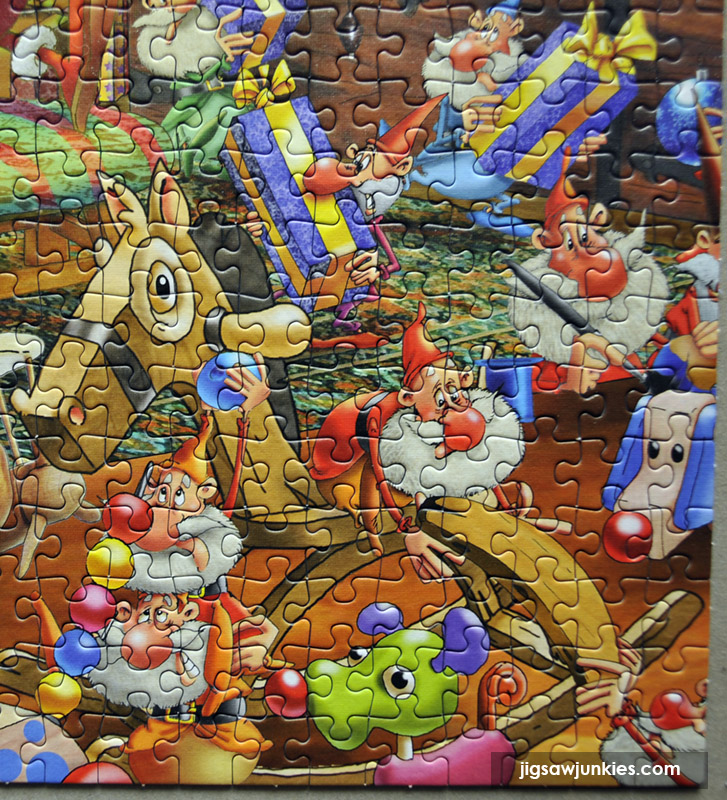 Overall, I've given "Christmas Chaos" a 9 score for assembly. It was harder than anticipated, but a lot of fun and I enjoyed seeing all the cute characters as they were pieced together.
Summary:
"Christmas Chaos" by Francois Ruyer is a fun but moderately challenging Christmas cartoon puzzle. The artwork is beautifully executed with tons of color and detail. The repeating elements of similar-looking elves and gift boxes scattered throughout the image are tricky, but there are some anchoring elements such as the windows, fireplace, toys, and Christmas tree, which help fill in much of the design. I found myself referring to the box lid often to figure out which piece of elf went where. The Piatnik quality is very good with thick, sturdy pieces, a grid cut, a fairly tight fit, and a nice matte finish. If you like a little more challenge, Christmas puzzles, or cartoon puzzles, this is highly recommended.

Where to find:
You can find this puzzle at Puzzle Warehouse. Click on the logo below.

More from Francois Ruyer.
I'll do a gallery this weekend of all known Ruyer puzzles. You can see all the ones at Puzzle Warehouser here.
See my previous Ruyer reviews: Bunnies VS Wolves or Bunnytown.
JJ