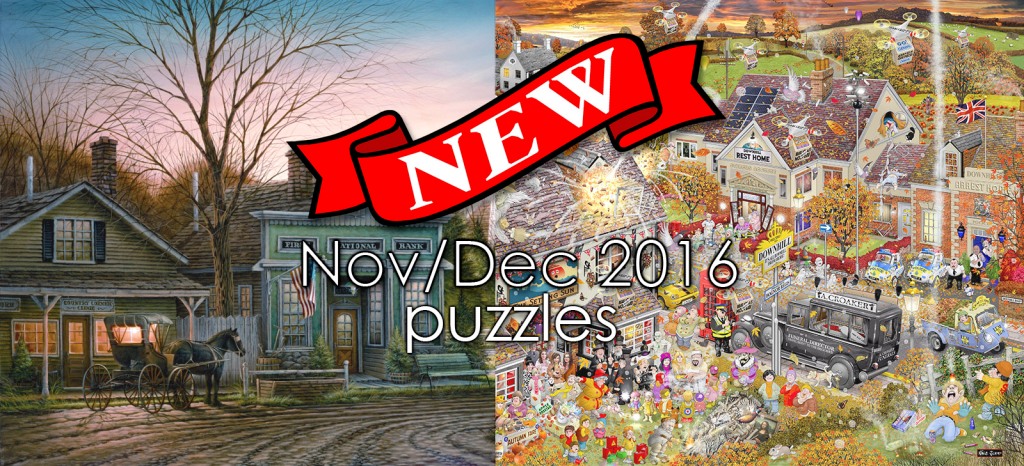 New Puzzles – Nov/Dec 2016
It's time again to talk about new puzzles! There are not a ton of new releases in November/December since the holiday puzzles normally come out earlier than that, but there are a few. PLUS, we have the first peek at the 2017 Ravensburger UK line. Awesome.
NEW IN STOCK
Here's what's new in stock at Puzzle Warehouse. Below are my picks, but you can see all the new puzzles for the past 30 days here.
PIATNIK
"Cruise Ship" by Francois Ruyer, 1000 pieces
This new Ruyer puzzle is now in stock. Yay! Click on the image to view it at Puzzle Warehouse.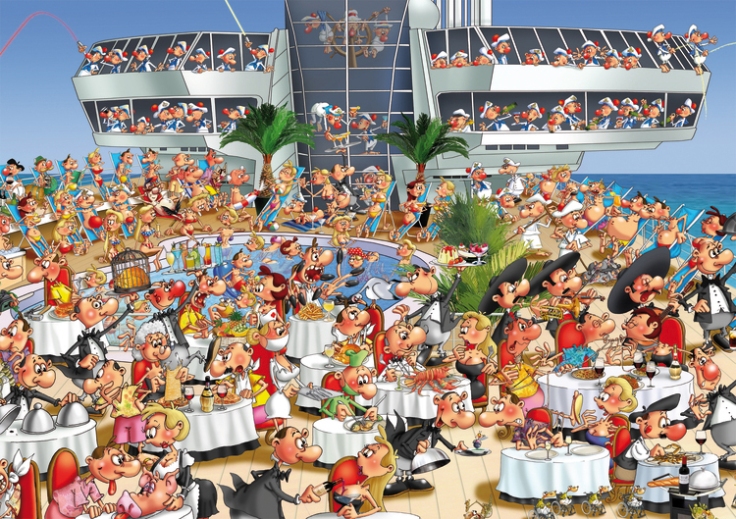 "Tournament of Knights" by Francois Ruyer, 1000 pieces
And this one! Click on the image to view it at Puzzle Warehouse.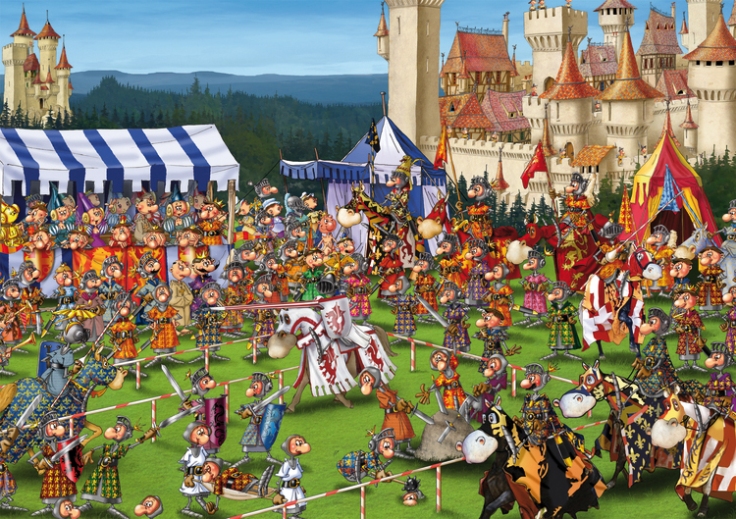 CEACO
"Old Friends At Play" by Ed Beard Jr., from Ceaco 1000 pieces
Ceaco has some cool new dragon puzzles out. This is my favorite. Click on the image to view it at Puzzle Warehouse.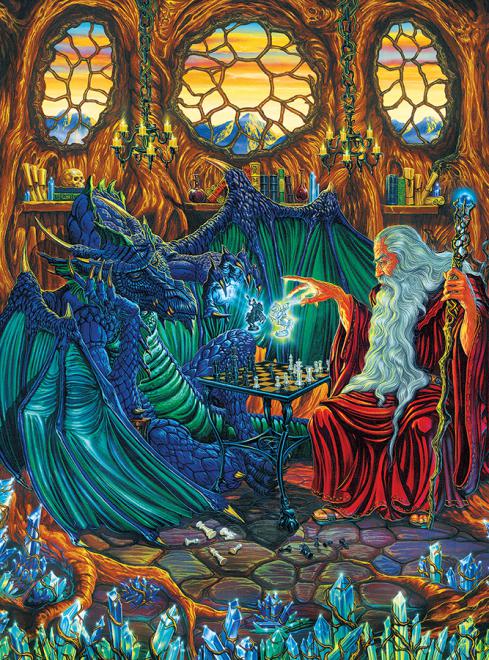 "Disney Classics" from Ceaco 1500 pieces
This Disney puzzle is a terrific mix of vignette images and frames and it's in 1500 pieces. Click on the image to view it at Puzzle Warehouse.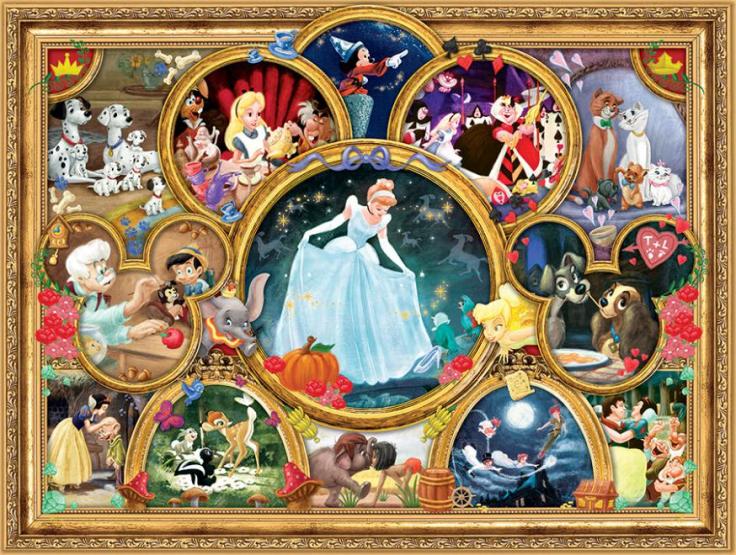 PUZZLE TWIST
Three new titles from Puzzle Twist, 1000 pieces
The Puzzle Twist brand is a "puzzle plus", meaning there is more to it than simply piecing together the image. In this case, the puzzle you piece together is "more than a bit different than the image on the box". I'm hoping to take one of these for a trial run next year. Meanwhile, these are all very nice collage images. Click on the image to view it at Puzzle Warehouse.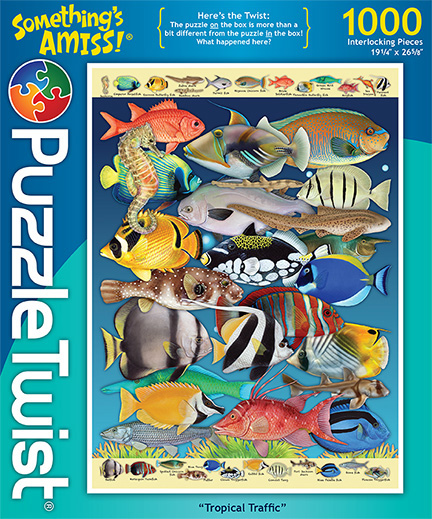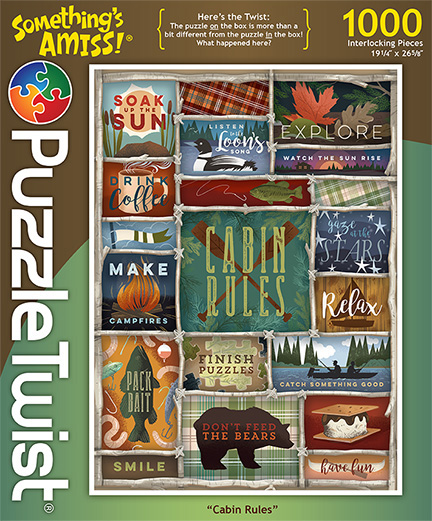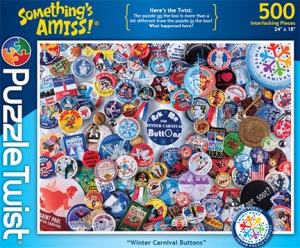 NEW PUZZLE ANNOUNCEMENTS
In this section I have the scoop on new puzzles just announced but not yet available at Puzzle Warehouse. When these puzzles become available in the future, they'll migrate to the section above in future monthly news. LOOK FOR THE RAVENSBURGER UK 2017 PUZZLES AT THE END OF THIS LIST.
BUFFALO GAMES
"Vivid Collection: Coffee and Donuts" by Aimee Stewart, 300 pieces
This is a brand new Aimee Stewart. I wish it came in 1000 pieces!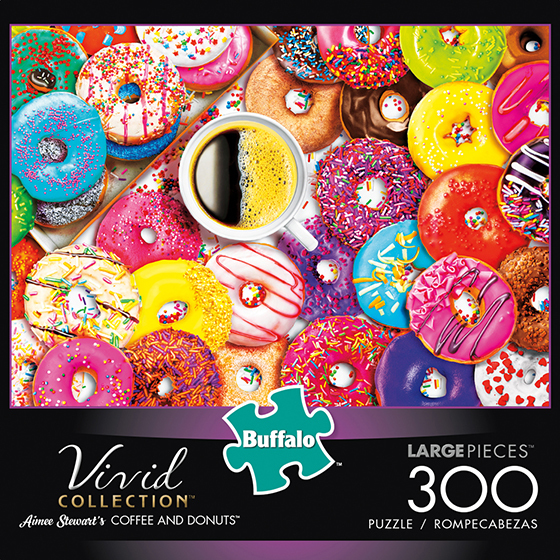 "Old California" by Charles Wysocki, 1000 pieces
It's always nice to see new Wysockis.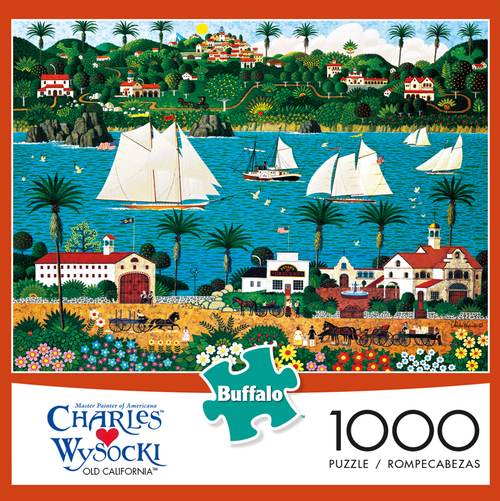 "Times Square", 2000 pieces
For those who like the larger puzzles, Buffalo has a new 2000 piecer.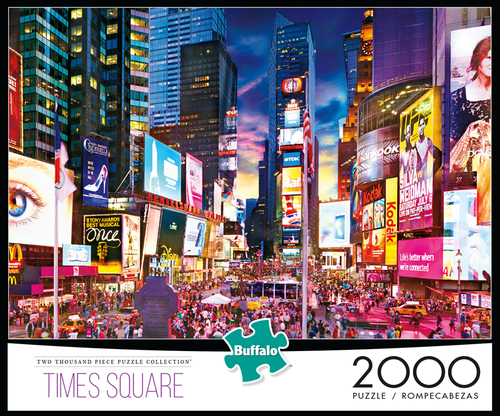 "Holiday Traditions" (no artist listed), 1000 pieces
This is a new addition to the Holiday Collection series.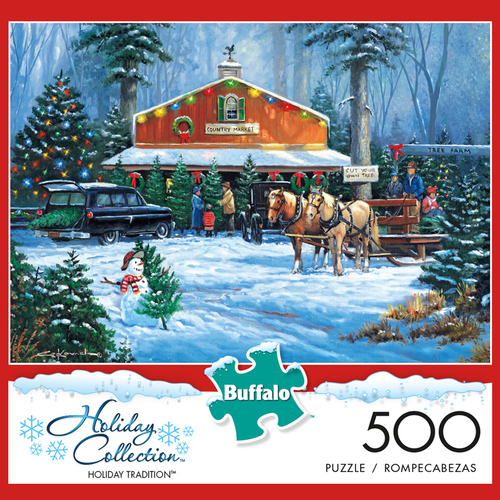 "Snowbaby Grace" by Kim Norlien, 500 pieces
How cute is this?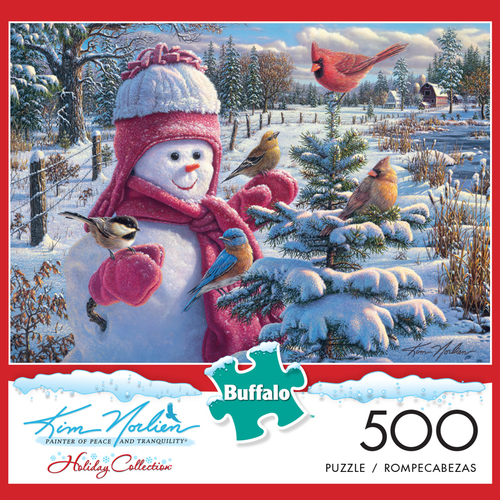 WHITE MOUNTAIN
"Classic Stamps", 550 pieces
Another new stamps puzzle, this one in a smaller piece count.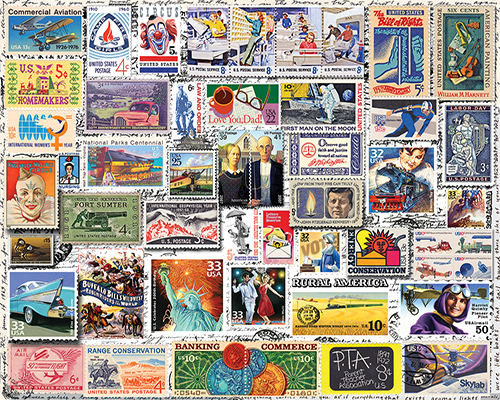 "Venice" , 1000 pieces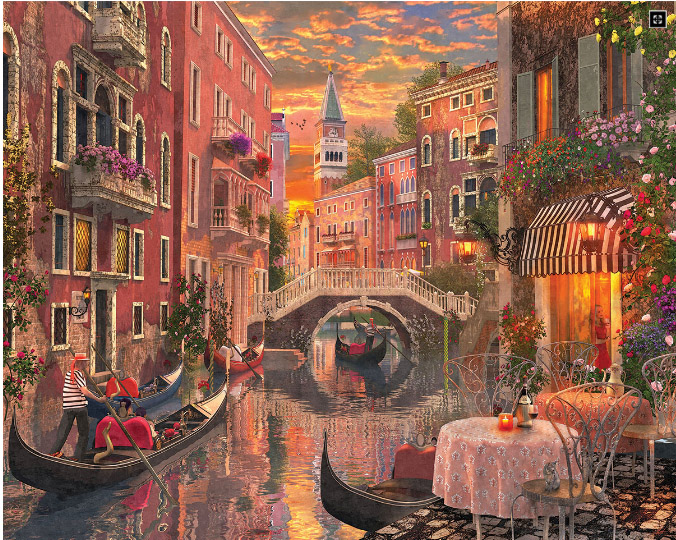 "Cereal Boxes" , 1000 pieces
Lots of great title/font work in this collage.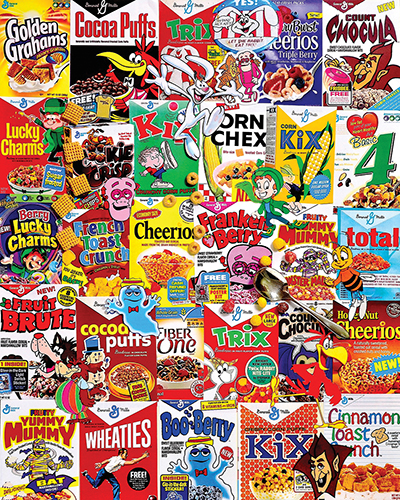 "Office hours" by Terry Redlin, 550 pieces
Lovely muted colors in this one.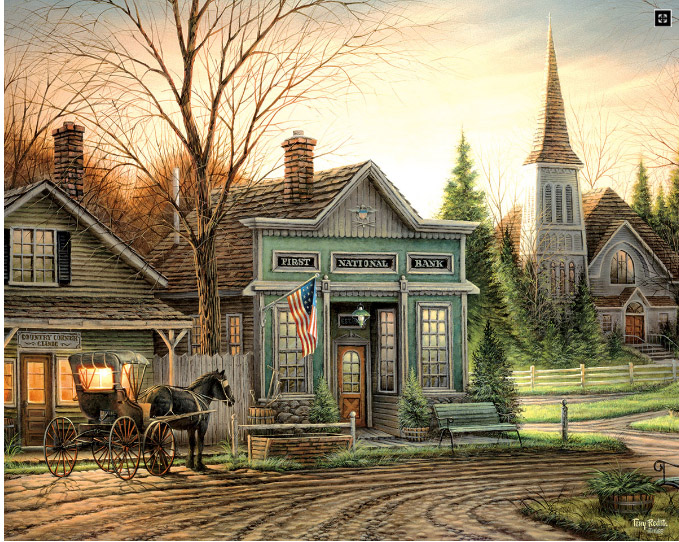 GIBSONS
"I Love Fall" by Mike Jupp, 1000 pieces
Mike gave us a sneak peek at his upcoming puzzle. This one will likely be out in January. It's too good!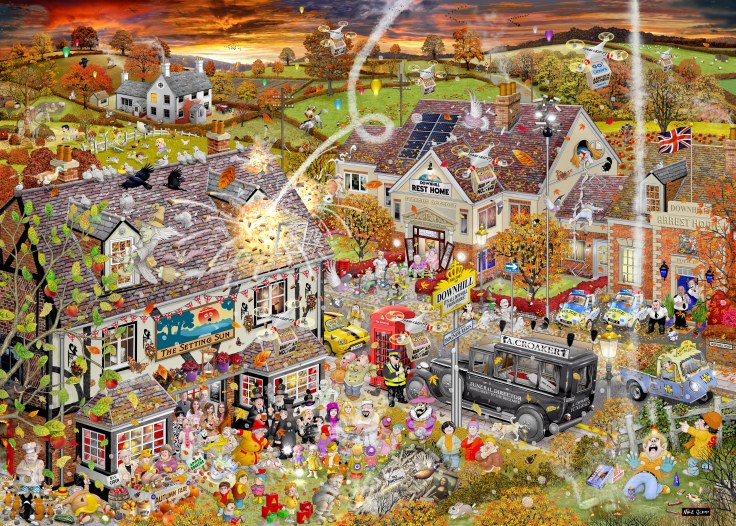 NEW HEYE 2017 PUZZLES
These were posted as a separate entry. You can see the puzzles here.
NEW RAVENSBURGER UK 2017 PUZZLES
The Adult Collection 2017 pdf is now up on the Ravensburger site. You can see it here.
Below are my top picks. Ravensburger will have more new puzzles out in the June/July timeframe, but this is the major annual announcement. I only have pics from the pdf for now, so the resolution isn't great.
New Colin Thompson — "Tomorrow's World" (500 pieces), "Flying Home" (1000 pieces)
These are quite nice for Colin Thompson fans.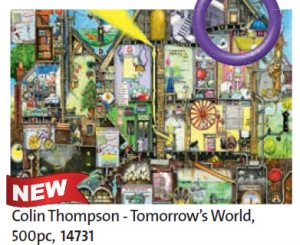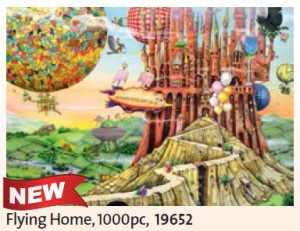 "Shaped Lighthouse" (995 pieces)
This is probably my favorite of the new Rav puzzles. It's a shaped puzzle but filled in with Colin Thompson detail and wackery. Very nice! Goes to the top of my list.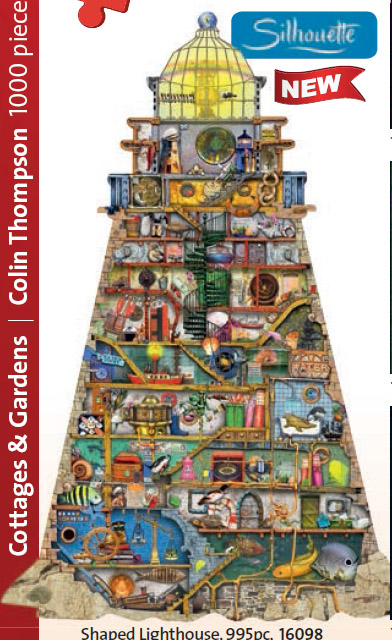 "Vintage Travel" and "Vintage Library" by Aimee Stewart, both in 500 pieces
I like book cover puzzles and these two are awesome. They could be done separately or together for a 1000 piece challenge.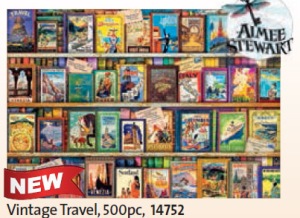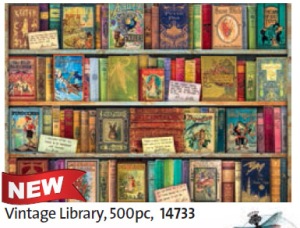 The Cottage Garden No 4 "Winter" in 500 pieces and "Garden Vistas No 2: Summer Breeze" in 500 pieces.
I've been collecting this lovely Cottage Garden series. Now that #4 is out, I believe I'll do all four seasons together as a 2000 piece puzzle. The Garden Vista's series is similar and quite pretty too.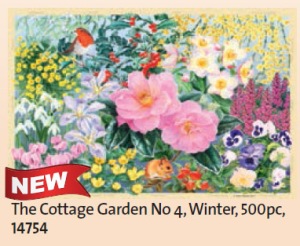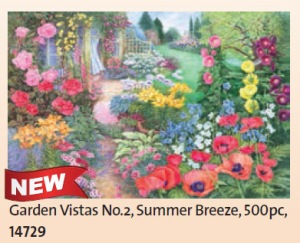 Happy Days at Work by Trevor Mitchell. "The Building" and "The WPC' in 500 pieces
This British nostalgia series by Trevor Mitchell features jobs from the 1950's. I believe these are #9 and #10. I like the series because, even though the piece count is 500, you can combine several of them to make up a 2000 or 1000 piece puzzle. They all have the same dimension and feel.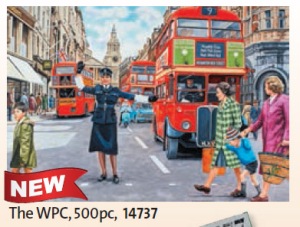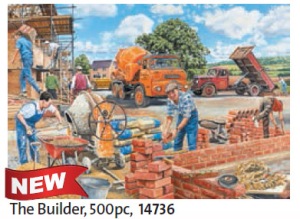 Best of British #17 and #18 by Geoff Tristram. "School Sports Day" in 500 pieces and "Used Car Lot" in 1000 pieces
I love this humorous series.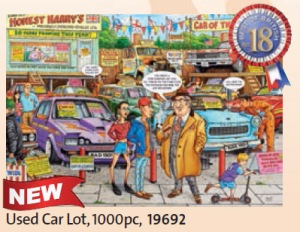 Comments (Add Comment)