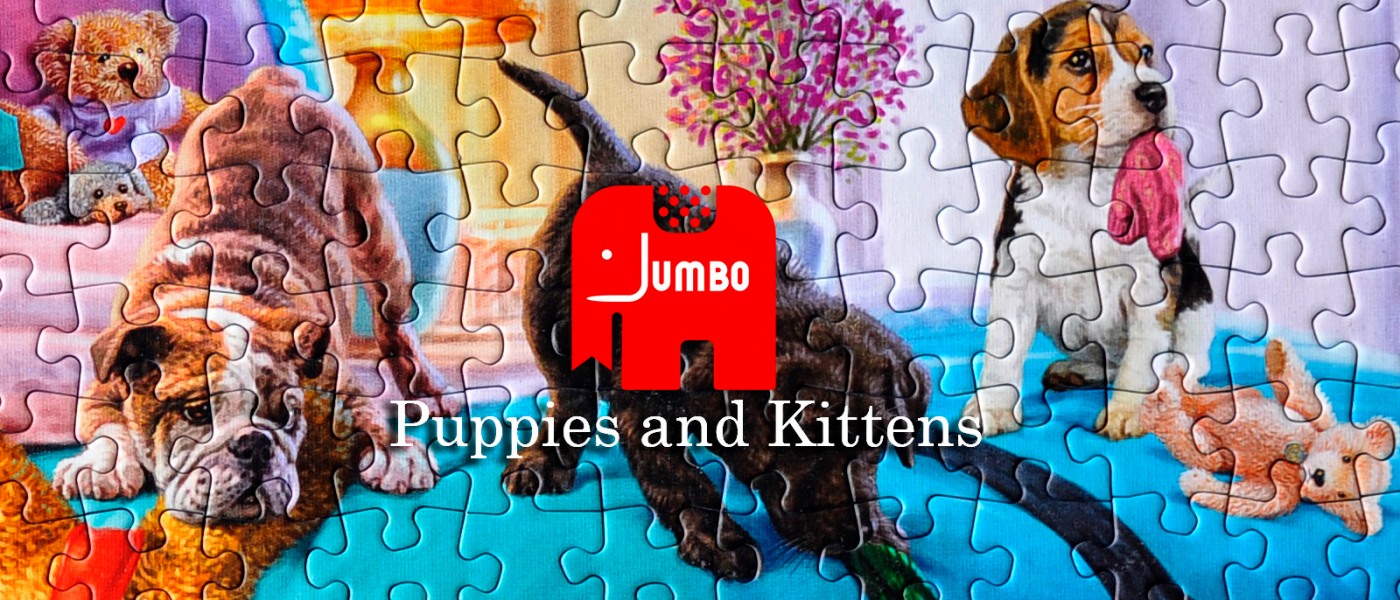 Review: "Puppies and Kittens" by Steve Read, Falcon – 8.5/10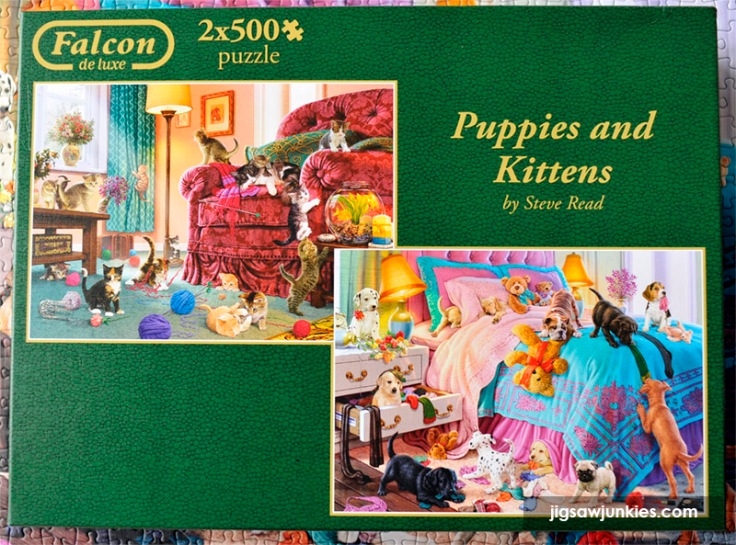 Publisher: Jumbo / Falcon (Germany), published 2016
Title: "Puppes" from "Puppies and Kittens" by Steve Read, 500 pieces
Finished size: 19.3″ x 13.8″
OUR RATING: 8.5/10

Dog themed puzzles week:
This week we'll be featuring puzzles that include man's best friend! Join us for two reviews this week of dog-themed puzzles and a top ten list this weekend.
"Puppies" by Steve Read REVIEW
Box Quality: (8/10)
Falcon, which is owned by Jumbo, has very sturdy rectangular boxes with a green background. The name of the puzzle and artist are featured on the front (see above).
Sides:
All four sides of the box have the Falcon logo, part of the image, the artist name, puzzle name, and the piece count. This is ideal for shelving long or short side out. Year of manufacture is also listed.




Back:
The back of the box is a generic Falcon puzzle brand back. It does show some other puzzles in the catalgue, and it's certainly nicer than a plain white back, but I would have liked a little blurb at least on the artist.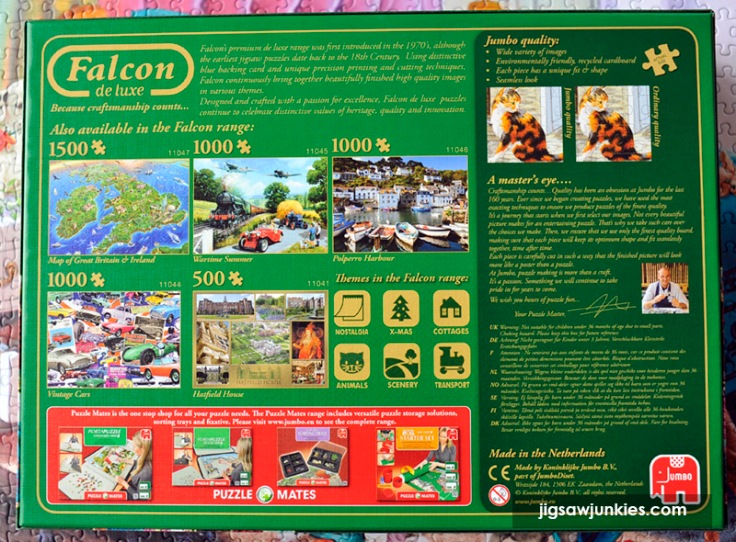 Inside:
There is nothing inside the box except for the two bags of puzzle pieces (one bag for each puzzle). Each bag contains a small image of the puzzle, as shown below, so you know which bag is which. The pieces were in excellent condition with no damage and a small amount of puzzle dust.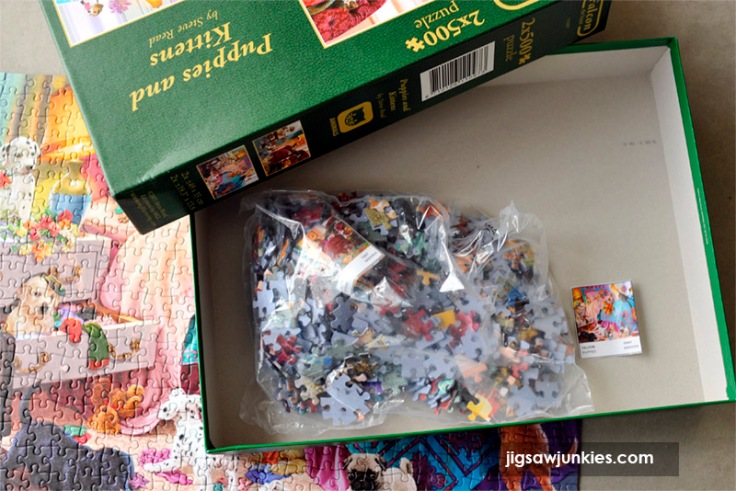 I've given the box an 8 score. I like how promient the artist name is and the sturdiness and sides of the box, but it does't score as highly as boxes that include extras or an artist bio.
The Image: 9/10
This dog-themed image is appealing because it has cute puppies but also a lot of color and texture besides dog fur. Steve Read has a soft and very polished art style (we previously reviewed his "Sunday Lunch") that I really like. His images have a cohesive hand-painted quality, though it appears there is digital manipulation done as well. There's a lot of fine detail, unlike some painting-based puzzles, where you can see the brush work and details are quite sketchy. Steve Read reminds me a lot of Steve Crisp in that respect. The lighting on this image is soft and "glowing" with the two lamps and natural daylight. The bed provides a large area of bright color.
This is a two-puzzle set. The second image shows kittens in a living room around a large red chair, and is also a very nice image. I like sets like this, because you can do each puzzle separately if you prefer smaller piece count puzzles, or mix the pieces together if you prefer a 1000 piece puzzle.
As for its "puzzle suitability", there's plenty of color and pattern and a nice mix of elements overall.
I've give a 9 score to this image.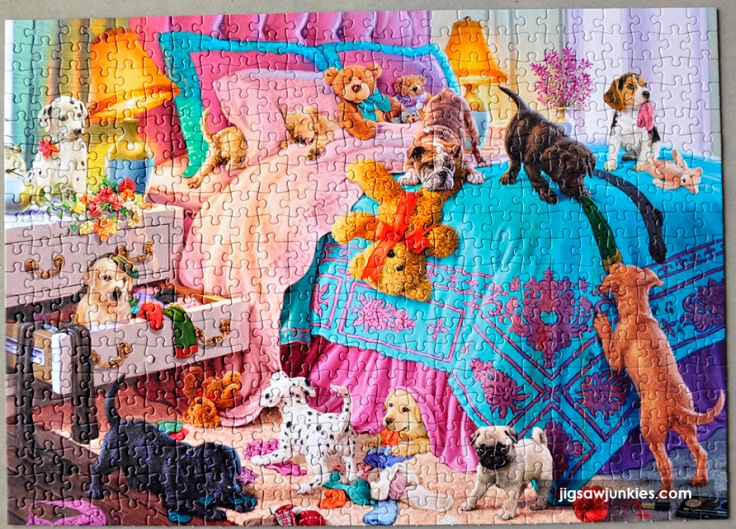 (Click on any of the images in this review for a closer look.)
Puzzle Quality: (9/10)
Falcon puzzles are made by the Dutch manufacturer Jumbo, and the quality is very similar to other Jumbo puzzles like Wasgij and Jan Van Haasteren. Jumbo ranks very highly in our brand comparison. You can see our full brand comparison on Jumbo here.
I really enjoy the feel of a Jumbo (or Falcon) puzzle. Like Gibsons, there's a unique tactile quality to the pieces. They feel very thick and sturdy and have a soft coating. The fit is really lovely–very secure with a solid rightness when two pieces connect. They brag about their "seamless finish" (which means the puzzle cut sort of 'vanishes' into the picturre). That's true, as you can see in the close-up below. I also like the matte finish.
Like most European puzzles, this is a grid or ribbon cut puzzle, but there's a nice variety of piece shapes. Unlike Gibsons, there's no confusion about whether a piece fits or not. In the close-up below you can see the crisp detail and the nice matte linen finish on the pieces (this image is larger than the actual piece size).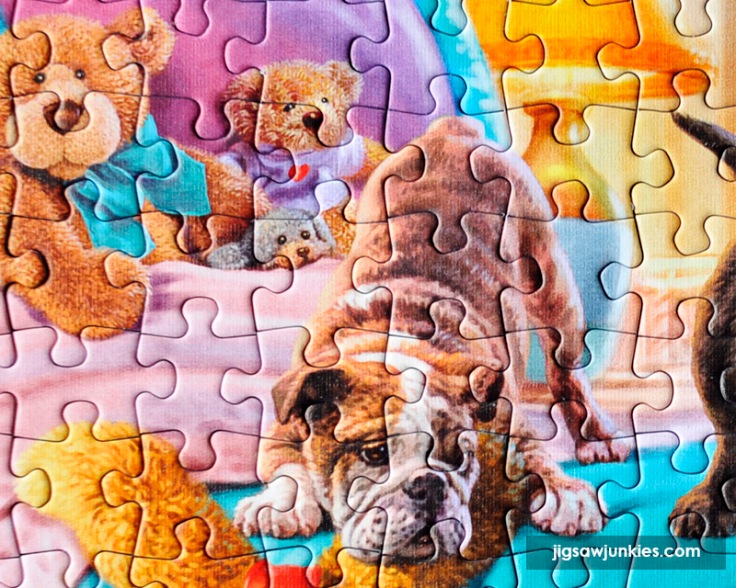 Overall, I'm giving this puzzle a 9 score for quality. Falcon is always a safe bet.
Assembly: (8/10)
This is a very easy puzzle. It took me two short sessions to complete.
DAY ONE:
I assembled the border first. Next, I did the blue and pink bed. I could have finished this puzzle in one sitting if I'd had more time, but it's nice to break it up a little bit.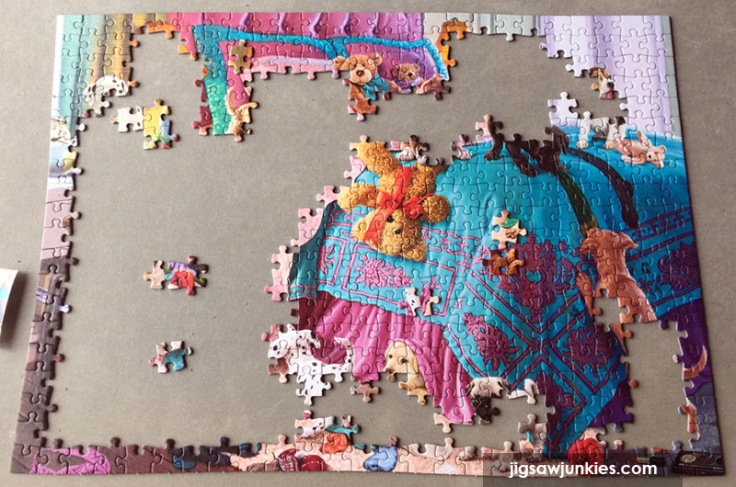 The sheets are a lighter pink.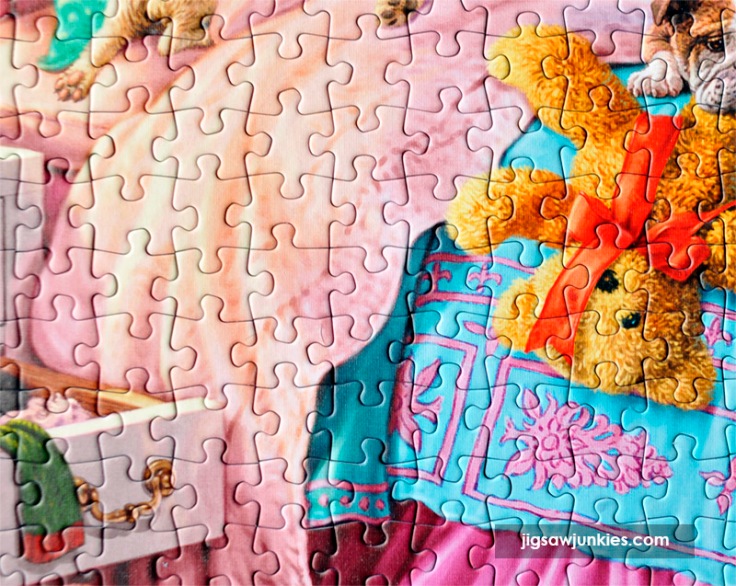 And there's shading on the blue comforter due to the lighting, so that helps narrow down where a piece can go. A few of the dogs were assembled as a byproduct as I worked on the comforter.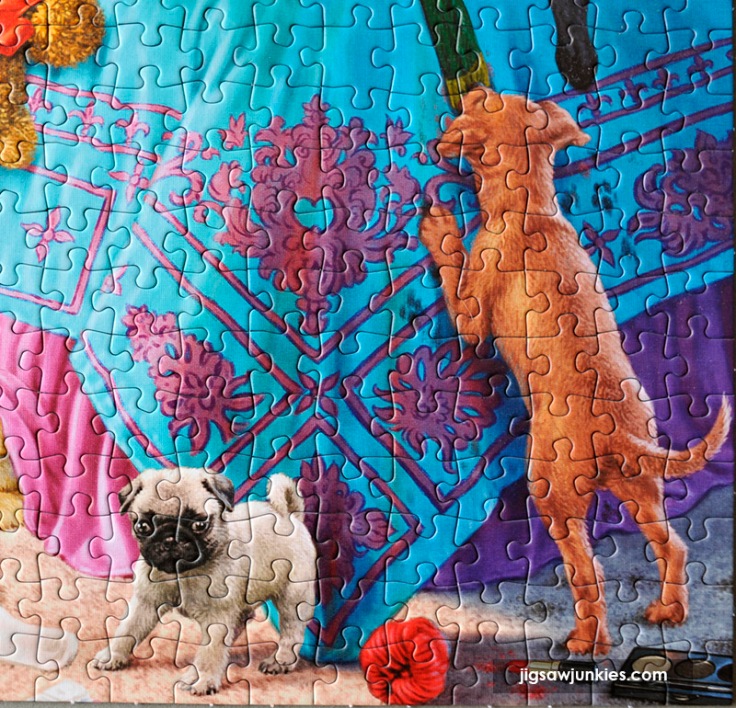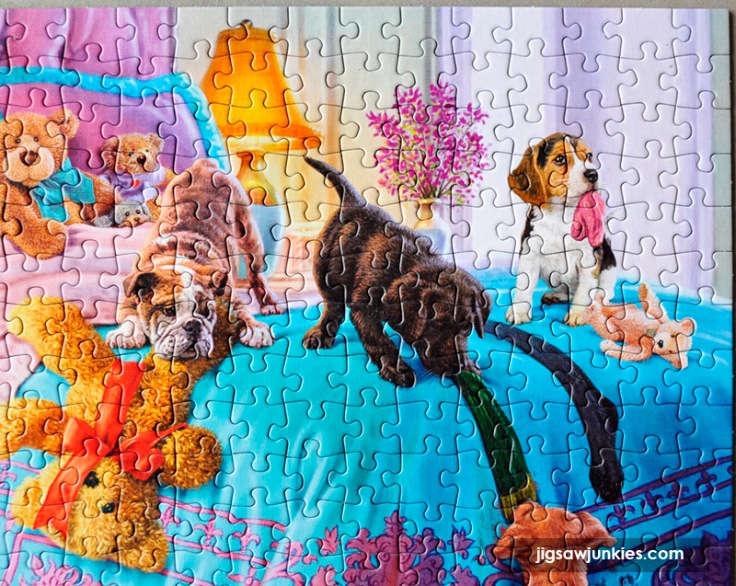 DAY TWO:
In my second session I completed the puzzle. There were no areas that were especially dark. The floor is a light rug texture, and the puppies all have distinctive fur. There are also various toys and items of clothing around which have bright colors.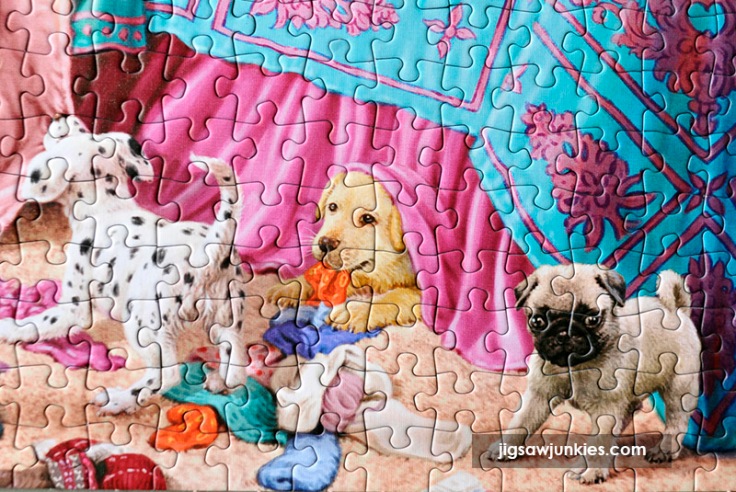 The aqua curtains and orange lamps had distinctive colors that were easy to find in the sorting trays.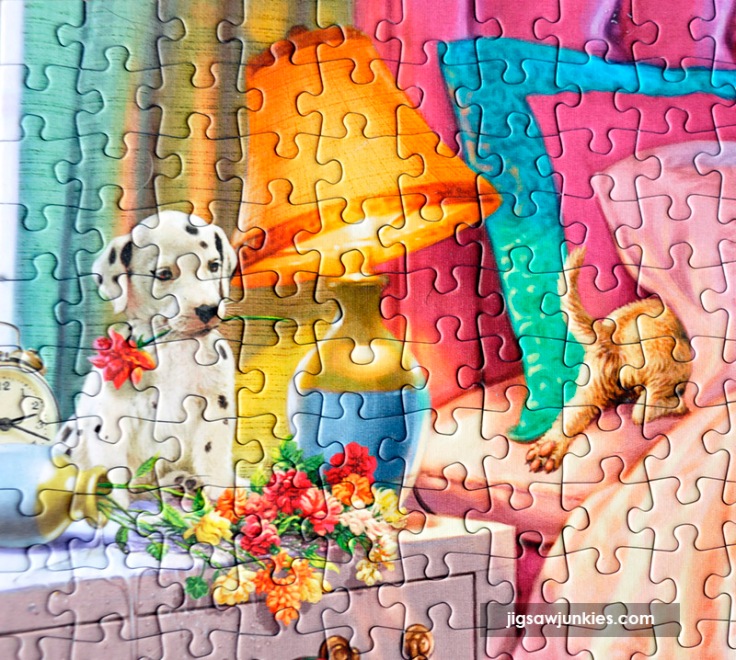 The dresser looks more tan/beige than white in the sorting tray, but the brass handles help identify the pieces.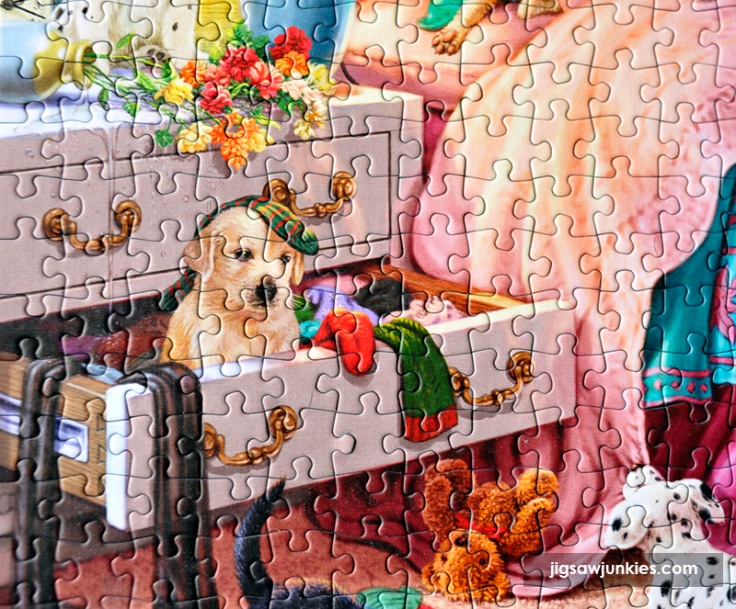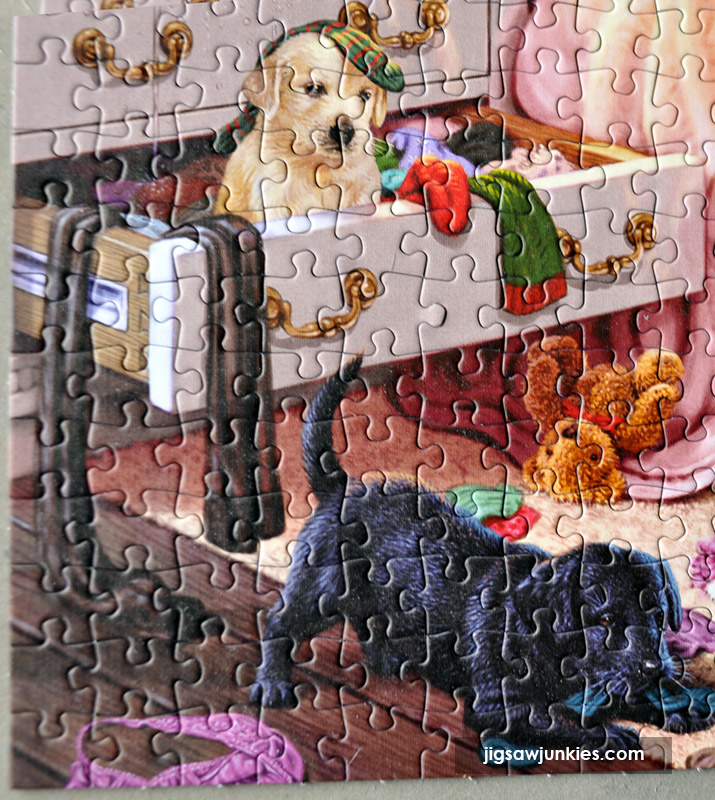 Assembly was fun, but super easy and short. I've given this puzzle an 8 score for assembly.
Alternative Versions
This two puzzle set from Falcon is a European puzzle (though it's available Puzzle Warehouse). There are also versions available from Ceaco (US) and Ravensburger. See the end of this post for links.
Summary:
"Puppies and Kittens" is a super cute two puzzle set from Falcon/Jumbo. Both puzzles are 500 pieces, and you can do them singly or mix all the pieces together to get a 1000 piece puzzle. Both images feature the animals in a home with lots of bright fabric textures such as the pink and blue bed in the puppies image and the red chair in the kittens image. This gives more variety and interest during assembly than puzzles which have large areas of dog fur. These are both very easy puzzles to assemble and would be ideal to do with kids. The Falcon quality is excellent. It's a grid-cut puzzle with thick, sturdy pieces, a soft matte finish, a solid 'click into place' fit, and a seamless finish. Recommended.

Where to find:
You can find this Falcon puzzle at Puzzle Warehouse. Click on the logo below.

ALTERNATE VERSIONS:
"Mischief Maker" from Ravensburger, 300 pieces (click on image to view on Puzzle Warehouse)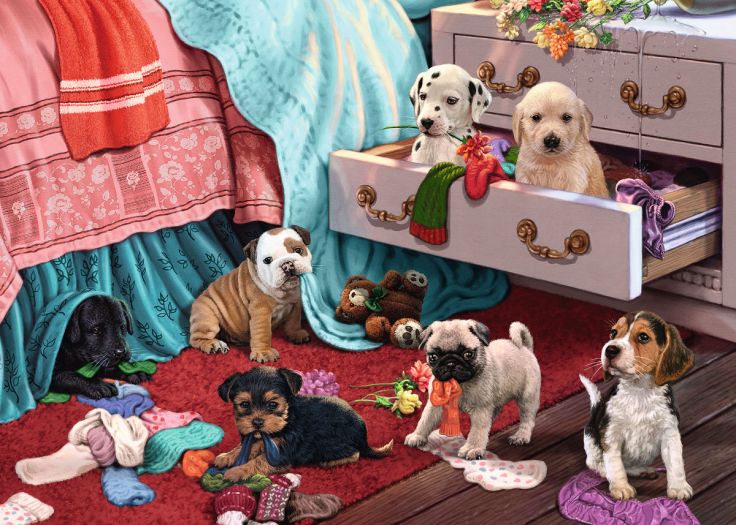 "Naughty Kittens Gone Wild", Ceaco, 550 pieces (click on image to view on Puzzle Warehouse)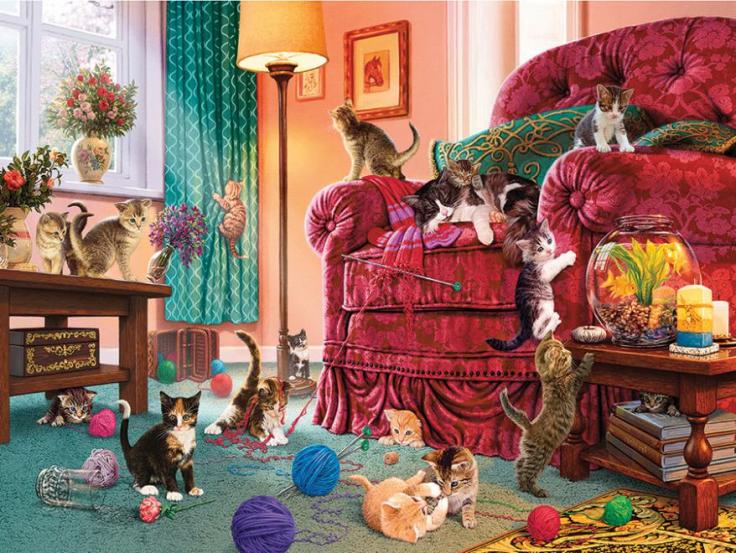 "Naughty Puppies Gone Wild", Ceaco, 550 pieces (click on image to view on Puzzle Warehouse)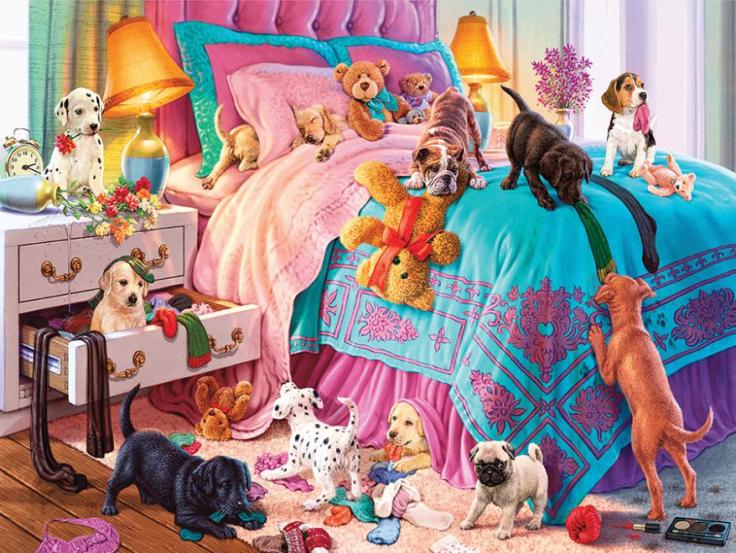 JJ