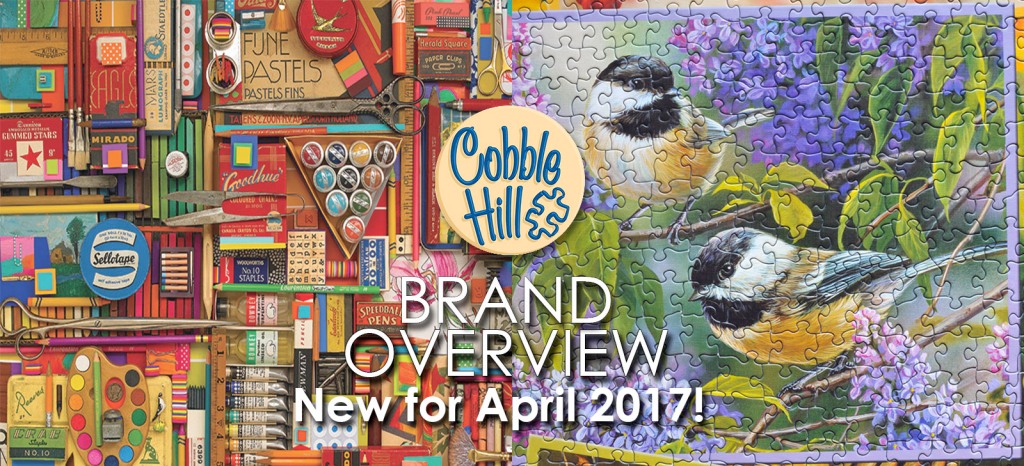 Publisher Overview & SALE: Cobble Hill
This week at Puzzle Warehouse, we've having a great sale — buy 2 Cobble Hill puzzles and you get 1 free!

To celebrate the sale, and point out some great puzzles you won't want to miss, this week's post is an updated overview of the Cobble Hill line.
Click here to see the sale at Puzzle Warehouse.
See all our Cobble Hill posts and puzzle reviews here.
COBBLE HILL HISTORY
Cobble Hill was founded in 2005 with the goal of "bringing quality puzzles with a loving, whimsical, nostalgic feel to jigsaw puzzle enthusiasts around the world." They offer a good variety of categories and piece sizes include 2000 piece, 1000 piece, 500 piece, 400 piece Family Puzzle (with large and small pieces), 275 piece Easy Handling, and kids puzzles under 100 pieces. They are located in Victoria, British Columbia, Canada.
COBBLE HILL QUALITY
You can see our full brand comparison on Cobble Hill here. I work with a lot of jigsaw puzzle brands, and I've always found Cobble Hill a consistently high-quality brand that I enjoy assembling. The features that stand out to me about Cobble Hill are their thick, sturdy pieces, linen finish (which feels nice in your hands and reduces glare), and interesting piece cut. The image below is from "Boucat" (1000 pieces). If you click on the image for a closer view you can really see the linen finish.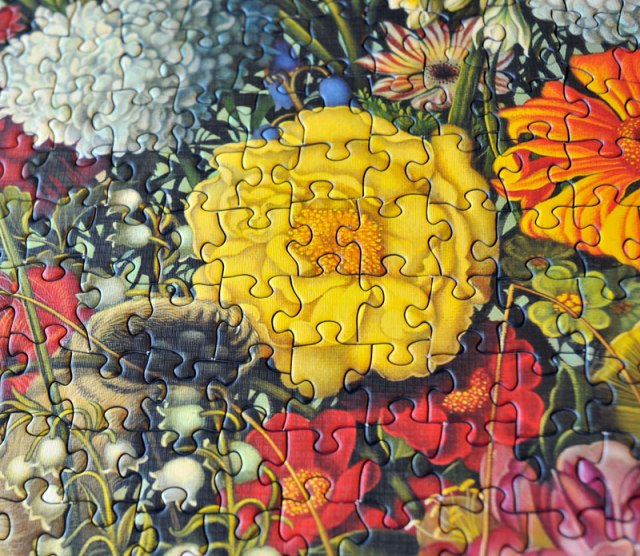 They also have very attractive rectangular boxes. The boxes have a consistent brand design but change up the background color. This makes for a nice collection display on the shelf. (Click for a larger view)

PIECE CUT & SiZE
The piece cut and size vary from puzzle to puzzle. The 275 and 500 piece puzzles have larger pieces while the 1000 and 2000 piecers have normal sized pieces. The cut is also a little different in each puzzle, but it's never a grid cut, it's always more fanciful. Above you can see the cut for "Boucat" (1000 pieces). Below is the more random cut from "Nancy Drew" (1000 pieces), "Rosemary's Birds" (2000 pieces), and "Ring-Necked Pheasants" (500 pieces).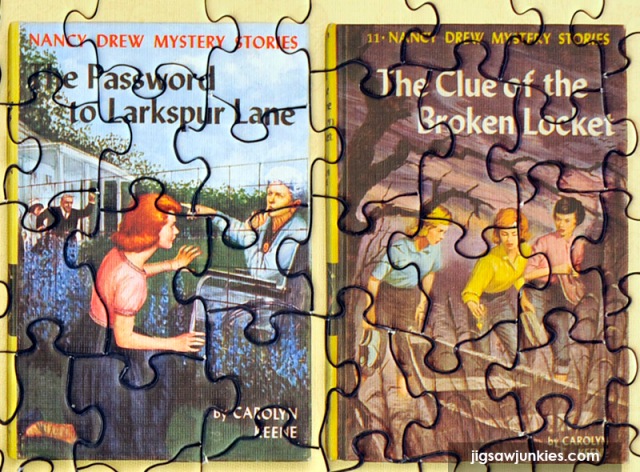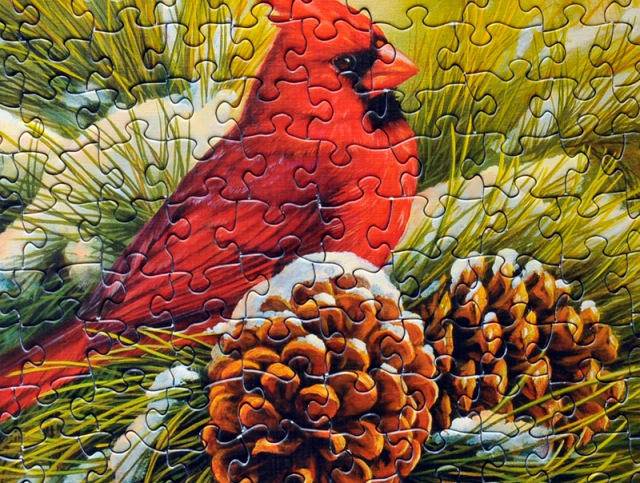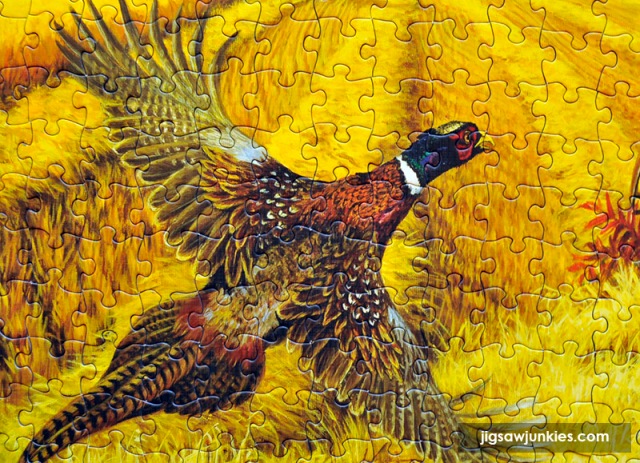 COBBLE HILL CURRENT LINE – Updated for Apr 2017
Cobble Hill carries a variety of subject matters but excels in a few of them including birds, nostalgia, collage, fantasy and kid's puzzles. Below are their main categories along with my top picks in each one. CLICK ON ANY IMAGE to go to the puzzle's page at Puzzle Warehouse.
There are some wonderful designs I don't mention, so click here to see ALL Cobble Hill puzzles.
*** BIRDS & WILDLIFE ***
Bird puzzles are one of Cobble Hill's strongest categories. While many brands do bird images, Cobble Hill's stand out as special and they're usually at the top of my 'can't resist' list of Cobble Hill's offering. They're just too good to miss. They also carry other wildlife images like deer, moose, squirrels, and general nature scenes. Below are some of my favorites.
"Garden Birds" by Greg & Company , 500 pieces
This 500 piece puzzle has smashing colors and details with all the birds and flowers. SEE MY REVIEW HERE.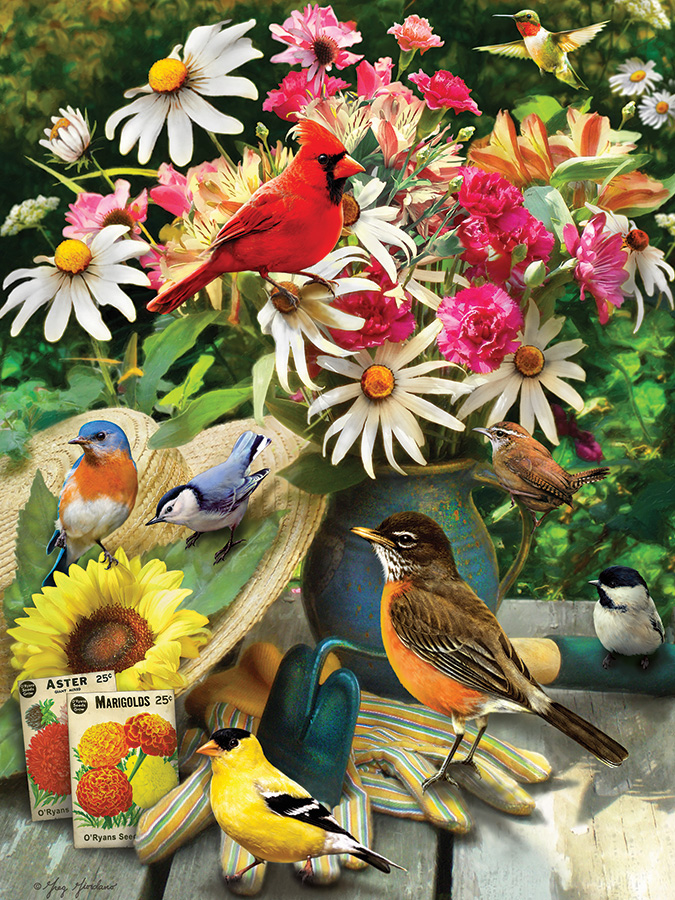 "Birds on a Wire" by Greg Giordano, 1000 pieces
This is a new puzzle for 2017. Great combination of colorful birds with a more challenging sky background.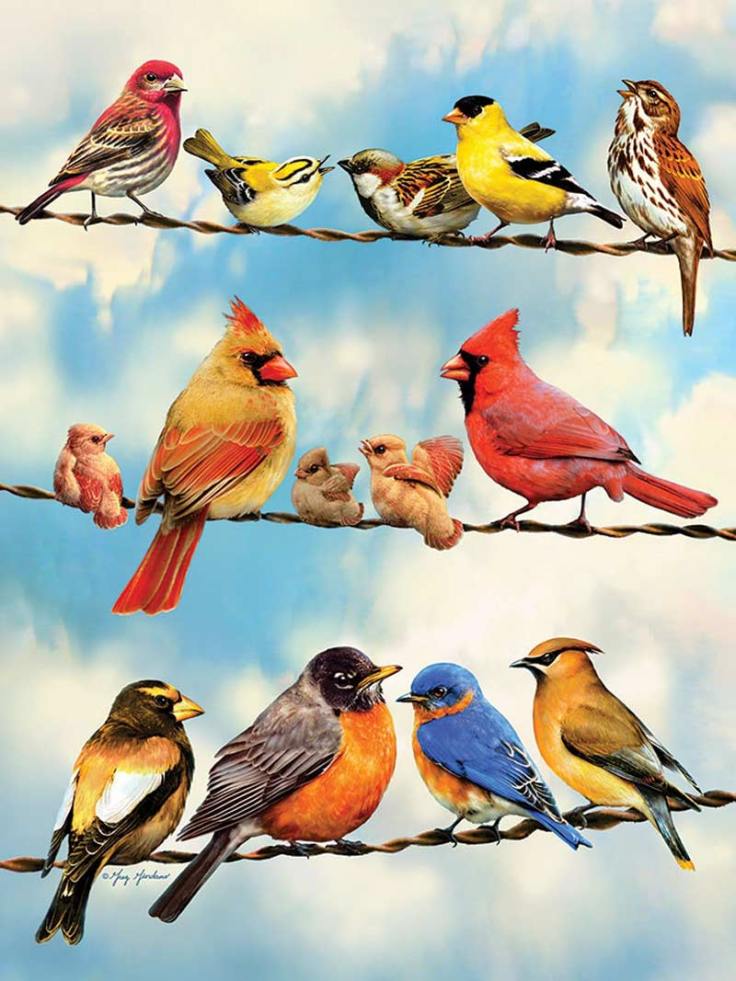 "Barn Owls", 1000 pieces
This new 2017 design looks like an interesting challenge with the repeating textures of owl features and red barn wood. It will be a beauty when completed!.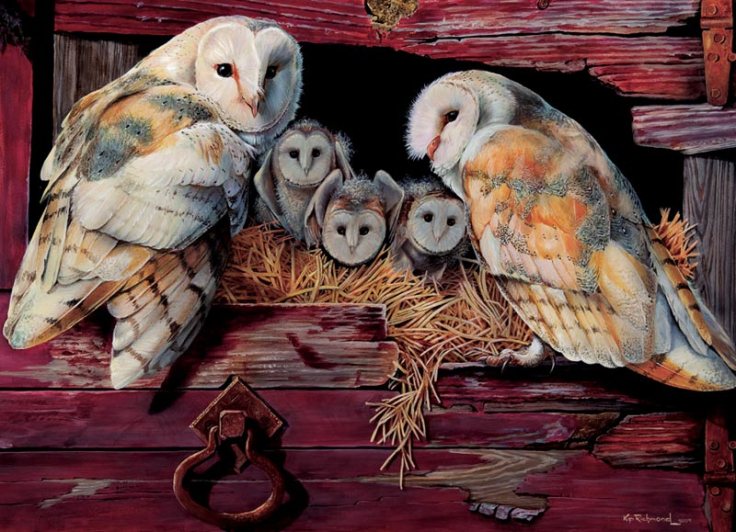 "Blackburian Warblers", 500 pieces
For fans of 500 piece puzzles, this one has outstanding colors.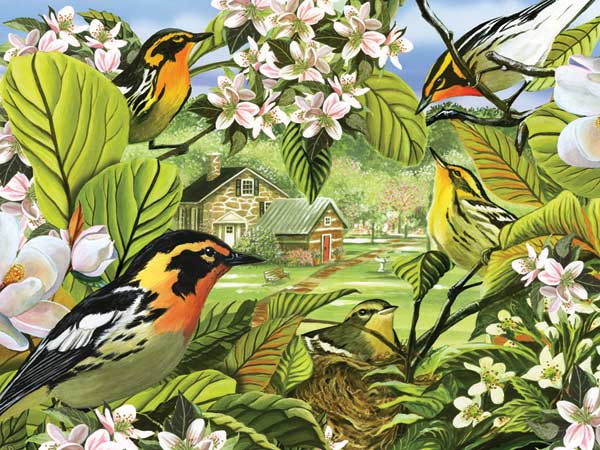 "Saw-Whet Owl and Wild Grapes" by Robert Bateman, 500 pieces
This is a much softer design than many puzzle with its muted colors and simplicity, but sometimes less is more. This image always grabs me whenever I scroll past it and at 500 pieces the subtler colors won't create too difficult a challenge.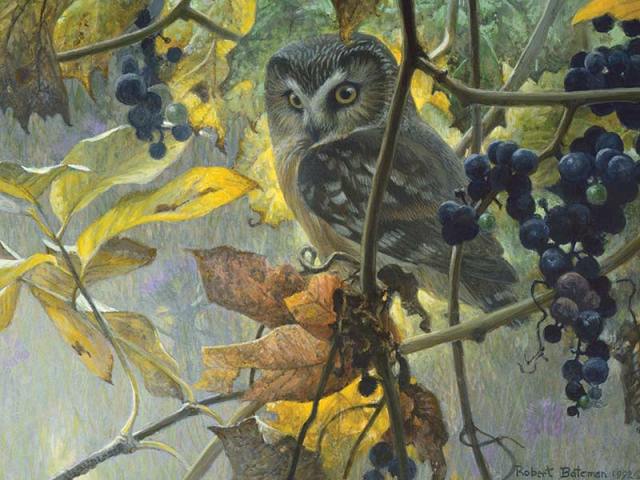 "Rosemary's Birds" by Rosemary Millettte, 2000 pieces
I reviewed this puzzle in 2016 and wow, did I love it! I love the art style, the bright colors, and the format of the puzzle with all the vignettes around a larger backgrounds image. It was one of my favorites of the year.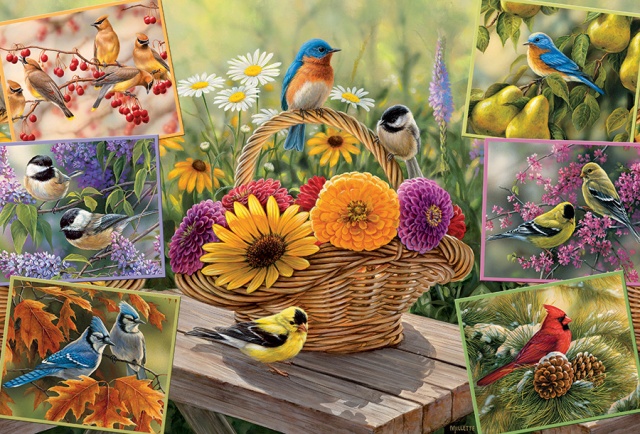 "Koi Pond" by Larry Taugher, 1000 pieces
This was my favorite of the new releases last year. It's a gorgeous image that looks fun to puzzle with all the similarly colored green lily pads and white and pink flowers throughout the image.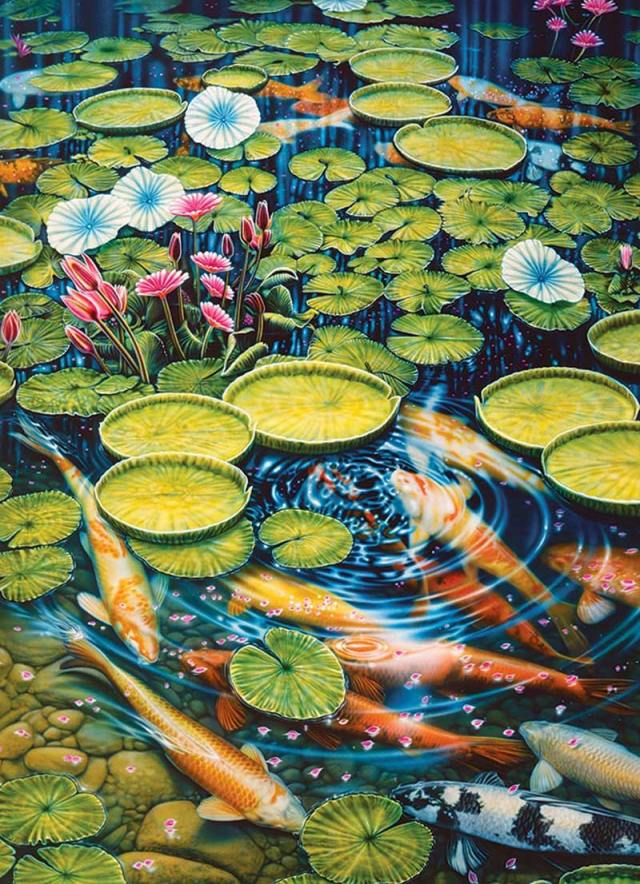 "Rural Route", 1000 pieces
Fans of nature and farm scenes will love this new 2017 puzzle with its soft winter light.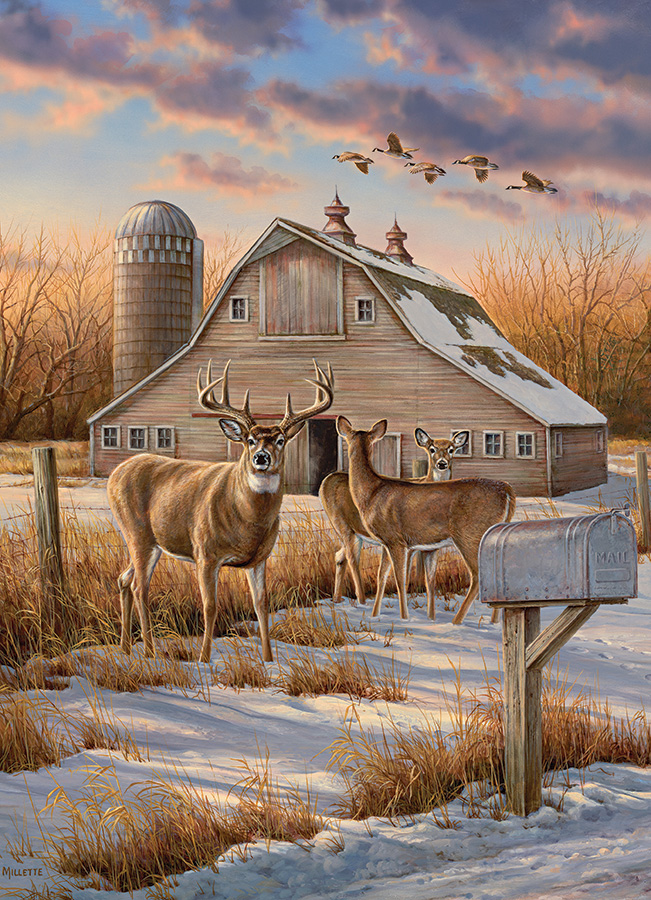 *** NOSTALGIA ***
Cobble Hill has some new nostalgia puzzles this year.
3 from Lee Dubin: "Family Picnic", 1000 pieces; "Don't Stop Now!", 500 pieces; "Saturday Matinee" 275 pieces
Lee Dubin is a new puzzle artist from Cobble Hill. His paintings remind me a little of Susan Brabeau. They're early American nostalgia with a touch of humor. There are 3 puzzles in different sizes so you can pick your poison.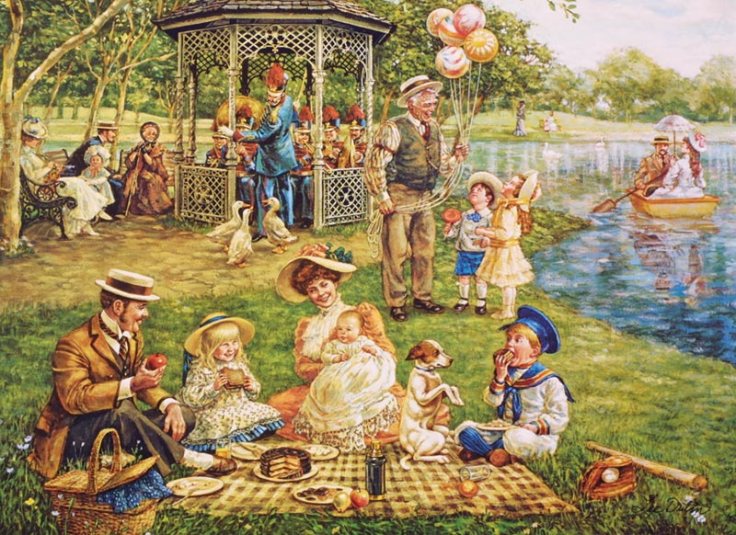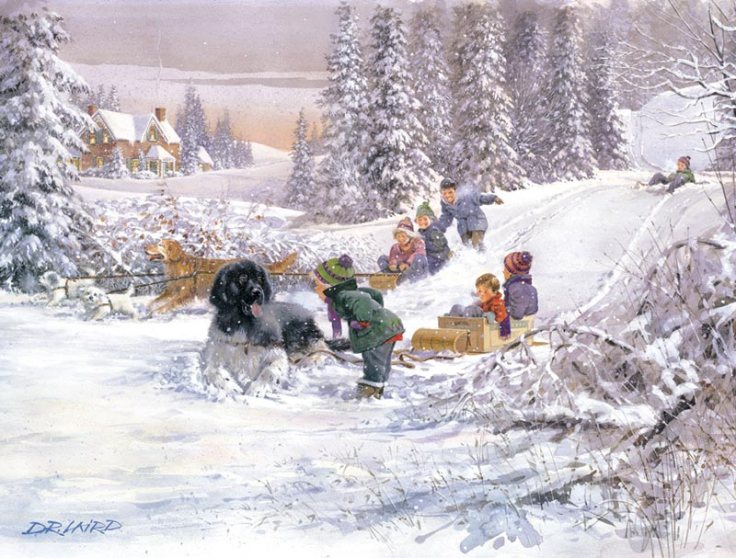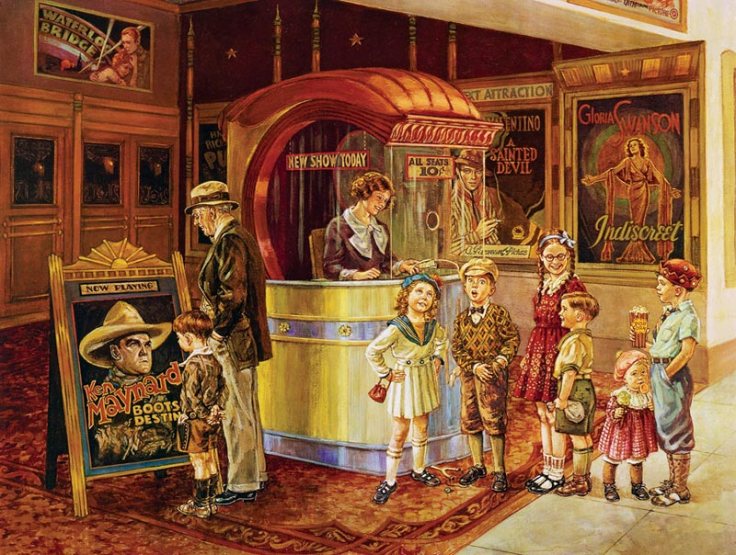 "Country Paradise", 1000 pieces
This has long been one of my favorite Cobble Hill images, so I'm glad it's still in print and in stock! I love the challenge of the sunflowers with the simpler background.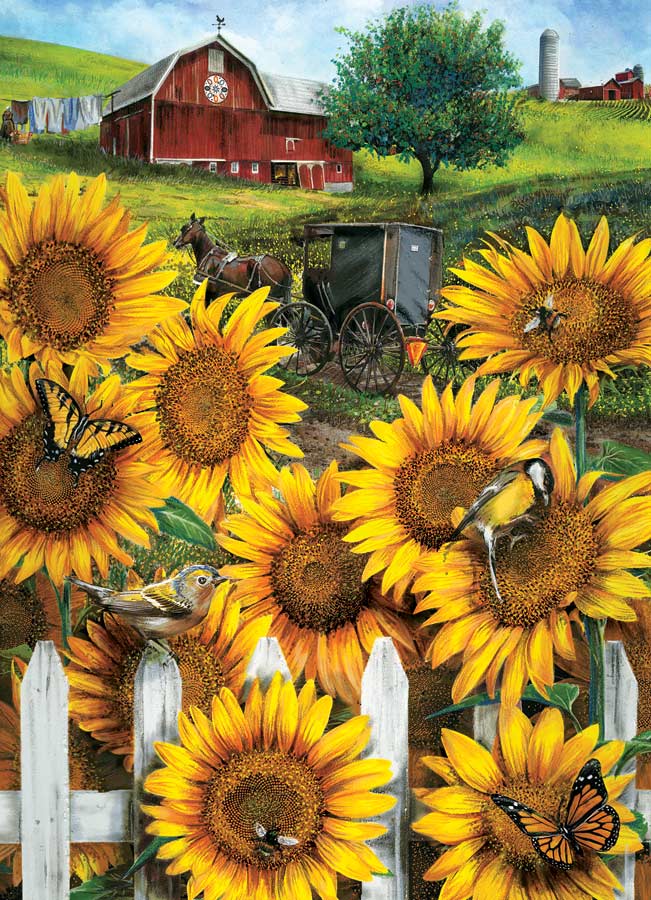 *** FANTASY***
Fantasy is an underrepresented category, in my opinion. Schmidt continues to produce new fantasy puzzles and occassionally Ravensburger or Educa offers one. Cobble Hill has introduced new fantasy puzzles every year and they're excellent quality ones too.
"Dragon Flight" by Chris Seamen, 400 pieces each
This is a new fantasy image for 2017. It's 400 piece size makes it good for older kids as well as adults.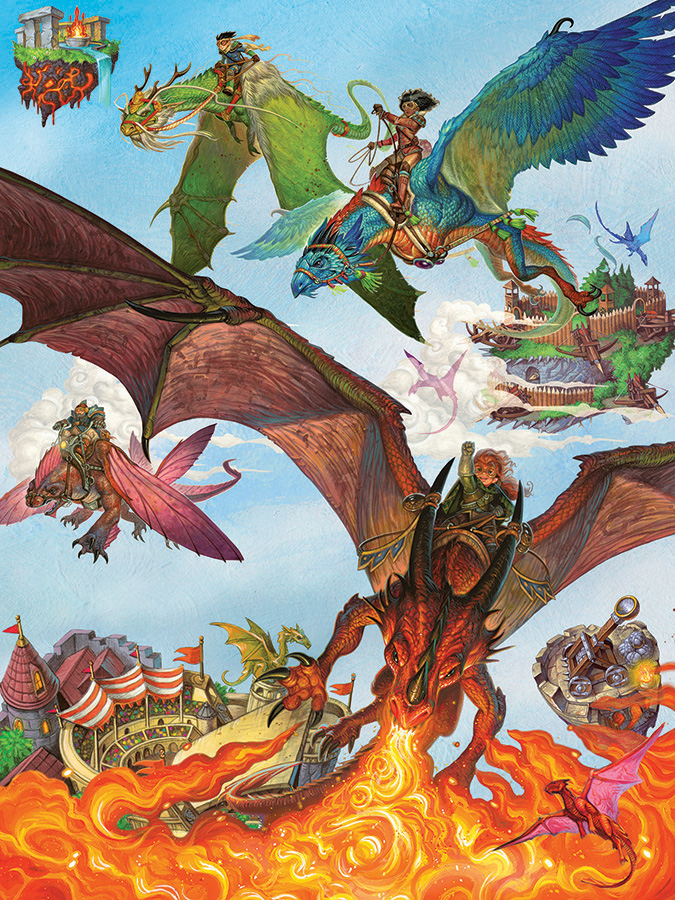 "Midnight Messenger" and "Solstice Gathering" by Anne Stokes, 1000 pieces each
These lovely fantasy images by Anne Stokes will offer the puzzler a challenge with their monochromatic color schemes, but they look so worth it!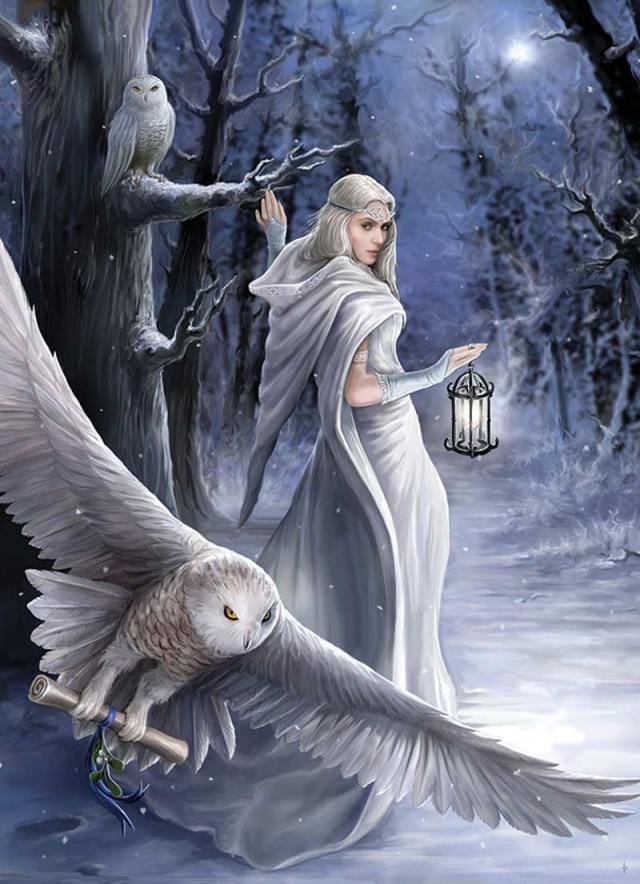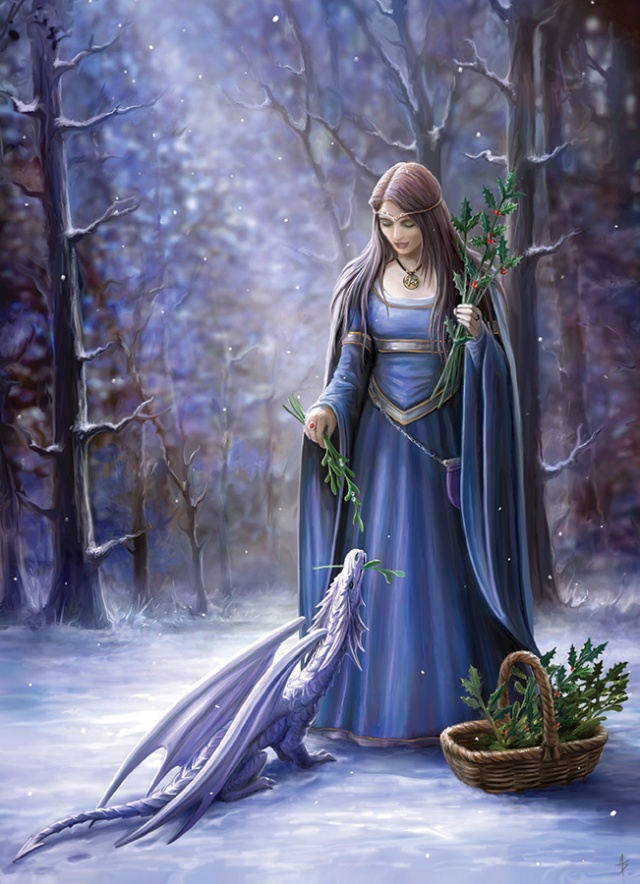 "Indulgences" by Echo Chernik, 1000 pieces
Aimee Stewart puzzles tend to be rich in color and detail and this one is no exception. I love the three-panel format, which gives you essentially three smaller puzzles to assemble with plenty of pattern and detail in each one. And taking the higher-level view, it's simply a very pretty fantasy puzzle.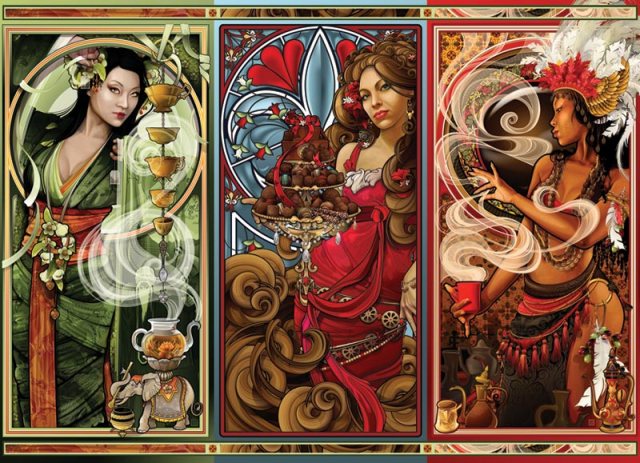 *** COLLAGE ***
Another category where Cobble Hill really excels is collages. They have unique collage puzzles you won't see anywhere else–bright and colorful and packed with fun details. Here are some of my favorites.
"Tropical Fish", 1000 pieces
I suppose this is also a wildlife puzzle, but all the different fish patterns remind me more of a collage. Looks fun!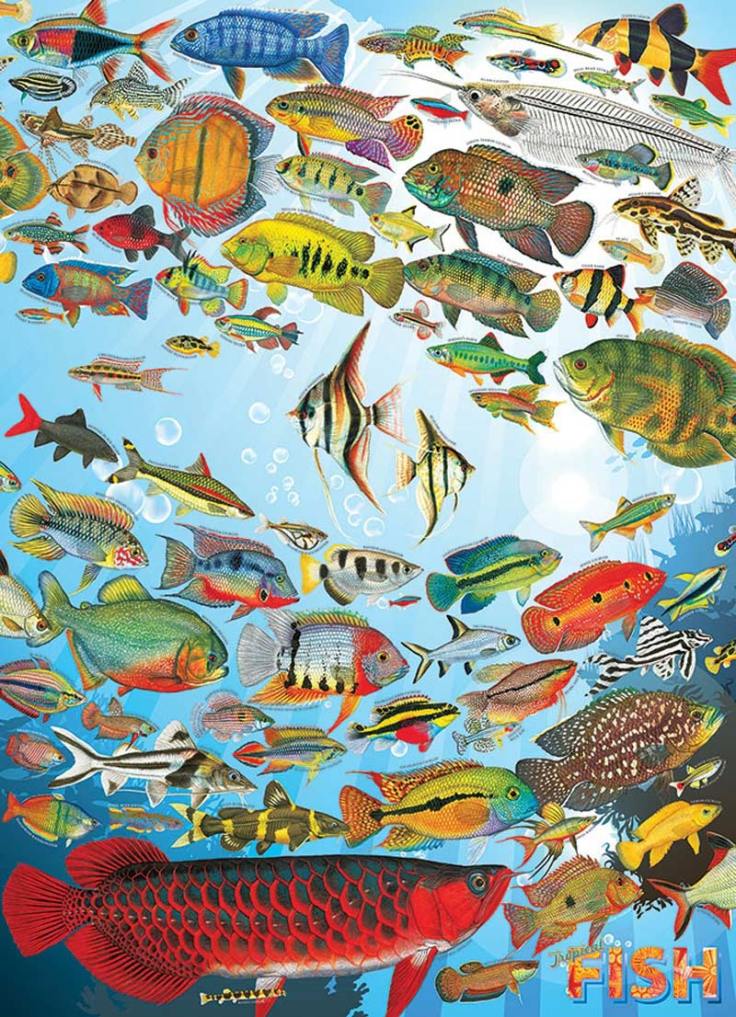 "Red" by Shelley Davies, 1000 pieces