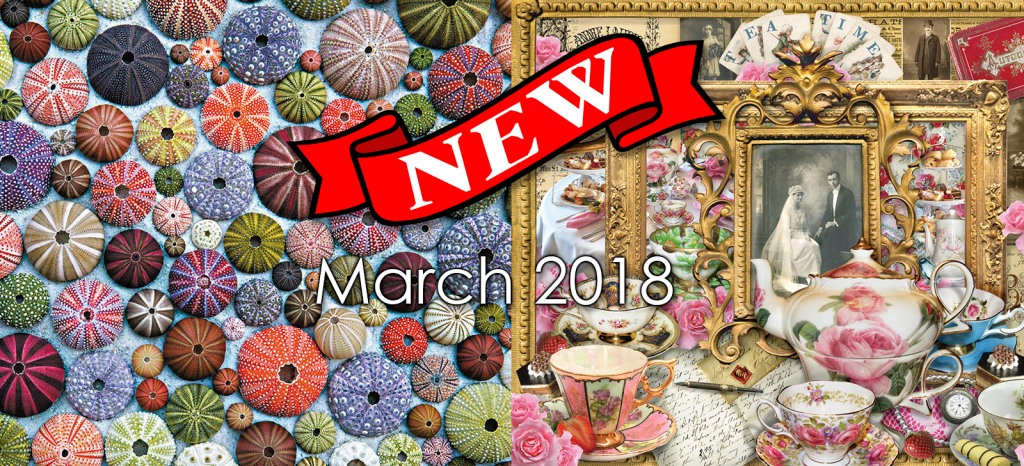 New Puzzles: March 2018
Next week I'll be doing a feature on a new puzzle brand, Eeboo. So much fun! Be sure to check in next weekend. For this week, we're looking at the best of the new puzzles for March.
For your Edification – A Tip on Saving Shipping Costs:
I used to never order a single puzzle because the shipping cost for just one can be nearly as much as the puzzle itself! One solution is the Puzzle Warehouse's "Puzzle of the Month" club because it means year-long free shipping. Check it out.
When Puzzles are Out of Stock:
The inventory at Puzzle Warehouse moves quickly, and due to limited warehouse space, only certain amounts of any one titles are brought in at a time. When a puzzle is out of stock, it's likely to be back in stock within a week or two. Enter your email address on the out of stock page to be notified when it returns so you can place an order before it's out again.
JIGSAW JUNKIES TOP PICKS
MARCH 2018
These are my top picks of the new puzzles that are currently available at Puzzle Warehouse. TO SEE ALL NEW PUZZLES AT PUZZLE WAREHOUSE CLICK HERE.
TOP PICK #1: "Sea Urchins", Piatnik, 1000 pieces
I absolutely adore this new Paitnik puzzle. These urchins have such incredible colors and textures and there's something soothing about the simplicity of all the round shapes. CLICK ON ANY IMAGE BELOW TO SEE THE PUZZLE ON THE PUZZLE WAREHOUSE SITE.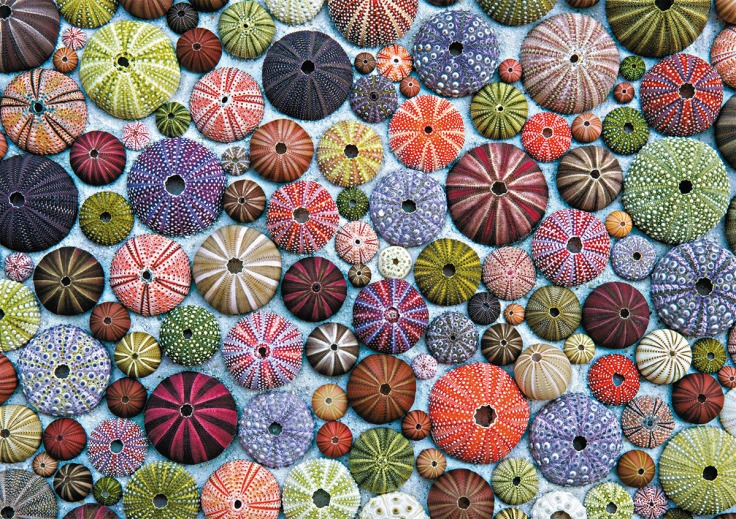 TOP PICK #2: "Tea Time", Springbok, 1000 pieces
There's a rash of new Springbok's and this is my favorite. All the gold frames will make this a fun challenge.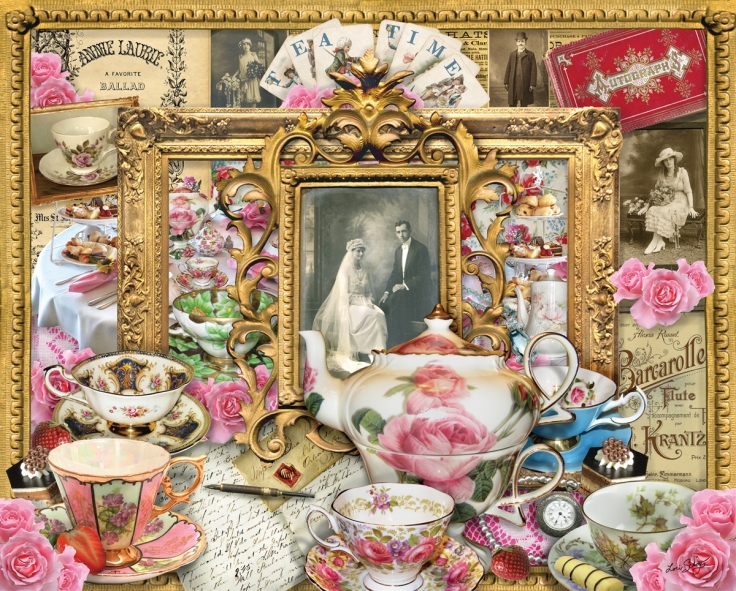 TOP PICK #3: "The Family Campsite" by Aimee Stewart, Buffalo Games, 1000 pieces
This is a brand new design from Buffalo and Aimee Stewart. Lots of fun detail and a summer theme..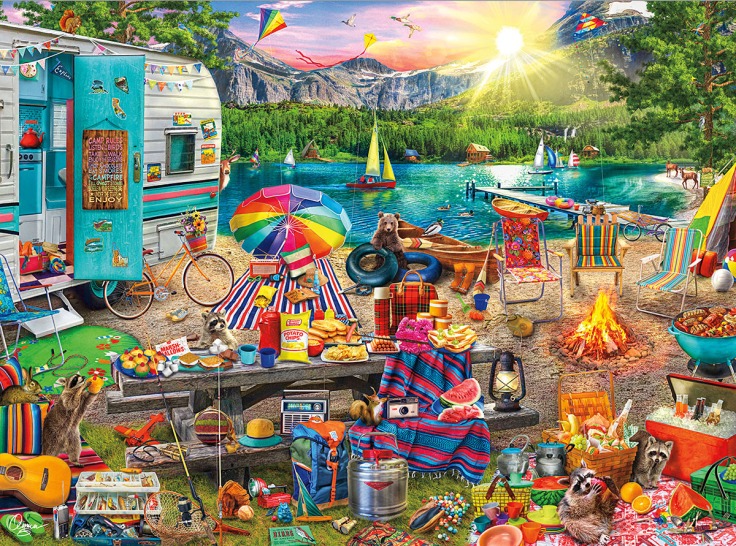 More new puzzles at Puzzle Warehouse this month
SPRINGBOK
There are a bunch of brand new Springbok puzzle designs in right now.
"Birds and Butterflies", 1000 pieces
This fabulous bird and flower design has been published before, but not with this awesome frame or in the quality Spingbok random cut.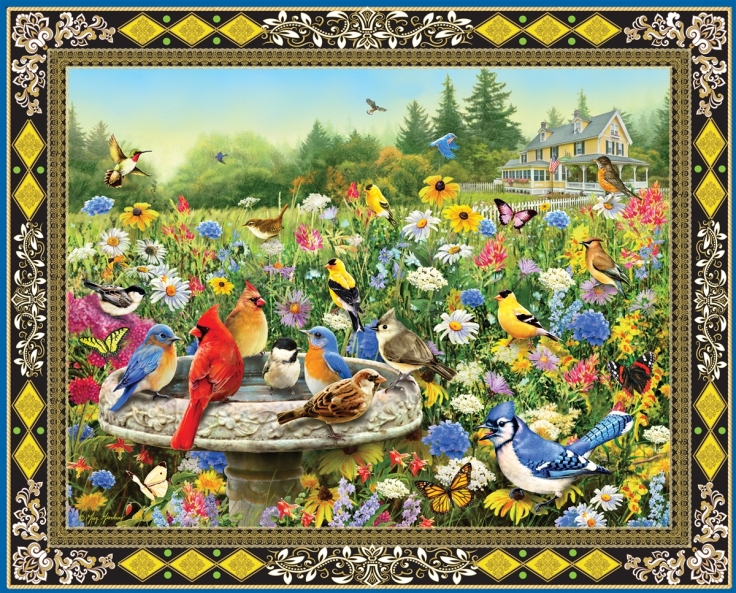 "Paris Sunset", 1000 pieces
Great colors on this travel-themed puzzle.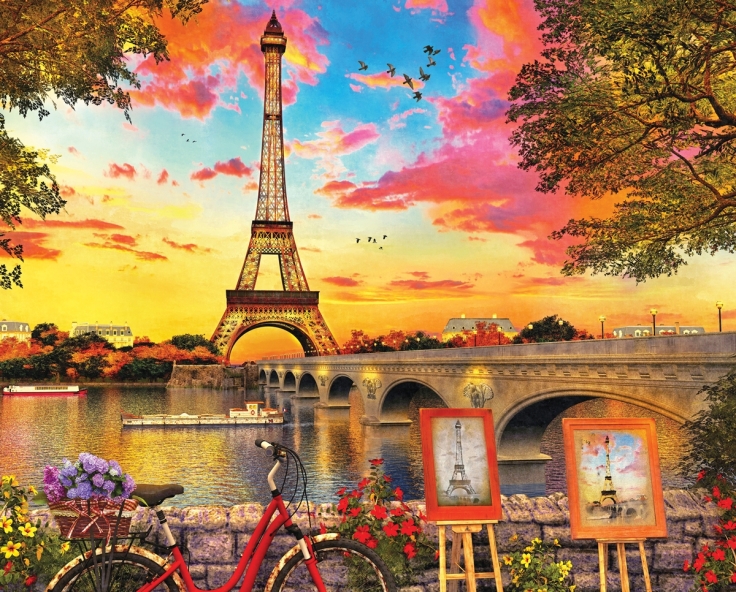 "Mystic Realm", 1000 pieces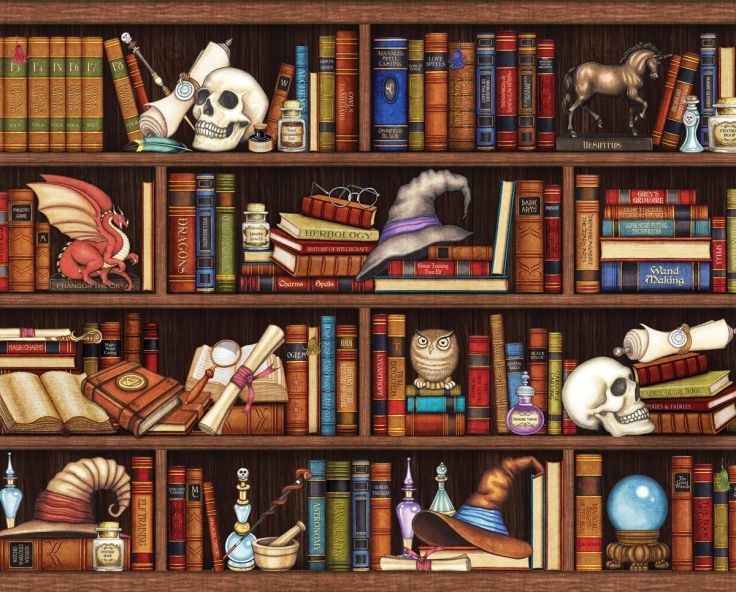 "The Conservatory", 1000 pieces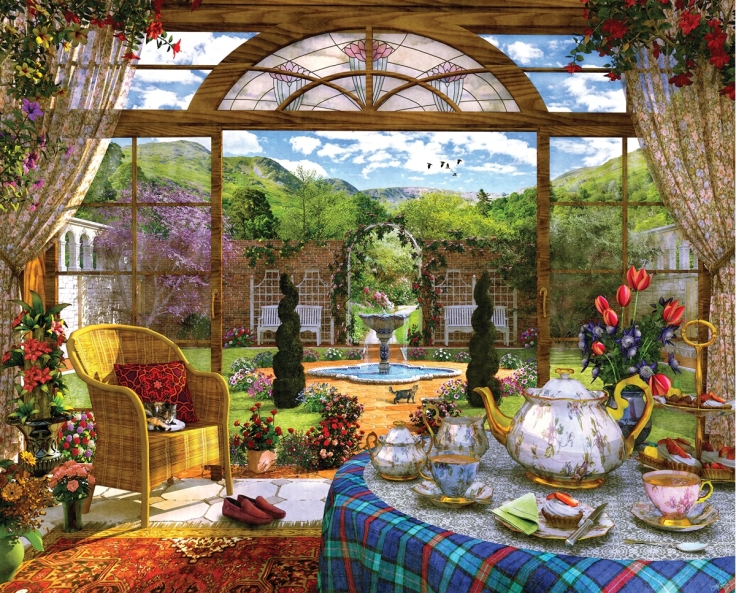 "Gamer's Trove", 1000 pieces
This is a great collage with lots of lettering and mini puzzles throughout in the box covers. And those who love vintage games will be especially excited about this one.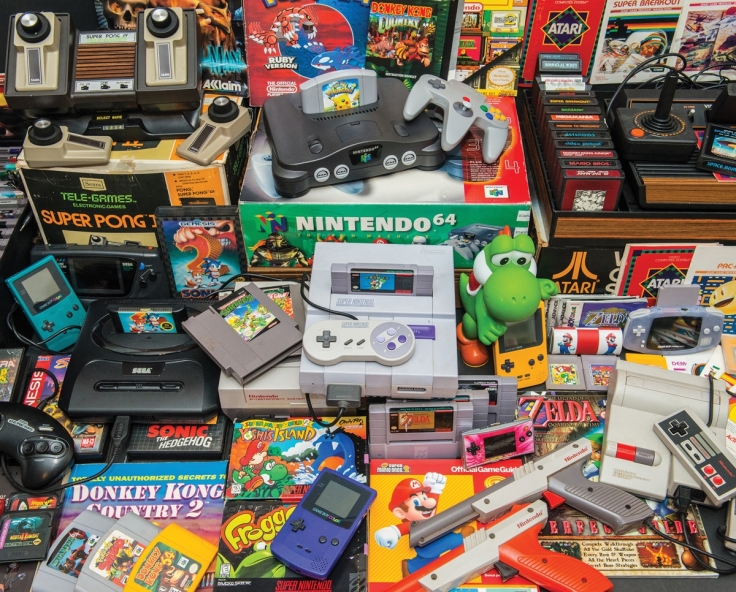 "Retro Refreshments", 1000 pieces
These two food and drink themed collages have lots of bright colors and package designs that make-up mini puzzles within the larger composition.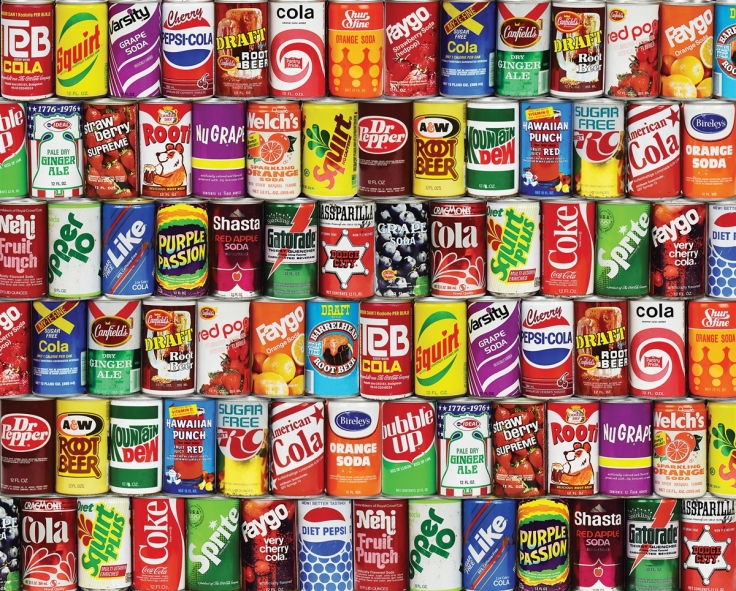 "Sweet Tooth", 500 pieces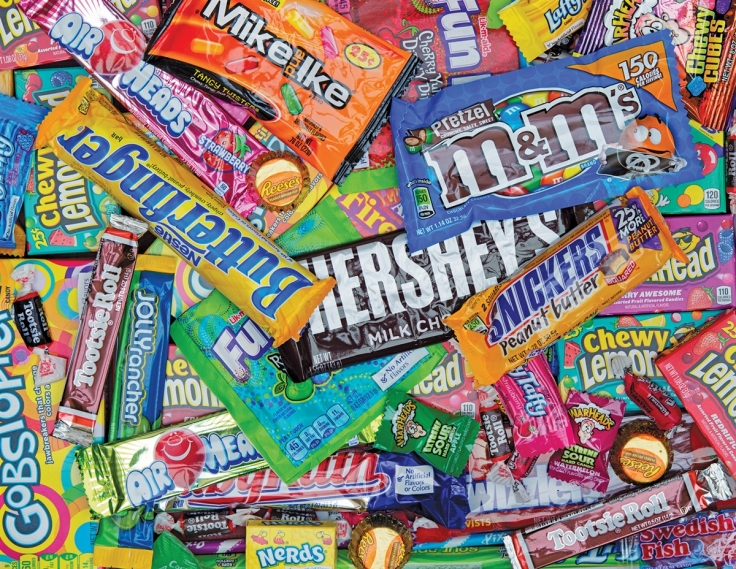 BUFFALO GAMES
"Quilt Shop", 500 pieces
Quilt patterns are always fun to puzzle and this scene is chock full of them.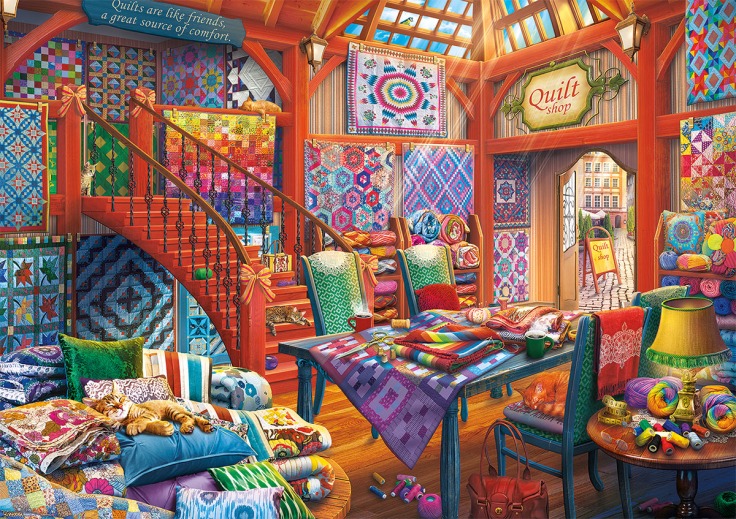 "Sitting Pretty" by the Hautman Brothers, 1000 pieces
A great image for spring!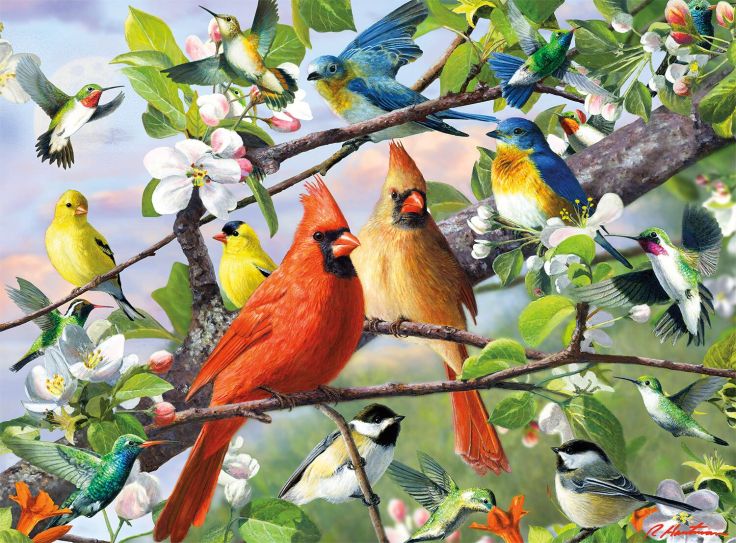 JUMBO
"Winter Garden", 1000 pieces
I love this image and we now have it in stock at Puzzle Warehouse. Grab it while you can!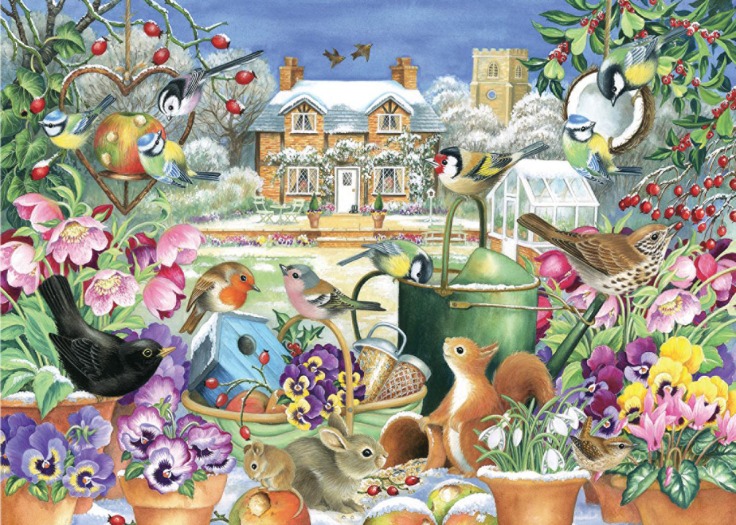 SUNSOUT
"Spring Song" by Dona Gelsinger, 500 pieces
This is a lovely new image for spring.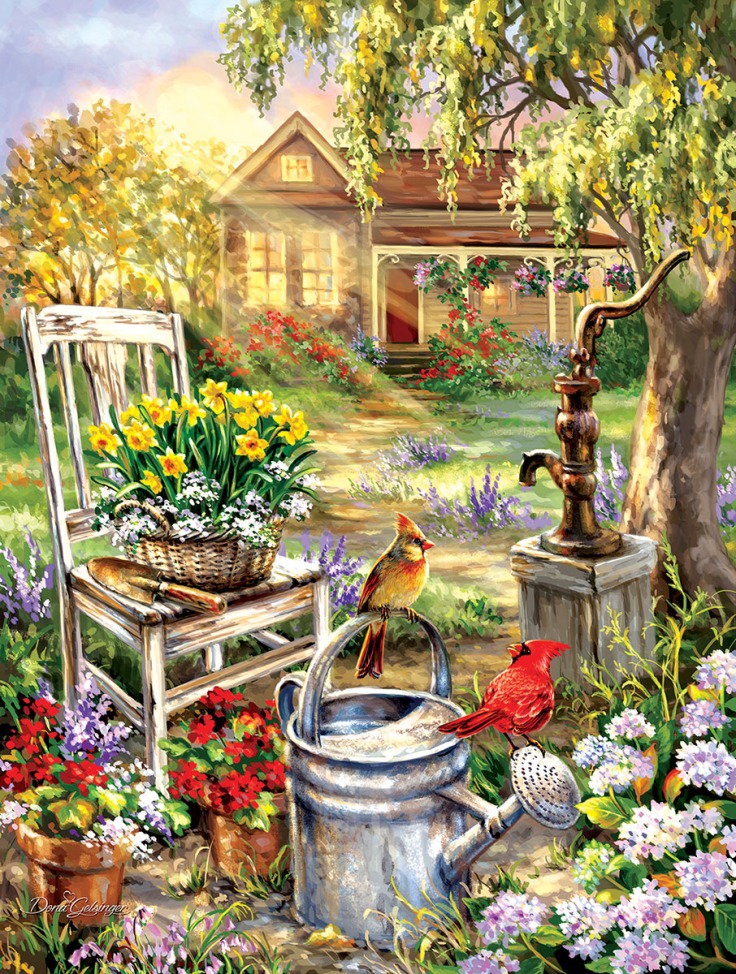 WHITE MOUNTAIN
"Vintage World War I" (1000 pieces) and "Vintage World War II" (500 pieces)
Great vintage collages.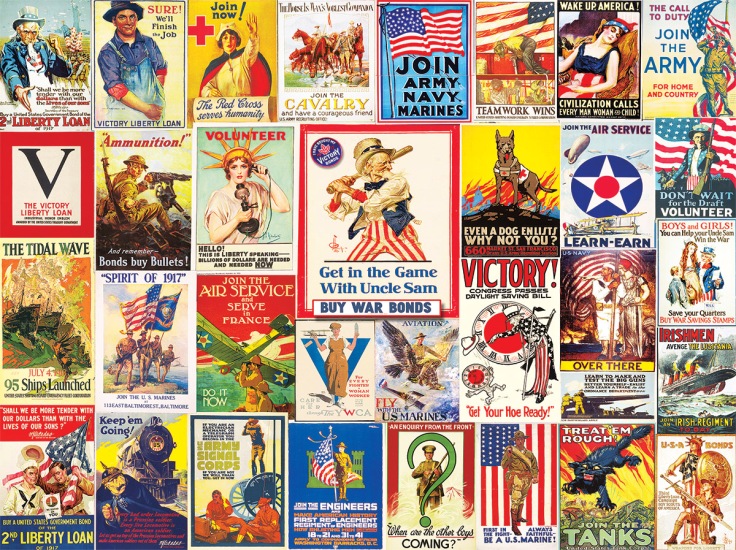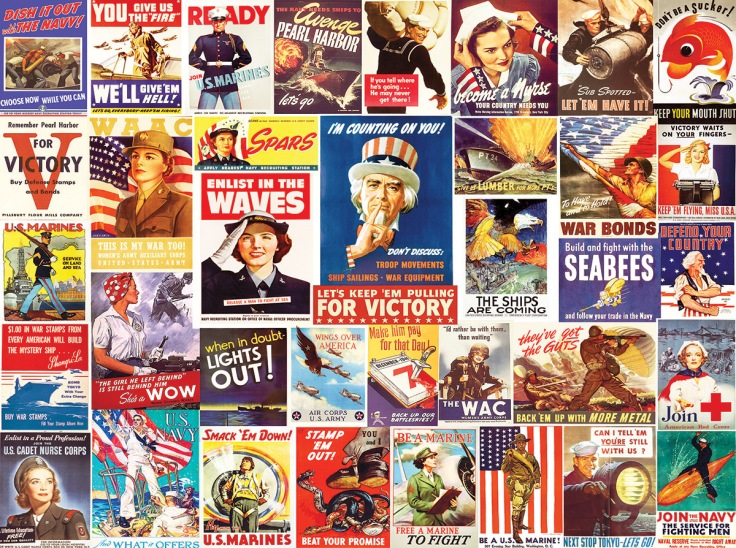 MASTERPIECES
"Jewel of the Garage" and "At Your Service" (Wheels), 750 pieces
These car-themed puzzles are so full of color and detail.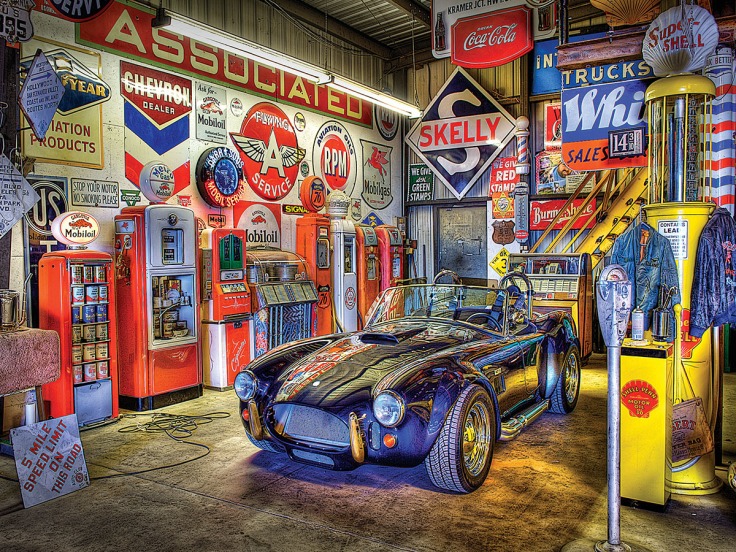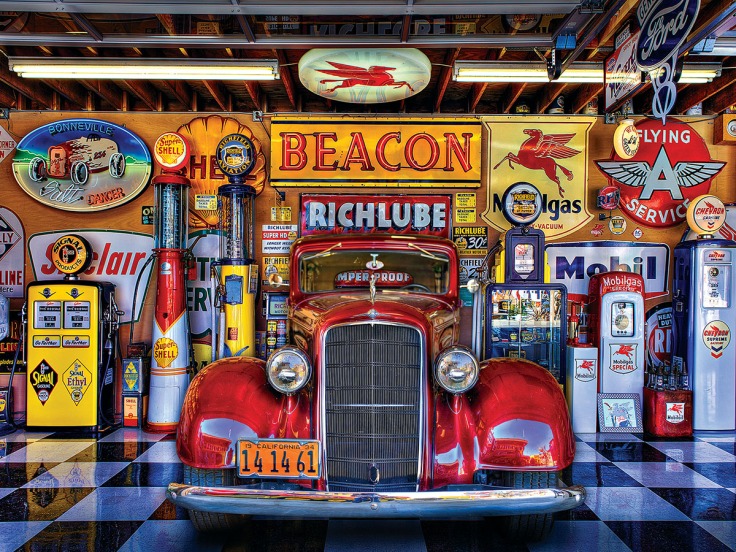 "Retro Petrol" (Suitcase Box), 1000 pieces
I love the hot reds and yellows of this collage and all the lettering. Cool!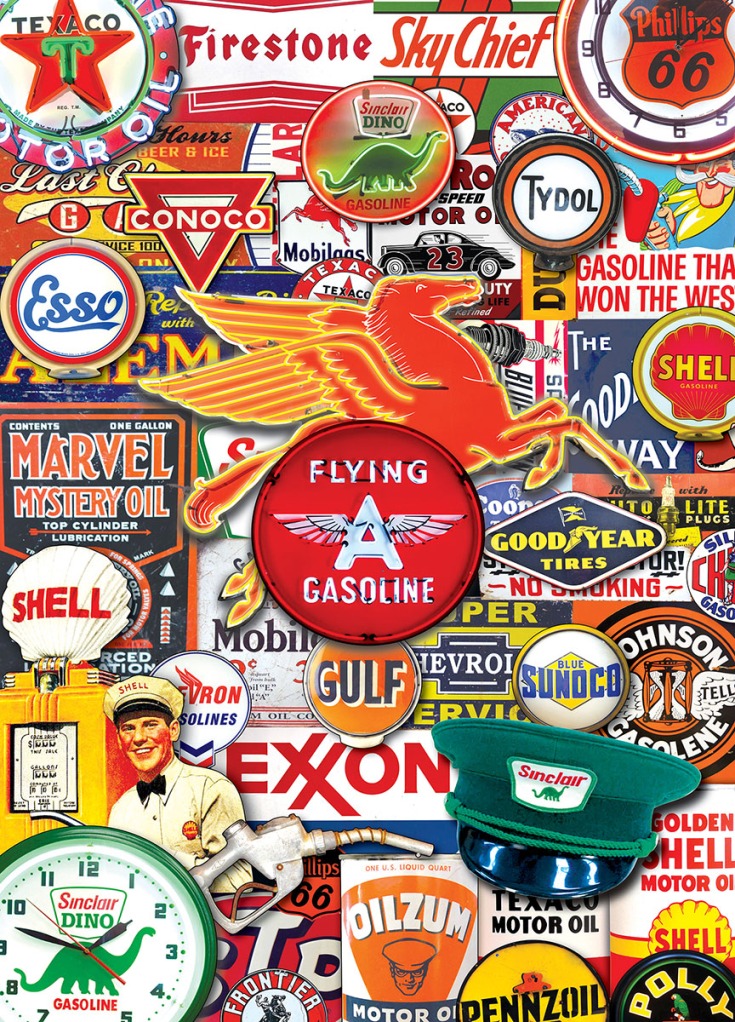 "Autumn Cottage", 1000 pieces
I love the foreground elements of the leaves and flowers on this cottage scene.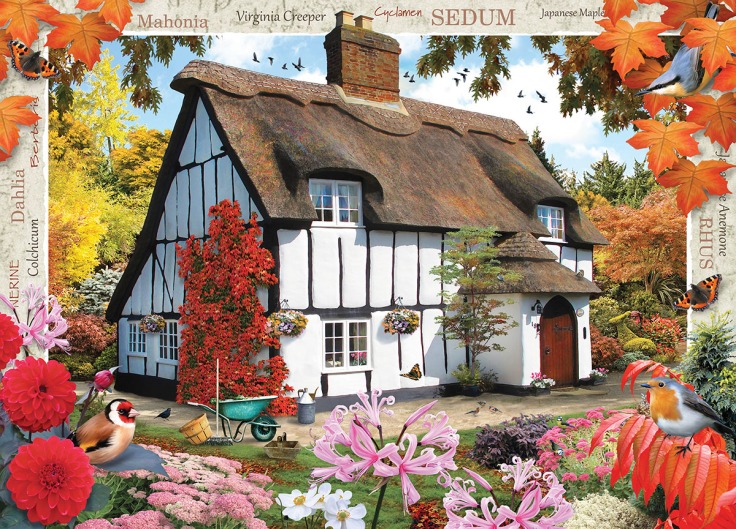 New Puzzles Coming Soon
These puzzles have been announced but aren't yet in stock at Puzzle Warehouse. Hopefully soon!
Jan Van Haasteren / Jumbo
"The Magic Fair" – coming in May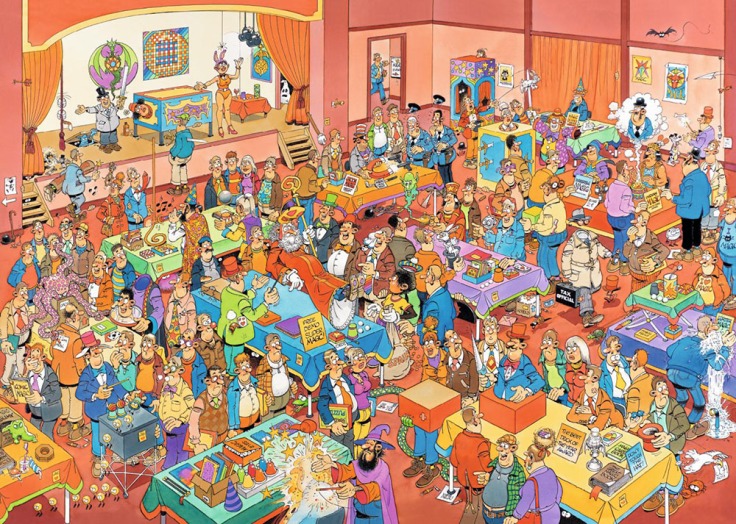 That's it for this round up. Check in next week for a special review of a new puzzle maker, Eeboo!
JJ