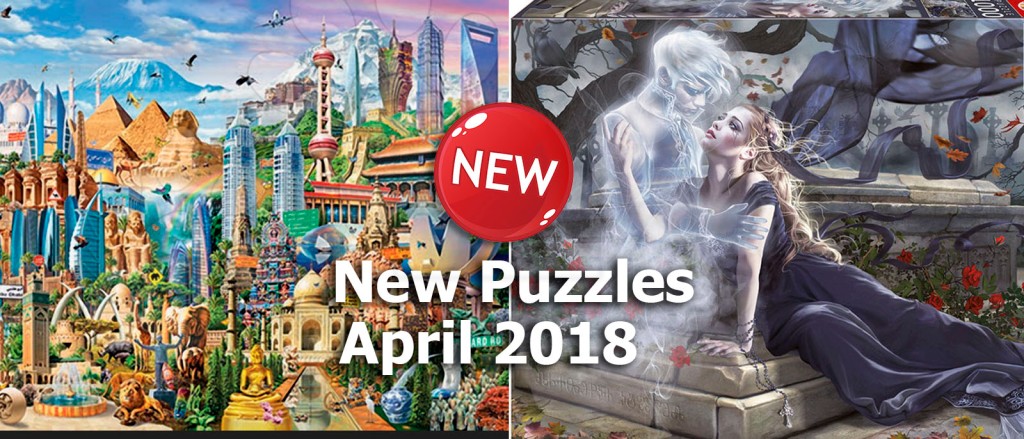 New Puzzles: April 2018
Happy Spring! We've finally had some nice weather here in Pennsylvania. I hope you are having good weather where you are.
For your Edification – A Tip on Saving Shipping Costs:
I used to never order a single puzzle because the shipping cost for just one can be nearly as much as the puzzle itself! One solution is the Puzzle Warehouse's "Puzzle of the Month" club because it means year-long free shipping. Check it out.
When Puzzles are Out of Stock:
The inventory at Puzzle Warehouse moves quickly, and due to limited warehouse space, only certain amounts of any one titles are brought in at a time. When a puzzle is out of stock, it's likely to be back in stock within a week or two. Enter your email address on the out of stock page to be notified when it returns so you can place an order before it's out again.
JIGSAW JUNKIES TOP PICKS
APRIL 2018
These are my top picks of the new puzzles that are currently available at Puzzle Warehouse. TO SEE ALL NEW PUZZLES AT PUZZLE WAREHOUSE CLICK HERE. CLICK ON ANY IMAGE BELOW TO SEE THE PUZZLE ON THE PUZZLE WAREHOUSE SITE.
TOP PICK #1: "Around The World", Educa, 42,000 pieces
Look at this beautiful new monster! 42,000 pieces filled with world landmarks. Talk about a challenge!
"Around The World", 42,000 pieces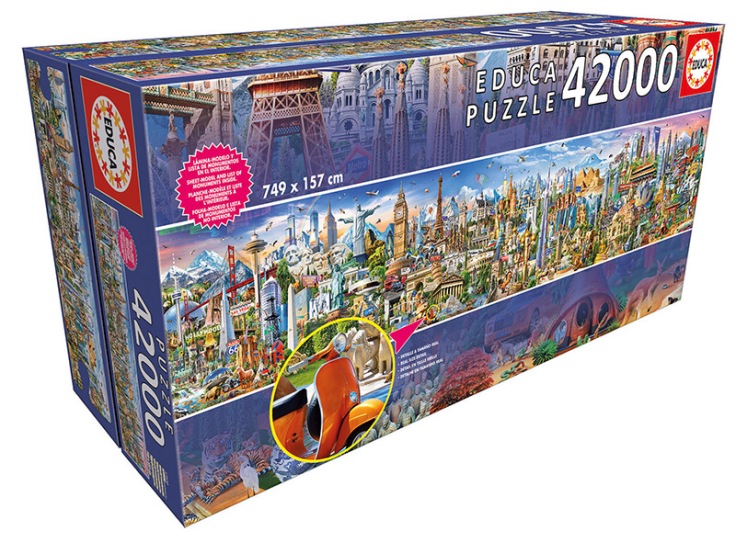 TOP PICK #2: "Bride In Black" by Drazenka Kimpel, Educa, 1000 pieces
I admit it, I'm a sucker for gothic puzzles and this is the best new one I've seen in ages. Love it!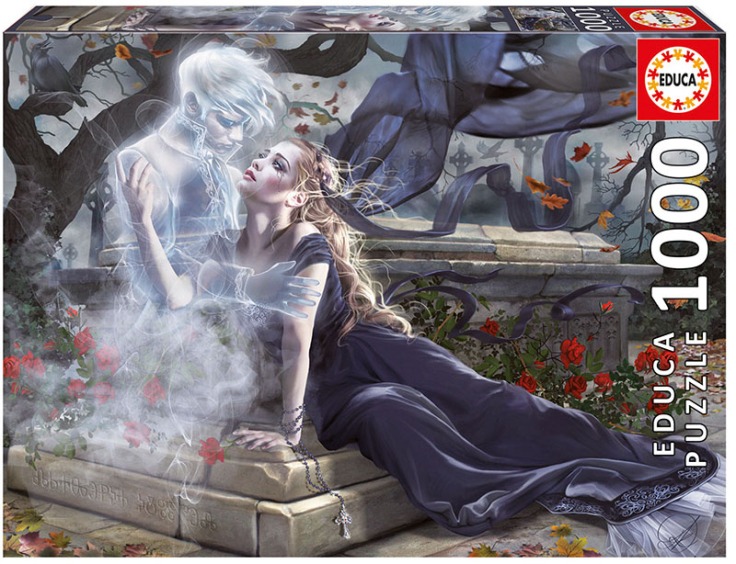 TOP PICK #3: "Sidewalk Flower Sale" by Susan Brabeau, White Mountain, 1000 pieces
It's nice to see White Mountain bring back this lovely Susan Brabeau puzzle. It's one of my favorites with all the flowers and the quaint city street.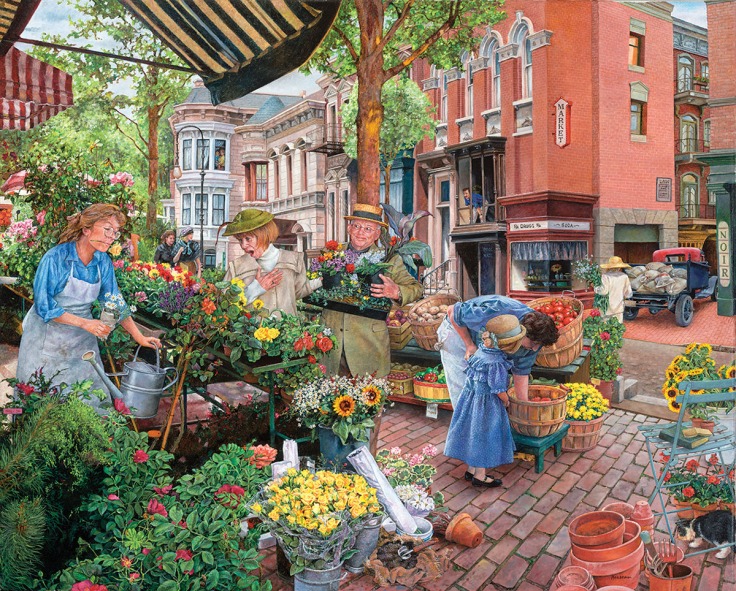 More new puzzles at Puzzle Warehouse this month
EDUCA
There was a big shipment of new Educa with some amazing puzzles.
"North American Landmarks", 1500 pieces
If you're not up for the huge 42,000 puzzle above, you can do a section of it in a mere 1500 pieces.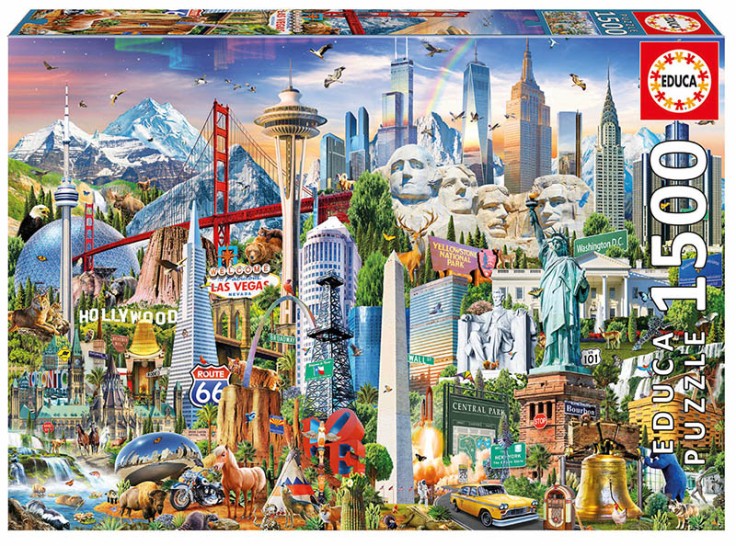 "Watering Hole Rainbow", 3000 pieces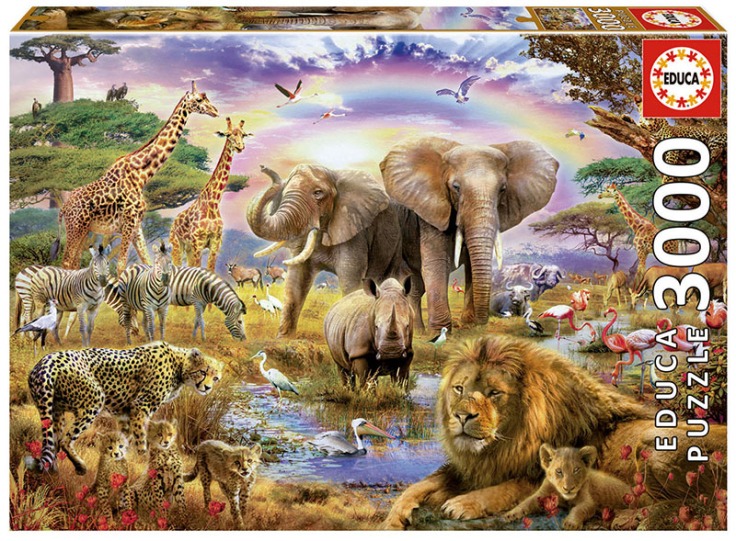 "Dragon Princess and Unicorn", 1500 pieces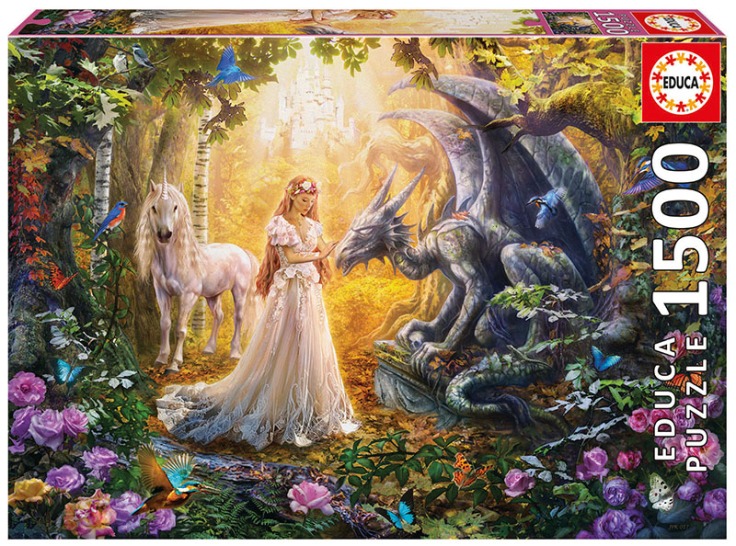 "Sewing Corner", 1000 pieces
I love this colorful collage scene!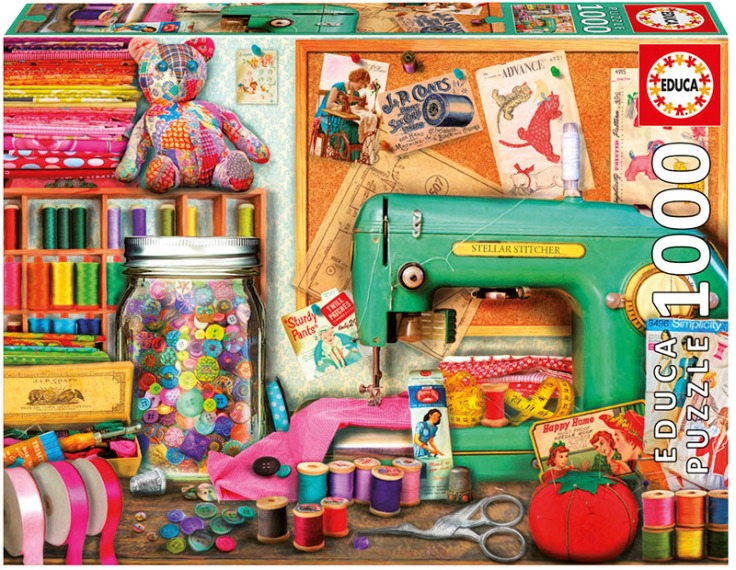 "Views of Stockholm", 1000 pieces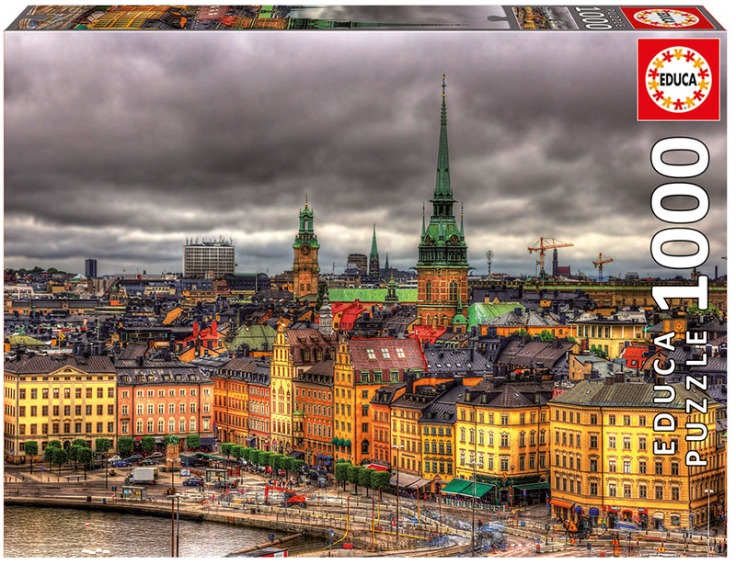 "Fierce Loyalty" by Anne Stokes, 1000 pieces
Cool fantasy puzzle that has echoes of Game of Thrones.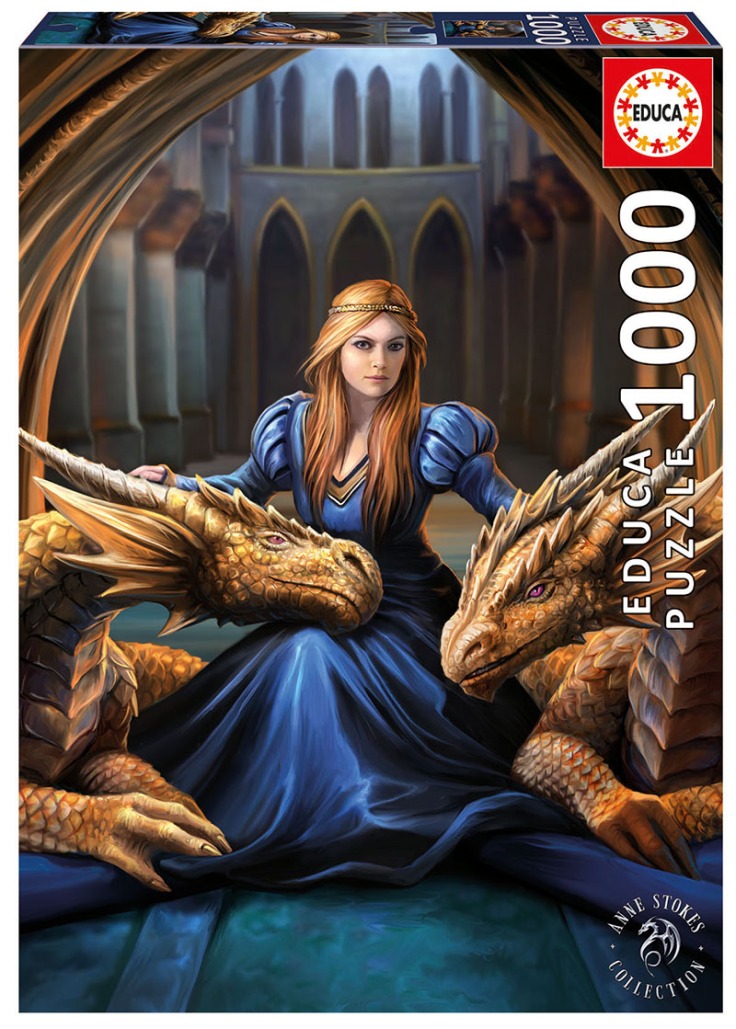 "Land of the Dinosaurs", 1000 pieces
This dinosaur image has such amazing colors.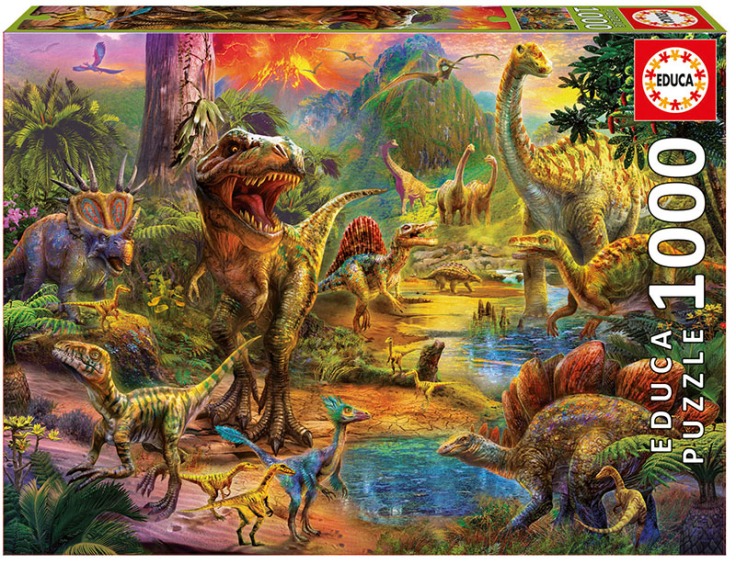 "Kitesurfing", 1000 pieces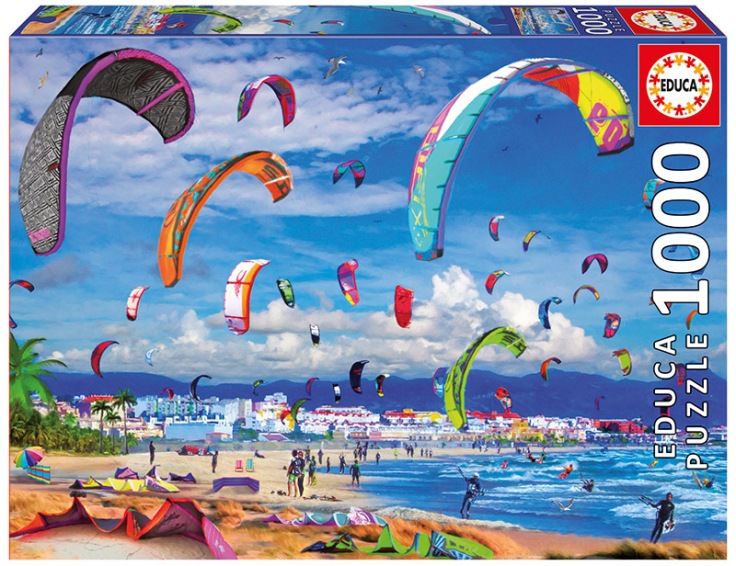 "Bike in the Dunes", 1000 pieces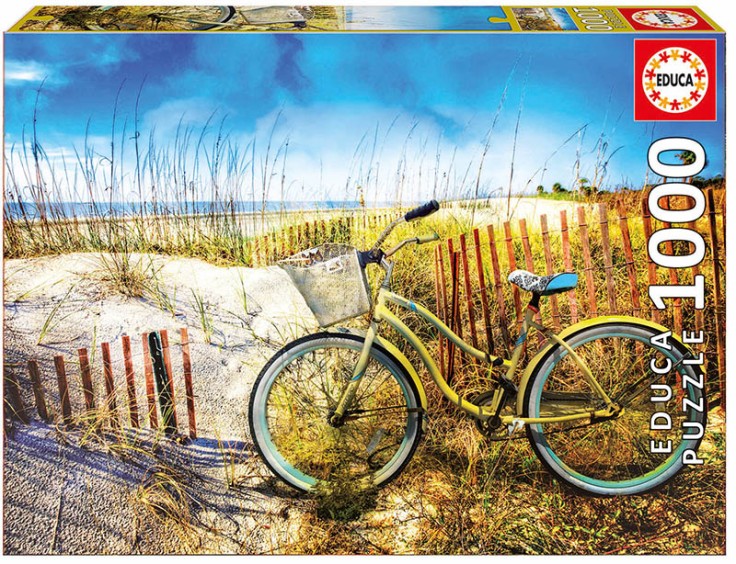 "Seashells Collage", 1000 pieces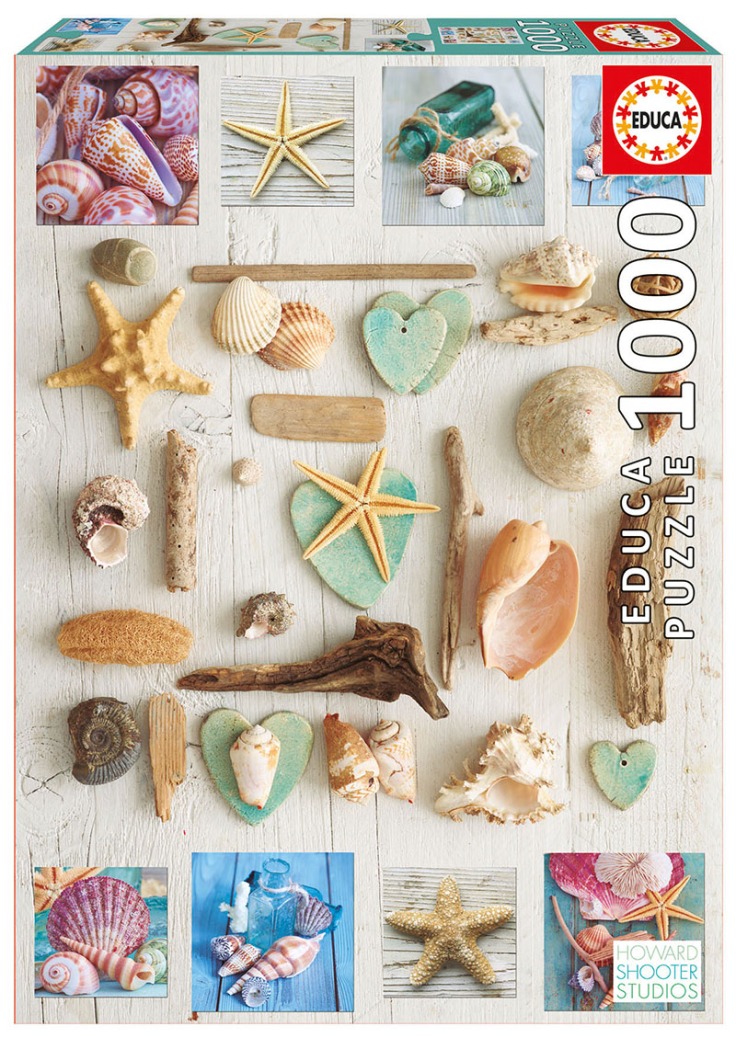 EEBOO
Some new and restocked puzzles in from eeboo.
"Unicorn Puzzle", 500 and 1000 pieces
This gorgeous round puzzle comes in both 500 and 1000 pieces.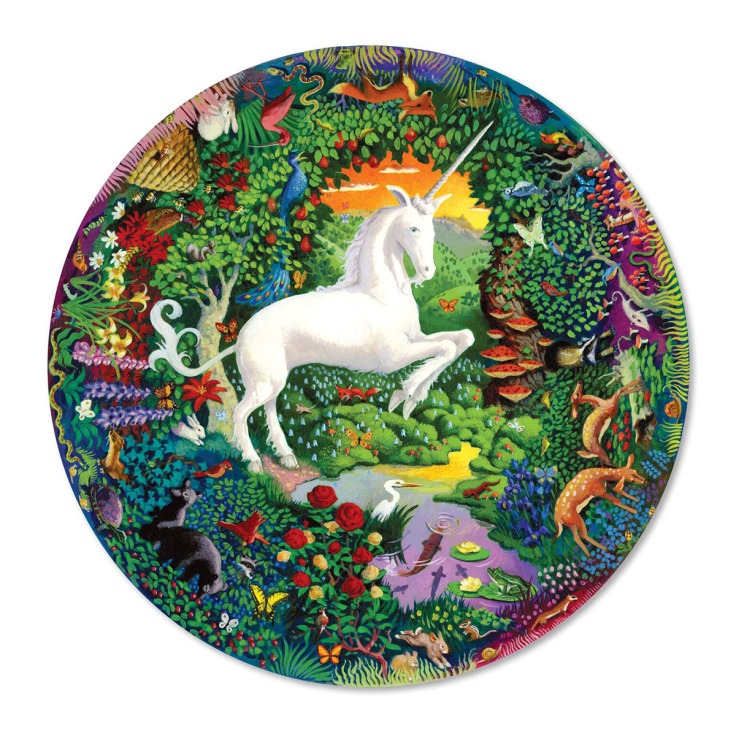 "Peacock Garden", 2000 pieces
A nice large size with lots of color and pattern.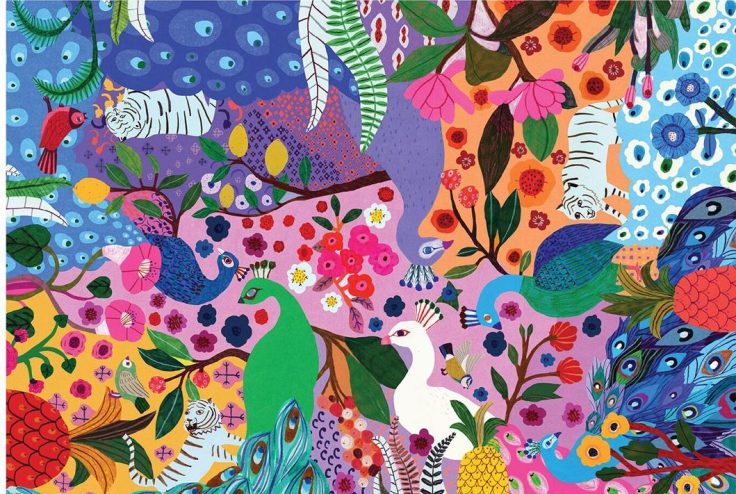 SUNSOUT
"Feathered Friends" by Aimee Stewart, 1000 pieces
This shaped puzzle is filled with colorful birds and birdhouses with art by Aimee Stewart.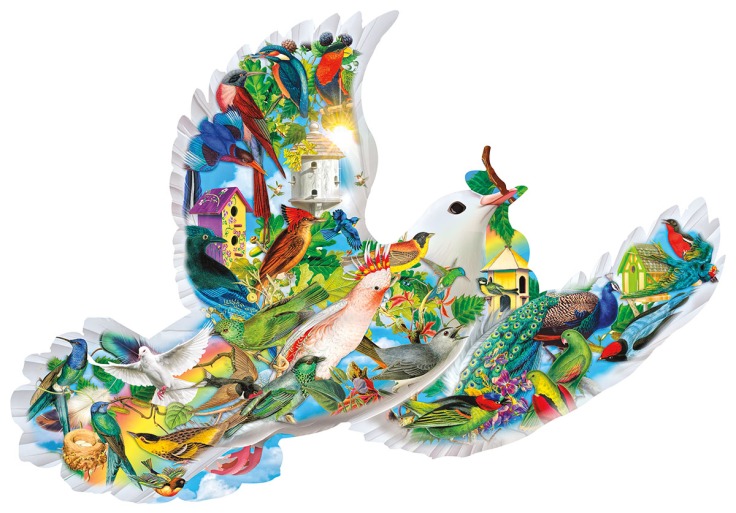 "The Past Lane" by Ken Zylla, 1000 pieces
For lovers of Americana nostalgia.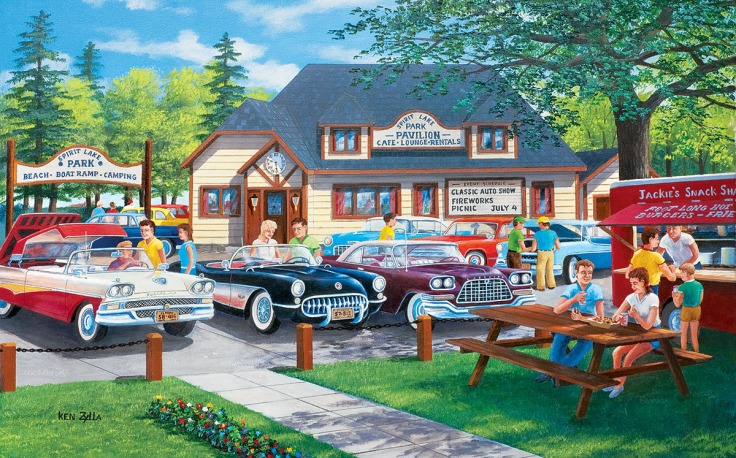 Re-Marks
"Degas", 1500 pieces
I like puzzles that combine a number of classic paintings into one. It's like getting a mini museum. This collection of Degas paintings has beautitful colors.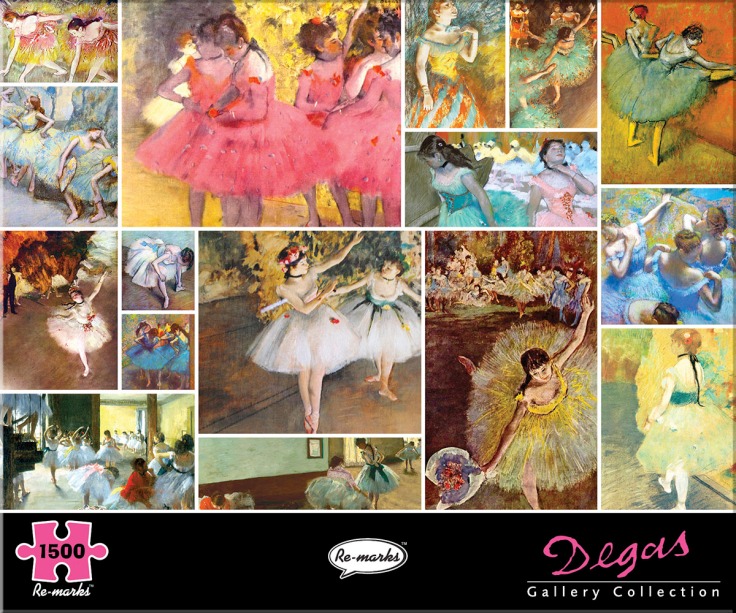 "Jane Austen", 1000 pieces
I love Jane Austen so this puzzle is a must for me.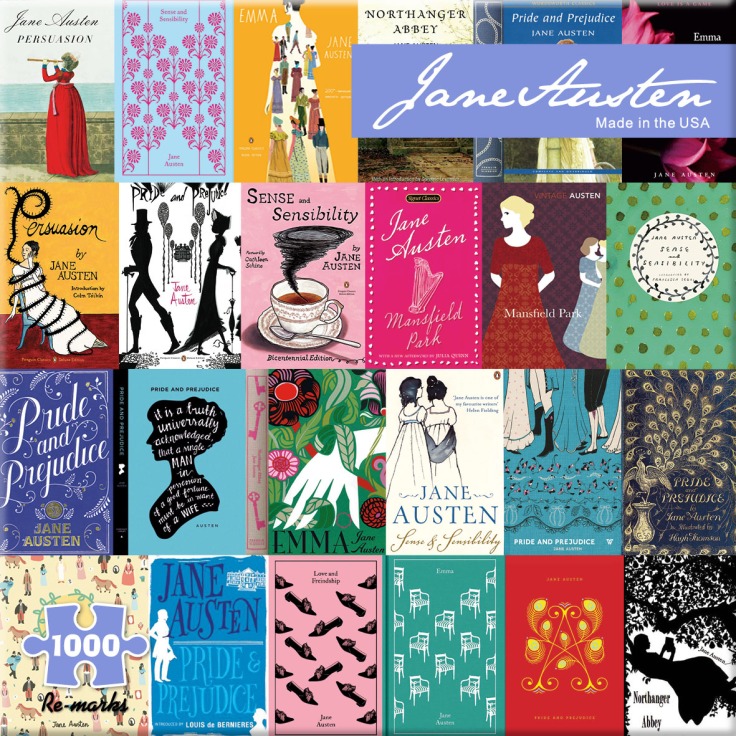 WHITE MOUNTAIN
White Mountain has some terrific new releases this month.
"The Toy Shed", 1000 pieces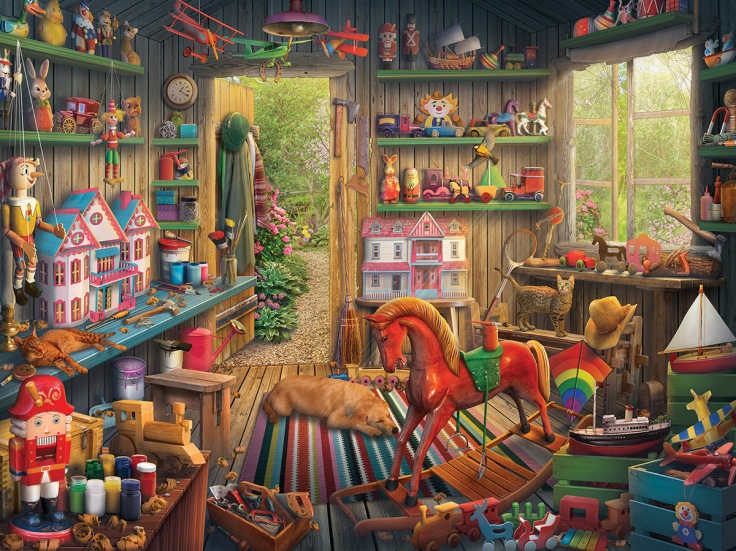 "Great Explorers World Map", 1000 pieces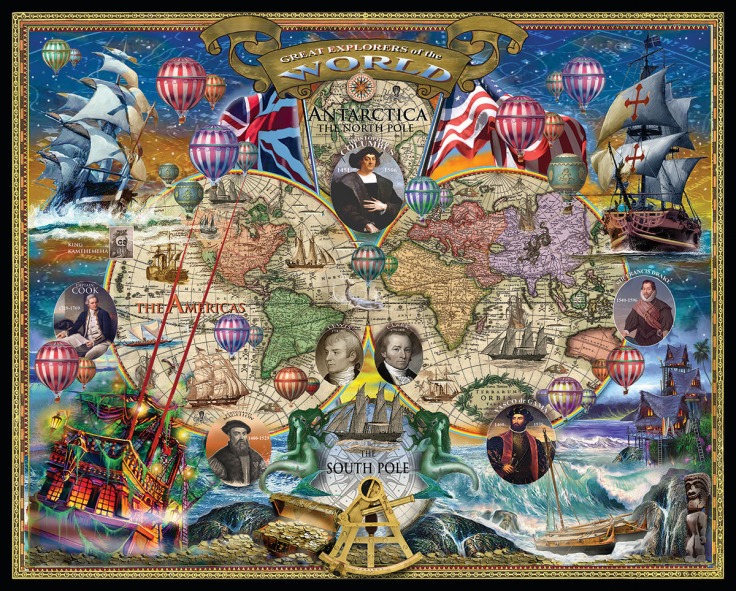 "Favorite Brands", 1000 pieces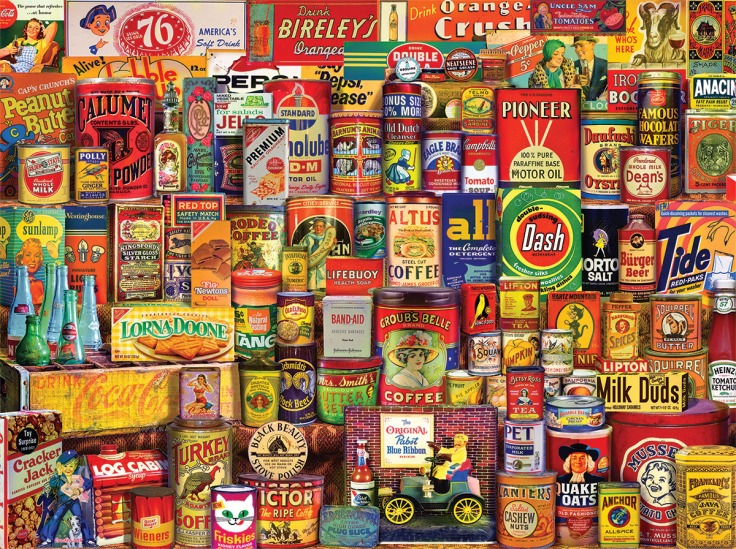 "Cookbooks (General Mills)", 1000 pieces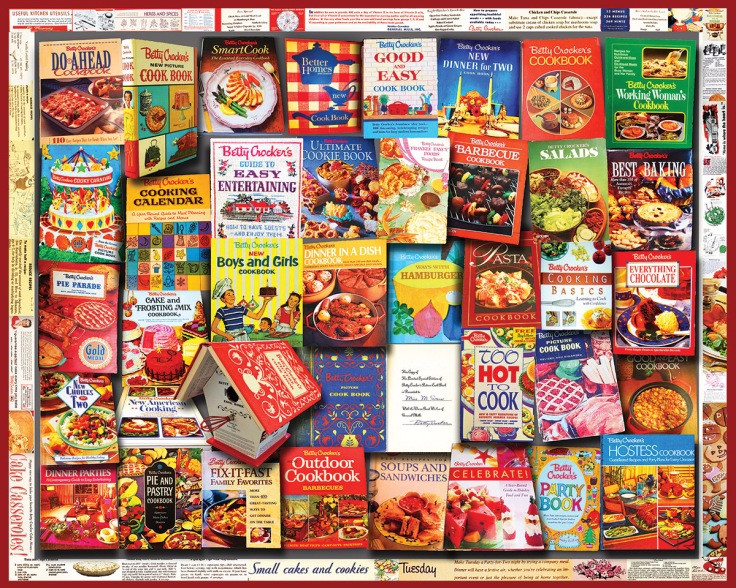 "Family Game Night" by Lois B. Sutton, 550 Pieces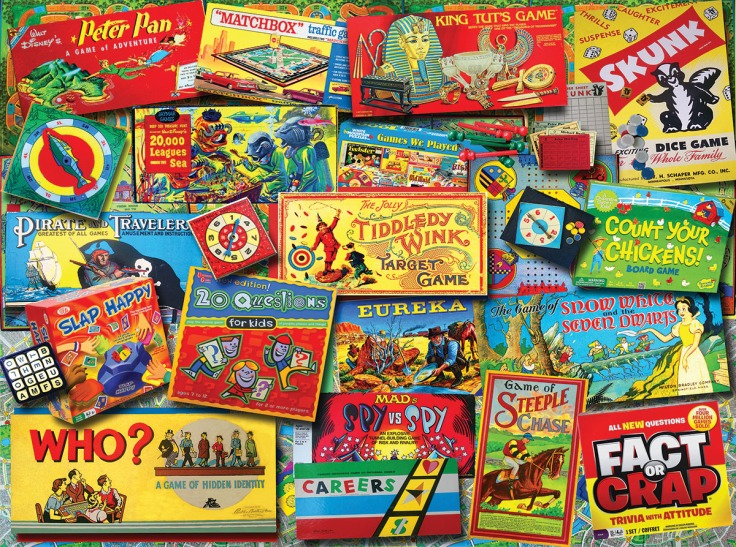 "Craft Room Seek and Find" and "Retro Kitchen Seek and Find", 1000 pieces