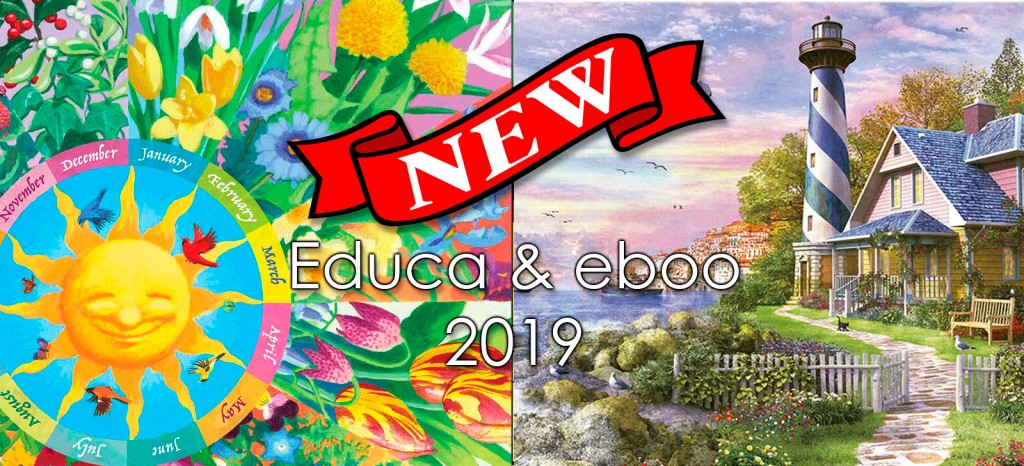 Educa & Eeboo 2019
Sorry I haven't posted in a few weeks, but I took a "sun break" vacation down to Florida. Of course, when I arrive back home to Pennsylvania, we had a foot of new snow! I'm more than ready for Spring. How about you?
I'll be working on some puzzles for review now that I'm back home, but for now I have to share some cool new puzzles that we recently got in stock at Puzzle Warehouse. We're continuing to get in the new puzzles for 2019 and they're awesome. Here are my picks of the new Educa and Eeboo puzzles.
EDUCA 2019
"Lighthouse at Rocky Bay" — in 4000 and 1000 pieces
This is a gorgeous new cottage/landscape puzzle. And it comes in both 4000 and 1000 pieces! I'd love to work on the 4000 piecer. Talk about a long-term challenge.
CLICK HERE FOR THE 4000 PIECE VERSION or on the image below for the 1000 pieces.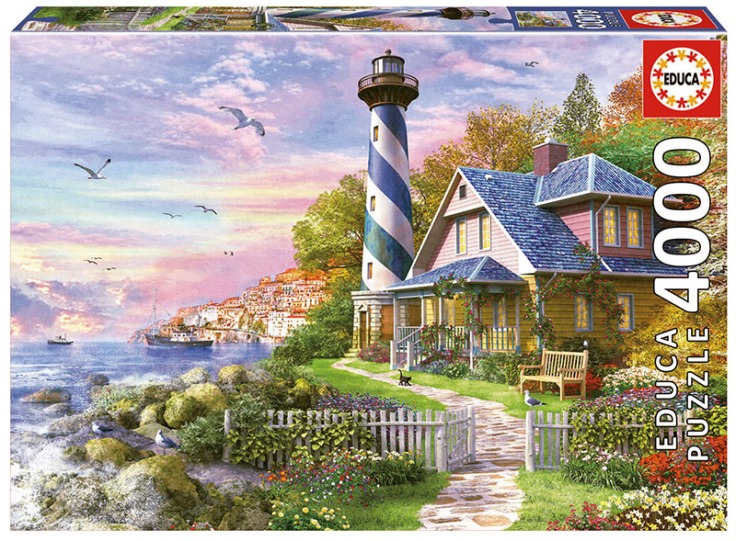 "Cats on the Quay" and "Dogs on Quay", 1000 pieces
I like the panorama shape and the colors in these two. (Click on the image to see the puzzle on Puzzle Warehouse.)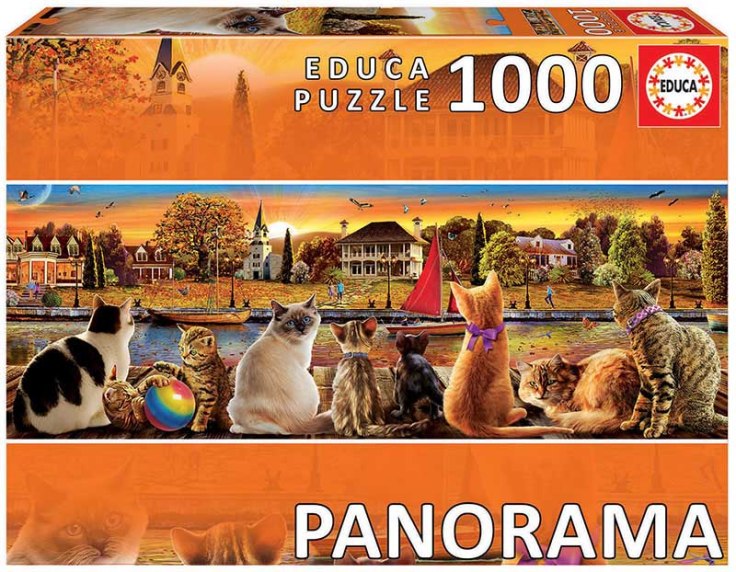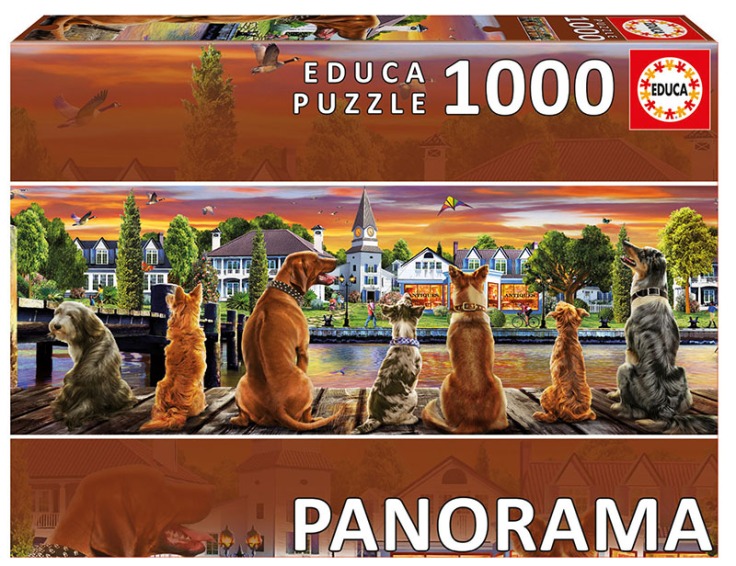 "Country Garden", 3×500 pieces
I like these sets of 500 piece puzzles. You can do them individually. Or, if you want to make it harder, open up 2 or 3 of them and mix together! Love the Spring theme, which is definitely on my want list right now.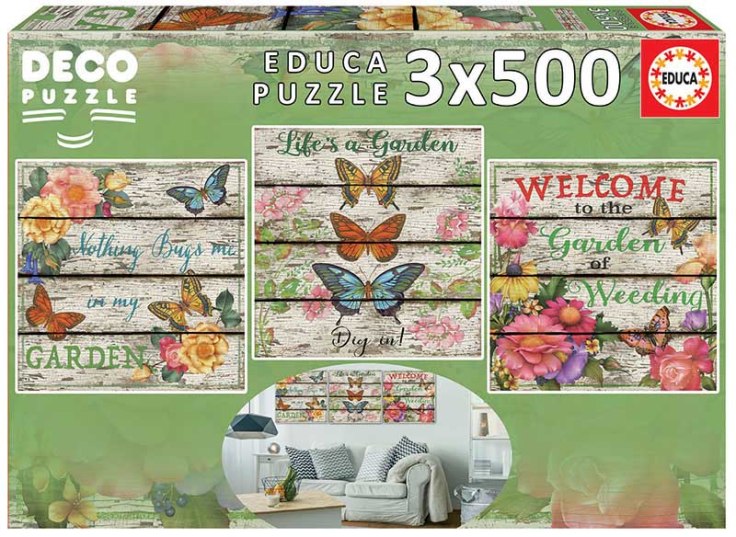 "World Travel Guides", 1000 pieces
I love all the fonts and colors on this collage.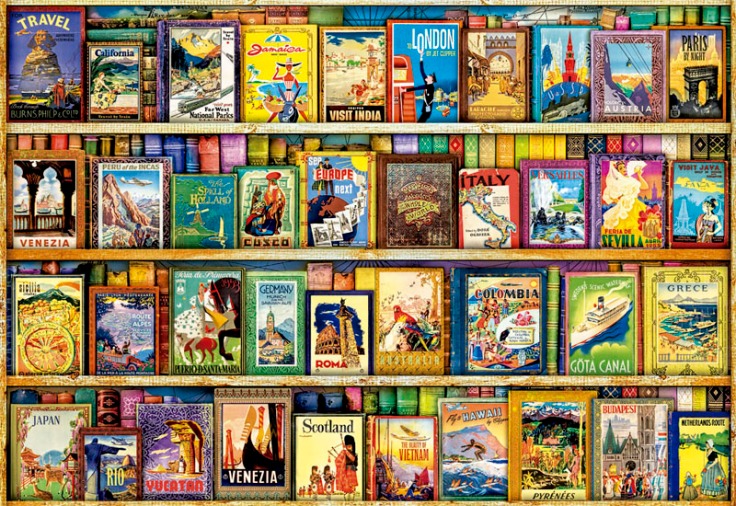 "Llama Drama Selfie" (1000 pieces) and "Fun in the Sun Selfie" (500 pieces)
These animal puzzles are great to do with kids. Or just for a laugh.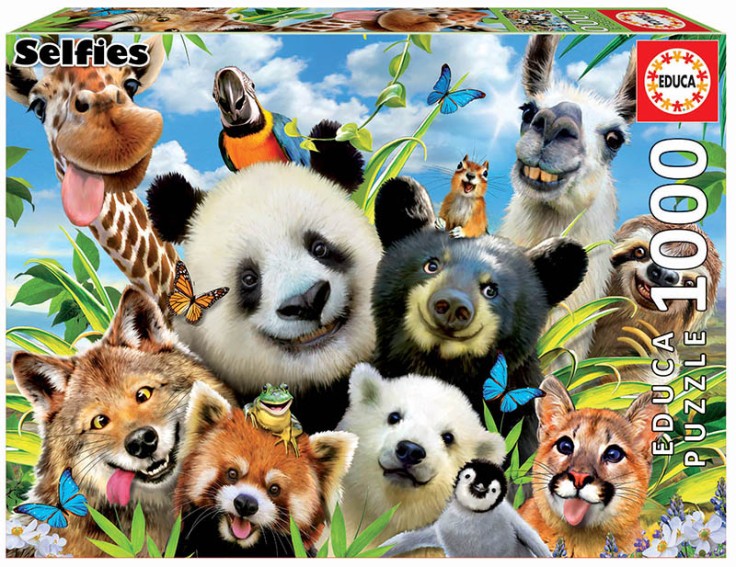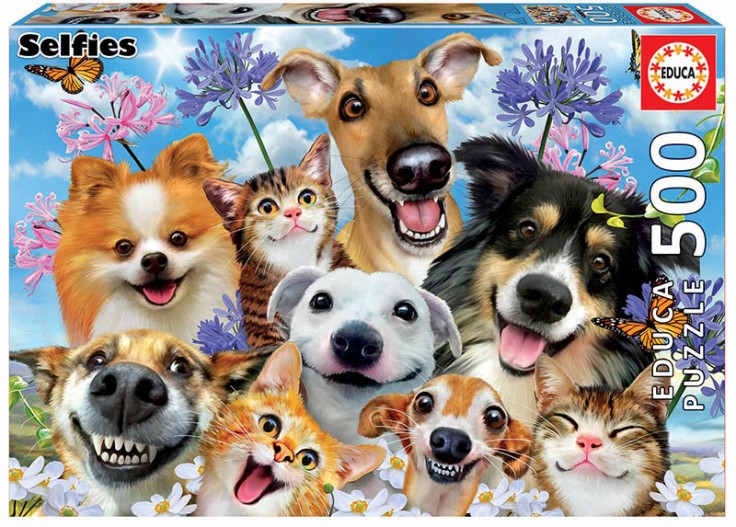 "Astrologer" by Bill Bell, 1000 pieces (Neon)
I like Bill Bell's cartoon art. Nice to see this one back in print!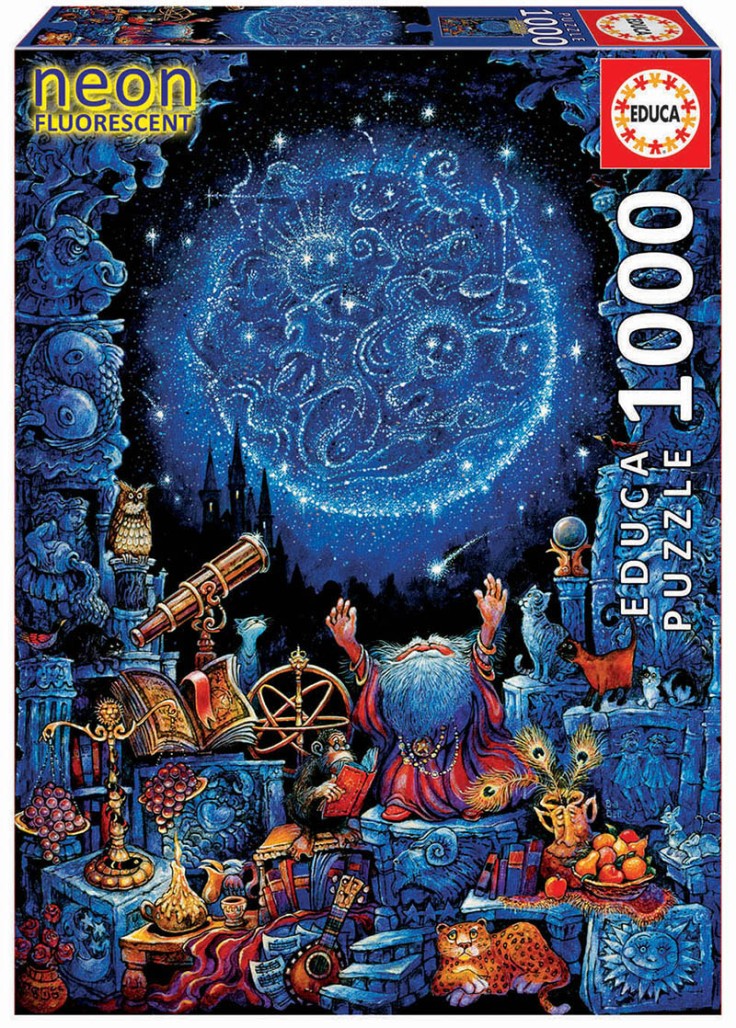 FANTASY & GOTHIC
Educa has had some terrific fantasy and gothic puzzles in the past and they have some cool new ones for 2019.
"Awake Your Magic", 500 pieces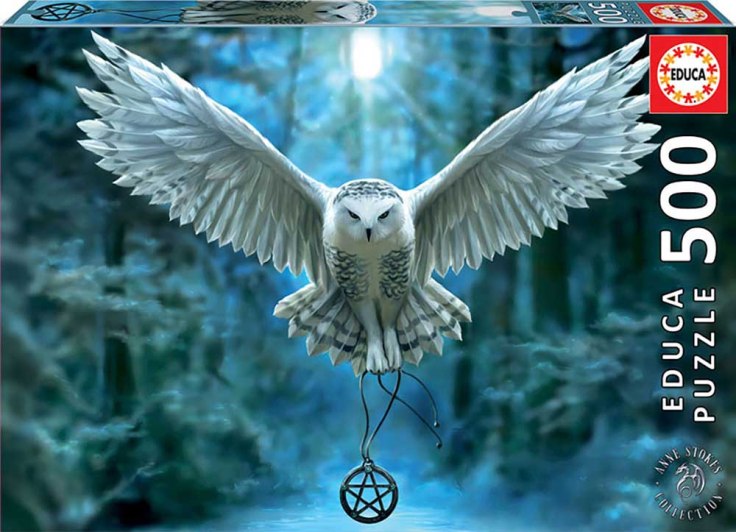 "Pirate Skull" by Anne Stokes, 500 pieces
Love this one!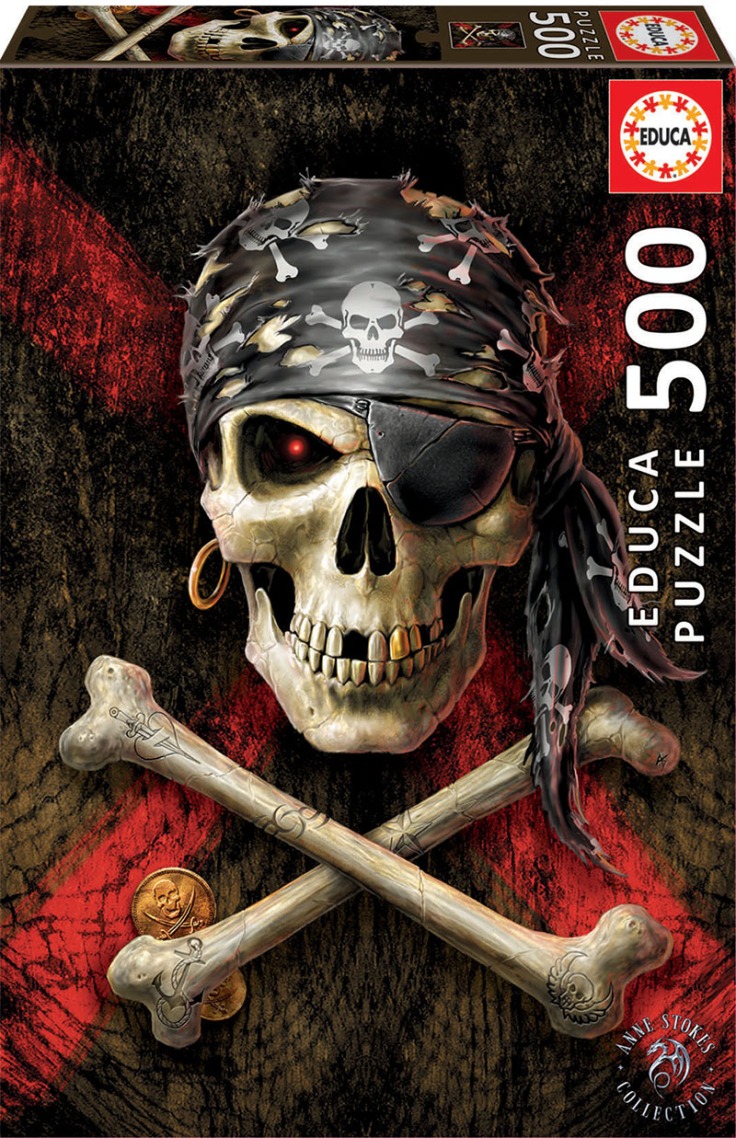 "Fierce Loyalty" by Anne Stokes, 1000 pieces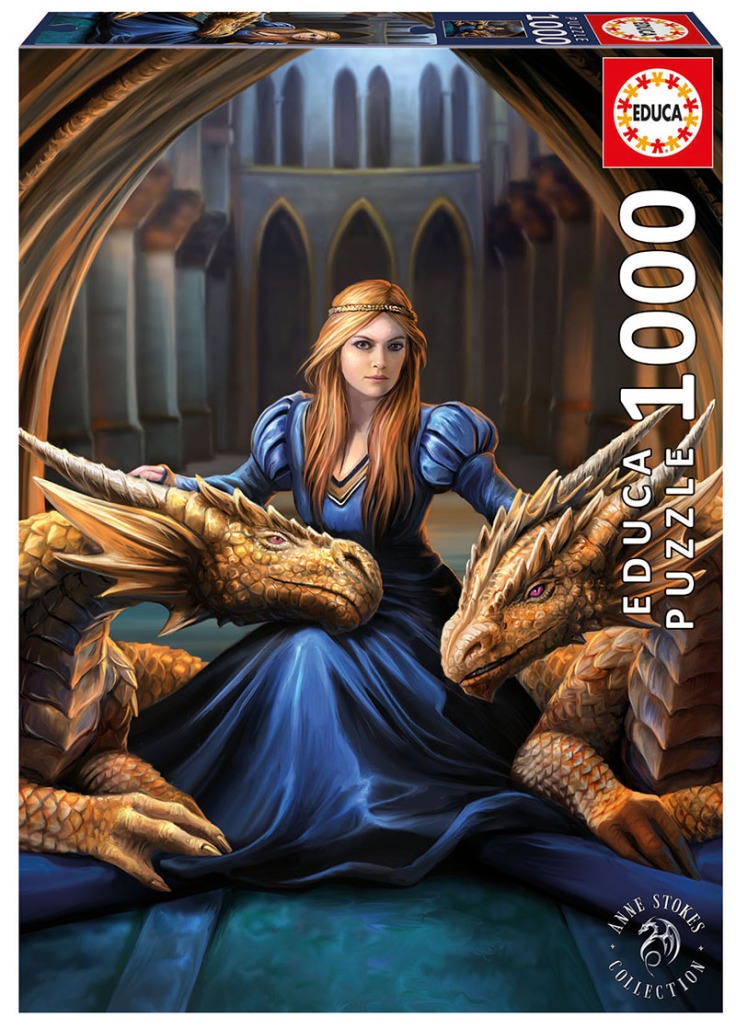 LARGER PUZZLES
Another thing Educe is a "go-to" brand for is larger piece counts. Here are some new ones that caught my eye.
"Old Garage". 1500 pieces
The detail in this is fantastic and those green doors look fun to assemble.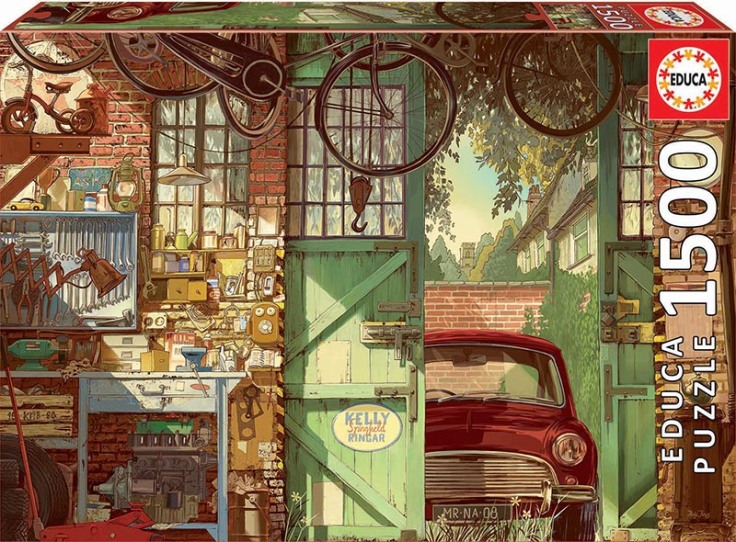 "Asia Landmarks", 1500 pieces
This is awesome. I love travel themed puzzles. (Click on the image to see the puzzle on Puzzle Warehouse.)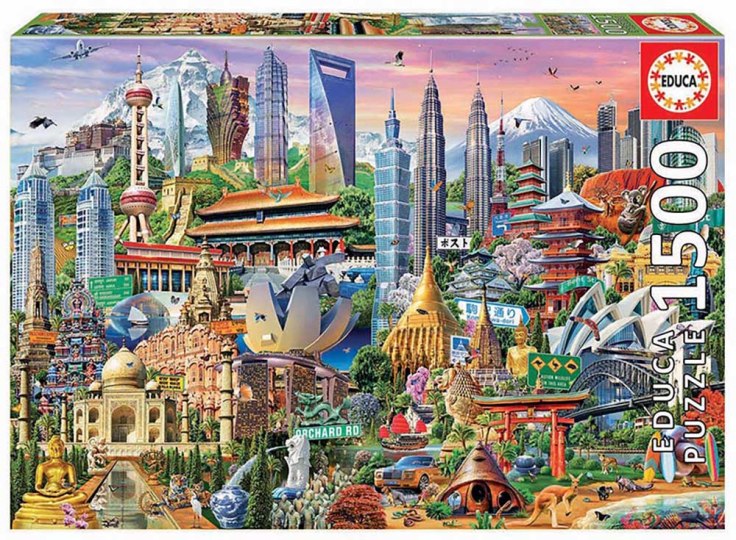 "Field of Sunflowers', 1500 pieces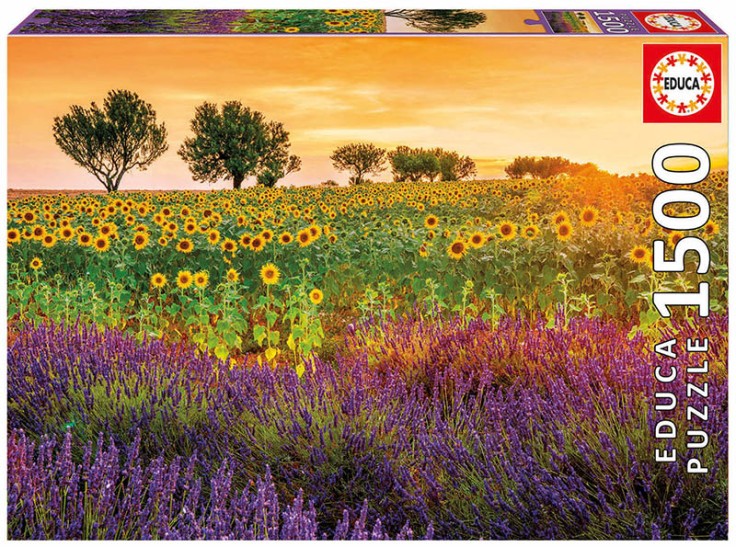 "World Landmarks Globe", 2000 pieces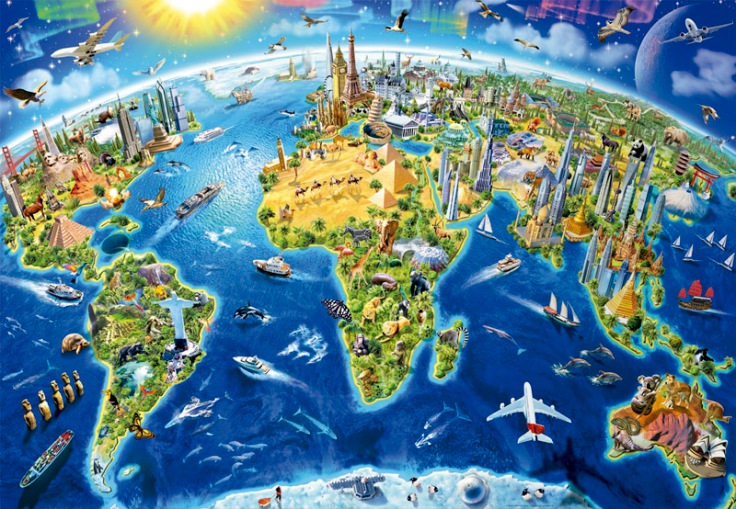 "Family of Dolphins", 2000 pieces
If you're dreaming of the tropics!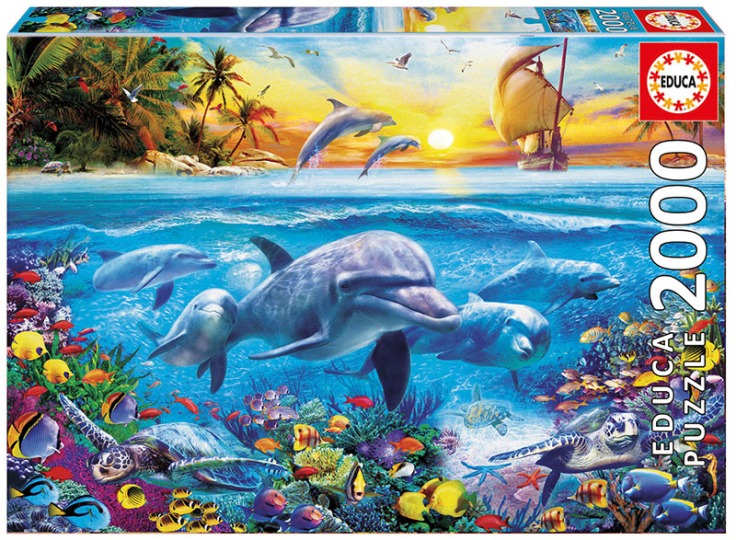 "Collage of Operas", 3000 pieces
I love this 3000 piece puzzle! Great selection of vintage opera posters with tons of different fonts and designs.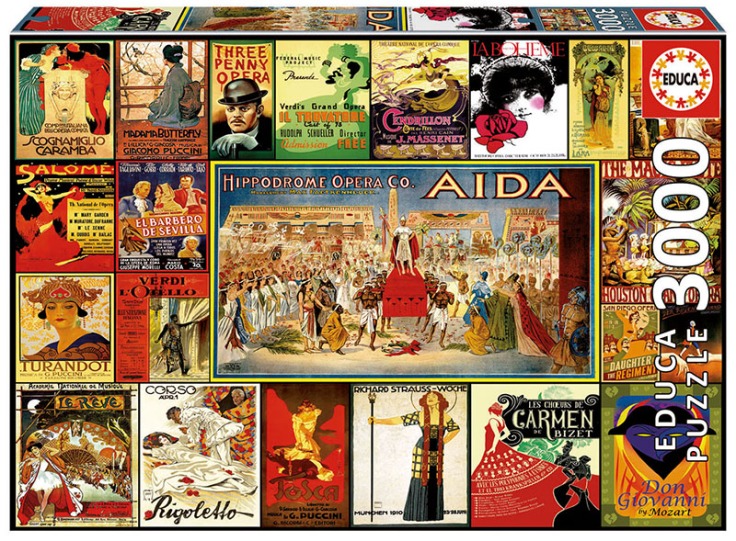 "Mount Shuskin, Washington", 3000 pieces
If you like photographic puzzles, this one is a beaut.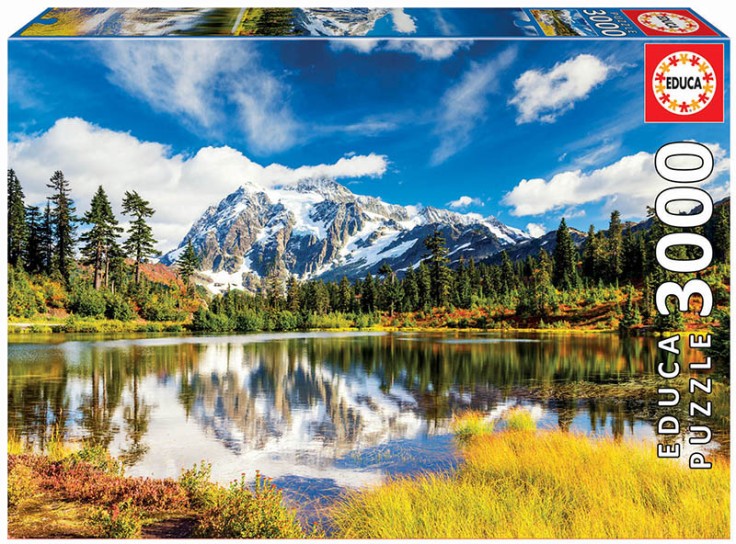 "Le Petit Cafe", 4000 pieces
What a challenge!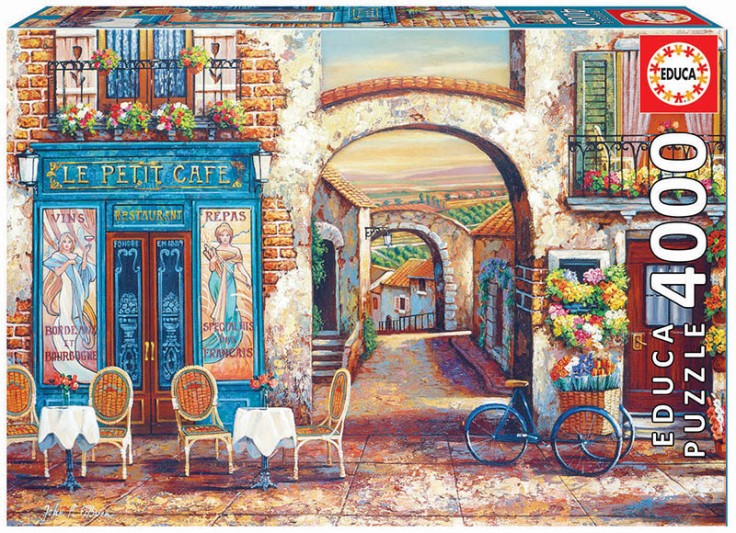 "Entering the Bedroom", 6000 pieces
This one will definitely take a while. But the various animal patterns will help make it more fun than frustrating.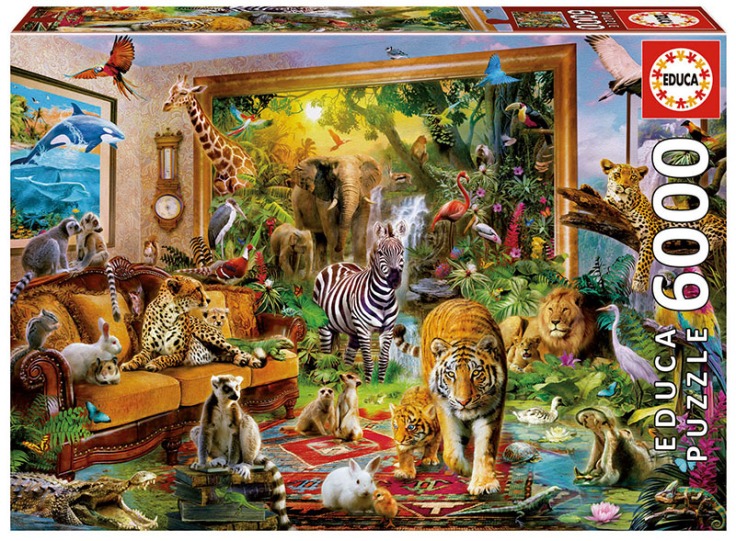 EBOO
All the puzzles I've seen from Eeboo, a relatively new brand, have knocked it out of the park in terms of choosing great graphics for puzzles. I also really like their quality. You can read my brand comparison here. Their new 2019 puzzles are amazing.
"Curiosity Cabinet of Facts", 1000 pieces
I love the tiny boxes on this puzzle and all the curious things you'd discover as you puzzle it. Must review for blog!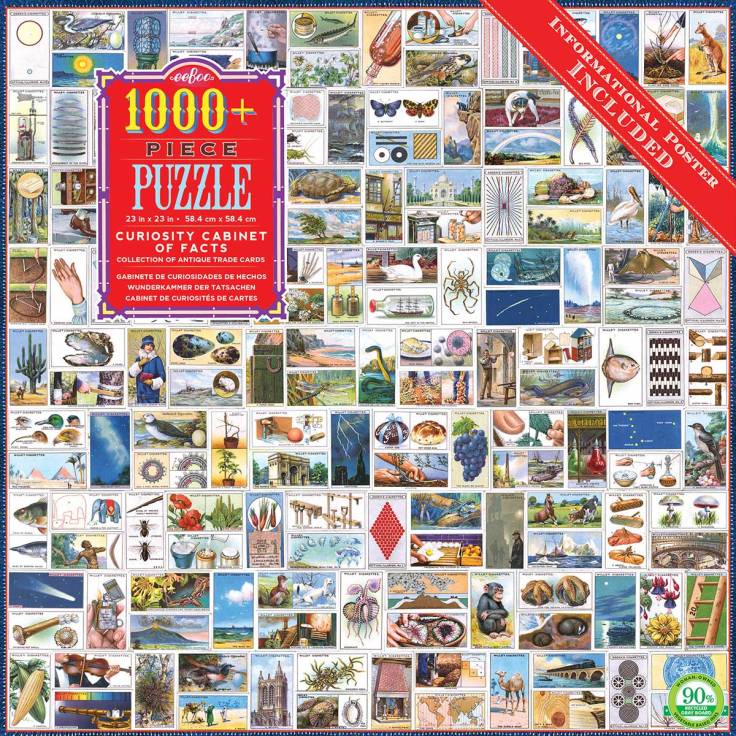 "Flower Calendar", 1000 pieces
Wow — This may be one of my favorite designs of the year. I love all the different colored and patterned flowers and the central image. Must do for Spring!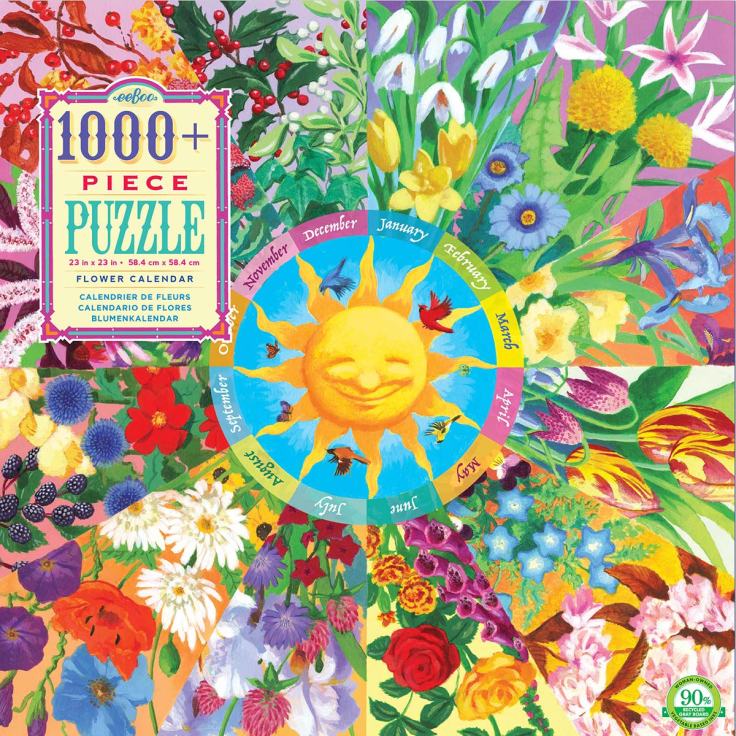 "100 Great Words". 500 pieces
I always like doing lettering when it appears in puzzles and this puzzle is nothing but words in different fonts and colors! Also I love the round shape.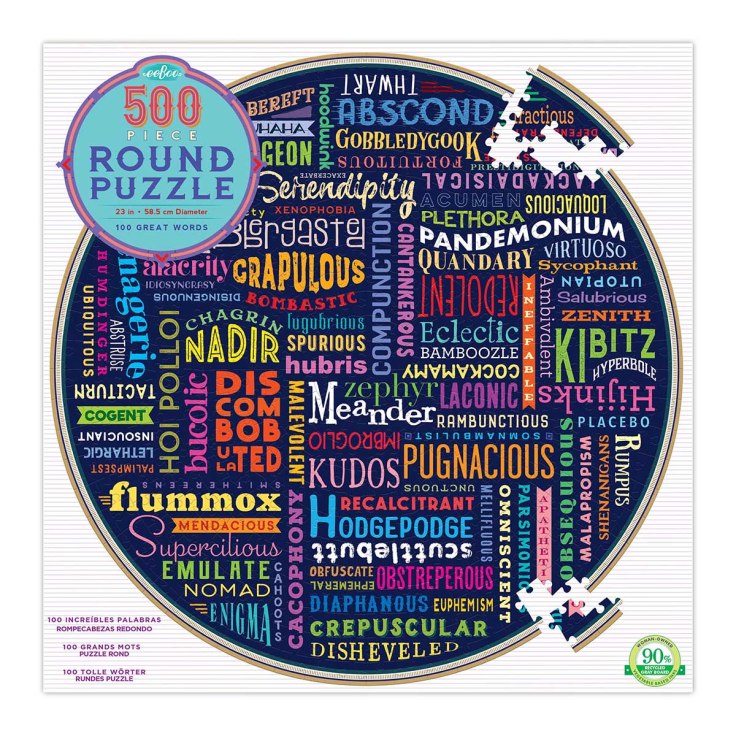 "Tree of Life", 1000 pieces
Great colors and awesome detail.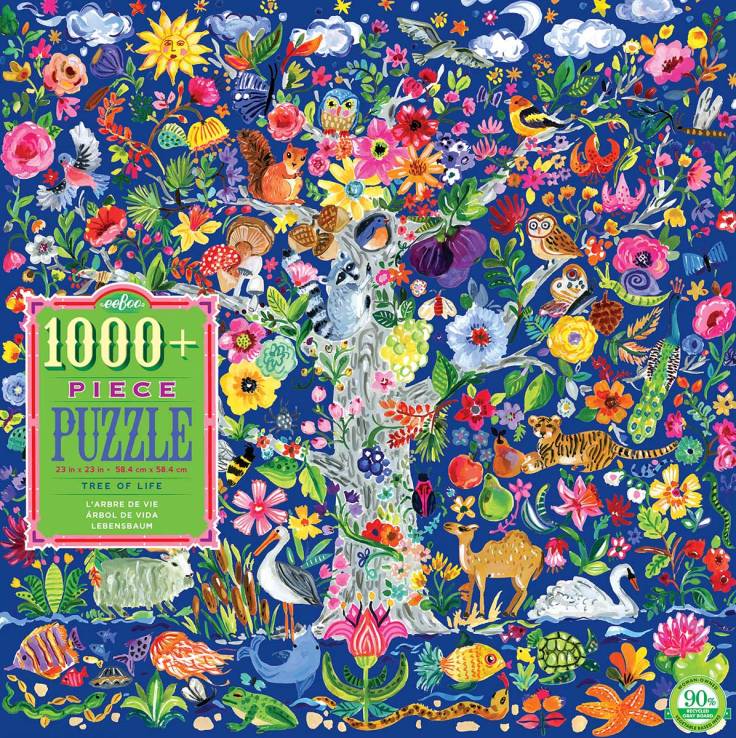 "Wildlife Interior", 1000 pieces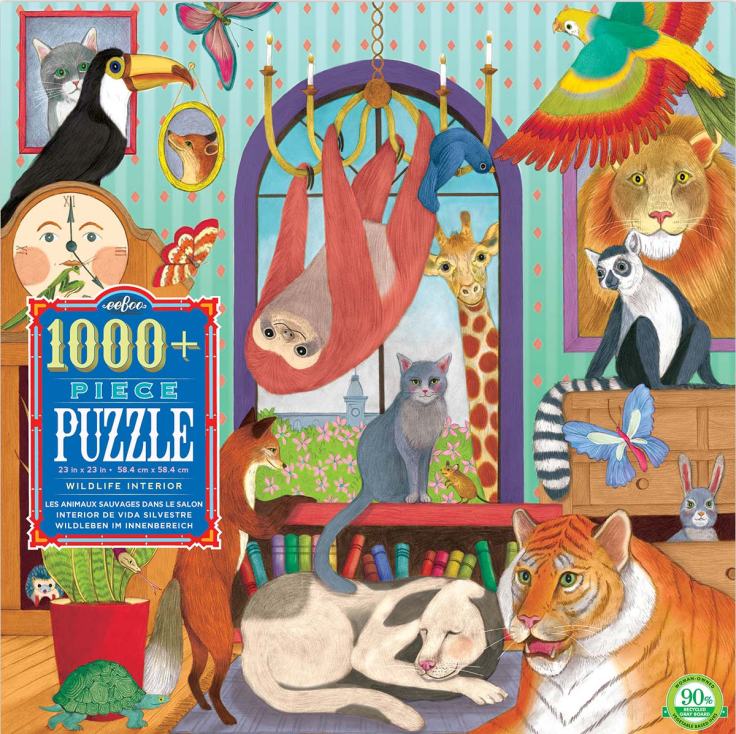 "Butterflies and Moths", 1000 pieces
I love the various patterns on the butterflies.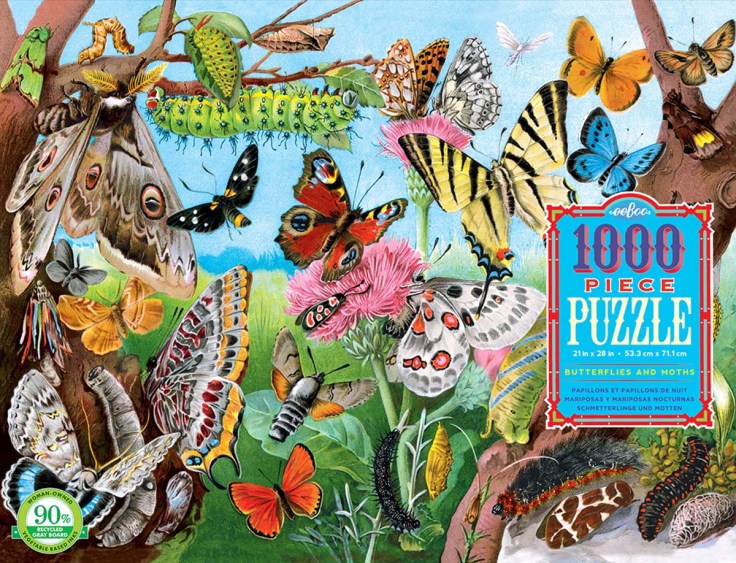 "Sloths", 1000 pieces