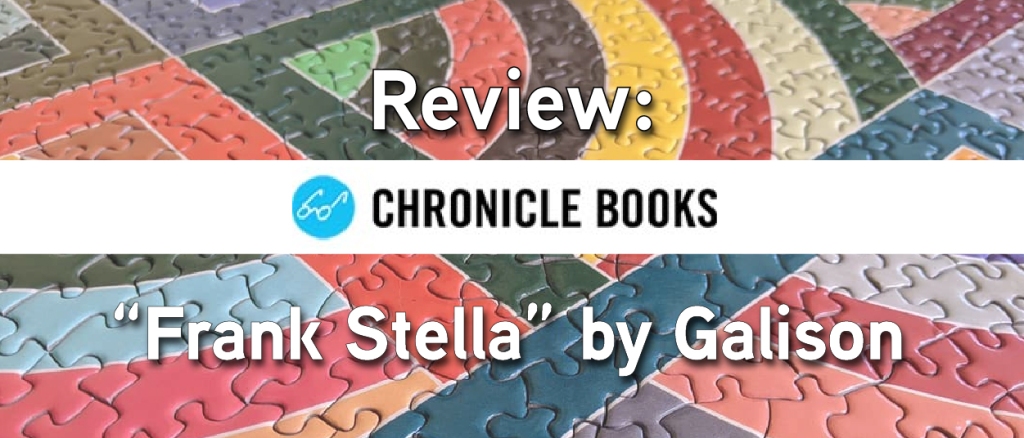 Review: "Frank Stella Shaped Puzzle" by Galison, Chronicle Books
Did you know that Galison puzzles (you can also find them under the brand Chronicle Books at Puzzle Warehouse) has more than one type of puzzle? They have their regular, standard grid cut puzzles and then they have these amazing shaped puzzles. You may have seen them; Jonathan Adler's Rainbow Hand, Jonathan Adler Lips, or the Christian Lacroix Heritage Collection Frivolités to name a few. The one I'm going to talk about today is technically called "Firuzabad", as that is the name of the art piece, but the puzzle's name is Frank Stella Shaped Puzzle. It is printed on 90% recycled paper and printed with non toxic ink. The assembled size is 24.5″x16.25″.
The box is nice and sturdy. It's about 11.5×8.5×2 for those of you who are into boxes. No judgement here, I mean, I'm the weirdo that's actually measuring them for you. The cover has a big photo of the finished puzzle, while the sides have a smaller picture and the title. There was a small poster included, but no reusable bag. There was maybe a thumbnail amount of puzzle dust. I realize that puzzle dust is a subject of contention amongst puzzlers. Some hate it with the white hot fury of a thousand suns, some couldn't care less. Me, I'm a colander girl. Dump them in, give them a shake, and bing, bang, boom, your pieces are clear.
The pieces are definitely thicker than a regular Galison and they're irregularly shaped! I have to say, I do lose my mind over irregular pieces. I find them much more fun and interesting than the standard grid cut. There were some pieces that had peeled a bit, and a couple that looked like they had been chewed or smushed on the edges? I shook the box, but alas, no puppy or kitten fell out, so maybe a production issue? I was surprised with the thickness of the pieces! I included a picture of my patented puzzlestack. On top is your standard Ravensburger and on the bottom is a standard Galison. As you can see, the Shaped Puzzle piece is a chonky little guy!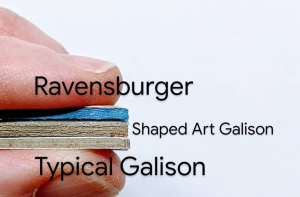 So, I'm not going to lie. The fit was lousy at first. If you've ever done a shaped puzzle, you know that the border sucks. Not even sorry, it does. Not just that, puzzle manufacturers think that it's funny to put infinitely more fake border pieces in than real border pieces. It's hilarious. There were SO MANY "I'm just going to touch this other piece, but not actually link together" pieces that I may have said some things that made my husband blush, and not in a good way. My advice? Anything that looks like a border goes into the border pile! I'll figure it out later. However, when the puzzle was finished, I was completely floored!! I could totally lift it up, as you see in my classy barefoot video (see video on via Instagram). Well done on that little bit of trickery, Galison. You got me.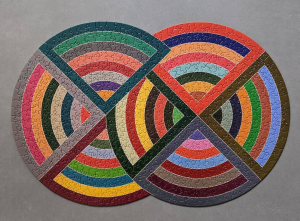 The image quality of this puzzle was top notch. It was so beautiful to look at. The lines were crisp and clear and the colors were super vibrant. I could probably stare at it for hours. If you feel so inclined, the actual painting is in the MoMA's collection. You actually could stare at it for hours!! It was painted in 1970 and measures a whopping 9'11″x15′.5″! Can you even imagine? I love huge art pieces. They make me feel like the only thing in the world is the art and myself. It's probably the reason I love murals so much. However, I DIGRESS. The finish was slightly glossy. Matte puzzles are my preference, but for a beautiful puzzle, a little shine never hurt anyone.
After the curse inducing border, the puzzle came together pretty easily. I basically assembled this puzzle by color sections. It was a wonderful experience. All in all, it took me about two days of lazy puzzling, although I'm sure it could be finished in one.
Totally recommended! I'm already in love with Galison's line of shaped puzzles. They cost a little extra, but are a totally unique and fun experience!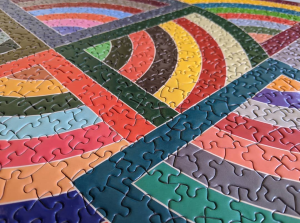 Get more from Chronicle Books from 100 to 1000 piece puzzles!