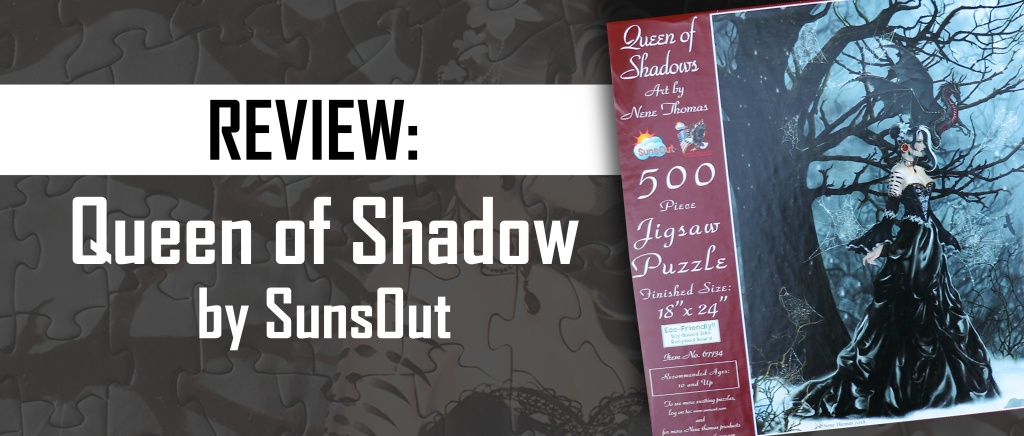 Review: Queen of Shadow, 500 Pieces by SunsOut
Happy Spooky Season! As soon as October started, I pulled out my spooky puzzles. It is my favorite way to get into the Halloween mood. I got the SunsOut Queen of Shadows 500-piece puzzle as one of my Puzzle of the Month picks. The art is by Nene Thomas who specializes in fantasy illustrations.
The SunsOut boxes are a little less study so I always make sure to have them on the top if I am stacking boxes. The box is about the same size and shape as pizza box.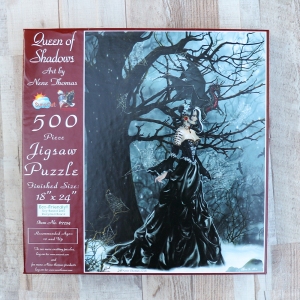 When I took all the pieces out, I decided to sort by hues. This particular puzzle does not have a wide range of colors and SunsOut puzzles have random cut pieces, which both add to the challenge.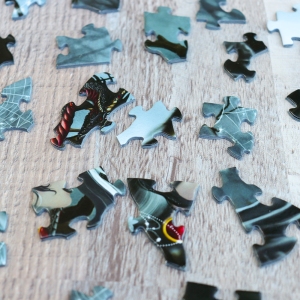 When you're completing a random cut puzzle, you will sometimes find inside (or false) edge pieces. These look like they *might* be an edge piece, but you're not entirely sure. When I am not sure at first glance, I take a closer look. Sometimes you'll see a slight curve, which lets you know that is most certainly not an edge piece. If I am unsure, I will just keep those pieces in the edges pile.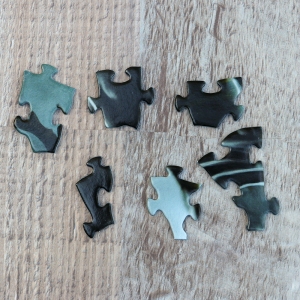 The pieces are a nice thickness and size. The comparison picture has pieces from 1000-piece puzzles. I did have a couple instances of separating layers, but I keep glue on my table to when that happens. It's annoying, but puzzles are made from paper so sometimes there will be peeling layers.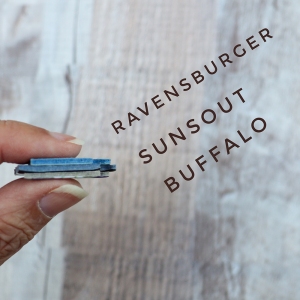 This puzzle took me longer than usual for 500 pieces. I always struggle with dark colors, but I am a big fan of Nene Thomas art and this one is perfect for October. The details in the image are phenomenal, and helpful in determining where pieces go. The way the light is reflected on the dress helps to discern those pieces. Likewise, the tree and its branches are broken from the nearly solid black by the spider webs. While challenging at first glance, the details Nene Thomas puts into her illustrations adds enough variety to keep the challenge enjoyable.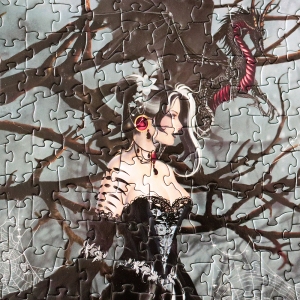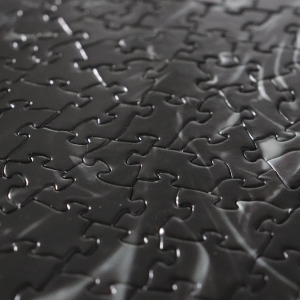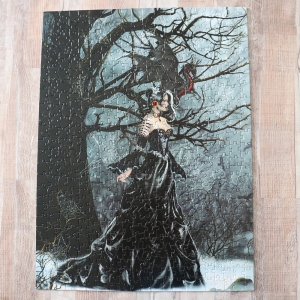 Take a look at my time lapse to see the approach I took when completing this puzzle.
This puzzle is currently out of stock. Click here to view other puzzles with Nene Thomas art.
Happy Spooktacular puzzling!
Diane aka Bizzle's Puzzles