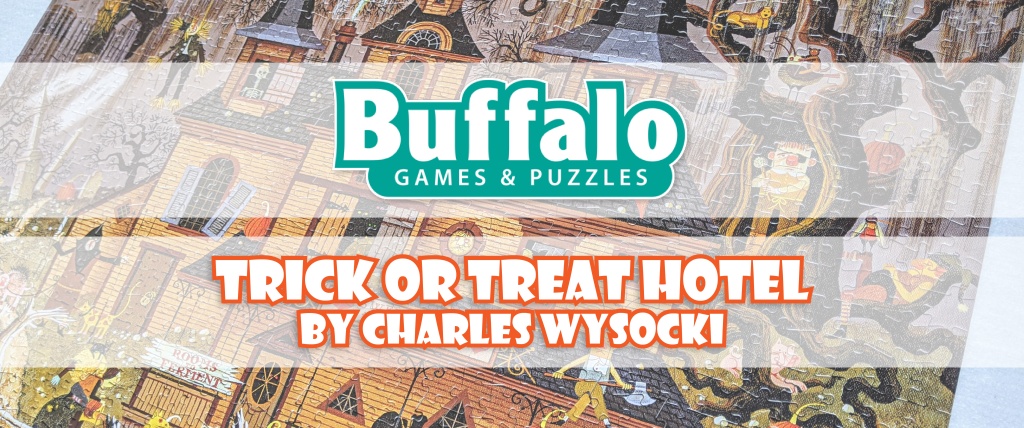 Buffalo Games Puzzles – Trick or Treat Hotel by Charles Wysocki
Charles Wysocki. That name has been synonymous with puzzles since at least the 1990's. I think it's safe to say that the man is a puzzle institution. I actually bought this puzzle last year around November. Halloween had come and gone and I still hadn't found a keeper Halloween puzzle. You know what I'm talking about. That puzzle or two (or three) that you pull out every holiday season. I was browsing through the Halloween category and Trick or Treat Hotel caught my eye. It certainly wasn't the color scheme. The monochromatic colors should have scared away a chromatophile such as myself. However, those adorable ghouls and imps just couldn't be passed by, so I clicked ADD TO CART. Fast forward to this Halloween, (Yes, I actually waited a whole year to do this puzzle. Yes, that's totally normal! Everybody does that, right?! ) and as soon as October 1st hit, I pulled out my year old Wysocki puzzle and got to work.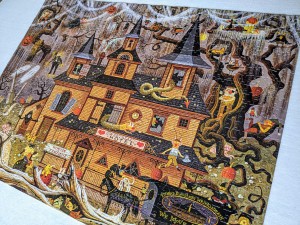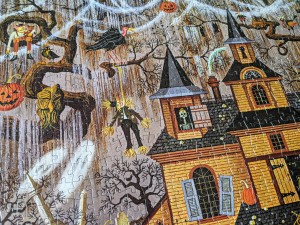 I have to say, I do enjoy a Buffalo puzzle box. It's a tidy little 8x8x2 and there is something about their compact size that appeals to someone like me, who is short on storage space. The puzzle does not come bagged and includes a huge poster of the art. I love the size of the Buffalo posters. I wish all puzzle companies included big, glossy posters. I once opened a Buffalo puzzle that had 8 posters inside!! I bet there were some wild shenanigans happening in the factory the day that puzzle was packed.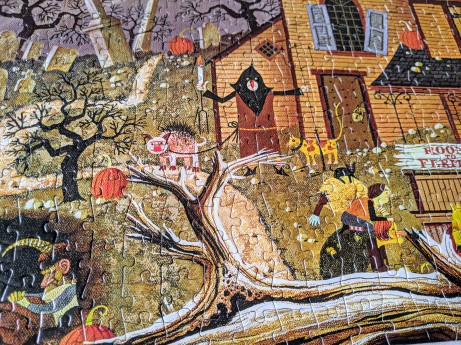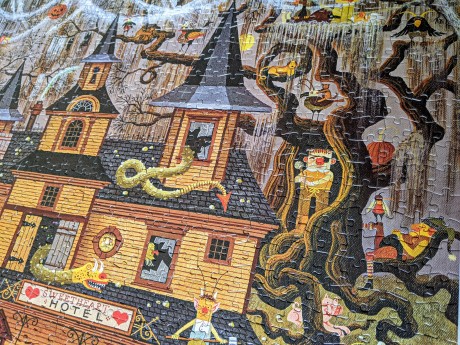 The pieces are cut into standard grid style pieces, with the exception of those classic Buffalo zig zag ones. Does it sound silly that I love those guys? I look forward to them every time I do a Buffalo. They are a decent thickness with a low gloss finish. Below is my awesome puzzle stack picture with thickness comparisons with Ravensburger and Pomegranate. I have found in the past with Buffalo that their pieces are prone to peeling. I didn't have that problem with this one and was super happy I wouldn't need to break out my repair kit. I was also really pleased with the fit, as it was right in the Goldilocks zone.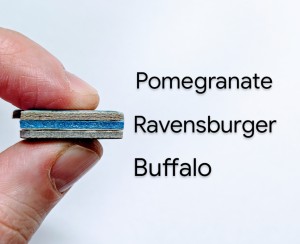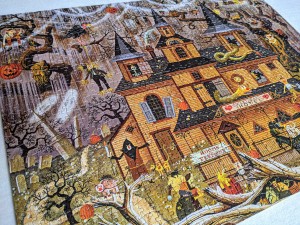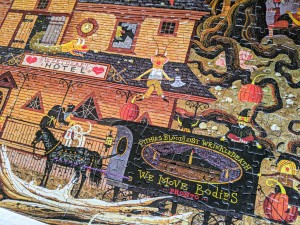 The puzzle itself wasn't that difficult. I started with the borders and the house first, then did the grounds and moved up from there. I was worried the monochromatic color scheme would make things difficult, but there was enough pattern variation that it wasn't an issue. It was fun to build the puzzle this way as you could notice all the fun little details; the clever company name on the carriage, the spooky windows and of course, the wonderful creatures. Although this is one of Wysocki's darker puzzles, you don't even notice the lack of color and just lose yourself in the beautiful textures and patterns of his painting. I can understand why so many puzzlers love his puzzles.

I have to say, I was completely prepared to thrift this puzzle when I was finished. However, the more I worked on it, the more this puzzle really started to grow on me! The little ghouls and demons are adorable, and the whole puzzle is a perfect Halloween vibe. I bequeath upon this puzzle 10/10 pumpkin heads! When puzzle production gets back to normal, I highly recommend finding a copy and trying it out. On that note, I know that there's been a bit of discussion about the fact that Buffalo has had some puzzles made overseas. While I can understand that may be upsetting to some, we are currently in unprecedented times. The demand for puzzles is huge and in New York state, puzzles are not considered essential and the factory had to close. However, the demand is still there. I've inspected both a puzzle made in China and a US made Buffalo. The only difference is in the packaging. The puzzle made in China was in a sealed bag and the box was sealed with stickers. The pieces are the same material, the same thickness and they still even have my Buffalo zig zag piece.
Get into the Halloween spirit with your own puzzle or find more from Buffalo Games!

Have any of you had reservations about a puzzle but then ended up loving it? Drop us a comment and let us know

-Gaby @puzzlepastime