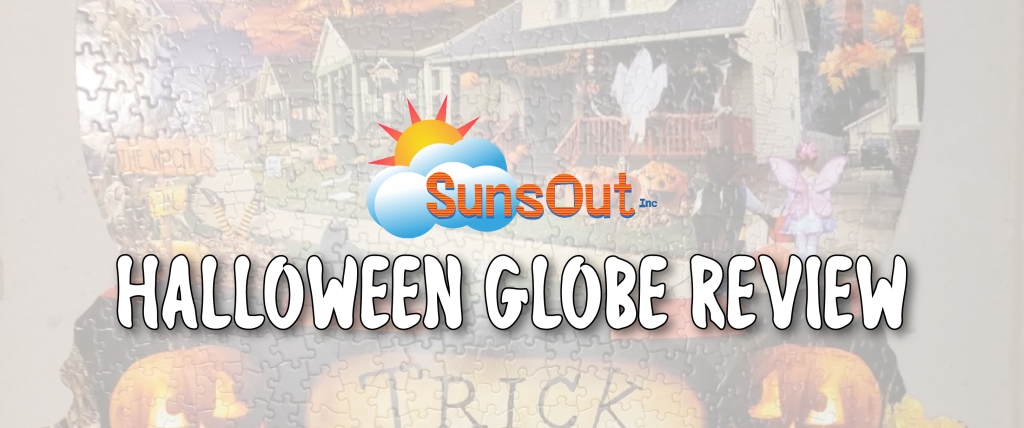 Halloween Globe Review, SunsOut
My Rating: 9/10
Happy Halloween to all of you jigsaw junkies. I hope you all had a great Halloween and enjoyed some good treats. Well as I mentioned in my previous review I love seasonal puzzles. We simply couldn't let Halloween pass without a review of this stunning specialty shaped puzzle. This puzzle when assembled is fantastic. In my opinion its one of the best Halloween puzzles on the market. There aren't a ton of Halloween puzzles out there, so I am always on the hunt for a great Halloween puzzle. When I found "Halloween Globe", I quickly added it to my collection and I am so glad I did. Hands down its my favorite Halloween puzzle and I know it will be yours too.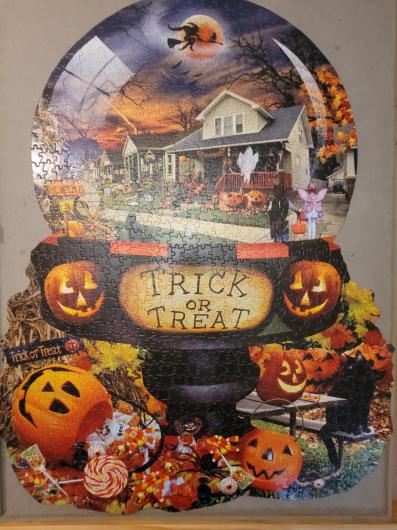 Box quality: 10/10
The Front of the box shows the image as well as the title. The artists name is also on the front as well as the SunsOut logo and the dimensions of the fully assembled puzzle. On all four sides you will find the title, piece count, the artists name, the finished size and of course the Sunsout logo. On just three sides you will find the image. SunsOut boxes are a little large but no larger than most. Inside you will only find your bag of pieces there is nothing else included.
Image: 10/10
This image is so unique right, a Halloween snow globe what a great idea. If you are a snow globe collector as I am you will appreciate the concept that much more. The artist, "Lori Schory" managed to include everything in this image that represents not just Halloween but also it has definite Fall vibes as well. You have all your ghosts and goblins, witches and bats, black cats and tombstones as well as trick or treaters. Also you will find the fall leaves and corn stalks to give it that "Fall" feeling. So many colors were used in this puzzle which you will realize when assembling how many different shades of orange were used on the pumpkins alone. On the base of the globe you will see it isn't all black it has hues of purples, greys and greens. The artist paid such attention to detail. You will notice in the dome of the globe you have your neighborhood scene of all that is Halloween, then further down by the base you have a "Fall" in the park scene with Halloween candy spilling from the pumpkins. In my opinion there isn't anything that can be done to improve this image. The image is clear through out the puzzle, with no blurry areas. I have lost count of how many puzzles I have assembled hundreds I would imagine, but when I finished assembling "Halloween Globe", I was mesmerized by it. I actually called my family into the room to see how awesome it is. I can't rave about it enough. If you are big on decorating for the different seasons then you might want to consider gluing it and framing it when you have completed it. It would be an awesome addition to your Halloween decorations. Just imagine it framed and hanging during the Halloween season. I know you guys will enjoy this one as much as I did and as they come back into stock, you can pick this one up at Puzzle Warehouse. SunsOut carries a line of snow globe puzzles you won't want to miss. If you enjoyed this one as much as I did then check these out, "Christmas Snow Globe", by "Adrian Chesterman", "Old Fashioned Snow Globe", by "Barbara Behr", "Winter Village", by "Steve Crisp, and last but not least, "3 Snow Globes", by "Randy Wollenmann". All of these and so many more SunsOut puzzles can be found at Puzzle Warehouse.
Puzzle Quality: 9/10
Though I am a huge SunsOut fan, I do have one issue with the brand and that is the pieces not interlocking tightly. On a brighter note it is my only issue with this brand. The puzzle pieces are of good quality. I have never encounter any problems with the pieces not separated properly from the factory. I haven't had any issues with shards of backing peeling from the pieces. There is never an abundance of dust in the box. The pieces are nice and sturdy and with adequate thickness. Overall SunsOut puzzles are made very well. The only issues as I mentioned is they don't interlock tightly enough. This can be bothersome when trying to move sections of assembled pieces around your board. I would say I have experienced this in most but not all SunsOut puzzles. I definitely wouldn't let this issue deter you from investing in SunsOut puzzles. They are a great brand with a huge library from you to choose from. I would just advise to be aware of this issue when assembling this puzzle. Just use a little extra care when sliding assembled pieces around your board. The "Halloween Globe", has a glossy finish, which just adds to its beauty. I had no issues with glare when assembling this puzzles. A little tip when assembling puzzles with a glare I find adjusting your mode and or brightness of your lamp should solve that problem.
Assembly: 10/10
I would rate this puzzles difficulty as moderate. Special shaped puzzles are really no more difficult than regular shaped puzzles. My best advice for assembling a special shaped puzzles is to work from your inside out. Normally when assembling puzzles I would advise to assemble your border first. Although when the puzzle is specially shaped it is usually a better idea to assemble from the inside and work your way out. Finding the border pieces, because of the odd shape, can be difficult. Although I found with this puzzle, I was able to find the border pieces without much difficulty. When I first began puzzling I spent so much time dividing all my pieces by shades of color thinking it would make assembling that much easier. Now really all I do is separate all my pieces with my puzzles sorters. I have several sets which I actually picked up from the puzzle of the month club at Puzzlewarehouse. If you don't already have puzzle sorters they are a great investment. They are inexpensive. Treat yourself to a set they make the puzzling experience so much more enjoyable. I sort my pieces into at least 4 or 5 sorter trays and this makes finding the piece I am looking for a lot easier. With this puzzle I did assemble the majority of the border first. Then I moved onto the base which was less difficult then you would imagine because as I mentioned earlier the base has different hues of color it wasn't all black. Then I moved onto the spilled candy and all the pumpkins. The candy was easy, the pieces were obvious and easy to find. The pumpkins were more of a challenge because of all the different shades of orange but they do seem to flow together nicely. Then once my base and the bottom were completed, I moved to the dome. This area was fun as well. I began with the pathway. As I start each new section I tend to look for as many of those pieces from my sorters. Once I feel I found them all then I begin to assemble that area. Before you know it I was working on the house and then the sky. Ten hours after I begun, the "Halloween Globe" was assembled. Isn't it a great feeling, when you place that last piece. Such a feeling of accomplishment! If you are anything like me, you are already planning what puzzle to assemble next. I guess that is why we are all "jigsaw junkies". Well folks I hope you all will be adding, "Halloween Globe" to your puzzle library, I know it won't disappoint. Remember piece by piece and you will be on your way.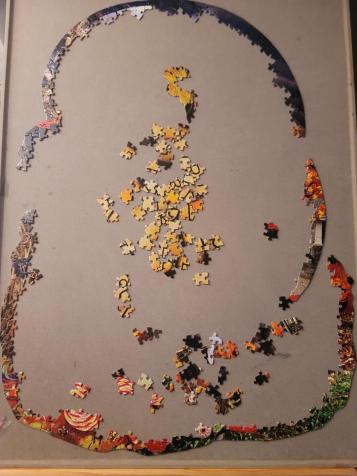 Overall it was a fun puzzle to put together. If you are looking for a great jigsaw to assemble, SunsOut is where you need to go. They have more shaped puzzles including hundreds of different piece counts for all skill levels. As I'm a big fan of SunsOut, I will also get one of their puzzles. The best place to find any of their puzzles is Puzzle Warehouse as they have the most images of the brand than anybody else!
Donna H