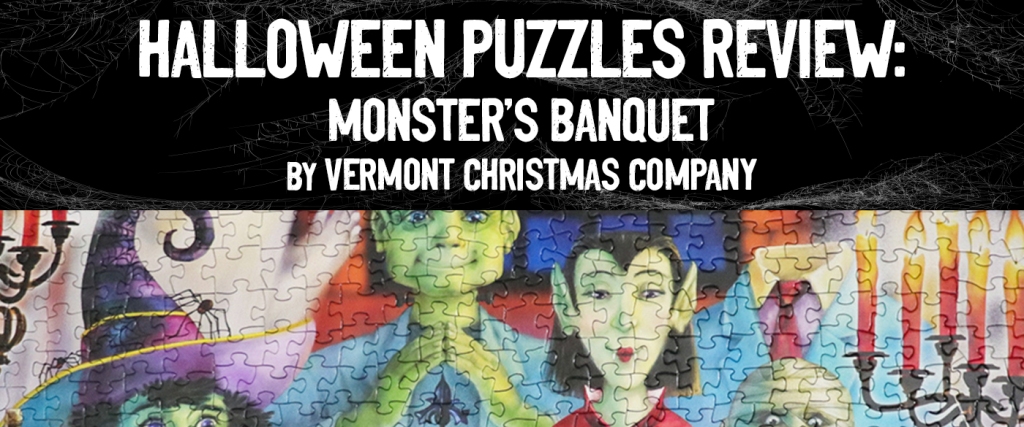 Halloween Puzzles: Monster's Banquet Review
It wouldn't feel like Halloween without assembling a Halloween puzzle. Puzzle Warehouse has a great selection of Autumn and Halloween themed puzzles. The one I am reviewing here is currently out of stock, but there are several similarly themed puzzles. Because this year is unprecedented, I am really wanting to assemble cute/happy puzzles. Here are some cute Halloween themed puzzles currently available at Puzzle Warehouse.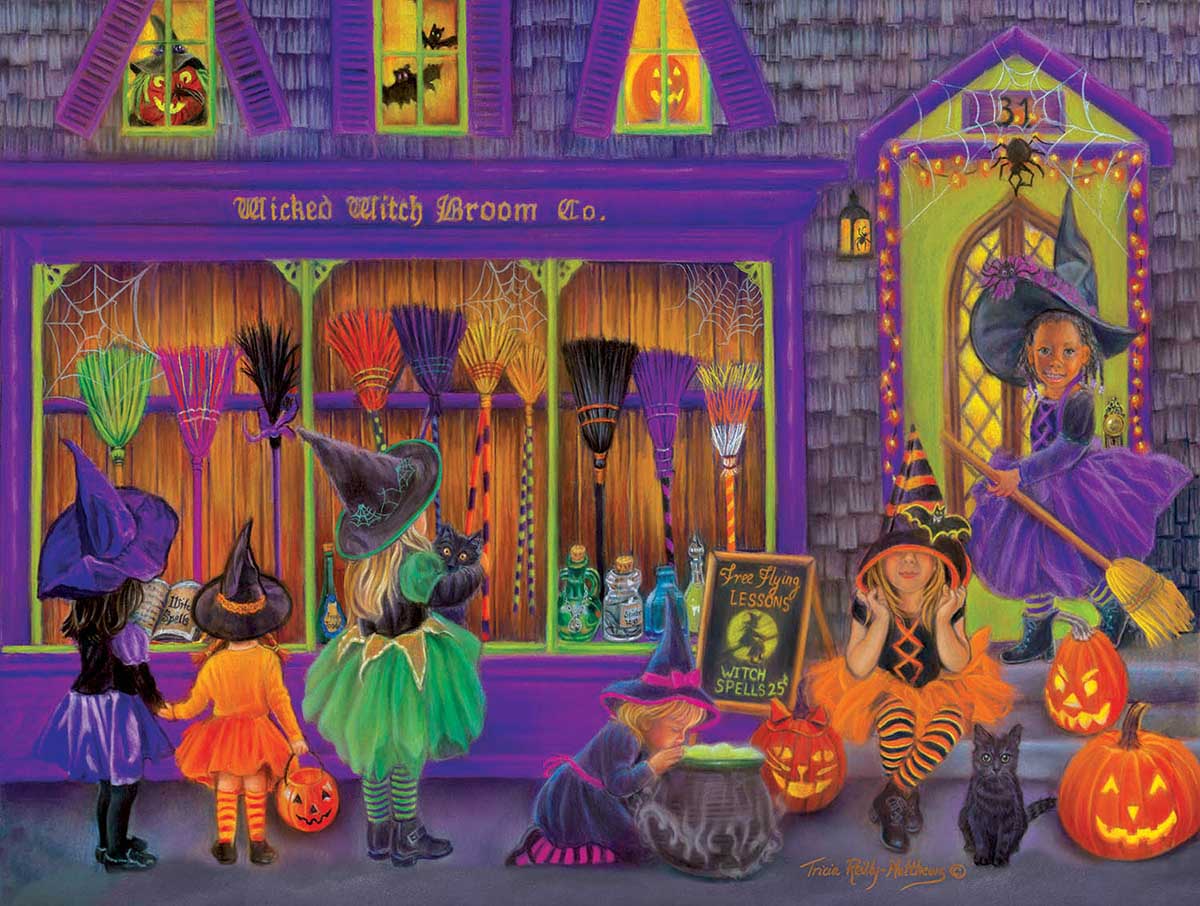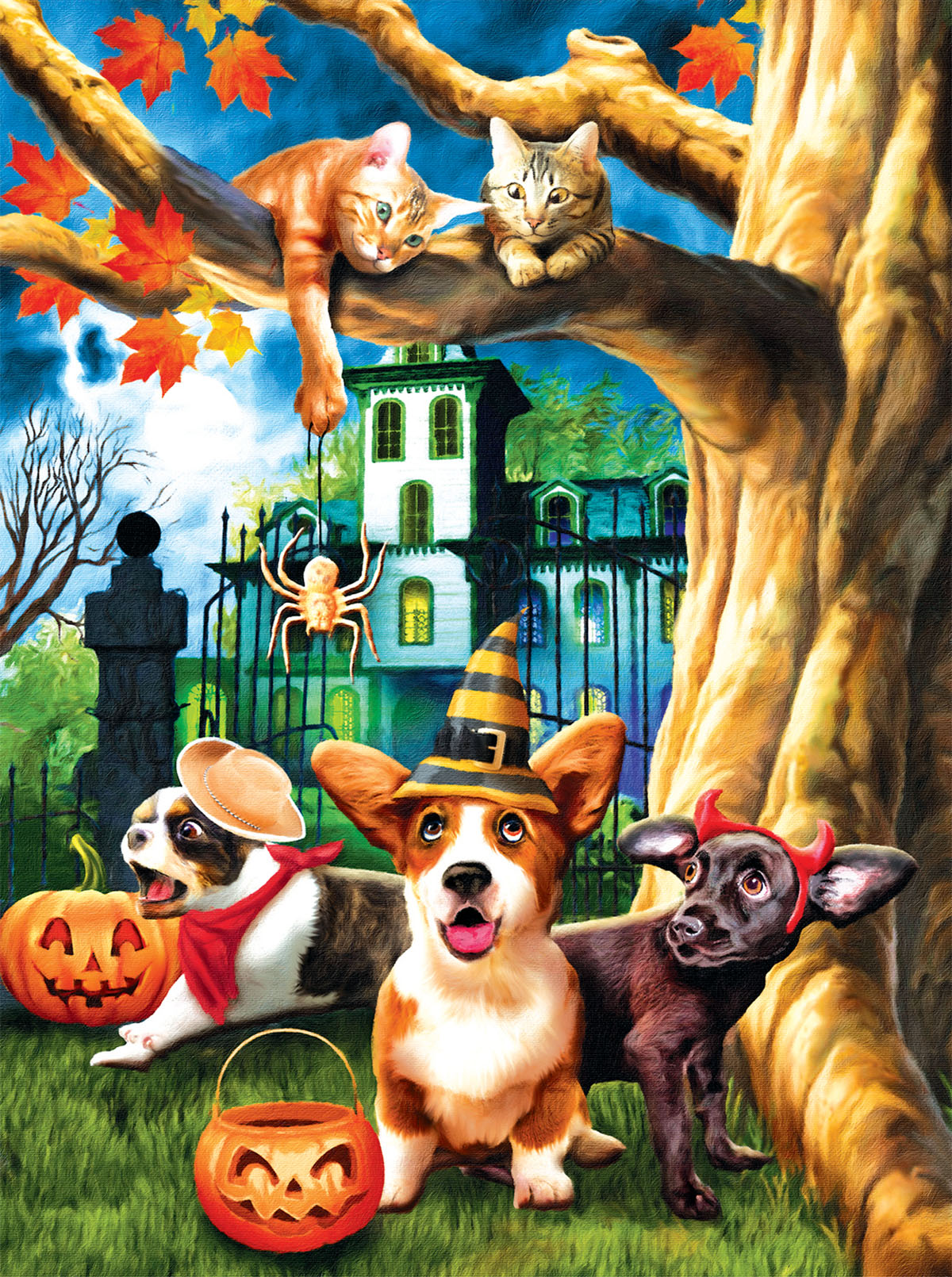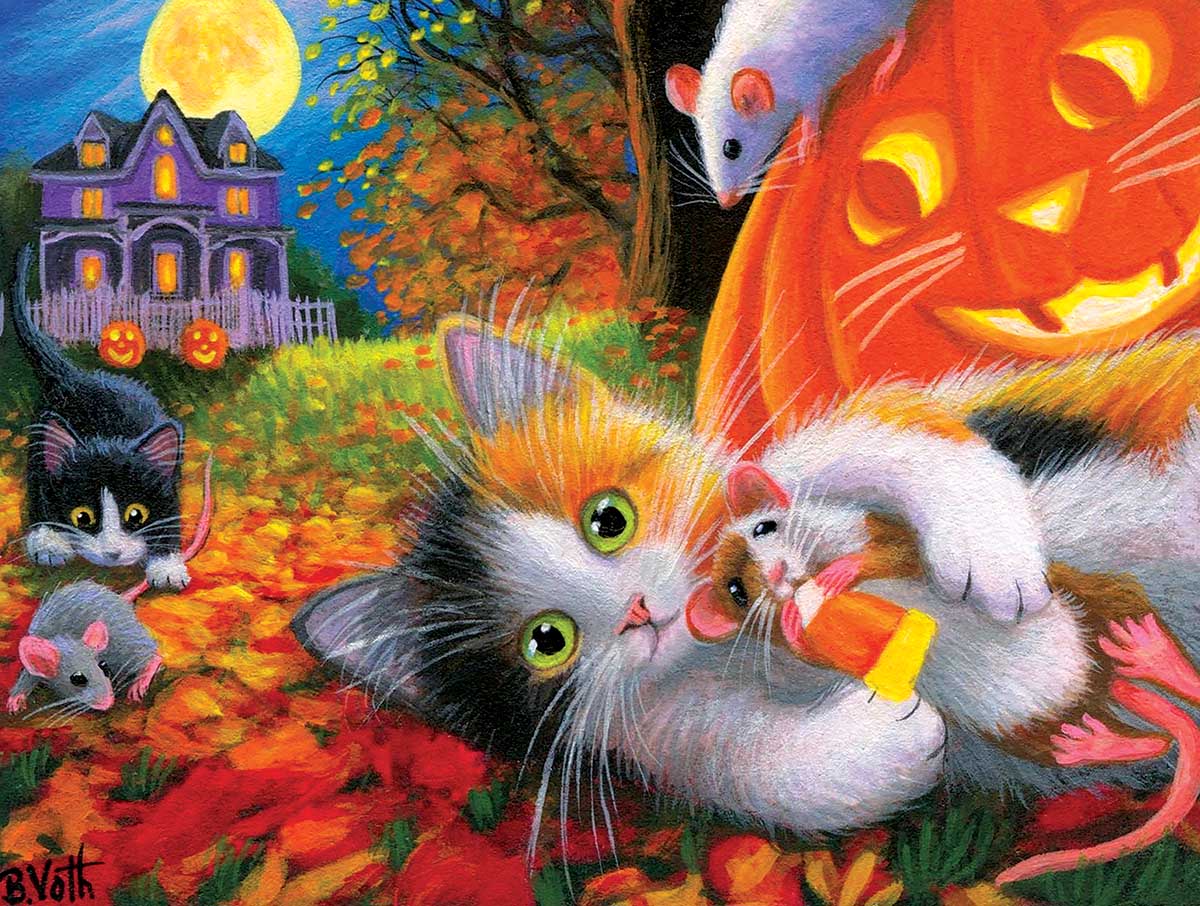 This cute Vermont Christmas Puzzle is called Monster's Banquet. The artwork is by Randy Wollenmann. Surprisingly this is the very first puzzle I have completed from Vermont Puzzle company.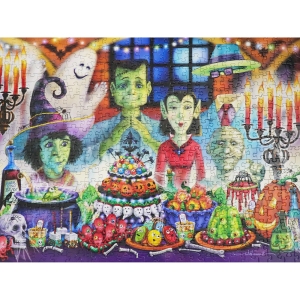 Randy Wollenmann has been designing images for over 30 years. He has a very impressive portfolio that includes not only illustrations like the one in this puzzle but also oil, acrylic, gouache, and pastel artwork. If I were attending a Monster's Banquet, I'd want the monsters in attendance to look as friendly and approachable as Mr. Wollenmann depicts.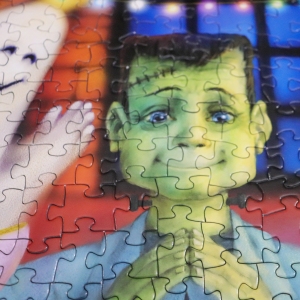 When I took the wrapper off the box, I noticed the box felt very similar to SunsOut. The size is different, but the material feels identical. I was too excited to get started to check further.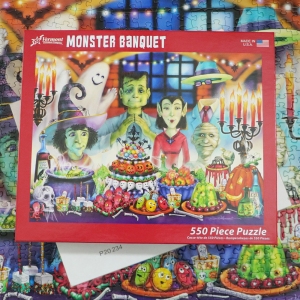 I opened the bag and poured the pieces onto my table and noticed another similarity to SunsOut – random cut pieces. There are not too many puzzle companies that have random cut puzzles. I started to wonder if these were manufactured in the same facility.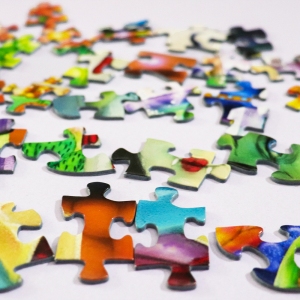 As I began, I sorted my pieces by color, separating the edges. There's no "right" way to assemble a puzzle; I just really like taking a methodical approach and using this time to decide what part I will start with.
After finishing the edges, I had planned to assemble the bottom section first then the reds. But I ended up just sticking pieces together here and there. A much more haphazard approach than I usually take.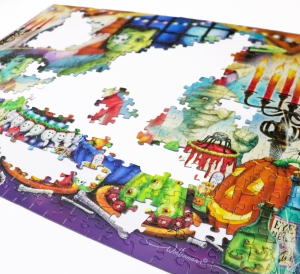 As I placed the last piece, I shouted JIGSAW! My normal cheer upon completing any puzzle.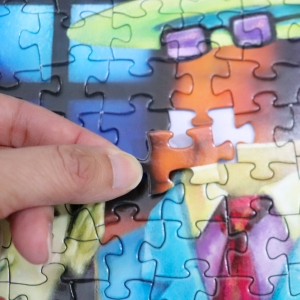 Then I went to my puzzle closet (yes, a whole closet just for puzzles) and took out the SunsOut puzzle I assembled earlier this month. I compared the 2 boxes – both are stamped with a similar code. While these cuts are not the same (not the same number of pieces) there are definite similarities to the random shapes. I strongly suspect these 2 companies are manufactured in the same factory. I reached out to Vermont Christmas Company and asked. They told me, "We source our jigsaw puzzles from a mix of suppliers. While we are not certain, other brands likely do the same, so some overlap in suppliers across brands would not be surprising."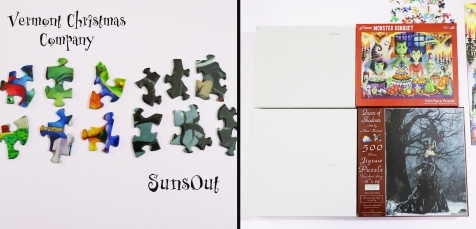 The pieces for the Vermont Christmas puzzle are about 1.7mm thick. They are made from gray chipboard and feature a smooth glossy finish. They interlock tightly, but not so tight that it is hard to disassemble. There was minimal puzzle dust. No poster was included but the entire image is on the box lid so it is not needed.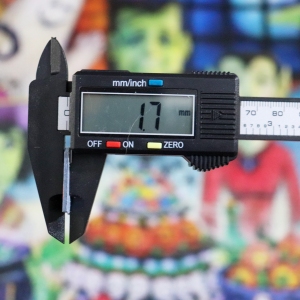 So while this particular puzzle is out of stock, there are a few SunsOut Halloween puzzles with a similar cartoon style and with similar cut styles to the Monster's Banquet. Take a look at all the currently available Halloween puzzles here.
What Halloween puzzles have you assembled?
Happy puzzling!
Diane aka bizzlespuzzles