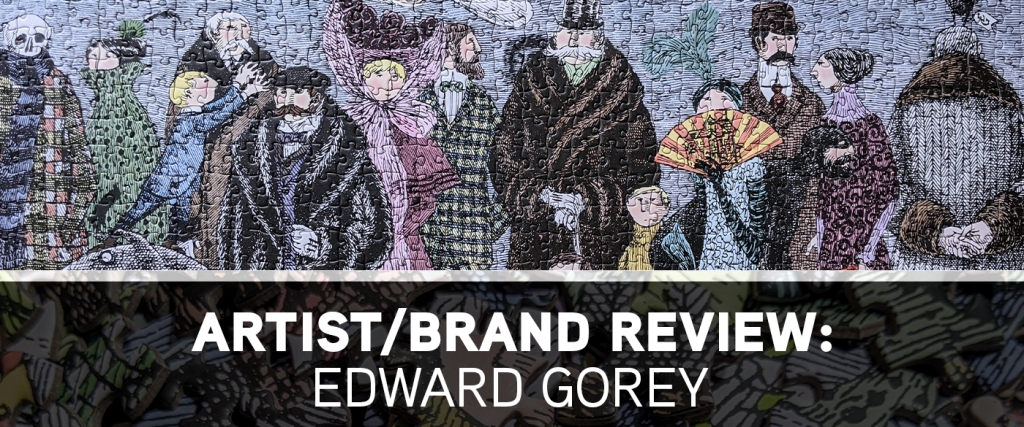 Pomegranate "Edward Gorey"
Halloween is here and who better to usher us in than the Master of Macabre himself, Edward Gorey! His wonderfully unsettling images were always a source of great joy to me. I still own a copy of his "The Gashlycrumb Tinies" that I actually read to my children. I also remember with great fondness his opening credits to PBS's "Mystery" series (I just aged myself there, didn't I?) and the host, Vincent Price welcoming us to a new installment of murders. Thankfully, my favorite puzzle company, Pomegranate, turned one of his works into a puzzle called "Edward Gorey". The illustration is actually a piece called "God Hovers in Jammies". It is from Gorey's "Thoughtful Alphabet VIII, The Morning After Christmas, 4AM" and the title comes from a line in the poem he wrote.
Attend.
Be calm.
Don't eat fruitcake.
God Hovers in jammies.
Keep leaning Mother Nature's orations.
Perplexing questions remain.
Something turns underneath.
Various whatevers examined yield zilch.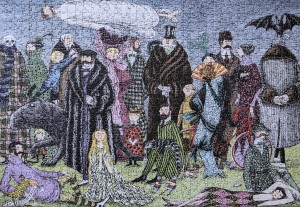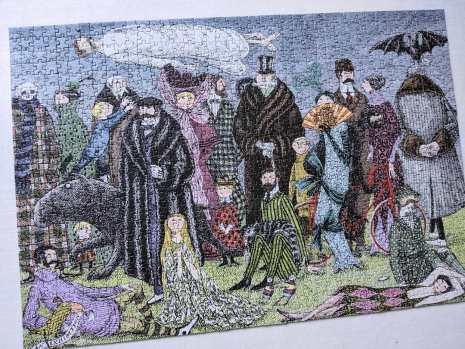 So, as I've already stated, Pomegranate is hands down my favorite puzzle company. I can safely say that my puzzle stash is at least 60% Pom. Oh yeah, we're that serious. Pom and I spend our evenings and weekends puzzling and watching GBBO. They are very supportive and never question my habit of leaving half filled water glasses around the house. They also add a layer of sophistication to my friendships! Since all of their puzzles feature both contemporary and classical works of art, I can gift a Pom and then bask in the knowledge that my friends think I'm fancy.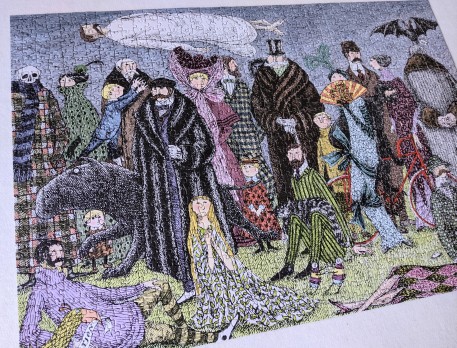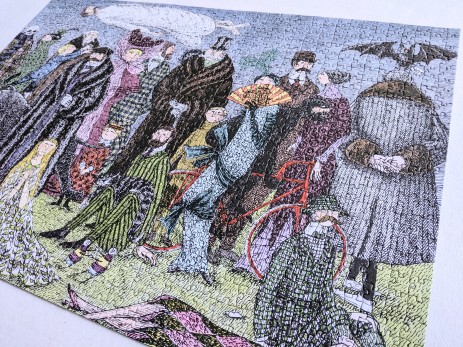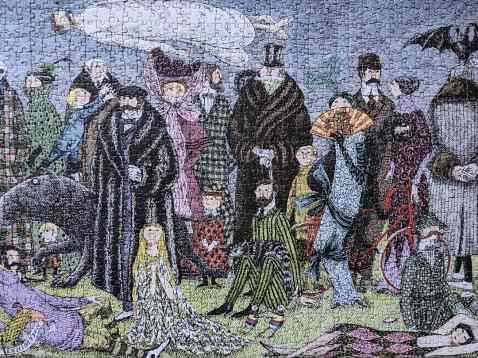 Pomegranate puzzles come in a gorgeous, sturdy box. Fun fact, each box is a different color that is coordinated with the art depicted. They really look quite lovely lined up on a shelf and I'm not even joking when I say that box is sturdy. At one point, I had about 15 Poms stacked on top of each other and the bottom box was still mint. The boxes are about 10″x13″x2″. The cover has a large image of the art and the back has a short informational paragraph about the artist. The puzzle comes in a resealable bag and while no poster is included, I've never actually been annoyed by that.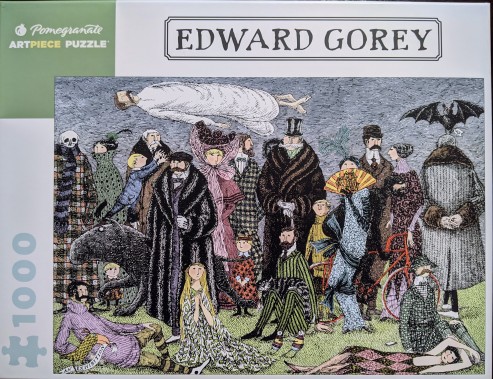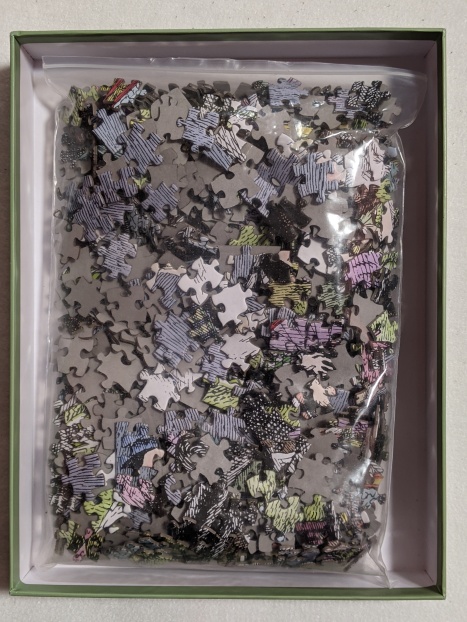 The pieces are among the best in the business, in my humble opinion. I regularly feature them in my piece comparisons because of the many positive qualities they possess. They are nice and thick and depending on the year made, I've seen Pom pieces thicker than 2mm! I have found though, that the thicker the piece, the tighter the fit, so be careful taking those older puzzles apart. That being said, the majority of Pom puzzles have a Goldilocks fit, meaning that it is just right. I've rarely found peeling or bent pieces. The pieces have a smooth matte finish, which is another of my favorite things. They glide over each other and that final puzzle rub is so satisfying! If I had to find one sticking point, it would be that the puzzles are grid cut. You guys know how I love random shaped pieces.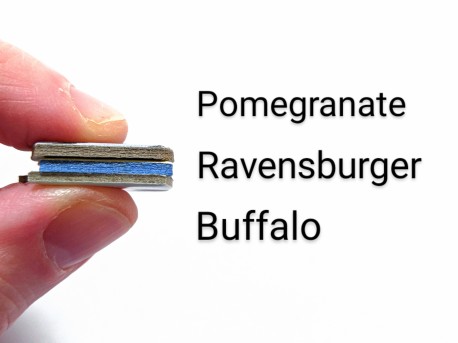 Putting together this puzzle was a dream. At first glance, it seemed really busy! There are so many patterns and muted colors that it was hard to discern where some pieces went at first. As always, I assembled the border first and then proceeded from there. At first, I thought doing the grass would be a good idea, but after sorting out a couple pieces, I noped out of that immediately. I switched gears to patterns instead. I did the batty gentleman in the dashing herringbone first, then the alarmingly pale chap in the glorious indigo striped scarf and plaid overcoat. Once I started focusing on one pattern at a time, assembly proved to be fairly easy. The hardest part was separating the dark browns and blacks. I started to discover so many little details as assembly went on! Cute little bugs on the grass, amorphous faces lurking over shoulders and of course, Gorey's ever present cat. There's usually one in all of his works.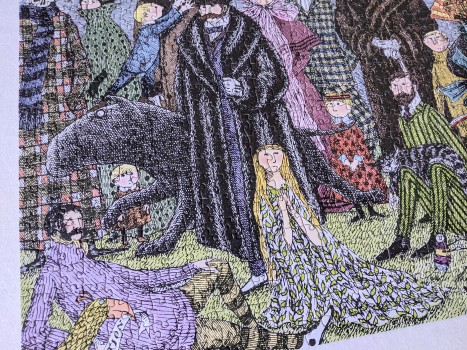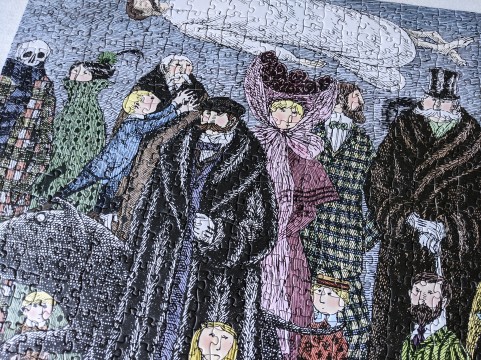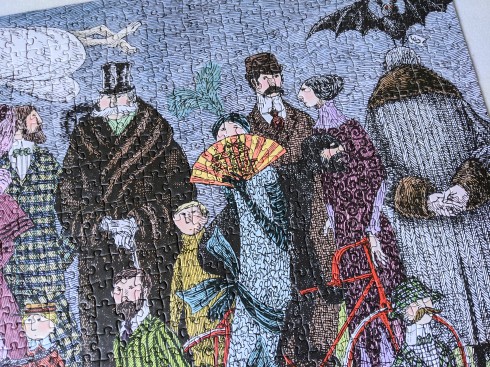 Pomegranate has a number of puzzles featuring the works of Edward Gorey, ranging in size from 1000 pieces to 100. So, if you want to celebrate some eerie Edwardian shenanigans, pick up a Gorey Pomegranate!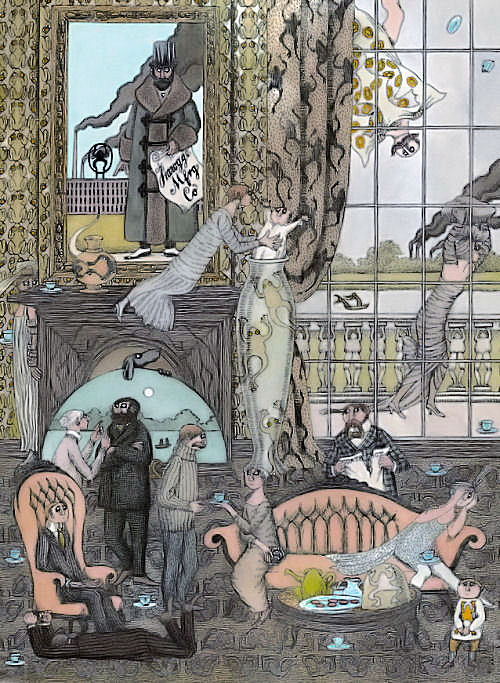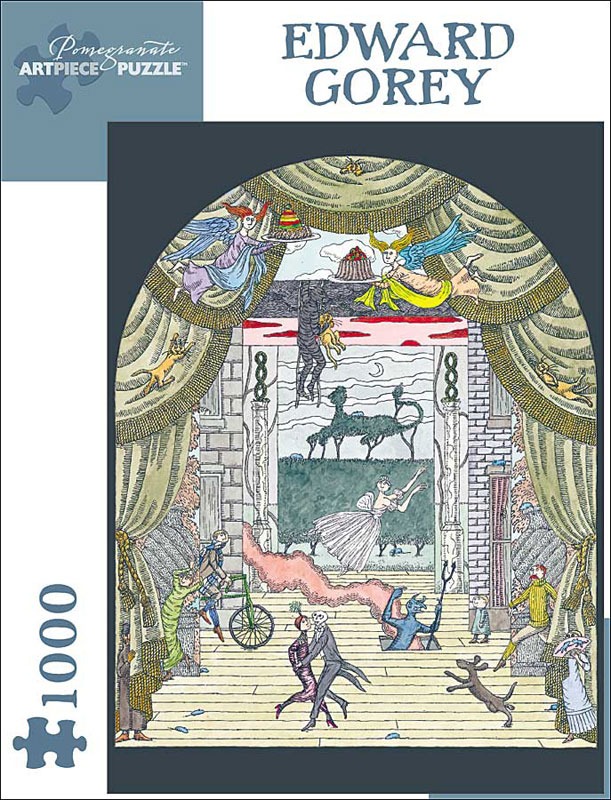 -Gaby @puzzlepastime