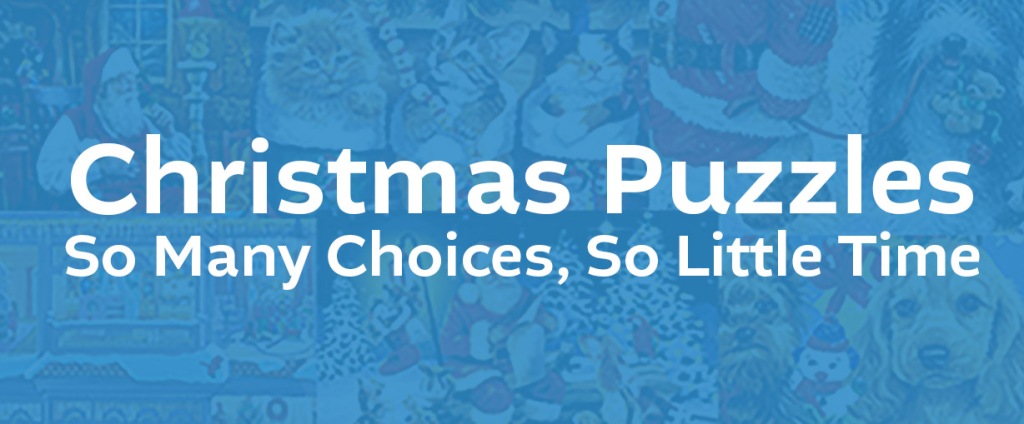 Christmas Puzzles: So Many Choices, So Little Time
In the past I have bought Ravensburger Christmas puzzles for my family to work on over the holidays and been very pleased with their quality. The pieces are thick and even though they are cut in a standard grid pattern, each piece is unique. While a grid cut is not my first choice I have been willing to go with it because of the quality of the picture and pieces and Ravensburger's linen finish that comes as close as possible to eliminating glare.
One thing I really appreciate about Ravensburger is the blue backing on the pieces. When pieces fall to the floor they are like buttered bread – they always land wrong side down. My house has grey tile throughout and when grey-backed pieces fall to the floor they just become part of the tile. It can take several of us to hunt them down. These blue backs are much easier to spot. And if you find a piece days later under the couch, or in your slipper (yes, that has happened), you'll know it's from a Ravensburger puzzle – helpful in determining where it belongs.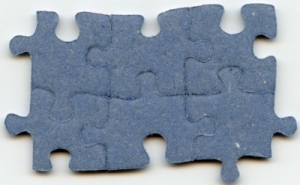 So I'm not hesitant in suggesting these two Ravensburger puzzles as possible additions to your Christmas collection.
The Lodge is a perfect 500 piece puzzle for older children or for adults who don't want to commit the time to a 1,000 piece puzzle – nice variety of things with different colors and shapes. I really appreciate puzzles like this that don't have a wide swath of featureless blue sky because that will be the last and most difficult area you work on. And it will tempt you to just forget about assembling that part of the puzzle. You may not give in, but you'll be tempted – you know you will.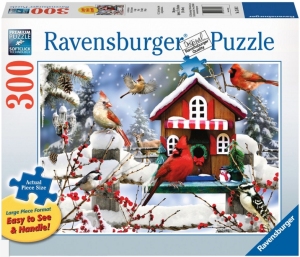 Christmas in the Forest is great for younger children to do by themselves or with adults – cute animals, a different take on Santa – everything that attracts kids. Love the bright colors on the trees.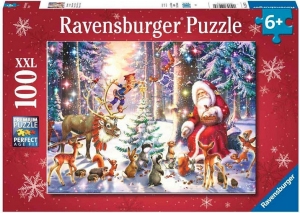 I was looking for something unusual in a puzzle when I found this little gem from TDC Games. I wish I could show you some of the pieces, but I carefully put the completed, flat puzzle in an envelope and sent it to a relative who was isolating and getting bored. I was also isolating and the safest way to get it to her was to drop it in a mailbox, rather than mailing the entire box, which would have meant going to the post office. She loved it! Of course she did. She's related to me after all. . . . Now if I can just get her to send it back.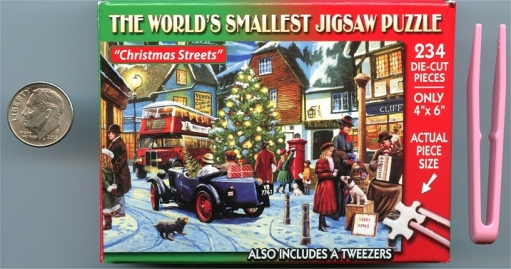 You may be wondering why they would include tweezers with a puzzle. All I can say is you're going to need it – even if you have good fingernails. You may need a magnifying glass too – I did. The Christmas tree was the only challenging area. Several times I had to take it apart and try again. The pieces in the middle all looked the same and had the same general shape. But I persevered and got it. I enjoyed the challenge of it, but was glad my first learning experience with miniature puzzles was with only 234 pieces. Starting with one of the 1,000 piece puzzles might have been overwhelming. Yes, they do exist and Puzzle Warehouse does have some if you're looking for a challenge.
TDC Games has four more of these tiny Christmas treasures, all 4 x 6 inches when completed. They would make an excellent stocking stuffer for your favorite puzzler.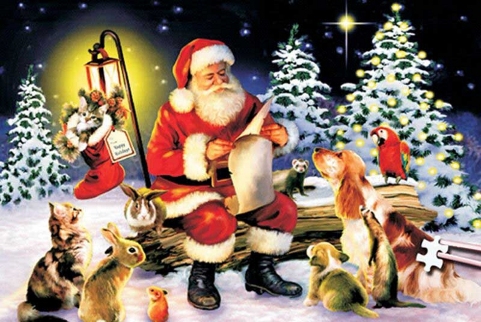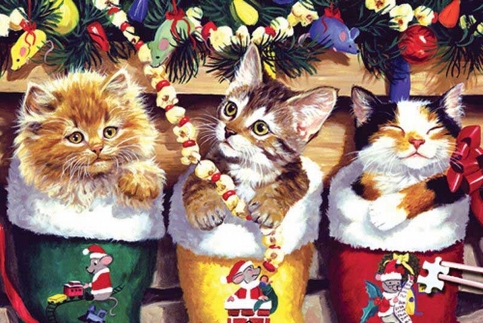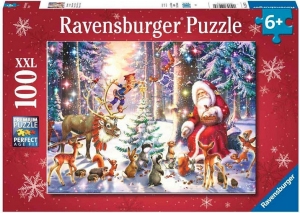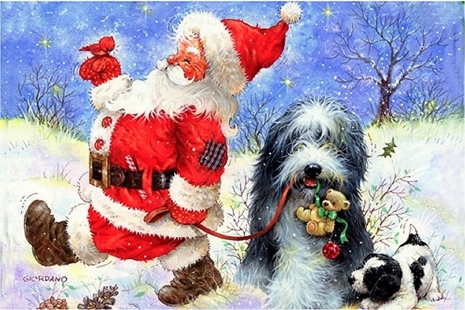 Steve Crisp has done it again with this Eurographics cutaway puzzle made in the U.S. Their puzzle pieces are close to grid shaped, made with recycled chipboard and printed with vegetable based ink. Love those sturdy Eurographics boxes. This box is 10 x 14 inches.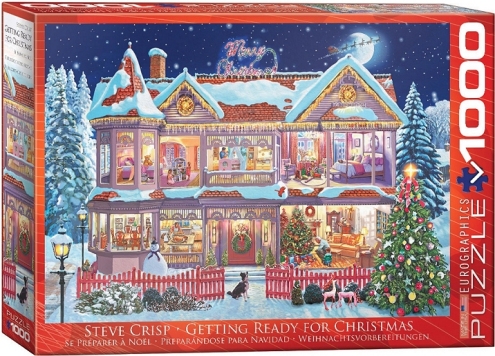 In addition to each room being unique, the small amount of sky, the string of lights, and the fence are all features that help in putting it together.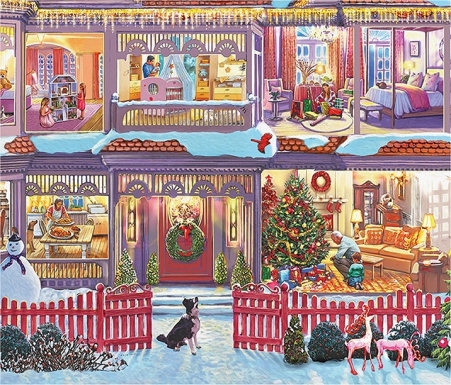 There's plenty of interesting detail. Upstairs Mom is wrapping presents while Dad comforts the baby. Grandma's in the kitchen with some last minute cooking. Grandpa and grandson are admiring the tree, probably wondering what's in those presents. About those presents – if you're gifting someone with a ball, wrap it in a box. Years ago my mother just wrapped a basketball and tried to hide it under the tree. My brothers were bouncing it all over the living room days before unwrapping it Christmas morning!
Santa's Visit from Vermont Christmas Company is also made in the U.S. The artwork is by Larry Hersberger. If you're a fan of his work you'll recognize the cabin, tree, and little boy. I have to be honest here, it was a sentimental moment, seeing this new version of an old friend. I had to pull my older puzzle of his out of the closet and reminisce for a moment. While there's lots of unique detail that helps you put it together, the wall and tree were the more challenging parts for me.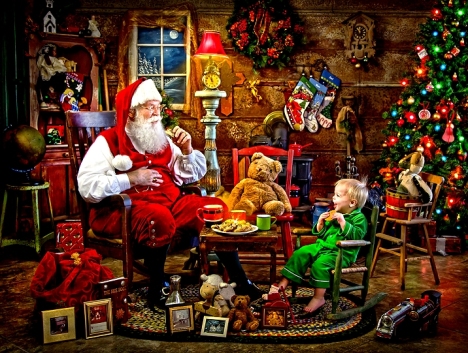 Christmas Tales (Christmas Stories) from Eurographics is my kind of puzzle. I love the colors, the books, and those items scattered throughout – the sleigh, gingerbread house, fireplace, tree. . . .all of that Christmas stuff. The different garlands at the top of each shelf, and the different colored books help to make this easier to put together. This puzzle has it all – larger pieces, made in the U. S., and it's only 300 pieces so it's perfect for a family afternoon event. I can smell the hot chocolate now.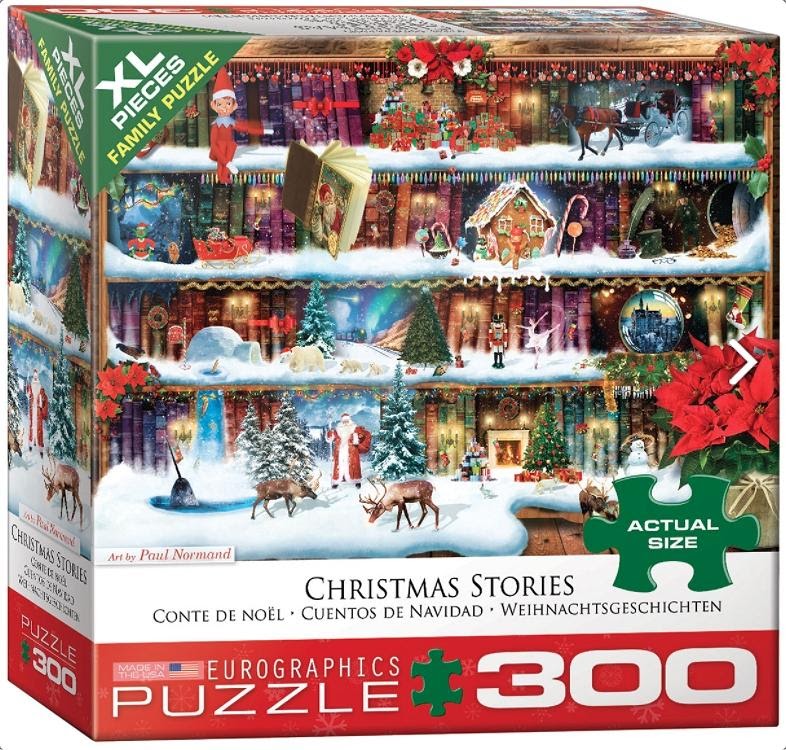 Dreaming of Christmas from SunsOut reminds me of the hours I have spent gazing at my tree and other decorations, appreciating the beautiful colors and lights in the middle of a bleak winter – grateful to be inside where it's warm and cozy. No deep thoughts, just quiet reflection and peace.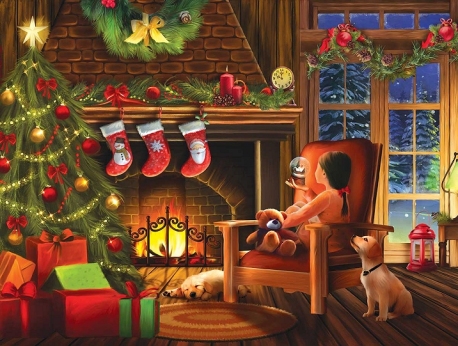 I hope you are able to enjoy some great Christmas puzzles this year. I also hope you find a way to have a good holiday in spite of what I'm sure will be continuing restrictions. Be merry, stay healthy, and let's hope 2021 is a better year.