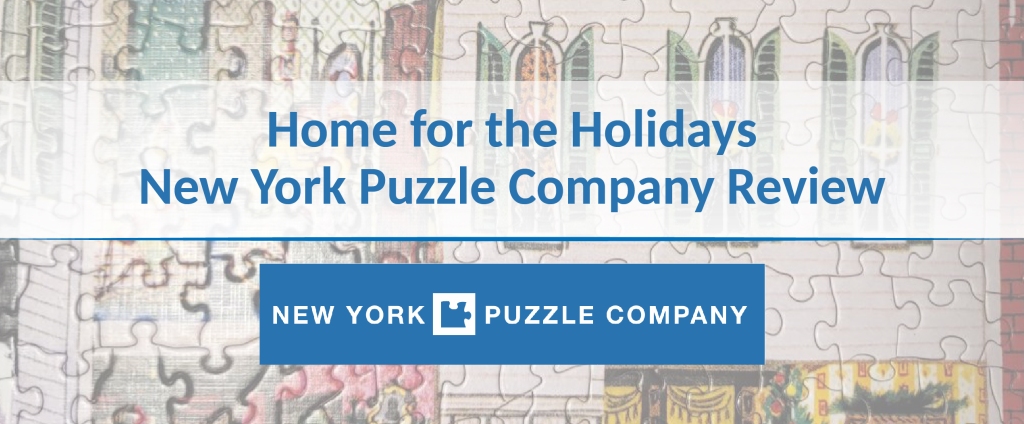 Home for the Holidays, New York Puzzle Company Review
My Rating: 9/10
Merry Merry to all my fellow Jigsaw Junkies. Tis the season to tinsel the tree and strategically hang the mistletoe. Let the holiday decorating frenzy begin. If your anything like me you could decorate for days. Well your in for a big treat folks, because I have a wonderful new edition to add to your collection of holiday treasures. What could be more unique than hanging a whimsical work of art in your home for the Holiday season. The New York puzzle companies, "Home for the Holidays", would be stunning once completed and framed and hanging by your tree for all to see. "Home for the Holidays" was originally published on December 21st, 1946 by artist Edna Eicke. Let me begin by giving you a little history on "The New York Puzzle Company". The company was founded in 2007, by two college friends. They began by making a puzzle of the iconic NYC subway map. With only six puzzle designs in their line they decided to exhibit at the NY Toy Fair to see what people thought of their designs. After seeing all of the puzzles exhibited in the market at the Toy fair they quickly realized there was a lack of interesting imagery in the puzzle world. They feel that puzzles should be interesting works of art that should be kept on display rather than just being a fun activity to be done at home. Using that concept going forward, they carefully expanded their line of products to follow that philosophy. Their unique line of designs include magazine covers with iconic art, to composed art pieces with more common images. They believe as I do that their line of images are all gallery worthy. The icing on the cake is, "The New York Puzzle Company", manufactures all their puzzles right here in the USA.
Box Quality: 10/10
This is a 500 piece jigsaw puzzle and so as to be expected the box is smaller. The front of the box shows the image, the title, the company's name and logo and the artist name. All four sides show the image the company logo and the dimensions of the completed puzzle, 18″ x 24″. The back of the box shows other images from "The New Yorker", line of puzzles along with some interesting facts about the "The New York Puzzle Company". The box is sturdy and well made. There is no poster included with this puzzle.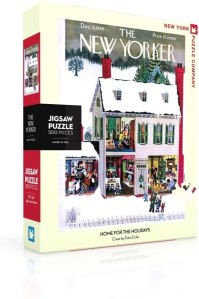 Image: 10/10
The New Yorker's covers have always been the talk of the town. Edna Eicke the artist of this amazing cover has illustrated for this magazine for many years. The image is bright and clear. the colors in the finished puzzle are exact to the image printed on the box. Watch as the whole family gathers to celebrate Christmas together. The cutaway house shows images of the family as they prepare for their celebration. No attention to detail has been missed as each room comes to life with such minuscule details that adds substantially to the visual sophistication of this cover. The time period of this cover is classically displayed by the elaborate decoration of each room. The snow covered roof the family arriving to celebrate it all takes you back to another era. This image is a classic piece of artwork. This magazine has had so many talented artist over the years all with their own flair and unique talents. With such talented artists it is no wonder that "The New Yorker" magazine has entertained and inspired readers for nearly a century. Here is just few names of artist you may want to have a look at, Ana Juan, Richard Taylor, Charles Saxon, Charles E Martin, Jenni Oliver, that is just to name a few. All these artists offer their own style and tone, whimsical, serene, and some just hilariously funny. Though they have their own unique twist on cover illustrations, I promise you will find something exciting and new in each cover. Take some time and have a look at some of these covers so you can decide which artist is one of your favorites.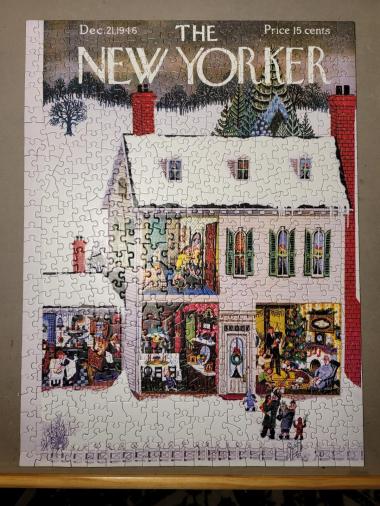 Puzzle Quality: 10/10
The New York Puzzle Company prides themselves on manufacturing top quality products. Each puzzle is made with 100% recycled 80 point chipboard thickness, which is 20% higher than most standard puzzle. In layman's terms each piece is nice and thick and sturdy. Since 2014 they have been using linen style paper to reduce glare on all of their puzzle. I am here to tell you it works. I experienced no glare from overhead lights while assembling this puzzle. This company has partnered with top artist and publishing house to portray their iconic artwork, such as Warner Brothers, Conde Nast and Penguin Random House to name a few. I found very little dust in the box. All pieces were cut exactly. I found zero shards of uncut paper. I can guarantee you won't be the slightest bit disappointed in the quality of this puzzle.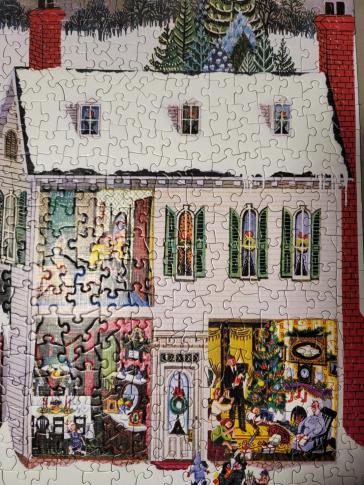 Assembly: 9/10
I pride myself on being as precise as possible with each puzzle I review. I try to give an exact review on every aspect of my puzzling experience. With that in mind I did take a point off for one issue I experienced while assembling this puzzle. There are times because of some of the odd shapes, you may feel that some pieces are a little harder to fit. I must be honest I did experience this but only on very few pieces. I know for those of you who have been puzzling for quite awhile it won't be an issue, though it may be for a more inexperienced puzzler. For those of you who might encounter this problem just adjust the assembled pieces slightly and the piece should slide in with no issues. Other than that minor issue I truly enjoyed assembling this puzzle. I would rate this puzzles difficulty as moderate. I began by assembling all my edges first. Once that was completed I assembled all the wording on top. Then I began my usual strategy which is to begin the harder part of the puzzle which would be all the snow. I must admit I didn't find the snow that difficult because not every piece is bright white. There are slight hues of purple for the binding of the magazine. Also you can use the trees and pieces of the fence as well as the chimney as your guide. So honestly this puzzle flows together quite effortlessly. The pieces do fit together snuggly enough to be able to move sections of assembled groups with just a little care. Though the fit isn't extremely tight so do be aware of that. I believe I finished this in maybe 3 hours. Another plus I found with this puzzle is that the pieces were rather large for a 500 piece puzzle. Remember piece by piece you will be on your way. I hope Santa is good to you all. Happy Holidays to all my fellow Jigsaw Junkies.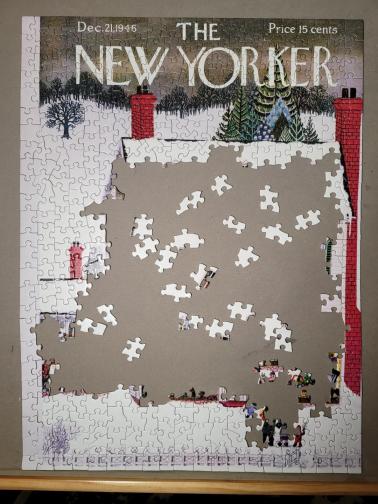 Summary:
I believe that all of you will enjoy this puzzle as much as I did. I love going back in time to another era. This is truly a unique concept for a puzzle company. As I said earlier in my review consider framing this puzzle to add to your holiday décor. I know it will receive so many compliments. It is a work of art that I believe could blend with any style home. I know I will be adding many more puzzle's from this line to my collection. Puzzle Warehouse carries a large selection of puzzles from, "The New York Puzzle Company". Be sure to check them out.
Hey there Folks unfortunately this puzzle is currently out of stock. I am attaching several links for other Christmas puzzles you may be interested in. I am also attaching a link to another puzzle from "The New York Puzzle Company" you may be interested in as well. Enjoy and again, wishing you all Happy Holidays and a very Merry Christmas.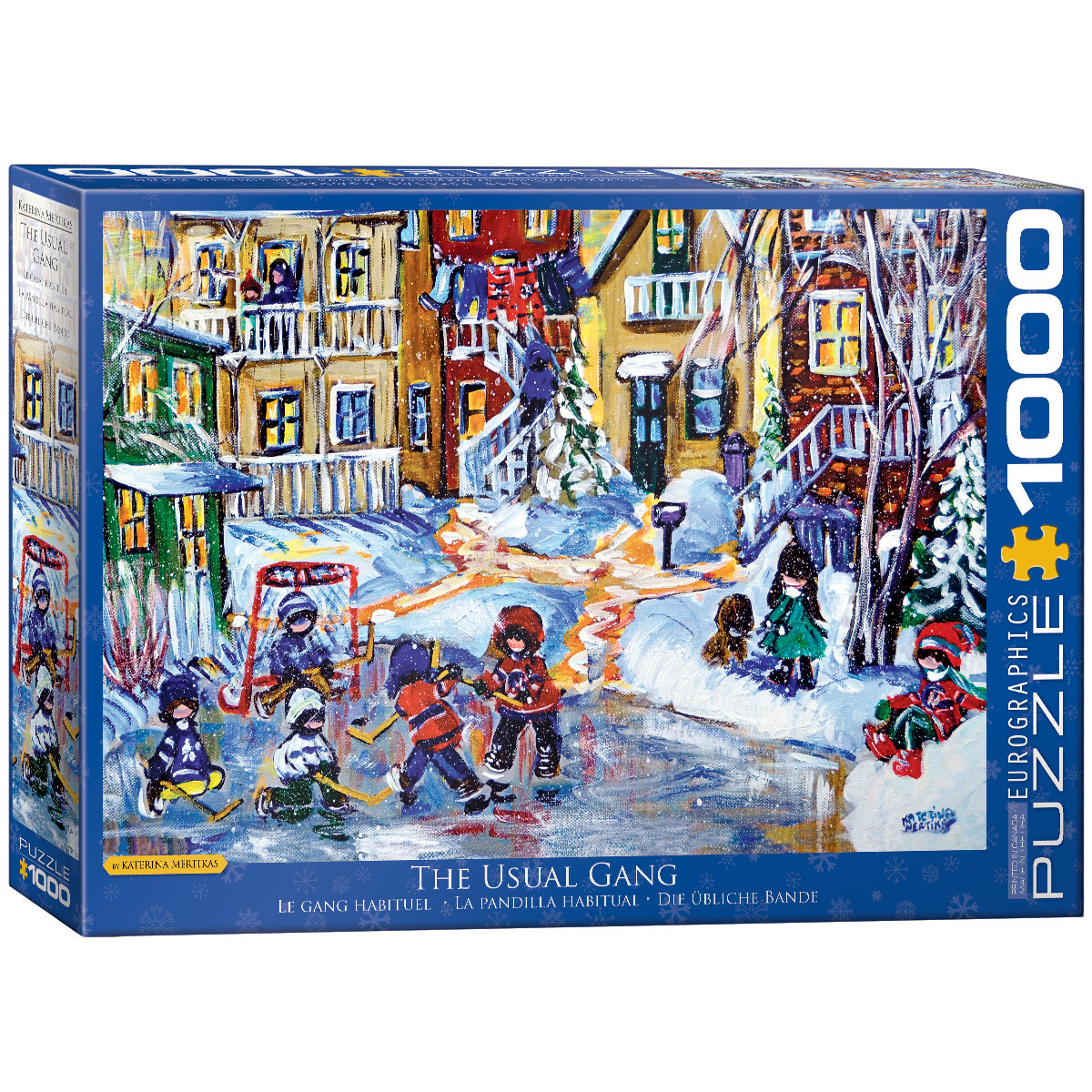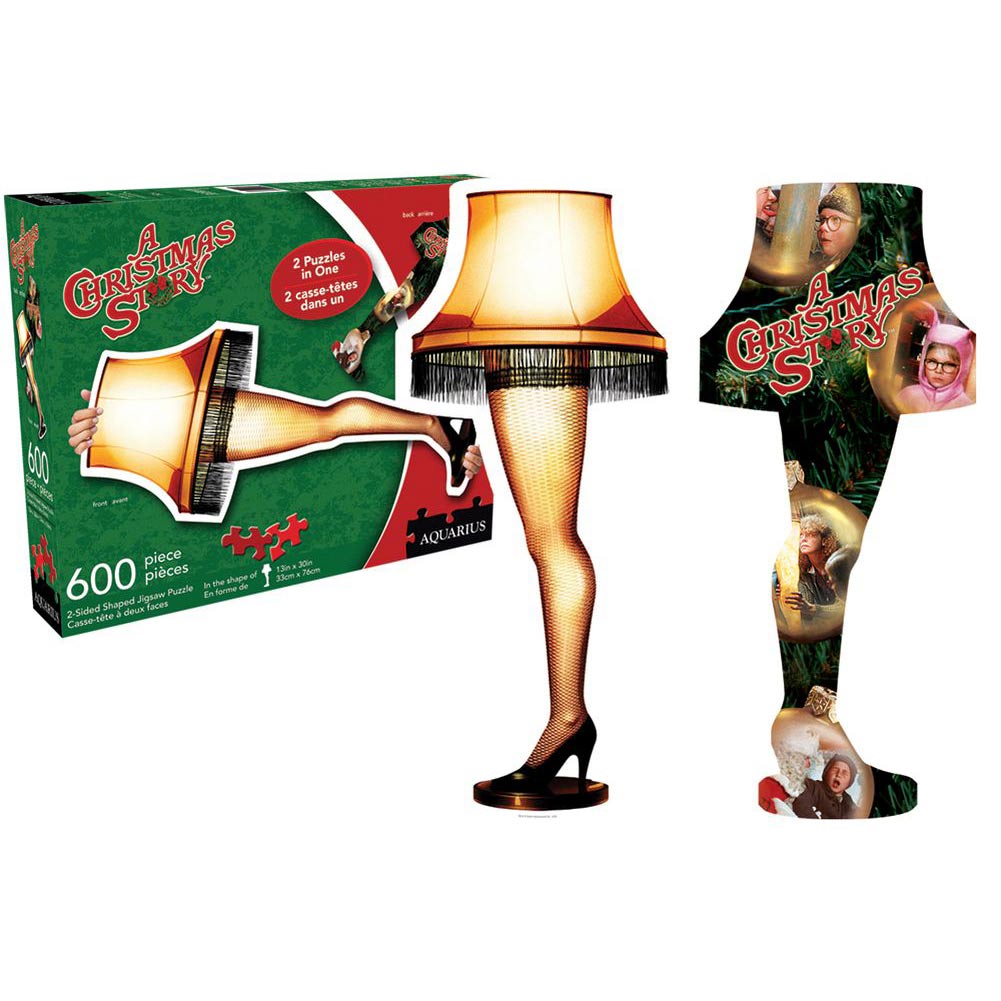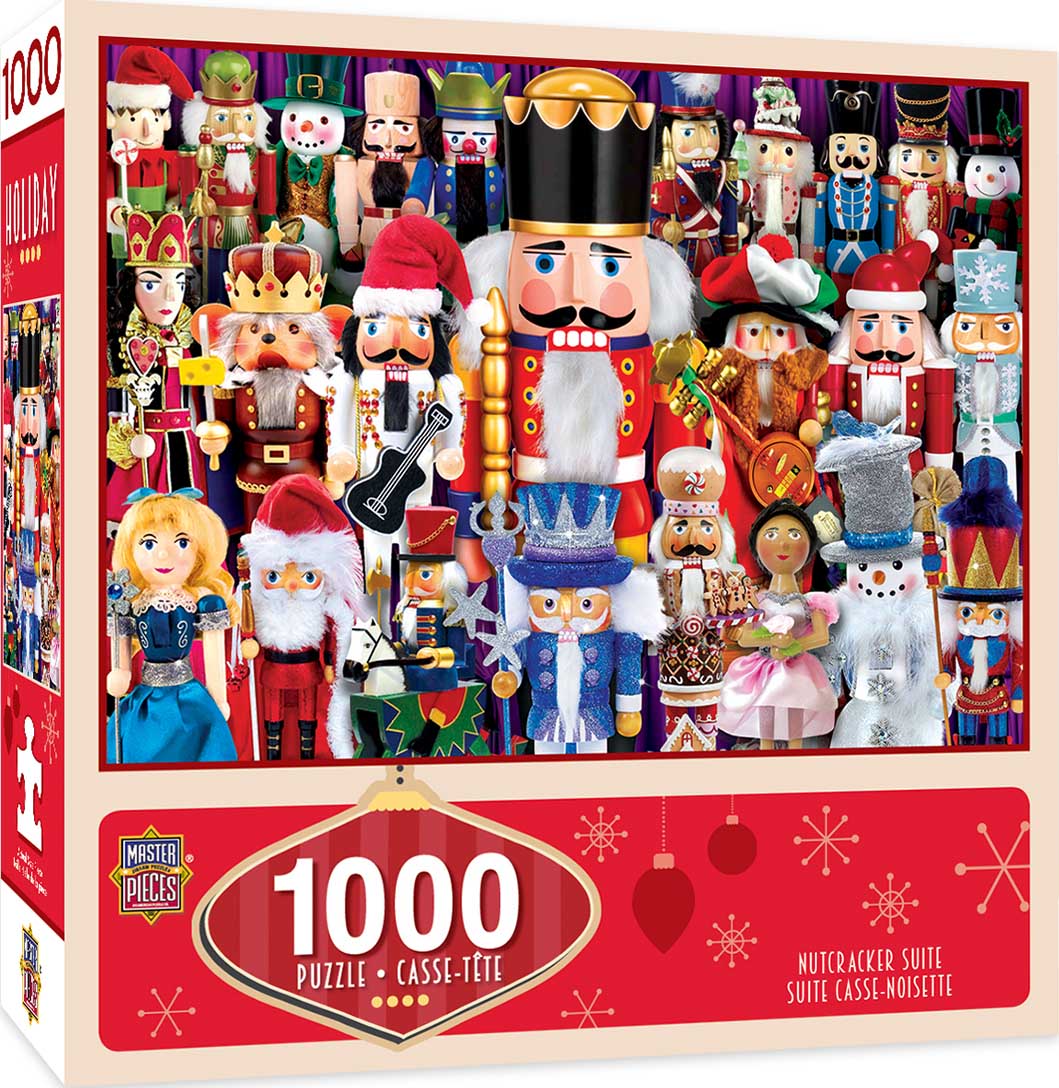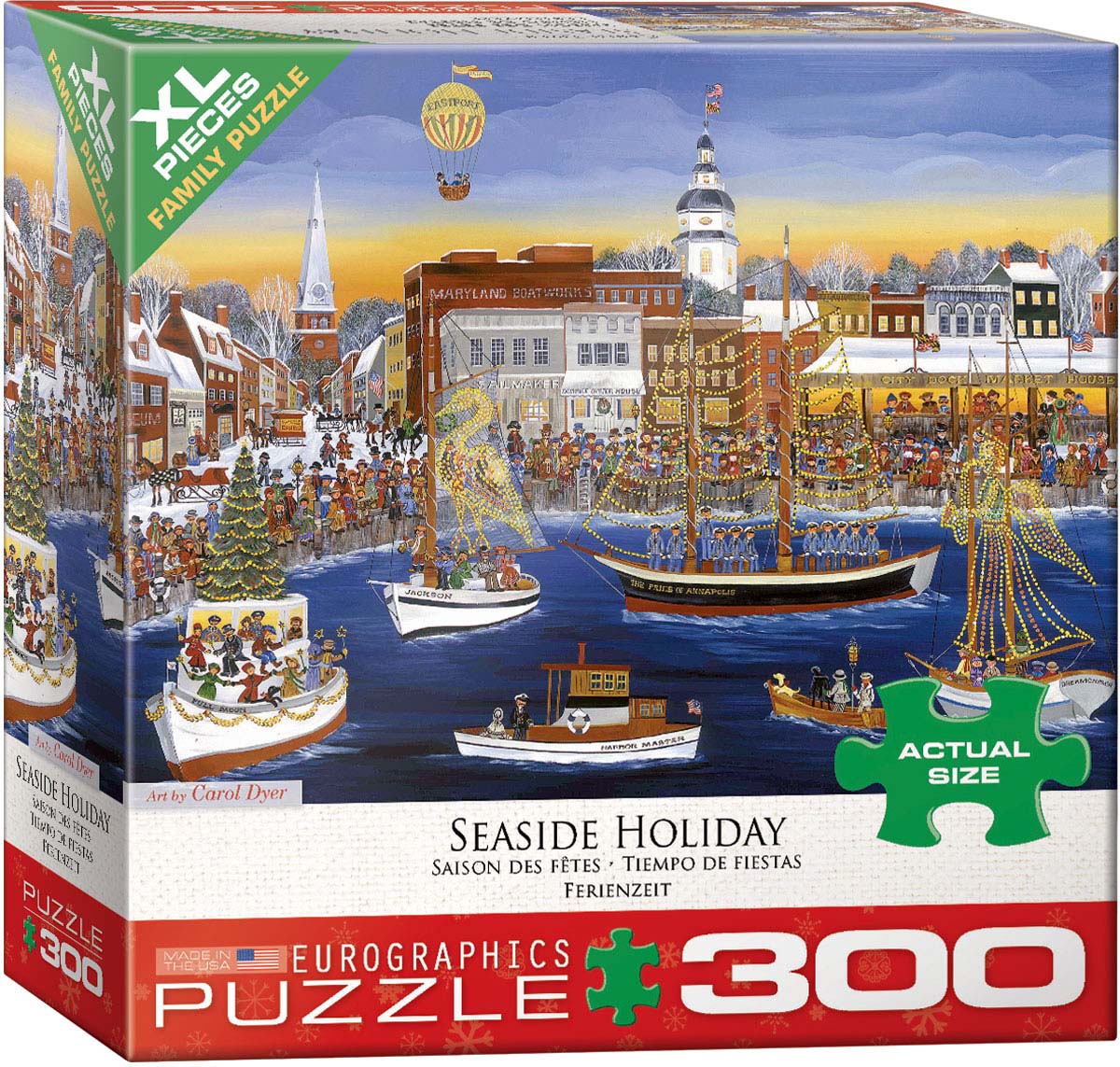 – Donna C.