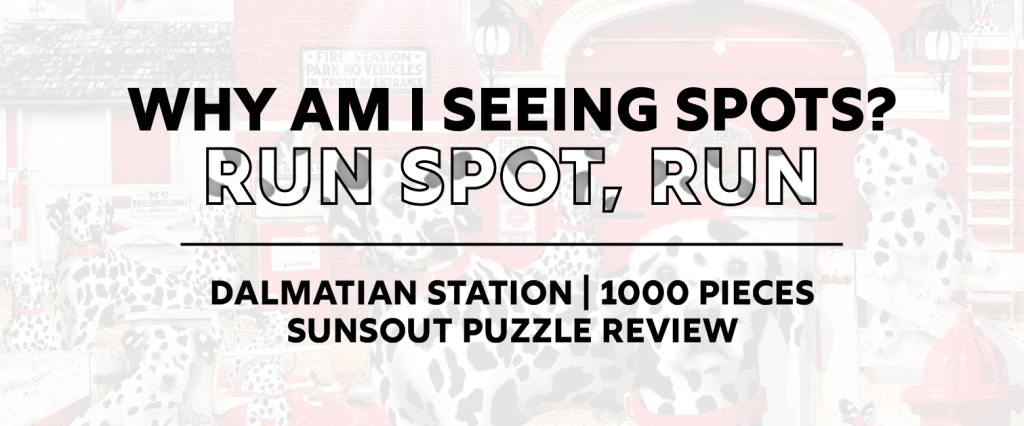 Why am I Seeing Spots? Run Spot, Run
I guess I should start by explaining the "Run spot, Run." Sometimes my wandering mind makes connections that cause others to wonder what's wrong with me. Spot was the family dog in the Dick and Jane Readers. From 1930 to 1970 more than 85 million of us learned to read using these books. They were simple stories – "Look Jane, look" and "Run Spot, run." "Look" was the first word my first grade class learned to read. Thank you, Miss Greer, for a lifetime of entertainment and enrichment.
So, what does this have to do with puzzles? I just finished Dalmatian Station from SunsOut, art by Lori Schory. I think I may be seeing spots for a while. This puzzle is made in the U.S. from recycled board and soy-based inks. I know there is a lot about puzzles I don't know, but this is the first time I've seen a SunsOut box that was square – 8×8 inches and 4 inches deep. It's more sturdy than other SunsOut boxes I've seen, too.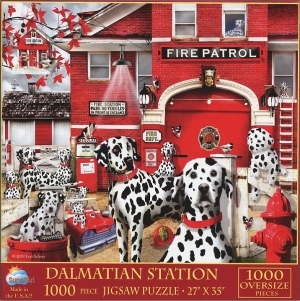 When I was laying out the pieces I wondered if perhaps I had taken on more of a challenge than I had anticipated. But I was surprised. The picture isn't all spots. There were plenty of other details that helped me figure out what went where. Assembly was made easier because a lot of the "spotty" pieces have a little bit of something else on them, the spots get progressively smaller the farther away the dog is, and as near as I can tell the spots on each dog are unique. But I have to admit that the last 50 or so pieces were not as easy as the rest. . . . but, honestly, who can resist these puppy dog eyes?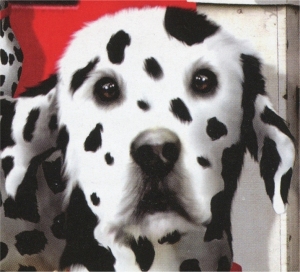 The pieces are large and not as uniquely shaped as other SunsOut puzzles I've done, but still random.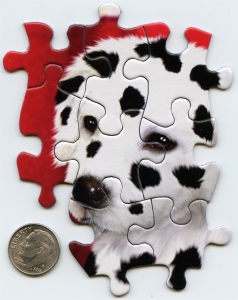 The pieces don't always align perfectly, as you can see from the border pieces below. That's good to know when hunting for a piece.

The pieces fit together loosely, which made it tough to move a group of already assembled pieces. But I had my handy dandy Puzzle Scoop that Santa gave me for Christmas. (Psst! Don't tell anyone, but I bought, wrapped, and put it under the tree myself.) It's one of the best gifts I got this year. It's so nice to lay a group of pieces over where they need to go and simply drop them in place. Wish I'd had this 20 years ago!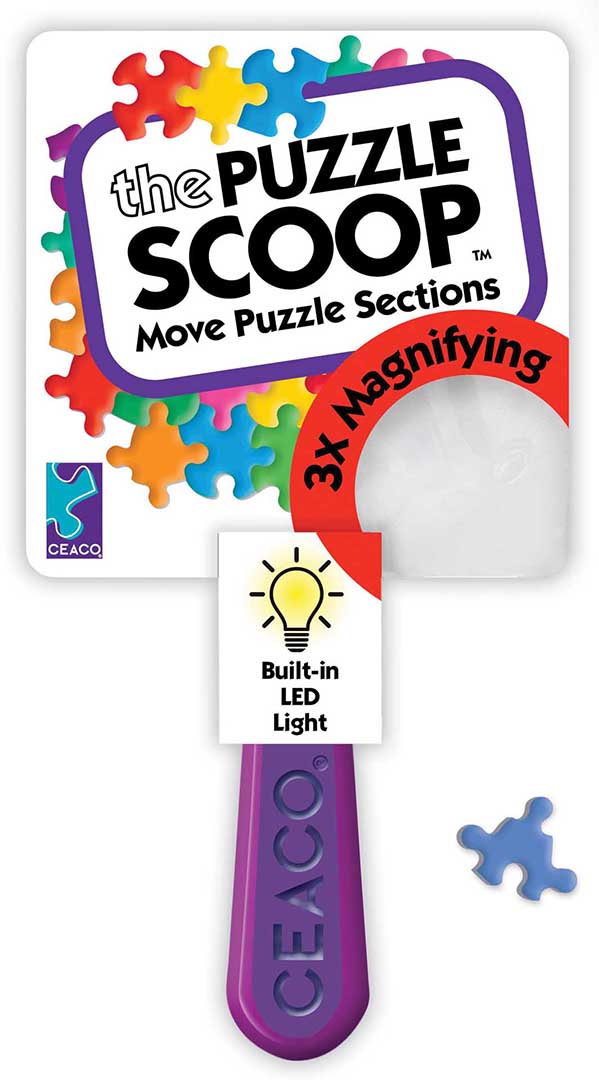 What's the point of seeing spots if you can't encourage others to see them too, right? So I searched for other Dalmatian puzzles. Puzzle Warehouse has a variety to choose from.
Washing the Car, also from SunsOut, (art by Kevin Walsh) has to be one of the cutest puzzles I've seen in some time. Plenty of different details, yet not too much of any one thing. . . . Always wanted one of those cars.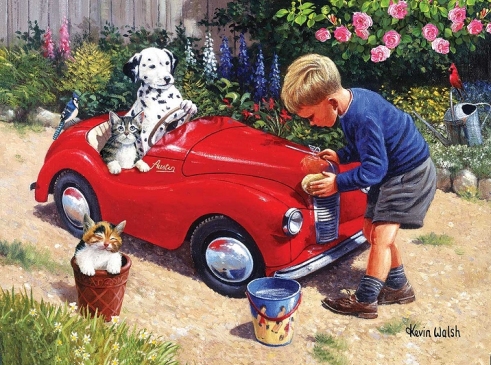 Cra-Z Lots of Spots from Lafayette Puzzle Company may be more spots than you bargained for – or it could be a delightful challenge. It's only 100 pieces so it should be manageable. Love that red rose in the middle!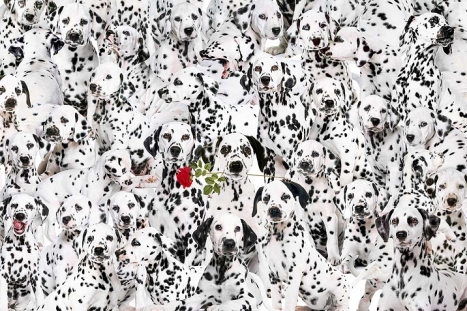 Dalmatians is a 500 piece puzzle from Tomax Puzzles that is another example of "how can you resist those puppy faces?" Actually, I think the real question is, "How did they get those puppies to sit still?"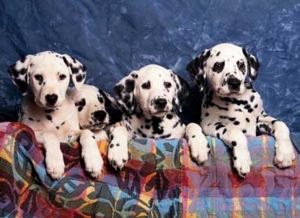 No Dogs on the Beach is a 100 piece puzzle from Ravensburger that made me laugh. I love that the sky has shades of blue and lots of clouds so it's not a solid patch of blue. That Beagle looks like he doesn't trust anyone. Apparently he's on guard duty. Ravensburger quality speaks for itself. I don't need to say anything more.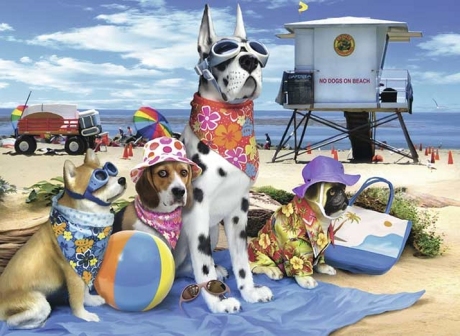 And for little puzzlers, Puppy Party from Ravensburger is just perfect at 60 pieces.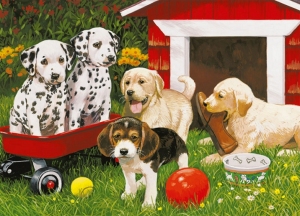 Fortunately, seeing these beautiful and lively spots doesn't mean you need to make an immediate appointment with your eye doctor. So enjoy!
Madelle