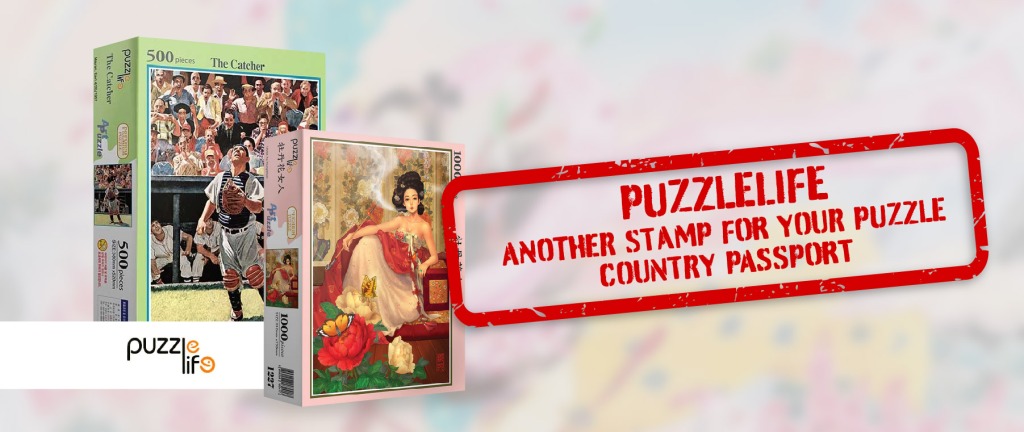 Puzzlelife- Another Stamp for Your Puzzle Country Passport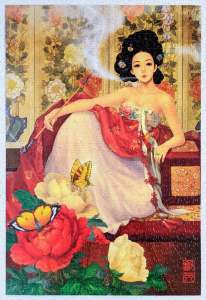 I'm not sure if you know this, but Puzzle Warehouse has a pretty sweet Puzzle of the Month Club. I have been a member for about a year, and whenever I get that monthly email, I jump onto the website to see what I can snag. Sometimes, I know exactly what I want. Other months, I am stricken with indecision and spend way to much time trying to figure out what I want. Such was the case a couple of months ago. There I was, browsing through the puzzles, unable to make a decision. I changed the view to sort by brand, then piece count, and finally newest arrivals. There, at the top of the page, was a glorious image of a beautiful woman , lounging in her hanbok, from an unknown to me company called Puzzlelife.
Puzzlelife is a South Korean puzzle company. You can find them online as BNB Puzzle. According to their website, they are the first Korean puzzle company and they have been around for 20 years. I have to say, when I got the box, I was stupidly surprised to see that all the writing was in Korean. Rule number one when buying a puzzle based in another country, do not expect it to be in English (and nor should it be). Never fear, our very own Diane Bizzle informed me, Google Lens will translate that for you. WHAT WITCHCRAFT IS THIS?? I bellowed. At any rate, it works! Beware! I'm translating everything. The box was average size, but what bounties lay inside it! This puzzle cam with it's own packet of glue and a spreader! The poster was as large as the actual puzzle! I know this is a lot of explanation marks, but you have to understand how excited I was about this!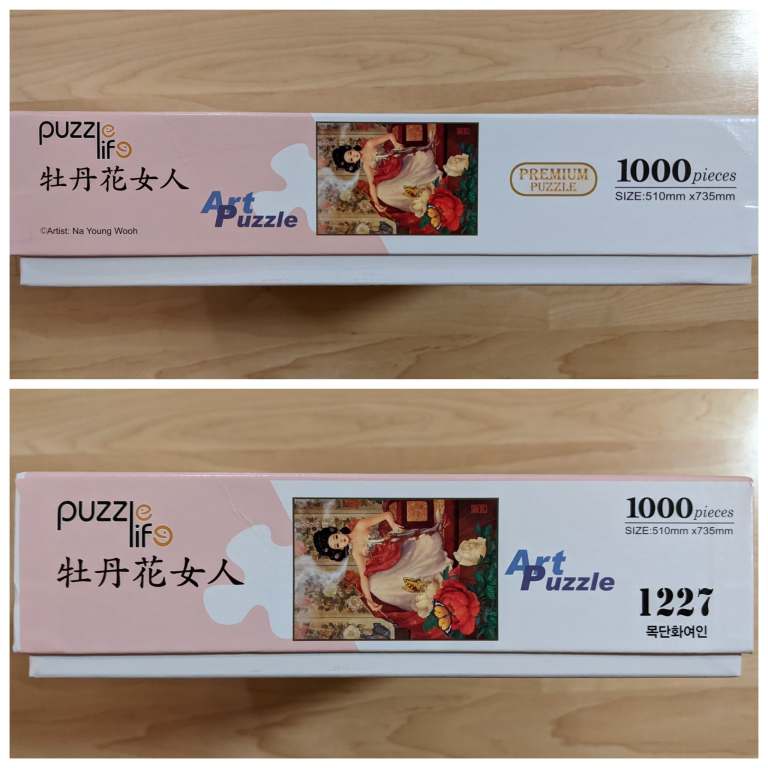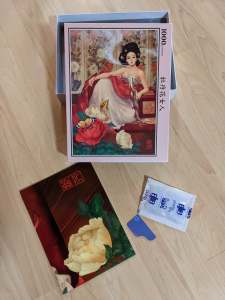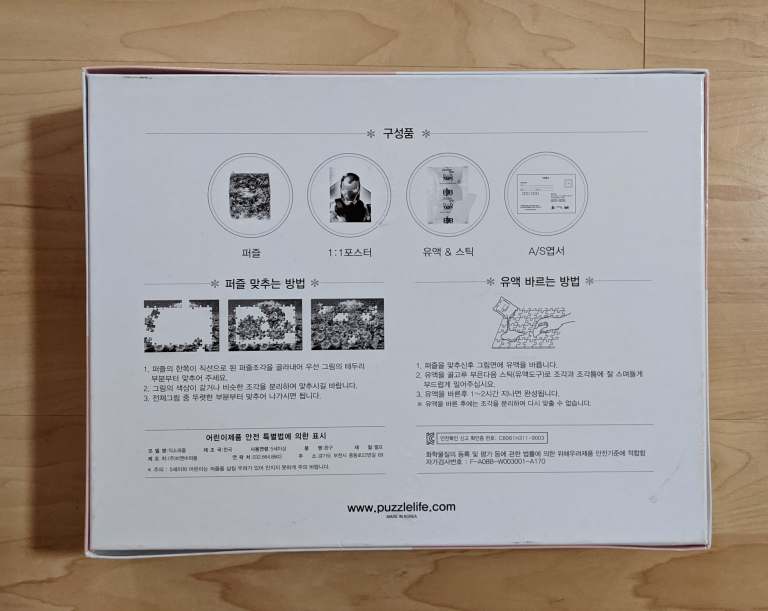 The puzzle was beautiful. The color was rich and image was crisp and beautifully rendered. The artist, Wooh Nayoung, is truly amazing. She is most famous for her fairy tale series, in which she reimagines western fairy tales as if they were based from Korea. This image is called Peony Flower Woman. The pieces run about 1.8mm thick, but they seem much more sturdy than that. I had zero issues with piece construction. The puzzle is ribbon cut and it has a slight gloss to it's finish, but honestly, it wasn't an issue until I had to take pictures. The fit is absolutely amazing. I was able to move large sections easily. There was a slight variation in the colors between the puzzle and the cover image, but the poster was correct. I started with the border and then got to work on the green leaves. I tackled the flowers next and worked on her beautiful hanbok. I did the background last. I found this puzzle to be absolutely wonderful. I puzzled at a leisurely pace and just kind of drifted from one color to the next, fully immersed in the act.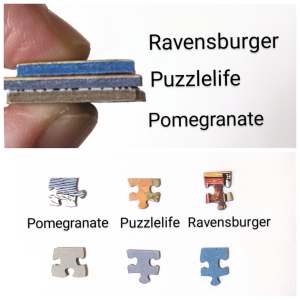 I really enjoyed this brand. The entire experience was fantastic and I can't wait to do another Puzzle Life again. In fact, while I was looking for other puzzles to link, I may or may not have bought another one. Spoiler..I totally did. There are so many images to chose from and some even have foil! Their images range from Korean artists to classical western artists. There is such a wide range. This one I did is out of stock, but there are a ton of other puzzles in stock!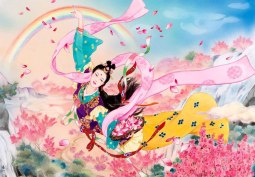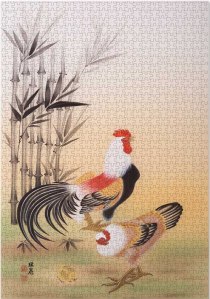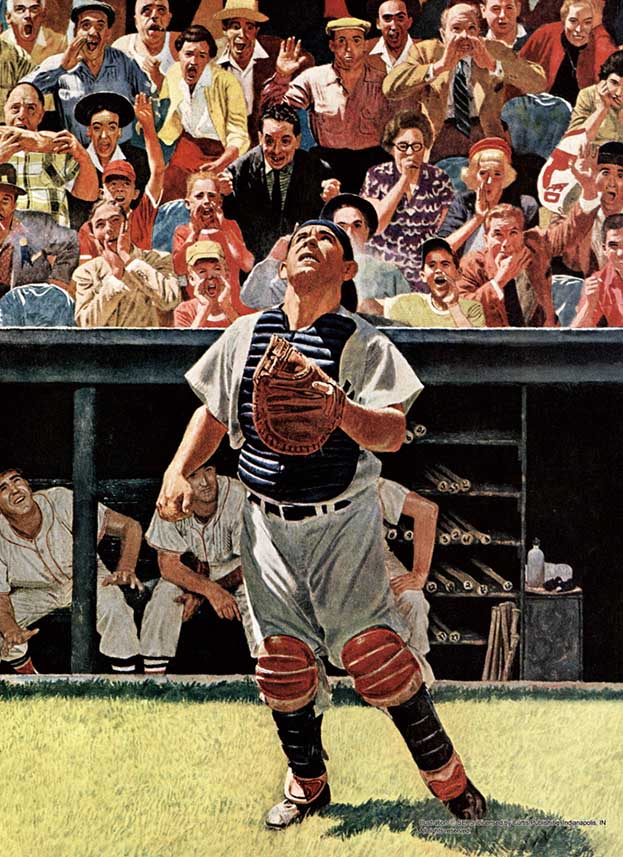 Don't be afraid to try new puzzle companies and by all means, try puzzles from other countries! I wonder if I should make a puzzle passport for myself and keep track of all the different countries I visit….
Have fun puzzling!
Gaby @puzzlepastime