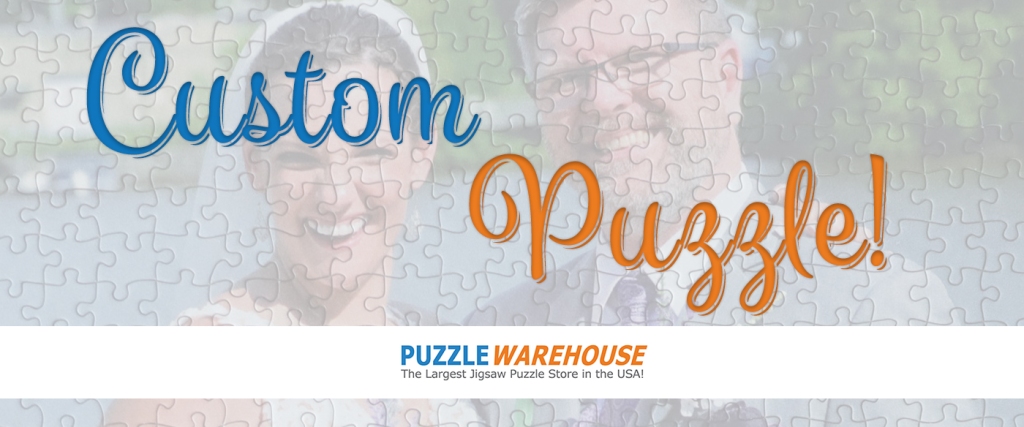 Puzzle Warehouse Custom Puzzle
One of the questions I get asked the most is "Where can I get a custom puzzle?" Did you know that in addition to being the largest jigsaw puzzle store in the USA you can get custom puzzles from Puzzle Warehouse? Over the years, I have gotten custom puzzles from many different places – mostly "budget" level. The biggest frustrations I have encountered with custom puzzles are the piece shapes being too similar and/or too glossy for my taste. The one I ordered from Puzzle Warehouse both surprised and delighted me!
Puzzle Warehouse has 5 different sizes available:
Let's take a closer look at the 500 piece custom puzzle.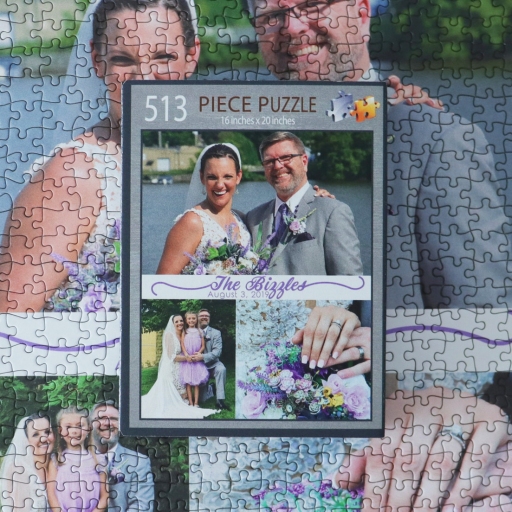 The first step for custom puzzles is deciding what image(s) to use. Custom puzzles are very special and unique, so I choose some photos from my wedding to create a truly personalized puzzle. I set up a CMYK document and created a collage with a few of my favorite photos. (Be sure that whatever images you use for your custom puzzle are high resolution to ensure the best quality.) Puzzle Warehouse staff are incredibly helpful with any questions related to the custom orders – just email custom@puzzlewarehouse.com with your order number and any questions.
The puzzle arrived very quickly, in a simple corrugated box. The pieces were in a resealable bag (a very nice feature).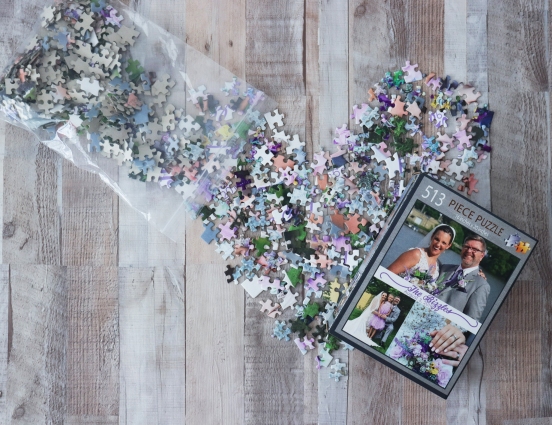 The compact (6.75 x 9 inch) box includes the full puzzle image is on the sides as well as the front of the box.
The puzzle pieces have a matte finish and a standard 1.8 mm thickness.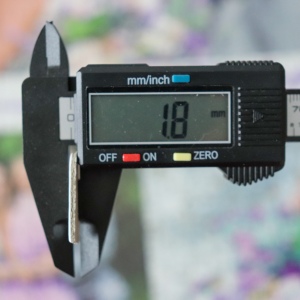 The piece shapes are a varied ribbon cut. They have a nice roundness to all the edges, which gives the puzzle a smoother, more elegant feel.
When assembling, I started with the text first. It has been quite a long time since I have done any puzzle with text and it just felt like a fun place to start. I moved onto the family picture on the lower left, followed by the picture of our rings on the lower right, and finished with the large photo of us on the top. I have to give a shout-out to my brother because on our wedding day, our photographer did not show up (!!!!!). My brother took over and played photographer for the day. He did such a great job and because of him, I was able to make this beautiful custom puzzle.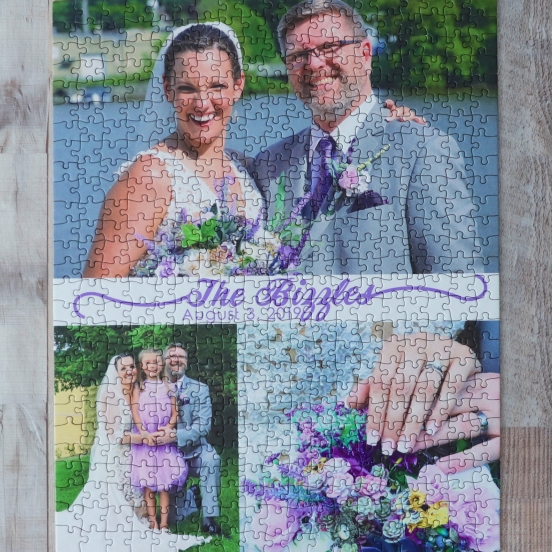 When it comes to custom puzzles, you have the freedom to create anything you'd like – as hard or as easy as you want. The only limit is your imagination.
Check out my time lapse to see how I assembled this puzzle.
Happy Puzzling!
Diane aka Bizzle's Puzzles