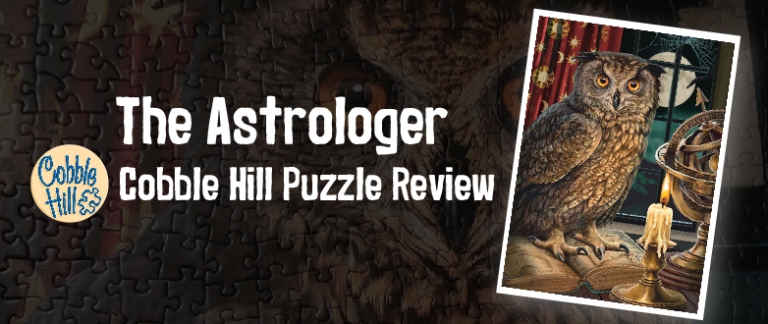 The Astrologer, Cobble Hill Review
My Rating: 10/10
I know, I know we are taught not to play favorites but sorry I seriously have to break that rule here, because Cobble Hill is one of my favorite brands. I love Cobble Hill Puzzles. I really enjoy images with a country vibe because of that I have always been drawn to Cobble Hill images. There is something special about their images, I would describe them as whimsical or maybe even nostalgic. I simply can't get enough of cobble hill puzzles. I have a huge collection and am constantly adding more and more to my vast collection. This puzzle is unique because of its magical twist. Lisa Parker is the artist responsible for this spell bounding image, "The Astrologer". I am huge fan of Lisa Parkers art work. Lisa was born in the UK in 1974. She started drawing as soon as she could hold a pencil. Her biggest passions are drawing and nature. She started sketching first with pastels then watercolors then encouraged by an artist friend she discovered her images were best suited for oils. She then got really interested in the magical side of things after working together with Nemesis Now. Lisa was their original artist, together they learned about witchcraft and the true meaning of it. She draws you into the mystical world with her deliberate use of lighting and composition. Is it just me or are you also seriously getting the Harry Potter vibe from this puzzle. While I was working on this puzzle I had to show it to my daughter,( a huge Harry Potter fan), she agreed and loved the image. Take the time and give Lisa Parkers art work a look see, she won't disappoint I promise.
Box Quality: 10/10
Cobble hill boxes are large boxes measuring 10″ x 14″. This is a very well made rectangular shape box. The front of the box has the image of the brand logo piece count and informs of the included poster. All four sizes of the box include the brand logo, piece count, artist's name, piece count, measurements, title, as well as a rectangular detailed image of different sections of the image. Included inside the box is the bag of pieces as well as 9″ x 12.45″ poster of the image. The bottom of the box has a brief description of Cobble Hills high quality standards printed in 12 different languages. Cobble hill boxes are very sturdy and although larger than some I do appreciate the attention to quality they observe not just with the puzzles but also the boxes as well. I know some appreciate a smaller box for storing purposes but so many vendors carry larger boxes, this isn't an issue for me so I won't deduct a point for that here. I actually had my handy man build me custom shelves that are very deep to accommodate larger boxes, I know many of my fellow Jigsaw Junkies can relate to that right. Though if my puzzle collection keeps growing a bigger house may be necessary lol.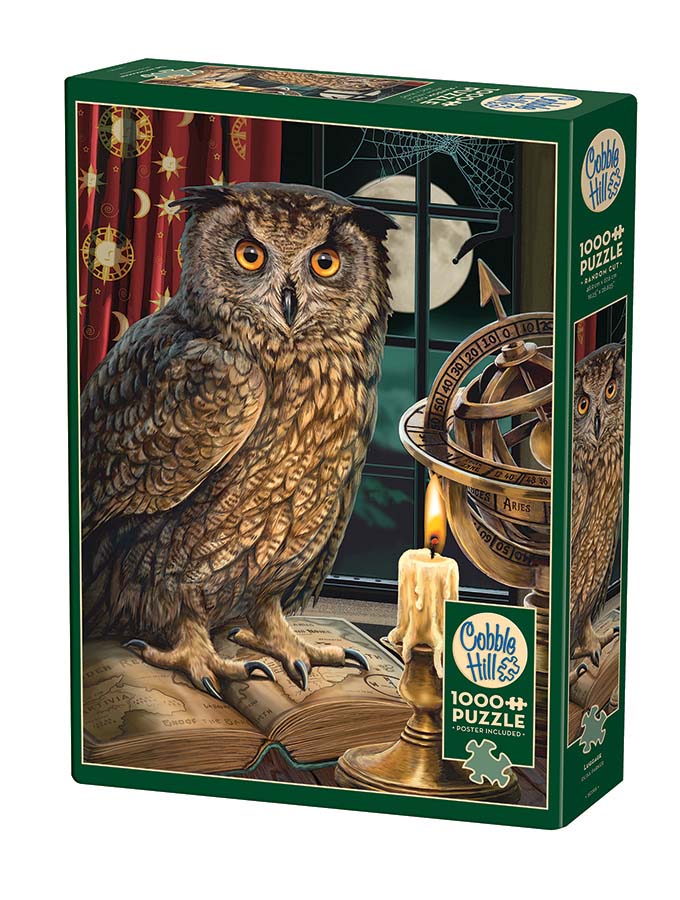 Image: 10/10
I love this mystical image and without hesitation give this image the highest rating. Cobble Hill which was founded in 2005 aiming to bring only the highest quality of puzzles to not just puzzle enthusiasts but novices as well. They use textured linen paper which not only reduces glare and is highly functional it also has an elegant feel. The image is clear without any blurriness present. I found no differences in hues of color within the puzzle image, the image on the box as well as the poster. As you study the image you can see how the artist used light to enhance certain areas of the image. The use of shadows here heighten the mystical feel of the image. Look at the light and shadows used at the same time to magnify the owl as well as the astronomers globe. You can see how the simultaneous use of light and shadow intensify the open book where the owl stands. Look at the attention to detail in the owl. The artist used countless shades of color in the owls feathers that blend so well. So many shades of browns, golds, yellows, tans, and oranges that make the owl so authentic. I loved how she uses the burning candle to enhance certain areas of the image. She also uses moonlight to broaden the mystical vibe in the image. Looking out the window again so many shades of color used within the moon as well as misty night air and cobwebs. In the corner by the moon you see even the windows handle is included. Look at the curtain how detailed it is with its folds and use of stars and moons it brightens this image just enough so it isn't too dark. The artist paid such attention to detail with this image as she does within all her art work. The image reproduction is as close to perfect as it gets here.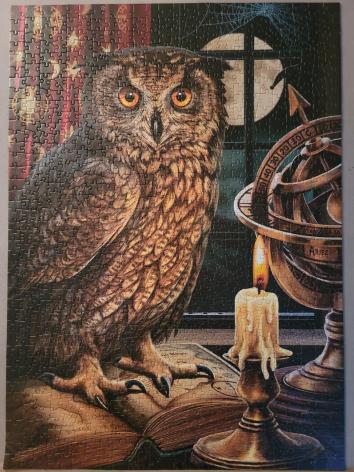 Puzzle Quality: 10/10
Here again I give the quality of this puzzle the highest rating. Cobble Hill promises top quality puzzles and they always deliver. The use of textured linen paper surely adds to the quality of their product. I found perfectly cut pieces here. Zero shards left behind. I found no fraying on the backing of the pieces. There was very little puzzle dust left behind. I found no raised edges. The completed puzzle had a smooth and even surface. The pieces themselves have a nice amount of thickness and are sturdy and well made. You can feel the linen finish on these pieces , which adds to the elegance of the Cobble Hill brand.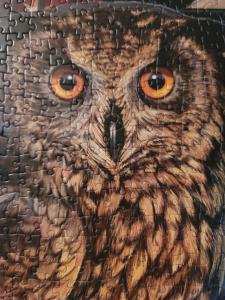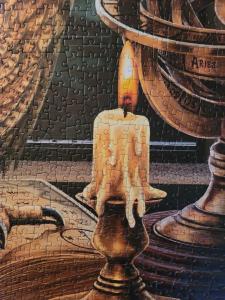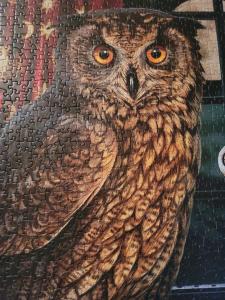 Assembly: 10/10
If you have read any of my past reviews you already know my biggest pet peeve is the tightness of the fit. I am happy to report I had no issues here with tightness. You can easily move small groups of assembled pieces with just a little care. Now it wasn't the tightest fit but certainly tight enough to move around the puzzle board without any problems. Because of that I won't take away any points for that here. When I begin an assembly I always start with my border first the only exception there is shaped puzzles. Once my border is completed I always begin the hardest part of the puzzle first. Here I determined the owl would be the hardest area. Boy was I right lol. So right off the bat I will rate this puzzles difficulty from moderate to hard. The reason for that is the owl. Before I began the puzzle I was expecting a very easy assembly here. After assembling as many puzzles as I have I usually can just look at an image and determine the level of difficulty. Not this time folks lol. This image tricked me lol. The owl did take some extra effort here. So be prepared to pay a little more attention when assembling the owl itself. Once you have completed the owl I would consider the rest of the puzzle a breeze. I will say because the reproduction is flawless finding your pieces for each area of this puzzle is a piece of cake. The curtain is a breeze because the color stands out from the rest of the image. I had no issues with the wrong piece fitting in the wrong place. This puzzle is random cut with a lot of fun shapes. Which I feel makes finding the right piece even easier. It took me about six hours or so to complete this puzzle with a few breaks. I loved the image so much which always makes assembly that much more fun. What I also liked was the beautiful poster included. I clipped it to my puzzle board and began my assembly. It was a nice change instead of using the image on the box. The poster is a nice size and its image reproduction is so well done it would look really nice framed. I enjoyed working on this puzzle and I know you guys will too. Remember piece by piece and you will be on your way.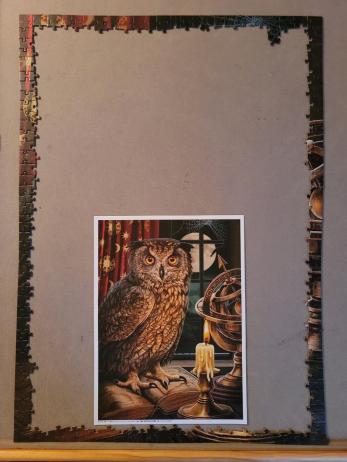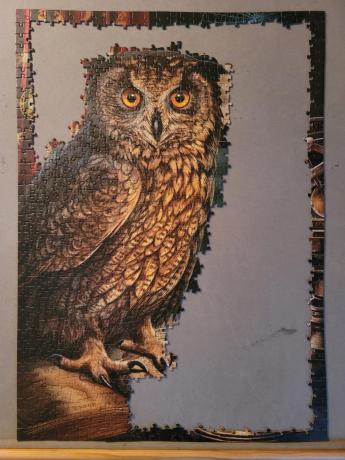 Summary:
Cobble Hill is a must have brand for your puzzle collection. I promise their puzzles are not only top notch they are unique for so many reasons, here are a few. Because so many images can be contracted to different vendors, one of Cobble Hill's standout qualities is the "Truly Original Photo", (T.O.P), puzzles. These are puzzles that are created in-house by the Cobble Hill Creations design team. They curate all the objects used for the puzzle, the backgrounds and organize the photoshoots with local photographers, "Works Photography". A lot of effort goes into creating T.O.P puzzles and many of these images have become popular favorites. In 2018 Cobble Hill began including posters to all its 2000, 1000, 500 and 275 piece puzzles. Cobble Hill carries specialty puzzles, "Family", puzzles. These are puzzles that are designed with small, medium and large pieces that allow children and adults to easily manipulate the pieces. There are so many talented artists that contract their images with Cobble Hill. Here are just a few I know you will love, Greg and Company, Richard Cowdrey, Mark Keathley, Douglas Laird, and last but not least H. Hargrove. Puzzle Warehouse carries so many Cobble Hill puzzles. Stop by and have a look I know you will find so many you simply must have.
Donna C
Fantastic review of the 'Astrologer' puzzle from Cobble Hill! The intricate details and vibrant colors truly make it a captivating piece. Assembling Cobble Hill puzzles is always a joy, and this celestial-themed one seems like an absolute delight.