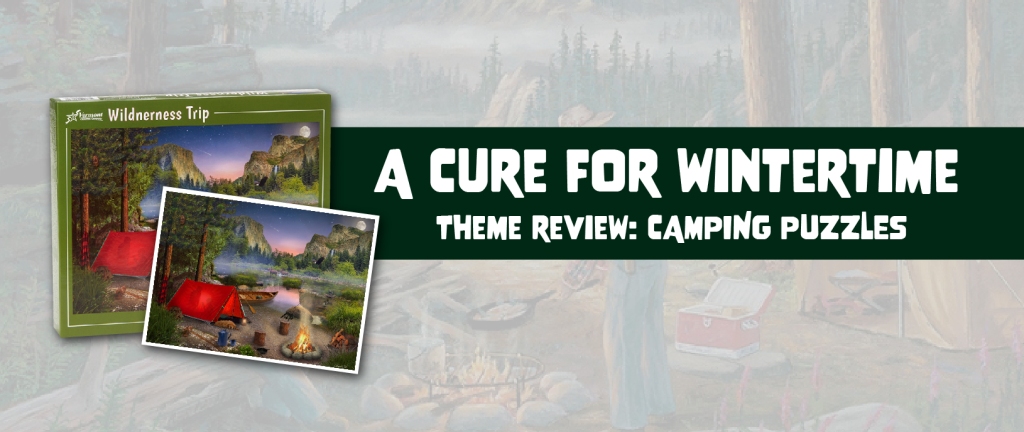 A Cure for Wintertime
Some of you may remember when Eddie Cochran sang, "There ain't no cure for the summertime blues." He should have sung about the "wintertime blahs." Everyone loves that first snowfall, but by now – not so much. If you live with "real" winters you know what I'm talking about – gray skies, snow covered sidewalks and driveways, storms that drop temperatures into the minus digits, not to mention the wind chill. It's bleak and seems to never end.
The days are getting longer, even though it doesn't feel like it. Summer will come with BBQs, swimming pools, and CAMPING. Because I needed that reminder, I looked for puzzles that would reassure me that we will once again enjoy the great outdoors.
Everyone who has been camping knows how important it is to be sure you have everything you'll need. You don't want to be 50 miles from the nearest store and suddenly discover you didn't bring something really important.
Camping Equipment might be able to help. It's a 500 piece collage from New York Puzzle Company, made in the U.S. from recycled cardboard, photography by Jim Golden. The box is sturdy; the pieces are random cut, thick with a linen finish – no glare here. My only criticism is that a few pieces were not interlocking, but still a very good puzzle.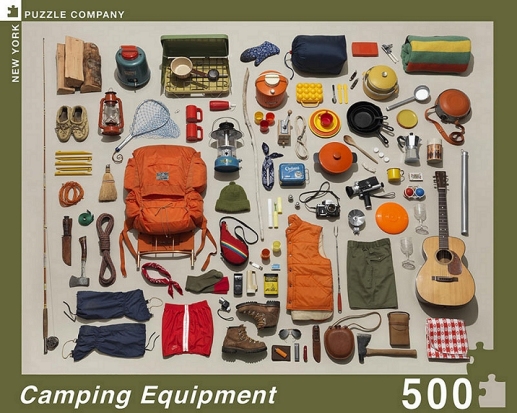 Collage puzzles are probably my favorite. I love being able to work on individual items and then when I have enough, put those items in their proper place (made easier by my Puzzle Scoop). This puzzle fulfilled all my expectations for a quality, fun collage puzzle. It was one of those, "Oh darn, I've finished it" puzzles.
Puzzles are not all the same so it can take a few minutes to understand the design. One important detail to figure out is how the pieces fit together. Well, duh, you say, that's the whole point of putting a puzzle together. Yes, but think about it.
Do the pieces fit together unevenly like these from Camping Equipment?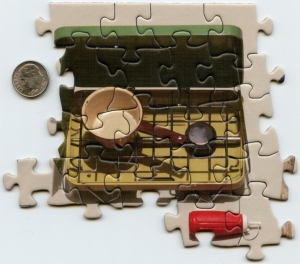 Or do the pieces align perfectly on all four sides like these in Plumes of Color from Buffalo Games?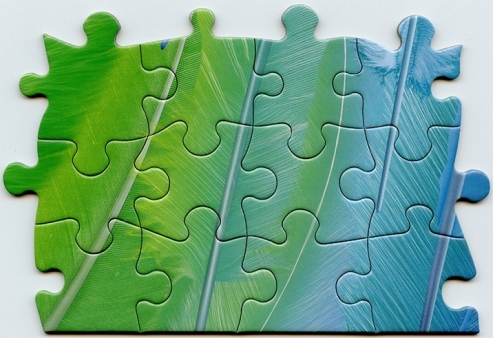 Knowing how they fit together is a big help in knowing whether the piece you have in your hand is likely to fit the spot you're staring at. Are there pieces just pretending to be edge pieces, causing you to put them with the actual edge pieces? So you then go crazy because they don't fit anywhere along the edge? Is there a pattern to the pieces with a horizontal piece almost always followed by a vertical one? Knowing the answers to these questions is a big help.
To get my summer camping fix, I went looking for more camping puzzles.
Alaska Adventure is from SunsOut, a personal favorite, with art by Ken Zylla. It has a little bit of a soft water color feel to it. This is wilderness camping at its best. The last time we tried to go camping in Alaska we had to be rescued by the Coast Guard in the middle of the night because our boat had engine trouble. But yes, Alaska is this beautiful.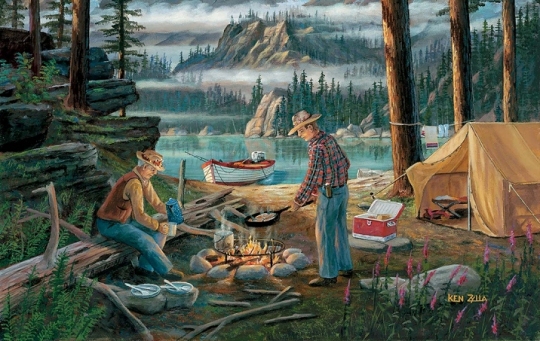 Wilderness Trip from Vermont Christmas Company is made in the U.S. with recycled materials with randomly shaped pieces. It's a beautiful puzzle that reminds me of camping in Wyoming and Montana.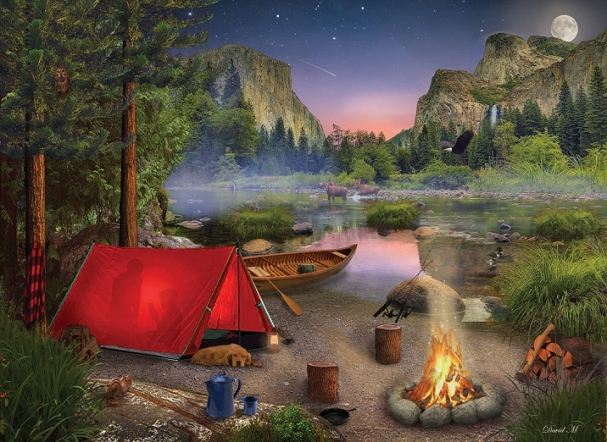 Car Camping by New York Puzzle Company is from a General Motors vintage ad featuring a 1958 Brookwood station wagon. It's a 100 piece mini puzzle so you could take it with you when you go camping. Again, love those linen finish puzzles.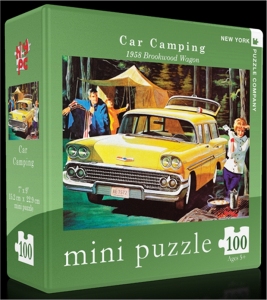 I admit that getting everything together to go camping can be almost more work than it's worth. But there's always camping in your own backyard . . . or even just sitting outside. There's something about blue skies and greenery that feeds and "soothes the soul." Spring is coming, honest. After the year we've all had, I'm ready for some soothing!
Happy puzzling,
Madelle